12 Best QVC Beauty Products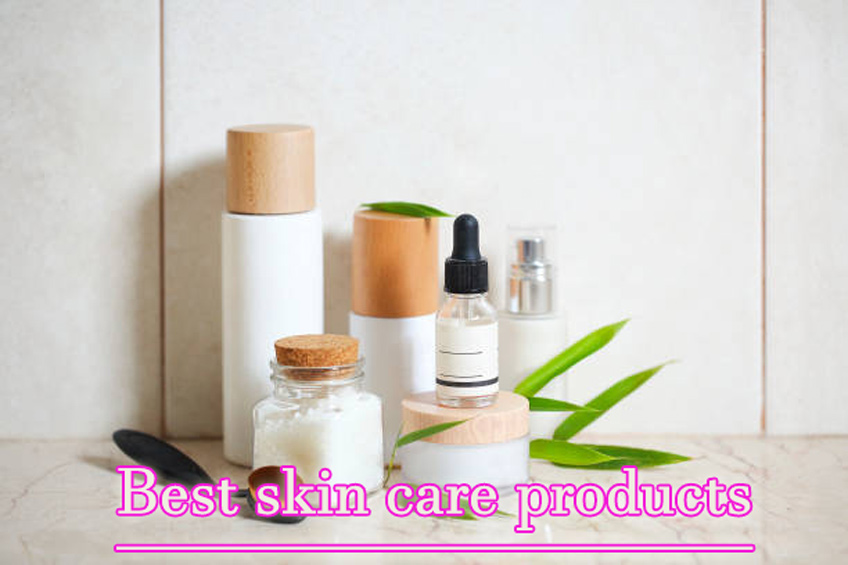 Shopping for the Best QVC Beauty Products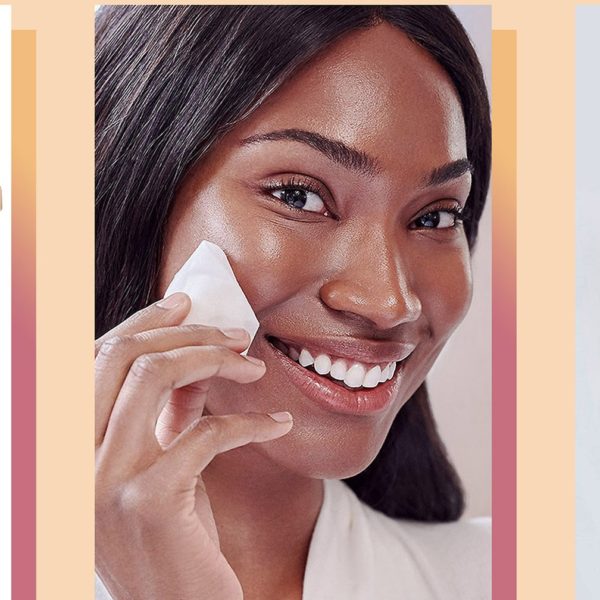 Whether you're making 2022 the year of damage-free hair, clear glowing skin, or banishing orange-looking foundation for good, you'll need the right skin, body, and hair care to do it. In a search for truly effective, top-rated, and affordable picks, we've pulled together a list of the 12 best QVC beauty products.
It's a mix of super-powered formulas, efficient hair tech, and skin-loving faves to give you picture-perfect looks in a pinch. Get ready to dump outdated cosmetics and say goodbye to serums that simply don't work. Let's dive into QVC's best of beauty bag.
About QVC
You may know QVC as the home shopping network that sells all your favorite products. Its inventory is seemingly endless, a collection of thousands of brands with even more products, many sold for exclusive prices you'll only find at QVC.
Making it effortless to find exactly what you're looking for, QVC is the place millions of shoppers turn to for quality, variety, and top-notch customer service. Outstanding service has always been a part of the company's success. Founded in 1986 by Joseph Segel, it broadcasts to 350 million+ TVs around the world.
And in its effort to make shopping easy, QVC offers its complete product selection through qvc.com. Browse daily specials and deals, get inspired with curated guides, or watch any of its channels live.
With products across 11 categories including fashion, jewelry, home, shoes, and more, since this is a list of the 12 best QVC beauty products, we'll be focusing on popular makeup, skincare, and beauty tools.
12 Best QVC Beauty Products
1. tarte Shape Tape Concealer w/ Sponge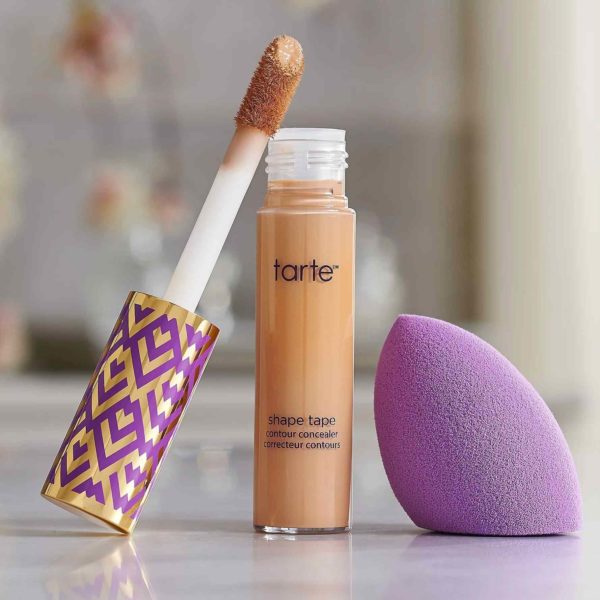 Loved for its gentle, natural formulas, tarte uses Amazonian clay as the base of many of its products. The Shape Tape Concealer is one of them, delivering full, long-lasting coverage that won't settle into fine lines. Ingredients like mango seed and shea butter help moisturize skin for a natural glow now and after you take it off.
With an inclusive color range of 29 shades, you'll find options from light neutral to espresso that work well with fair to deep skin tones. Thanks to the included sponge, the Shape Tape Concealer w/ Sponge lets you contour and highlight with ease.
Create Insta-worthy looks in a few swipes while you hide dark spots and imperfections. A 0.33 fl oz tube of Shape Tape Concealer w/ Sponge is $27.
Highlights
0.33 fl oz tube
Quickie Blending Sponge included
Long-lasting
Full-coverage
Made with Amazonian clay
Great pick for skin with fine lines
2. Givenchy Rouge Interdit Temptation Black Magic Lipstick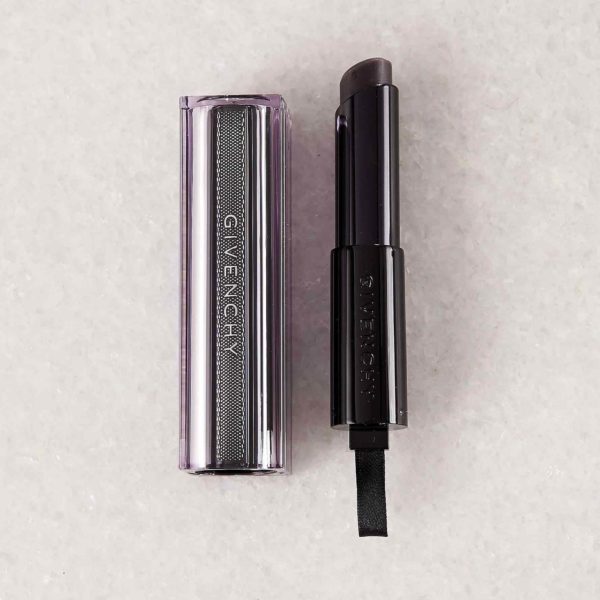 The epitome of custom cosmetics, the Rouge Interdit Temptation Black Magic Lipstick isn't black. In fact, it isn't really a color at all. Instead, its unique formula reacts with your lips' natural pH, creating a color that's completely you.
Givenchy is at the forefront of forward-thinking cosmetics, the designer line launching in 1952 and its cosmetics line coming later in 1989. Originally inspired by Audrey Hepburn, the brand's makeup collection is both sensual and sweet, this magical lipstick is one for the books.
Softening lips, it's made with black rose oil for a perfectly kissable pout. Get the 0.11 oz Rouge Internet Lipstick in Black Magic for $34.
Highlights
0.11 oz stick
Totally personal color
Nourishing black rose oil
Softens lips
3. IT Cosmetics Anti-Aging Full Coverage Physical SPF50 CC Cream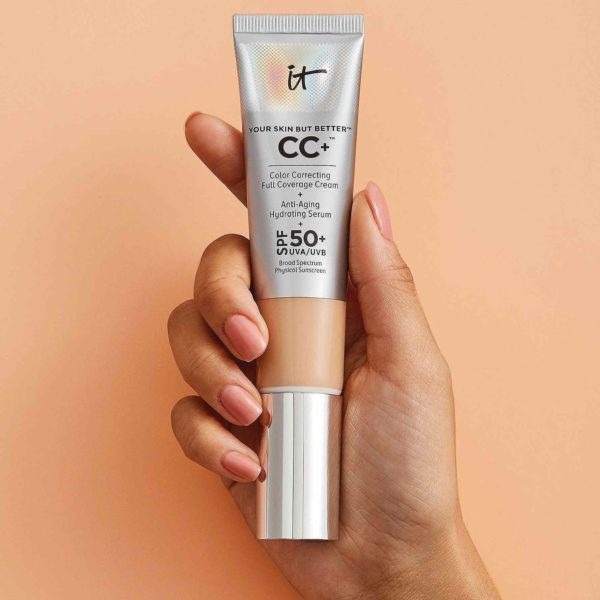 IT Cosmetics was founded on the fact that makeup looks different in different lighting. There's a reason we can get away with the wrong foundation shade in dark lighting but not super bright. Launched in 2008 by Jamie Kern Lima, the brand offers a range of CC and BB creams infused with nourishing botanicals and anti-aging ingredients.
The Anti-Aging Full Coverage Physical SPF50 CC Cream comes in tan or rich shades and protects skin all day as it hydrates and restores resilience. Made with collagen, peptides, niacin, algae, and vitamins A, B, C, and E, the formula merges color correcting foundation with an effective serum.
Cruelty-free and highly pigmented, the formula is great for aging skin and minimizing the appearance of fine lines, wrinkles, and dark spots. Protecting your skin from UV damage, you can get a 1.08 fl oz tube of the Anti-Aging Full Coverage Physical SPF50 CC Cream for $29.40 (was $42).
Highlights
1.08 fl oz tube
Tan and rich shades offered
CC cream + anti-aging serum in one
Made with botanicals and antioxidants
SPF50
4. Peter Thomas Roth 6.7-oz Mega-Size and 1-oz Retinol PM Set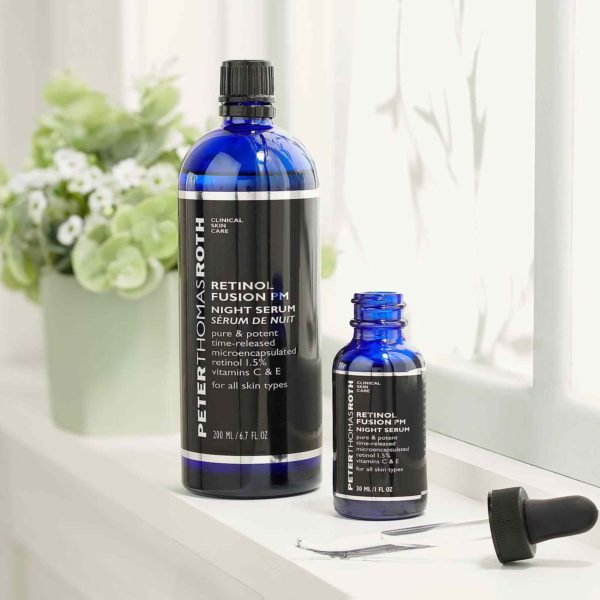 Created in 1993, Peter Thomas Roth launched his namesake brand introducing soothing, mineral-rich skincare. The 6.07-oz Mega Size and 1-oz Retinol PM Set is packed with skin brightening and healing vitamins C and E, helping to restore moisture and resilience overnight.
The ideal duo for jet setters or cottage season, this hard-working formula delivers big on results, loved for its fragrance-free nature and natural ingredient list. When sold separately, this set would cost $500, on QVC, you can get it for $138.
Highlights
Available in 6.07 oz & 1 oz bottles
Full of vitamins
Moisturizing benefits
Fragrance-free
Affordable duo
5. Perfect Formula 6-Piece Treatment and Color Kit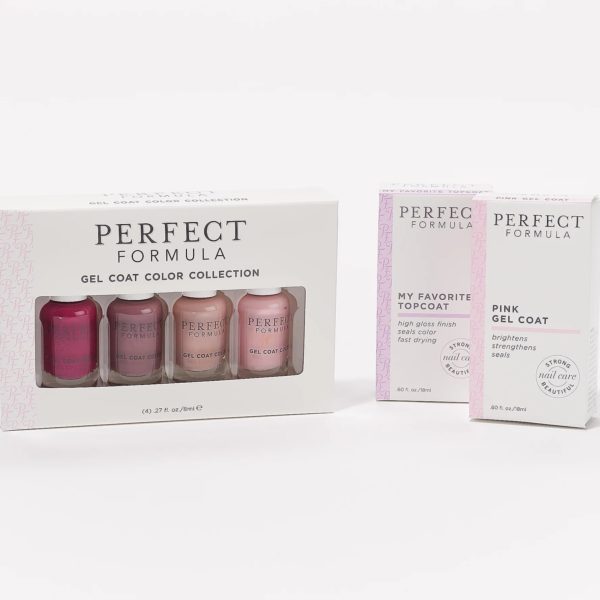 The sunny season calls for perfectly-painted toes and healthy nails. A little vacation for your digits, the 6-Piece Treatment and Color Kit comes from Perfect Formula, a family-owned company founded in 1941. Turning home paint into nail enamel in 1991, the brand became Perfect Formula in 2003.
Sold in stores and salons, Perfect Formula is scooped up by those who want to heal their nails while they wear their favorite shade. Delivering strength and thickness with a few swipes, its nail colors give the look of healthy nails. Fast drying, the kit includes a 0.60 fl oz bottle of both the Pink Gel Coat and My Favorite Topcoat.
You'll also get a 0.27 fl oz bottle of the following gel coat colors: Majestic, Cafe au Lait, Blush, and Mink. With a range of moody burgundies, smooth neutrals, and pretty pink, you can get the set for just $36.50 on QVC. If you bought the colors separately, you'd pay $96.
Highlights
6-piece kit
Gives the look of healthy, thick nails
Fast-drying formulas
Affordable bundle
6. Olaplex No. 3 Hair Perfector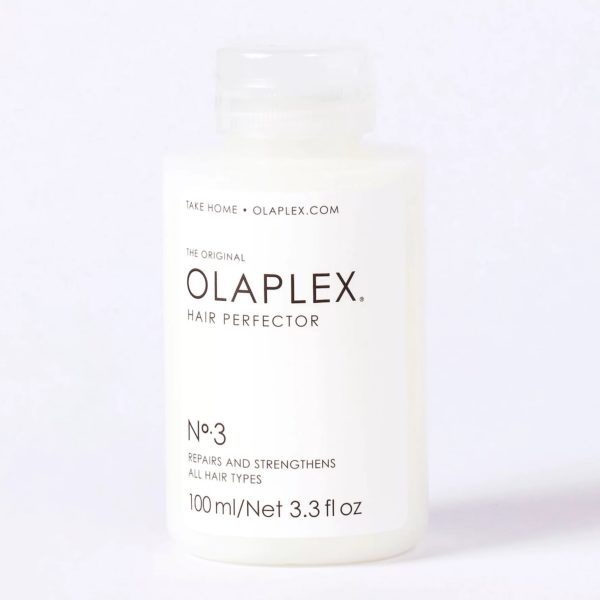 Anyone with bleached hair knows the power of Olaplex. If you're new to the name and are struggling with stressed-out, lifeless, and broken strands, the No. 3 Hair Perfector is the right place to start. It's a Byrdie Editor Pick for a reason.
The brand was founded in 2014 by Dean and Darcy Crystal, and since its inception, people can't stop raving about how effective its products are.
No. 3 Hair Perfector is a vegan formula, giving you salon-worthy results at home by helping to repair broken bonds and smooth out frizz. Delivered in a mini 3.3fl oz bottle, you can get it for $28.
Highlights
Repairs broken bonds
Works within one use
Salon-worthy results
Vegan formula
7. Josie Maran Super-Size Argan Hydrating Milk Body Serum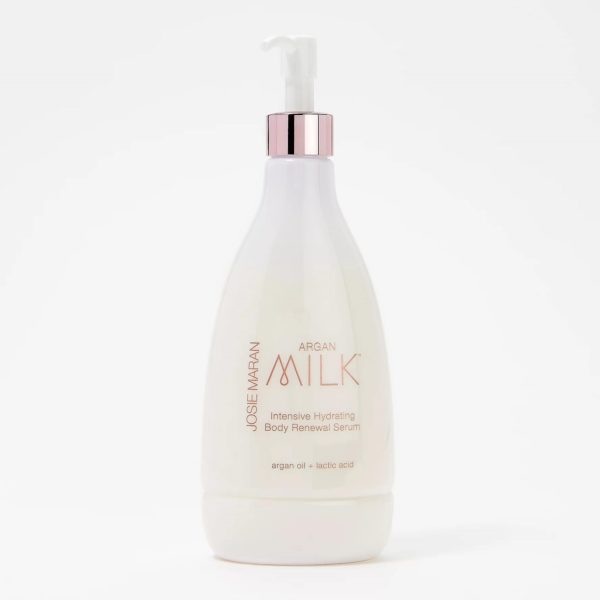 Argan-based products are to Josie Marian as primer is to foundation. The two were born to work together. With an argan oil-forward line, the Super-Size Argan Hydrating Milk Body Serum uses pure argan milk, lactic acid, and pineapple enzymes to bring you smooth, fresh-looking skin.
Absorbing quickly, the silky-smooth formula is approachable, honest, and delivers the results. Great for the summer season, glide it on as soon as you step out of the shower for youthful, glowing skin. Grab a 13.4 fl oz bottle for $64.
Highlights
13.4 fl oz bottle
Made with pure argan milk
Brightening pineapple enzymes
Clean formula
8. Bondi Sands Self Tanning Foam Duo w/ Mitt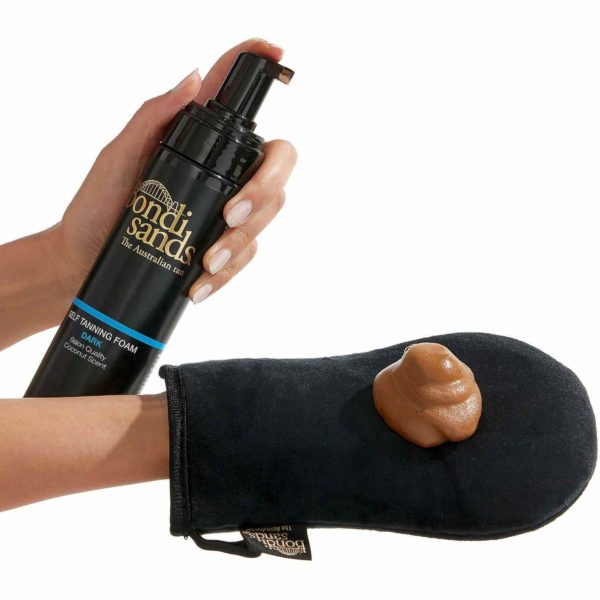 Though tans have the magical ability to slenderize, cover up flaws, and hide cellulite, skin damage is real. Whether it's the dead of winter or the middle of summer, you can get a flawless tan with Bondi Sands Self Tanning Foam Dup w/ Mitt.
Delivering a streak-free, golden glow, this lightweight foam formula is made with aloe vera for added moisture and perfectly smooth skin. With a delightful smell and long-lasting formula, pick from light/medium, dark, or ultra dark hues to get the tan of your dreams.
Equipped with a microfiber application mitt, get two 6.76 oz bottles of Self Tanning Foam w/ Mitt for $39.96
Highlights
Long-lasting
Smells awesome
Comes with applicator mitt
3 shade options
Moisturizes with aloe
9. ELEMIS Pro-Collagen Marine Cream & Cleansing Balm Duo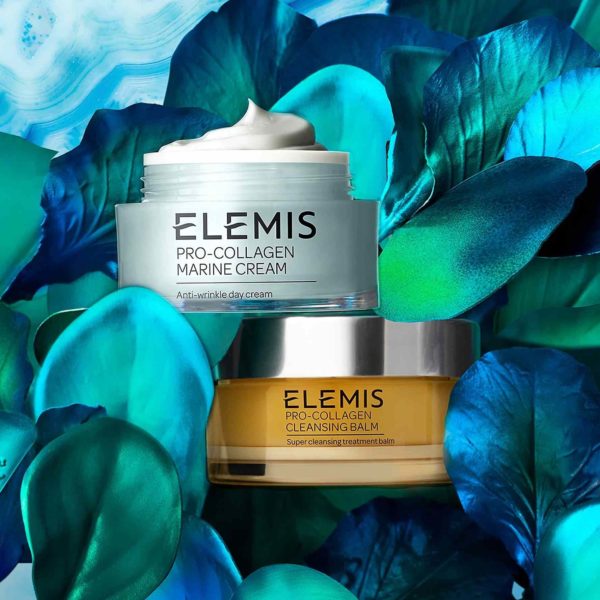 Elemis, a popular spa in the UK, brings to you effective rejuvenation with the Pro-Collagen Marine Cream & Cleansing Calm Duo. Bringing together the 1.7 oz Pro-Collagen Cleansing Balm and 1.6 oz Pro-Collagen Marine Cream, the bundle is said to make 95% of users love their skin again. Um…we'll take two.
Helping to efficiently remove dirt and grime, the cleansing balm uses rose and mimosa waxes for a gentle formula that won't strip your skin's natural oil barrier. After washing, follow up with the marine cream to boost hydration and reduce the look of fine lines. Packed with algae and ginkgo, this soothing formula is all about restoring skin's natural glow.
Grab the Pro-Collagen Marine Cream & Cleansing Calm Duo for $99.
Highlights
Two clinically-proven formulas
Cleanser and cream
Made with natural ingredients
Won't strip skin
Effectively moisturizes
10. MicrodermMD Microderm-abrasion System w/ Body Tip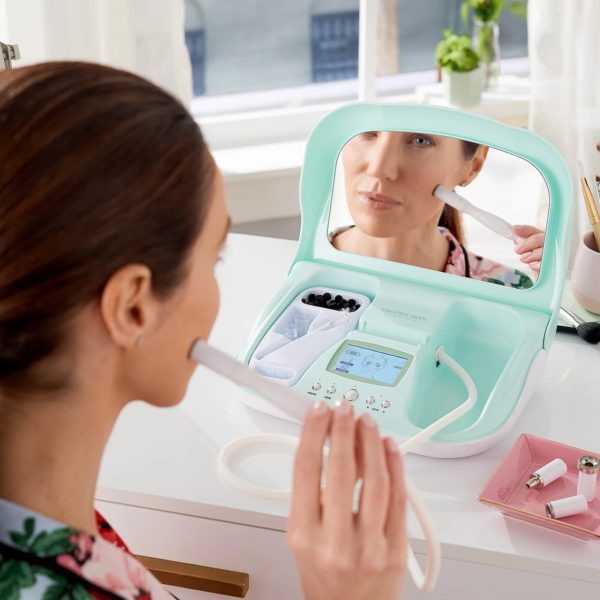 Investing in quality skincare is all for naught if the stuff doesn't actually sink into your skin. Increasing the effectiveness of serums and creams, microdermabrasion gently sloughs off dead skin to reveal fresh, youthful layers.
The Microderm-abrasion System w/ Body Tip can be used on both face and body. It uses a diamond exfoliation system to polish skin and encourage cell turnover. Greater cell turnover equals younger-looking skin, in other words, if you're looking to reduce the appearance of fine lines and wrinkles and get super-soft skin, this is a great tool.
One of MicrodermMD's most popular products, it's easy to use and acts as a buffer and gunk-suction tool all in one. Your kit will include the Microderm device, along with the standard diamond tip, body diamond tip, pore extraction top, and infusion tip, as well as four O-rings and 100 filters.
Accompanied by a 0.33 oz bottle of Argan Stem Cell Serum, say hello to fresh-looking skin with this effective system for $265. Enjoy free shipping until 4/30.
Highlights
6 different tips and accessories
Comes with serum
Blush, mint, and white colors available
3-year limited warranty
Ships for free until 4/30
11. Calista Mini GoGo Round Brush Hair Styling Tool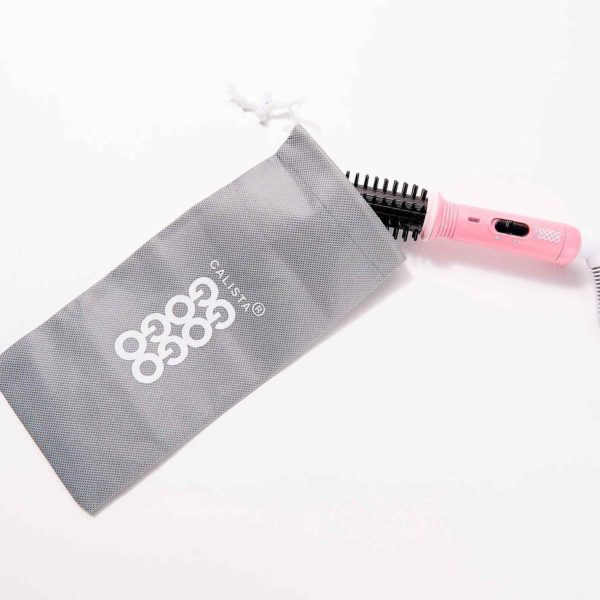 Great hair isn't natural, it's made with the right styling tools. The Calista Mini GoGo Round Brush Hair Styling Tool helps you get bouncy, shiny strands in a matter of seconds. Small and portable, you can even fit it in your purse if you want.
Using ionic tourmaline technology, it delivers big time on heat which means you can get long-lasting styles and add volume throughout the day no matter where you are. Part of Calista's smart collection of modern tools, the brand was founded by Maria McCool to give people a boost of confidence.
Lightweight and life-friendly, the Gogo Round Brush Hair Styling Tool comes with a convenient travel-friendly pouch and is $39.75.
Highlights
Heats up to 273F
Ionic tourmaline technology
Purse-friendly
Travel pouch
Delivers long-lasting style
12. Dyson Corrale Straightener Styling Iron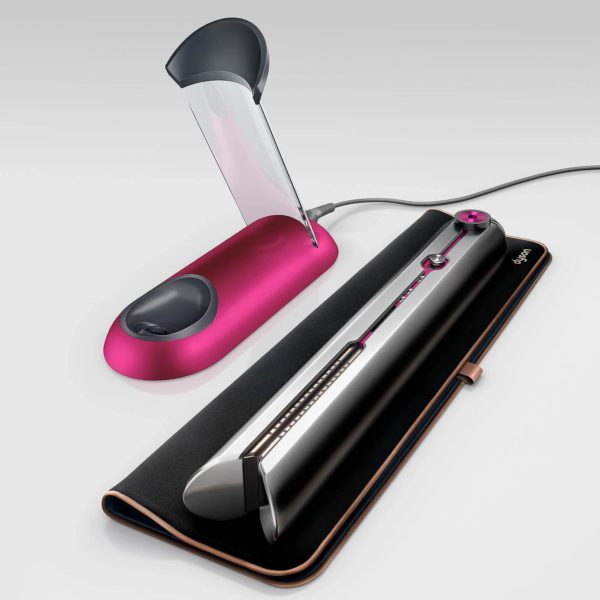 We've come to expect nothing less than the greatest in tech from Dyson. The Corrale Straightener Styling Iron fits perfectly in its collection of high-powered hair care tools. Using flexing copper plates that actually shape around your hair, it's unlike any other straightener on the market.
Helping you style your hair with less heat, it brings smooth, glossy strands and a fresh-from-the salon look. Using AI to regulate heat, you'll never go over your desired setting like other straightens can. Use it with or without the cord for effortless styling. Experience straight hair like never before with the Corrale Straightener Styling Iron for $499.
Highlights
Nickel/Fuschia color
3 temperature settings (330F, 365F, and 410F)
OLED screen
Holds 30-minute charge
10-minute auto shut-off
FAQ
What's EasyPay?
All QVC products can be bought with EasyPay. The feature allows you to order now and pay over time with 0% interest. You'll be automatically billed every 30 days until your order is paid off.
How do you return the best QVC Beauty products?
With so many different items, the returns process for the 12 best QVC beauty products has the potential to be chaotic. But it's actually super easy. QVC offers returns and exchanges through an online portal, helping you get your refund quickly and without a fuss. Follow these steps to start a return:
Create an email to [email protected]
Enter "QVC Return" in the subject line
In the body, include your order number(s), item number(s), the description, and prices of any items you wish to return or exchange
Let them know if you'd like to return or exchange your items
You'll be sent a Q Return Label that you'll need to print off and stick to the outside of your package
Exchanges and order errors are free of charge, but a fee will be deducted from your refund amount for all returned items.
How to Contact QVC
If you have any questions about the brand or the 12 best QVC beauty products, you can get in touch with its rockstar customer service team by calling +1-888-345-5788. Rather message? Use the live chat feature on qvc.com or DM on Facebook.
Warby Parker Glasses Review: The Ultimate Guide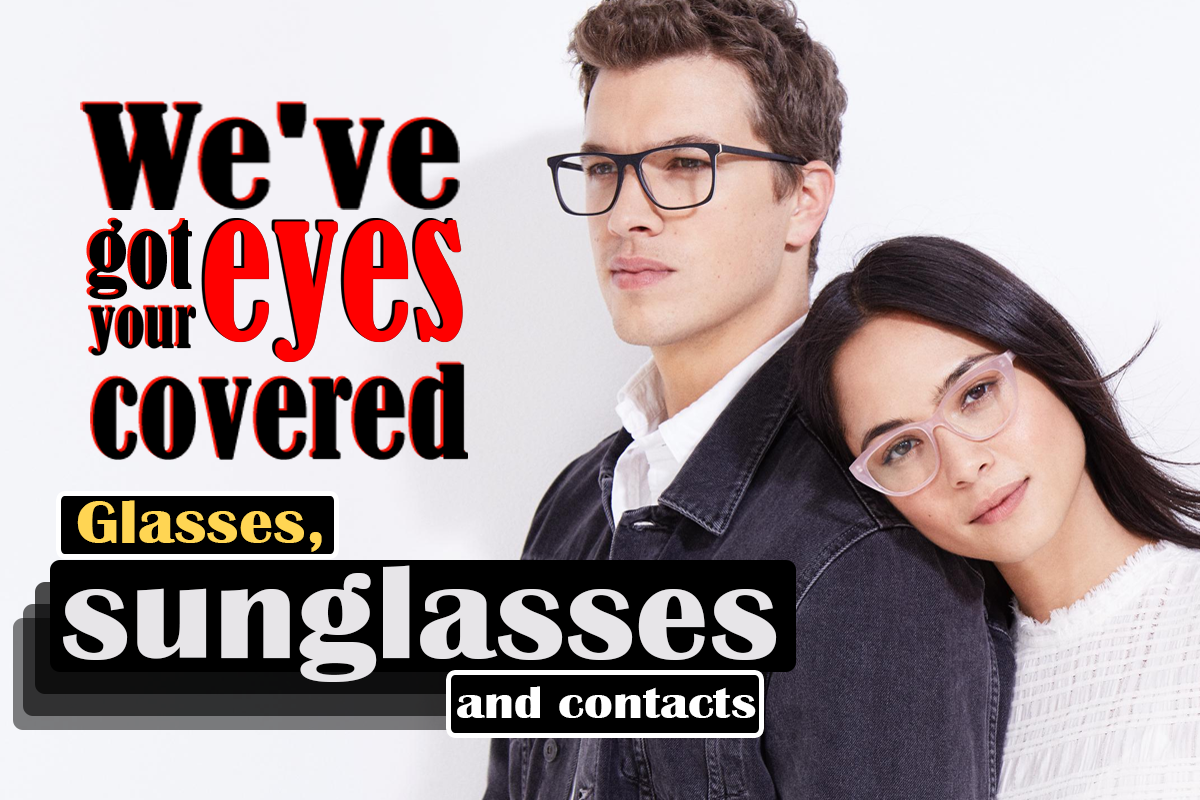 About Warby Parker
Neil Blumenthal, Dave Gilboa, Andy Hunt, and Jeff Raider founded Warby Parker with a rebellious spirit and a lofty goal.
They began with the mission of offering revolutionary prices on designer eyewear while paving the way for socially conscious businesses.
When one of the four founders lost their glasses on a backpacking trip, and the cost of replacing them was so high that he spent the first semester of grad school without them squinting and complaining, they decided to do something about it.
Warby Parker was founded by the four to provide an alternative to the single eyewear company that dominated the industry and maintained artificially high prices.
Warby Parker is a high-end prescription eyewear brand specializing in creating contemporary, stylish, and affordable eyewear for men and women.
The company offers high-quality, better-looking prescription eyewear at a fraction of the going rate by bypassing traditional channels, designing glasses in-house, and engaging directly with customers.
This Warby Parker guide discusses the Warby Parker collection and weighs the brand's advantages and disadvantages.
Warby Parker Reviews
While Warby Parker does have many locations throughout the United States, this review will focus primarily on their online store.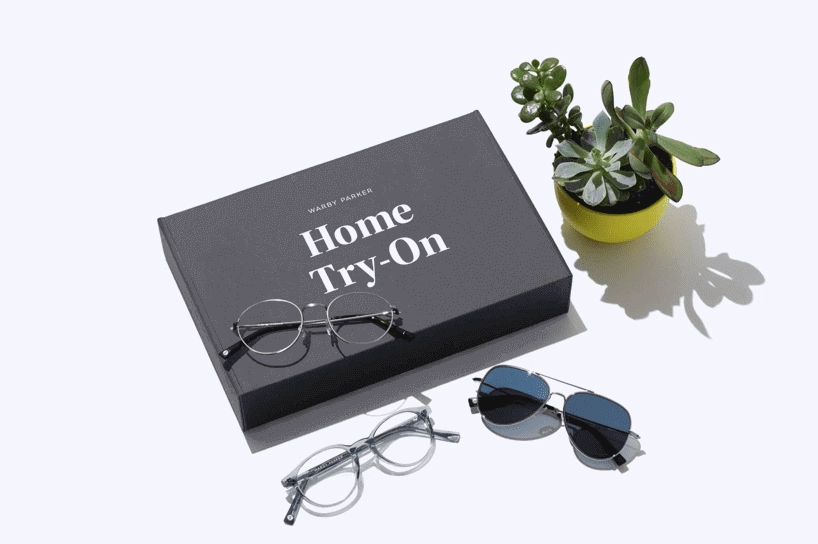 Where Are Warby Parker Glasses Made?
Warby Parker frames are assembled in China and crafted on the same production lines as many of its competitors; the company's prices are lower due to the elimination of middlemen.
What Is The Warby Parker App?
The Warby Parker app makes purchasing eyeglasses, sunglasses, and contacts a breeze.
Warby Parker's app is available for iOS devices in the App Store; however, it is not currently available for Android users.
Why Should You Get This App?
You can choose from a variety of frames, including those with prescription lenses.
Scout, Warby Parker's brand of daily contact lenses, is available for purchase.
With the Home Try-on Program, you can order five frames to try on for free.
You can easily manage all of your eyewear prescriptions.
You can also virtually try on frames with lifelike accuracy if you have an iPhone X or higher. The app allows you to see the realistic color, texture, and size of each style. Not all styles are available, but the brand is constantly adding new ones.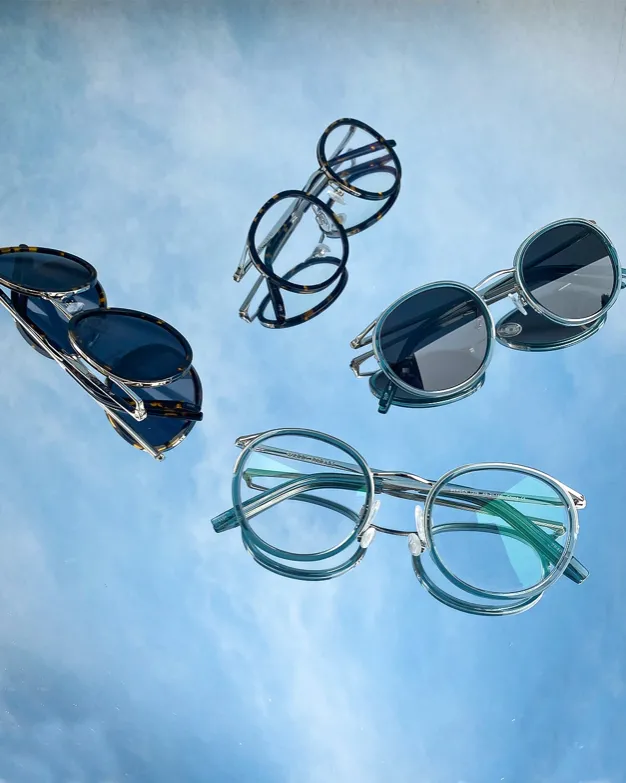 How Much Do Warby Parker EyeGlasses Cost?
Warby Parker can maintain lower prices than traditional opticians because they sell online and manage the entire process in-house.
They are not the cheapest online eyeglasses retailer; for a more affordable option, check out Prive Revaux or Zeelool.
Eyeglasses begin at $95 and go up in price if you require a strong prescription or wish to add features such as blue light or light-responsive lenses.
What Kind Of Insurance Does Warby Parker Take?
Warby Parker has been added to UnitedHealthcare, Spectera, and Davis Vision plans as an in-network provider.
For all other plans, you can submit your receipt for both prescription eyeglasses, sunglasses, and your eye exam along with an out-of-network claim form directly to your insurance company if you have out-of-network benefits.
Pros And Cons Of Warby Parker
What We Like!
All eyeglasses are designed and crafted in-house
Free shipping across the US
You can pick five pairs of glasses to try on at home
Accepts select vision plans
What We Don't Like!
The online virtual try-on tool is only available on the Warby Parker app.
Only ships to the US and Canada
How Do You Order From Warby Parker?
Warby Parker offers a variety of features to assist you in finding the perfect frame online. To order your WP glasses online, follow these steps:
Choose Your Warby Eyeglasses:
Warby Parker's home try-on program allows you to choose five frames and decide if you like them within five days of returning all five pairs and placing your order and their app includes a virtual try-on feature so you don't need to worry about purchasing a pair of glasses that you won't like.
Browse their extensive selection of frames or take their online quiz to determine your face shape and style preferences and then select five frames to try at home for free.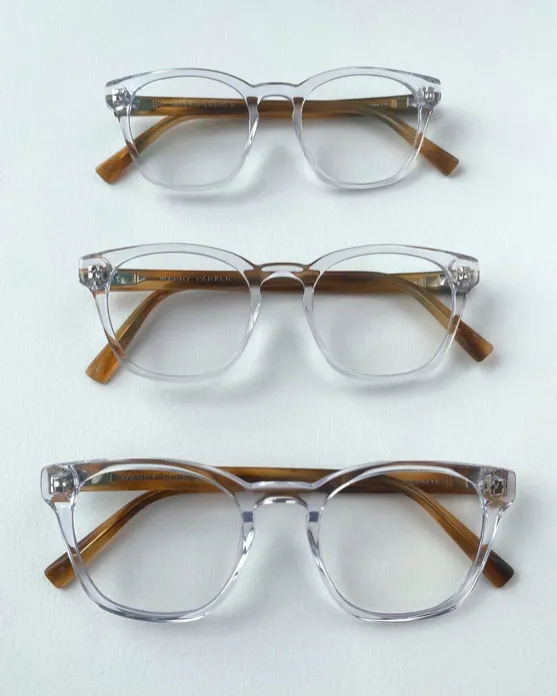 Ensure You Have Your Prescription Ready:
To order glasses, you'll need to have a prescription and know your pupillary distance (PD).
You can use the excellent online Warby Parker PD tool to measure your pupillary distance (PD), which is incredibly easy to use and provides an accurate measurement.
Purchase Your Glasses
Once you've decided on a frame, you can customize it by selecting the prescription and lens type.
To proceed, you must register with Warby Parker or log in. Then, you'll be prompted to enter your prescription information, either by uploading a photo of it, request that Warby Parker email it to you, or provide your doctor's contact information.
Warby Parker Eyeglasses Review
Warby Parker frames are classified as acetate (plastic), metal, or mixed material.
At $95, including prescription single-vision lenses, the acetate frames are the most affordable. The acetate frames are beautifully polished and feature solid and pliable hinges.
Their metal and mixed material glasses, which start at $145, are generally more expensive. Stainless steel or a combination of both materials is used for most of their metal frames. Additionally, a few premium pairs are constructed of titanium, which is even lighter and more durable.
Here are some examples of the current range.
Women's Esme Eyeglasses
Esme draws attention to itself with its squarish cat-eyed lenses and an overall air of understated confidence.
The glasses are hand-polished cellulose acetate with Akulon-coated screws for durability. Esme frames are available in two widths: narrow and medium.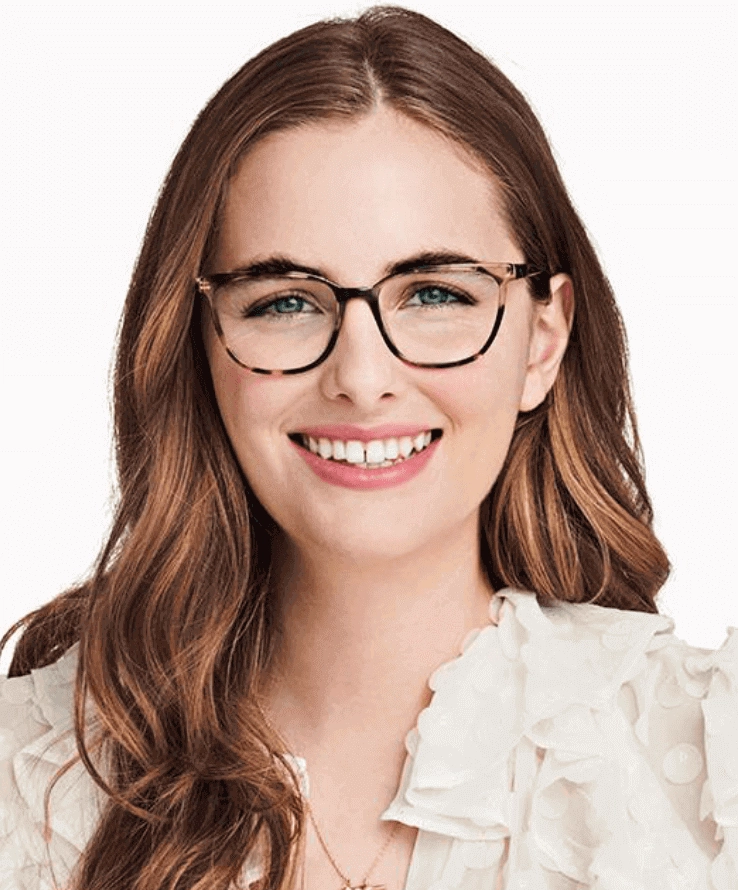 Warby Parker Esme Eyeglasses are $95 for single-vision, no-prescription, and reader lenses. If you need progressive lenses, the glasses cost $295.
Blue-light filtering can be added for $50, and light-responsive lenses can be added for an additional $100.
Men's Halton Eyeglasses
The quiet confidence of these Halton Eyeglasses stems from its distinguishing features, which include a mid-century acetate silhouette, Art Deco-inspired metal temples, sleek temple tips, and a Graduated Rivet design.
The glasses are hand-polished cellulose acetate and stainless steel, with Akulon-coated screws for added durability. The Halton comes in medium width.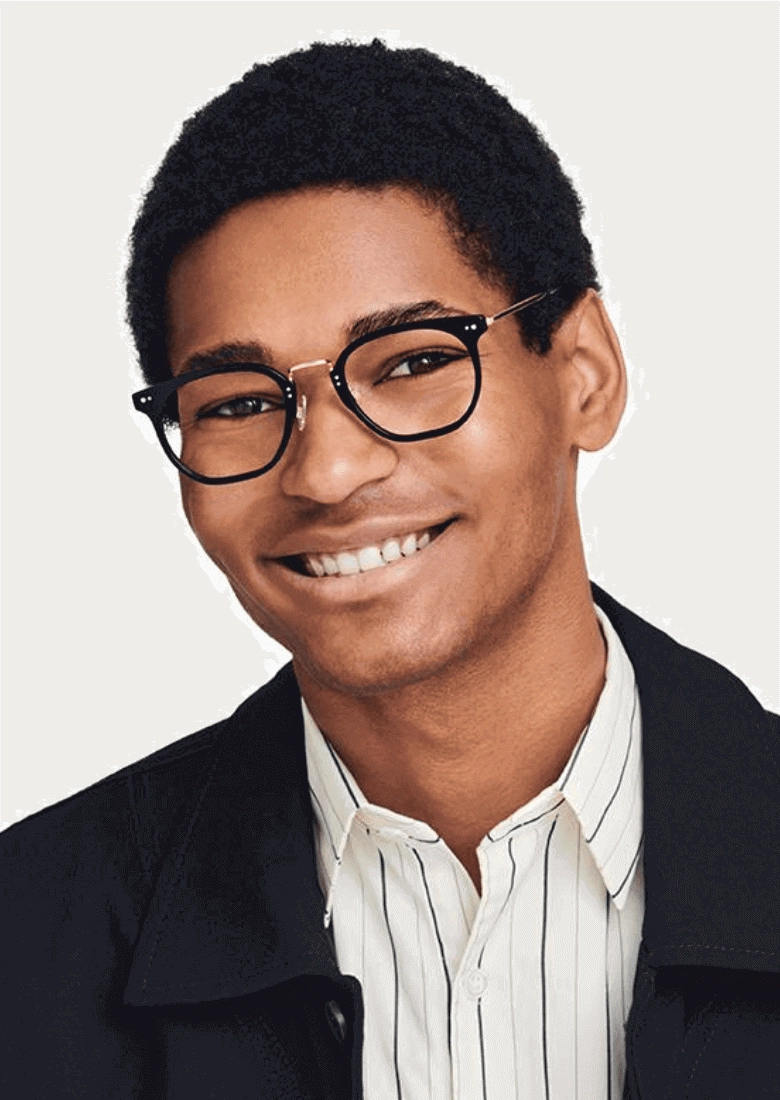 Men's Halton Eyeglasses from Warby Parker start at $145 for single-vision and non-prescription lenses. The price rises to $345 with progressive lenses.
Warby Parker Sunglasses Review
There is a pair of sunglasses for everyone with a wide range of styles designed in-house and crafted from high-quality materials
Women's Percey Sunglasses
Percey sunglasses are one of Warby Parker's tried-and-true classics, made from hand-polished cellulose acetate and featuring Akulon-coated screws for durability.Prescription lenses are made of polycarbonate, which is the most impact-resistant material available for sunglasses; non-prescription lenses are made of CR-39 for maximum clarity and color.
Percey Frames have scratch-resistant lenses that block 100% of UV rays and come in medium width.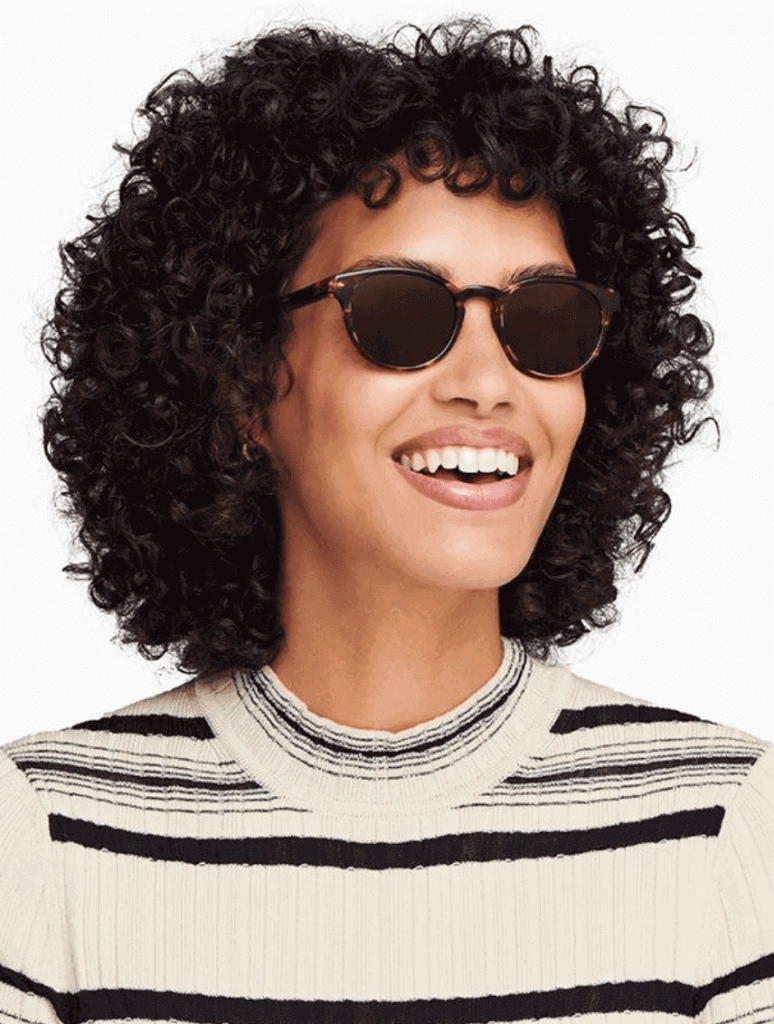 Low Bridge Fit frames are designed for people who have low nose bridges (the bridge of your nose is level with or below your pupils), wide faces, or high cheekbones. This frame style prevents glasses from sliding down your nose, resting on your cheeks, or pinching.
The Percey Sunglasses by Warby Parker cost $95 for non-prescription sunglasses, $175 for single-vision sunglasses and readers, and $375 for progressive sunglasses.
Men's Merrick Sunglasses
The Men's Merrick sunglasses will turn heads thanks to their perfectly oval lenses and sleek temple arms.Made of stainless steel and custom cellulose acetate, the Temple tips are cut from a single acetate sheet to maintain color consistency.
The screws are coated with Akulon for added durability.Premium polarized lenses with anti-scratch coating are made of CR-39 for maximum clarity and color, and the lenses block 100% of UVA and UVB rays.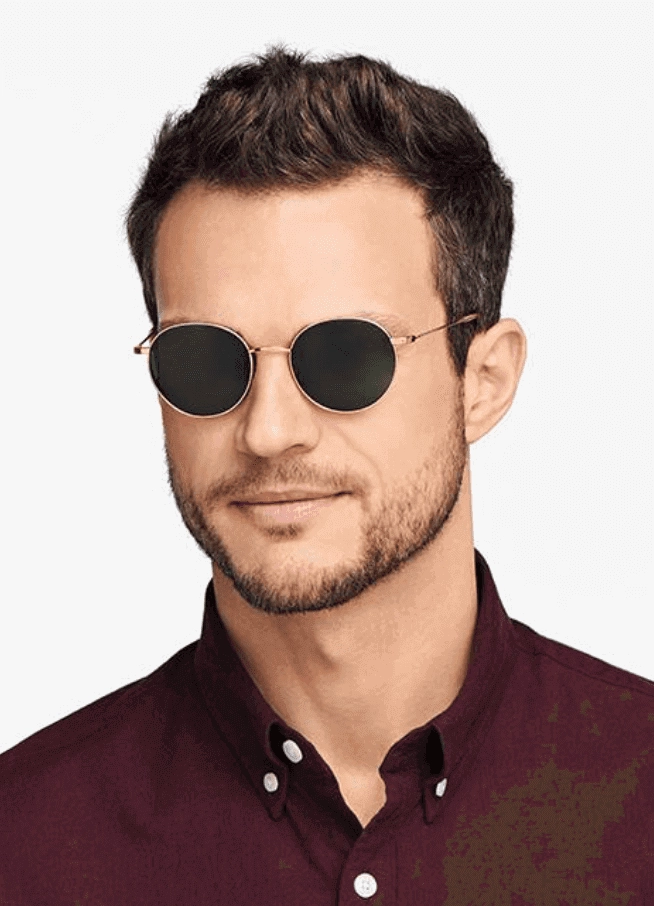 The Men's Merrick Sunglasses by Warby Parker start at $225 for single-vision lenses and go up to $425 for progressive lenses.
Warby Parker Kids Glasses Review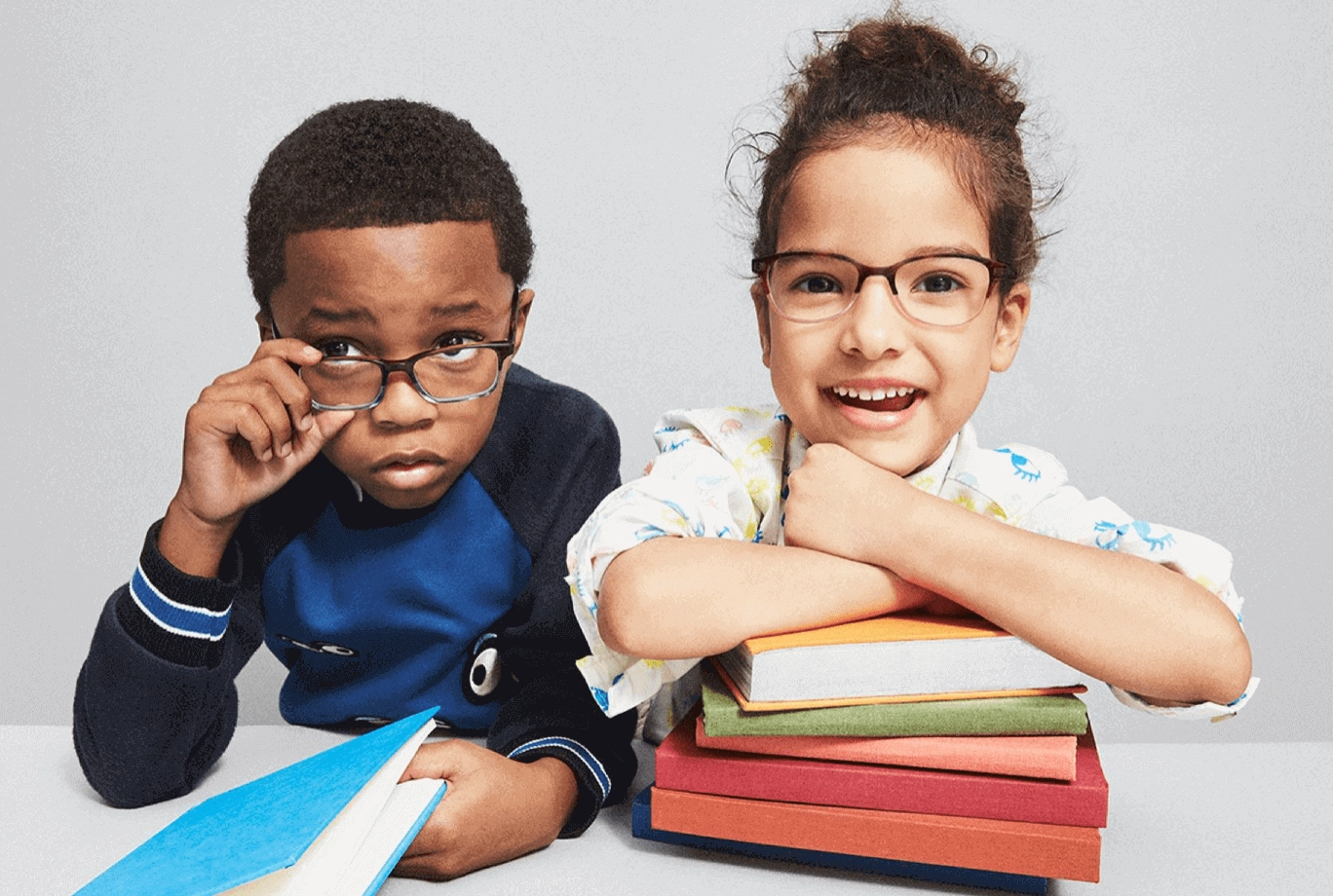 Warby Parker downsized some of their favorite adult frames and amplified the cuteness to fit their younger customers. The junior frames are designed for children ages 4 to 8, while older children may prefer the extra-narrow adult frames.
The children's range is not available online, but you can browse their selection and place an order by calling 1 (888) 492 7297 or purchase them in-store.
Additionally, for every pair of kid's glasses purchased, the company will donate a pair to a kid in need.
Warby Parker Lens Review
WarbyParker offers a wide range of lens types, including polycarbonate lenses, 1.67 high index lenses, 1.74 high index lenses, blue-light-blocking lenses, and light-responsive lenses.
The company does not offer bifocal lenses.
Wherever you purchase your glasses, they should be durable, easy to care for and provide the best sight correction and comfort. Warby Parker delivered on all of these fronts.
Their lenses have excellent clarity and visual sharpness. Prescription lenses are made of polycarbonate, which is lighter and stronger than the standard CR-39 (1.50-index) lens.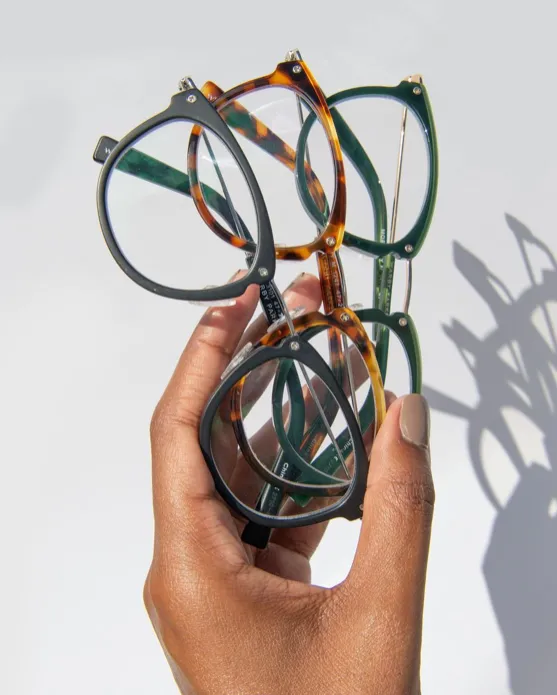 What Lenses Are Included With The Frame?
Each pair of Warby Parker glasses lenses comes with a slew of fantastic extras:
Scratch-resistant treatment – A treatment that accomplishes exactly what the name implies. If scratches occur within a year of purchase, the company will replace your lenses for free.
Anti-reflective coating: A coating has been applied to your lenses to reduce reflections and eliminate glare.
Superhydrophobic coating: The term "hydrophobic" refers to something that is opposed to water. The lenses are superhydrophobic, which means they repel moisture, aiding in smudging prevention.
UV protection – lenses completely block UVA and UVB rays. All-optical orders include these lightweight, impact-resistant lenses as standard.
The following prescription types are included in the frame's base price:
Single Vision Lenses: These lenses focus on a single field of vision, close, intermediate, or distance. This is the most popular option, and it is included in the price.
Non-Prescription Lenses: Enjoy all of the style and protection of our optical lenses without the need for vision correction.
Readers – These lenses provide simple magnification for reading (up to +2.75).
Can You Upgrade Your Lenses?
Warby Parker offers a range of upgrades to your lenses.
Progressive Lenses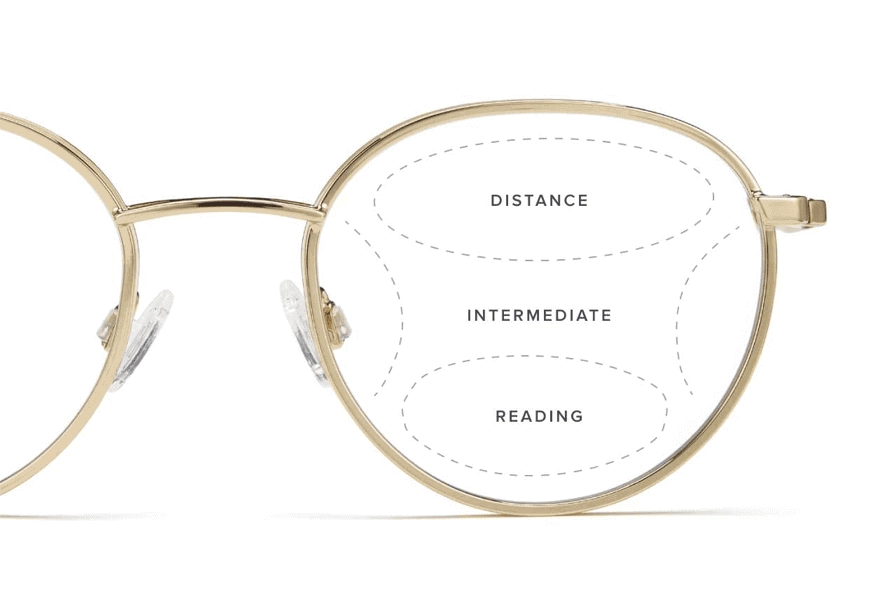 The digital free-form progressive lenses provide seamless near- and far-sighted correction, as well as everything in between, eliminating the need for multiple pairs.
In comparison to bifocal and trifocal lenses, Progressive lenses provide sharper overall vision and a seamless transition from distance correction to reading correction at the bottom. This means you can see your entire field of vision without switching between multiple pairs of glasses or traveling between the lines when wearing bifocals or trifocals.
Progressive lenses start at $295.
Blue Light Filtering Lenses
Blue light is a subset of the light emitted by the sun and the light emitted by computers, phones, and other electronic devices. These lenses filter out a more significant percentage of blue light than the standard option and cost $50 more.
Light Responsive Lenses
When exposed to UV rays, the light-responsive lenses transition from completely clear to a darker tint, preventing eye strain and glare.
Additionally, they shield your eyes from 100% of UVA and UVB rays and filter more blue light from the sun and electronic devices than standard lenses.
Light-responsive lenses are available in various prescription types, including single-vision and progressive lenses, as well as non-prescription and reader lenses. Included are scratch-resistant and superhydrophobic anti-reflective coatings.
The lens contains light-responsive technology, which means the treatment will not rub or peel off.
Light-responsive lenses cost an additional $100.
High Index Lens Choices
Anyone with a strong prescription of +/-4.0 or higher total power should consider 1.67 high-index lenses, which are up to 20% thinner than polycarbonate lenses. These add $30 to the price.
The 1.67 high-index lenses are up to 10% thinner than the standard lenses and are recommended for those with extremely strong prescriptions (+/-8.0 or greater total power).
These will set you back an additional $130.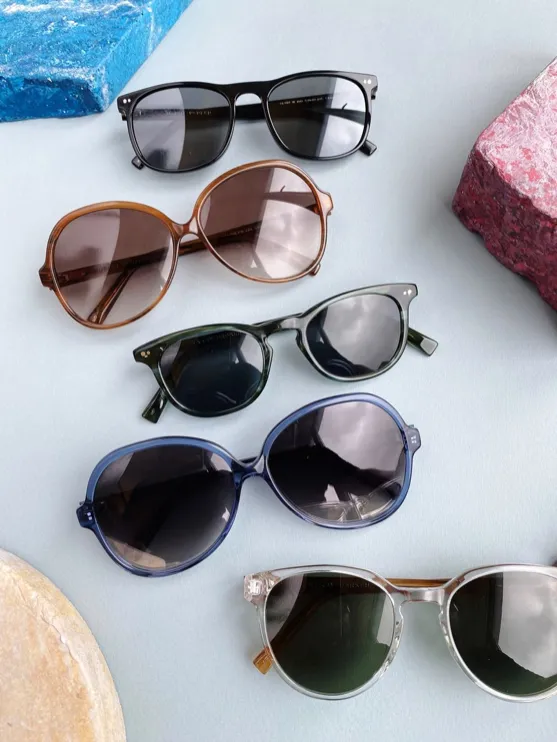 Warby Parker Reviews From Other Sources
As part of this Warby Parker Glasses review, GNGuide visits various websites across the web to learn what customers think about the products.
On Trustpilot.com, we began our analysis. Warby Parker has received 39 comments on this website and an average score of 3.4 stars.
Reviewers gave the company mixed reviews on this site.
Warby Parker was praised for their excellent customer service, and many customers thought their "try five frames at home" approach was fantastic.
Some customers complained about the customer service, lengthy delivery times, and not honoring their replacement policy.
Additionally, the company received 123 reviews and a 3.7 rating on the consumer affairs website.
Customers praised the company for their home try-ons, and the customer service team received numerous compliments, similar to other reviews.
Warby Parker is active on social media, with 765k individuals following the @warbyparker Facebook page and 558k customers following the warbyparker Instagram page.
Where Can You Buy Warby Parker?
The complete Warby Parker Glasses collection is available at warbyparker.com
Alternatively, you'll find the brand in stores across the country.
Warby Parker Promo Codes, Discounts, And Promotions
We searched for relevant discount codes and promo codes as part of the GNGuide Warby Parker Glasses review. Unfortunately, we were unable to locate any.
Check out the Warby Parker website to stay up to date on current promotions.
Check out our coupon codes page to find the latest discounts.
Warby Parker Newsletter
Get the inside scoop on new frames and events by signing up to the Warby Parker newsletter.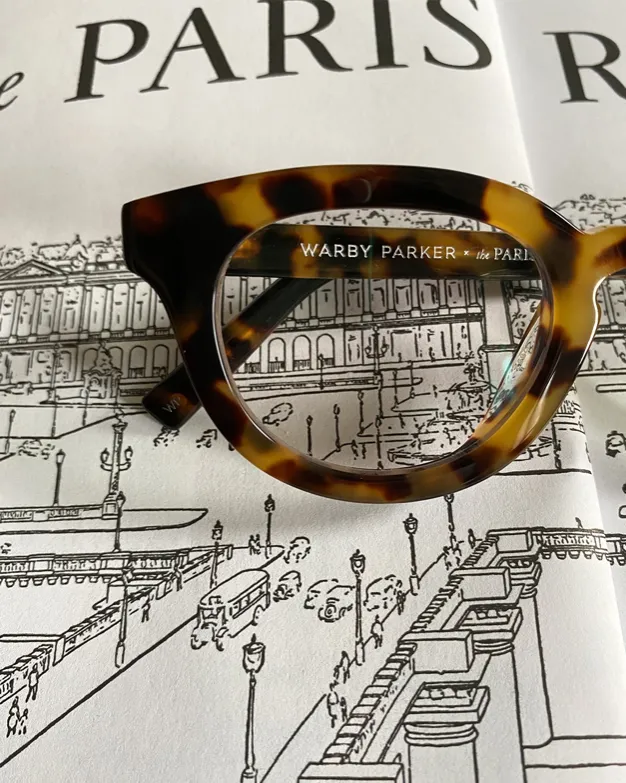 Warby Parker Frequently Asked Questions
What Is Warby Parker Shipping Policy?
Currently, Warby Parker ships eyeglasses and sunglasses to the United States, Puerto Rico, Guam, the United States Virgin Islands, and military APO/DPO/FPO addresses for free.
Additionally, the company offers international shipping to Canadian customers.
They only ship contact lenses within the United States.
If you require expedited delivery, Warby charges an additional $20 plus tax.
Warby Parker Shipping Estimates:
7–10 business days after prescription and billing information is approved for prescription glasses (eyeglasses and sunglasses).
Spectacles without a prescription: 5 business days (sunglasses); 7–10 business days (sunglasses) (eyeglasses)
Contact lenses: 5–7 business days (for most lenses); Biofinity, Biotrue, and specific specialty or XR lenses frequently take longer.
Home try-on takes five business days.
Orders shipping outside the continental United States may take a few days longer to arrive.
Warby Parker Return Policy
Warby Parker offers a 30-day, no-hassle return or exchange policy on all eyewear and accessories.
If you are dissatisfied with your purchase, they will refund or exchange it within 30 days of receipt. This policy also applies to contact lenses that are still sealed in their original, unopened packaging.
Furthermore, Warby Parker offers a one-year scratch-free guarantee on eyeglass and sunglass lenses. Within that time frame, they will replace your scratched lenses for free.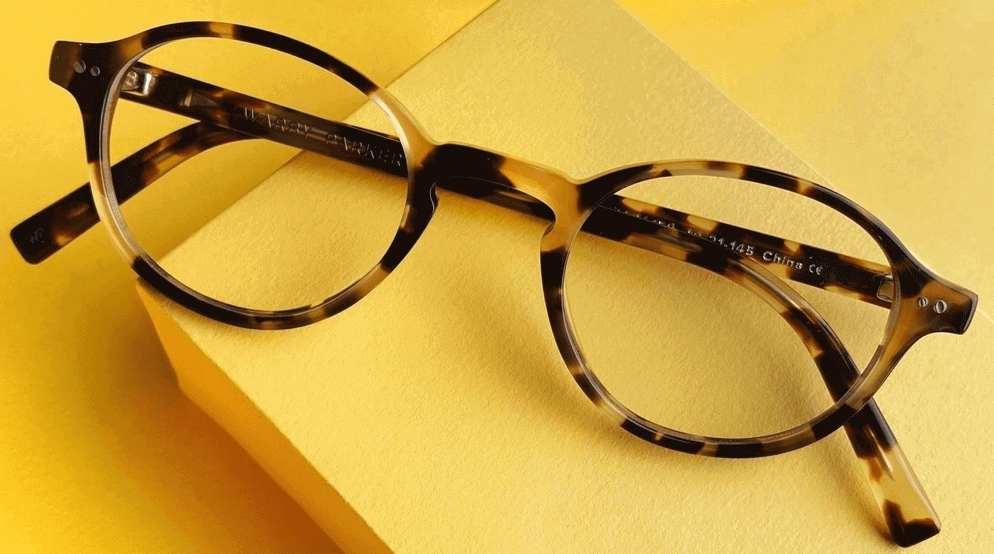 Warby Parker Contact Information
Before contacting Warby Parker directly, you might want to check their help center, which has a range of questions answered for your convenience.
If you can't find what you're looking for on the FAQ page, you can reach Warby Parker through a variety of channels:
Does GNGuide Recommend Warby Parker?
If you're looking for reasonably priced prescription glasses and aren't looking for designer frames, we believe Warby Parker is an excellent option.
With the convenience of their Home Try-On Program, they make it simple to try on several pairs of glasses without committing to a purchase.
In addition, they are a socially aware business that ensures those who are less fortunate also get the opportunity to see. Therefore you know that your purchase benefits not only you but also others.
My Honest Fabletics Reviews: Everything You Need to Know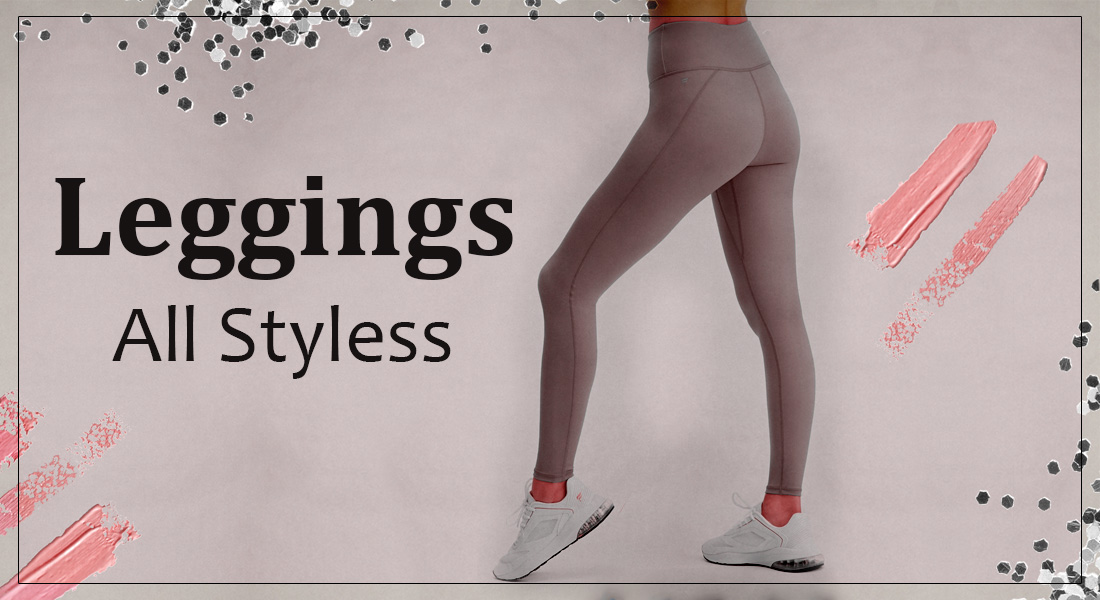 Since I wear activewear most of my life (it's just so comfy), I'm a stickler for finding the best options on a budget. I've been shopping from Fabletics for over a year now and own too many of their leggings and sports bras, so I decided to share my Fabletics reviews to help anyone curious about this brand!
When it comes to activewear, quality is so important (especially for leggings). Poor quality might be too sheer, uncomfortable, give you a cameltoe, roll down, make your curves look strange, or could even rip in the gym! Because of this, I'm always on the lookout for top-quality activewear.
Keep reading to learn more about Fabletics and my experience with their products!
I found this quiz extremely helpful for choosing leggings, since they have so many options.
What is Fabletics?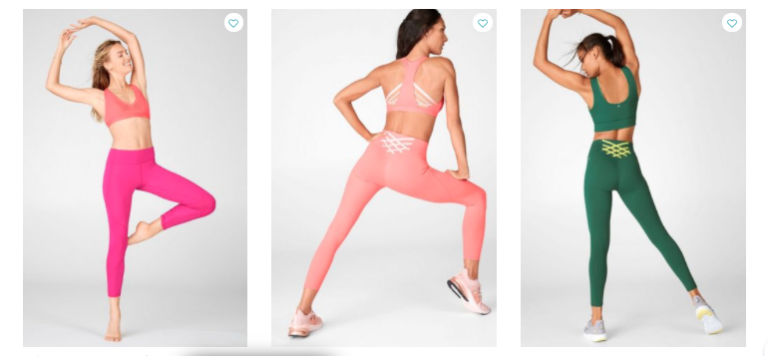 Fabletics is an inexpensive activewear brand that sells a wide range of premium quality items. Their clothes are comfortable while also making you feel comfortable about your body!
They're also well-known for their great introductory deals – for example, they almost always offer 2 for $24 leggings upon your first "VIP" purchase.
Fabletic Reviews
Now, let's get into the good stuff. Leggings are their most well-known products, so I figured I'd start out with those.
I have tried just about every fit that they offer (with an exception of maybe one or two). They also sometimes release new limited-edition legging styles that I don't always get to try. However, I have tried all of their signature collections. I'm going to give my honest Fabletics reviews on each and let you know why I like each of them.
They're always releasing new styles, so I will update any time I try a new style as well.
When it comes down to it, Fabletics offers high-quality clothing and amazing deals when you become a member. I love that you can skip a month any time you want, but if you think you won't remember to skip or cancel before you're charged, you might not like the idea of having a membership.
All of the leggings I have tried have been top-notch quality; they're durable, squat-proof, and they don't roll down at the waist.
I honestly love all of the leggings fits that Fabletics carries (they have over 18 different fits with 6 different types of compressions). Plus, most options offer 3 different lengths!
Seamless Leggings Review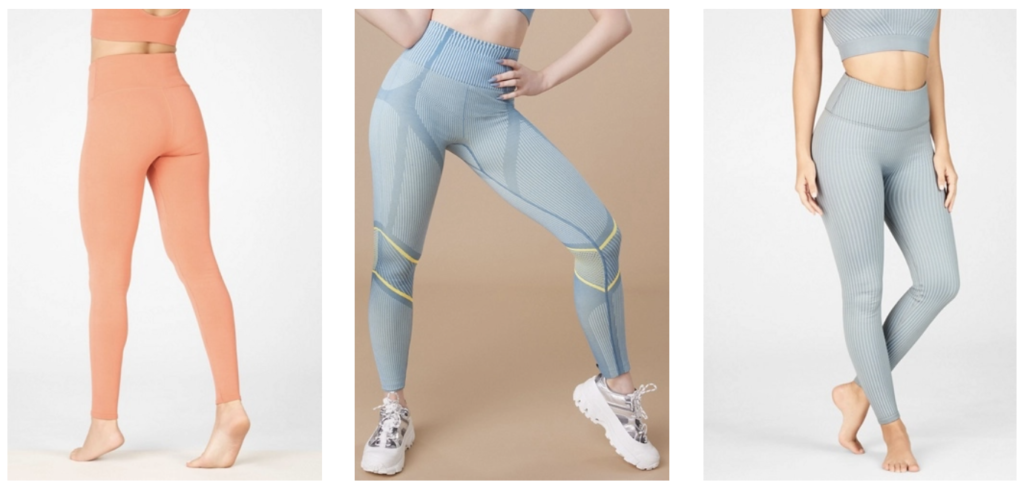 I've found that these are perfect for anything, from lounging to aerobics. They are extremely comfortable and lightweight.
That said, they're not the best if you're looking for compression – I definitely choose some other options when I'm ready to hit the gym for a hard workout.
PureLuxe Leggings Review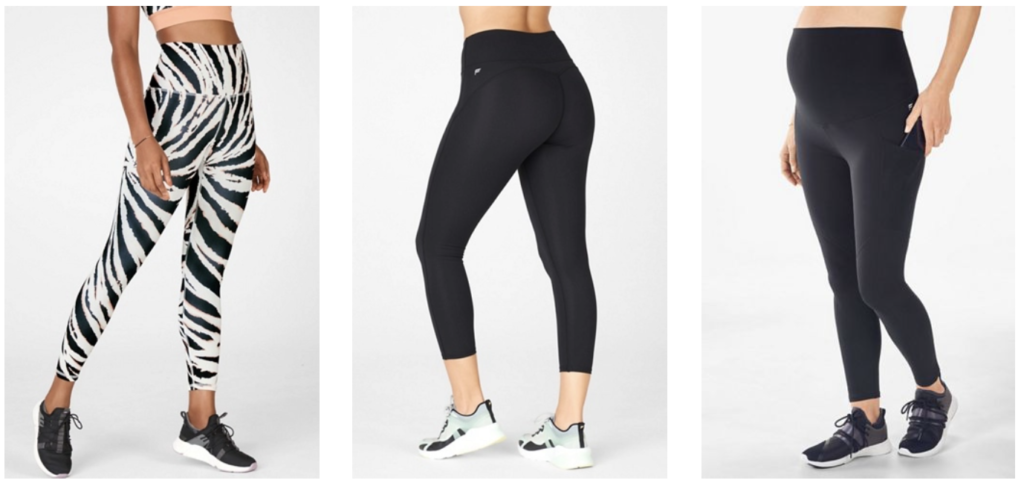 This is the one fit that I have not tried myself, but I have heard yoga lovers are big fans. I chose not to get this fit because I felt it was going to be similar to the seamless leggings, but I'll have to try them soon. I'll keep you updated!
SculptKnit Leggings Review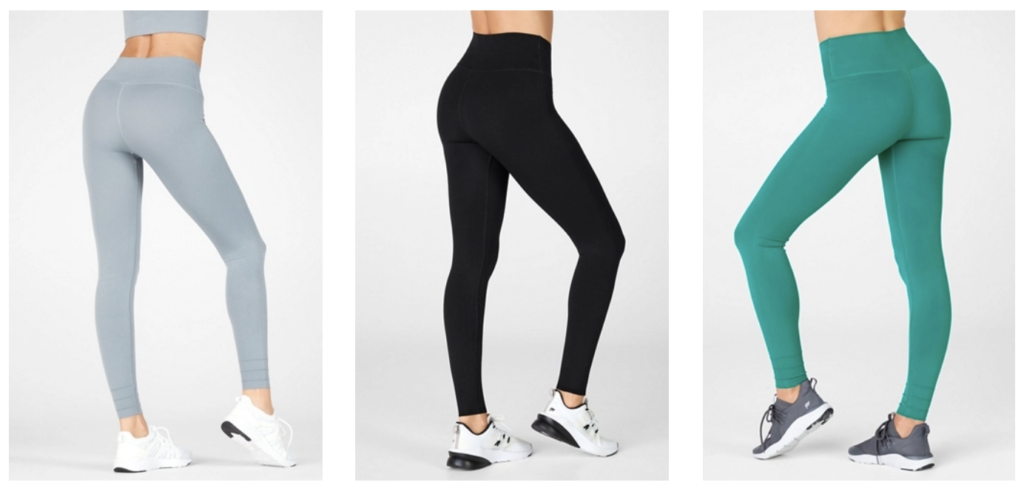 This is the one fit that I have not tried myself, but it's next on my list.
Apparently, this fabric doesn't fray, meaning you can cut these leggings to your desired length. I thought that was pretty cool! I've also heard these are very form-fitting and excellent if you want compression (and they make your butt look nice, which is always a plus).
UltraCool Leggings Review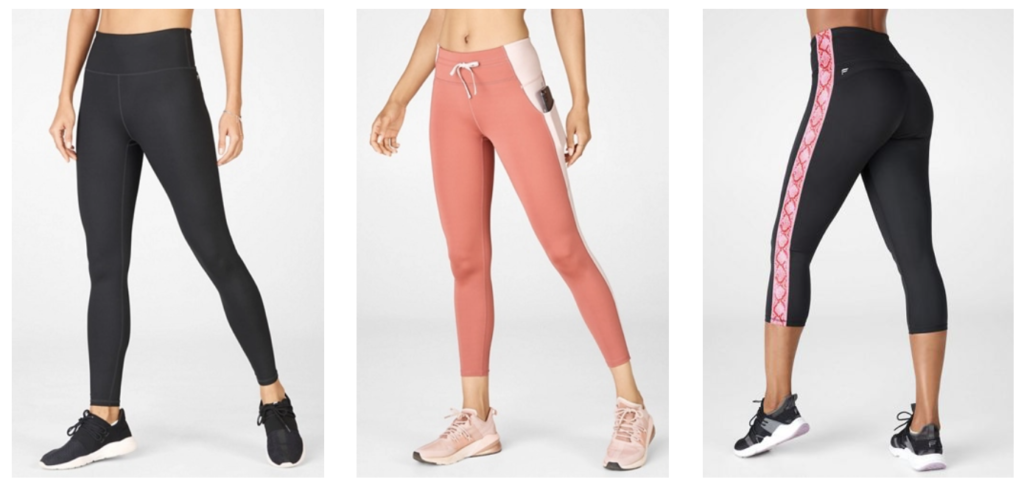 I love this fit for the summertime or just generally working out in warmer environments (such as hiking or yoga outdoors). I live in the desert, and these manage not to make me feel suffocated and overheated during the summer.
They have mid-rise options, but I've always purchased high-rise and love them. I like having these leggings as an option for summertime so I don't always have to go for shorts.
Powerhold Leggings Review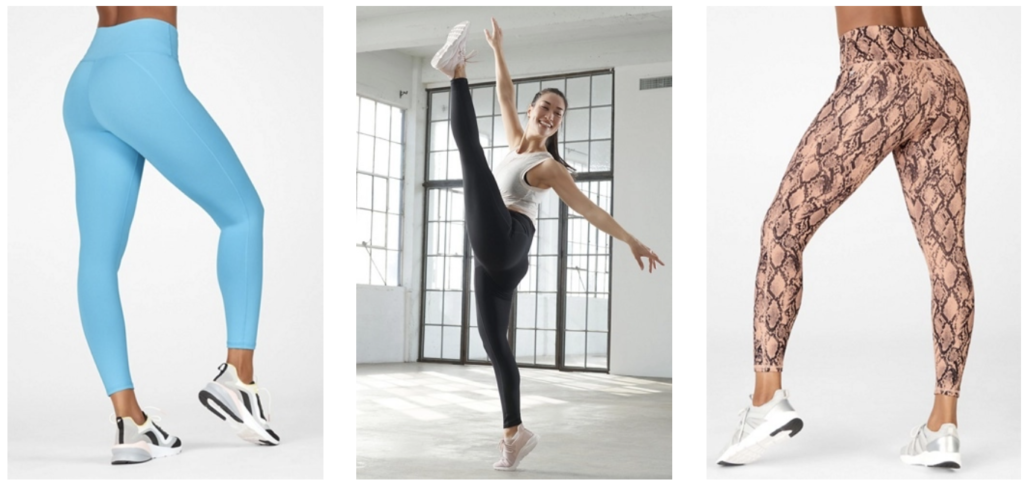 This is one of their most popular fits – Powerhold leggings will offer you high compression with a firm hold, making it perfect for showing off your curves.
In my opinion, this is the highest quality pair of leggings they have (it almost feels like it's 2 or 3 layers thick). I find them perfect for the winter. They're squat proof and have a fit that just makes your booty look great! I'm never disappointed by these – I always go for the high-waisted fits.
Motion 365 Leggings Review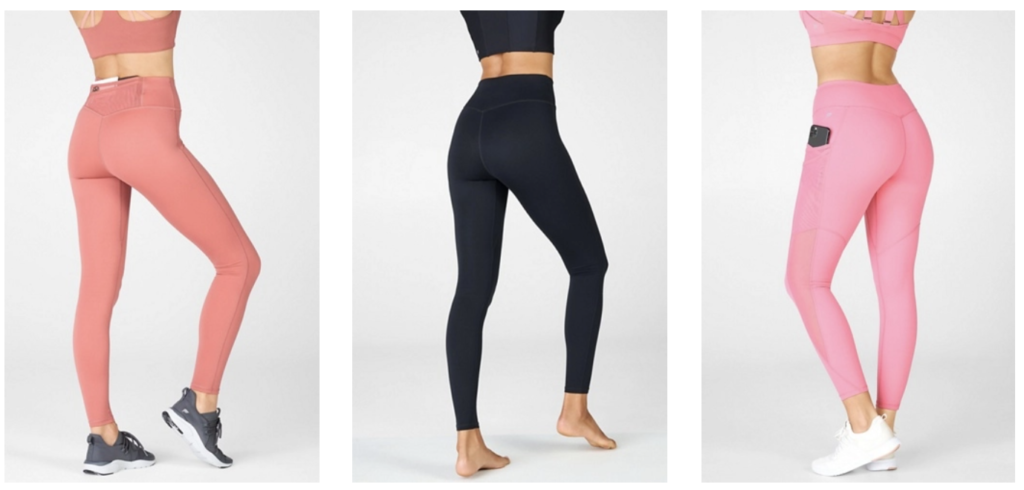 This one is my second favorite out of all their legging fits. They aren't as tight as the Powerhold, making them more practical for hanging out and doing everyday things like grocery shopping.
I love how it cinches at the waist and feels snug – many leggings often roll down my waist as the day goes on and I find myself continuously having to pull them up. That's one thing I rarely have to worry about with most fits from Fabletics.
Since this is the name of the fabric, they can be harder to find, so make sure to look at the product details. The "Trinity" leggings use the Motion365 fabric. You can also search "motion365 leggings" and all of their leggings that use this fabric will typically come up.
Fabletics Sports Bras Review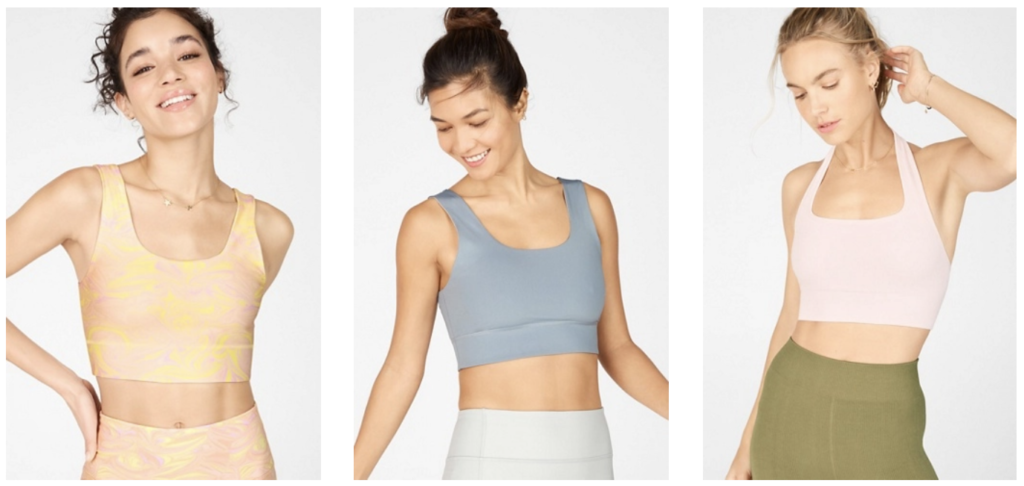 Fabletics has some great sports bras that complement their leggings really well. They have various fits including low impact, medium impact, and high impact.
Their medium and high impact bras have great coverage and hold. I've never had to worry when going hard in the gym, and my gals aren't small.
I've only ever received their sports bras when buying outfits, but I've got quite a collection going. Their outfits are always well put together and look super cute (plus they're an even better deal than buying pieces by themselves).
I haven't experienced many other items from Fabletics aside from sports bras and leggings. I have received a couple of outfits that came with tank tops, which have been very breathable and have lasted a long time.
Timberland Premium Waterproof Boot Review – Is the Hype Real?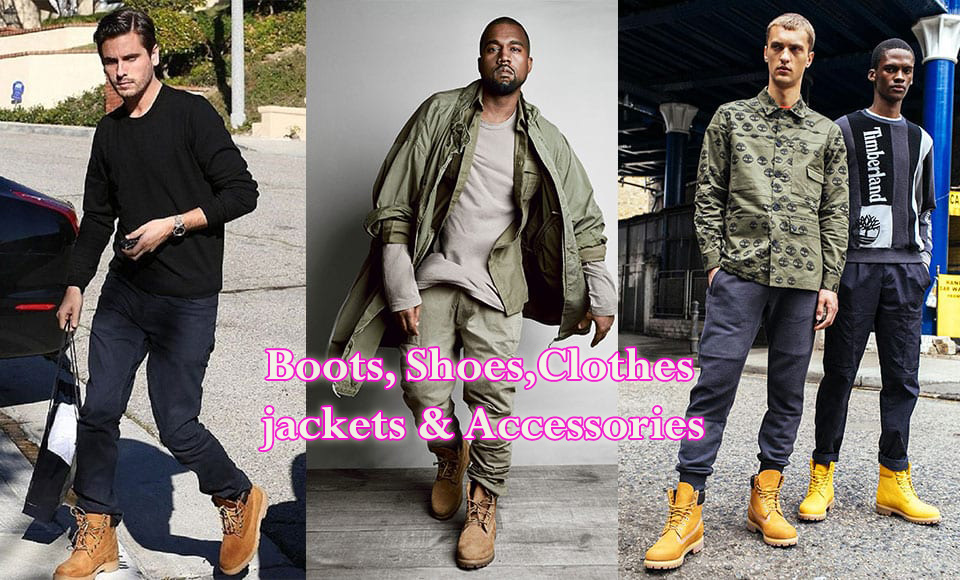 This is it: the original yellow boot that made the Timberland Company so famous. The company was founded in Boston in 1928 when it was called the Abington Boot Company, then bought by Nathan Schwartz in 1952 and renamed Timberland in 1973, the same year this boot was launched. Intended for wear by New England's working class, the boot became popular among construction workers and farmers who spent northeastern winters working outside on their feet.
They were popular from the drop, but sales more than tripled in the 1990s when the boots became an icon in the rap and hip-hop communities.
The story goes that the reason the boots were so popular is the insulation: they keep your feet warm when you're standing on chilly street corners dealing drugs. I don't know how true that is, but rappers (and former drug dealers) like Notorious B.I.G., 50 Cent, and Jay-Z famously sport Tims, or reference them in their music, and there's no doubt they're enormously popular in the African American community generally and the hip-hop community specifically.
But these shoes have extremely widespread appeal. Here in Brooklyn I see them on absolutely every kind of person, from trust fund hipsters to construction workers and everyone in between, and there's no doubt that Tims have a rare crossover appeal that gives them a place in just about any wardrobe.
So is the boot worth the hype?
6 inches high
Wheat nubuck leather
Completely insulated
Gripstick rubber lug outsole
Taslan nylon laces
These are the classic 6-inch Premium Waterproof boot. They're available in a ton of colors — regular colors like black and brown, but they can also be found in more out-there shades like pink or neon green. But I got the wheat color because when you hear "Timberlands," this is the boot you think of. Like I said, it's ubiquitous.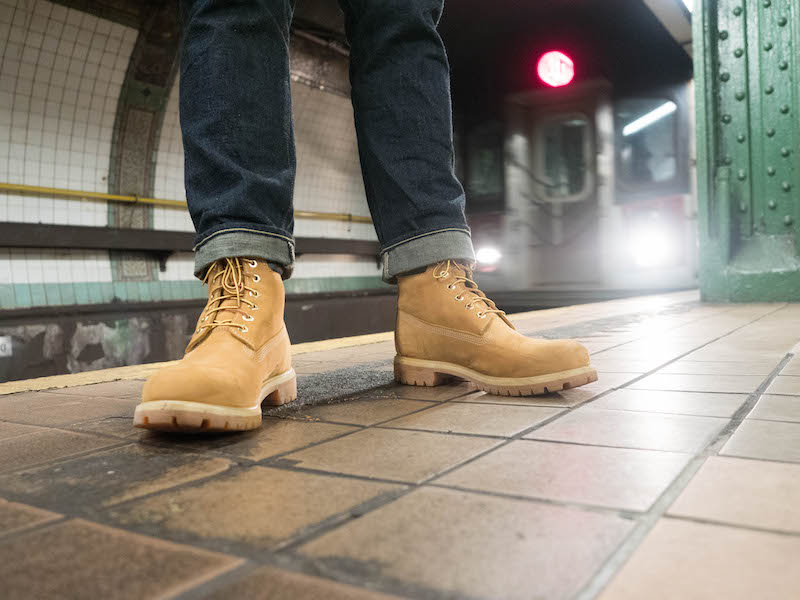 They're pretty bulky, so they don't look great with slim pants or skinny jeans, if that's your thing. They're versatile in that they can fit into a variety of different styles, but they're not dressy by any stretch of the imagination.
A pair weighs about two pounds, and a lot of that comes from the insulation, which is made by a US company called PrimaLoft. The inside of the upper is totally insulated and at least half of that is made from recycled plastic bottles, which is a pretty cool touch that's on brand with Timberland's eco-friendly ethos.
Other signature features of the boot are the chunky, grippy rubber lug called Gripstick, the iconic laces made from Taslan nylon, and the leather collar, which helps with insulation.
But look, before we go any further, we need to talk about this leather.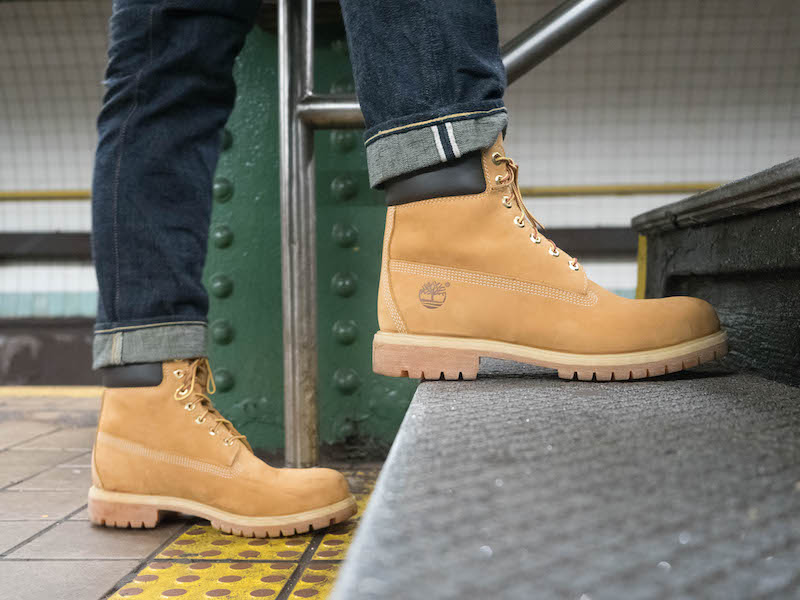 Wheat nubuck
Sanded on leather's grain side
Slight nap of protein fibers
Totally waterproof
The leather is, in fact, nubuck. A lot of people assume it's suede, which is a similar texture, but it's not; nubuck is a top grain leather which means that it's made from the top layer of the animal's hide, and it's been sanded or buffed on the grain side (the outside of the leather) to give it a slight nap of protein fibers.
There's some disagreement about this definition of top grain leather. The world famous Horween Leather Company, makers of the beloved boot leather Chromexcel, told me that full grain is actually considered a type of top grain. But I'm not going to get into all that here — check out my interview with them for more information.
The crucial difference is that suede, which is similarly buffed, is made from the inside or flesh side of the leather, while nubuck is made from the slightly tougher outside. Unlike some kinds of suede or traditional leather, nubuck won't really develop a patina over time, so you'll want to take some care if you want to keep it looking good.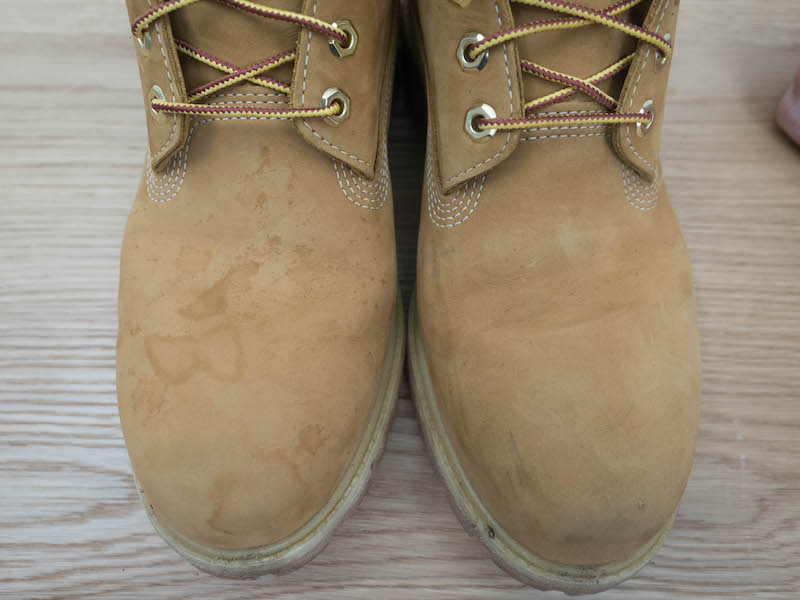 Timberland Boot Leather Care
Use stiff brush to remove dirt
Pencil eraser may remove stains
Use "Renewbuck" for cleaning
Hard to keep clean
As it says in the name, these boots are waterproof. So waterproof, in fact, that a lot of people find that the usual leather conditioners don't work because they can't seep into them. Which is fine, because nubuck isn't really something you condition, so don't go pouring Venetian Shoe Cream on your Tims.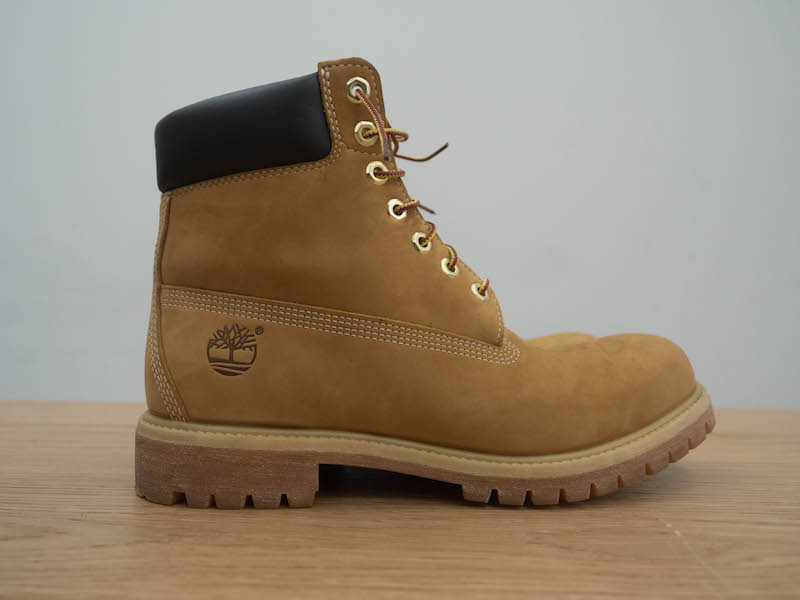 BUY NOW At Timberland UK
To be clear, these boots get dirty really easily. There are a lot of ways to take care of them, but I think the biggest downside of the boots by far is that they get dirty way more easily than regular leather. I actually had to delay publishing this review because the boots got too dirty on my walk into the office! So if you're someone who likes having pristine boots, know that it's gonna take some work with Tims.
Timberland recommends simply brushing them to keep the dirt off. You can use a nylon brush or a toothbrush – you'll want something stiffer than your standard horsehair. That'll also raise the nap of the nubuck and brighten the color. If the boots get stained, allegedly you can use a pencil eraser to clean them up, but I haven't tried it. Sounds complicated? To make things easier, Timberland makes their own dry boot cleaning kit you can get on Amazon here.
If brushing or an eraser doesn't do it, and you need to give your boots a really good cleaning, Timberland suggests you use their very cleverly named nubuck cleaner called "Renewbuck" which is a water-based cleaner. Spray it on a cloth, rub it all over the shoe, and then let it dry.
If you've had yours for a long time and the waterproofing is wearing off, or if you're particularly worried about salt or oil stains, you can use Timberland's Balm Proofer, another water-based all-purpose protector.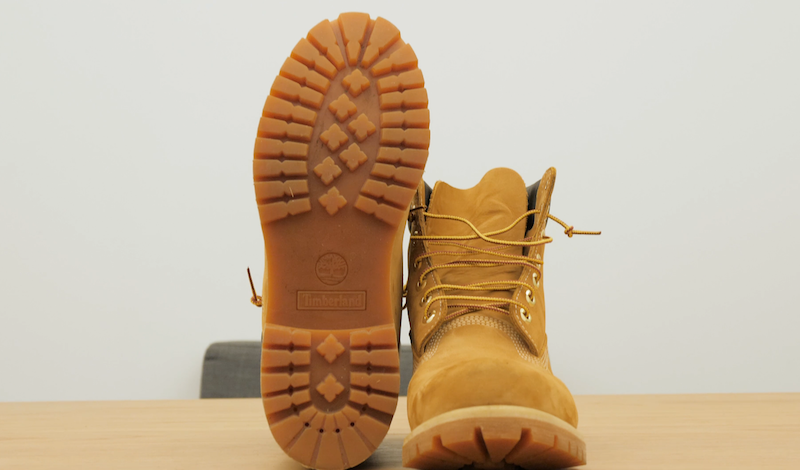 Timberland Boot Sole
Gripstick rubber outsole
Made from 10% recycled materials
Steel shank
Urethane insole
Removable foam insert
Hard to resole
This outsole lives up to its name: Gripstick. Out of the box it's very, very sticky and it gets stickiness all over you and sticks to the ground. It's a little annoying, but it doesn't take long for it to wear off. The rubber is made from 10% recycled materials, again in line with Timberland's Earth-friendly branding.
There's also a rubber midsole and a urethane insole — no leather or cork to be found here. These Tims have a removable foam insert, which doesn't really mold to your foot over time the way those other, more expensive materials would, but is pretty comfy from the get-go. They also have a steel shank, which makes for good stability and arch support.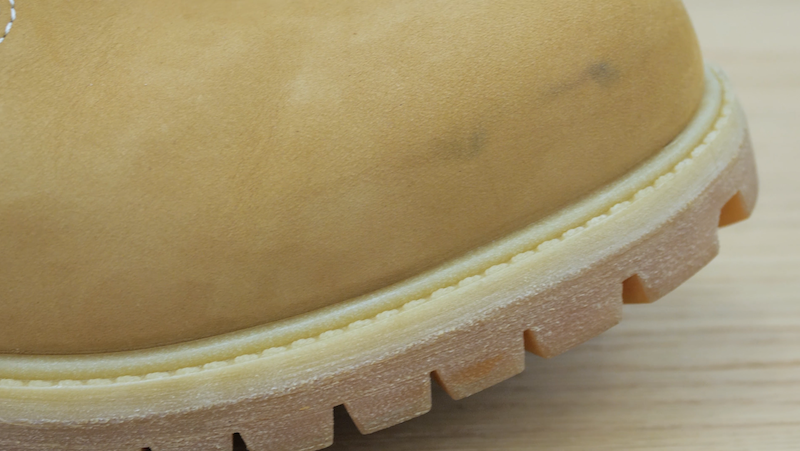 The sole is bonwelted, not Goodyear welted, meaning the sole is cemented to the upper in a manner not totally dissimilar to your standard pair of sneakers. That doesn't necessarily mean it's poor quality — it's very waterproof, made with sealed seams — but if and when you go through this sole, that's it. The advantage of a Goodyear welt is that it makes the shoe easy to resole; you can't usually resole a bonwelted shoe like these.
That said, Timberlands are so popular that there are some cobblers who specialize in resoling them, and they're just a Google away if you want to try your luck.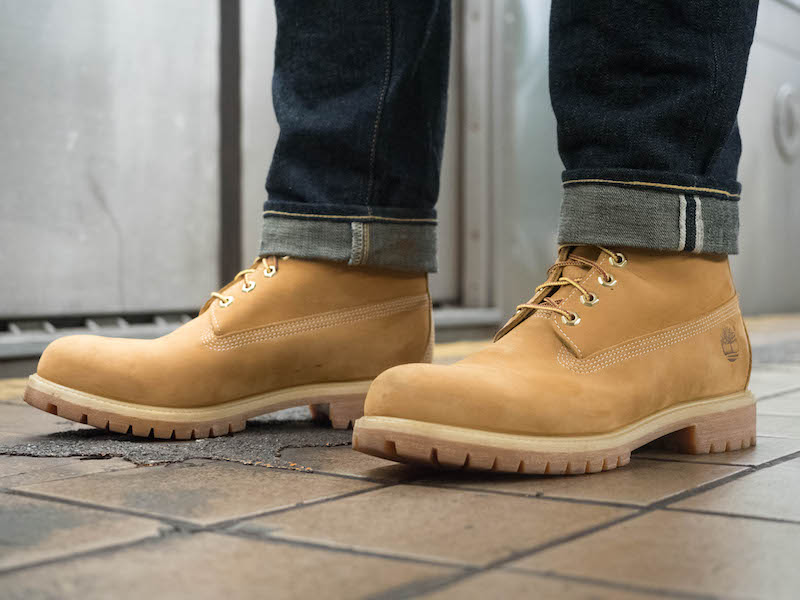 Timberland Boot Fit & Sizing
Order at least a half size down from sneaker size
Very roomy fit
Great shock absorption
Insole is a tad slippery before it's worn in
Available in full and half sizes up to size 18. (Shaquille O'Neal famously got a pair made in size 23 so maybe if you ask nicely, you too can get an extra-large pair.)
A lot of people say they're true to size, but I wound up returning my true size (11.5) for a size 11. (My Brannock size is about an 11.75.) They fit fine but they're actually still pretty roomy — I'm not slipping around in them, but I can't really get away with the cool open laced look that's so popular. I think I would have even been fine with getting a size 10.5, which is something I've never said before.
They're easy to walk around in and don't really have a break-in period. The urethane insole makes for really nice shock absorption, and the arch support is solid. All in all, they're comfy boots.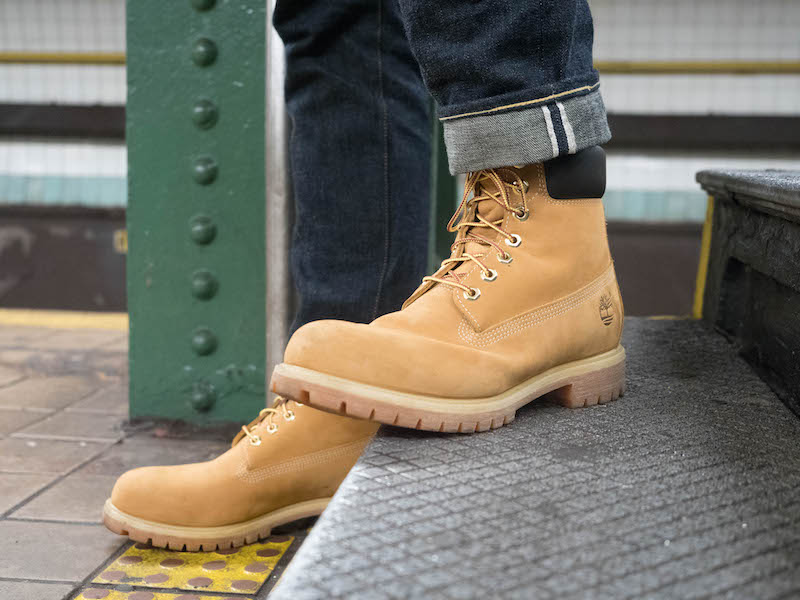 Timberland Boots Price
About $180. The price varies a ton — I paid $174 — but one advantage of the boots' popularity is that they're available absolutely everywhere, so it's not crazy hard to find them on sale if you're patient.
People who usually just wear sneakers might try to tell you they're expensive but I'm here to tell you that's not expensive for nice boots. Sure, they're bonwelted, not Goodyear welted, and there's no leather or cork in the sole, plus the nubuck is pretty pedestrian leather; all that said the price feels right to me. It'd be pretty nuts if they were over $200.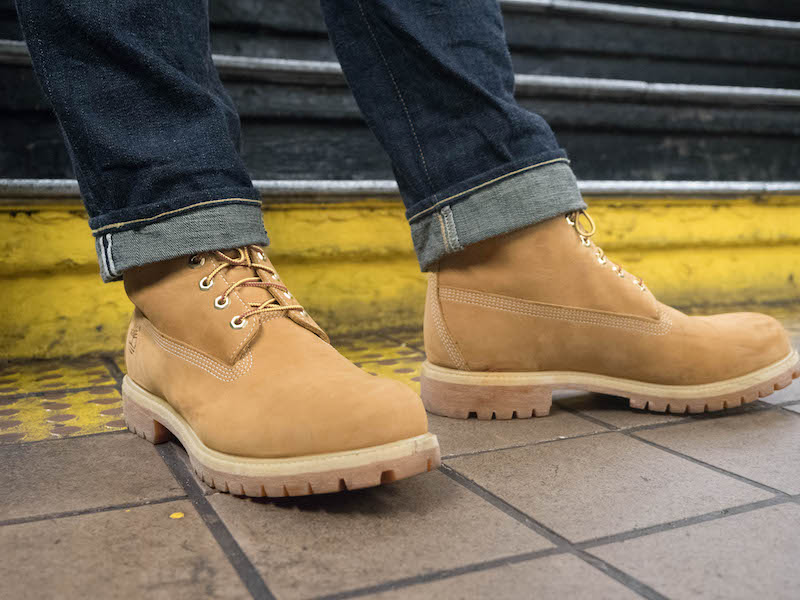 Timberland 6″ Premium Waterproof Boot: Worth the Hype?
PROS
Relatively inexpensive (for boots)
Waterproof
Insulated
Great shock absorption
Good arch support
CONS
Hard to keep clean
Hard to resole
Hard to wear with slim pants
For a pair of boots this popular and inexpensive, I confess I was ready to be disappointed, but I wasn't at all. They're sturdy, comfortable, functional, and damn cool. They're not that much more expensive than a pair of good sneakers and they'll last you a lot longer. They're not dressy and sure, they're tough to resole, but I give them high marks: these boots deserve their reputation.