Best New Balance Running Shoes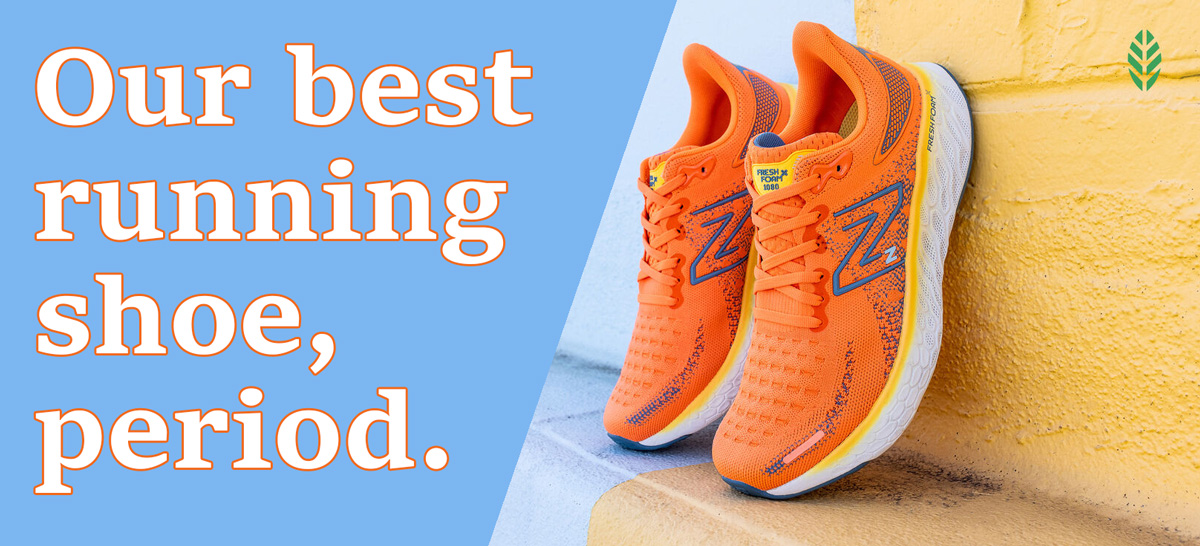 This post contains affiliate links. When you purchase through links on this post, we may earn an affiliate commission. Thanks.
What You Need To Know
We break down our 8 best New Balance running shoes at the moment
From racing to tempo to slow days to trails, we got you covered
Any questions? Drop it in the comments. Otherwise, let's get you educated.
You might picture chunky dad shoes when you think of New Balance, but it's time to leave those thoughts in the past. We won't disparage the classic 574, but good luck racking up miles in them. Instead, here are the best New Balance running shoes on the market.
We haven't been shy about showing our love to the Boston-based company. This list will dig into a few max-cushion shoes, some speed demons, and one of our favorite shoes — potentially of all time. New Balance seems to have given its style department a massive boost in the past year, so get ready for some serious heat.
We've limited ourselves to the top 8 options for now (your wallet will thank us) so let's get to it. (The list is not in any particular order, check back for updates throughout the year).
New Balance 101: What To Look For
Before we actually get to the shoes, it's time for a little education. New Balance, like any running shoe company, seems to have its own language when it comes to technology. You'll need to know at least a little bit about the most popular foams and upper materials to make an informed purchase.
Here's your quick lesson:
Fresh Foam – Launched in 2013, New Balance's popular springy-yet-stable EVA foam. Found on both road and trail shoes.
FuelCell – New Balance's high-rebound foam, launched in 2017. Consists of nitrogen-fueled TPU foam. Bouncy and fun.
Hypoknit – Mesh material used in uppers. Carefully crafted to stretch in some areas and provide support in others.
DynaRide – Tough, lightweight outsole rubber designed to deliver traction in adverse conditions.
Ultra Heel – Improved heel support for a more secure fit. Also a good name for going-out shoes.The Best New Balance Running Shoes
Fresh Foam 1080v11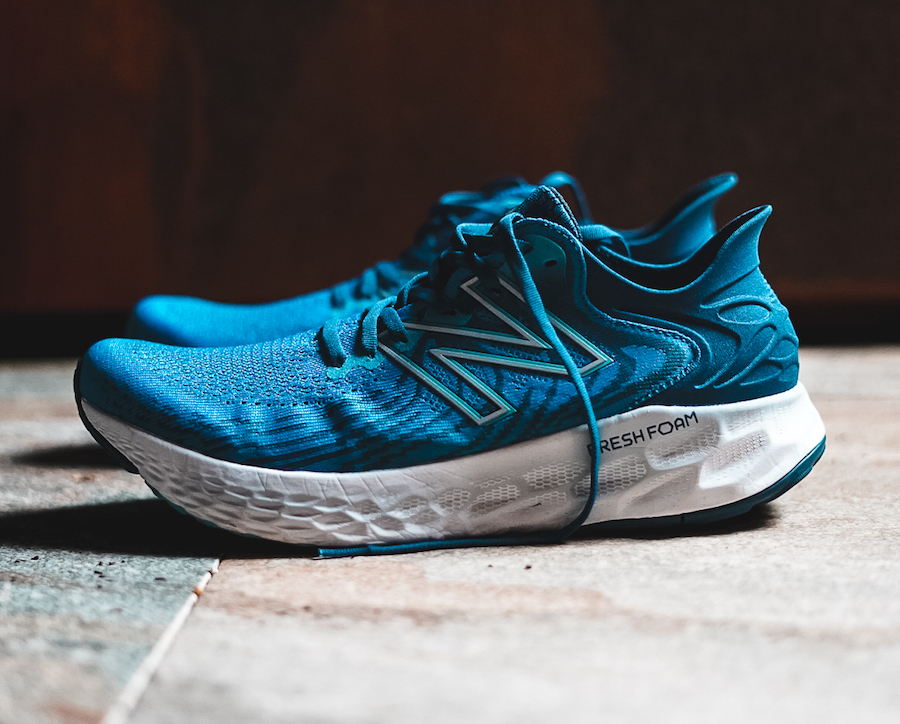 So many running shoes are all about change, but the New Balance 1080v11 is about staying the course. We didn't get a new 1080 in 2020, but the v11 picks up right where our 2019 daily trainer of the year left off. If you ask Thomas, he's ready to recommend the max cush hauler to just about anyone, especially in the blue colorway above.
This shoe packs a thick Fresh Foam X midsole that's essentially unchanged from the previous version. New Balance did update the Hypoknit upper just a bit, making it look slightly less like an alien undercarriage clamped to your foot. Meaghan, Jarrett and Austin all found potential issues with the "N" overlay and other parts of the upper, but we can't say enough good things about the cushion.
FuelCell Rebel V2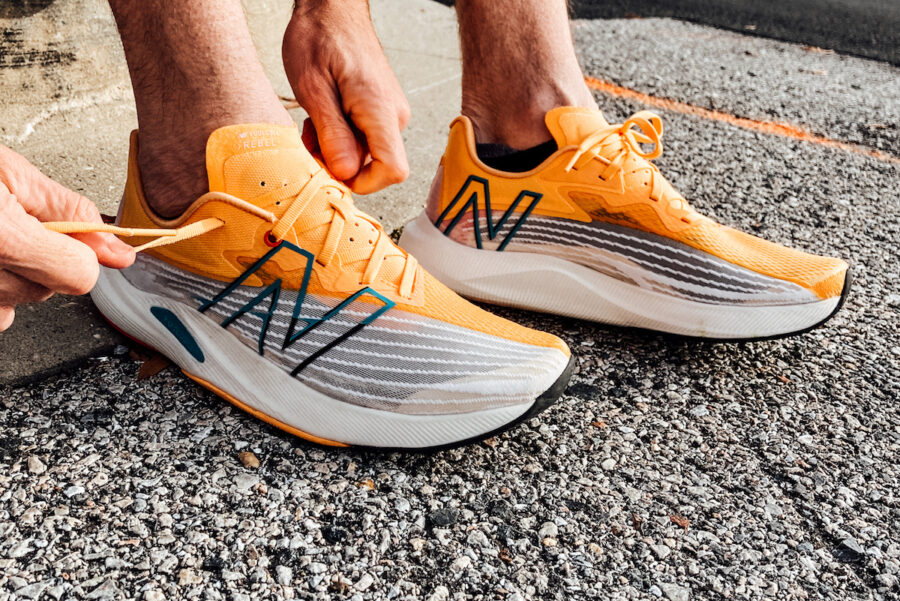 Alright, everyone, it's time to pack it up and head home. If you ask our reviewers, you're probably not going to find a better New Balance running shoe than the FuelCell Rebel V2. Nick called it his favorite shoe ever, and Thomas is ready to add it to the hall of fame. Just look at it. The yellow colorway is a genuine work of art. Ben even logged nearly 300 miles on the FuelCell Rebel V2 just for his review, and it's still going strong.
New Balance kicked things off with a brand-new engineered mesh on the Rebel V2, which is both more durable and more breathable than the original. The heel is more padded, and the laces are a far better length this time around. We could go on for days about how much we like the pairing of FuelCell foam with NDURANCE rubber.
You'll even get an extra 2mm of stack height on the Rebel V2, which really makes a difference. The $130 price tag tops it all off, and we're expecting this shoe to sell like hotcakes when it drops on 4/15.
Fresh Foam More v3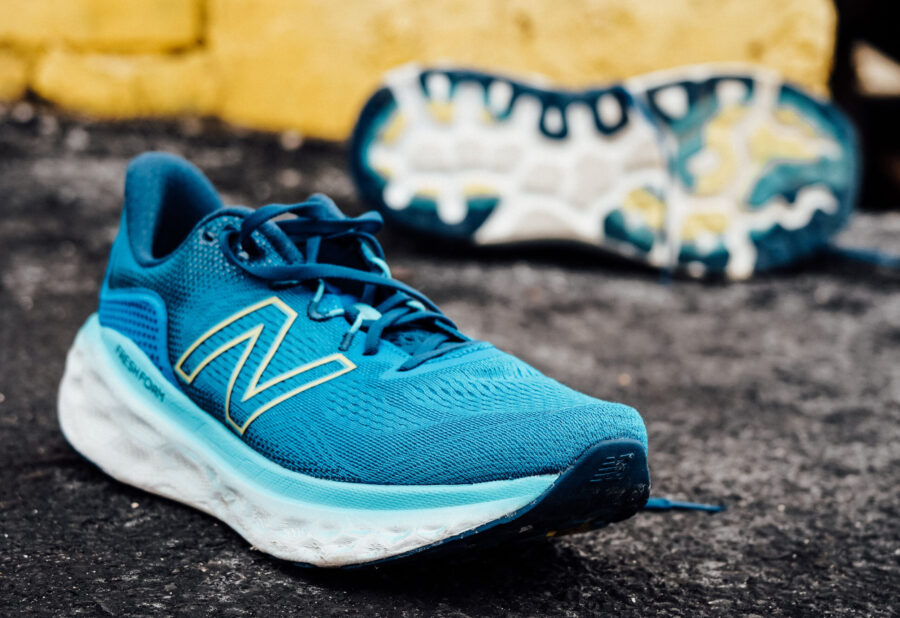 What do you get when the best HOKA shoe isn't actually a HOKA? Why, the New Balance Fresh Foam More V3, of course. This shoe takes the classic bottomless cushioning plus rocker formula and cranks it to a new level. All four of our reviewers had plenty of praise for the More V3, and it might be the perfect training partner to the Rebel V2.
Even though it took three tries to get it just right, our reviewers are absolutely convinced that New Balance has finally eclipsed the HOKA Clifton. It's not the lightest shoe — max cushion trainers rarely are — but it has the build to gobble up hundreds of miles. The More V3 looks right at home in New Balance's 2021 revolution.
Fresh Foam Hierro V6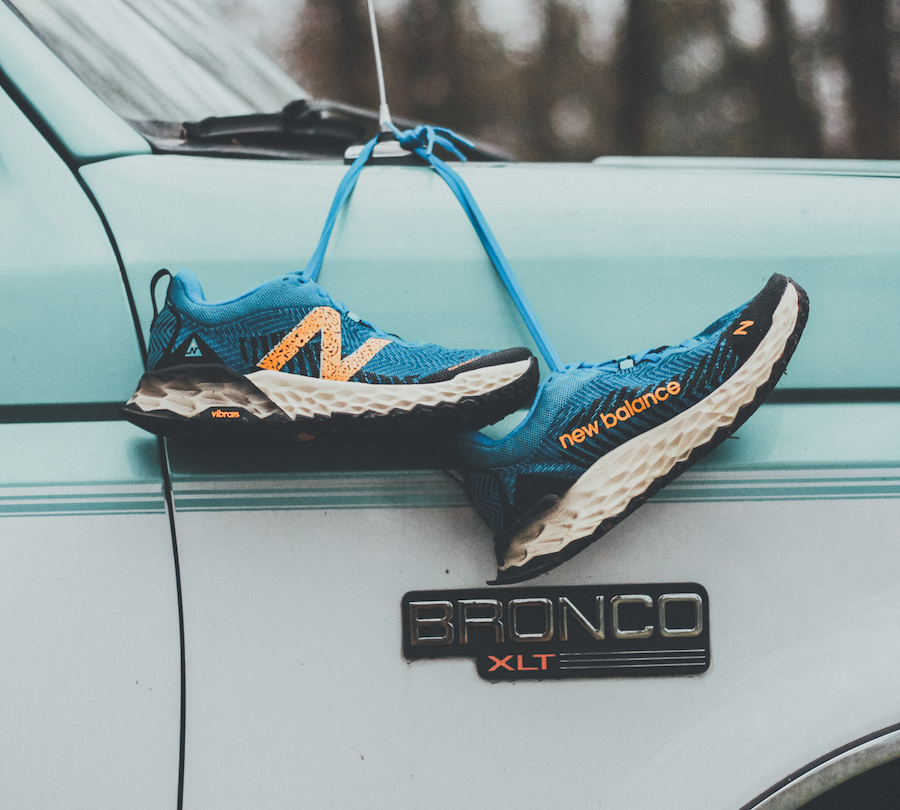 New Balance didn't just pack all of its design juices into the Rebel V2, it gave the whole damn brand a glow up. The Fresh Foam Hierro V6 is meant for the trails, but you could probably wear it just about anywhere. Throw on a pair of jeans and enjoy the unironic dad drip. There's also a spicy red colorway if you're not sold on the blue version above.
Now in its sixth iteration, the Hierro shows that New Balance actually cares about feedback. It keeps the Vibram outsole and packs in the Fresh Foam X, but the new upper changes the game. The Hierro might not be the lightest trail runner, but it's lost more than an ounce of weight compared to the previous V5. And once you get rolling, you will not be thinking about the weight.
FuelCell RC Elite 2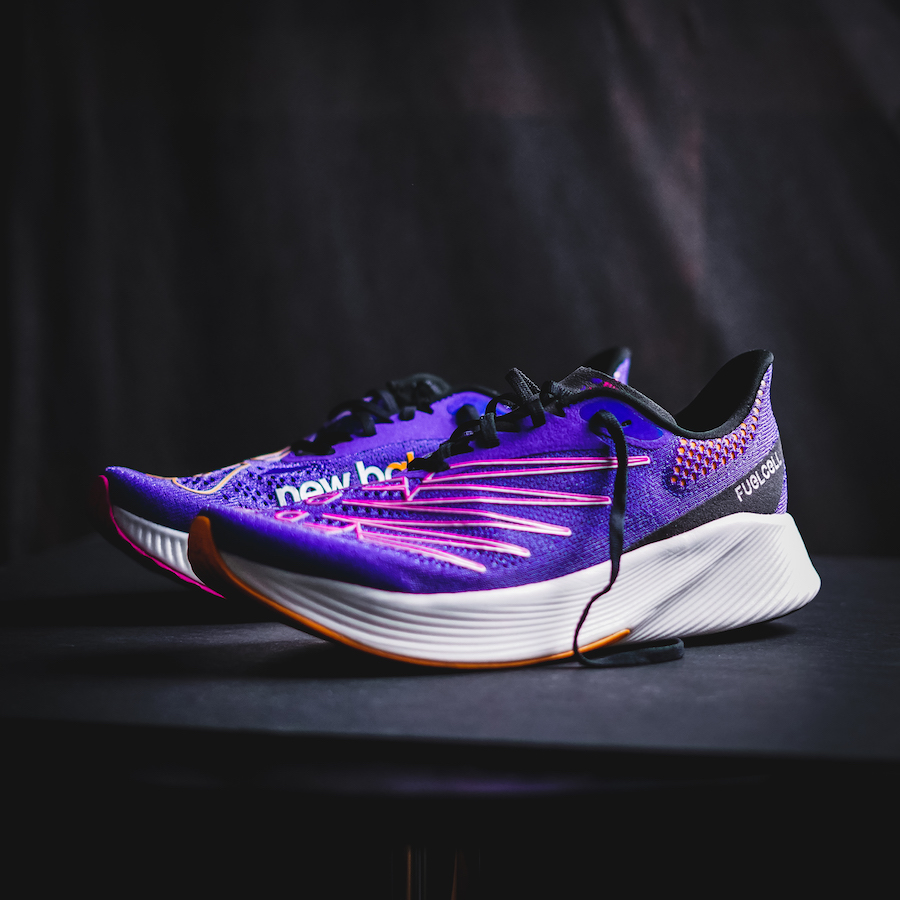 New Balance brought the heat with their sequel carbon-plated racer, the FuelCell RC Elite 2. While we enjoyed the original, it left a lot to be desired, particularly underfoot.
NB added 7 mm of FuelCell cushioning in the heel and 9 mm in the forefoot to bring the stack height up to the legal limit of 39 mm. The higher stack means legs take less of a beating, making this shoe a true contender for the carbon throne. While the first RC Elite couldn't compete at the marathon distance in our eyes, the latest iteration is a much better shoe for the long haul. The carbon plate's shape is much more aggressive in this one, as well, providing even greater toe-off pop. To top it off, the knit material and padded heel counter combine to create one of the most comfortable uppers of any racer on the market. The RC Elite 2 is an absolute Purple People Eater that's ready to break your PR.
Fresh Foam 880v11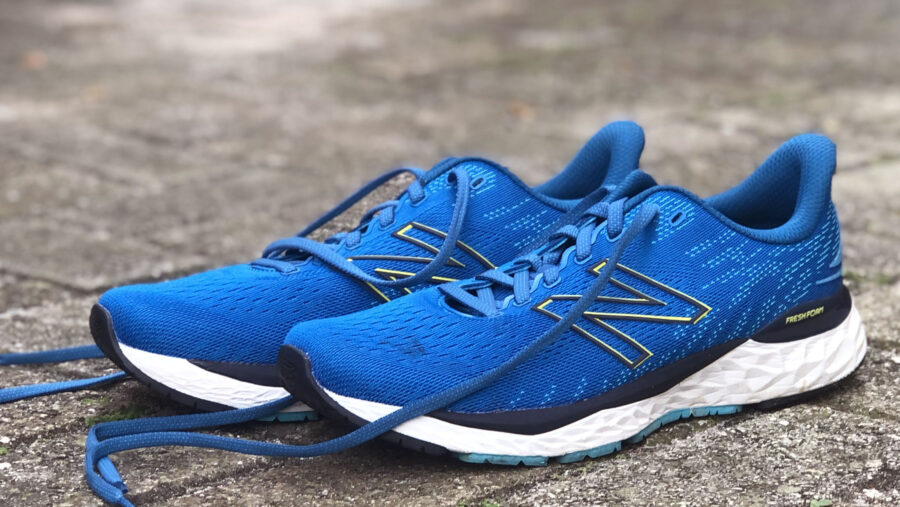 New Balance likes to make sure that all of its running shoes have siblings, and the Fresh Foam 880v11 is a close relative to both the FuelCell Rebel V2 and Fresh Foam 1080v11. It might sound odd to compare them, but the stack height is similar to the Rebel while the cushioning is closer to that of the 1080v11. That also means, though, that the 880v11 seems to get lost in the family tree. Having said that, it's a solid performer.
We're always going to pile on the love for some comfortable Fresh Foam X, and the 880 has it in spades. It's not the lightest shoe in New Balance's lineup, but it doesn't have to be. Your wallet will be pleased with the $130 price tag, and the 880v11 should treat you well any time you grab it from your shoe rack.
Fresh Foam Beacon v3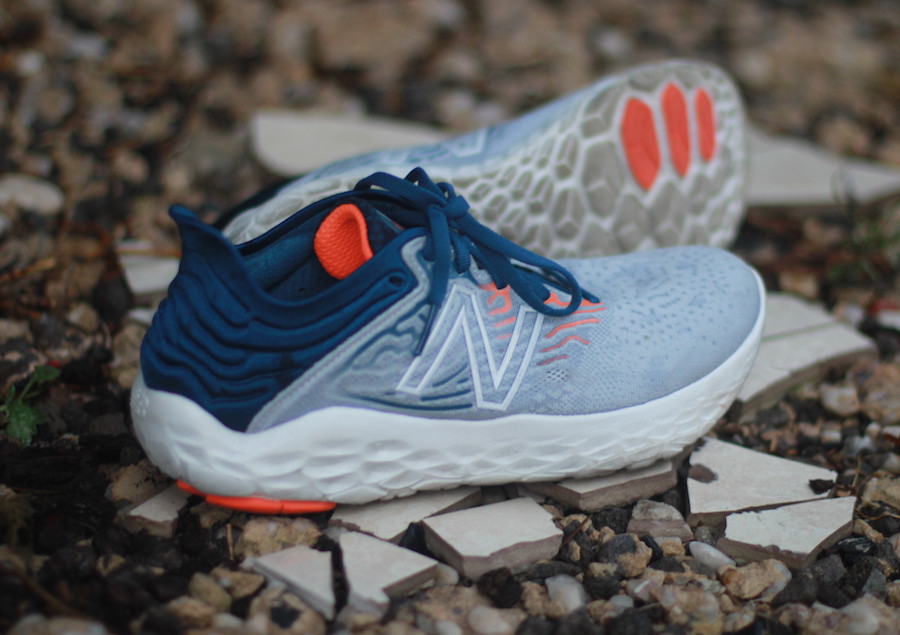 The Rebel V2 may be our pick for the best New Balance shoe of 2022, but the Beacon 3 topped the podium last year. Robbe, Jarrett, Thomas, and Meaghan all loved this shoe, even if it's the veiniest (is that a word?) New Balance creation ever. Veins aside, the Fresh Foam X midsole is once again the star of this show.
It's not a perfect daily trainer, as Meaghan and Robbe both took issue with the upper, but it's still a top-notch option. Both Thomas and Jarrett praised the versatility of the Beacon 3, and Thomas was able to use it as his only shoe for a weeklong vacation.
Fresh Foam More trail V1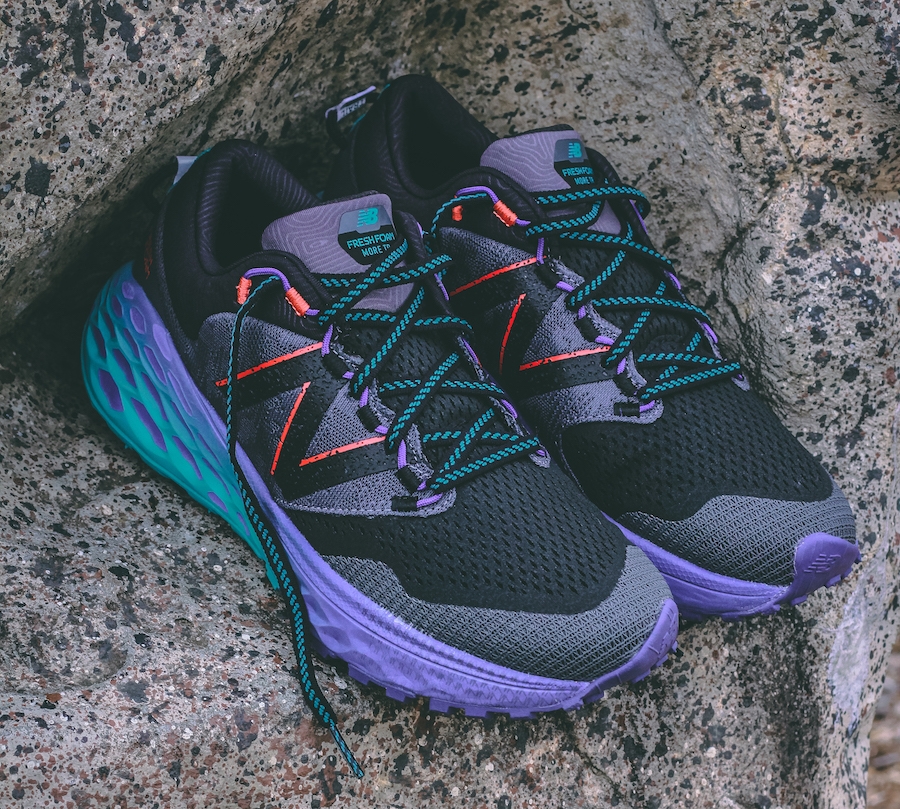 The Fresh Foam More Trail V1 is a wilder version of the Fresh Foam More V3, and they're not kidding about the cushioning. Taylor, Courtney and Matt all agreed that it was a worthy addition to the trail family, and it's just another example of how New Balance is cranking up the style this year.
The More Trail V1 isn't the most affordable trail shoe on the market, but it combines a few of our favorite things. Of course, Fresh Foam is the star of the show, but a roomy toe box is quite the treat. It's probably one of the better road-to-trail shoes out there for all of you padding junkies, and you can rack up the miles pretty easily. New Balance's Fresh Foam More Trail V1's have a longer shelf life thanks to the beefy padding, so maybe that's all you need to justify the cost.
How we make our picks
We get a lot – and we do mean a lot – of running shoes through the doors here at Believe in the Run, so all of our picks come directly from our own two feet. However, we also consider overall shoe reviews from average users and our own Believe in the Run community, and we only really recommend shoes that you can currently buy. Otherwise, we'd probably tell you to find Sonic the Hedgehog and steal his speedy kicks.
Good American: The Basics That Grow With You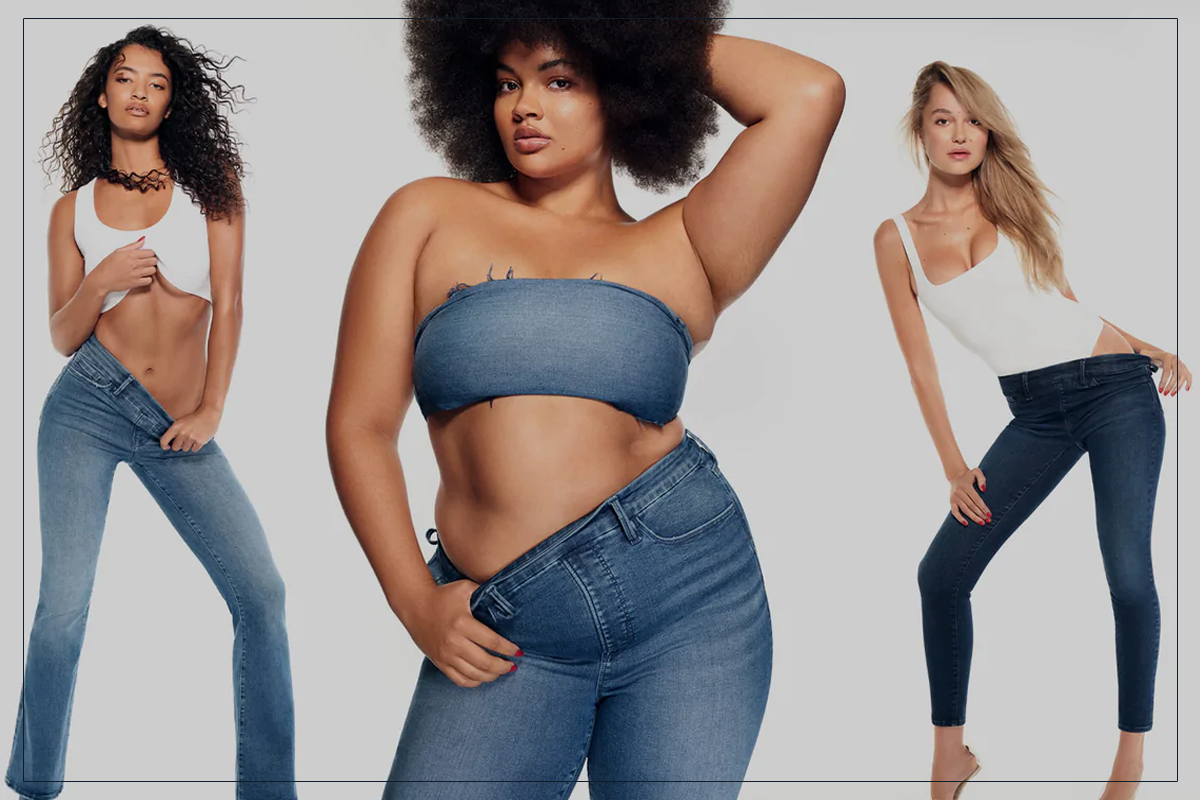 When I had the opportunity to review Khloe Karadashian and Emma Grede's brainchild, Good American, I was ecstatic. I've been a fan of Keeping up with the Kardashians for years and am completely in awe of all the businesses the Kardashian/Jenner clan has launched.
Good American is a size-inclusive brand whose clothes are made to fit every woman. The brand's tagline, "Made by women, for women. All bodies. All Sizes. No compromises," is apparent in its offerings. Good American originally launched in 2016 with a collection of jeans ranging from sizes 00-24 and earned over $1 million in sales on its launch date (the most successful denim launch in history). Over the years the brand has expanded into clothing, swimwear, shoes, sleepwear, and athleticwear. The clothes are fashion-forward, yet incredibly comfortable — a balance few brands have been able to perfect.
GRWM (Get Ready With Me)
After scouring the website for some time I decided to hit the basics — Good American's signature sweat set and a nice ol' pair of jeans. It's easy to get overwhelmed by the amount of quality options on the site, but over the years I've learned that when in doubt, go for a neutral basic.
Cropped & Cool Sweatshirt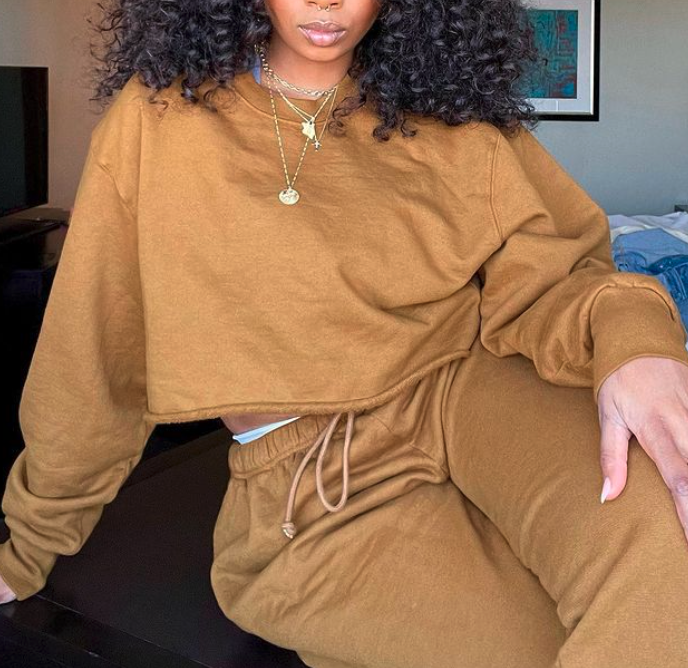 This sweatshirt is exactly what you would see a celebrity wearing in a paparazzi shot exiting Dogpound. It's intentionally baggy, but still has a nice silhouette to it — and you can always size down if you're looking for a slimmer fit. The cropped fit makes it perfect to pair with matching sweatpants or biker shorts. It's made of a cotton knit, cozy terry fleece that feels high-quality and durable. I was worried that the shade I was sent wouldn't look good on my skin tone, but it was extremely flattering once I tried it on. My only complaint is that I haven't been able to wear it out much in Texas because the fabric is so thick.
Note: the sweatshirt isn't a casual crop, but rather a when-you-raise-your-arms-everyone-can-see-your-bra cropped.
Boyfriend Sweatpants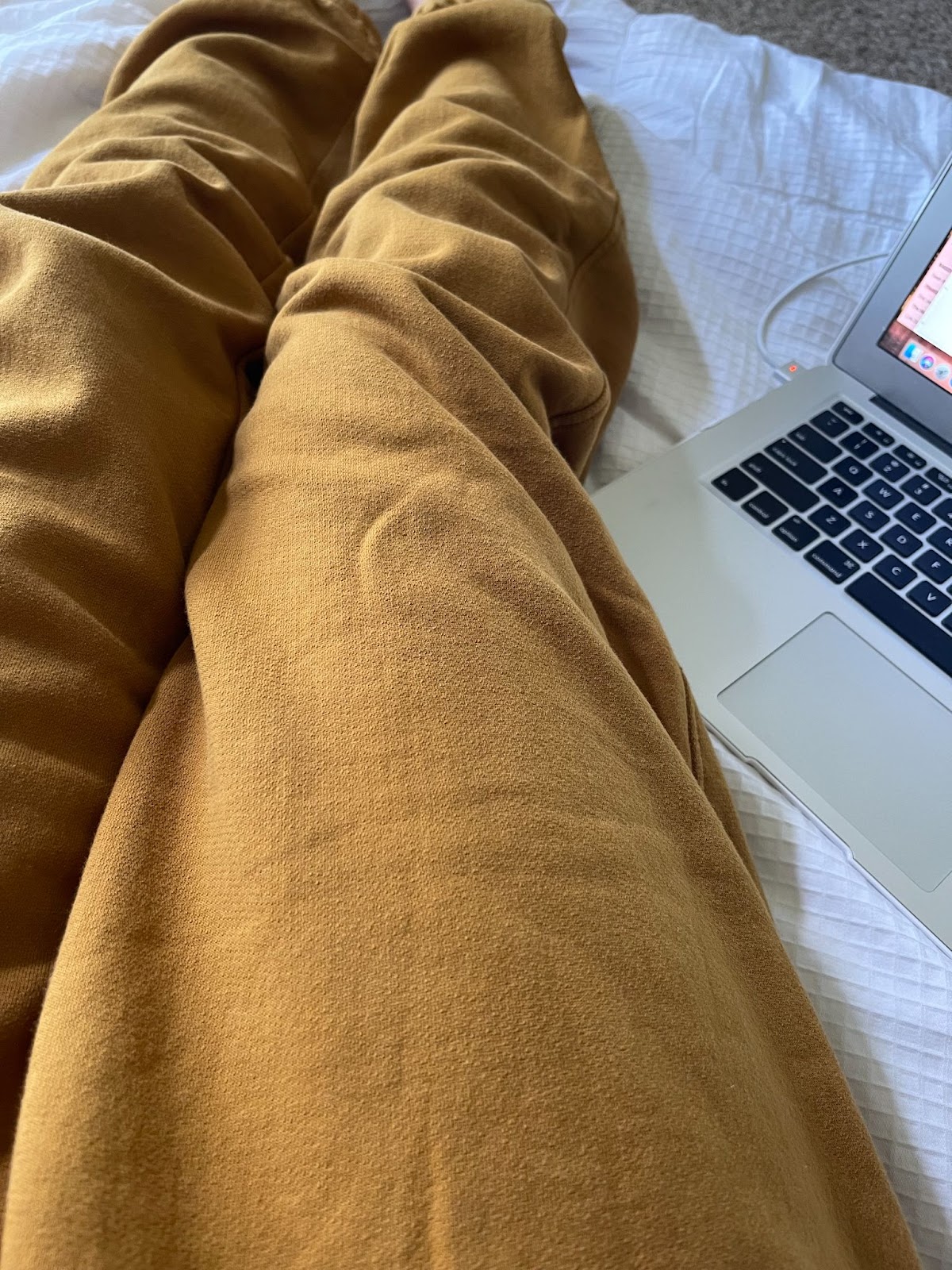 These sweats are soft, slouchy, and exactly what one reaches for at the end of a tiring day. They're made from the same heavy-duty cotton knit, terry fleece that the sweatshirts are made of. Sweatpants have been my uniform of choice during the pandemic so it only makes sense to splurge on a quality pair. Design wise, they look exactly like a pair of Gildan sweats, but you're paying for high quality and years of usage. I primarily wear mine to lounge around, but there are many different ways to style them: roll the cuff, pull them down to your waist, roll the waistband, or pair them with heels a la Kardashian style.
I have a slight case of body dysmorphia so I requested a size 2/M and they were way too loose on me. Thankfully, there's a drawstring so I'm still able to wear them around the house. Just keep in mind that they run large. Now to get an actual boyfriend…
Good Mom Jeans
Let me preface this by saying that I'm someone who hates jeans—they're often uncomfortable, fit poorly, and shrink in the wash. But, that was before Good American sent me these jeans made of 99% cotton and 1% elastane. The fabric is durable, yet stretchy, but not in a tacky-jeggings sort of way. These jeans allow you to sit down and enjoy a good meal without needing to undo the top button. They don't dig into your skin, but they also aren't baggy when you walk around. I even debated wearing them on the plane.. A PLANE!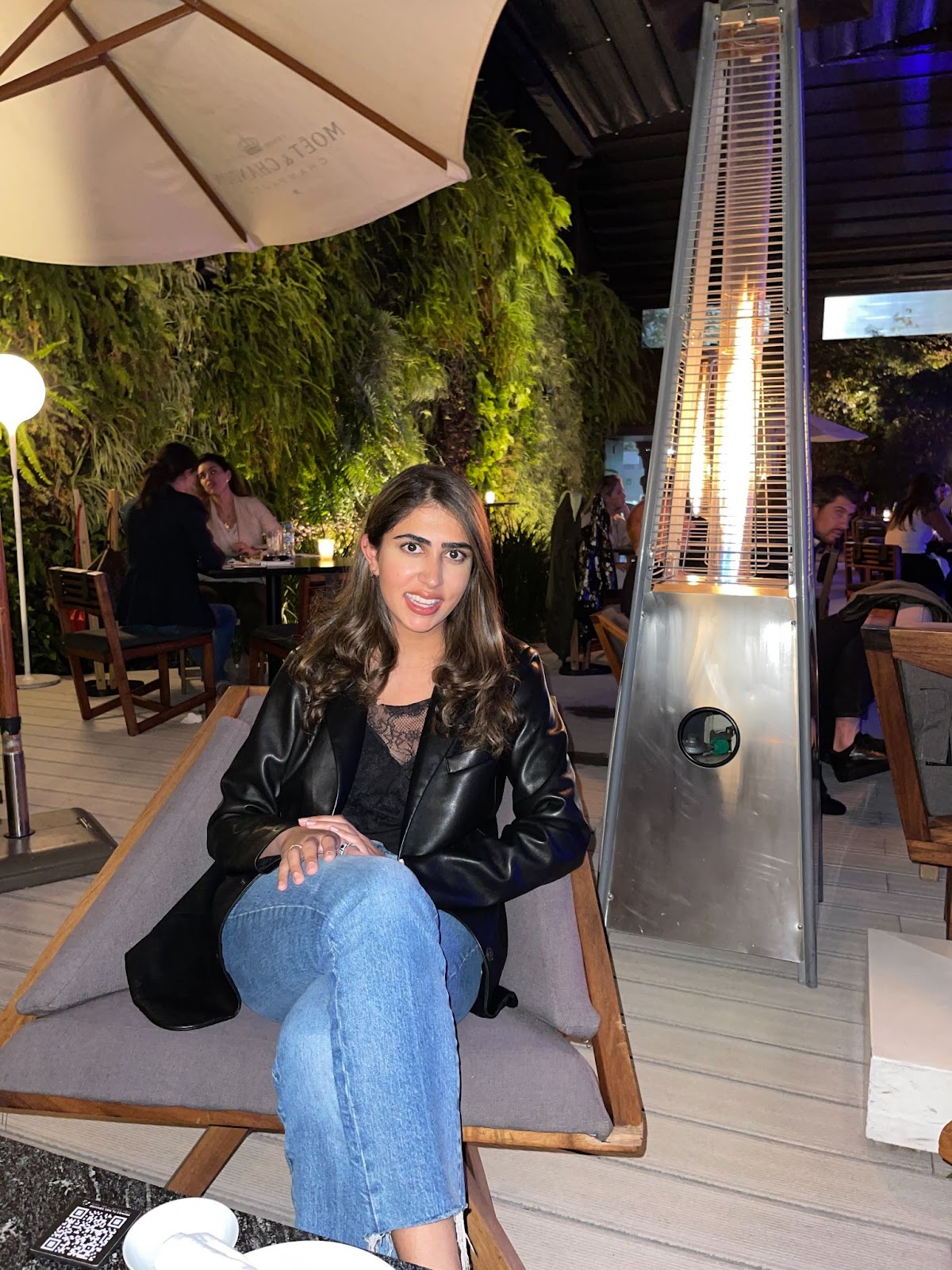 These are model off duty jeans, sans the need to be a model. Good American offers sizes 00-24, showcasing the ethos of the brand in its offerings. Plus, each pair is made with GA's signatureAlways Fits technology, which allows the garment to stretch up or down one size.
TLDR; A Good Brand
I'll admit that there was a part of me that was hesitant about Good American — how well could a celebrity co-founded brand really be? I could not have been more wrong. Good American is a quality brand whose elevated basics make getting ready a breeze. The idea that being comfortable means looking sloppy is a thing of the past, thanks to brands like Good American.
I feel good wearing a brand whose ethos is centered around making women feel comfortable in their own skin. No more squeezing into uncomfortable jeans that leave you unable to breathe, or buying cotton shirts that shrink after one wash. Invest in yourself by investing in a wardrobe that allows your body to fluctuate without any guilt or shame, and can withstand hundreds of thousands of washes. I might even argue that my items are more comfortable now than when they arrived.
5 More Reasons To Love Good American:
Good American uses American distributors. The brand's factory is close to its LA headquarters and has been sewing knits for an entire generation.
Good American is the first brand in the industry to require their retail partners to carry its full size range and display all the sizes together rather than in a separate plus-size section.
Not only does its footwear offer extended sizing, but each size also includes the option of extended widths in feet, calves and thighs, translating to 72 unique sizing variables.
When shopping on the site you can select a model in size 0, 8, or 16 to get an accurate picture of what the clothing will look like on you. No more exclusively 00 models!
New customers save 15% Off your first order with code WELCOME15 at Checkout.
Product Review: KUIU Women's Attack Pants and Ultra Merino Crew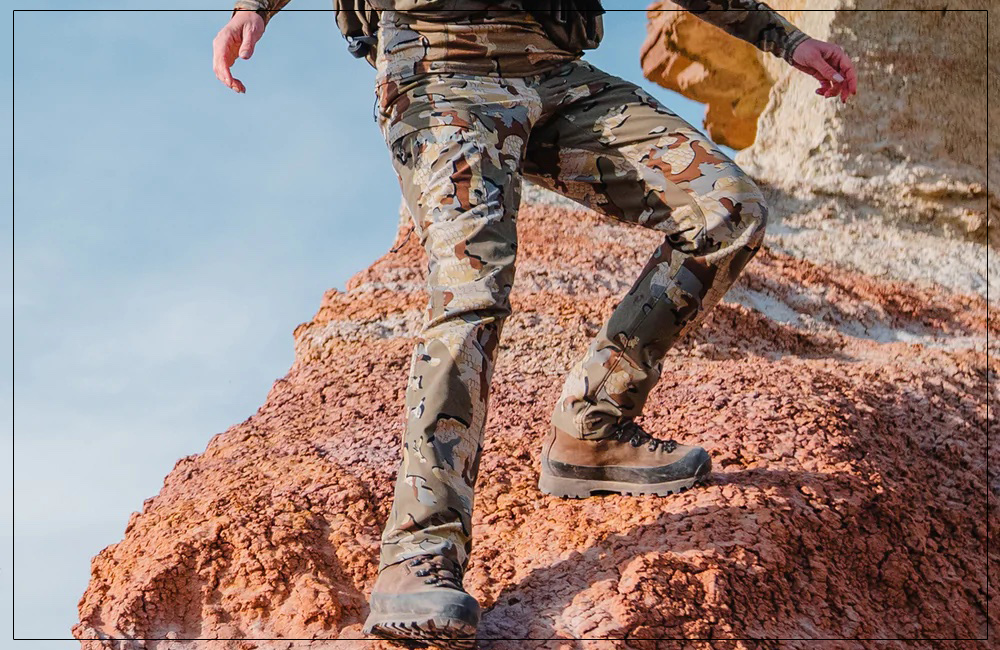 I've been hunting since about 2009 and in that time, I've never been brand loyal when it comes to hunting clothes. So many brands used to not even offer women's options, and now that more have, each one of them seems to offer something different. As with all women's clothes, women's camo is not created equal when it comes to sizing. And another reality is that it's usually super expensive.
I primarily hunt in Idaho, in the mountains, where temperatures swing 30-40 degrees from morning to afternoon, the terrain can be rough, rocky, or wet, there's thick sagebrush and lots of uphill walking. I need gear that is functional and will hold up in a variety of conditions. I also don't prefer the traditional Realtree or Mossy Oak tree patterns.
I have seen quite a few women on social media wearing KUIU pants and knew they were men's, but they looked like they fit those women pretty well. My partner, John, has two pairs of Attack pants and he loves them. I tried his pair on for sizing, and to see how they fit; surprisingly, they actually fit pretty well (not my size, but wanted to get an idea of how they fit). So I broke down and ordered the men's Attack pants during one of their sales. Surprisingly, they fit great.
A few months later, KUIU announced that they are finally offering a women's line of hunting clothes after all these years. I bit and ordered the women's Attack Pants and Ultra Merino 145 LS Crew top.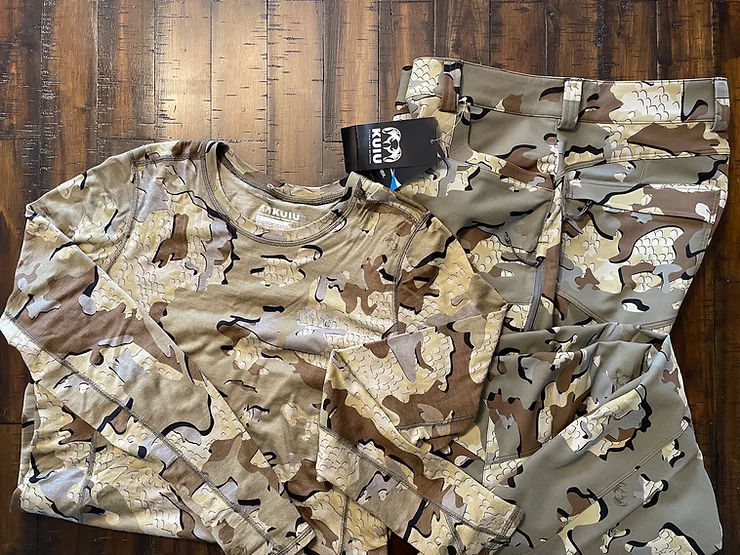 KUIU Women's Attack Pants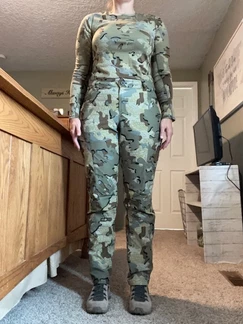 Features (from KUIU.com)
247 g/m2 fabric weight
4-way Stretch
Brushed back for reduced chafing
Makspec® odor control
K-DWR® water repellency
Gusseted crotch
Open hand pockets – 2
Open seat pockets – 2
Zippered cargo pockets – 2
Mesh backed zippered hip vents – 2
Articulated knees for full range of motion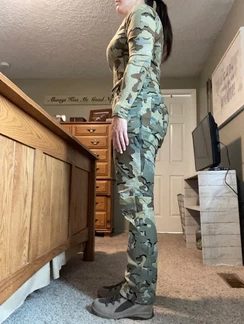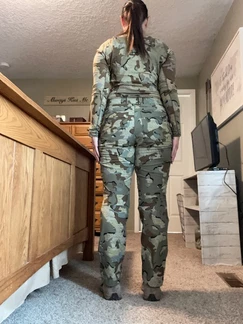 Size and Fit
For comparison, I normally wear a size large or 12 in pants. I checked the size chart on KUIU's website and felt like I was in between 12 and 14 so I ordered both (I also compared these measurements to the FirstLite size chart since I know how those pants fit).
I tried the size 14 on first and they fit, with some extra room. They definitely weren't huge on me, but a little baggier than I wanted. The size 12 actually fit well. They are higher-waisted and sit above my hips, which I prefer. The back is slightly higher so when you sit, there's still coverage back there.
These pants have a slimmer design than the men's version, so the legs are a bit narrower. I have bigger thighs so they seem a little more fitted on me than they might on other women. I was concerned that the bottoms were too narrow and fitting over boots would be an issue, but it wasn't. Once I tried them on with my normal hunting boots Danner Wayfinders, they are pretty fitted but in a good way. The narrower leg might actually prevent them from getting caught when walking through thick sagebrush, and will probably be more comfortable when wearing leg gaiters since there's not as much fabric.
The Attack pants are only available in regular length, which is a 32″ inseam (the men's version has regular, short, and tall inseam options). I'm 5'8″ and usually buy 'regular' length jeans. When I tried the pants on with bare feet, the bottoms hit right at the top of my foot. They seemed short, even though they are the same inseam as my favorite Old Navy jeans. After trying them on with my boots, I actually didn't mind the length. They hit at the top of my foot and didn't bunch up at the bottom. I think the narrow leg makes them seem shorter.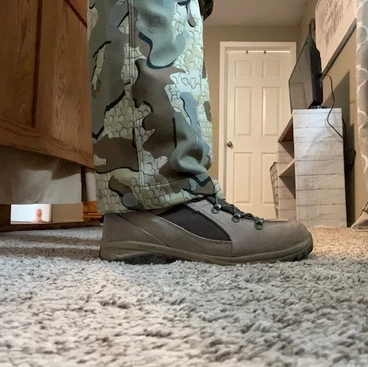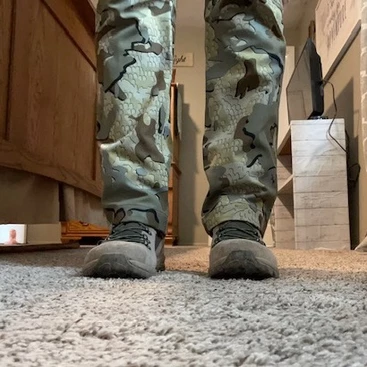 Functionality
At the time of writing this, I have not worn these pants outside. Honestly, I have not decided if I want to keep them or not. My initial impression though, is that they have several features that will make them very functional in the field.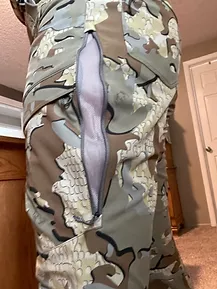 The leg vents are a huge benefit for me. It gets hot hiking in the mountains chasing elk, and these vents will allow heat to escape. This is actually one of the features I was most excited about in women's pants.
The material is durable. It's thick but not hot thick. I've worn the men's version and these are the same material. Sagebrush and thorns don't poke through it and make holes. It stands up to thick brush without issue.
Lastly, they are flexible and easy to move in. Even with the slimmer fit and narrow leg, movement is not restricted. I'm able to do full squats, bend over, lift my knees to my chest, etc. without issue. There's no pull or hesitation with the fabric. Even when lifting or bending my leg, the pants legs do not ride up.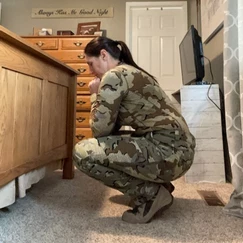 There are 6 total pockets which seems like enough; most of my other pants either have the same or less. They include two zippered pockets on the back (which I typically don't use), two zippered cargo pockets on the legs, and 2 non-zippered hip pockets. The only thing with the cargo pockets is that they are semi-tight at the leg, so there's not a ton of room in them. I would usually put my phone in one, and put a knife, my tag/license holder, and chapstick in the other.
Options and Price
Sizes: 2-14, regular 32″ inseam (the size chart shows size 16, so this may be offered later?)
Colors: Valo (shown in my pictures), Verde, Vias
Overall Opinion
The women's Attack Pants fit true to size but need to have regular and long options to work for a wider range of women. They seem like good quality pants that are functional for the type of hunting I do. Again, I'm not 100% sure if I'll keep these yet since I do like the fit of men's version.
KUIU Ultra Merino 145 LS Crew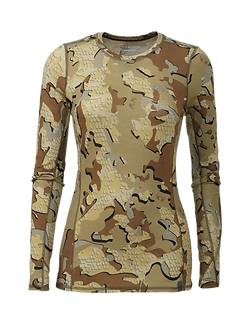 Features (from KUIU.com)
145 g/m² fabric weight
90% Merino Wool / 10% Nylon
Naturally odor resistant
Thermoregulating
UPF 50+ Sun Protection
Highly breathable
Anatomical shaping for fit and comfort
Layered thumbholes
Flat-lock seams for added comfort and reduced chafing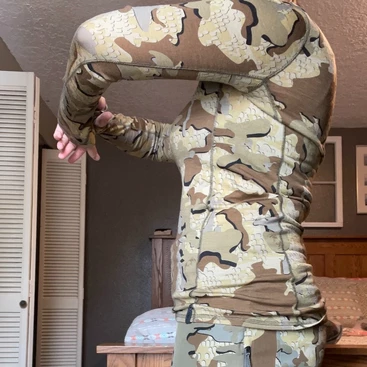 Size and Fit
I typically wear a medium or large shirt, depending on the style. I assumed this would be on the tighter side, so I went with a large because I didn't want it to be super fitted. The large was a good choice. It's fitted but not skin tight. Medium would have been too small/tight for me. (100% honesty…I don't want all of my rolls showing so I don't like really fitted designs.)
The length of this crew is nice. Pulled down, it hits right at my hip. So when I sit, no matter if it's tucked in or not, there's coverage in the back.
Functionality
The material is very soft and easy to move around in. It's thin, which is typical of this type of shirt. This will be a great base layer in colder weather or under a hoodie in mild temps. On hot days, I'll wear this shirt alone. Merino in general is odor resistant, helps with moisture absorption, and helps regulate temperatures, so it will be a good option for all types of hunting, and for long days in the mountains.
When I ordered it, I didn't even see that it had thumbholes and I'm glad it does. This is a main feature I look for in hunting shirts. I prefer some hand coverage but don't always want to wear gloves.
Options
Sizes: XS-XL
Colors: Valo (shown in my pictures), Verde, Vias
Overall Opinion
I definitely like the shirt and will absolutely be keeping it. It will be a good piece to add to my elk hunting gear for the fall, and I'll use it for the remainder of this turkey season as a base layer.
Final Thoughts
I've had a negative opinion about KUIU in the past because of a specific statement by the founder years ago about women's gear (I'm not going to include it here, but you can look it up). I was surprised that they finally decided to add women's options. Even more surprising was that the initial introduction included a complete lineup of functional gear. Plus, according to their website, more is coming.
In my opinion, based on the two pieces I've purchased and by looking at the website, they aren't skimping on the women's options just to have a women's line. These pieces are comparable with the men's versions and have the same features and functionality. And the men's and women's versions are the same prices (which is rare), and decently affordable when compared to other brands.
I will continue to keep my eye on KUIU's women's line as they introduce more. More brands are offering women's options, including a few women's only brands, but I'm picky about camo pattern and conscious of cost. The KUIU line seems like a good option.
25 Facts about the Perfume Shop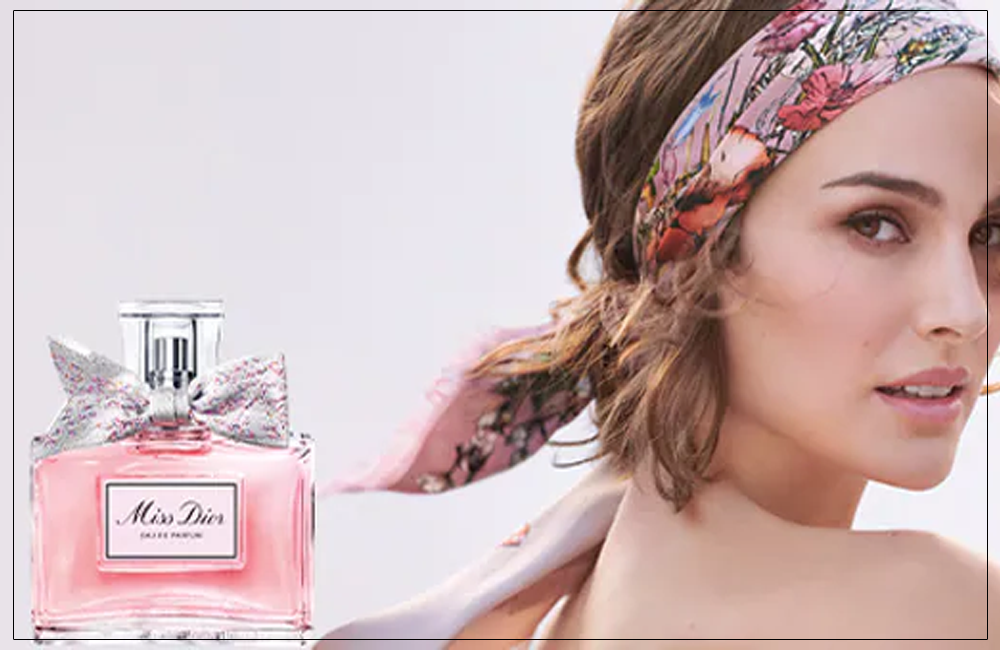 Do you buy fragrance at The Perfume Shop?  Be honest, do you really explore fragrance there or do you just nip in and out to pick up a gift set or a repeat purchase of a fragrance that you know and love?  I have to admit that that The Perfume Shop was not my first stop for perfum.  Why? Because I felt like the staff did not have sufficient knowledge to talk to me about notes and fragrances.  An experience from about three years ago sums up what I thought The Perfume Shop was all about.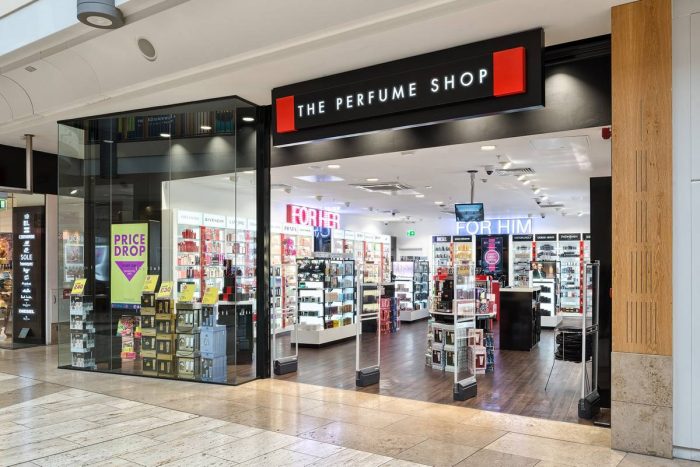 I went into a south London store and asked for a tuberose fragrance.  The woman looked at me liked I had asked for directions to Hornsey (in north London).  Rabbit caught in the headlights.  She just did not know what tuberose was let alone which fragrances featured that note. I left the store disappointed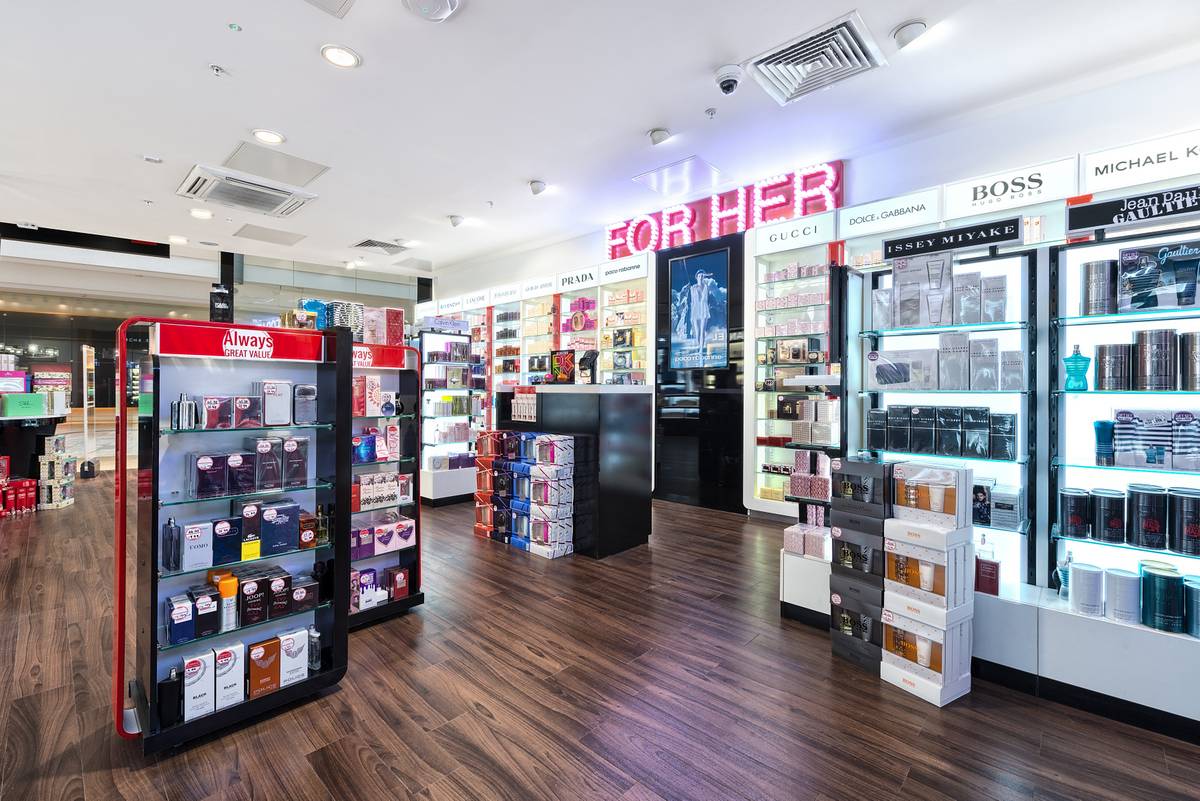 Fast forward to now and there have been a lot of changes at The Perfume Shop.  In honor of their 25th anniversary, here are 25 facts about The Perfume Shop.
The Perfume Shop is 25 years old – the first store opened in 1992.
There are 260 stores across the UK.
Superdrug has been home some The Perfume Shop concessions since 2010.
It's not all celebrity and high street fragrances. They sell Cartier, Ellie Saab Tom Ford and Hermes online and in stores.
The 25th Anniversary Fragrance for Women is Ghost Whitelight Diamond Dust which is exclusive to The Perfume Shop.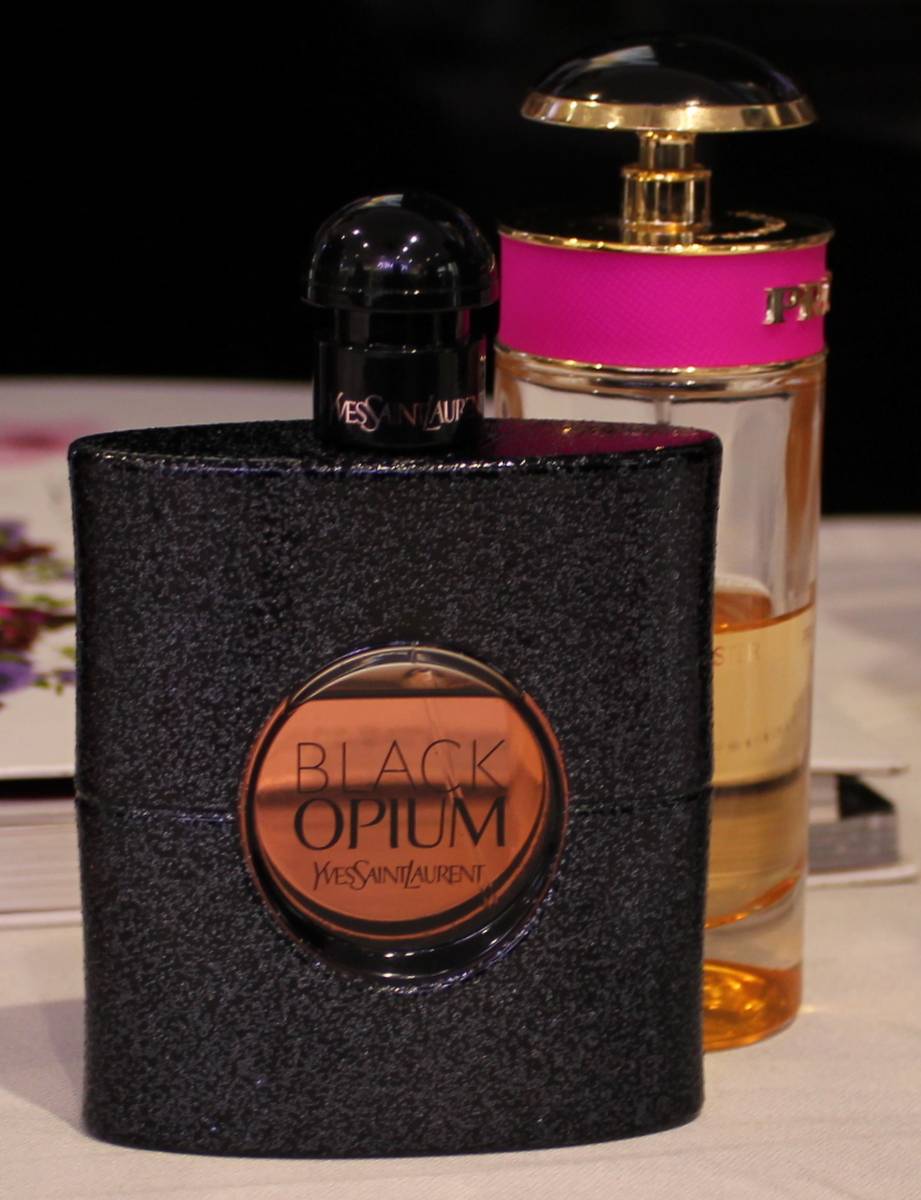 The Perfume Shop are working exclusively with internationally renowned nose Michael Edwards.  Why is that a big deal? Michael Edwards is he author of 'Fragrances around the World' the retailers 'bible' of fragrance.
Each The Perfume Shop store has access to Ipads which are loaded with information about perfumes, the notes they contain and fragrances that you may like based on their notes.
The Perfume Shop  also works with the Fragrance Foundation who train their staff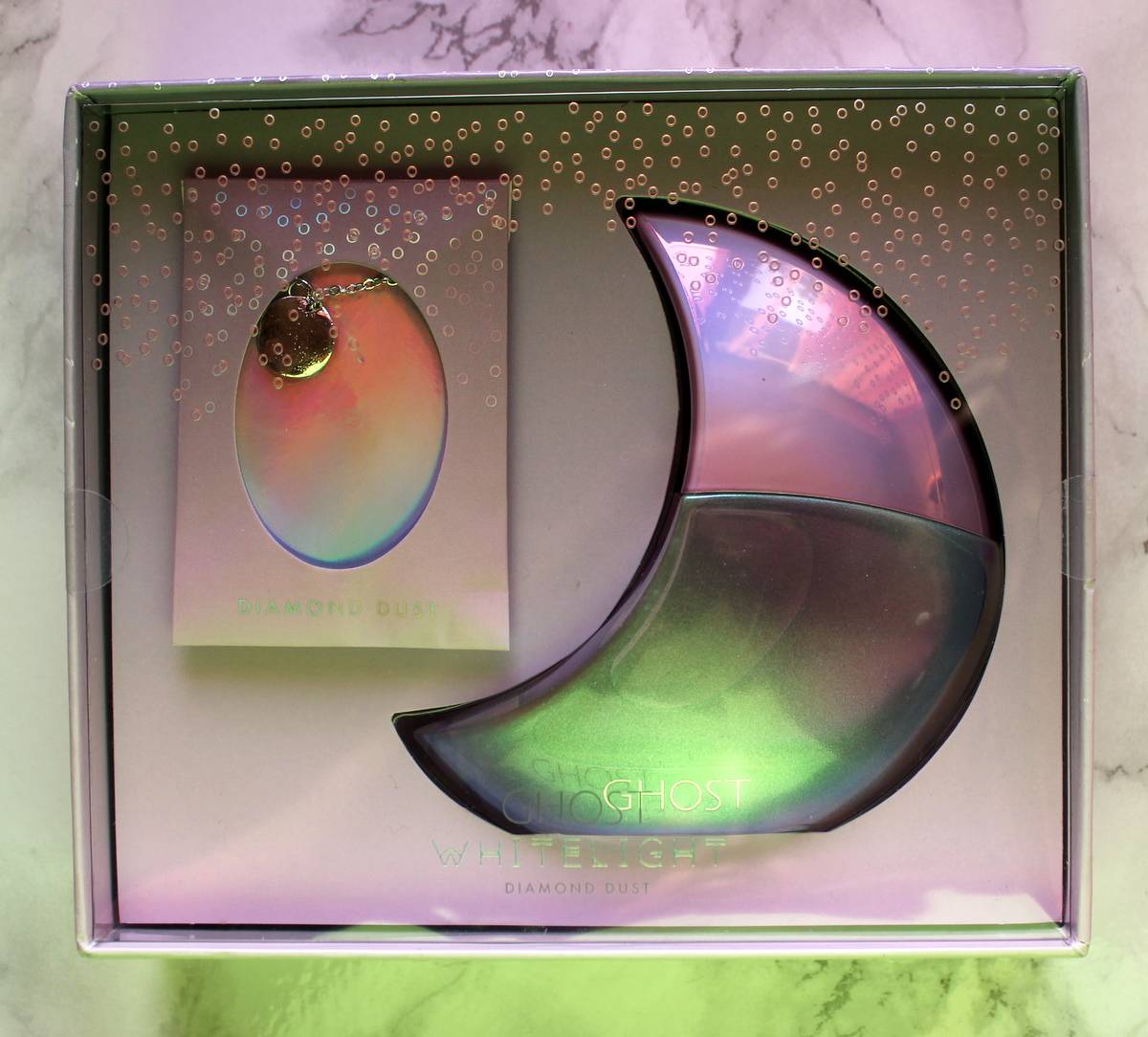 Each The Perfume Shop has at least one member of staff who has worked with a master perfumer and is qualified to Master's level in fragrance.
As well as perfumes, they also sell candles and reed diffusers (best to look online).
You can get your perfume bottle engraved (online only) from £5.99.
They also sell deodorants – mainly men's buy if you are looking to create a grooming hamper for your man, it is good to know.
The first The Perfume Shop store was in the Bullring in Birmingham.
They also sell skincare, B (Superdrug's flagship range, I also saw Elemis – Papaya Enzyme Peel, Estee Lauder Advanced Night Repair Serum and Face Cream as well as Clinique, Elizabeth Arden and Cow Shed, none of which are available in Superdrug.
The most expensive perfume that they sell (currently) is £168.00.
They also sell cosmetics – there was some NARS and Smashbox on special offer when I went online as well as W7 which I have seen instore as well as online.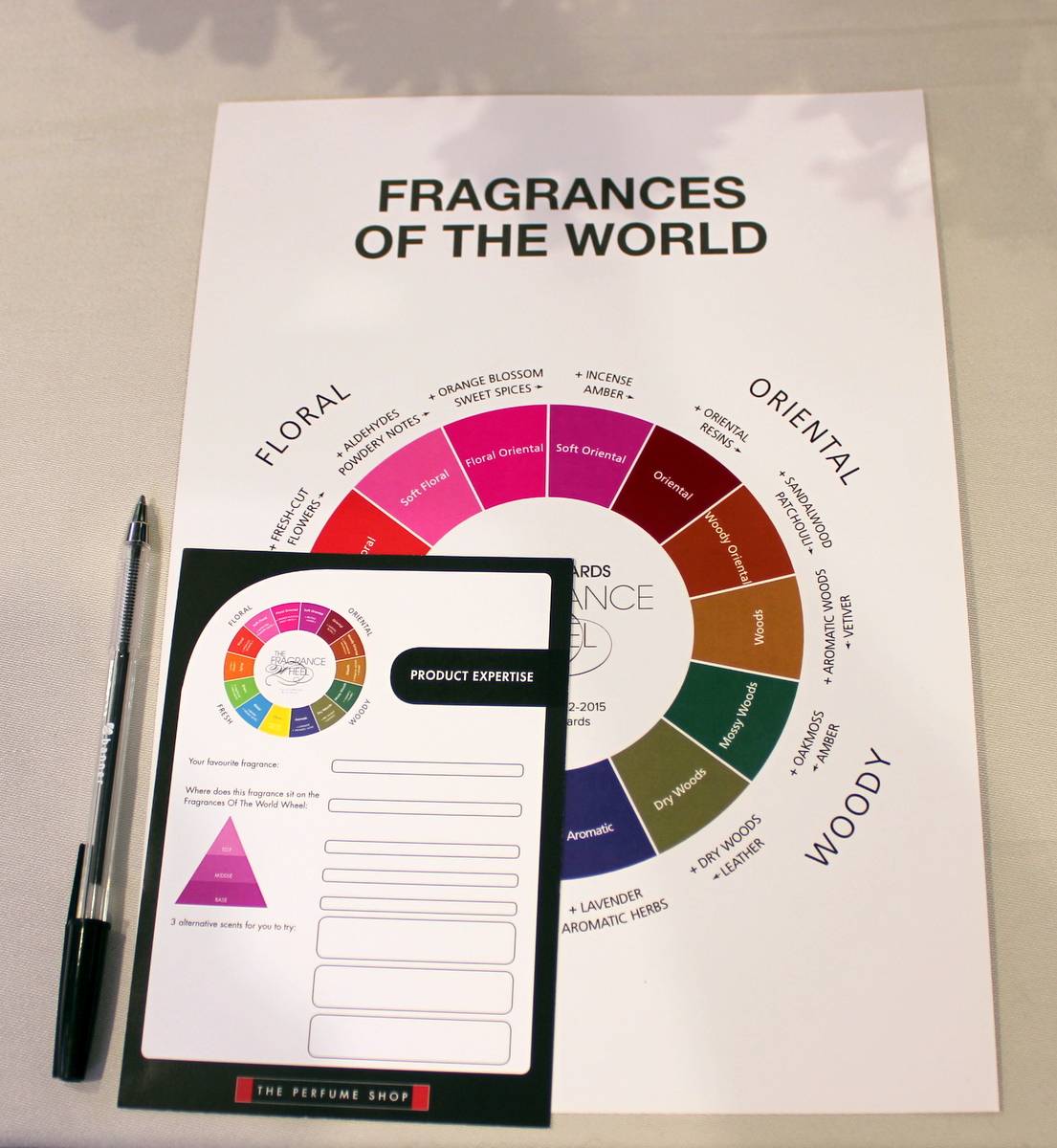 An online search will bring up zero fragrances for tuberose despite the fact that they sell Estee Lauder Beautiful and Michael by Michael Kors both of which feature tuberose strongly.
They also sell nail varnish – Butter London and Nails Inc neither of which are sold in Superdrug stores.
The Perfume Shop sells over 200 different fragrance brands.
The Loyalty Card gives you a point per pound spent… so if you buy a candle some skincare and makeup you will have built up a tidy amount of points.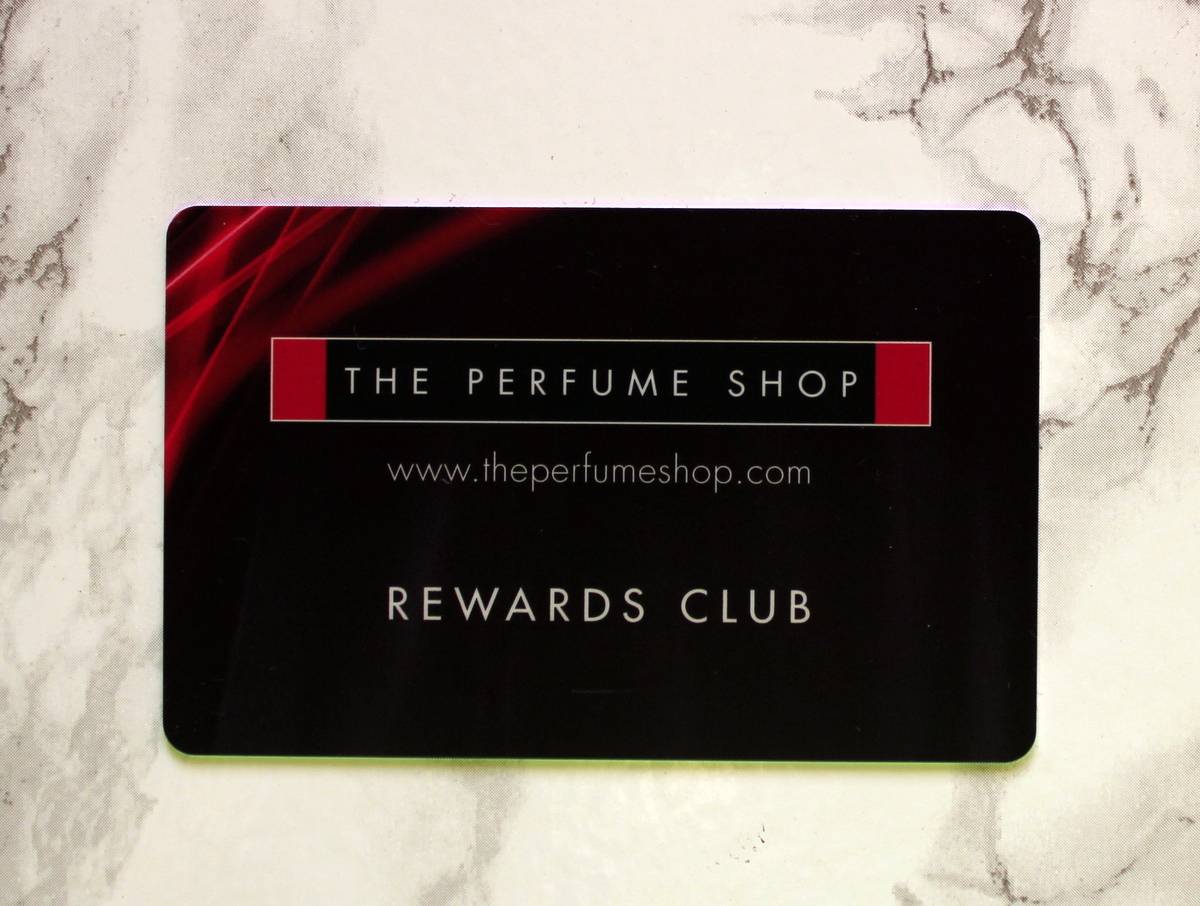 With The Perfume Shop's Click and Collect Service, you can order an item in your lunch hour and pick it up on your way home from work – they have a two hour turn around (on most fragrances).
The online Fragrance Finder can help you navigate fragrance notes before you go to the store or make and online order.
The Perfume Shop has a giftwrapping service.  Very handy!
Fresh fragrances are the most popular in the UK.
Perfume trend to look out for  'gender free' or 'gender neutral' fragrances like CKOne and lateist iteration CKAll – both available at The Perfume Shop.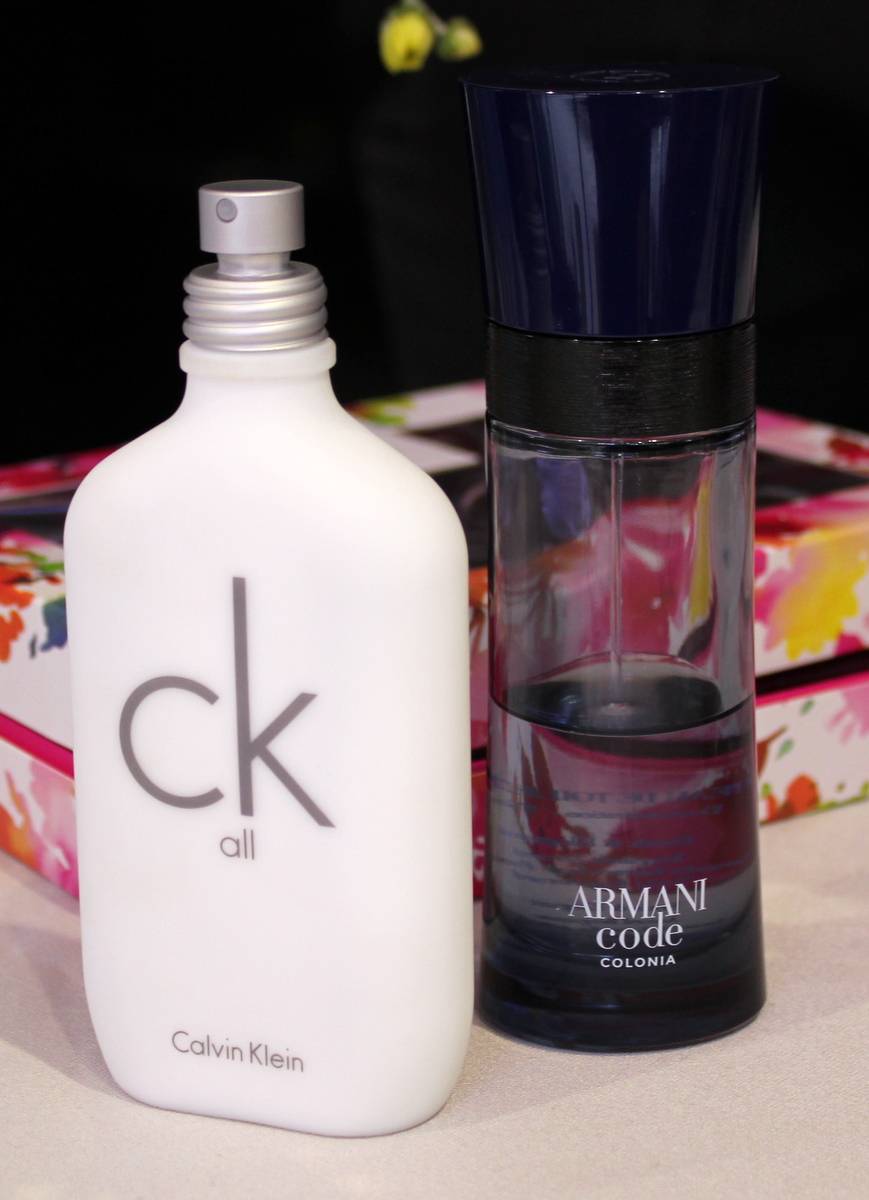 The Perfume Shop has changed and very much for the better.  I'm impressed by both the range of fragrances and the increased knowledge of the staff.  If like me you have dismissed this retailer previously they are worth a second look..