Is Booking.com a Scam? Why You Shouldn't Trust Them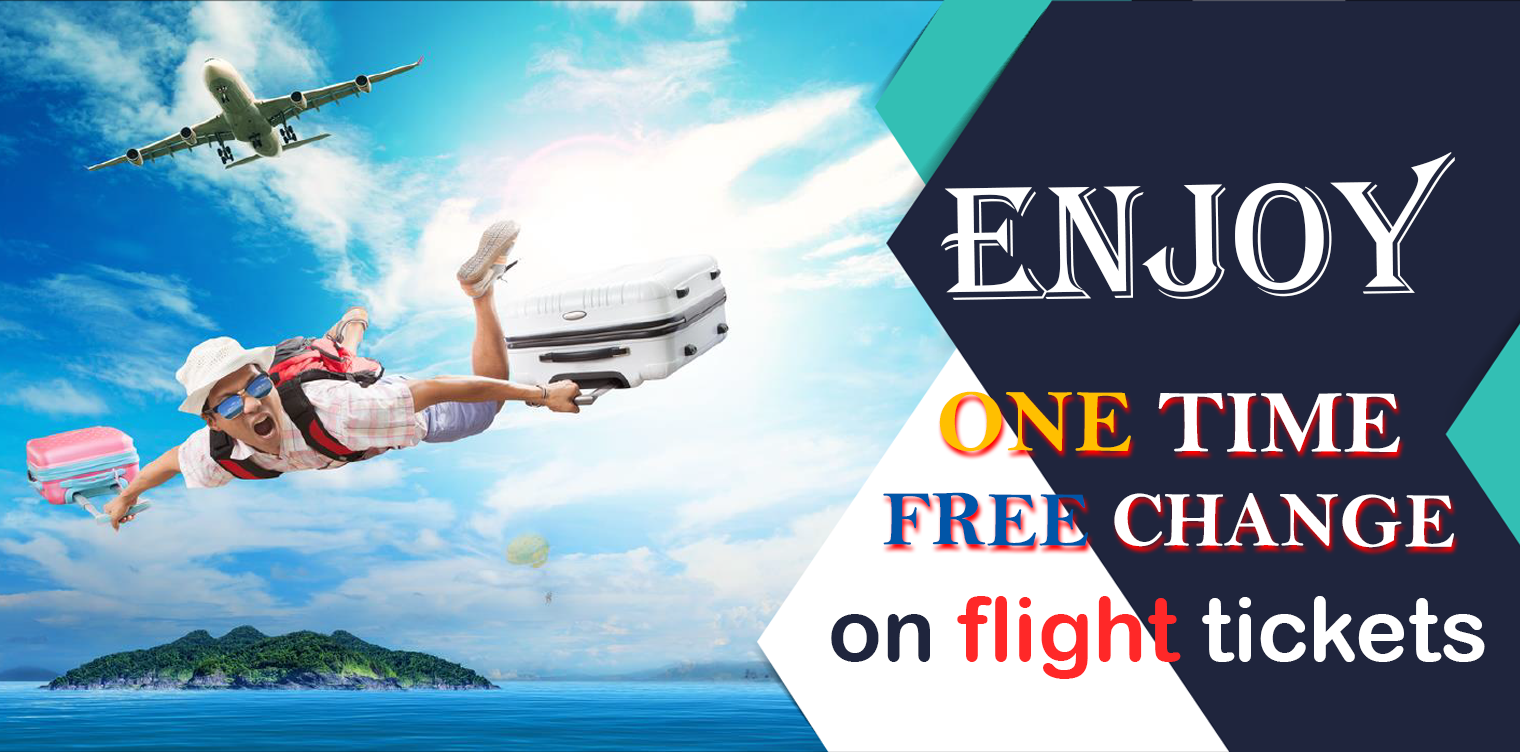 Is Booking a scam or is it legit? Before my recent experience with Booking, I would have told you that it was an awesome site to find cheap accommodation around the world. However, before now I had never actually had a problem that required me to call Booking and try to resolve it. Now, I've looked closer and realized that Booking is not a safe or trustworthy site at all, here is why.
Booking has charged me double what was presented on their site and I most likely will not be getting my money back.
Here's the scam tactic that Booking is currently using to mislead its customers into reserving accommodations that are much more expensive than is presented on their site.
You can read through my experience below and decide for yourself. However, as a full-time traveler for the past 5 years, I do NOT recommend using Booking and you should not trust them with your hard-earned money.
Is Booking a Scam?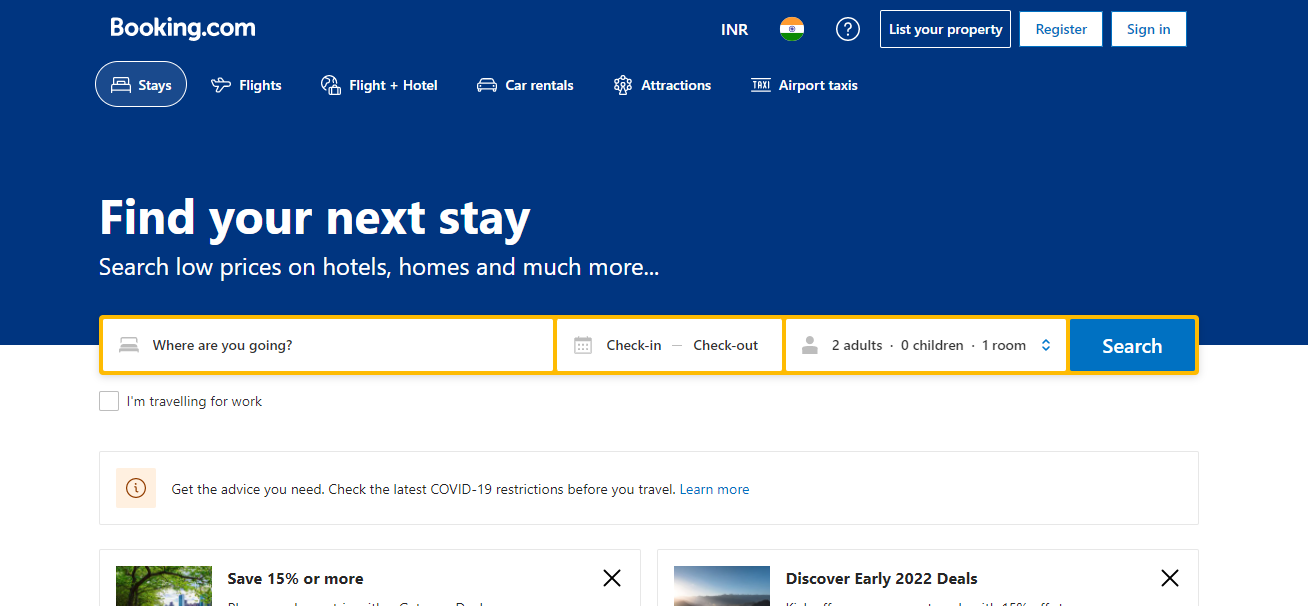 The answer is yes, Booking can be a scam, and this site can scam you out of a lot of money. That might sound extreme, but this is not the case in every scenario. You can decide for yourself after you hear what happened to me.
What is a scam? Keep this definition in mind as you hear my story: A scam is a deceptive scheme or trick used to cheat someone out of something, especially money.
So how was I scammed by Booking?
A little background about me first: my husband and I are full-time travelers and have been for the past 5 years. We're both Genius members on Booking on multiple accounts and we have booked hundreds if not thousands of flights and hotel bookings over the past 5 years.
I was booking a hotel for a trip to Naples, Italy on my laptop. I got to the final payment page and saw the price as "301.13" for 9 nights. Then next to that price breakdown, you enter your credit card information.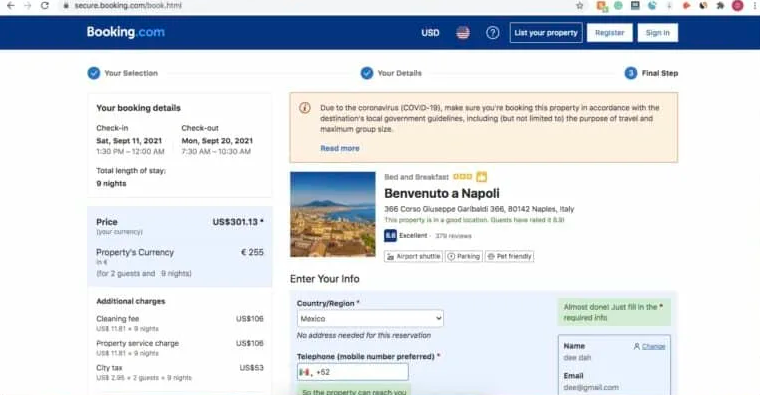 The Price had an asterisk next to it, which leads to the bottom to just say that you need to be aware of health codes. No problem!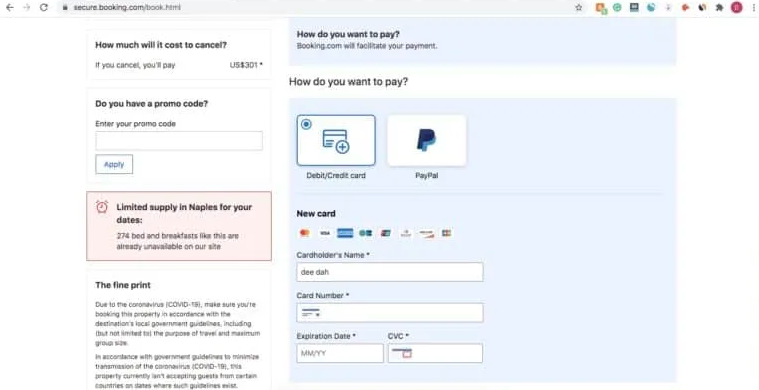 Then you type in your credit card information and press "Complete Booking." This is the whole payment page that I've screenshotted, I haven't left anything out.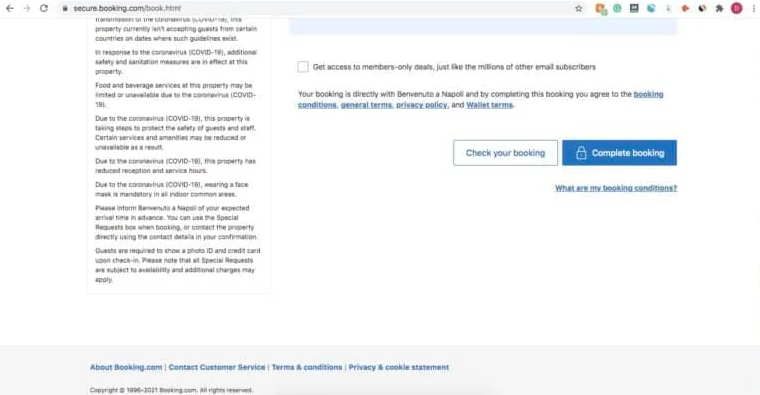 Now since I've brought your attention to the scam, you might have caught it already. But from these screenshots, how much do you think charged to my credit card?
According to this payment page, I believed I would charged $301.13. However, when I logged onto my credit card statement the next day, I actually charged $513.13!!
But what's wrong with this? Yeah, they had the price in bold at the top, but underneath in smaller writing, it says that there additional costs.
However, there is NOWHERE on that payment page that tells. The actual number that will be charged to your credit card. Instead, Booking presents a cheaper number in a layout that looks like. It is a price breakdown of the costs of your accommodation.
Instead, they expect you to get out a calculator and add those numbers together to get your total. This is intentionally misleading and would definitely con a lot of people into booking accommodation for much more than they originally planned to spend.
So the screenshots I've posted above were not from my original booking since I didn't know that I needed to be screens hotting while I was booking, so the prices above are for the same dates but the actual price has gone up.
When I booked, I got a discount for being a Genius member and the price actually 208 euros instead of the 255 euros listed above.
So here's how it gets worse…
Booking Scam: They Know What They're Doing
Like you saw in the earlier screenshots, Booking did NOT show the actual total ANYWHERE before I put in my credit card information.
Which makes this next thing even more scammy and underhanded.
After booking, I received an email confirmation of my payment. Which I only double-checked after being totally shocked by the amount on my credit card.
Here is what that email looked like: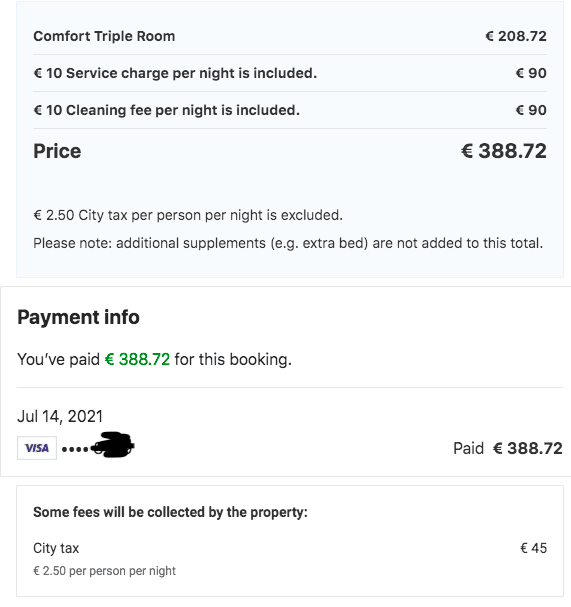 All of a sudden, Booking knows EXACTLY how to present the payment information in an accurate way that isn't misleading, conveniently only AFTER I had paid.
It shows the price of the room, plus the fees, added together to show. What would actually be charged to my credit card. It even states that the city taxes wouldn't be charged to my credit card. But that they would be collected at the property.
So why was Booking suddenly able to add the numbers together in a transparent way in this email but not on the payment page?
This is a scam, an intentional scheme to trick the customer into believing that they are paying a certain number. But then blaming the customer after by saying they didn't pay close enough attention to the fine print.
Booking is using plausible deniability and blaming their customers instead of showing a transparent pricing layout on their payment page.
In my opinion, this should not be legal. You should be fully aware of the number. That will be charged to your card ahead of time without needing to whip out a calculator.
And with that email, Booking proved that they knew how to do just that. But instead wanted to trick their customers into paying for something more expensive than they were expecting.
That original payment page, which I'll put again right here, doesn't tell me at all what will or won't be charged. It doesn't tell me if the city taxes will be charged to my card or collected in person.
It doesn't tell me that those service fees are not included in the price above. Not even in the fine print. There is nowhere on that page that makes this booking explicitly clear to the user.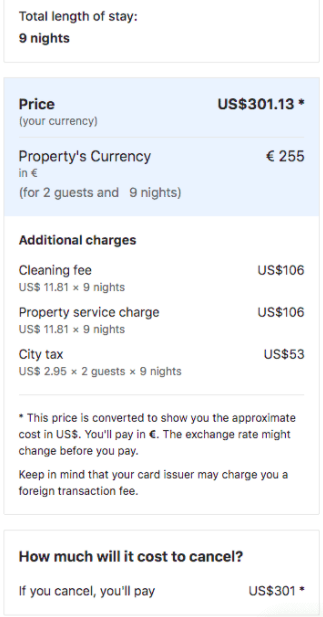 Booking is a Giant Company Taking Advantage of its Users
For those of you who don't consider this a scam, I think you might be used to being screwed over by companies. We should expect a higher standard from companies, not just a "Haha, you got me, you win this time!" type of relationship.
If even 1 out of 10 people is misled by the pricing layout, then it is a scam and should absolutely be changed by Booking.
Why are we allowing such a giant company like Booking to steal money from travelers? To mislead them and then place the blame on them even while they knowingly present the information in a way that is meant to trick them?
Even if this is legal, why is Booking using scam tactics on its users instead of trying to build an honest relationship with travelers?
Booking (also known as Booking Holdings Inc.) also owns Priceline, Agoda, Kayak, Cheapflights, Rentalcars, Momondo, and OpenTable.
They are worth ????
This Booking Scam Doesn't Happen on the App
Another very strange thing about this Booking scam tactic is that it doesn't appear to be happening on the Booking app, although I still don't love the layout of the pricing. Here is what it looks like for the same accommodation as above: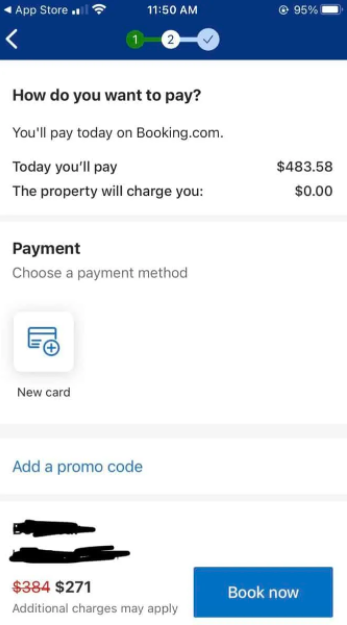 The blotted-out part is just the made-up name and email that I created for this booking. Now, if you compare the payment page above that from the Booking app with the one from the desktop. You can see that the app page does actually tell you what amount will charged to your credit card.
This payment page still isn't great, but it's MUCH better than the one used on the desktop. What I don't love about this layout is still the misleading use of bold and smaller writing.
At the top, they write in very small letters what you will charged to your credit card. But at the bottom in quite large writing and right next to the "Book Now" button, they have a completely different price.
You may say that this nitpicky, but remember that these scammy sales tactics used by websites in order to get you to book.
They know that the eye will go to the bold writing with the red price crossed out right away and that there is still a chance you wouldn't see the smaller writing above.
Don't think for one second that Booking doesn't know what they're doing in scenarios like. They are one of the biggest travel sites in the world and design their payment pages like. This on purpose to get more bookings by tricking customers.
The number right next to the "Book Now" button should reflect the exact number you will charged. Period.
What Booking is doing is absolutely wrong.
Trying to Contact Booking After Scammed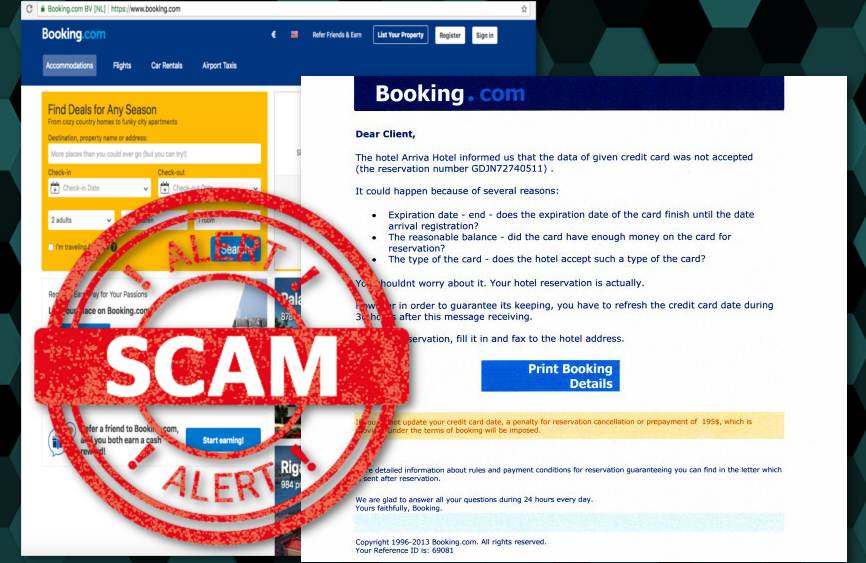 Besides having all of that proof above, my experience with contacting Booking has been absolutely horrendous.
If travel blogging weren't my full-time job, there's no way I would have enough time to be on hold for 20-30 minutes EACH CALL and then proceed to be hung up on, ghosted through email, and ignored on social media.
Booking is banking on you not having that time.
Discovering Another Scam Through Calling Booking Customer Service
I've called the Genius Customer Service line 6 or 7 times and by doing this I've discovered another scam that I think they're doing to waste their customer's time instead of resolving their problems.
When you call the line, they ask you to type in your confirmation number each time. Being as careful as possible each time I called, I NEVER got through on the first try no matter what. I can even see on the keypad that I had typed it in exactly right.
On almost every call it took 3 times of typing it in exactly right, some calls took only 2. However, not one call let us through the first time.
After getting through, the interactions with their customer service were absolutely terrible. Here is exactly how my interactions with Booking have gone so far:
Day After Booking: Calling & Chat Line
After seeing my credit card statement, I immediately decide to call Booking. I spend the next 10 minutes scouring the internet for an ACTUAL number that would reach them.
It was not easy to find, that's for sure. (FIND PAGE AGAIN AND POST HERE)
As I was on hold for over 20 minutes, I also used their chat line to try to reach someone there. Nobody ever came.
I finally reached someone on the phone who told me that I must not have understood the difference between euros and dollars so that's why I was upset about the number I was charged.
I informed her this was not the case and emailed her screenshots of the payment page from the desktop version of Booking. She told me that she would ask the hotel if they would refund me while waiving any fees.
I never received another answer from her. The hotel responded the next day and refused the refund.
The next day happened to my birthday so I waited 2 more days to call back and check up on the case.
3 Days After Booking: Calling Booking Again
I waited another 20 minutes, typed my confirmation number in multiple times, and finally reached someone. They told me they would email the hotel and try to get them to refund me again, even though the hotel had already refused.
My question at this point is why this was the hotel's responsibility at all. I can see clearly on my credit card statement that Booking is who has charged my card. Know that the hosts do not actually receive the money until the booking has started or completed.
I told her that it's fine to ask for a refund, but this was Booking's fault, not the hotel's. So I should refunded regardless of what the hotel says since Booking the one who scammed me.
She said she would call or email when she heard back from the hotel. I don't think she'll ever hear back, why would she? Why would this hotel agree to a refund?
4 Days After Booking:
The worst day so far. I called 4 separate times (while working in the background since I work from home) and every call took over 25 minutes to reach someone.
I asked them to escalate a complaint about Booking and stated that I upset at the hotel, but at Booking itself.
They hung up on me and when I called back, someone else told me that the notes on my case said. They were not going to file a complaint with Booking for me and that there was nothing they could do.
At this point, I stopped calling and have resorted to disputing the charge on my credit card.
More Scam Tactics Used By Booking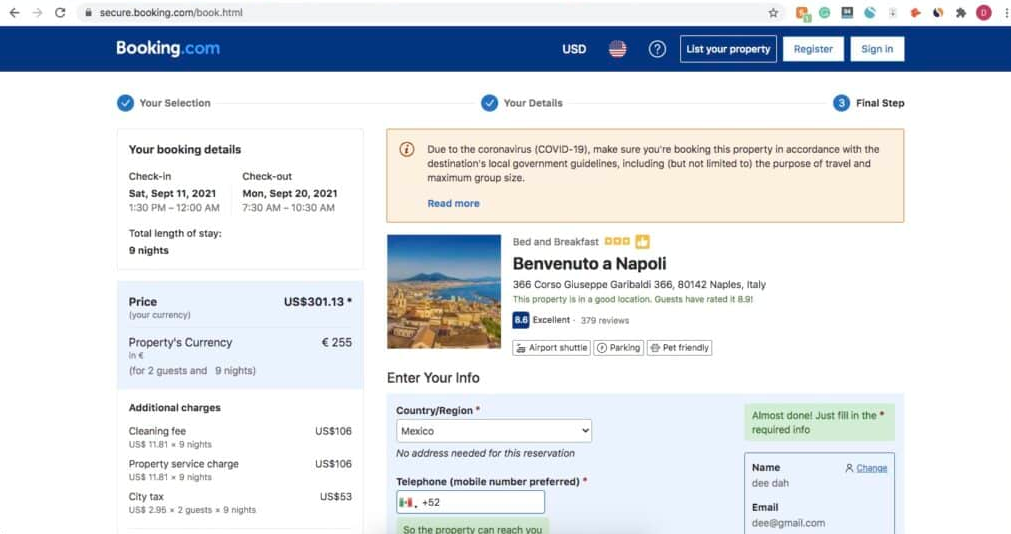 If my personal experience isn't enough to convince you to stop using Booking. Maybe this list of other scams that I've found during my research will!
Booking Warned by the UK to Stop Using Scammy Pressure Tactics
In 2019, the UK (like the whole country!) warned Booking to stop using fake pressure tactics to get travelers to book.
When you are on Booking you may notice that it will tell you that there only one room left. Or that a lot of travelers currently booking in that area, so hurry and book before it's too late!
Well, it turns out that a lot of those little warnings completely made up and  scams used to you to book quickly.
Booking Fraud: Travelers Can Booked at One Hotel and Walked to a Completely Different Hotel
Ever heard of "walked" by a hotel? Basically, this means that the hotel you booked overbooked their rooms, so they can "walk" you to a different hotel.
This hotel could be in a completely different location than you had planned and it obviously not the room you actually booked. There isn't much that you can do if this happens to you!
Some people even report that they were unable to review the original hotel booking because they didn't actually stay there. So other people will continue to book without knowing that it isn't what it says it is.
Spain Hotels Have Filed a Complaint: Booking Charges 40% More Than Room Cost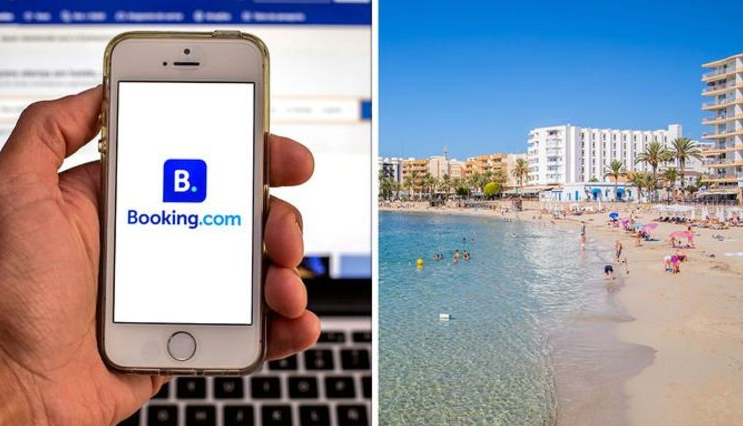 Spain's hotel industry has filed a complaint with Booking stating that their hotel prices are no longer competitive. Since Booking adding a 40% commission on top of their room prices.
This has discouraged travelers from choosing Spain as a destination.
No Money Back if the Room is Not as Described or Not Clean
If you book using Booking, you should prepared to not get your money back even if the room isn't what described. This Quora thread shows what can happen and why you should not trust. Booking to give you your money back, even if the room is dirty and unhabitable.
Booking Is Ripping You Off
Another blogger, Danny Mekic, wrote out their terrible experience with Booking and states a few things you should be aware of.
Booking is adding a ton of money on top of the hotel room for commission. So you'd save a ton more by booking directly.
Booking stops certain hotels from giving discounts.
They might be passing your sensitive credit card information and personal information directly to the hotel.
So, is it Safe to Use Booking?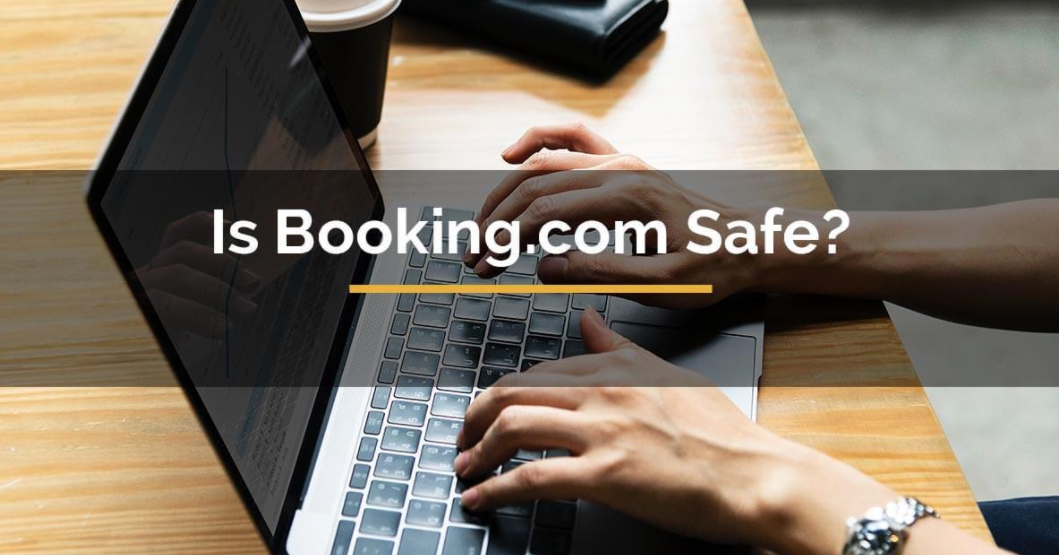 No, I don't think that it is safe to use Booking unless. You are one of the only travelers on the planet who never has anything go wrong.
Is Booking safe? No. Is Booking reliable? Also No. Can you scammed by Booking? Absolutely. Just read the comments others have left at the bottom of this blog post!
If anything goes wrong with your accommodation, you can essentially kiss that money goodbye. They will use scammy tactics to get you to book, and then leave you hanging when things don't work out.
Even if Airbnb is more expensive, I personally can say that Airbnb is a safe site to use and they will refund you if something goes wrong.
I've called Airbnb, reached an actual person within a reasonable amount of time (not 30 minutes, Booking!), and able to report the problems and it fixed quickly.
From a scary landlord in Bali who promised a wifi speed that he never had. To air conditioning not actually working at Lake Powell in the middle of summer. Or showing up to an Airbnb that was actually a public bathroom that they converted into a room… Airbnb has ALWAYS refunded my money and answered my calls.
Booking is not a trustworthy site, although most won't find that out until something goes wrong.

Agoda Review – Reliable Hotel Reservation Company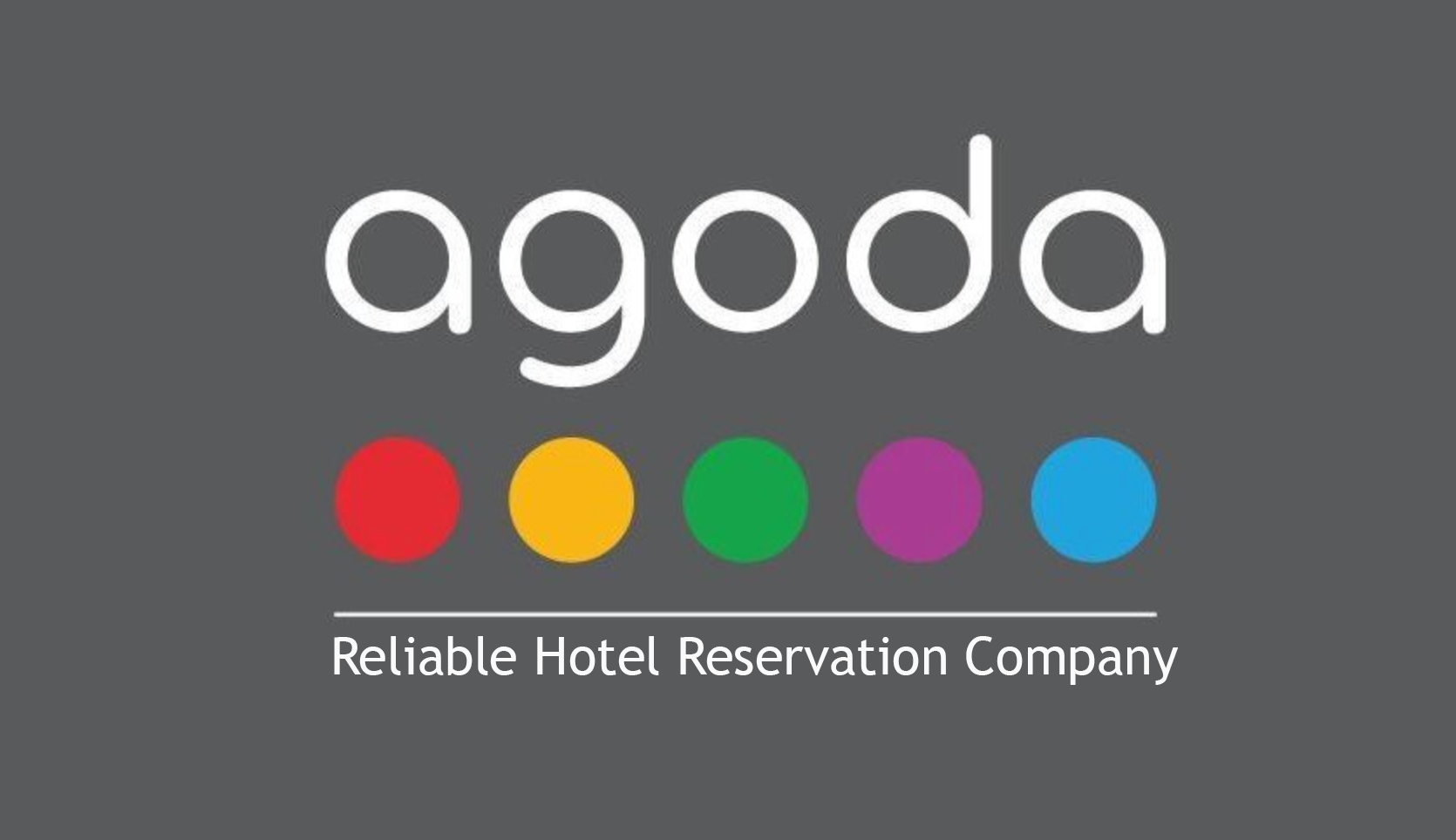 If you're planning to travel to Asia soon and looking for a hotel reservation company than you've most likely come across Agoda.com. There are many other popular companies offering the same services, but what makes Agoda better than the rest. And are their services reliable? Find out the answers in this article.
If you've never heard of Agoda before than it's no surprise. However you must have at least heard of Priceline.com, the Internets largest travel agency. Well Priceline is the parent company of Agoda. However Agoda only handles hotel reservations world wide but they particularly specialize in the Asian hotel marketplace.
So what makes Agoda.com so special?
After using so many different hotel reservation companies, I've noticed that all the hotel rates are on average are roughly the same give or take a few dollars. Agoda's room rates too are on par with the rest of their competitors. However, Agoda has a rewards point system which you can earn for room discounts and free nights.
This is the biggest advantage Agoda has over their competitors. You can earn points automatically. From 4% – 7% of your room price. Sometimes there are special offers where you can earn more. The minimum points you need for example a $25USD discount is 12,500 points and that's easy to make if you spend about $625 USD, which is easy what most people already spend for a hotel stay.
You can either use up those points or save them up like I do for an even bigger discount and free nights.
The benefits of using Agoda doesn't end there. You can earn an easy 500 reward points for submitting a review of the hotel you you stayed in. Agoda heavily relies on guest reviews so they want to give them an incentive. It's easy to submit a review and wouldn't take more than five minutes. You usually get an email from Agoda within 2 weeks after check out, asking for your review. As you can see as a frequent customer of Agoda, your points can quickly add up.
What I like best about Agoda is their ability to quickly confirm room availability. Agoda's competitors require you to wait a few hours or maybe a day because of the time zone differences to find out if a room is available. Agoda's reservation systems are always up to date with the latest deals, special prices and of course instant room availability.
Finally don't you hate it when researching a hotel online and you don't know exactly what types of attractions or other hotel options are in the area? Agoda has a great hotel map feature that uses Google Maps to pinpoint your hotel's location and reveal nearby landmarks, attractions and hotel alternatives.