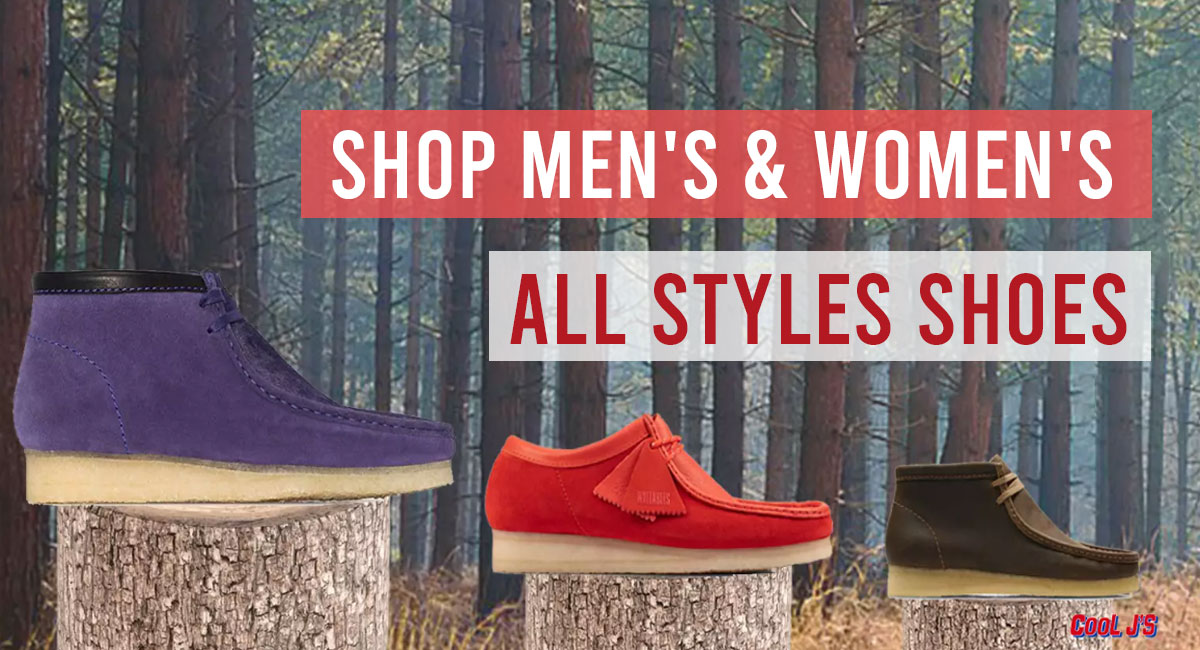 This post contains affiliate links. When you purchase through links on this post, we may earn an affiliate commission. Thanks.
About Clarks
I don't know about you, but getting a new pair of shoes puts some extra pep in my step. If you're in the market for some, Clarks is a shoe and accessory brand that makes shoes for everyone in the family. They're mainly known for creating high-quality ankle boots with crepe rubber soles.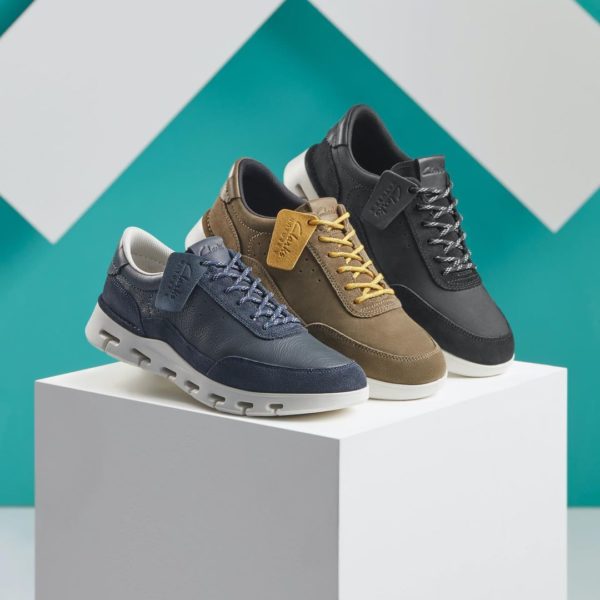 The longstanding company is available in several retail stores and even has locations of its own. They've also garnered a decent social media following with about 418k followers on Instagram, where they'll also be opening a shop.
If you're in the market for some new steppers, this Clarks review might be able to help you out. So, keep reading to learn more about the company, their bestsellers, policies, and more so you can decide if they're worth buying.
Overview of Clarks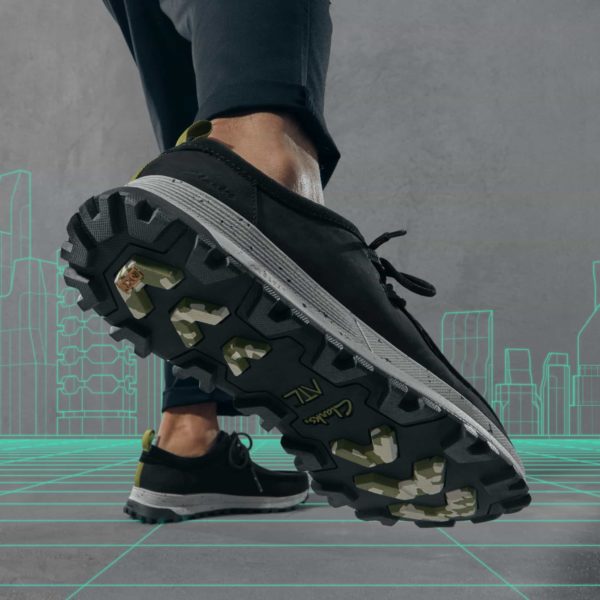 Clarks has a long history that dates all the way back to 1825. The company was founded by brothers Cyrus and James Clark that year in Street, England. Before partnering up, Cyrus began making rugs out of sheepskins, and the business started to grow.
So, Cyrus appointed his own brother, James, as an apprentice. From there, they began to make slippers and other footwear. As the years went on, shoemaking became the family business, as James' eldest son joined the ride. One of their most iconic shoes is the Desert Boot, designed by Nathan Clark, launched in the 1950s.
The global brand's headquarters remain in the small English village, opening about 1,400 stores worldwide. They also sell shoes through third-party stores. Additionally, like many other fashion brands, they've begun making efforts towards sustainability.
When making Clarks shoes, the brand started to adopt a circular approach to help communities worldwide. For example, they partnered with UNICEF to create the ShoeShare initiative. Basically, by collecting old or unwanted shoes, Clarks has been able to help children get access to education.
Now that you know more about the brand, this Clarks review will go over some highlights.
Highlights
Offer a wide variety of shoes for both men, women, and kids
Older company with a good reputation
Free standard shipping is available
Financing options available with Klarna
60-day return policy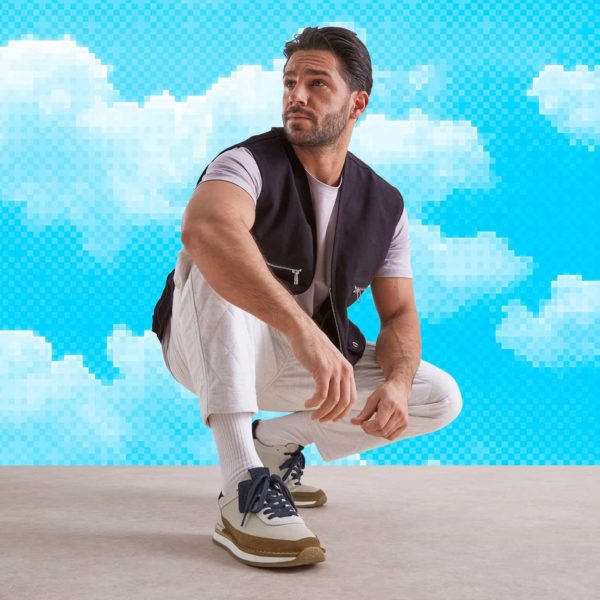 For some of us, winter is slowly approaching. So why not treat yourself to a new pair of boots? Or even some new sandals or shoes for your next vacay? Whatever the occasion is, you're bound to find something at Clarks.
Keep reading this Clarks review to see if you can find your new favorite kicks. Also, note that you're able to finance these products with Klarna.
Clarks Women's Review
Clarks women's collection features timeless classics along with some trendy items. So, which ones are the ladies clamoring for? Let's find out!
Clarks Shoes Sheer 55 Buckle Black Patent Review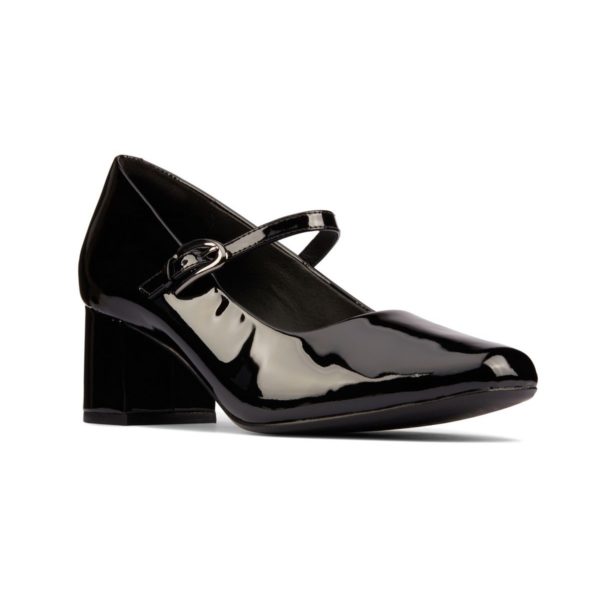 The Sheer 55 Buckle Black Patent heels are traditional, but it doesn't make them any less stylish. The shiny black leather and buckle are reminiscent of a classic Mary Jane flat with a short, square-heeled twist.
Once you start clicking around in these heels, you might not be able to stop. It definitely gives off some boss vibes that you don't want to miss out on. But, if you're not the strut around the office type, you could pair these Patent leather heels with some cute socks, a fitted skirt, and a cardigan for a cute and studious look.
The Sheer 55s retail for $110.
Clarks Sandals Jillian Pearl Black Leather Review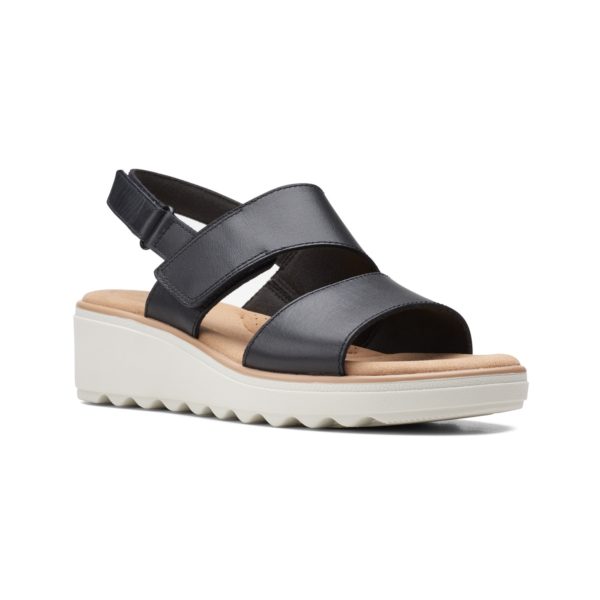 Strappy heel sandals are a summer staple. So, this Clarks review offers the Jillian Pearl Black Leather sandals. Of course, they feature black leather straps plus a comfy footbed. The sole also absorbs impact for additional comfort.
These Clarks sandals are exactly what you need for a spring or summer wardrobe. They'd look chic with a pair of pants, capris, or a sundress. Plus, with durable materials, it almost wears like a sneaker with a bit more breathability. They can definitely handle the rough stuff.
These sandals are currently 68% off and will cost you $30 at checkout (reg. $95).
Clarks Boots Airabell Zip Dark Olive Suede Review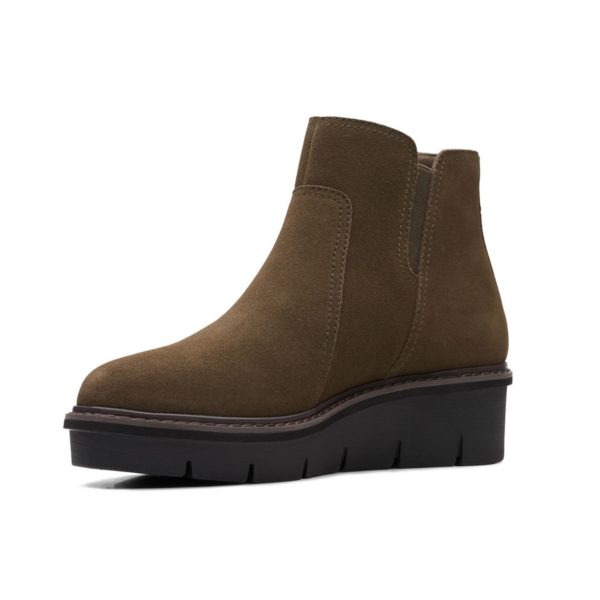 For the perfect fall boot, may this Clarks review suggest the Airabell Zip Dark Olive Suede boot? The ankle height boot features a side zipper and a comfort foam footbed with additional arch support for comfortable wear. They're also chic and perfect for busy work life.
The Airabell is a perfect casual or work boot. They can slide on and off easily with the included elastic panels and, of course, the zippers. They're versatile as well and can be worn with your favorite pair of skinny jeans. As a bonus, the wedge heel adds a bit of style and edginess.
These Clarks boots retail for $130.
Clarks Cloudsteppers Carly Dream Black Review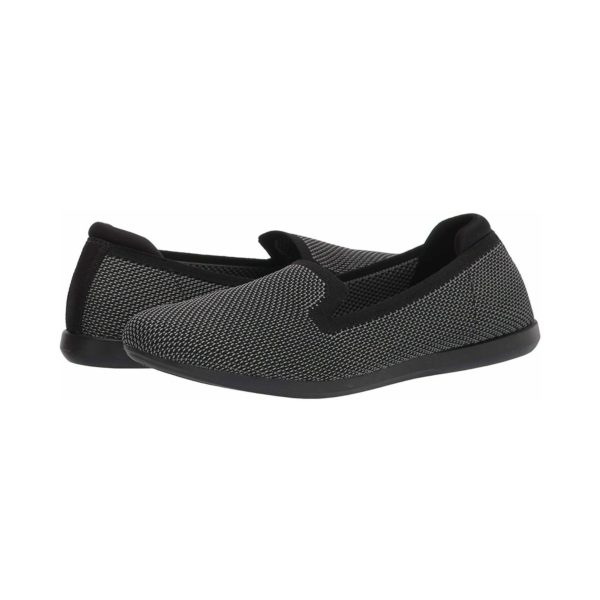 Last but not least are the Clarks Cloudsteppers Carly Dream Black shoes. This easy-breezy loafer features extremely flexible materials, allowing for quickly slipping on and off. With the added Cushion Soft padding and a specially designed footbed, these are comfy and convenient on long trips.
These lightweight black shoes are ideal for running errands or if you need a quick shoe to sail through airport security. They could even double as comfy office flats for those days when just looking at your heeled shoes gives you foot pain.
The Cloudsteppers come in about eight colors and retail for $85.
Clarks Men's Review
Next up in this Clarks review are the best-selling men's shoes. Let's face it, guys, even you get excited about new kicks. So, let's keep going forward to see the popular men's items.
Clarks Wallabee Maple Suede Review
The Clarks Wallabee Maple Suede shoe is similar to a moccasin, meaning it's all comfortable along with some style. The shoe has a very structured silhouette and is clean cut. Basically, it's a simple shoe that can be worn for any casual occasion.
Additionally, since the shoe is designed like a moccasin, the $150 Clarks Wallabees are highly comfortable. They're also easy to put on, so you can chuck them on if you're in a rush. Plus, if you're stumped on what to wear with this shoe, a nice pair of shorts and a pair of crew socks can get you started.
Clarks Shoes Sandford Black Suede Review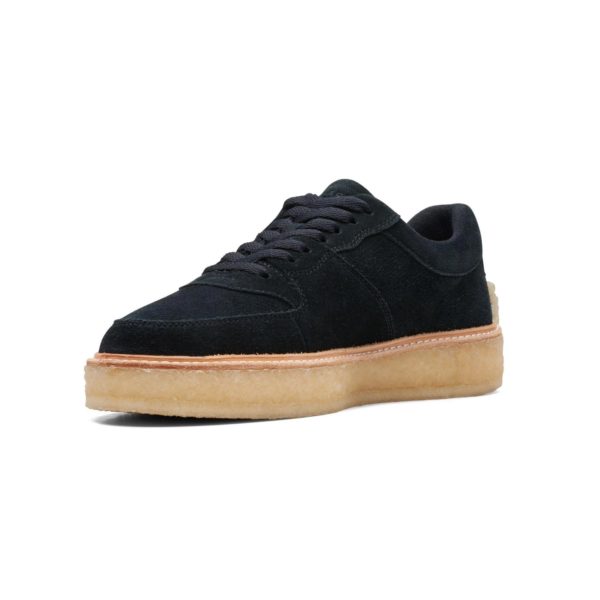 For casual sneakers, The Clarks Sandford Black Suede Shoe is a stylish and edgy option. The name itself references the first Clarks warehouse in London, which marked an important milestone in the fashion capital.
Of course, the shoe features a black suede material that'll match well with jeans, khakis, or casual shorts. Its silhouette is also reminiscent of a skateboarding shoe, which gives it a slight rebellious touch.
If the all-black suede isn't your thing, the Tan Suede shoe gives off some preppy energy. Either way, the shoe will cost you $220.
Clarks Boots Morris Up Brown Tumbled Review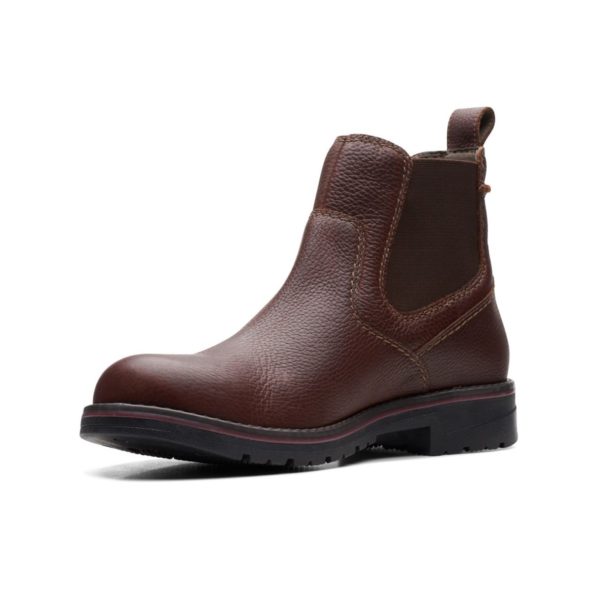 If you're a Chelsea boot wearer but are looking for a more functional shoe, the Morris Up Brown Tumbled boots are your new pals. They're specially designed for everyday wear and are even waterproof, so your feet will stay dry during those rainy fall days.
This is another shoe that has a high-performance footbed. So, if you're on your feet a lot, you'll be comfortable and supported. Plus, they'll probably look great with whatever you wear. The classic brown leather finish will make getting ready in the morning a no-brainer.
These elevated Chelsea boots retail for $120.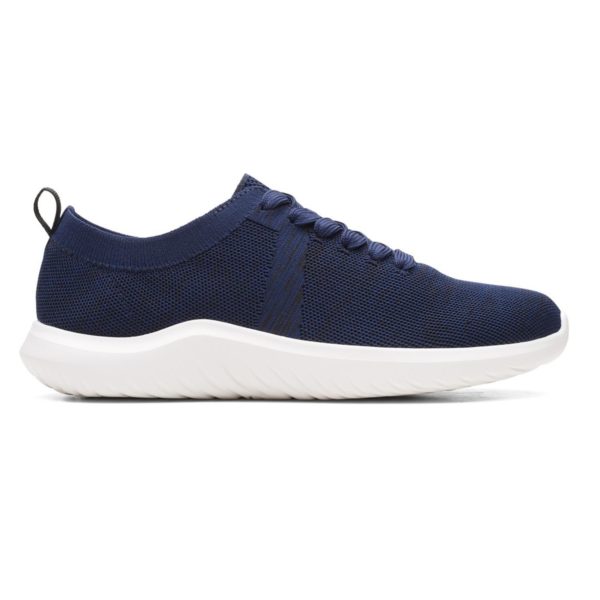 The last shoe in this Clarks review is the Nova Glint Dark Navy runner. With athleisure being all the rage lately, these sneakers are the perfect shoe to have in your wardrobe. They're super lightweight and will be able to support you during errands or on a light jog.
The Nova features a flexible sole for easy and comfortable movement. The OrthoLite footbed is also removable if you aren't vibing with the extra softness. Whatever way you choose to wear them, they'll look good with jeans, track pants, or some athletic shorts.
These shoes are currently on sale for $64 (reg. $85).
Who Is Clarks For?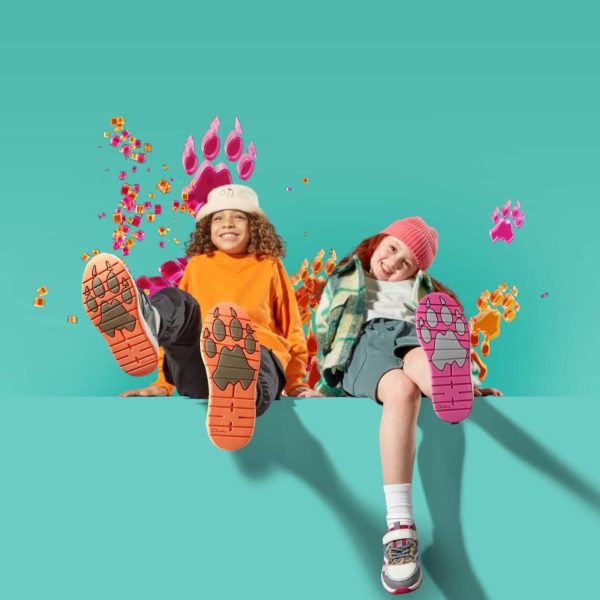 Clarks sells shoes for men, women, and children. They have comfortable and functional styles available for everyday wear and more formal options as well. Additionally, if you're starting to purchase sustainable products, Clarks is increasing its sustainability efforts through the ShoeShare initiative and more.
Clarks Reviews: What Do Customers Think?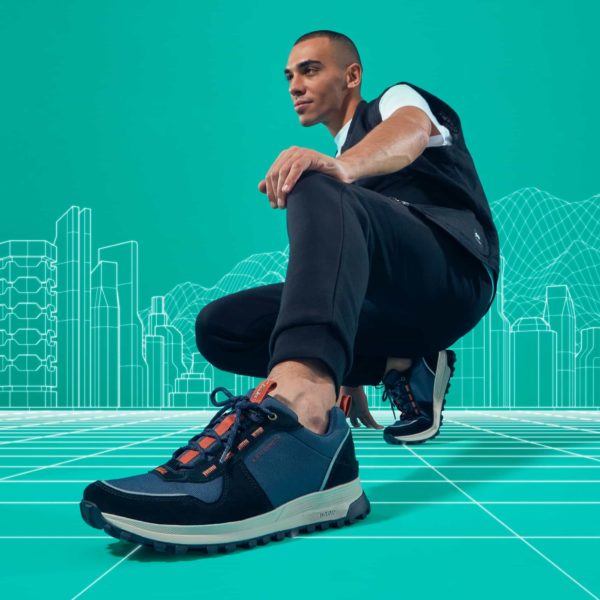 This wouldn't be a Clarks review if we didn't go over some customer feedback, right? So, after finding ratings on the main site, we went searching for more. Finally, we came up with customer experiences on Trustpilot and Reviews.io.
There are a few criticisms, but we'll talk about that later. Here are the average ratings for some of the products in this review:
Jillian Pearl Black Leather: 4.3/5 stars from 16 ratings
Cloudsteppers Carly Dream Black: 3.3/5 stars from 8 ratings
Wallabee Maple Suede: 4.2/5 stars from 71 ratings
Nova Glint Dark Navy: 5/5 stars from 1 rating
The Jillian Pearl Black Leather shoes get a generally positive reception. One reviewer writes, "These sandals are super cute and even more comfortable. They have about a 1" heel and Velcro straps. I love them and could wear them all day. They're very chic and stylish, and they go with almost any outfit."
The Cloudsteppers Carly Dream shoes also received some love. One customer says, "I bought these flats a few weeks ago, and I love them! I wear them almost every day. The first couple of times I wore them, they did rub against my pinky toe since I have such wide feet, but after breaking them in, they are my favorite pair of shoes. 10/10 I do recommend them!"
When it comes to the Wallabee Maple Suede shoes, people can't get enough, either. A customer says, "Oh, these are comfortable right out of the box. Not the prettiest shoe in the universe, but darn comfortable. Almost like slippers."
Another reviewer says, "I wore them in my teen years back in my country. I didn't know they still made them, and I'm super happy that I found them again. I will keep ordering from now on."
Additionally, on third-party sites, this Clarks review found mainly positive feedback regarding customer service. Here's how the company rates on the pages we found:
Trustpilot: 4.1/5 stars from 3k reviews
Reviews.io: 3/5 stars from 354 reviews
One Trustpilot reviewer writes, "Excellent service in-store, on the phone and online chat. Lovely shoes and the best fit for myself and my son. Never stop buying Clarks shoes. Thank you."
Another customer writes, "I made a mistake with my email address! Went online, and Pat was very helpful. The issue was resolved quickly and efficiently, and Pat made me feel like a valued customer. Thank you, Pat, and thank you, Clarks."
When it comes to negative reviews, a majority of them come from Reviews.io. To summarize, customers were having quality issues and unresponsive customer service. But, the Clarks team is quick to respond to complaints on Trustpilot. They seem pretty active on the review site and often provide more contact information and solutions to customers' woes.
Is Clarks Worth It?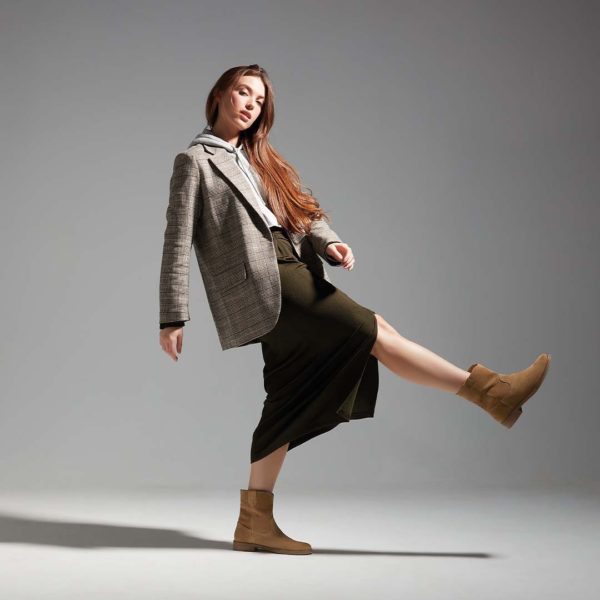 Finding the right pair of everyday footwear can be a tedious task. Take it from someone who can never decide on what shoes to buy in-store. But, Clarks offers classic and contemporary shoes that appeal to your entire family.
All in all, this Clarks review believes the brand is worth checking out. They have many styles available, so it'll be easy to find something that suits your style. Plus, if some styles are too pricey, you can opt for a payment plan with Klarna.
Clarks Promotions & Discounts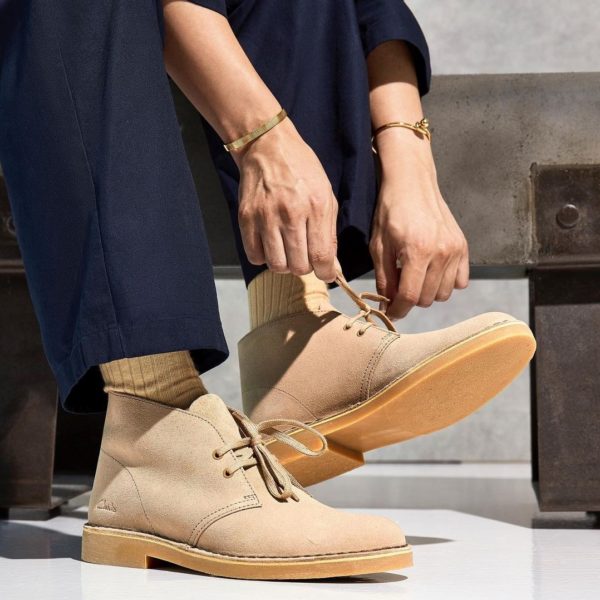 At the time of writing, Clarks is holding a sweet promo. If you use the code SPRING at checkout, you can get 25% off select styles plus free shipping and returns.
If you miss out on this one, you can always check back on the site to see if they have any other sales or deals going on.
Where to Buy Clarks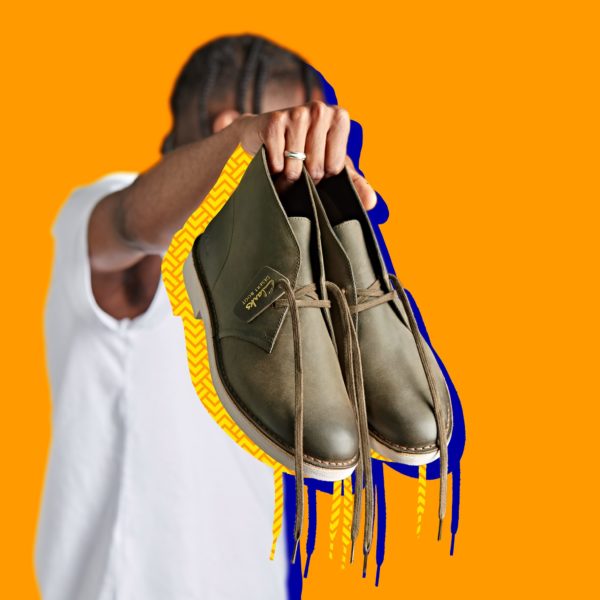 You can buy Clarks shoes from clarksusa. You can also find them on local sites if you live outside of the US.
More of an in-store shopper? You can find their products at the following retailers:
Walmart
Mark's Work Wearhouse
SoftMoc
FAQ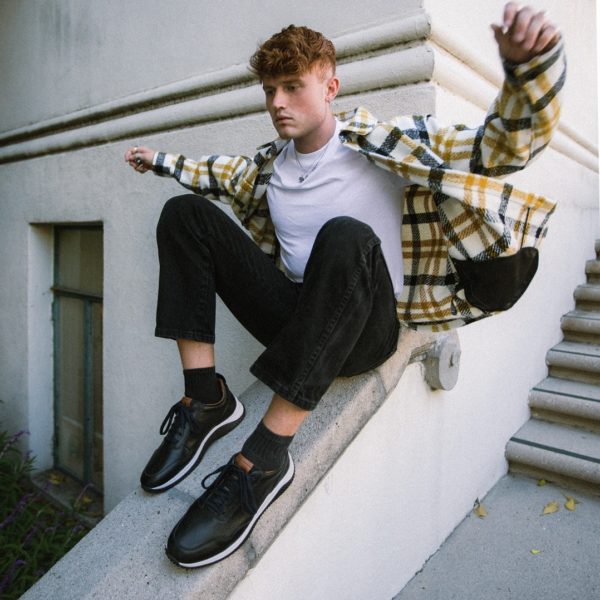 Where are Clarks shoes made?
Clarks shoes are made in several different locations, including Asia, Europe, and Central America. They're pretty transparent about certain places and their production volume. Some specific areas include Vietnam, China, and Cambodia.
What is Clarks' Shipping Policy?
Clarks offers free standard shipping for all US orders. Unfortunately, they don't offer international shipping from their US site. Still, local websites in Canada, Europe, and the UK will ship to those locations. Regardless, shipping times are pretty similar.
Here are the different shipping options with price variations and estimated delivery dates:
FedEx Smartpost (Free): 8-10 business days
FedEx Ground ($6): 3-6 business days
FedEx Two Day ($16): 2-3 business days
FedEx Next Day ($26): 1-2 business days
US Territories USPS ($20): 8-12 business days
Note that Clarks' fulfillment center does close for holidays, and they reopen on the next business day. Additionally, any Next Day or 2-Day shipments placed after 12PM EST will ship out on the next business day.
What is Clarks' Return Policy?
Clarks has a 60-day return policy. Returns are free, and your orders come with a prepaid shipping label if you wish to return your items. If you lose your label, you can print a new one by following the Clarks' Order Lookup Page instructions.
Your refund should take about 10 business days to process once your order is received and confirmed to be at the Clarks warehouse. If you haven't received your refund in that timeframe, you can contact the brand's customer service team. Unfortunately, you cannot do exchanges online.
Save Up to 50% Off on Allbirds' Black Friday and Cyber Weekend Sale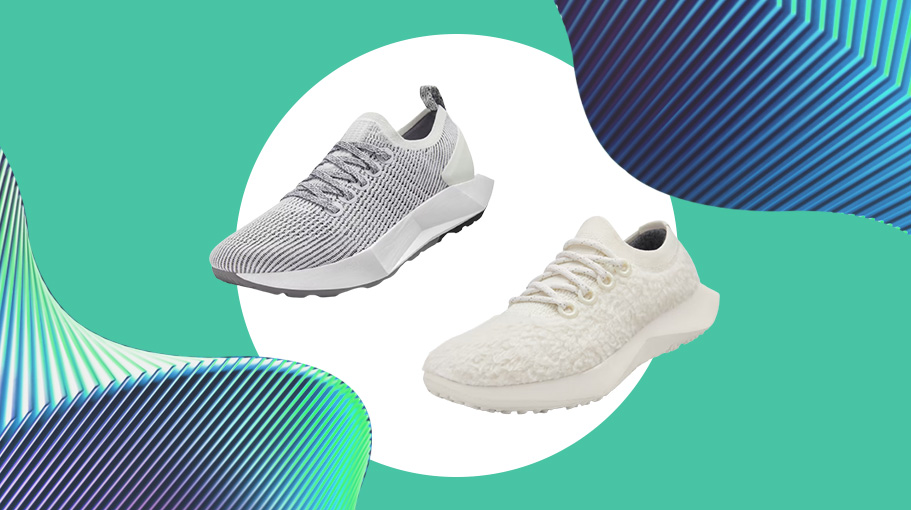 It's no secret that Allbirds is our favorite sneaker brand. Not only does the brand make stylish activewear shoes, but they're also eco-friendly and sustainable, which makes us feel even better about buying from the brand—especially when they're on sale. Right now, Allbirds' massive Black Friday sale is on, which means you can save up to 50% off sitewide.
This is Allbids' biggest sale of the entire year, so whether you're looking for the perfect gift for someone on your holiday shopping list or just need a new pair of sneakers or sweats, now's the time to treat yourself. Grab some of the brand's best-sellers like the Tree Dasher 1s, Wool Runners, and Natural Leggings. Allbirds' Black Friday sale runs through December 2, but we suggest shopping sooner than later—it's selling fast!
Allbirds' Black Friday Sale
Men's Wool Runners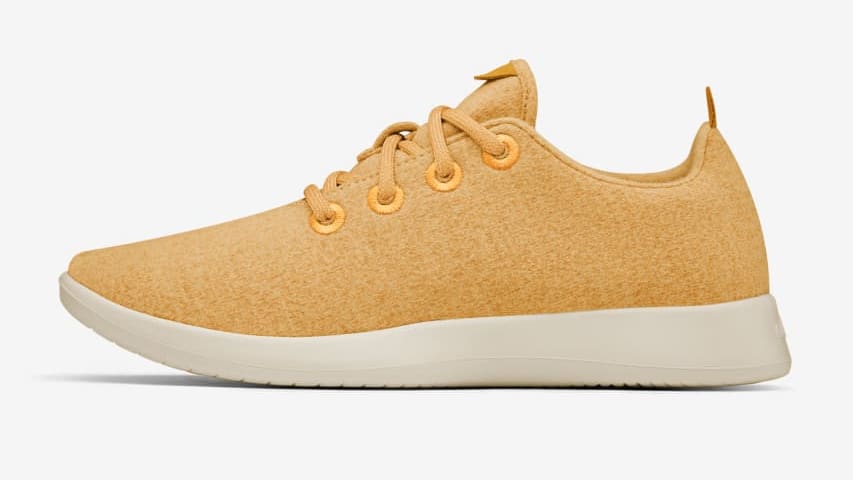 Women's Tree Dasher 1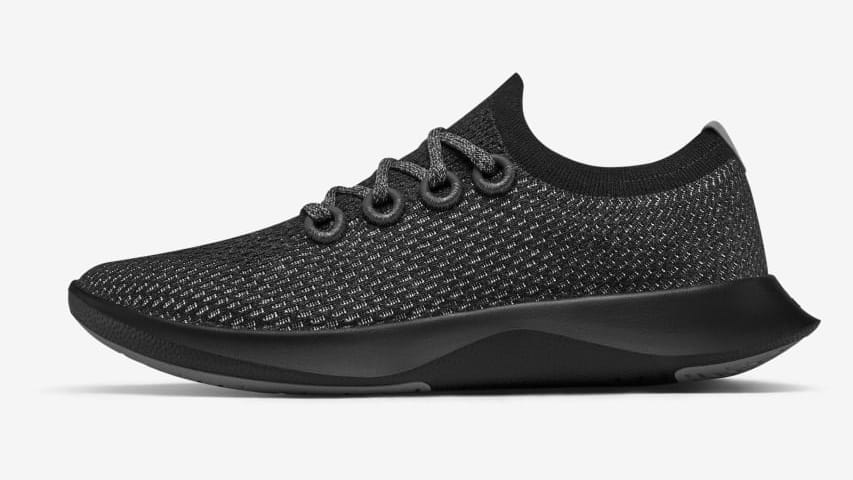 Men's Tree Toppers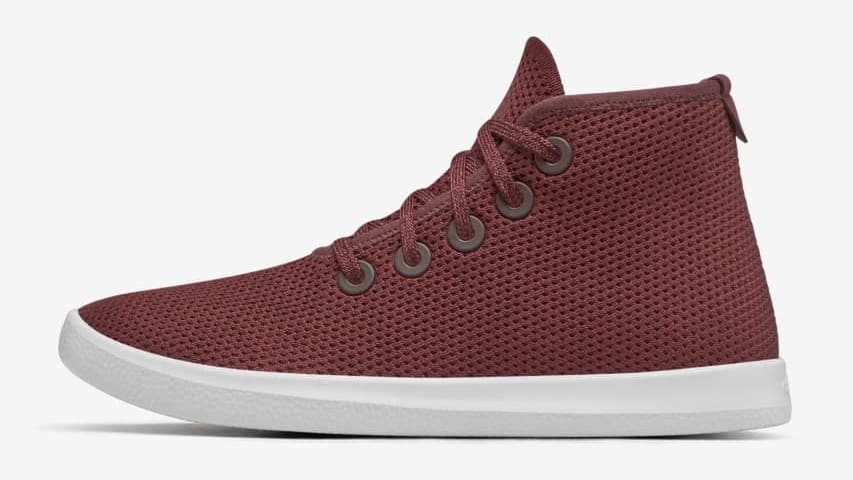 Women's Wool Runners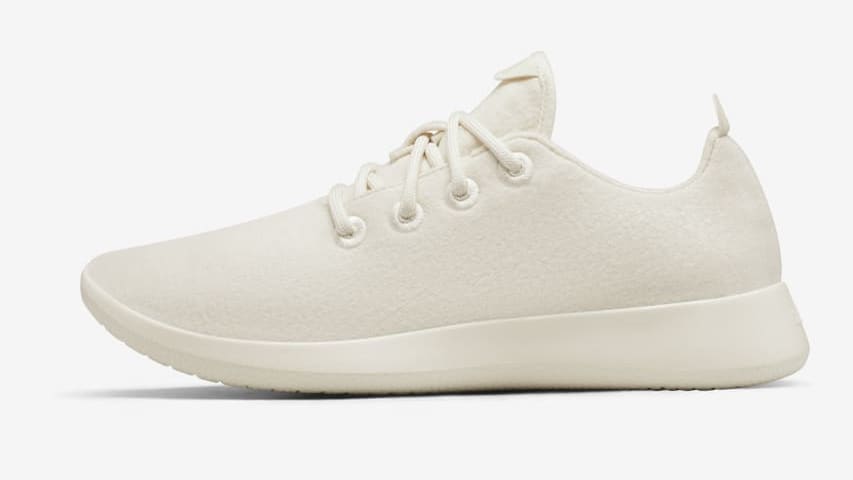 Women's Wool Runner Fluff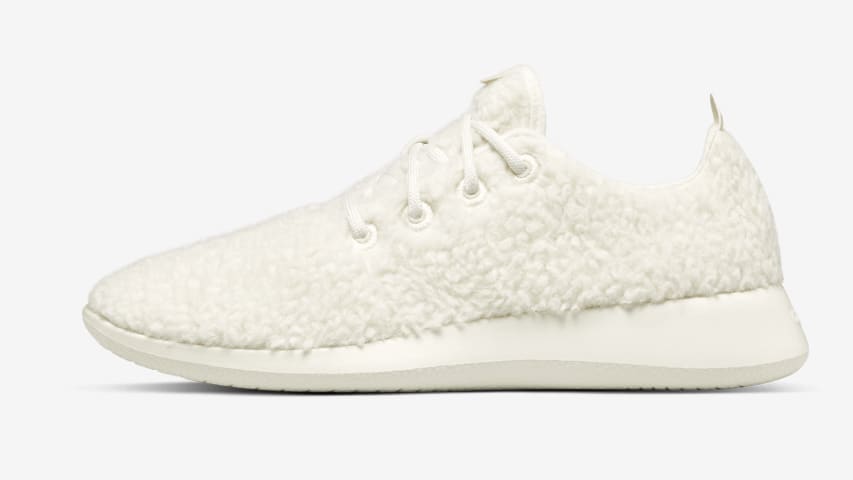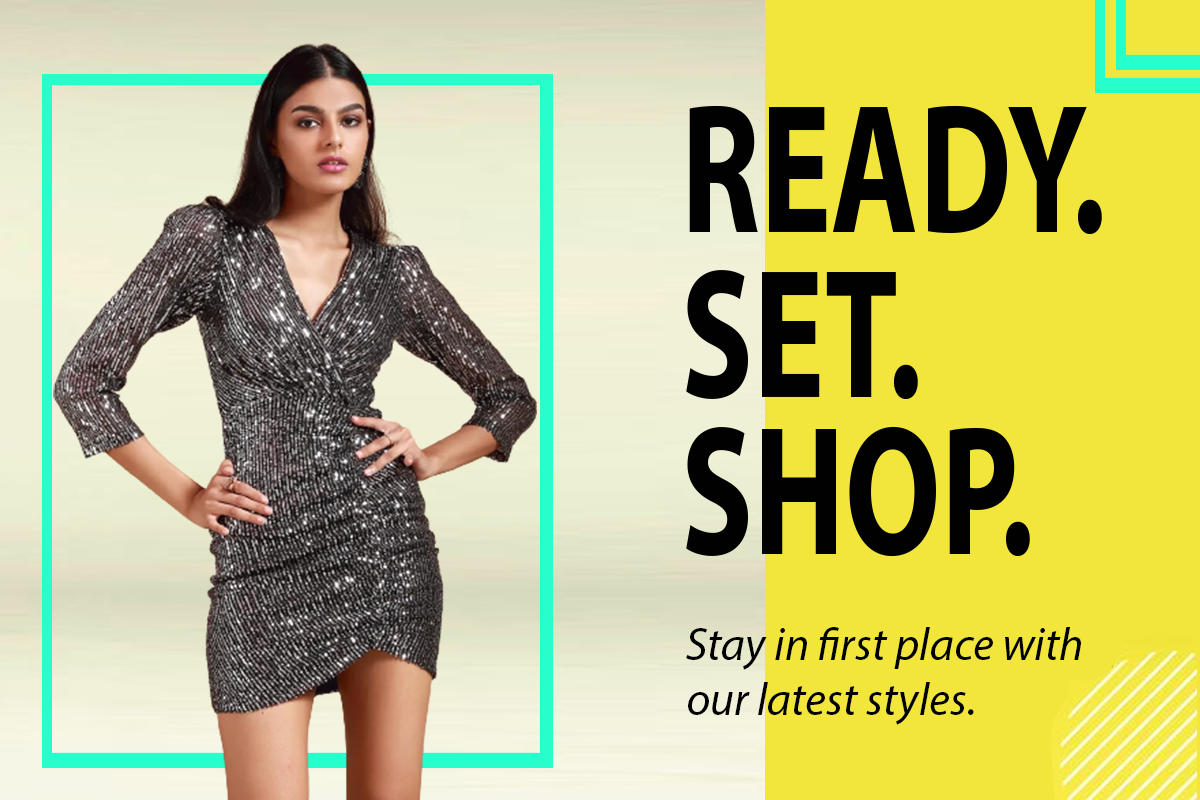 About QUIZ Clothing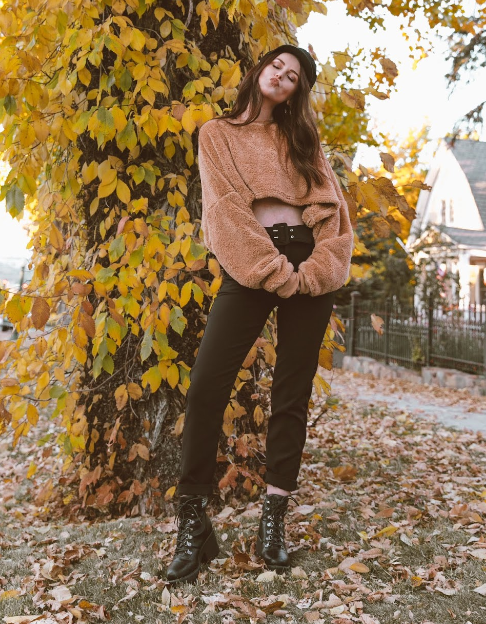 Just like any other British fashion brand, QUIZ Clothing is also known for its aesthetics, timeless designs, and sophistication. The brand offers a premium range of clothing pieces for all age groups and both sexes at quite competitive prices. One can easily rely on the brand to get the best of both worlds.
Precisely, QUIZ pays a lot of emphasis on offering the latest trends and cakewalk-style-driven looks without causing a dent in buyers' pockets. It caters to the fashion-forward women and men who are quite particular about clothes, fashion, and styles.
The brand leaves no stone unturned to offer a versatile range of fashionable and trendy clothes, accessories, and shoes for almost every occasion and outing. That's why the brand has been growing with each passing day.
Currently, it has over 250 stores across 13 countries, including the UK, Armenia, Egypt, UAE, Saudi Arabia, Jordan, Ireland, Pakistan, etc.
Quiz Clothing Review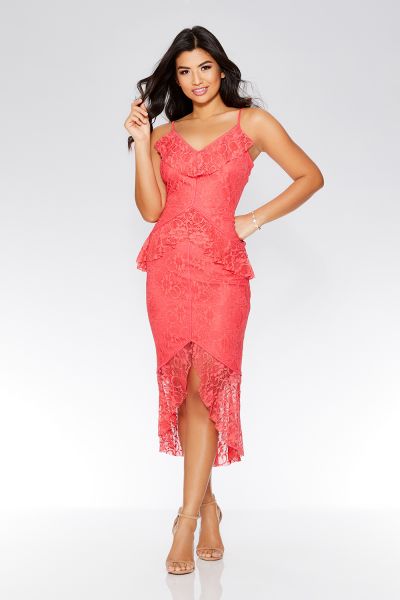 Shopping for trendy and fashionable clothes is one of the most satisfying and rejuvenating activities. Most of us love to shop and wear trendy and stylish clothes. In fact, it's a constant process to upgrade our wardrobe. But, if it happens without breaking the bank then it's nothing short of icing on the cake. Today, one can easily find out a plethora of online and offline fashion retailers offering a wide range of clothing pieces in various designs and styles.
When it comes to UK fashion brands then one must expect great craftsmanship, quality, creativity, and innovation. QUIZ Clothing is one such UK brand that offers an essential cocktail of British fashion and contemporary designs without causing a dent in one's pocket.
Quiz Clothing Dresses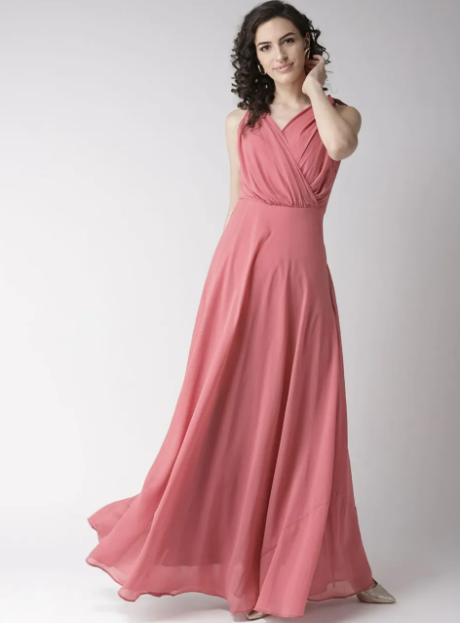 If you're looking for the perfect dress for a special occasion or just a dress that you can style casually every day, Quiz has many options. All dresses are designed in-house so they are unique to Quiz. Dress categories include Bardot dresses, sequin dresses, day dresses, evening dresses, prom dresses, bridesmaid dresses, bodycon dresses and maxi dresses. Quiz dresses are available in sizes 4-20 so there is something to suit all sizes. Each dress incorporates the latest trends, for instance, the AW/16 dresses focus on lace and Bardot styles in neutral colours for a glamorous, simple vibe.
Quiz Clothing Stores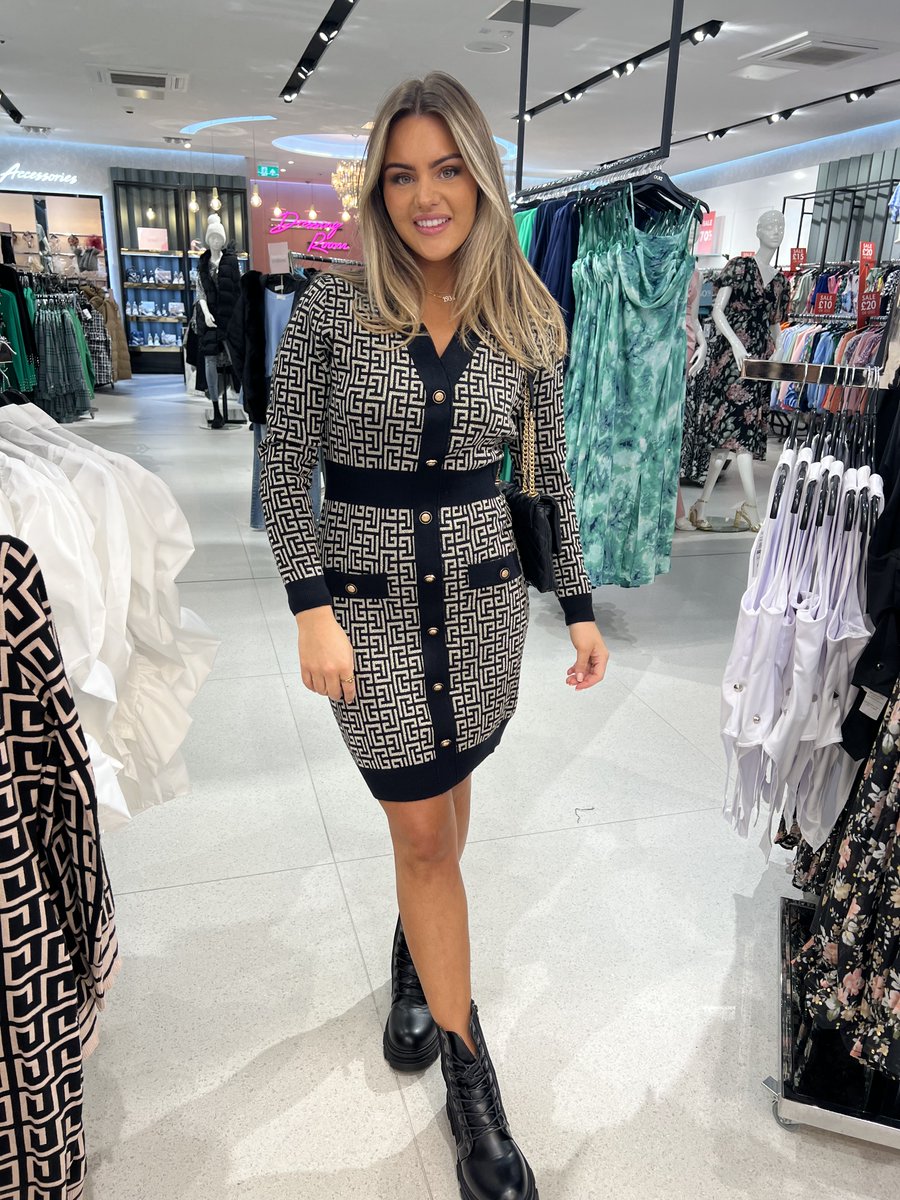 You can use the online store finder to find your nearest Quiz store. There are stores all around the UK. Stores are located as standalone stores in the likes of Chester, Grimsby, Peterborough, Swansea, Falkirk and Stirling. There are also Quiz clothing concessions in Debenhams, House of Fraser and M&Co. With 250 locations around the country, there is sure to be either a store or a concession near to you.
Quiz Clothing Sale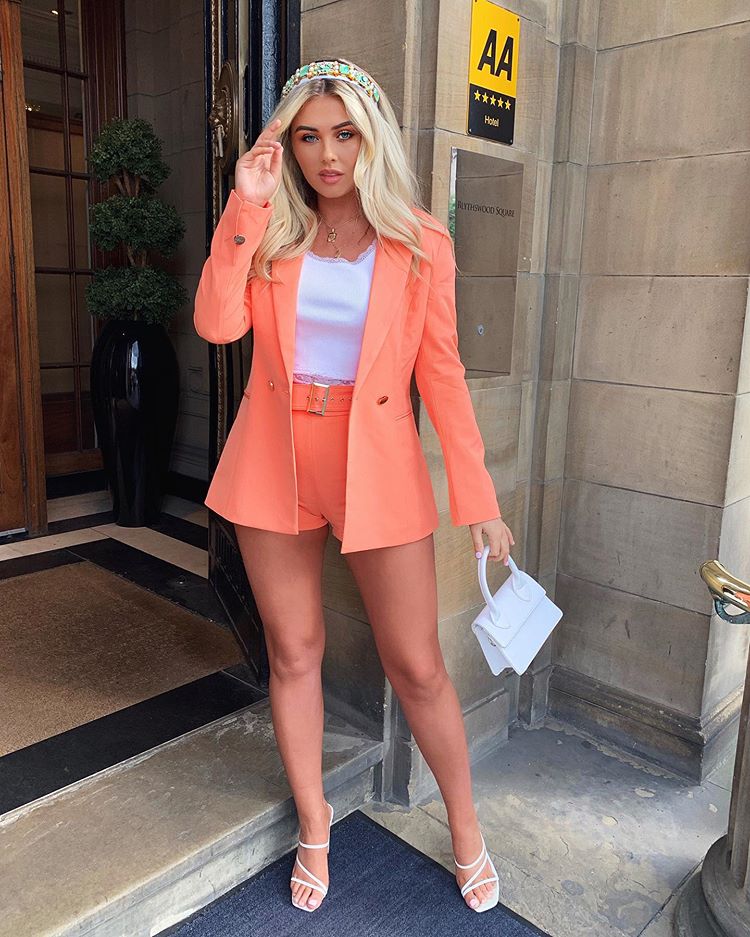 You can get great discounts on Quiz clothing using the online sale and in-store sales. Sales run seasonally, usually during the summer and at Christmas time. You may be able to get a great dress for the party season or some cosy knitwear to see you into the winter months, or perhaps a new coat to put away ready for the next set of cold weather.
Quiz Clothing Returns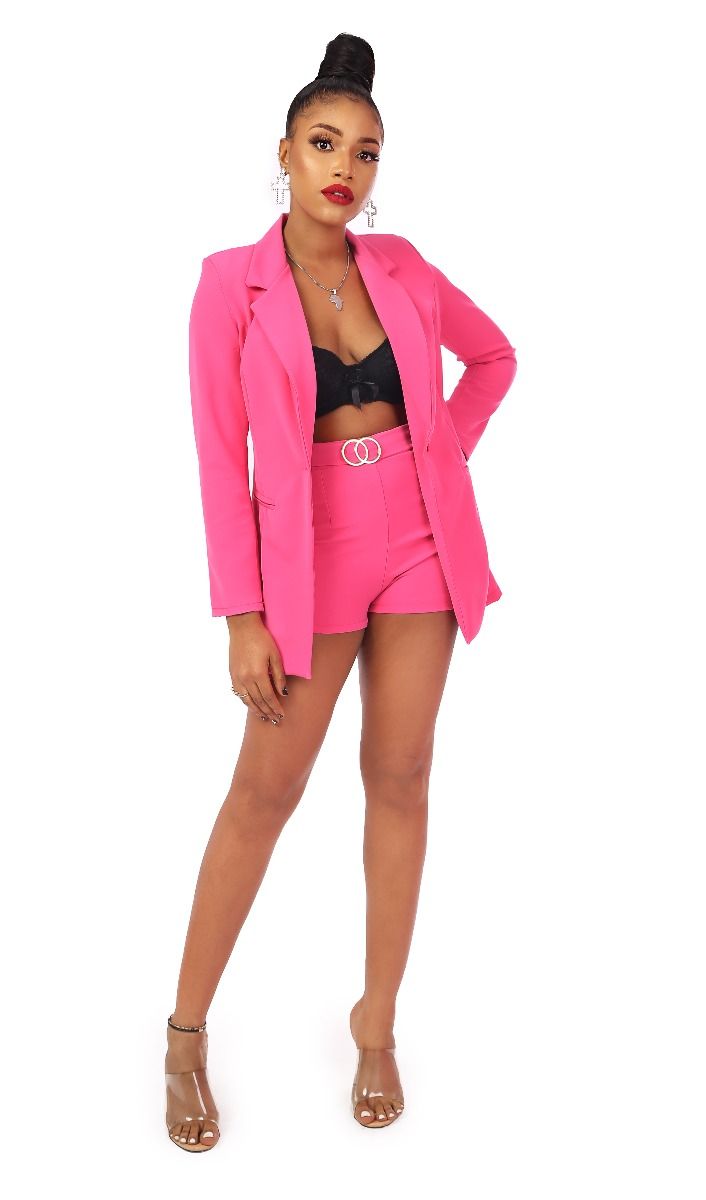 You can return a product to your nearest Quiz store if you have the receipt/web receipt, but only if the product is faulty. For standard returns, this must be processed via post. Log into your account on the Quiz website to generate a returns number, print the slip you are given and pop it in with the items to be sent to the free post address. Take the items to your nearest Post Office and remember to get a proof of postage. You can also return parcels conveniently by using Collect+, with over 5000 corner shops to choose from, which keep late hours. Your refund will be processed as soon as possible but you should aim to allow 7-10 working days for the refund to arrive back in your account.
Quiz Clothing Jobs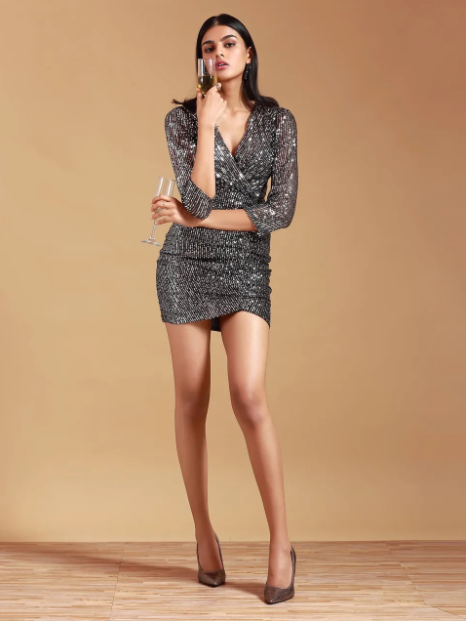 Thanks to a team of committed employees, Quiz has gone from strength to strength since its inception. The company seeks only the most dedicated and passionate employees to work in the fast fashion industry which is constantly changing. In return for enthusiasm and commitment, employees are offered the chance to enjoy a rewarding career with progression opportunities.
Vacancies available include management, assistant management, supervisors and sales assistants. Benefits include industry competitive rates of pay, staff discount scheme with up to 50% off items, bonuses and incentives, structured induction and training, stakeholder pension scheme and childcare vouchers. There are lots of opportunities for progression if you work hard.
Popular Questions About Quiz Clothing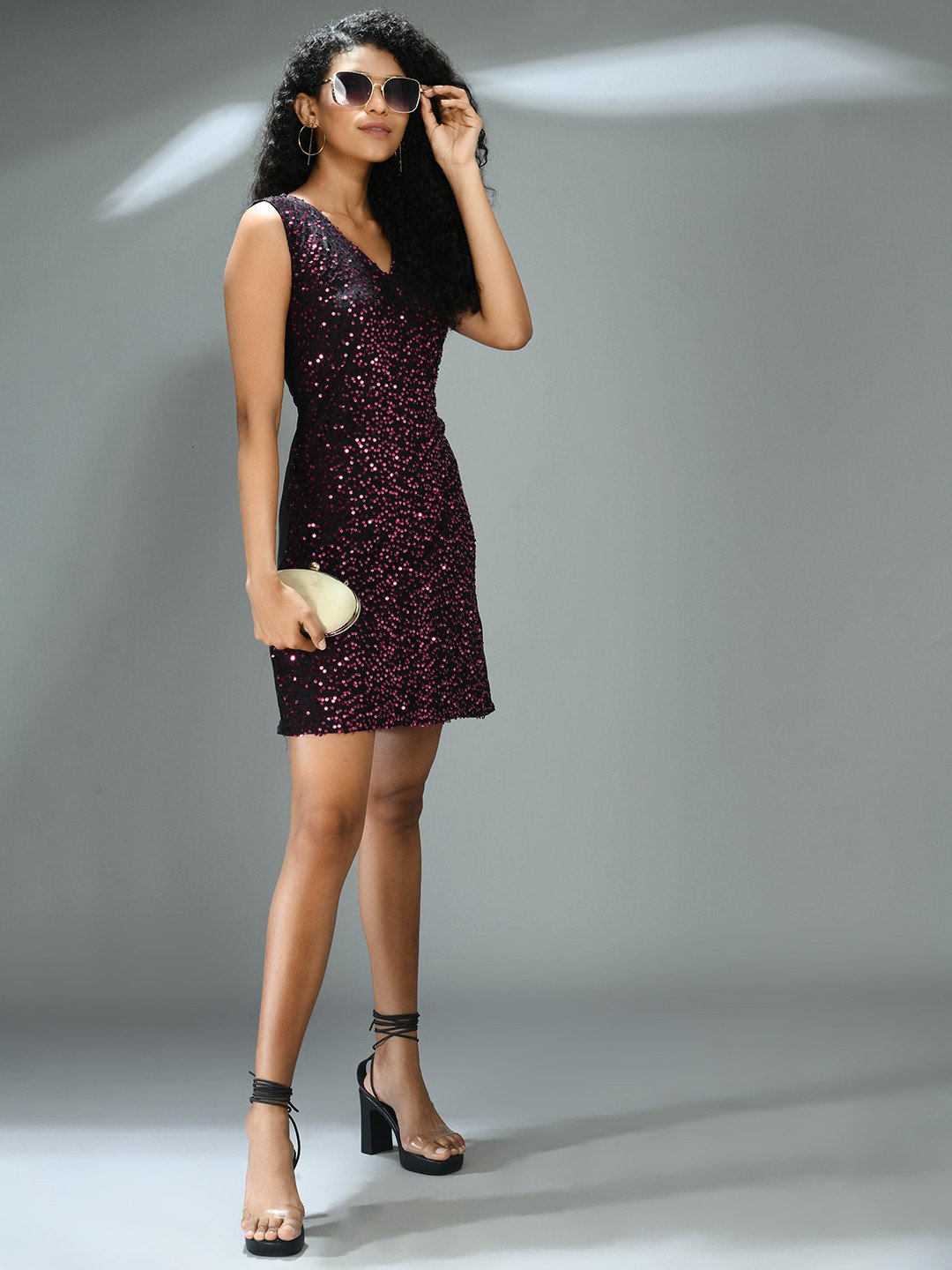 Where is Quiz Clothing in Liverpool?
There is a Quiz concession in the Outfit store on Speke Retail Park, Liverpool. There is also a concession in the Debenhams store in the city centre. For full store addresses, see the Quiz website.
How much do Quiz clothing pay?
The rate of pay for a sales assistant working in a Quiz clothing store is £6.25 an hour according to online sources.
Are Quiz clothing sizes small?
According to online forums, items from Quiz clothing can come up small, so it is always advised to try before you buy or take advantage of the free returns policy.
Who delivers Quiz clothing?
Quiz uses a range of couriers to deliver their clothing, depending on which method of delivery you choose you may have a different courier.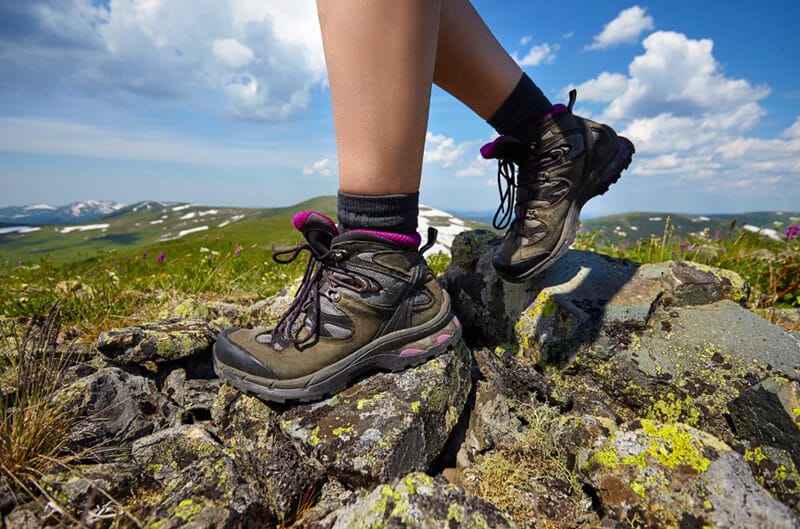 I am so happy to say that rei co-op has come up with a new line of hiking boots! The reason why this makes me so excited is that i love rei co-op products. One of my first hiking backpacks was the rei co-op flash. I still have it to this day because it is of excellent quality and it is pretty durable. Most of rei's products are pretty affordable, and that includes the rei co-op flash hiking boots. The hiking boots are great for beginner hikers or for people that would love some lightweight hiking boots. Another plus is that they are made from recycled material! I am all about companies that strive to make the planet a better place so check out below to get my full rei co-op flash hiking boots review. I talk about comfort, traction, water resistance, weight, support, value, and much more.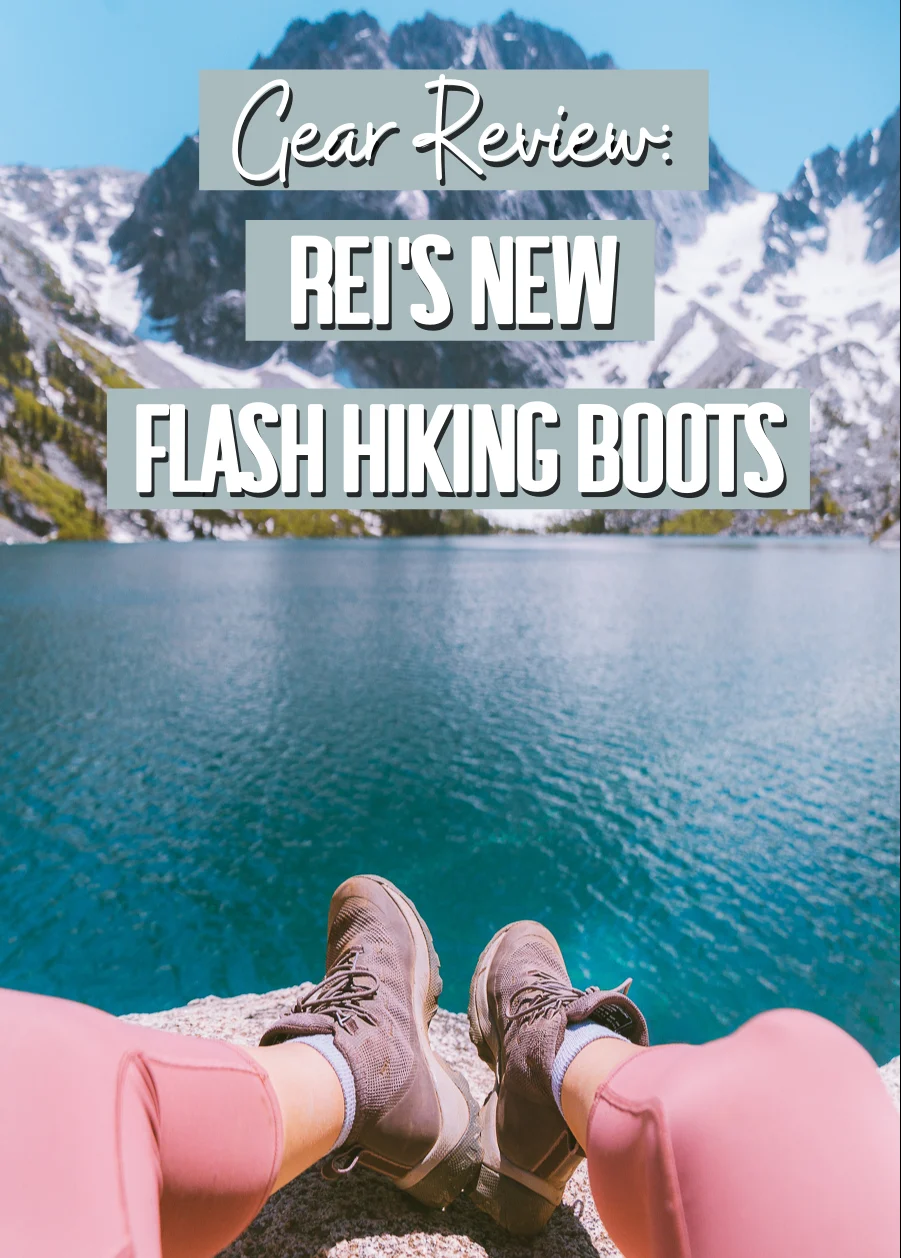 REI Co-op Flash Hiking Boots Review
How I Used The REI Co-Op Flash Hiking Boots
I hiked with the rei co-op flash hiking boots on 4 different trails around washington state. I experienced these shoes on different terrains like crossing streams, steep rocky areas, and muddy trails. Overall my experience was pretty great with the rei flash hiking boots, and i loved how lightweight they felt! Here are the trails i hiked to test them out:
Lake stuart: 9 miles round trip, 1665 ft. Elevation gain
Emmons moraine: 3 miles round trip, 900 ft. Elevation gain
Suntop lookout: 2.1 miles round trip,1100 ft. Elevation gain
Colchuck lake: 8 miles round trip,2280 ft. Elevation gain
Weight
The one thing that stops me from using hiking boots all the time is weight. Most hiking boots can be a little heavy or bulky when compared to hiking shoes. Luckily, the rei co-op flash hiking boots is on the lighter side compared to many other hiking boots in the market. Many hiking boots are usually over 2 lbs, while the rei co-op flash hiking boots is around 1 lb 13 ounces.
Usually, when hiking long trails, the boot's weight can start to weigh you down, but luckily, while hiking colchuck lake (9 miles round trip), the weight of the rei co-op flash hiking boots didn't bother me.
Traction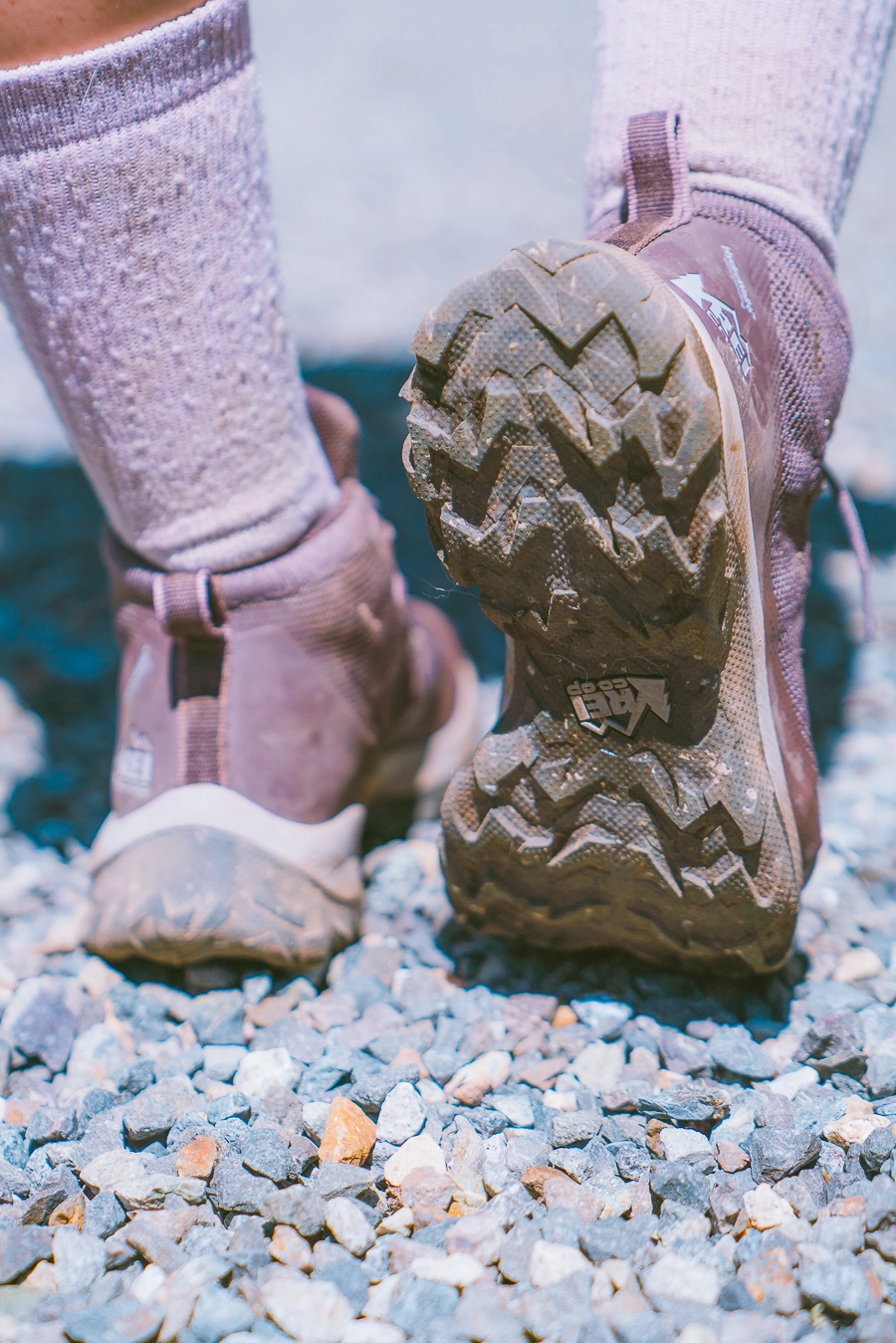 Colchuck Lake trail is known to be one of the rockiest trails in Washington. I was thankful that the REI Co-op Flash Hiking Boots worked well with the nonstop rocks and high elevation gain. This was especially true when going downhill, which is usually my least favorite part of the hike. Most of the time, I have trouble, and I slip or fall on trails, but the REI Co-op Flash Hiking Boots prevented this while hiking Colchuck Lake.
Water Resistance
There are streams and rivers all over Washington, and I was able to test out how waterproof the shoes were. Even though I walked through countless streams, my socks stayed nice and dry. So I submerged them in a shallow river to test them out, and yup, my socks were still dry!
When hiking shoes are waterproof, there can be some problems with breathability. This usually leads to blisters because your feet start to sweat when hiking. I luckily didn't get any blisters on my feet the whole time I was testing out the shoes, which means that the shoes are waterproof yet breathable. This is a huge plus!
Durability
After putting the boots through hell on those 4 hikes (I am not the most graceful hiker), the shoes still looked in pretty good condition. There were no major scratches, no major peeling, and the fabric looks fine.
Comfort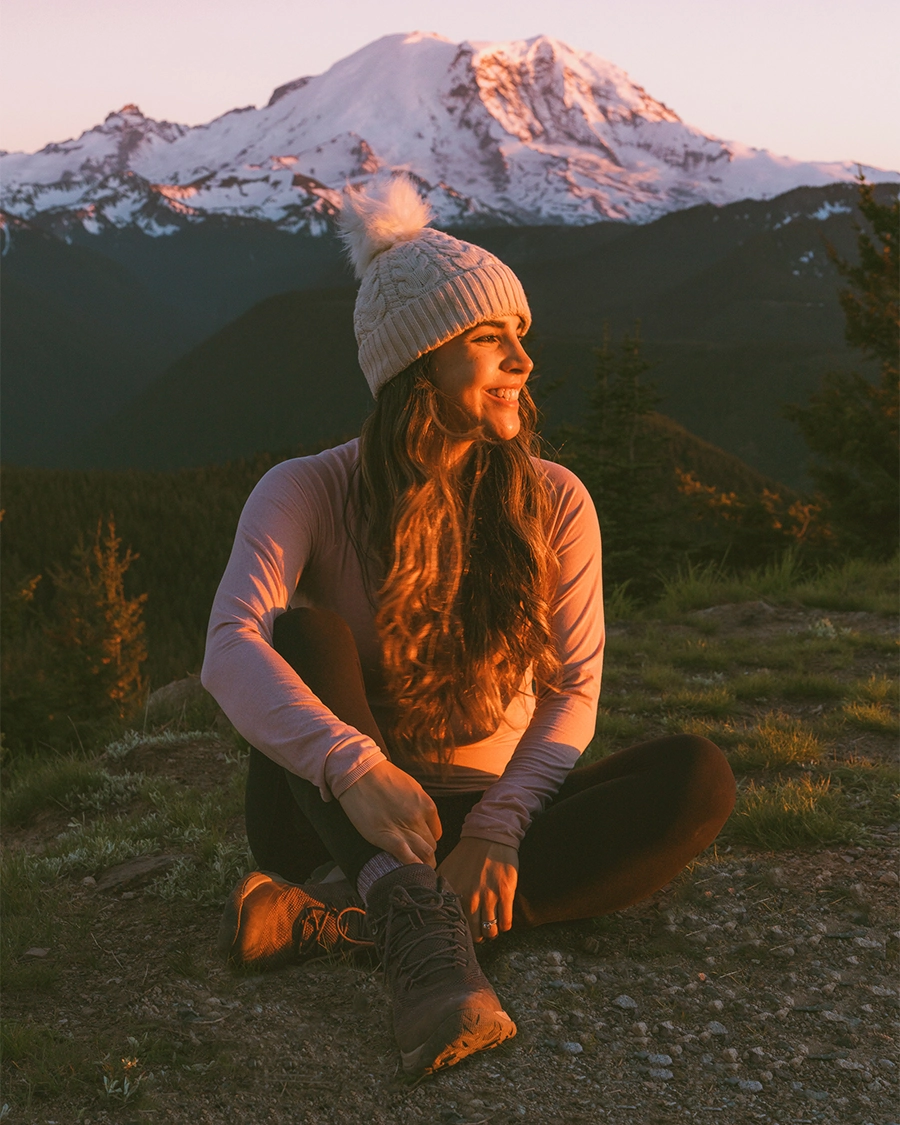 The rei co-op flash hiking boots will need to be broken into. Like most hiking boots, it is recommended to use them around town, at home, or on leisure walks before going on a difficult hike.
They are stiff at first, but they eventually mold to your feet. I do like that there is room in the toe box. I ordered half a size over my regular shoe size (i am usually a size 7 and got a size 7.5), and it fit just fine. I had no problems with my feet swelling or my toenails feeling uncomfortable.
Support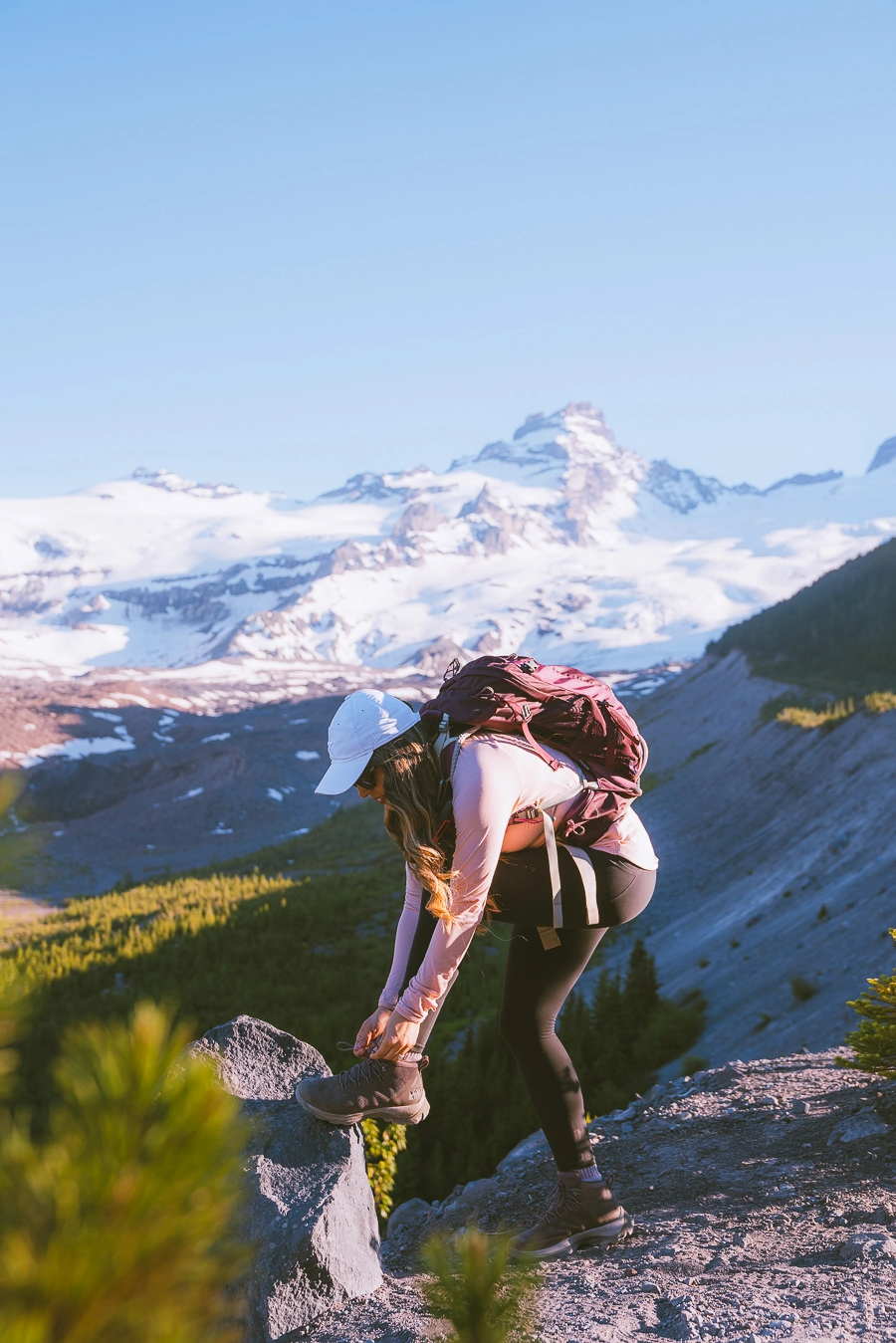 My ankles usually bend like crazy after hiking many miles, and it definitely happened to me while hiking Colchuck Lake. Luckily, the REI Co-op Flash Hiking Boots was able to help prevent any major damage to my ankle when it bent(I have injured my ankle this past year while hiking while wearing other boots). I was pretty happy with the ankle support the REI Co-op Flash Hiking Boots gave me.
The boots' insoles felt pretty supportive, but I know that this could be different for others. I have high arch feet, and the insoles felt perfect for me.
Value
I have reviewed and bought many hiking boots throughout the years, and the REI Co-op Flash Hiking Boots is the most inexpensive boots I have had on hand. I always love that REI Co-op makes its products available to everyone while still maintaining good quality. The cost for the boots ($130) is a great price, especially for budget buyers and new hikers.
REI Co-op Flash Hiking Boots Appearance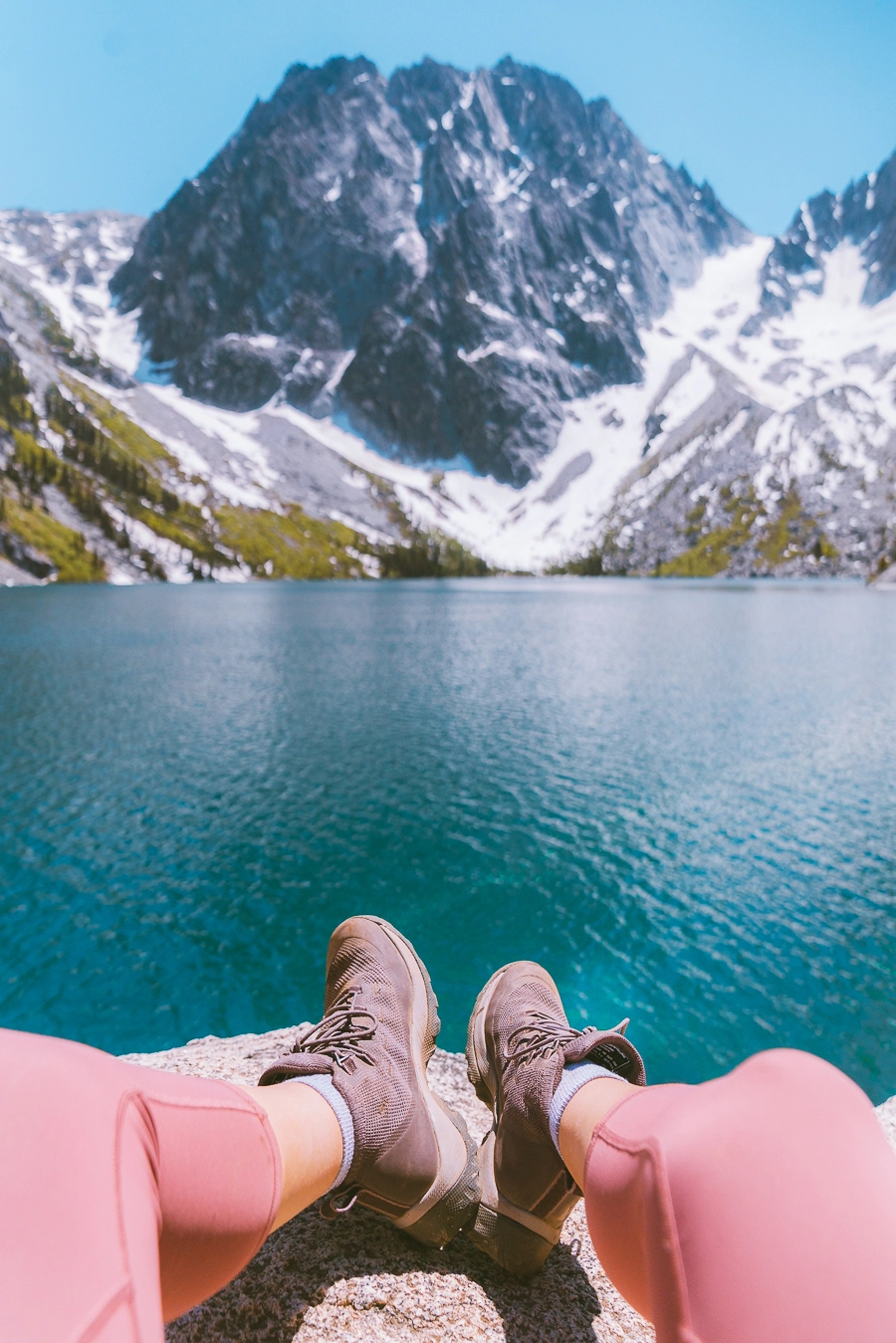 The REI Co-op Flash Hiking Boots comes in three colors;  Bark/Moss, Granite Black, and Smoke/Lilac. I picked the Smoke Lilac because I usually wear more pink colors on my hikes. I really loved the Lilac color and even got compliments of the color on the trails. I love when outdoor brands make hiking apparel more attractive and fun for women! I hope REI Co-op adds even more fun colors in the future!
Style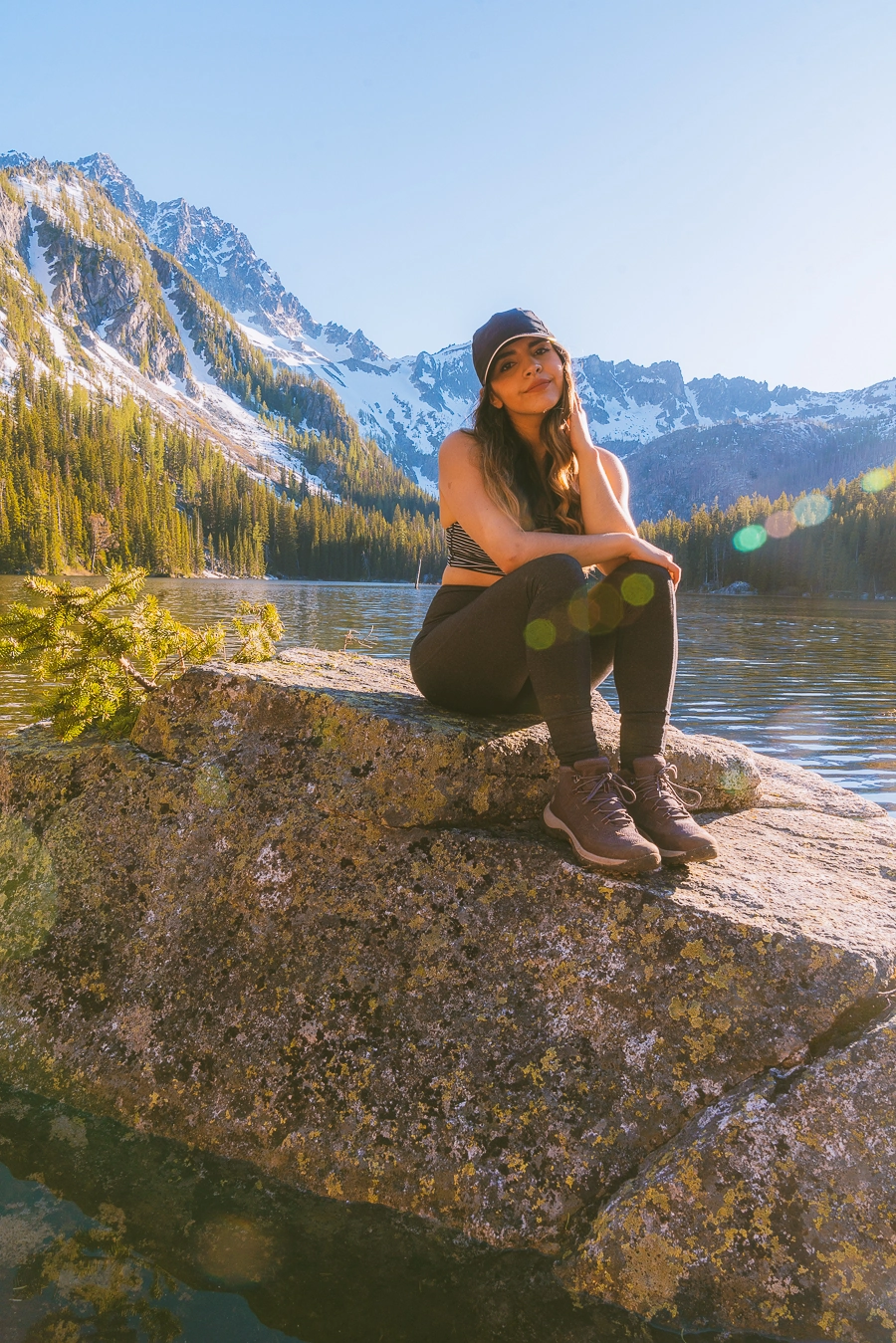 What I loved about the REI Co-op Flash Hiking Boots is how little they resemble hiking boots. Some hiking boots can look pretty manly, rugged, and bulky. Luckily, I can pretty much wear the boots in many places, not just the trails. Hey, I am all about versatility!
The style of the shoes and the weight makes it pretty easy for me to head to the grocery store or to the mall. When it comes to hiking, looks are probably one of the least important factors (which is why I put it at the bottom), but it is nice if your shoes are versatile. Plus, I like looking cute on the trails because that is my jam and my brand!
Eco-Friendly Materials
Usually, when you think about hiking boots, you do not think about Eco Friendly. Well, my friend, the new REI Flash hiking boots are made with recycled materials. Here are some of the specs:
Membrane uses 75% recycled polyester
Upper sole is 99% recycled PET
Upper sole is also 30% recycled TPU
TerraGrip rubber is 20% recycled
As someone who loves the outdoors, I am always so excited to hear when outdoor brands use eco-friendly materials, which is a huge plus. Read more on the recycled materials they use here
Conclusion
Thanks for reading all about the new REI Co-op Flash Hiking Boots! Let me know if you have any questions and make sure you check out some of my other hiking posts:
.