Fat Face Reviews : Is Legit or Scam? 2022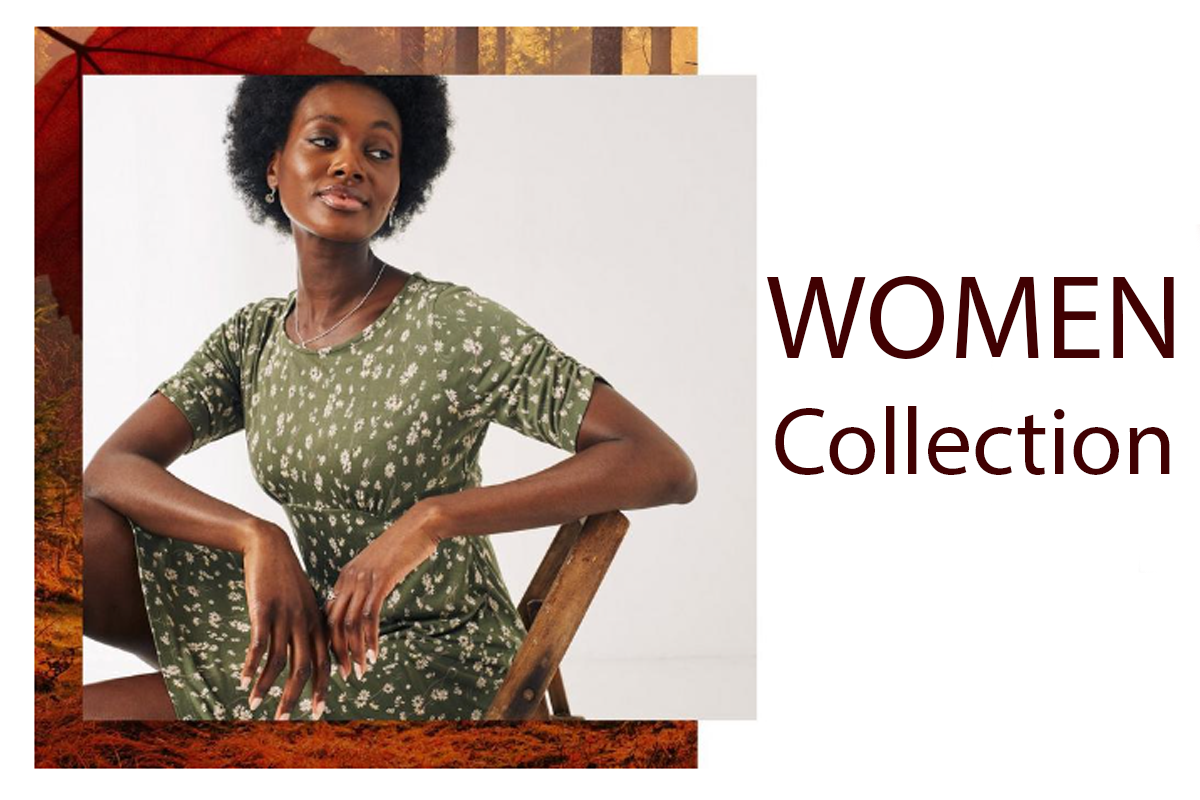 This post contains affiliate links. When you purchase through links on this post, we may earn an affiliate commission. Thanks.
There are so many online fashion retailers that it can be confusing to determine where to go for your fashion shopping. Fat Face is a UK based retailer that pledges to "combine trusted quality with considered style" to offer customers great value.
FatFace is a legit fashion store. It is not a scam because it will never steal your money. And you are going to get your items shipped to you with a problem.
Does FatFace offer quality materials just as they promised?
The big question is whether that is just a marketing speech or whether they really offer that (trusted quality + considered style great value). In the first place is Fat Face legit?
Fat Face review at a glance
UK based fashion retail Company started in 1988
Currently, operating over 200 stores in the UK
Offers clothing and accessories for women, men, and kids (boys and girls)
The quality of items is good, and the prices are competitive
Offers free standard shipping and free Next Day delivery for UK orders over £60 and £100 respectively
Offer flat shipping rates, which are also low
Returns are allowed for both full-price orders and Sales orders; the former should be made within 30 days of the delivery date, while the latter's window is 15 days
Customer support is available via email and telephone
What is FatFace?
FatFace was founded by Tim Slade and Jules Leaver in 1988. The owners started out selling printed T-Shirts at the French ski resort Meribel; afterwards, they moved to other ski resorts and added other outdoor-related clothing to their collection.
The first FatFace store was opened 4 years later in 1992 in London. The company grew and many more shops were opened across Europe. FatFace had been selling only men's clothing but introduced the women's and kids' clothing ranges in 1997. Though, Tim Slade and Jules Leaver still have some shares in the company, since 2007 FatFace has been operated by Bridgepoint Capital when they bought about 55% of the shares.
The online store can be found at www.fatface.com. The online e-commerce platform was launched in 2001; and since then, FatFace has not failed to fulfil orders placed online. The website is can be used only if you're above 18; if you're under 18, you'll need to involve a parent or guardian. The website is available in English Language only; it is fully mobile-optimized, so you can shop on the go using your mobile phones and tablets.
Is FatFace Legit?
Fat Face is legit, and not a scam. Whether an online platform is legit or a scam is one of the questions that must be asked before proceeding to join. This is especially so when you'll have to send in your hard-earned money. There are many scam artists on the internet; and if you do not verify that a platform is legit before sending them your money, it may be too late before you realize that you have been ripped off. In this regard, there is no doubt that Fat Face is legit.
First, the company has been in operation for over 30 years (since 1988). Suffice it to say that no scam company can continue scam operation for 3 full decades. Also, Fat Face is a company that is 100% legal. The company is registered as Fat Face Limited, registered in England and Wales, with company number 2954734. Suffice it to say that no scam company will pursue company registration. Also, the company's operators are well known. From its inception, when it was run as a partnership, to when the Living bridge came on board, and then to Advent International, and now to Bridgepoint Capital; who is responsible for the company has never been doubting. Suffice it to say that the operators of scam stores are never known, and always hide behind phoney names and monikers. Lastly, Fat Face has a physical existence, and with it the ability to fulfil orders. Scam stores do not fulfil orders, and that is why they are a scam. When an unsuspecting customer pays for items, the money is taken (sometimes, the account could be wiped), and such items are never delivered. The problem is that scam stores operate only virtually; there is no production centre, no physical stores/ showrooms, and no products. On the other hand, Fat Face boasts of a robust physical presence with a network of over 200 stores in the UK alone. These stores hold hundreds of thousands of merchandise. Thus, when you place an order; Fat Face is sure to fulfil it, and deliver your package. That said; there is no doubt that Fat
Is FatFace safe?
FatFace is safe. It is not enough that a store is legit; it is also important that it is safe. Being legit means that the store will not rip you off, and being safe means that the store will not leave you exposed to fraudsters who'll rip you off. Thus, a store being safe is as important as it being legit. When you shop in an online store, you submit personal information and sensitive data such as your name, mailing address, credit card information etc. For a store to be safe, it should ensure that the information that is shared with them is protected and not allowed to fall into the wrong hands. You don't want information like credit card details to get to be captured by fraudsters.
In this regards, Fat Face says they use "strict procedures and security features to try and prevent unauthorized access" to customers' information. Part of the security features is SSL (Secure Socket Layer) technology which creates a secure connection between your device and their servers so that every data that is exchanged remains private. SSL technology also encrypts the data before it is relayed in the secure link; thus, even if it is captured, it cannot be read. Thus, there's no doubt that Fat Face is safe.
Product Range
The ideal online fashion store should hold a wide product range so that you can shop all your fashion items in one place. This will save the time and effort of having to check out multiple stores; it will also result in cost savings. The cost savings come from bulk purchase discounts, and from paying for one order shipment instead of paying to ship different orders from different stores.
In this regard, Fat Face ticks the box because they come out as a true one-stop fashion shop. They provide fashion products for everyone – women, men, and kids (boys and girls). They hold a wide product range, and you'll find almost every clothing piece for each category. The different categories in the store and the items you'll find in each are as follows:
Women
Women Clothing – Athleisure, Coats and Jackets, Dresses and Skirts, Jeans, Jumpsuits, Knitwear, Nightwear and Pyjama sets, Shirts, Shorts, Sweatshirts and Hoodies, Swimwear, Tops and T-Shirts, Trousers, Underwear and /socks,
Accessories – Bags and Purses, Bath and Body products, Bedding, Belts, Books, Gloves, Hats, Jewellery, Phone cases, Scarves, Seasonal Essentials, and Socks
Footwear – Boots, Sandals, Slippers, Trainers, Wellies, and Branded Footwear
Men
Men's clothing – Coats and Jackets, Jeans, Knitwear, Nightwear, Shirts, Shorts, Sweatshirts and Hoodies, Swimwear, Trousers and Chinos, T-Shirts and Polos, Underwear and Socks
Accessories – Bags and Wallets, Bath and Body products, Belts, Books, Hats, Scarves, Phone cases, Seasonal essentials, and Socks
Footwear – Boots, Branded Footwear, Shoes, Slippers, and Trainers
Kids
Girls Clothing – Coats and Jackets, Dresses and Skirts, Jeans, Shorts and Trousers, Knitwear, Nightwear, Sweatshirts and Hoodies, Swimwears, and Tops & T-Shirts
Girls Footwear and Accessories – Bedding, Footwear, Gloves, Hats, Scarves, and Socks
Boy's Clothing – Coats and Jackets, Jeans, Shorts and Trousers, Knitwear, Nightwear, Shirts, Sweatshirts and Hoodies, Swimwear, T-Shirts and Polos.
Boys Footwear and Accessories – Bedding, Footwear, Gloves, Hats, Scarves, Socks, and Sunglasses
Another important consideration when examining the products in a store is the size of the inventory. The ideal store should not only have a wide product range (that is, have different products), they should have a large inventory of each product type. That way, in each product section, you'll be able to make a choice from a huge selection, which means that you'll be more likely to find something that you like.
In this regard, we think that for an international retailer, Fat Face can do more. At the time of writing this review, there were: 36 products in the Women At leisure section; 40 products in the women dresses and skirts section, 35 products in the coats and jackets section; 28 products in the women jeans section; 42 products in the Sweatshirts and Hoodies section; 31 products in the women's Boots and Wellies section. The men's category was no different; there were only 36 products in the trouser and chinos section. The men's T-Shirts and Polos section held the kind of numbers we want to see – 140 products. That said; it's safe to say that Fat Face holds a sizeable enough inventory to serve selection needs.
However, the inventory is not large enough, resulting in items going out of stocks very often. This is one problem that has plagued the company as gleaned from customer reviews of the company in different online platforms. In many cases, customers were frustrated that the company allowed the placing of the order(s) only to communicate them later that the item(s) is out of stock. The customers will then have to wait until the company receives new stock before their package will be delivered. If you were expecting the item for an occasion, you'll understand the frustration of the customers. To the customers, FatFace becomes a company who is only interested in grabbing their money. This ugly situation can be avoided by increasing stock, or by preventing the placing of orders that have gone out of stock.
Also, another important consideration is the quality of the items in the store. It's not enough that a store holds a wide product rage or a sizeable inventory, it's also important that the items it sells be of high quality. That way, you'll be sure to be getting good value for whatever amount leaves your wallet/ purse. In this regard, Fat Face does produce clothes that are meant to last; they feature high-quality fabric and trims, which offers consistent fits and authentic finishes and washes. It's interesting to know that in the many customer reviews of Fat Face in independent online platforms, the complaints about the quality of items obtained from Fat Face is very few to non-existent. This is despite the fact that the company has some very scathing reviews online. You'll find reviews that start with: "Fat Face may have good products but…" Suffice it to say that if the products of Fat Face are lacking in quality, it will be drummed in the customer reviews.
Prices, Promotions and Related Policies
The prices of items in a store affect sales. Even where stores are reputable for selling premium high-quality items, there is a certain amount above which customers will not be willing to pay. Thus, the ideal online fashion retailers should expertly blend quality and cost, and produce good-quality items that are affordably priced.
In this regard, Fat Face also ticks the box. Sure, the shop is not where to go if you're looking for super cheap fashion products; as there are fashion retailers that pride themselves on low and unbeatable prices. However, Fat Face is affordably priced; and the store will definitely not burn a hole in your wallet/ purse.
At the time of writing this review, you'll find women's Athleisure crop tops/ vests for £10.00 – £22.50; dresses were priced at £20 – £49.50; most of the women's coat and jackets were priced at £45 – £110; a lot of women's jeans were priced at £49.50; Sweatshirts and Hoodies were priced at £39.50 – £69; and most of the women's boots cost £65 – £75. The men's category was no different. You'll find a lot of men's trousers with the full price in the £42 – £49.50 range, while a lot was discounted to £22.50 – £28.50. Also, the full price of many of the men's Polos and T-Shirts was £22 – £32.50; but you'll find some discounted to £10 – £20. That said; if you want an online store that provides good fashion pieces at okay prices, Fat Face should make the list.
Promotions
Customers are always looking out for promotions because these present opportunities to get products for free or for less than the full prices. Thus, the ideal fashion retailer should offer huge promotional offers, and should also run these offers frequently.
In this regard, Fat Face comes out strong. Fashion retailers that are generous with promotions will display different such offers on their landing page, and Fat Face is no different. At the time of writing this review; the landing page of Fat Face announced a 25% off "our latest collections".  Other than that, there were other promotional offers such as 3 for 2 underwear and socks where you get three of the items for the price of two. The landing page also advertised a "sales" that promised "further reductions". True to that, many of the sales items were discounted by as much as 50%. The company also offers other avenues for getting products for less than their full prices such as Newsletter Bonus, Student Discount, and Military Discount.
Fat Face used to give a 15% discount if you register with your email to get newsletters from them; however, at the time of writing this review, it wasn't clear if the newsletter bonus was still available. However, there was no doubt that the student discount and military discounts were still available. Student discounts are for online purchases; all you need do is register with Student Beans to verify your student status, and you'll get a 10% discount for all online purchase. Military discount is for in-store purchases; all you need do is walk into any Fat Face store, present a valid military ID card which identifies you as a member of the UK Armed Forces and you'll receive 10% off full price for your purchases.
Payment Method
You should want an online store that supports a lot of payment methods. That way you're more likely to find a payment method that you can use to conveniently pay for your orders.
In this regard, Fat Face supports many of the popular credit and debit cards. You can pay for your orders in the store using Visa, Visa Debit, Master card, Diners Club International, American Express card, Discover card, PayPal, and Apple Pay.
With these payment options, you should not have any problem with making payments no matter where you live. However, the supported options are limited; we'll want to see more options such as Visa Electron, Solo, Laser, as well as for cryptocurrencies.
Shipping Details
Shipping is an important consideration in online purchases. You want to know if the online store ships to your location; because if they do not, getting your package will be a problem if you somehow order from the store. Also, you want to know how much it will take to ship your package to you. Lastly, you'll want to know how long it will take for your package to get to you.
Shipping Destinations
In this regard, the ideal online store should ship to a lot of countries so that people from many more worldwide locations can order from the store. Fat Face comes out strong. They ship to a lot of worldwide locations in Europe, the Americas, Asia, Oceania and Africa.
Shipping Cost and Times
In terms of shipping cost, the ideal online store should offer the lowest possible shipping costs, which is free shipping. Granted, free shipping cannot be offered on all orders; however, were not applicable the ideal store should offer flat shipping rates – that is shipping cost that will not increase when your order amount/ weight increases.
In terms of shipping times, the ideal online store should deliver orders as fast as possible. Also, the store would give estimates of delivery times (which should be low enough); and they would endeavour to deliver within the estimated delivery times.
The shipping policy of Fat Face makes for good reading. In terms of shipping costs, Fat Face offers some of the lowest costs you'll find in the industry. They provide in-store delivery, where the order will be delivered to a Fat Face store closest to you for pick up. Domestically, they offer Standard Delivery and Next Day delivery; and lastly, they offer international delivery.
Delivery to store is free. It will take about 2 – 3 days; but during sale periods, it will take as many as 6 – 7 working days. The Standard Delivery will get the package to your door. It usually takes 2 – 4 working days, but could take 4 – 6 working days during sales periods. It cost £2.95. Fat Face also offers free Standard shipping, but it is only for orders that are over £60. If you've seen reviews of other online fashion retailers, you'll find that this is fairly okay. Though there are stores that'll ship free for orders of about $50; it's not uncommon to find stores that'll ship free for only orders in three figures. With Fat Face requiring you to spend only £60 to ship the orders to your door free of charge, you'll not have to spend over the tops.
The Next Day Delivery is as its name suggest; it will get you your package the day after placing your order. The only catch is that you'll have to place the order before 1pm (EST). However, if orders are placed after 1pm (EST) or on weekends, it'll take two working days to receive delivery. Thus, orders placed by 1pm Monday – Thursday will be delivered the next day; orders placed on Friday by 1 pm will be delivered Monday, but orders placed Saturday and Sunday will be delivered on Tuesday. The Next Day Delivery cost £5.95, and it is not available during the Sale period. Another interesting thing is that the Next Day Delivery is free for all orders over £100. This scores Fat Face a lot of points because most online retailers offer free shipping only for the Standard Delivery option which will take a couple of days; and will require that you pay for all expedited delivery option. But in Fat Face, once your order is over £100, you are qualified to receive free Next Day Delivery.
While the Next Day Delivery is available for only domestic UK orders, there are certain locations in the UK that are not available for Next Day Delivery. This includes Northern Ireland, Jersey, the Hebrides, Orkney, Isle of Man, Isle of Wight, Aberdeen, Northern Highlands, Republic of Ireland, Argyll, Glasgow, Dundee, Guernsey, Shetland Islands, and Isle of Scilly.
If you'll be shipping outside the UK, all international orders are delivered within 5 – 12 working days; and the cost is £10.00. If you've checked reviews of other fashion retailers (and especially if you're in some of these international locations), you'll find joy in knowing that Fat Face ships to all international locations for £10. In some of these stores, shipping cost increases the farther a location is from the store's domestic region. Thus, you'll find that it can be cost prohibitive to ship to locations in Asia and Africa.
You'll agree that it's one thing to advertise shipping times, but it's quite another to deliver within those times. Thus, we looked into the reviews of customers who have bought from Fat Face to determine if they are satisfied with how long it took for their package to be delivered. One the whole, customers were satisfied with delivery times. Although there is the occasional late delivery, it is few and far in between to constitute a generic problem. That said; if you want a store that delivers promptly, Fat Face is worth looking at.
Returns
When buying any merchandise online, it's important to make sure that the store will allow you to return the item to them if it turns out that after receiving delivery of the items, you are not satisfied with the items. This is especially so with fashion products which are mostly sized items. If it turns out that a wrong size was ordered, you'll want to return it and get the right size. It could even be that the item is damaged in transit, or a wrong item was delivered to you. In any case, the ideal online shop will not leave you stuck with an item you'll rather return.
Like almost every online fashion retailer, Fat Face allows returns. Their returns policy also makes for good reading. First, they allow a returns window of 30 days for full price items and 15 days for sales items. This means that you have 30 days (or 15 days) from the time of receiving delivery of the items to return it to Fat Face for a refund. 30 days is like the industry average for returns. The 30 days window is long enough, and you won't have to race against time to get your returns to the company. While 15 days (for the sales items) might not appear as enough time, you'll be able to get the returns to the company if you act quickly. Also, it's a plus that Fat Face even allows for returns of Sales items, because many online fashion retailers do not. In many of those stores, Sales items are final sales which mean that you cannot return them. In such stores, buying sales items is a risky proposition because you cannot return the item if it turns out to be not to your liking. However, such risks are removed in Fat Face. You can purchase sales items knowing you can return them, only that you'll have a shorter window for such returns.
Returns can be done in-store or by post. For in-store returns, you just have to walk into any of the over 200 Fat Face stores in the UK and Ireland with proof of purchase. Fat Face also allows returns via Collect+ where you can return the item to over 5800 participating convenience stores. However, you'll have to package the item, attach the Fat Face returns label, and write your order number on the Collect+ label.
To send you returns by post from the UK, you'll only need to attach the Royal Mail returns label to the packaged returned items and drop it off at any post office. For international returns, the package has to be addressed to: Fat Face Customer Care, Unit 2, Dunsbury Park, Fitzwygram Way, Havant Hampshire, P09 4EE.
All returns to store are free. Also, for the UK returns, the returns label is free for returns by post, meaning that Fat Face offers free domestic returns. However, for international returns, the customer will have to bear the returns shipping cost. However, during sales period, free returns are not available. That said; it's also a plus that free returns are offered at all, because there are many online fashion retailers that do not offer free returns.
However, for the returns to be accepted by the company and a refund issued, the items must be in their original new conditions. That is, they must be unworn, and unwashed; they must also be undamaged and unaltered; all tags and labels must still be attached, and they must be returned in their original packaging. For hygiene reasons, there are certain items that cannot be returned. Swimwear and underwear cannot be returned except their hygiene strip is in place; also earrings cannot be returned except they are faulty.
After the returned items have been received by Fat Face, they say it takes them 14 working days for the returns to be processed. A couple more days should be allowed for the refunds to be reflected in your bank account; which means that in under a month, you should have your refund in your bank. In our opinion, even if Fat Face sticks to these refund time estimates, a whole month is too much time for a refund. Where you have to wait for the funds in order to place another order, waiting a full month will be very frustrating. However, it would seem that Fat Face does not even meet up with its already poor refund window. As mentioned earlier, Fat Face has a lot of negative reviews on many customer review platforms. In Trust Pilot, the company is rated "bad" with an average rating of 2.6 out of 10. One of the reasons for such scathing reviews is refunds. Reviews include comments like: "where's my refunds; four weeks later and several emails… no money has been refunded", "they do not want to honour returns", "took 3+ months for returns", and more. That said; we will like to see Fat Face reduce their returns processing time so that refunds can be issued out more quickly.
Customer Support Service
Customer support makes or breaks a product/ service provider. No matter how good the product/ service is, inquiries and complaints are inevitable. Thus, the ideal provider would make provisions to effectively address customer questions and complaints.
The first step to getting answers from Fat Face is the FAQ section of their website. The FAQ is detailed enough and provides answers to many of the questions you may have about the store and their offerings. The FAQ sections include account, placing an order, product information, delivery information, refunds and exchanges, gifts – wrapping and returns.
If you do not get the necessary assistance from the self-help FAQ articles, you may choose to contact Fat Face directly. You can do that via email or telephone. The email address for such direct contact is [email protected] When you drop any support submission, you would expect to get a response within 48 hours. While the response time can be improved upon; it's satisfying to know that you will surely get a response, which most often than not is helpful. If you'll rather not wait for a response, you can use the telephone service via 0330 124 0000.
It is one thing for a customer support service to respond to your submissions, and it is a different thing entirely for them to actually resolve the issue. Fat Face is one of the few fashion retailers that not only put how long it'll take to respond to customers' queries but also how long it'll take them to actually resolve the issue. They say: "We aim to resolve all complaints within 10 working days unless there are extenuating circumstances". For this, Fat Face scores a lot of points. Where other stores can keep you hanging with the standard "your issue has been received and is being treated"; in Fat Face, you have an idea of how long it will take.
On their website, Fat Face even provides the details of a certified Alternative Dispute Resolution provider (RetailADR) that you can contact if you are not satisfied with how your complaint is handled and concluded. RetailADR will re-open the complaint, and Fat Face will be bound by their decision. You may contact RetailADR by post using the address: RetailADR, 12-14 Walker Avenue, Stratford Office Village, Wolverton Mill, Milton Keynes MK12 5TW. The email address to use is [email protected]; if you'll rather use the phone, the telephone number is +44 (0)20 3540 8063; while the RetailADR website is: www.retailadr.org.uk.
While it is good that Fat Face supports the regular direct contact channels, and even give an estimate of how long it takes them to clear complaints; it should be said here that the main reason for the negative reviews of the company is because of its customer support service. Because of some of the issues in the company which have been discussed (such as late refunds, out of stock items causing late deliveries etc), it's understandable that customer support service will be flooded. In the review platforms examined, customers drummed that the service was largely ineffective in solving their issues. We went with the customers in this regards because in all the independent review platforms we look at, we did not see Fat Face agents reaching out to the customers. Often, fashion retailers seek out disgruntled customers in review platforms and try to help them out.
Conclusion
Fat Face is a legit fashion store that offers gold quality clothing and fashion accessories at competitive prices. The company is based in the UK, and that means UK customers will find joy in the store more than other customers. For example, there is free shipping and free returns for UK orders. However, every customer would be happy to know that in the store, the website is easy to navigate which makes browsing listings and selecting items easy. Also, global payment methods are supported which makes placing orders/ making payment easy and convenient. Delivery is generally fast; and to ensure a happy customer, they allow returns, even for Sales items.
However, you might find that the items you select into your cart and order are out of stock, and you'll have to wait longer than normal to receive the delivery. When you do return an item, you might have to wait longer than normal to get your refund.  When you do need to contact customer service, the experience shows that you won't have a smiling face.
Pros:
A one-stop shop for that holds a good product range for everyone – women, men and kids (boys and girls)
Prices are in the affordable range
Promotions are regularly offered
Free standard shipping for orders over £60; and free expedited Next Day delivery for orders over £100
Where free shipping is not available, shipping cost are flat rates and are very low
Cons:
Inventory size can be increased to prevent the problem of items going out of stock too often
They allow orders to be placed for out of stock items which cause missed delivery date
Returns processing time is too long; thus, it takes a lot of time to get refunds
Customer support is largely unhelpful in solving customer complaints
Do you have any experience with Fat Face? If yes, use the review section below to give a brief Fat Face review.
Save Up to 50% Off on Allbirds' Black Friday and Cyber Weekend Sale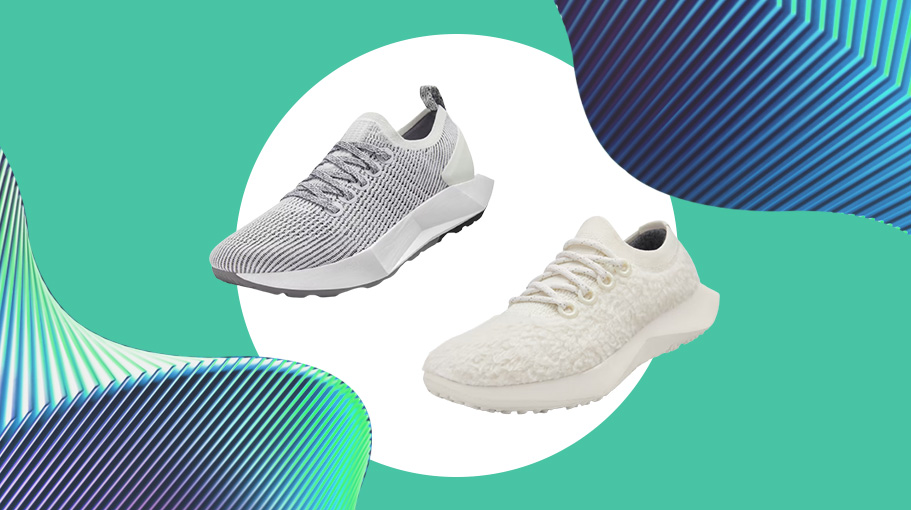 It's no secret that Allbirds is our favorite sneaker brand. Not only does the brand make stylish activewear shoes, but they're also eco-friendly and sustainable, which makes us feel even better about buying from the brand—especially when they're on sale. Right now, Allbirds' massive Black Friday sale is on, which means you can save up to 50% off sitewide.
This is Allbids' biggest sale of the entire year, so whether you're looking for the perfect gift for someone on your holiday shopping list or just need a new pair of sneakers or sweats, now's the time to treat yourself. Grab some of the brand's best-sellers like the Tree Dasher 1s, Wool Runners, and Natural Leggings. Allbirds' Black Friday sale runs through December 2, but we suggest shopping sooner than later—it's selling fast!
Allbirds' Black Friday Sale
Men's Wool Runners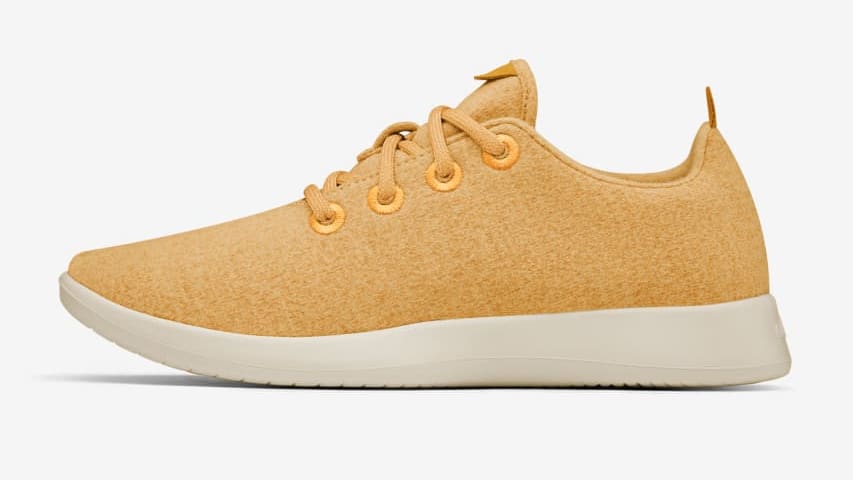 Women's Tree Dasher 1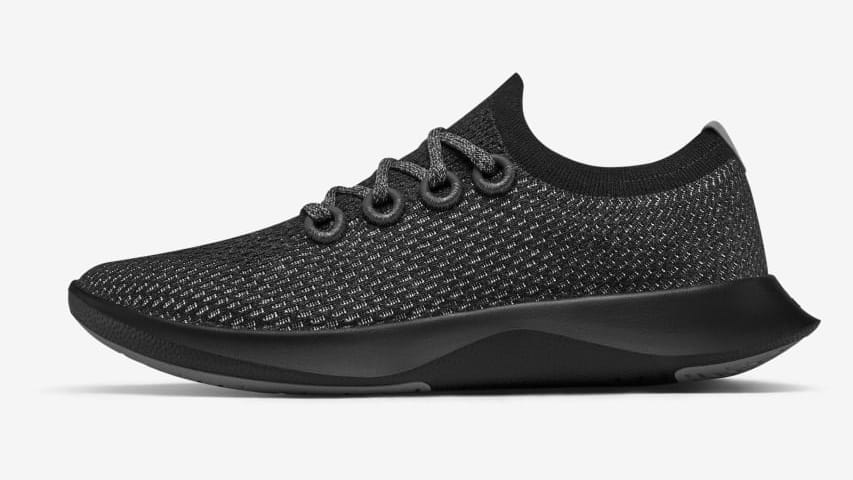 Men's Tree Toppers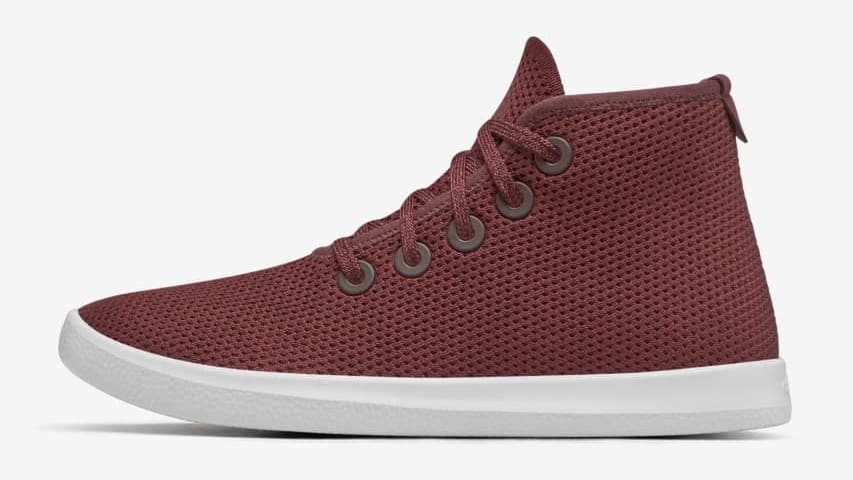 Women's Wool Runners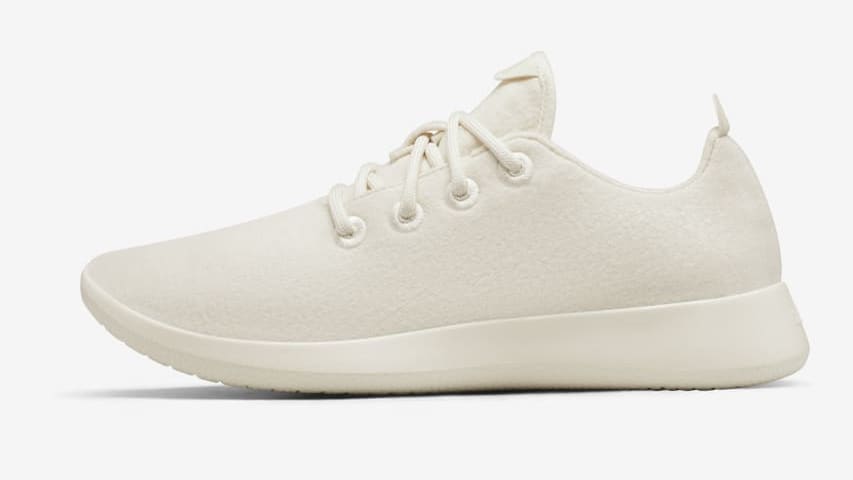 Women's Wool Runner Fluff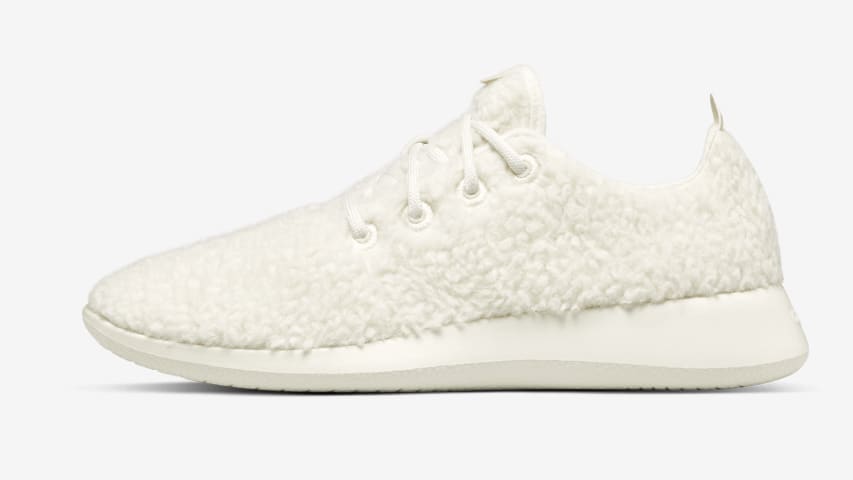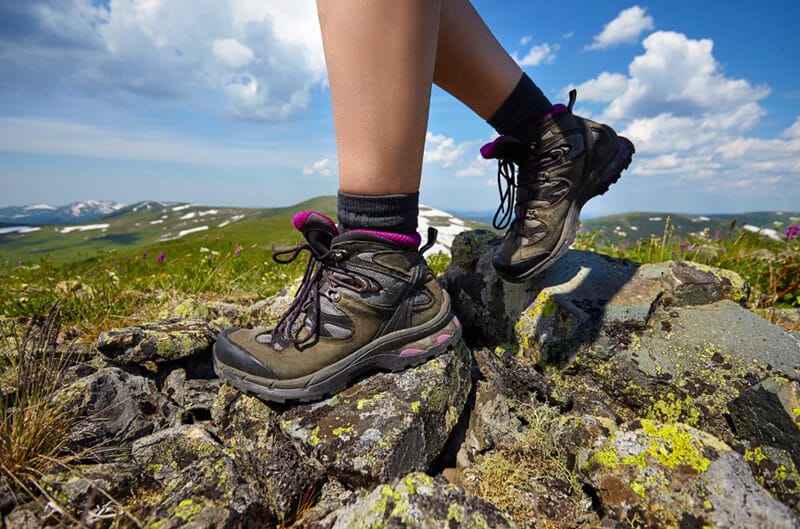 I am so happy to say that rei co-op has come up with a new line of hiking boots! The reason why this makes me so excited is that i love rei co-op products. One of my first hiking backpacks was the rei co-op flash. I still have it to this day because it is of excellent quality and it is pretty durable. Most of rei's products are pretty affordable, and that includes the rei co-op flash hiking boots. The hiking boots are great for beginner hikers or for people that would love some lightweight hiking boots. Another plus is that they are made from recycled material! I am all about companies that strive to make the planet a better place so check out below to get my full rei co-op flash hiking boots review. I talk about comfort, traction, water resistance, weight, support, value, and much more.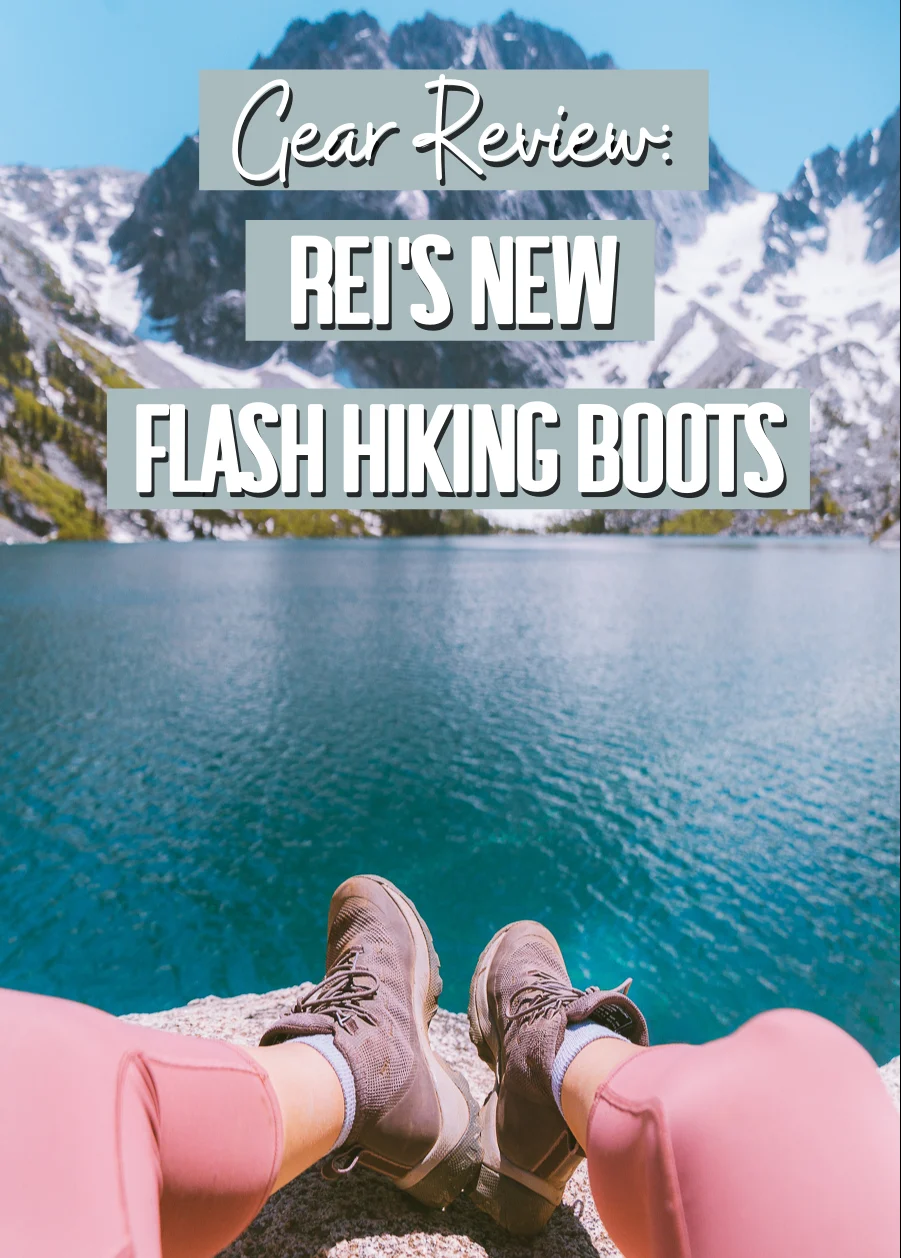 REI Co-op Flash Hiking Boots Review
How I Used The REI Co-Op Flash Hiking Boots
I hiked with the rei co-op flash hiking boots on 4 different trails around washington state. I experienced these shoes on different terrains like crossing streams, steep rocky areas, and muddy trails. Overall my experience was pretty great with the rei flash hiking boots, and i loved how lightweight they felt! Here are the trails i hiked to test them out:
Lake stuart: 9 miles round trip, 1665 ft. Elevation gain
Emmons moraine: 3 miles round trip, 900 ft. Elevation gain
Suntop lookout: 2.1 miles round trip,1100 ft. Elevation gain
Colchuck lake: 8 miles round trip,2280 ft. Elevation gain
Weight
The one thing that stops me from using hiking boots all the time is weight. Most hiking boots can be a little heavy or bulky when compared to hiking shoes. Luckily, the rei co-op flash hiking boots is on the lighter side compared to many other hiking boots in the market. Many hiking boots are usually over 2 lbs, while the rei co-op flash hiking boots is around 1 lb 13 ounces.
Usually, when hiking long trails, the boot's weight can start to weigh you down, but luckily, while hiking colchuck lake (9 miles round trip), the weight of the rei co-op flash hiking boots didn't bother me.
Traction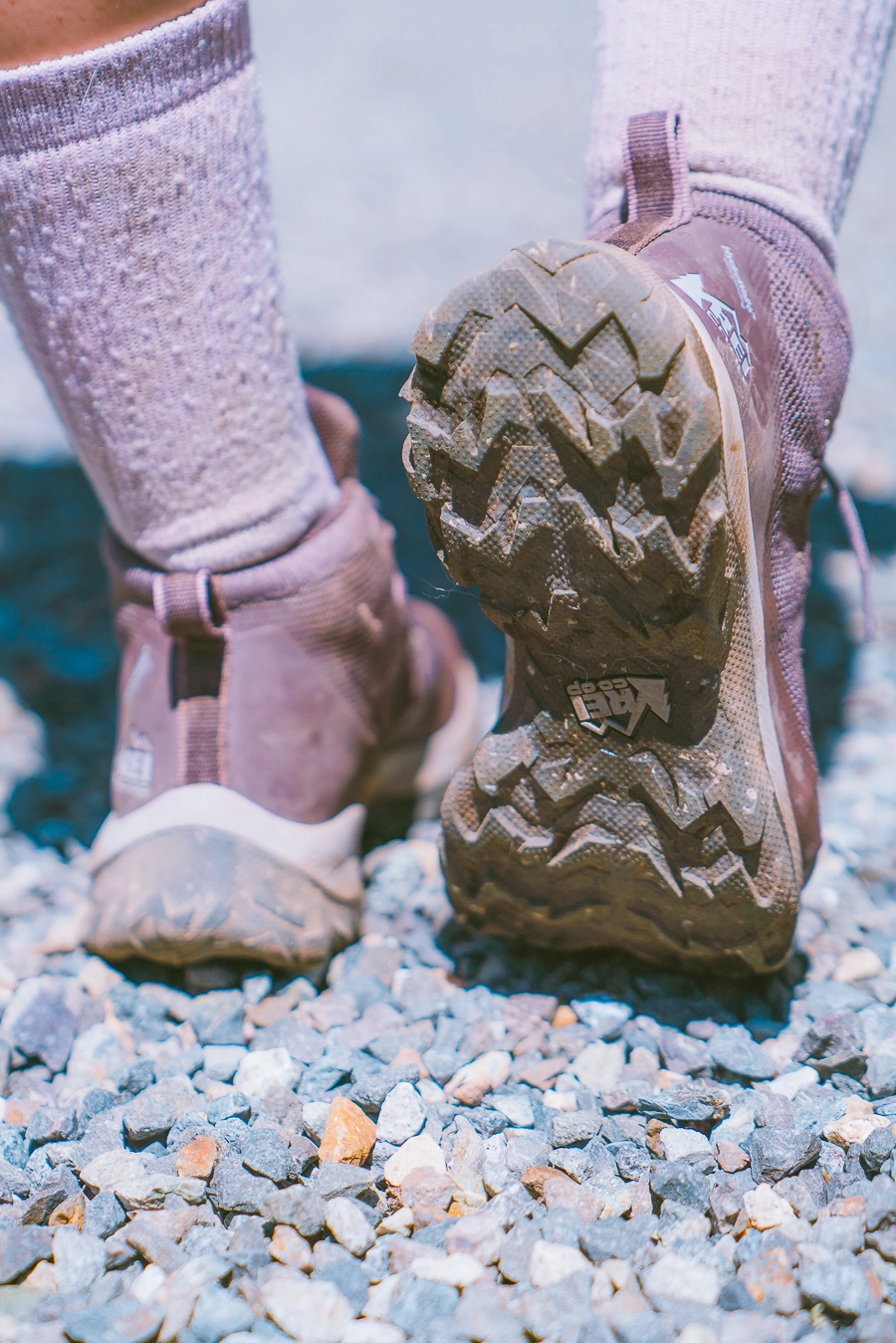 Colchuck Lake trail is known to be one of the rockiest trails in Washington. I was thankful that the REI Co-op Flash Hiking Boots worked well with the nonstop rocks and high elevation gain. This was especially true when going downhill, which is usually my least favorite part of the hike. Most of the time, I have trouble, and I slip or fall on trails, but the REI Co-op Flash Hiking Boots prevented this while hiking Colchuck Lake.
Water Resistance
There are streams and rivers all over Washington, and I was able to test out how waterproof the shoes were. Even though I walked through countless streams, my socks stayed nice and dry. So I submerged them in a shallow river to test them out, and yup, my socks were still dry!
When hiking shoes are waterproof, there can be some problems with breathability. This usually leads to blisters because your feet start to sweat when hiking. I luckily didn't get any blisters on my feet the whole time I was testing out the shoes, which means that the shoes are waterproof yet breathable. This is a huge plus!
Durability
After putting the boots through hell on those 4 hikes (I am not the most graceful hiker), the shoes still looked in pretty good condition. There were no major scratches, no major peeling, and the fabric looks fine.
Comfort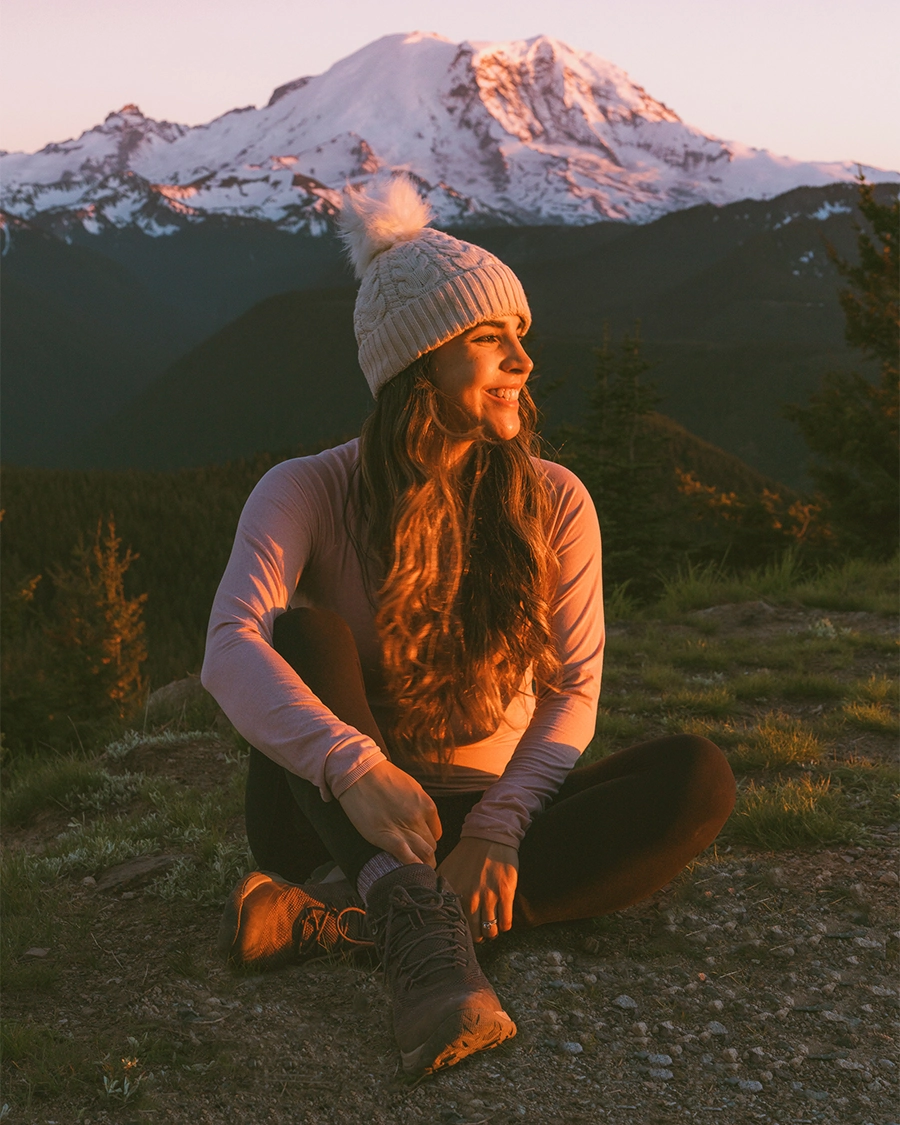 The rei co-op flash hiking boots will need to be broken into. Like most hiking boots, it is recommended to use them around town, at home, or on leisure walks before going on a difficult hike.
They are stiff at first, but they eventually mold to your feet. I do like that there is room in the toe box. I ordered half a size over my regular shoe size (i am usually a size 7 and got a size 7.5), and it fit just fine. I had no problems with my feet swelling or my toenails feeling uncomfortable.
Support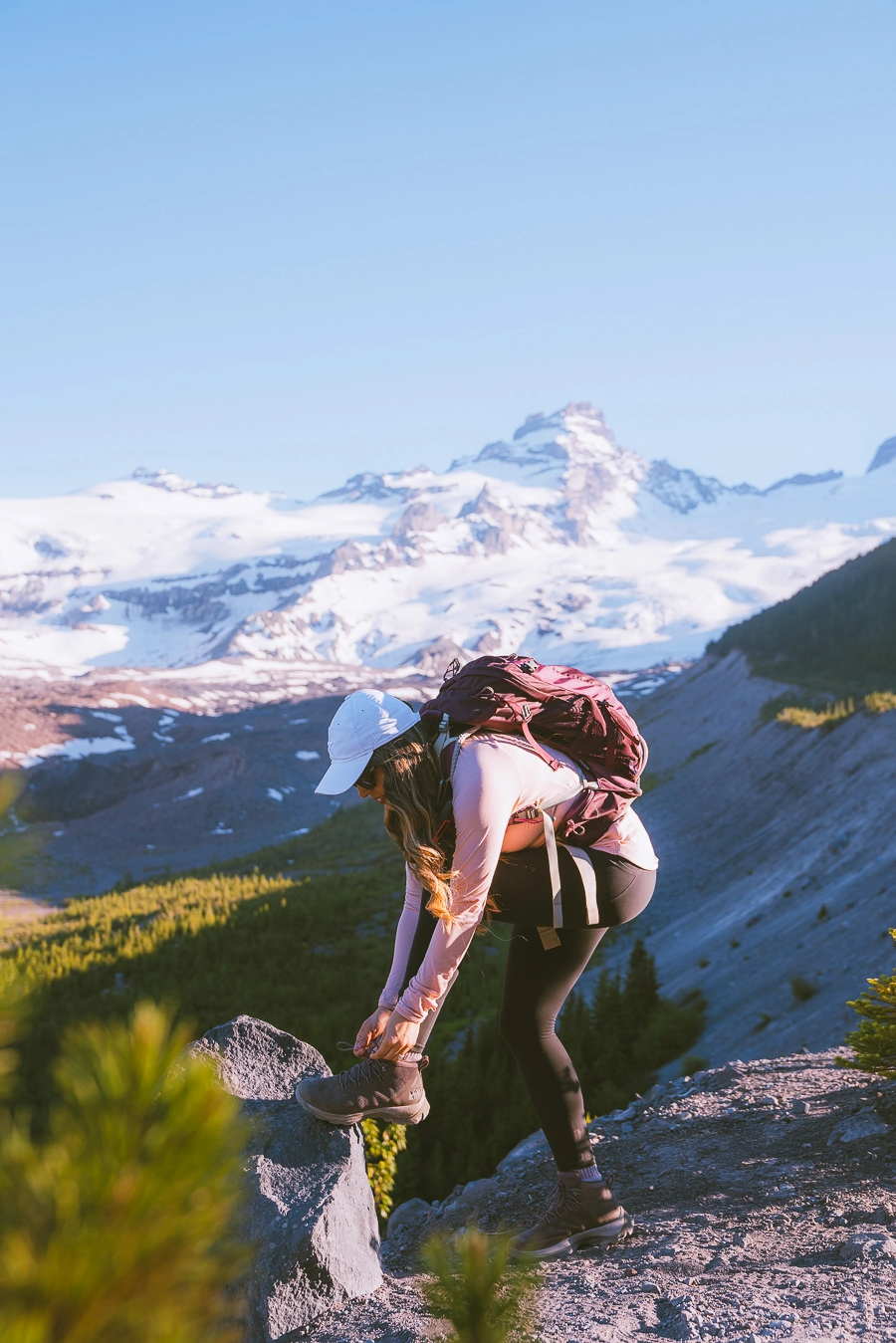 My ankles usually bend like crazy after hiking many miles, and it definitely happened to me while hiking Colchuck Lake. Luckily, the REI Co-op Flash Hiking Boots was able to help prevent any major damage to my ankle when it bent(I have injured my ankle this past year while hiking while wearing other boots). I was pretty happy with the ankle support the REI Co-op Flash Hiking Boots gave me.
The boots' insoles felt pretty supportive, but I know that this could be different for others. I have high arch feet, and the insoles felt perfect for me.
Value
I have reviewed and bought many hiking boots throughout the years, and the REI Co-op Flash Hiking Boots is the most inexpensive boots I have had on hand. I always love that REI Co-op makes its products available to everyone while still maintaining good quality. The cost for the boots ($130) is a great price, especially for budget buyers and new hikers.
REI Co-op Flash Hiking Boots Appearance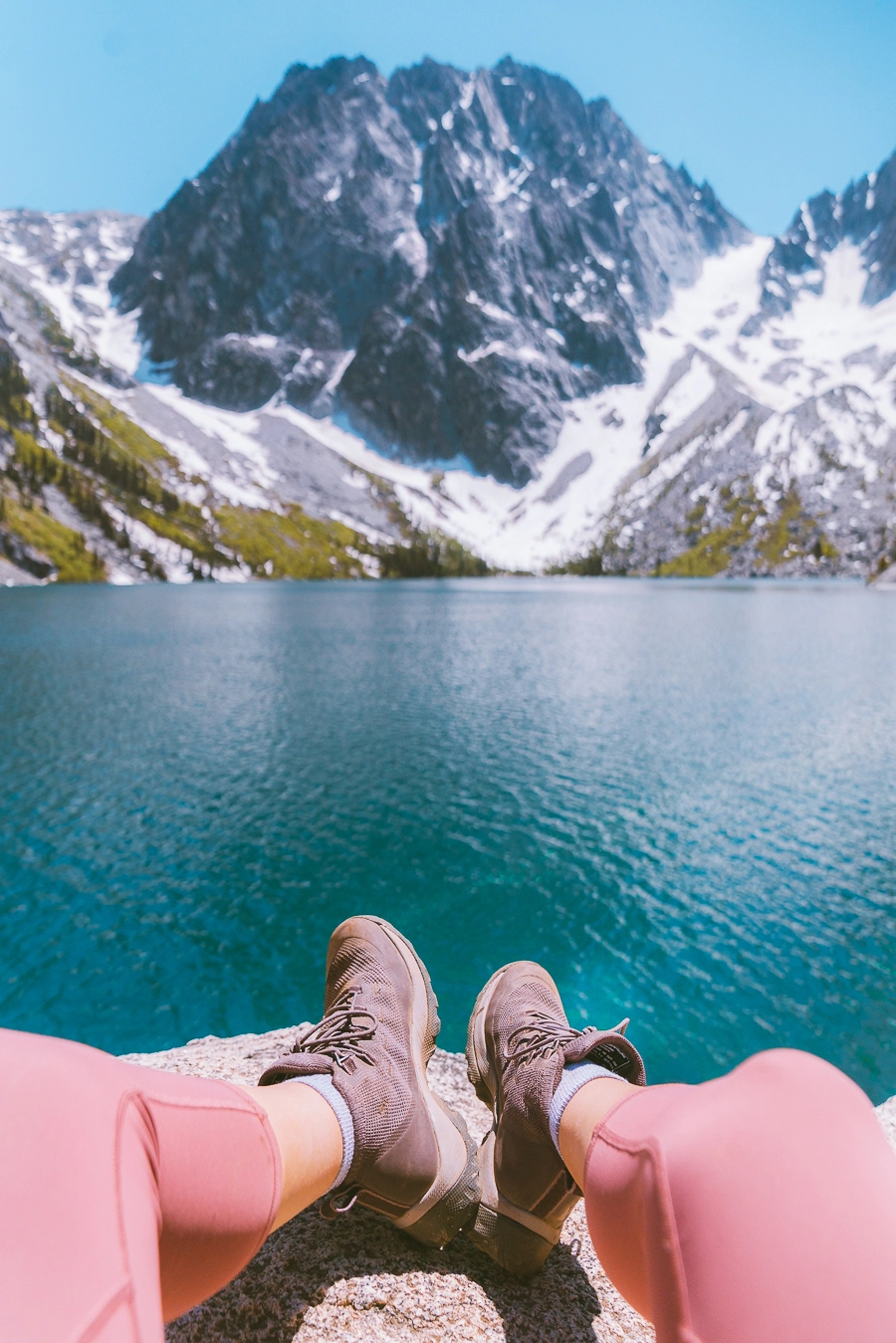 The REI Co-op Flash Hiking Boots comes in three colors;  Bark/Moss, Granite Black, and Smoke/Lilac. I picked the Smoke Lilac because I usually wear more pink colors on my hikes. I really loved the Lilac color and even got compliments of the color on the trails. I love when outdoor brands make hiking apparel more attractive and fun for women! I hope REI Co-op adds even more fun colors in the future!
Style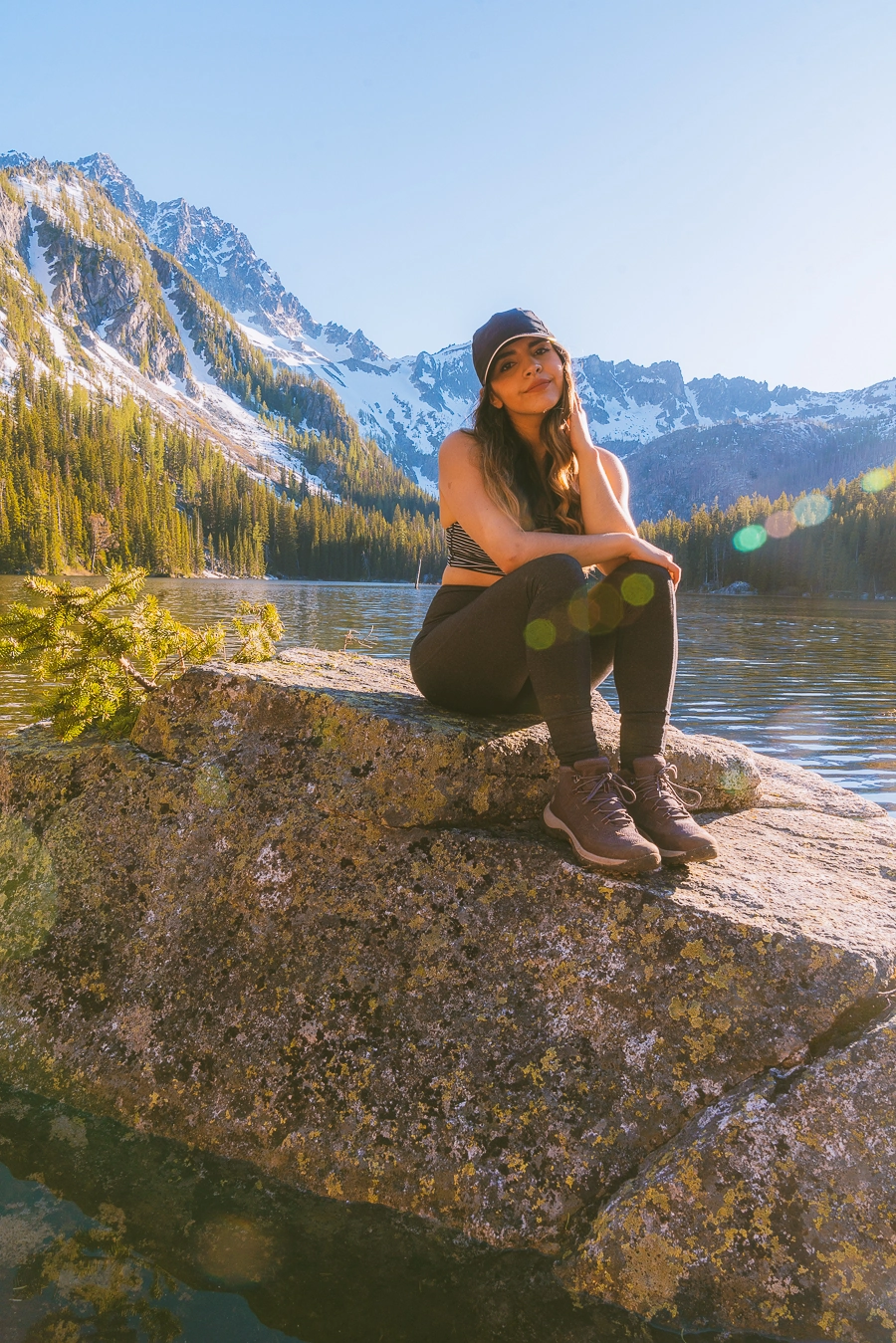 What I loved about the REI Co-op Flash Hiking Boots is how little they resemble hiking boots. Some hiking boots can look pretty manly, rugged, and bulky. Luckily, I can pretty much wear the boots in many places, not just the trails. Hey, I am all about versatility!
The style of the shoes and the weight makes it pretty easy for me to head to the grocery store or to the mall. When it comes to hiking, looks are probably one of the least important factors (which is why I put it at the bottom), but it is nice if your shoes are versatile. Plus, I like looking cute on the trails because that is my jam and my brand!
Eco-Friendly Materials
Usually, when you think about hiking boots, you do not think about Eco Friendly. Well, my friend, the new REI Flash hiking boots are made with recycled materials. Here are some of the specs:
Membrane uses 75% recycled polyester
Upper sole is 99% recycled PET
Upper sole is also 30% recycled TPU
TerraGrip rubber is 20% recycled
As someone who loves the outdoors, I am always so excited to hear when outdoor brands use eco-friendly materials, which is a huge plus. Read more on the recycled materials they use here
Conclusion
Thanks for reading all about the new REI Co-op Flash Hiking Boots! Let me know if you have any questions and make sure you check out some of my other hiking posts:
.
REI Co-Op Review: Must Read This Before Buying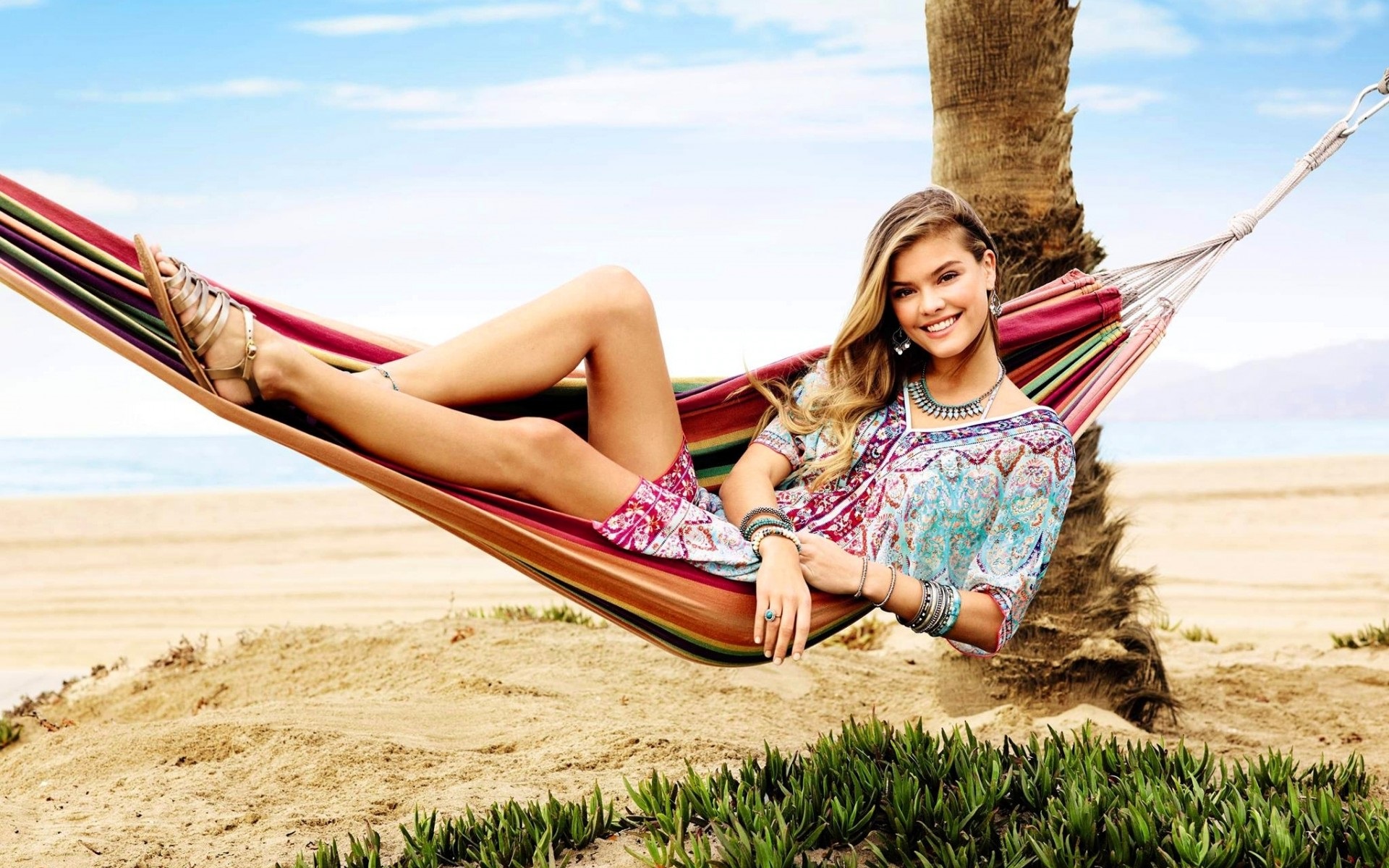 Recreational Equipment, Inc., generally known as REI, is an American retail and outside amusement administrations enterprise. It is coordinated as a shoppers' co-usable. REI sells setting up camp stuff, climbing, climbing, cycling, water, running, wellness, snow, travel hardware, and men, ladies and children clothing. It additionally offers administrations like open air arranged excursions and courses.
REI works 165 retail locations in 39 states. It additionally gets orders by means of mail-request lists and the web.
About REI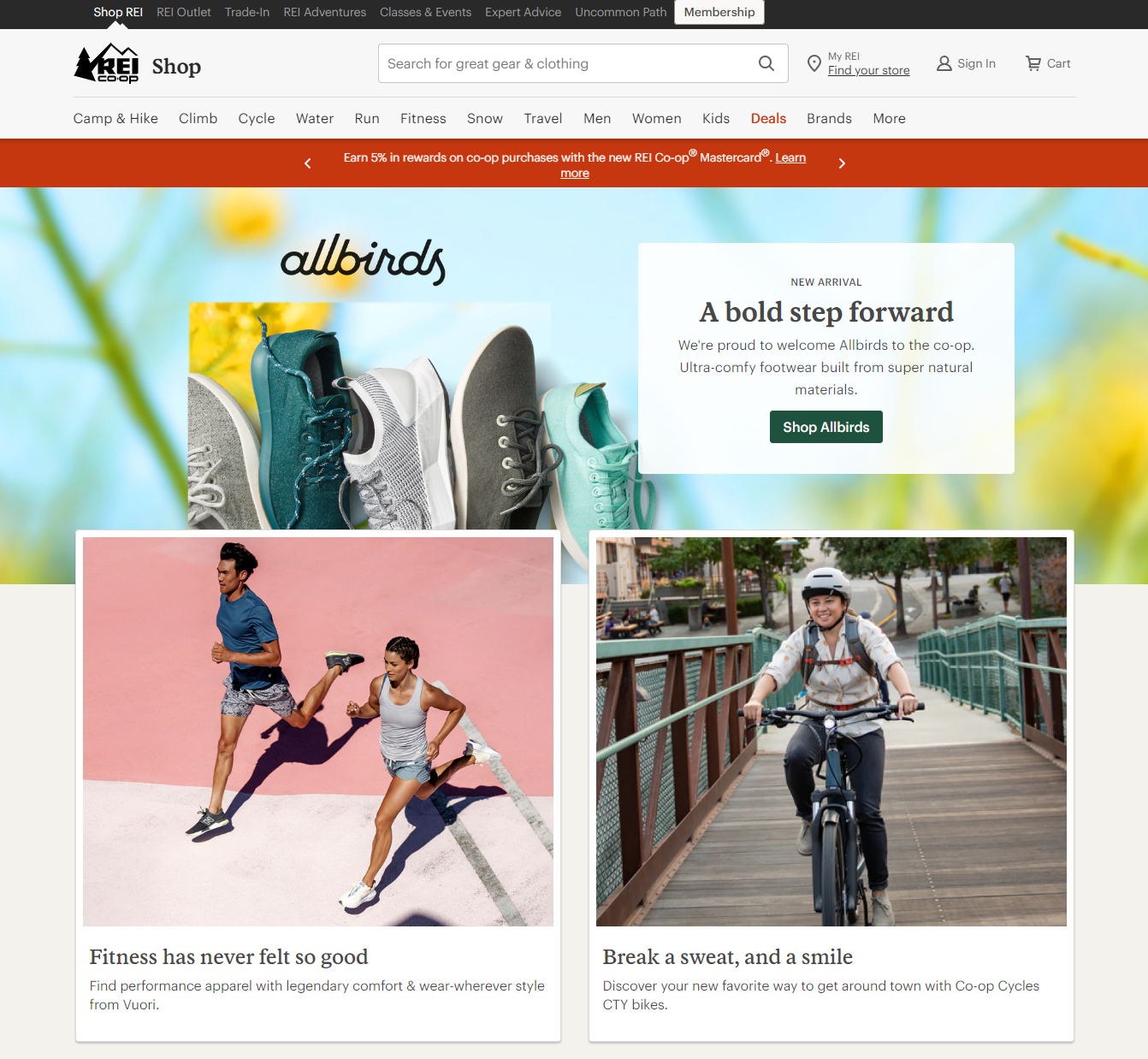 Lloyd and Mary Anderson established REI in Seattle, Washington in 1938. The Andersons imported an Akadem Pickel ice hatchet from Austria for themselves as a feature of The Mountain dwellers Fundamental Getting over Course, and chose to set up a co-usable to assist other outside fans in the club with obtaining great quality getting over gear at sensible costs. On June 23, 1938, with the assistance from Seattle lawyer Ed Rombauer, five Mountain dwellers met at Rombauer's office, and each paid one dollar to join Sporting Gear Agreeable.
During the principal year, Sporting Hardware was just a rack at the Puget Sound Helpful Store, a rancher's center close to Pike Spot Market in Seattle. In 1942, Lloyd moved to another space a few doors down from The Mountain dwellers club rooms on Pike Road. Jim Whittaker, the principal American to highest point Mount Everest (in 1963), was recruited as the primary full-time representative of REI on July 25, 1955. In 1956, Sporting Hardware Agreeable was consolidated. Whittaker filled in as Chief during the 1960s and was an early board part with American Elevated Club president Nicholas Secure. At the point when Whittaker climbed Mount Everest, it gave REI such an excess of free promoting that the next year, 1964, its gross pay beat $1mil interestingly.
Through the 1970s, it distinguished itself noticeably as REI Center, zeroing in fundamentally on hardware for serious climbers, explorers, and mountaineering endeavors.
No U.S. retailer has promoted the open air and experience travel spaces like REI. In the States, city occupants need to come to depend on it as a one-stop supplier for climbing, setting up camp, bicycling, rowing, strolling the canine, or taking the children to the recreation area. That is thanks to a great extent to REI's monstrous choice of the best outside dress brands from Patagonia and The North Face to MSR and Arc'teryx.
However, its in-house gear brand, REI Co-Op, tends to fly under the radar, compared to its brand-name counterparts. That's a shame because many of its own products offer the same great quality and features, plus a fantastic "satisfaction guaranteed" return policy for significantly less than elsewhere. Let's take a look at everything you should know about REI Co-Op outdoor gear and why you might want to consider the brand for your next gear-up.
What Is REI Co-Op?

REI Co-Op is REI's own brand of outdoor gear. Its history dates back to 1938, so the company has more than eight decades of field-testing under its belt. At its core, REI promises "gear born from and built for an outdoor life — part of experiences that transform lives." Most importantly, however, it's built to be affordable. In the company's own words, it's designing outdoor gear and apparel to "break down barriers like cost, activity level, and sizing to get everyone outside." The bottom line: It's billed as a more accessible alternative to high-end (and high-priced) outdoor gear, but with the same quality and innovation.
What's the Price Range of REI Co-Op Gear?

As we said, affordability is one of REI Co-Op's best selling points. To be sure, it's pricier than the sort of bargain-basement off-brand gear you might find at, say, Walmart, but often less than more recognizable brands. However, the quality is surprisingly on-par or better than many of those brands. In most cases, the technical innovation and feature set are comparable, too.
What Are the Most Popular REI Co-Op Outdoor Products?

The REI Co-Op catalog runs deep with nearly 1,000 products in total. You'll find essentials like socks, water bottles, and duffel bags. But, the selection of gear extends well beyond the basics to include everything from hiking boots and expedition tents to backpacks and luggage. The most popular REI Co-Op products include its tents, which deliver some of the best bang-for-your-buck value of any camping tents on the market. Its Half Done and Base Camp tent lines, for example, frequently receive four-star-plus reviews from customers and countless outdoor gear review websites. REI Co-Op sleeping bags like those in the Trailbreak line are similarly well-reviewed. The self-branded line also includes great outerwear options like rain shells and down jackets for men and women. Of course, the best part is that these often cost less than most premium brand-name alternatives.
What's the Return Policy for REI Co-Op Products?

REI's generous return policy applies to anything from any brand bought at its stores. For new products (not including outdoor electronics), the company guarantees, "If you're not satisfied with your REI purchase, you can return it for a replacement or refund within one year of purchase." That's already better than almost any retailer. But, in our experience, it tends to go the extra mile to back its own REI Co-Op products. Stories abound of the store accepting returns on years-old products that prematurely failed or that regular customers weren't happy with. (These stories are anecdotal, of course, so don't quote us.) Just know that REI really does stand behind its products and typically bends over backward to keep customers happy. This is especially true for REI Co-Op members.
Should I Get an REI Membership?

Whether you're a thrill-seeker going off the grid for a few days or an outdoors enthusiast prepping for the occasional winter hike, you can probably find whatever it is you're looking for at REI. If the cashiers consider you a regular, you're already in the know—and you've probably considered investing in an REI Co-op membership, which gives frequent shoppers a chance to earn back a percentage of what they spend at the end of the year.
Even though the REI Co-op recently increased the cost of its membership, it still remains a modest price of admission: A lifetime membership is just $30. (If you're already a co-op member, you'll be grandfathered in to the new program.) And as long as you spend at least $10 a year on qualifying purchases, you'll earn 10 percent back in annual dividends, plus you'll get access to member-only discounts during special in-store events, and in some cases, free shipping. You can choose to either apply your dividends (issued yearly in March) toward REI purchases or receive them as cash in your pocket. And as of March 2, 2022, members will now receive even more benefits, including free shipping on most purchases and exclusive access to new and limited-edition gear.
At face value, signing up seems like a no-brainer—but whether the Co-op membership makes sense for you depends on how you shop and what you shop for.
What are your shopping habits?

If you're an REI regular who normally pays full price, you'll squeeze the most out of the membership benefits. Bargain hunters won't get money back at the end of the year, though, since you can't earn dividends on sale or clearance items. REI Outlet purchases don't qualify for dividends either.
Will you use the exclusives?
An REI membership comes with a handful of exclusive perks that only Co-op members can take advantage of, many of which have been recently introduced. For instance, members now have the opportunity to save 20% on REI's bike and snow shop services, plus free flat tire repair and machine wax. These savings make a membership especially attractive to bikers, skiers, and snowboarders alike.
Members receive special pricing on Co-op Experiences, though dividends can't be applied to trips or to classes at the REI Outdoor School. If you plan to take advantage of the discounts on REI Adventures, signing up would be advantageous even if you only shop the sale section (thus forgoing dividends). Instead of collecting dividends, you'll save on the total price of your trip—and then some. For instance, members can get a discount of up to 57 percent off their lift tickets at select ski resorts (there are about 60 locations to choose from); at some resorts, that represents more than $100 in savings.

Previously, REI stores hosted an annual garage sale—available only to co-op members—featuring returned items at bargain prices, but the company has recently renamed the initiative Re/Supply. The program, available only to co-op members who want to trade in used gear, is similar to Garage Sale but instead of yearly sales, members will have the ability to buy used year-round. In-store trade-ins are available at a few brick and mortar locations—with more to come—but members around the country can send in their used gear in exchange for an REI gift card.
Members also get exclusive access to the Member Collection, which includes early access to new gear, limited edition gear, special offers, and access to one-of-a-kind brand collabs.
Are you planning to make just one big purchase?
There are some instances in which signing up for the Co-op membership can be beneficial even if you never again set foot in an REI (or surf the site) after your first purchase. If you're in the market for pricier gear—like a GPS running watch or a canopy tent that fits the whole family—becoming a member is definitely worth it. Take the Garmin Forerunner 645 running watch, for example: If you buy the watch at its full price of $400, you'll earn 10 percent ($40) back in dividends at the end of the year. Sure, you'll net only $20—but that's $20 more than you had before, and no one can argue against free money.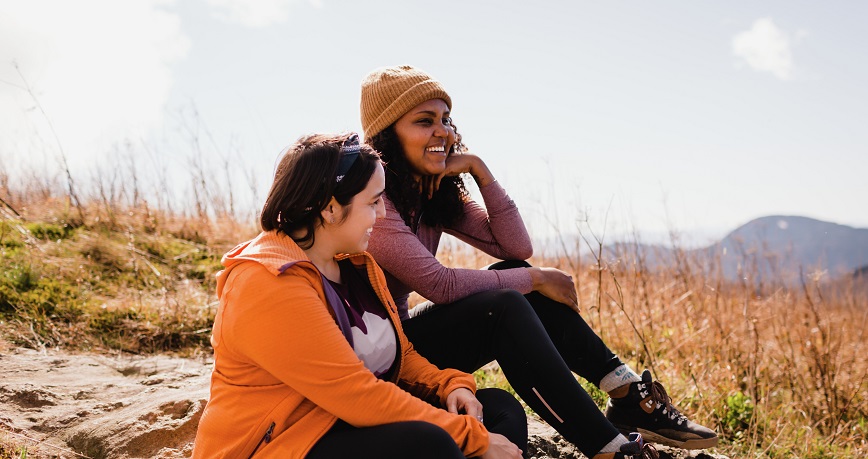 How often do you shop online?
Until recently, REI's spending threshold for free shipping was at least $50, which made shopping online less economical for folks who weren't able to shop at brick-and-mortar stores. But REI is now offering members free shipping for most items, which makes a membership even more enticing for those making small purchases online. You might still be charged separate handling fees for larger, bulkier items—so you may still want to opt for in-store pickup if possible to avoid paying more on those purchases.
Are you a brand loyalist?
You may second-guess an REI membership even if you're constantly shopping for outdoor gear. Just because you're an outdoors enthusiast doesn't mean you have to buy from REI—competitors like Amazon, Backcountry, and Moosejaw often match REI's sale pricing, even that of its member-only sales. With that in mind, having exclusive access to REI discounts thanks to your Co-op membership doesn't mean much, especially if your order is ineligible for dividends and free shipping.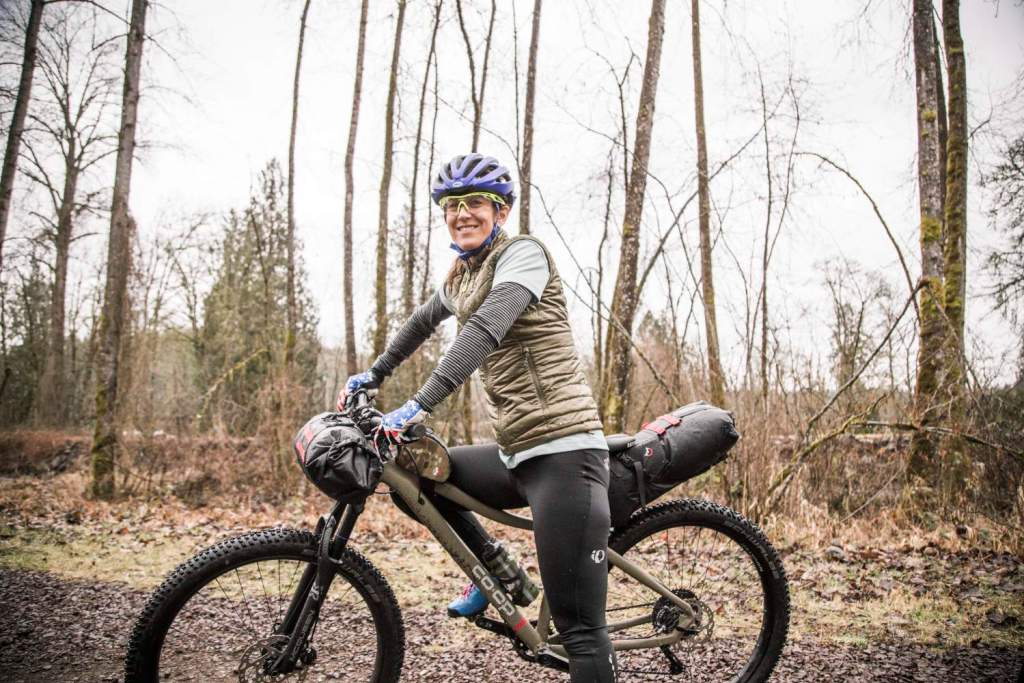 But brand loyalty is a very real thing, and for many shoppers, REI is an upstanding retailer that donates a percentage of its earnings to various nonprofits. The company has recently announced that it'll be donating $5 for every lifetime membership purchase to the REI Cooperative Action Fund, a public charity that donates to nonprofits that promote justice, equality, and belonging in the outdoors So if you find yourself choosing REI over and over again—even though other retailers might offer better sales—a Co-op membership probably makes sense for you. This is especially true if you have a particular penchant for REI-branded gear—Wirecutter certainly has a few favorites.