Innovators Folding Double Cocoon Egg Chair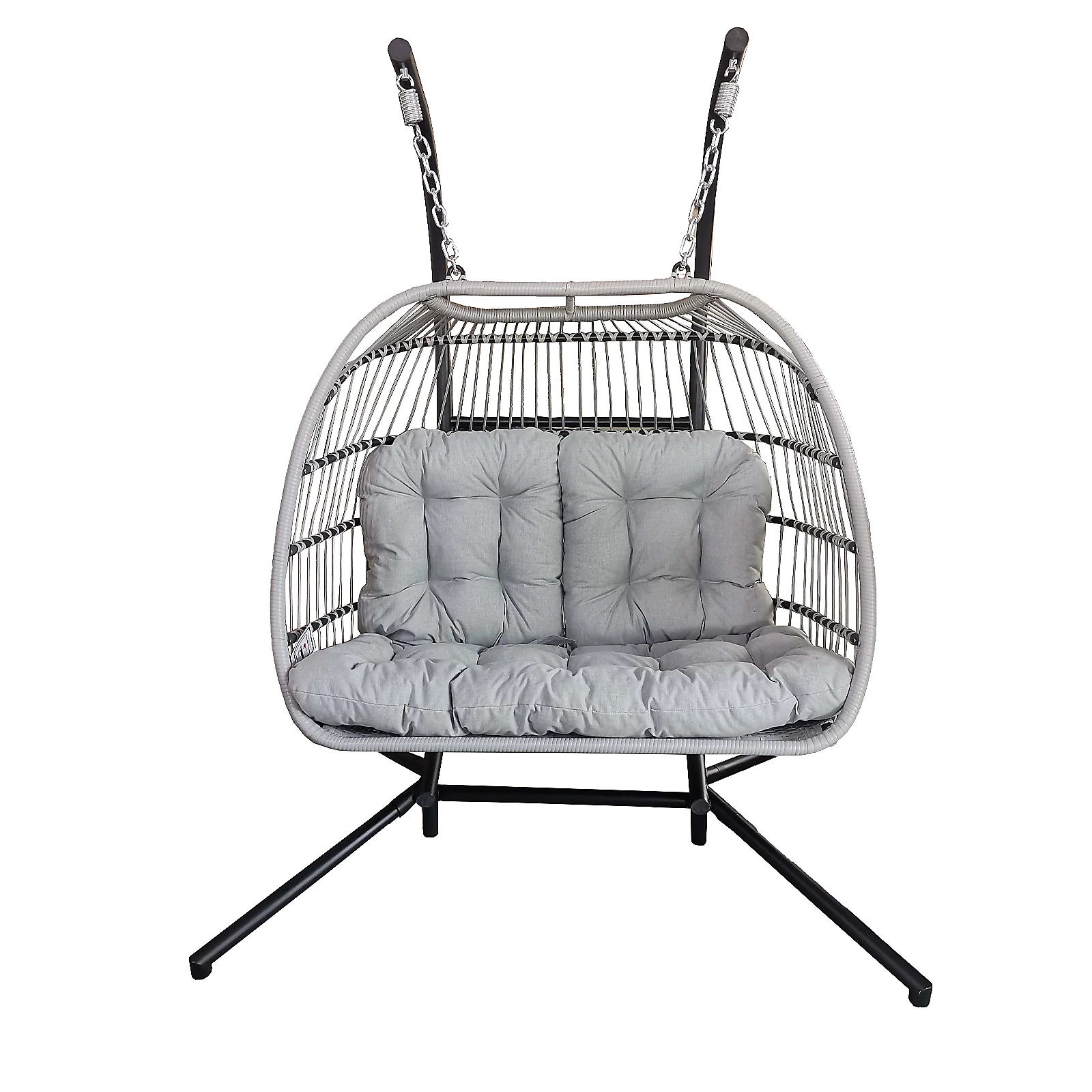 This post contains affiliate links. When you purchase through links on this post, we may earn an affiliate commission. Thanks.
This season, sit back, relax and unwind with the soothing Eleanor double cocoon egg chair from Innovators. Created in high-grade aluminium and steel with faux rattan ropework, it boasts plush, removable deep-filled cushions, with an elegant design for two people to sit side by side. Whether youre entertaining loved ones al fresco or reading a book in the sunshine, this chair is where you'll want to be in the garden!
Delivered directly from Innovators – please allow 7 – 10 working days for delivery to UK mainland only (excluding UK Highlands and islands, and Northern Ireland).
Your time to recline – the gentle sway of the egg chair and the sprung attachments will allow you to truly relax after a few hours on your feet, or why not start the day in the egg chair with breakfast and blue skies? If hosting guests is on the agenda, then take note – your friends and loved ones are sure to arrive early to bag their place on the Cocoon egg chair too!
Considered design – to create this hanging egg chair, a number of high-quality materials have been combined to fantastic effect, achieving not only a low-maintenance, all-weather piece of furniture but also a stylish look to lift any home or garden.
Rainy days ahead? Not a problem, the Eleanor double hanging egg chair is fully collapsible and folds down into a compact size, making it easy to store away in the winter months.
Suits any style – in a choice of four chic colours, Dark Grey, Light Grey, Latte or Black, this egg chair can be easily incorporated into any space. Plus, it's suitable for both indoor and outdoor use, looking as good on your deck or patio as it will in your conservatory.
It is recommended that waterproof covers are used to protect the furniture when not in use and that the fabric cushions be stored inside
Clean the rattan with warm water and a mild soap. Cushions are dry clean only
Base: durable steel; chair frame: aluminium; rope: PVC rattan; cushion: 100% polyester outer and filling
Assembled chair (h x w x d): 1.96m x 160cm x 1.08m (6'4″ x 5'3″ x 3'5″)
Seat opening (h x w): 1m x 122cm (3'2″ x 4'0″)
Weight: 21kg
Max user weight: 220kg
Ultrasun & Skinsense 5 Piece Anti-Pigmentation Collection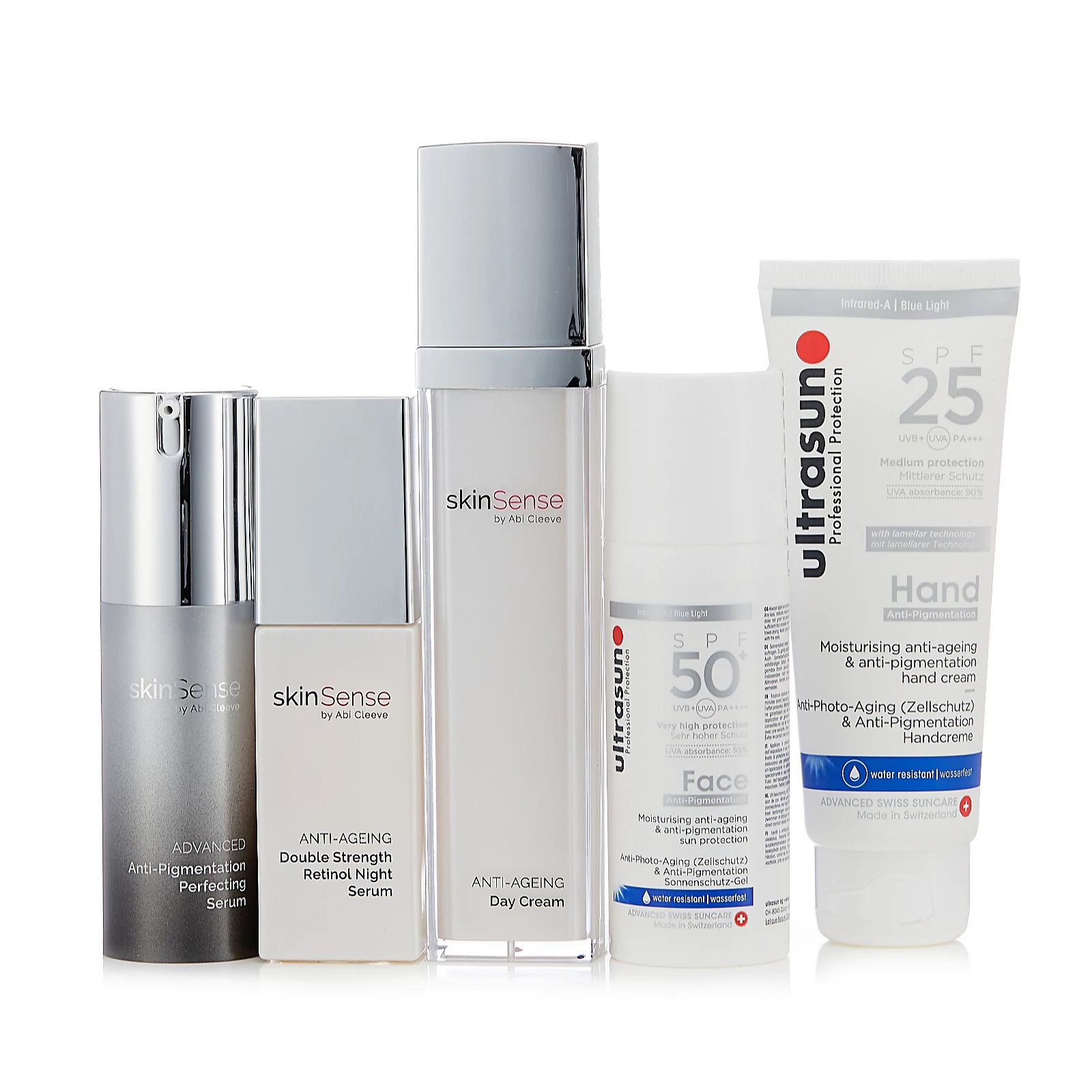 This summer, your skin is sorted thanks to Abi Cleeve, expert and founder of Ultrasun and Skinsense. This five-piece collection showcases a range of her most loved formulas, from specially designed SPF for your face and hands to serum and day cream to help keep your skin in top condition in drying weather. What's more, there's new Advanced Anti-Pigmentation Perfecting Serum launching in this set, which aims to minimise sun spots and balance uneven skin tone. Protect and treat your skin the way it deserves this season and reveal radiance to rival the sun!
*A great saving: If you were to buy the items in this collection individually, directly from Skinsense and Ultrasun you'd pay £166. So for our Today's Special Value price of just £44.98, with no P&P to pay, you're saving £121.02.
A brand new launch – we're so excited to bring you the launch of brand new Skinsense Advanced Anti-Pigmentation Perfecting Serum, specially formulated to reduce the look of uneven skin tone and texture. Easy to apply in the morning and evening, it works to support a brighter, more even complexion, so you can be skin confident all summer long.
Long-lasting protection – just one application of SPF from this Ultrasun range provides long-lasting protection – although another application may be required in extreme circumstances – and offers gentle formulas that are suitable for all skin types. With a shelf life of up to two years after opening these products will help keep your skin protected season after season.
EcoSun awarded – known for their patented lamellar technology and broad spectrum sun protection formulas, Ultrasun was the first suncare brand worldwide to be awarded the BASF EcoSun pass status. For more information on the BASF EcoSun pass, please visit carecreations.basf.com/ecosun-pass.
Ground-breaking formulas – supercharged with active ingredients, Skinsense treatments are developed to help reduce the appearance of fine lines and wrinkles. Utilising lamellar technology found in suncare, plus Linefill, a powerful complex derived from sesame seed, this revitalising range is designed to keep working throughout the day and night to help you maintain a youthful look.
Your daily moisture boost – even in hot weather, your skin needs hydration to help keep it looking soft, smooth and free from excess oil. Enter Highly Active Day Cream from Skinsense, your new go-to for that hydration hit you need without the cloying, greasy feeling you might get from heavier moisturisers. This one boasts a fresh gel texture that works to slowly release active ingredients, helping to reinforce the skin's natural moisture barrier and minimise the look of fine lines and wrinkles. Let your skin feel smoothed, refreshed and plumped all summer long with the help of this hydration hero!
Turn your face to the sun – don't deny yourself the joy of fun in the sun this season. This collection also offers Ultrasun's beloved Anti-Pigmentation Face SPF 50+, a formula specially designed for your face to help protect it from harmful UVA, UVB, HEVL (blue light) and Infrared-A rays. It works to prevent the intensity and definition of pigmentation, as well as helping to hydrate and visibly brighten the look of your skin, leaving behind a matte finish so there'll be no unsightly shine or white streaks! Just think of it as your daily moisturiser that lets you play in the sun all day!
Skincare while you sleep – when the temperature turns up, you can still sleep in skincare that will work wonders by the morning! Skinsense's Double Strength Retinol Serum is lightweight and powerful, infused with an active, encapsulated 0.6% retinol concentration. Working to support your skin's texture and hydration levels, all while you catch some shut-eye, it's ideal for the warmer months when you want fabulous results but don't want to wear a heavy cream. Simply put it on at night and let it help you wake up to better skin, every morning. It's that simple.
All hands on deck! Your hands work hard, and it's well known that they're one of the first parts of your body to show your age, so give them the protection they need with Ultrasun's specially designed Anti-Pigmentation Hand SPF 25. Hydrating, easy to apply and non-greasy, it's perfect for helping to keep your hands feeling soft, smooth and of course, protected from harmful rays. Trust us, with this in your regime, you've got another hero on your hands!
Innovators Valencia Lounger XL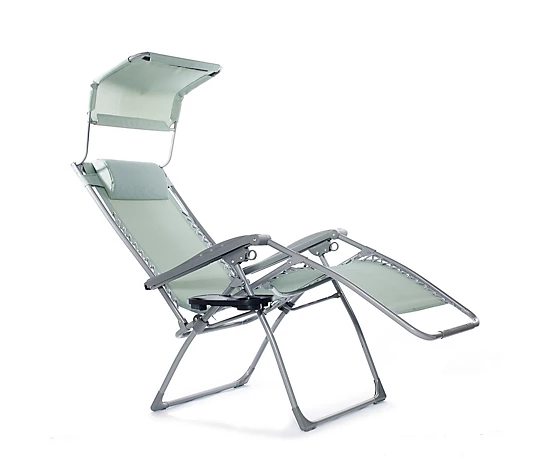 Feels good to catch some rays, doesn't it? Well, it feels even better in the king-sized Valencia lounger from Innovators! Made with a sturdy steel tube frame and featuring a canopy and a carry bag, as well as a cup holder, you're all set to kick back and relax in perfect comfort.
Please note that due to carrier restrictions, only two of this item can be ordered at a time. If you wish to place an order for more than two of this item, please place separate orders for each.
Steel tube and textilene
Lounger (l x w x d): 112cm x 82cm x 82cm (44″ x 32.3″ x 32.3″)
Lounger folded (l x w x d): 96cm x 73cm x 14cm (37.8″ x 28.7″ x 5.5″)
Maximum weight: 110kg
Garden Reflections Expandable Faux Leaf Privacy Trellis 100 x 200cm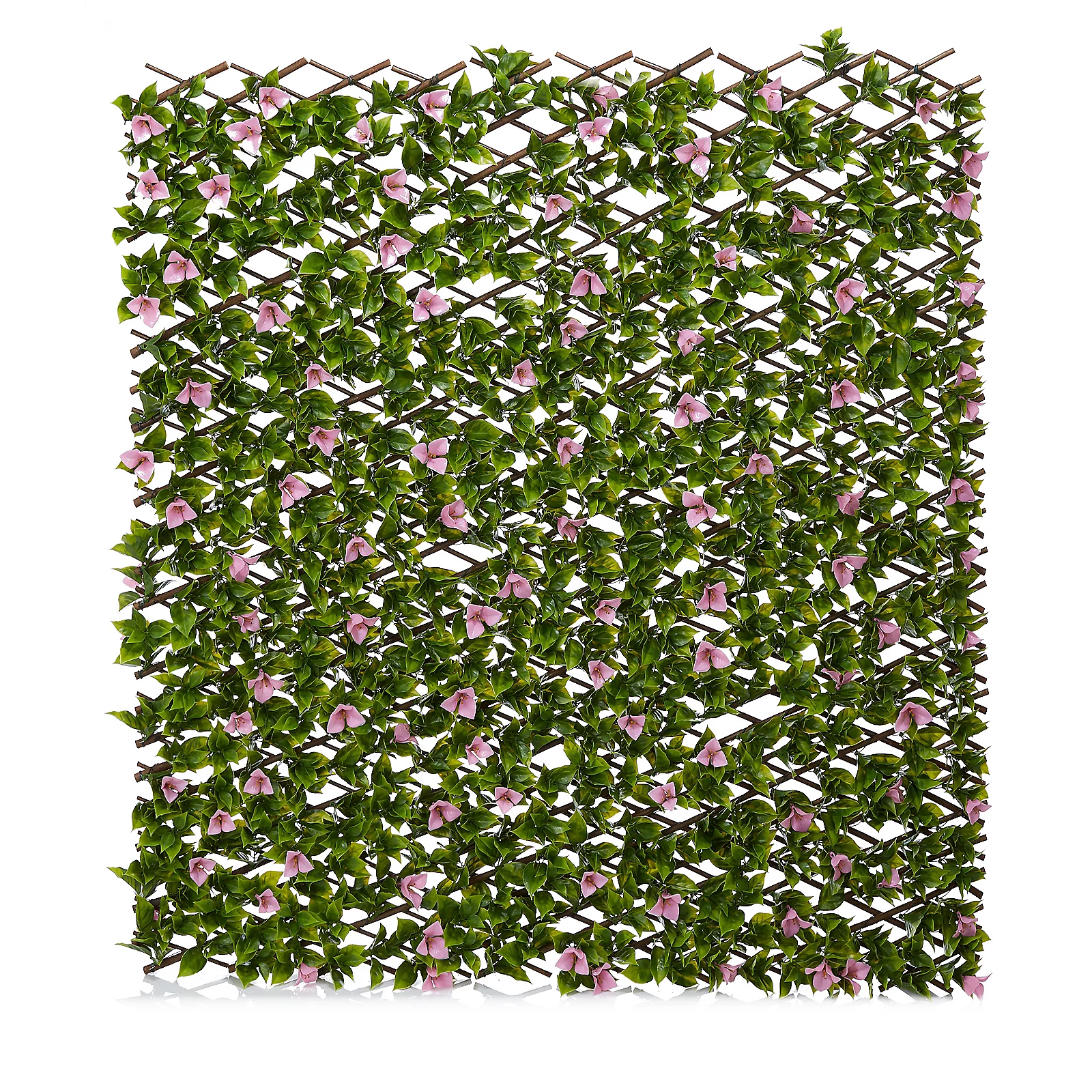 This expandable faux leaf privacy trellis from Garden Reflections is covered in lifelike leaves and flowers, is constructed from willow wood and is pinned in a lattice design enabling it to fold and extend into the perfect size for your garden. Whether you use it to decorate your al fresco dining area or to bring rich greenery to areas of your garden that get little light, this useful trellis, available in a choice of classic Mini Laurel or pretty Bougainvillea, will add a stylish shelter or privacy to your outdoor space.
Fashionable foliage – making all kinds of vertical surfaces look a little more interesting, this expandable trellis is a great option to add privacy and low-maintenance foliage to smaller outdoor areas such as patios and balconies. Superbly versatile, it is also a clever way to disguise areas in larger gardens, such as compost heaps, unsightly walls or dustbins, and can also be used to cover up open fencing for more privacy.
Functional foliage or flora? The Mini Laurel option offers a full trellis of classic Laurel leaves while the Bougainvillea option adds beautiful pink flowers to the lush green foliage. Made from water- and weather-resistant plastic, the foliage is attached to a lattice back that allows it to move freely. 16 green cable ties are also included so you can attach your trellis to railings, fences, or even nail it to brick and concrete walls (nails not included).
Suitable for outdoor use only
Spray with a garden hose or dust to clean
Warning – product could have small parts that may pose a choking hazard. Keep out of reach from small children
Contains:
1 x Trellis – when expanded: 2m x 1m (6ft 7″ x 3ft 3″)
16 x cable ties
Instructions
Faux plant options:
Mini Laurel
Bougainvillea