Outdoorsy Review: An Honest First-Hand Experience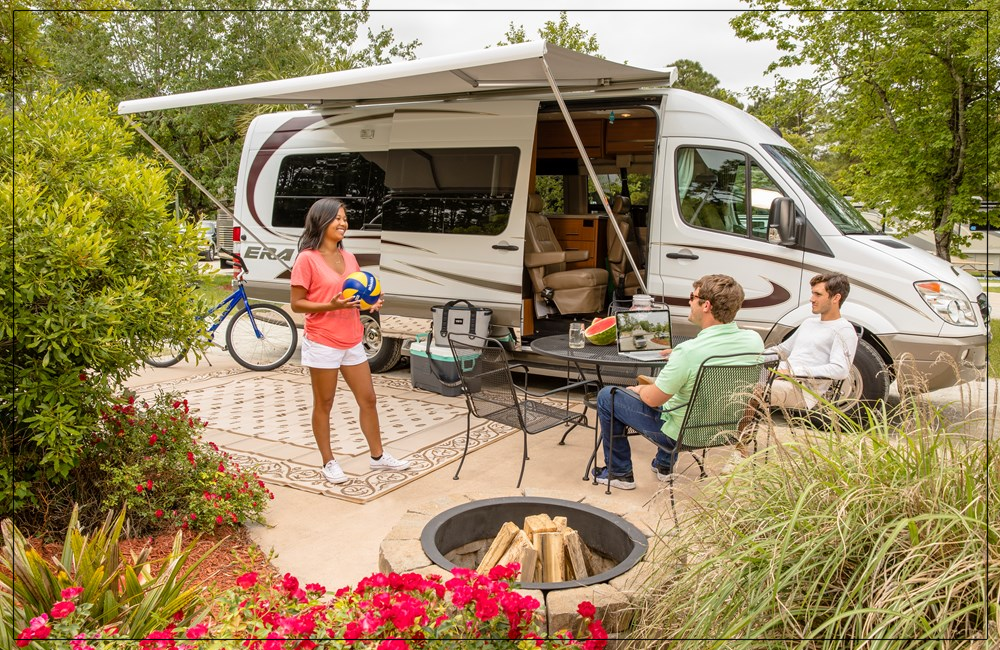 This post contains affiliate links. When you purchase through links on this post, we may earn an affiliate commission. Thanks.
The concept of renting an RV or campervan has been around for a long time. But over the last few years, new rental companies have popped up to enhance and streamline the RV renting experience.
The concept of renting an RV or campervan has been around for a long time. But over the last few years, new rental companies have popped up to enhance and streamline the RV renting experience.
Outdoorsy is one of those companies, and in this Outdoorsy review, I'll share with you my personal experience using the company to rent a 1979 Volkswagen Westfalia campervan for my road trip to Yosemite National Park.
And although this review is mainly from a renter's perspective, I'll also talk about how you can rent your own RV to other travelers through Outdoorsy to make some extra cash on the side!
Whether you're simply wanting to find the ideal vehicle for your outdoor adventure or you're planning to start your own RV business, use this Outdoorsy review to help you decide if it's the right platform for you.
So, Who is Outdoorsy?
Before we dive into this Outdoorsy review where I tell you about my first-hand experience using them, I want to tell you a little about who they are as a company.
In 2015, full-time RVers Jeff Cavins and Jen Young had a goal of connecting travelers to outdoor travel. They wanted to make it easy for travelers to experience the excitement of an RV without the hassle of ownership.
So they created Outdoorsy.
Essentially the Airbnb of the RV and campervan world, Outdoorsy is a peer-to-peer marketplace where renters can book a vehicle directly from the RV owner. The platform lists millions of rentals around the world, from vintage airstream trailers to luxury motorhomes and everything in between.
In addition, if you own an RV yourself and want to make extra income on the side, you could list your RV on the platform for others to rent. Instead of letting your RV sit idly by for weeks or months at a time, rent it to other eager travelers and road-trippers.
Outdoorsy Review: Quick Answers
I love Outdoorsy. After getting to know the team, learning about their processes, how they insure the vehicles and ensure safety for both the renter and the host, I truly believe they are the best peer-to-peer RV rental company in the world. I have rented from them numerous times and can say they are 100% trustworthy!
Here are a few key points, though, just in case you needed more convincing:
For Renters
There are millions of rentals including campervans, RVs, motorhomes and trailers
It's easy to browse online, reserve RVs and use the chat platform
Both first-time and experienced RV renters can use the platform
Some rentals are available for "Instant Booking"
There is 24/7 customer support and roadside assistance
There is comprehensive insurance for renters
For Owners
Only DMV checked and verified drivers are allowed
There is comprehensive insurance for owners
It's an easy way to make extra money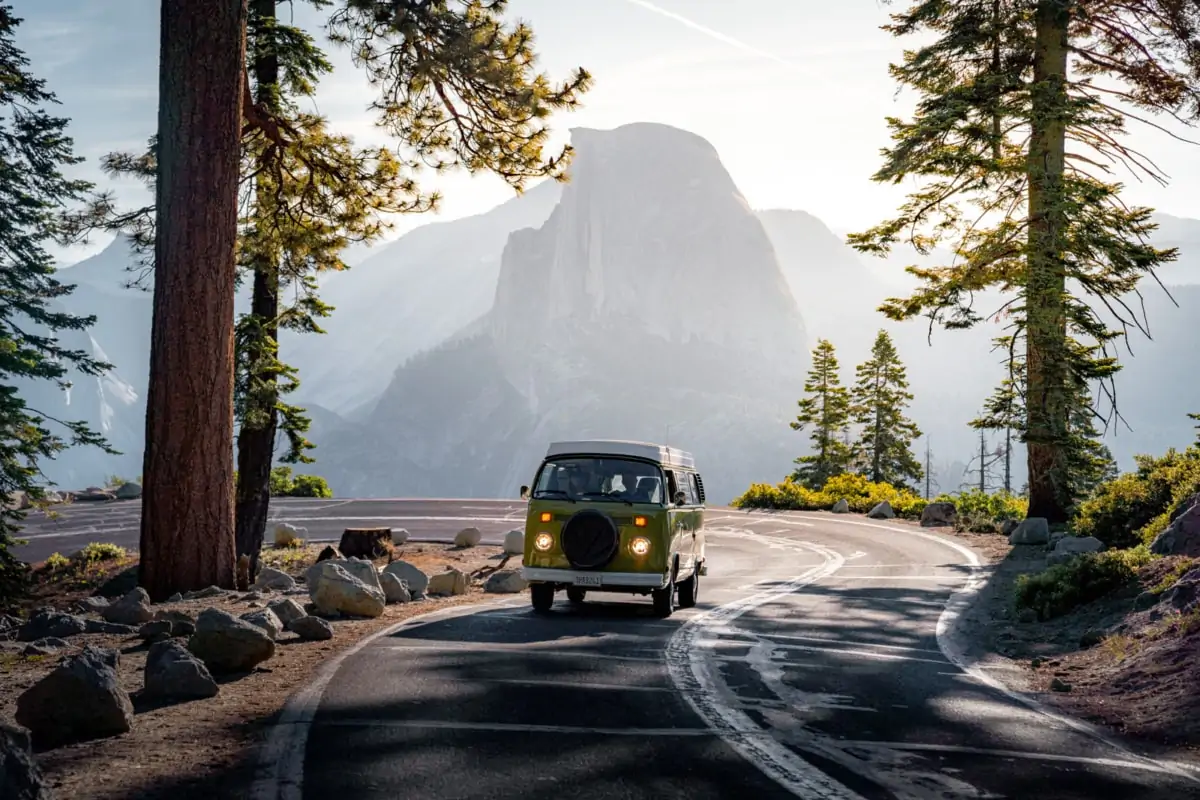 I've partnered with Outdoorsy to offer readers of TravelFreak a $40 Outdoorsy coupon code! Use the code TRAVELFREAK at checkout or just click the button below and it will automatically apply at the time of booking.
Outdoorsy Pros and Cons
While Outdoorsy may be a great option for some renters, it's not for everyone. Just like with most RV rental companies, there are advantages and disadvantages to keep in mind.
Pros
Variety of Rentals – Operating in over 14 countries, Outdoorsy has millions of vehicles available for rent. I haven't seen such a wide selection like this on any other RV rental site so far.
Excellent customer service – With 24/7 technical and customer support, Outdoorsy thrives when it comes to their customer service. Their representatives are friendly, helpful and, most importantly, easy to reach.
Provided Insurance – Most rentals are covered by Outdoorsy's comprehensive insurance policy. That means there's no need to take out an additional policy if you plan to drive an RV or campervan.
Trustworthy – Outdoorsy has an A+ rating with the Better Business Bureau, and a 91 percent approval on TrustPilot.
Cons
Quality is not guaranteed – Like most peer-to-peer marketplaces, Outdoorsy does not verify the condition or quality of the RV rentals. It's your responsibility to look at the rental reviews and photos to see if the RV is up to standard.
High fees for owners – If you plan to rent out your RV with Outdoorsy, you can expect them to take 20 to 25 percent of the booking cost.
Extra costs can add up – Besides the daily rental price, it's important to note the extra charges that you may incur during your trip. Extra miles, fuel refilling, cleaning fees and pet deposits are just a few examples of things you could pay more for.
How Outdoorsy Works
The process of renting an RV can be complicated, as there are many factors to consider. However, Outdoorsy makes it really simple. As part of this Outdoorsy review, I'll walk you through each step of renting an RV or campervan.
Browsing for a Vehicle
Once you decide on a destination for your road trip, it's time to pick out the best vehicle for the job. Searching for the perfect vehicle is easy on Outdoorsy. Start by entering the location, as well as the pick-up and drop-off date.
Hit search, and you'll see a list of compatible vehicles in the area (or neighboring areas). From here, you can refine your search based on different criteria like price, amenities and rating.
My favorite feature is that you can filter by vehicle type. From campervans and airstream trailers to luxurious Class A, B and C RVs, you can use the Outdoorsy search to find the right vehicle for your trip.
Just try it out using the widget below:
Now, I'm not one for big RVs and I knew I wanted a campervan, so filtering the selection down was easy. Since I was going on a photography road trip, I knew that I wanted a photogenic campervan—and one that would stand out.
I was flying into the Sacramento airport, so I searched for campervans in Sacramento and ultimately found a beautiful, lime-green 1979 Volkswagen Westfalia in Livermore, just about 20 miles outside of Sacramento.
This is exactly what I was looking for.
I knew I'd be able to get some amazing photos. I'll be honest—at $250/night, this particular rental was a bit expensive.
Ultimately, it's the owner of the vehicle who chooses the rate, so I easily could have kept looking and chosen a different camper for much, much less. But this is what I wanted and I was willing to pay for it.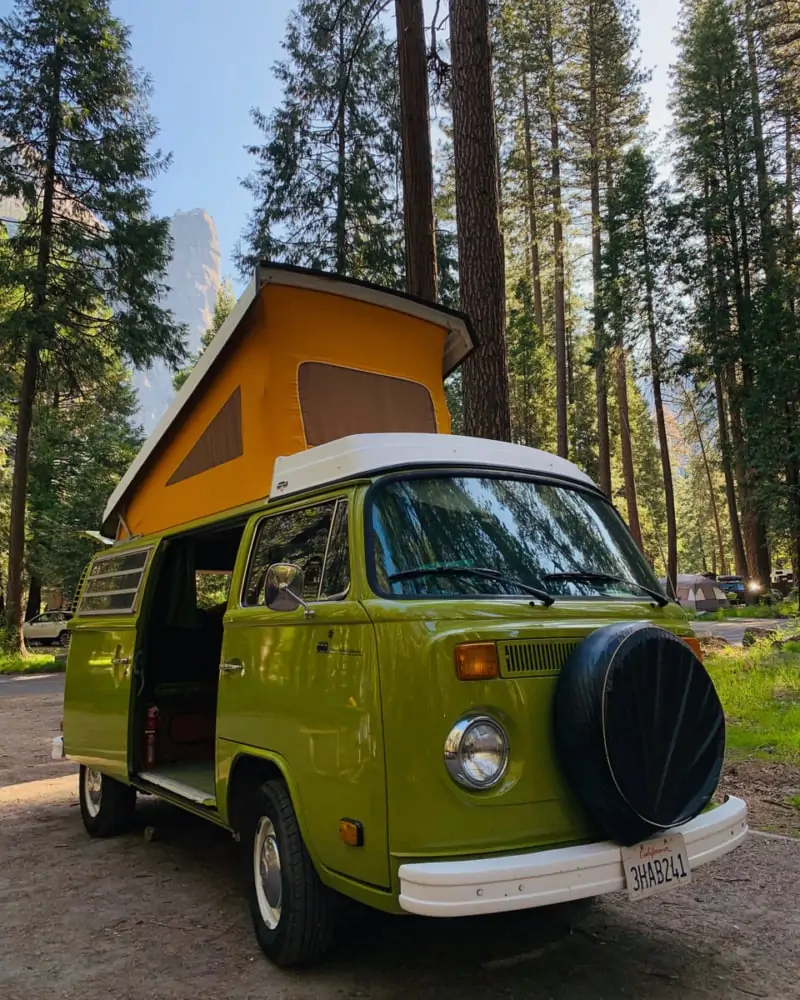 Booking Your RV or Campervan with Outdoorsy
The next step of the process was pretty straightforward. It was just like booking a hotel.
On the rental page, you'll find all the details, amenities and rates for your specific rental.
If the RV or campervan is available for automatic booking, you'll find an "Instant Book" button. However, most rentals require that you go through an approval process with the owner (just like Airbnb), where you submit a booking request and the owner approves or denies it).
I didn't feel like going through the approval process, so, when searching for my campervan, I made sure I was only looking at vehicles with Instant Book availability. That way I could rest easy knowing my booking was secure.
Then, you just enter your personal information, trip plans and payment details. Keep in mind that most rentals also require a refundable security deposit, which is taken from your credit card two days before the booking starts.
In my case, there was a $1,000 security deposit. Pretty hefty, if you ask me, but as long as I took care of the vehicle, I had nothing to worry about. I got the security deposit back as soon as I returned the vehicle.
Your next step is to choose an insurance plan to protect you on your trip. I'll discuss each plan in more detail later.
After everything is filled out, confirm your booking. If your rental requires approval, the owner will respond within 24 hours. You can also ask questions and arrange pick-up times directly with the RV owner through Outdoorsy's easy-to-use chat system.
The chats also sync to your phone, so it's just like texting. It was incredibly intuitive and easy to use!
Keep in mind that nothing else is required from you as the driver to book your rental. No extra paperwork and no copies of your license. Just like Airbnb, everything is handled on the Outdoorsy platform. It's best to keep all communication—and all payment—on the platform.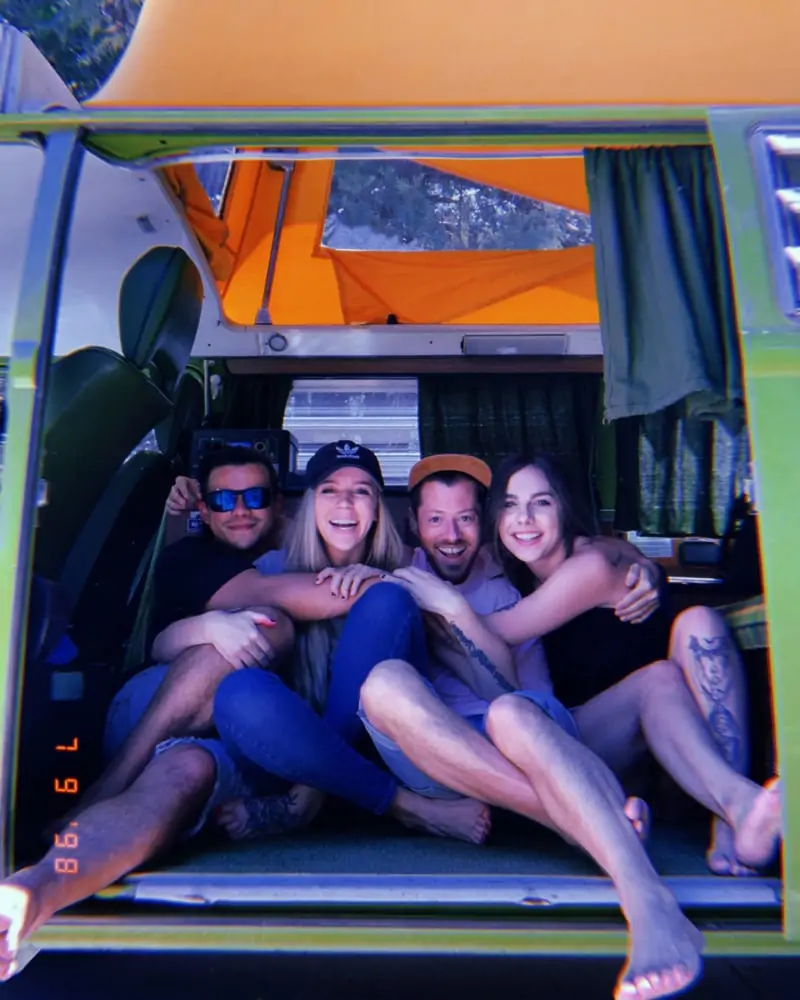 I ran into a bit of an issue here with the owner of the vehicle as he wanted extra copies of my license and he requested that I fill out a bunch of extra paperwork. I vehemently denied his request and made sure he knew that any and all paperwork—including identity verification—is handled by Outdoorsy.
He said he was new to the platform and didn't know, so it's important that you know how to use the platform before booking (and now I'm here to tell you, so you don't make a mistake like I almost did!).
Ultimately, Outdoorsy is the intermediary who is there to protect both parties. Under no circumstance should you request or provide extra documentation outside of the platform.
Picking up Your RV Rental
The details of your RV rental pickup will usually be outlined online. If a specific pick-up time is not listed, then you can use the Outdoorsy chat to determine a time that works best for you and the owner.
Generally speaking, you must pick up the rental directly from the owner. However, some owners will agree to meet in a specific location or deliver the rental to the airport.
In my case, my friends and I picked up our rental at the owner's house after arranging a time via text message (through the chat system).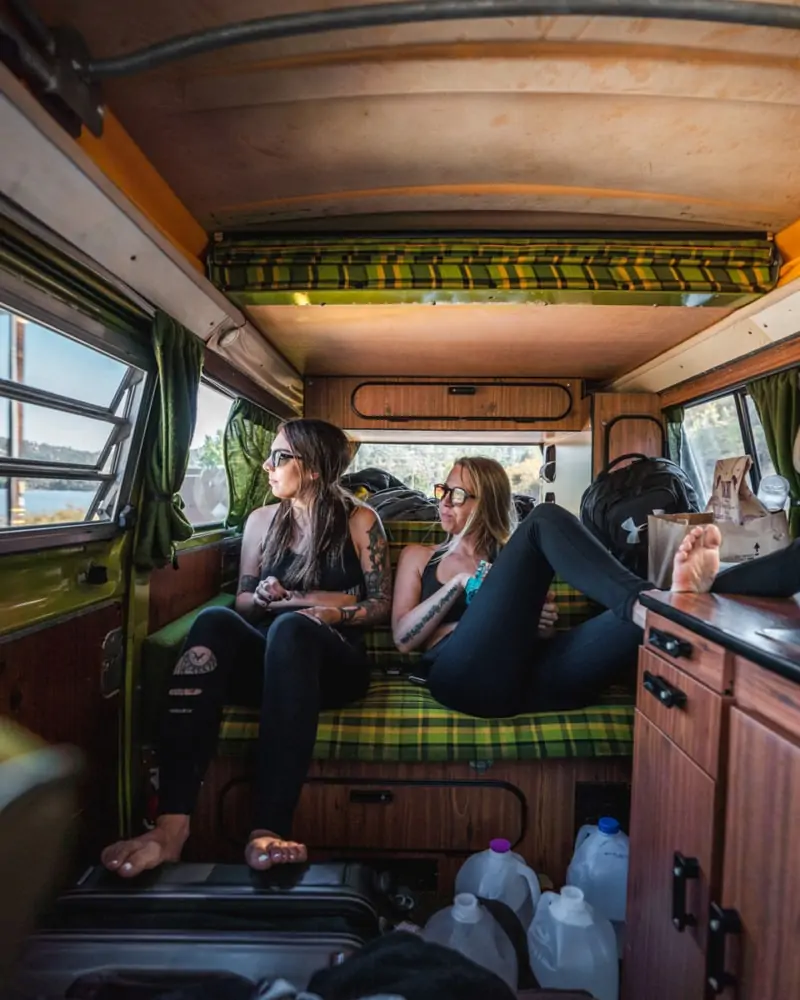 It's a good idea to give yourself extra time when picking up your rental. In most situations, the owner will give you a walkthrough of the vehicle and perform a damage inspection. You will also go through the contract and sign a renter return form to keep track of your mileage and generator usage.
Since our vehicle was quite old, the owner showed us some parts of the van that had a little more character. A loose gearbox and no power steering made for a small learning curve, but we picked it up right away.
And don't forget to confirm any optional add-ons and extra charges, like cleaning fees, equipment rentals and overage charges (including mileage).
Once the owner hands over the keys, you're ready to start your adventure! After we drove up and down the street just to make sure we were comfortable driving, we headed off towards Yosemite.
The adventure was ON!
The Benefits of Renting with Outdoorsy
There are several reasons why you should rent an RV or campervan with Outdoorsy. As I continue with my Outdoorsy review, I'll cover some of the benefits that I think make them better than some of the other traditional RV rental sites.
Insurance Coverage
Firstly, insurance. This is a must have, and I opted for the highest tier of insurance for my rental—just in case. The fact is, anything could happen!
If you're traveling in the US and renting with Outdoorsy, you'll be backed by Liberty Mutual insurance.
Outdoorsy offers three different insurance packages.
The cheapest "Risk Taker" tier offers property damage protection up to $15,000, and a $2,500 deductible for vehicles, and $2,000 deductible for trailers.
For better coverage, opt for the "Essential" plan, which includes $150,000 in property damage and lower deductibles.
The "Peace of Mind" plan is the most comprehensive package. It comes with $500,000 in property damage and $1 million in liability insurance. Although it may be more expensive, we believe it's worth the investment to have full protection in case anything goes wrong.
Free Roadside Assistance
Outdoorsy offers 24/7 Roadside Assistance to protect you against emergencies that happen on your trip. They've partnered with Coach-Net to provide technical support and emergency assistance.
From flat tires to dead batteries, you'll be able to call for support when you need it the most. And, if you happen to lock your key inside your RV, then they can help with that too.
Roadside Assistance is included with the "Essential" and "Peace of Mind" insurance plans. It can also be added to any rental for an extra fee.
Cancellations
With Outdoorsy, RV owners choose what type of cancellation policy to offer their renters. They choose from three different policies, Flexible, Moderate and Strict.
Flexible – Renters who cancel five days prior to the pickup date will a refunded for 100 percent of the cost minus service fees. If you cancel within five days of your pickup date, you'll receive 75 percent of the reservation cost.
Moderate – Renters can cancel within seven days of the pickup date and receive 75 percent of the reservation cost minus service fees. Cancel within seven days of the pickup date and get a refund for 50 percent of the cost.
Strict – Cancellations within 14 days of the pickup date are non-refundable. If you cancel before 14 days of the pickup date, you can receive up to 50 percent of the reservation cost minus service fees.
All rentals come with a 48-hour grace period for canceling, which in our opinion, is pretty generous. If you cancel a booking during this period for a rental over 14 days in advance, you'll receive a full refund including fees.
Customer Service
Outdoorsy offers top of the line customer service for renters and RV owners.
You can call their hotline (1-877-723-7232) for any questions you may have about your rental. Likewise, you can also call the RV Technical Support Hotline for specific troubleshooting and operational issues when you're already on the road.
You can also reach the Outdoorsy customer service team through email, at [email protected].
Rent Your RV on Outdoorsy for Extra Income
Now, let's say you're an RV owner and you're thinking about renting it out for some extra income.
Brilliant idea!
Instead of keeping it parked in your driveway for months on end, you could be making money in between your trips by renting it through Outdoorsy. And as part of this Outdoorsy review, I'll explain how lucrative it can be to rent your RV when it's not being used.
Think of renting out your RV like renting out a room on Airbnb. And while it might seem daunting to rent your RV to a complete stranger, that's where Outdoorsy comes in.
They provide $1 million liability insurance on every rental, even for theft and damage.
And, Outdoorsy verifies each renter with a detailed DMV background check. While it's free to list your RV, Outdoorsy does take a small percentage from the reservation booking.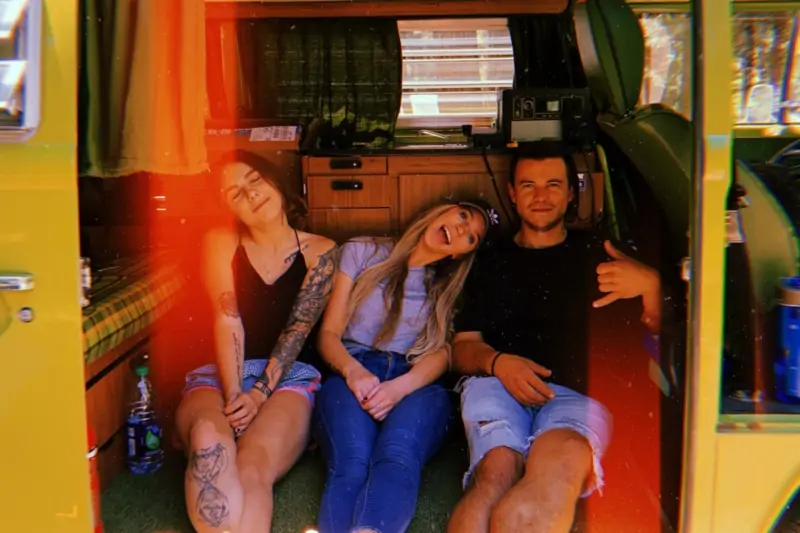 Outdoorsy is one of the most trusted RV rental sites on the market. Renting out your vehicle is a great option if you're looking to subsidize the purchase cost, pay for insurance and maintenance, or simply earn extra cash. According to Outdoorsy, you can make up to $32,000 a year just by renting your RV.
You'll also be helping other travelers fulfill their dreams by allowing them to make their own memories in your RV!
Outdoorsy Review: Conclusion
When it comes to planning the ultimate road trip, your RV or campervan can make or break your trip. There are lots of factors to consider when renting an RV, such as vehicle type, included amenities and even insurance protection.
After renting with Outdoorsy, myself, I believe they're a great option for either first-time or experienced RV and campervan drivers. They offer a wide range of vehicles and even provide comprehensive insurance in case something goes wrong on your trip.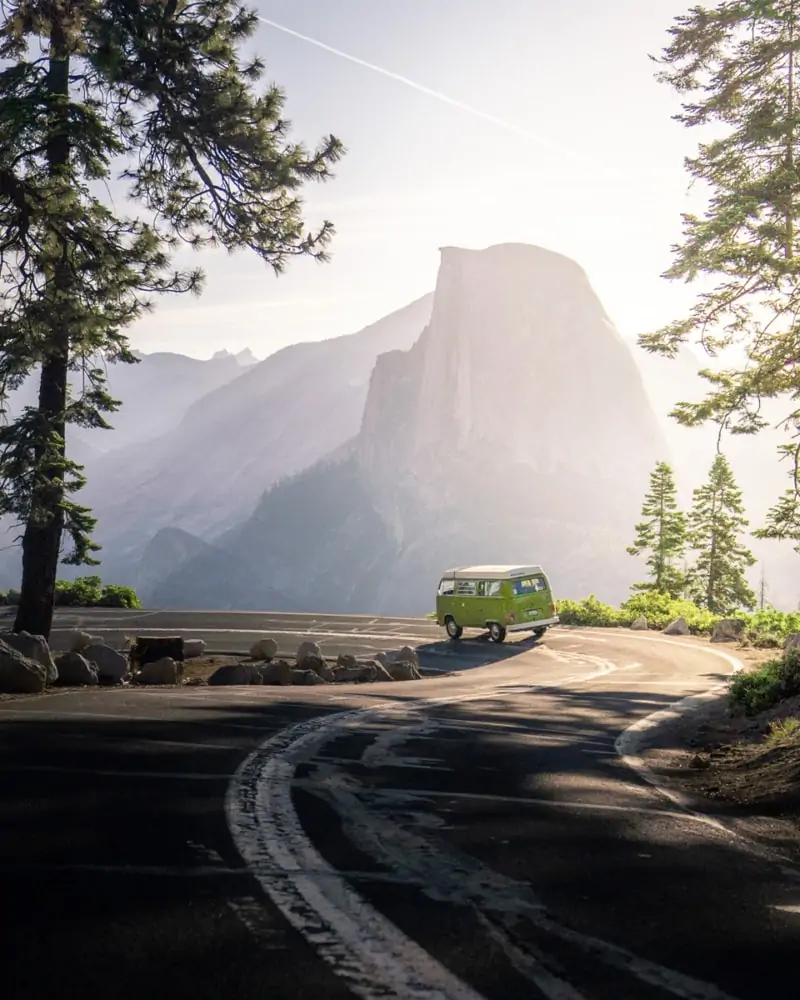 Bottom line: Outdoorsy is awesome
Likewise, RV owners also have insurance protection with Outdoorsy. Outdoorsy guarantees you DMV-checked renters, and liability and property damage protection coverage will save you if something goes awry. And, although Outdoorsy takes a percentage of your earnings, you can still make extra money with your rental.
So whether you're renting an RV in Colorado or simply spending the weekend camping under the stars, give Outdoorsy a look. You just might find your dream RV waiting for you.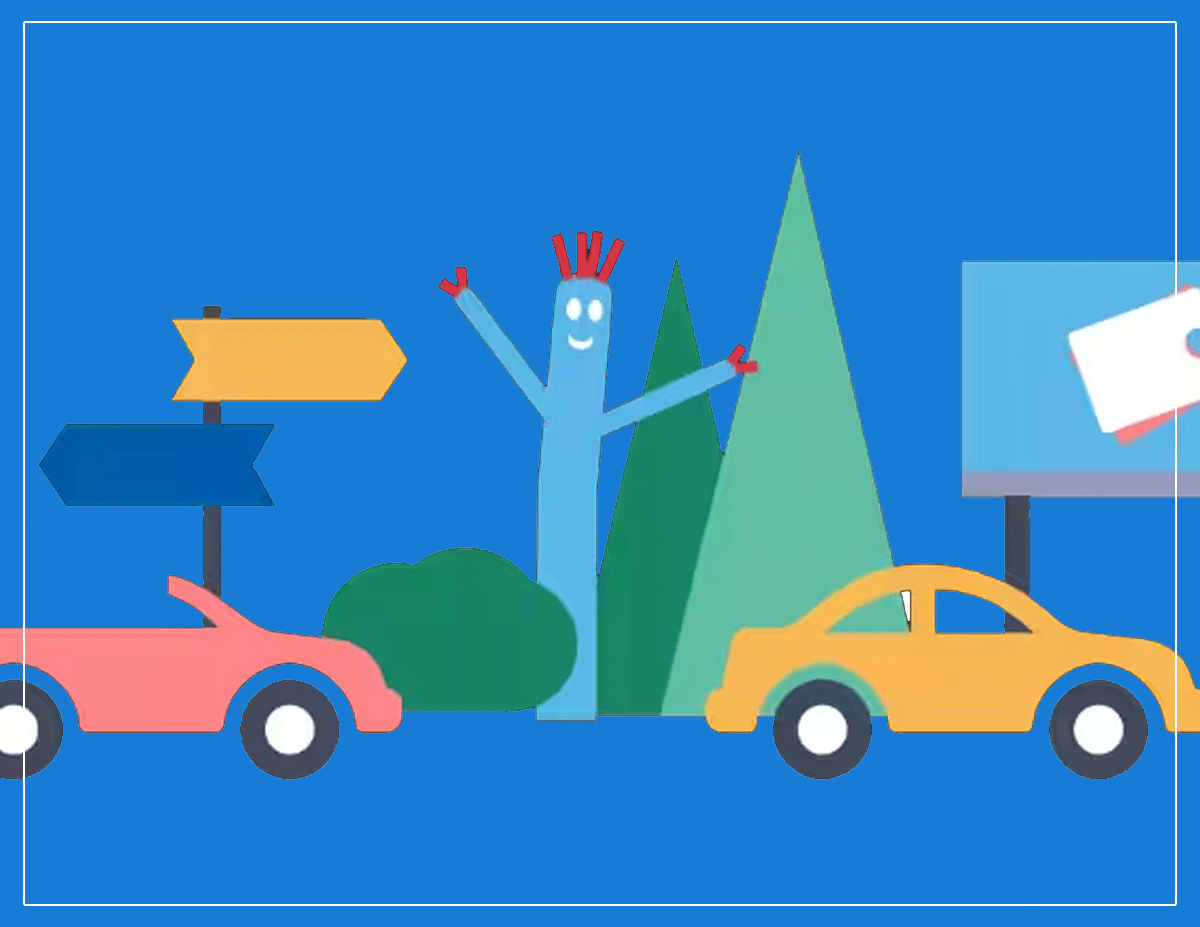 About Alamo Car Rental
Alamo is a car rental company that operates in North America, South America, Europe, Africa, and Asia. The company was founded in 1974 in Florida and has since grown to become one of the largest car rental companies in the world.
Alamo specializes in providing rental cars for leisure travelers, offering a wide range of vehicles, including economy, compact, midsize, and full-size cars, SUVs, and minivans. They also offer specialty vehicles, such as luxury cars and convertibles.
One of the unique features of Alamo is their "Self-Service Kiosks" that allow customers to skip the counter and go straight to their rental car. Customers can also choose their own car from the available options in their designated area, which is called "Choice Service".
In addition to their rental services, Alamo also offers a loyalty program called "Alamo Insiders" that provides members with discounts, free rental days, and other benefits.
Alamo is known for its competitive pricing, straightforward policies, and efficient service. The company has received several awards for customer satisfaction and is highly rated by customers for its quality of service.
Alamo Pros and Cons
Here are some pros and cons of renting a car from Alamo:
Pros:
Competitive Pricing: Alamo is known for offering competitive pricing on its car rentals, making it an affordable option for travelers on a budget.
Easy Reservation Process: Alamo's reservation process is straightforward and easy to navigate, allowing customers to book their rental cars quickly and efficiently.
Wide Range of Vehicles: Alamo offers a wide range of vehicles, including economy, compact, midsize, and full-size cars, SUVs, and minivans, as well as specialty vehicles like luxury cars and convertibles.
Convenient Locations: Alamo has rental locations in many cities and airports around the world, making it easy to pick up and drop off rental cars.
Alamo Insiders Loyalty Program: Alamo's loyalty program, Alamo Insiders, offers members discounts, free rental days, and other benefits.
Choice Service: Alamo's Choice Service allows customers to choose their own car from the available options in their designated area.
Cons:
Additional Fees: Like many car rental companies, Alamo charges additional fees for services like additional drivers, car seats, and GPS navigation.
Limited Availability of Specialty Vehicles: While Alamo offers specialty vehicles like luxury cars and convertibles, these vehicles may not be available at all rental locations.
Self-Service Kiosks may not be for everyone: While Alamo's Self-Service Kiosks are a convenient option for some customers, others may prefer the traditional counter service.
Age Restrictions: Alamo has age restrictions for renting a car, which may make it difficult for younger travelers to rent from the company.
Overall, Alamo is a well-regarded car rental company with a reputation for competitive pricing, easy reservation process, and a wide range of vehicles. However, customers should be aware of additional fees and restrictions that may apply to their rental.
What is Alamo Rent a Car?
Alamo Rent a Car is a car rental company that provides rental cars to travelers in North America, South America, Europe, Africa, and Asia. The company was founded in 1974 in Florida and has since grown to become one of the largest car rental companies in the world.
Alamo specializes in providing rental cars for leisure travelers, offering a wide range of vehicles, including economy, compact, midsize, and full-size cars, SUVs, and minivans. They also offer specialty vehicles, such as luxury cars and convertibles.
One of the unique features of Alamo is their "Self-Service Kiosks" that allow customers to skip the counter and go straight to their rental car. Customers can also choose their own car from the available options in their designated area, which is called "Choice Service".
In addition to their rental services, Alamo also offers a loyalty program called "Alamo Insiders" that provides members with discounts, free rental days, and other benefits.
Alamo is known for its competitive pricing, straightforward policies, and efficient service. The company has received several awards for customer satisfaction and is highly rated by customers for its quality of service.
How do you rent a car from Alamo?
Renting a car from Alamo is a straightforward process that can be done online or in person. Here are the steps to rent a car from Alamo:
Go to Alamo's website or mobile app, or visit one of their rental locations.
Enter your pickup and drop-off locations, dates, and times.
Choose the type of vehicle you want to rent. Alamo offers a variety of vehicles, including economy, compact, midsize, and full-size cars, SUVs, and minivans.
Select any additional services or features you want to add to your rental, such as additional drivers, GPS navigation, or car seats.
Enter your personal and payment information.
Review your reservation details and make any necessary changes.
Confirm your reservation.
If you prefer to rent a car in person, you can go to one of Alamo's rental locations and follow these steps:
Approach the rental counter and provide your reservation details or ask to make a new reservation.
Choose the type of vehicle you want to rent.
Provide your personal information and payment method.
Select any additional services or features you want to add to your rental.
Review your rental agreement and sign it.
Pay for your rental and any additional fees.
Receive the keys to your rental car and any necessary paperwork.
No matter how you choose to rent a car from Alamo, be sure to bring a valid driver's license and a credit card in your name. Also, be aware of any age restrictions or additional fees that may apply to your rental.
Alamo prices
Alamo's prices for car rentals vary depending on several factors, including the location, rental dates, type of vehicle, and any additional services or features you select. However, Alamo is known for offering competitive pricing compared to other major car rental companies.
The best way to get an accurate price quote for your rental is to visit Alamo's website or mobile app and enter your rental details. Alamo offers a "Price Match Promise" which means that they will match any lower publicly available price from a competitor, as long as the rental meets certain criteria.
Additionally, Alamo offers several ways to save on car rentals. Alamo Insiders, their loyalty program, provides members with discounts, free rental days, and other benefits. Alamo also offers discounts to government and military personnel, AAA members, and senior citizens.
Overall, Alamo's pricing is competitive and transparent, and they offer several ways for customers to save on their rentals.
Is Alamo a good company?
Yes, Alamo Rent a Car is generally considered a good company. Alamo is one of the largest car rental companies in the world and has a reputation for providing high-quality service to its customers.
One of the things that sets Alamo apart from other car rental companies is their "Self-Service Kiosks" that allow customers to skip the counter and go straight to their rental car. Customers can also choose their own car from the available options in their designated area, which is called "Choice Service". These features help to streamline the rental process and make it more efficient.
Alamo is also known for their competitive pricing and straightforward policies. They do not have hidden fees, and they offer a "Price Match Promise" to match any lower publicly available price from a competitor.
Customers have generally positive things to say about their experiences with Alamo. The company has received several awards for customer satisfaction and is highly rated by customers for its quality of service.
Overall, if you are looking for a reliable and reputable car rental company, Alamo is a good choice.
FAQs
Sure, here are some frequently asked questions about Alamo Rent a Car:
How old do I need to be to rent a car from Alamo?
In most locations, the minimum age to rent a car from Alamo is 21 years old. However, there may be additional fees or restrictions for drivers under 25.
What documents do I need to rent a car from Alamo?
You will need a valid driver's license in your name and a credit card in your name with sufficient funds to cover the rental and any additional fees. Some locations may also require additional forms of identification or proof of insurance.
Can I add additional drivers to my Alamo rental?
Yes, you can add additional drivers to your rental for an additional fee. The additional driver must meet Alamo's age and driver's license requirements.
Can I rent a car from Alamo for a one-way trip?
Yes, Alamo offers one-way rentals for an additional fee. However, availability may be limited depending on the locations involved.
What is Alamo's fuel policy?
Alamo's fuel policy varies depending on the location and rental agreement. In general, you will have the option to prepay for a full tank of gas and return the car empty, or to return the car with the same amount of gas that was in the tank at the start of the rental.
What happens if I return my Alamo rental late?
If you return your rental car late, you may be charged additional fees. The amount of the fee depends on the location and the length of the delay.
How do I cancel my Alamo reservation?
You can cancel your Alamo reservation online or by contacting Alamo customer service. The cancellation policy and fees depend on the specific rental agreement and location.
Outdoorsy Review 2022: Is It Safe and Worth It?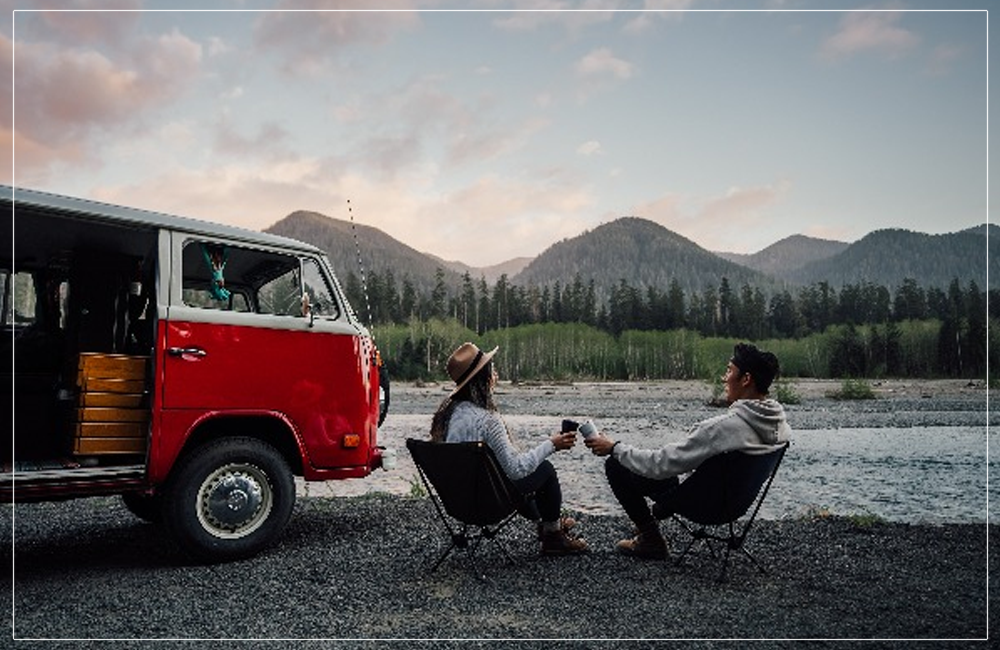 RVs are luxurious and fun alternatives to conventional vacation accommodations. Whether you want to rent an RV or list an RV you own, Outdoorsy is the ultimate platform for you. Read my full Outdoorsy review for further details.
Camping is a great way to get outside and enjoy nature, but it can be hard to find the right gear and RV rental. Outdoorsy has all of your camping needs covered with tents, backpacks, sleeping bags, stoves, camp furniture and more.
Outdoorsy's products are made with the outdoors person in mind who has a passion for exploring the great outdoors. Outdoorsy offers camping gear for people who want to go on short or long trips using Outdoorsy's products to make their outdoor experience more enjoyable.
Simply, you can't hope for a smooth transaction in this case unless both parties trust each other.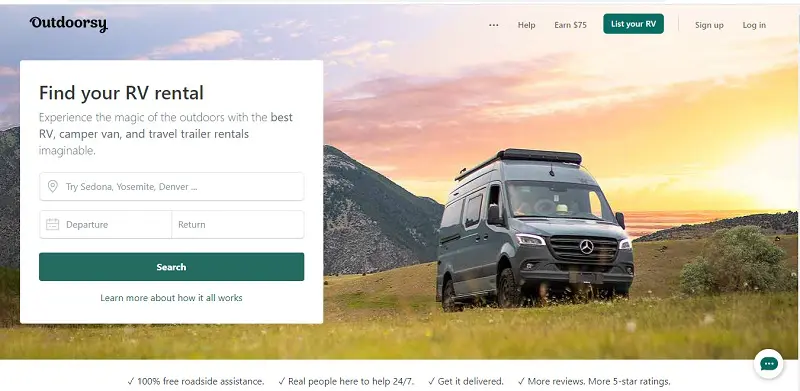 However, with the increasing demand for RVs every holiday season, many sites have popped up that connect RV renters with owners.
Initially, even I was apprehensive about these websites.
Does it conduct background checks on the renters and the vehicles?
Does it provide any security options?
What are the payment modes?
Who can I reach out to if I face a problem during operation?
So, I simply set out to assess each website based on these questions to see how they work, and without a doubt, Outdoorsy is one of the best websites for the RV rental process.
I have compiled all the essential information about the platform, from its operation, key features to the significant pros and cons in this Outdoorsy review so that you can decide, is Outdoorsy worth it or not.
What is Outdoorsy?
If you're a frequent traveler, you've probably stayed at an Airbnb before and know how it works.
Well, you can think of Outdoorsy as an Airbnb for RVs. Outdoorsy acts as an RV rental company, connecting RV owners with people that are looking for an RV rental.
RV owners who have their giant vehicles sitting around in their garage can list them and rent them out for money to renters.
Renters, on the other hand, can browse through the list of options available, look for an RV in their preferred location, and take it on rent.
Besides that, the platform provides other facilities such as communication between the owner and renter, payment gateway integration, and categorized listing to make the task easier for both parties.
Founders Jeff Cavins and Jennifer Young started working for this start-up when they saw a lack of reliable RV services in the online market for both RV rentals and RV owners.
As enthusiastic travelers in the RV lifestyle themselves, the owners targeted everything an average RV renter or owner would need from the ideal website and sought to deliver it through Outdoorsy.
Their efforts produced an instant hit, and since its advent in 2015, Outdoorsy has come a long way.
More than half a billion dollars have already been exchanged through the site between renters and owners, with a motive to unite the millions of idle RVs worldwide on a single platform.
If you're excited to get a closer look, check out the next section of my Outdoorsy review to see how it works.
How Outdoorsy Works
As I mentioned, Outdoorsy simply works by connecting an RV owner with an RV rental at a single platform and allows them to interact according to their choice.
The platform carries out all the necessary aspects such as displaying rates, advertising and setting out rules, so you don't have to worry about that when you sign up.
Furthermore, the website has a different working process for renters and owners.
I have explained each aspect here to give you a clear representation.
How Does Outdoorsy Work for RV Rental
If you want to rent an RV for your next vacation, the first thing you'll have to do is sign-up on Outdoorsy as an RV renter.
After that, you can choose from the list of RVs available on the site and contact the owner.

Outdoorsy has multiple categories of RVs to choose from. These include,
Class A, B, and C RVs
Camper Vans
Fifth Wheels
Trailers
Non-Mobile campers
Park RVs
Pop-Ups
Towing Vehicles
Besides the type of RV you need, you can also specify the location that fits your needs as well as your desired rental period.
Using the search bar on their homepage, you can type in your area and get a vast list of options within seconds.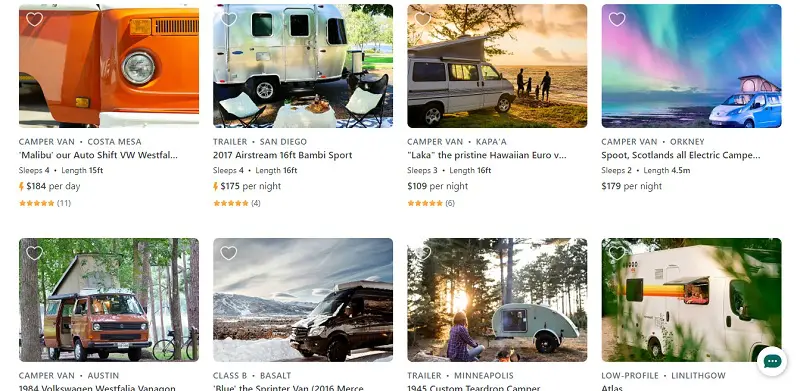 Furthermore, you can use its map feature to pinpoint your target area, and the site will search for available RVs in the area.
Similarly, Outdoorsy provides various filters to customize your search, so you don't have to go through a list of irrelevant options.
For example, if you're looking for a cheap RV rental with good reviews, you can set your filter to type B RVs in the $50-$100 range with no less than 4-star reviews.
Now that you have found the RV rental you were looking for, you can book the RV through the site.
Set the required dates for your trip, and the calculator will show you the exact cost adding service and insurance fees.
If you're okay with the price, just click 'Reserve' to book the RV. If the owner approves your request, you'll have to pay a security deposit and confirm your booking.
The best part is, you don't have to pay for scrounging through lists and reserving the RVs you like.
You only pay when you confirm your booking for an RV you want.
Alternatively, the Outdoorsy platform makes it incredibly easy in the booking process as certain RV owners allow for an instant booking option so you can have 100% certainty that you are locked in for your trip at the onset.
Choose your cancellation policy
There are three choices: flexible, moderate, and strict.
The flexible cancellation policy allows RV renters who book seven days or more before their trip may get a full refund if they cancel up to seven days beforehand.
The Moderate cancellation policy offers 75% of payments to customers within 14 days after bookings and 50% after.
A strict policy allows for a 50% refund up to two weeks before the deadline.
Remember to balance these cancellation policies against your outdoor travel plans or your considerations as an RV owner as a cancellation will affect your ability to find new RV tenants or the ability for you to book an RV rental on very short notice.
You don't want to scare potential RV rentals away as that can severely impact your RV business if you plan is to earn an extra income as an RV owner.
Communicating with the owner
With the RV owner from whom you rent, Outdoorsy makes communication a breeze. It will be as quick as texting if they've created a mobile app. You may choose to convey and receive messages at any moment of day or night. The owner was kind and pleasant, and he or she answered all of my inquiries.
I was skeptical at first because I've never met someone who's made his own house with that level of detail before. His attention to little details was incredible, especially the detailed instructions for the shower door.
He even informed us about some great attractions around the national parks that we were going to visit.
Pick up your RV rental
You may discover details about your rental pickup on this website. If there aren't any designated pick-up times, contact Outdoorsy chat to figure out which time works best for you and/or the owner.
The owner will generally allow you to walk around your car and conduct a damage inspection. You'll also go through the rental agreement and a walk-around of the RV, inspecting for any damages.
Don't forget to double-check any optional extras and overage expenses, such as cleaning charges, equipment rentals, and surcharge fees. When the RV owner hands you the keys, they're eager to go on an adventure!
How Does Outdoorsy Work for RV Owners?
Now that you know how to rent an RV from someone else to use during your weekend getaway or vacation, it's time to talk about the other end of the transaction.

If you own an RV sitting idle in your garage, you can earn around $1000 per month in rental income through Outdoorsy.
To get started, the first thing you'll have to do is list your RV on Outdoorsy. The process is relatively easy; you will see the 'List Your RV' option on the site's front page.
After you click on it, you will be directed to a page where you can fill out all the details about your rig. The platform will ask you basic information like the model, vehicle type, manufacturer, and amenities.
Additionally, you can add a catchy name for your rig and add some attractive photos to reel potential renters in.
Also, you can specify the price range yourself and create a renting schedule so that your renters have all the necessary information at a glance.
For those wondering, is Outdoorsy worth it to list?
It all depends on the time and effort you put in. Ensure you communicate effectively with potential renters and maintain your rig correctly to generate a steady monthly income.
How to Sign-Up for Outdoorsy
What I love about Outdoorsy is its clean and user-intuitive interface. You'll see the sign-up process on the front page if you're planning to rent out your RV.
If you're an owner, there's a straightforward option at the top right that directs you to the listing page.
Here, you can register yourself as an owner in your Outdoorsy account and list your RV for display on the site.
Despite that, if you have problems during operation, you can always refer to the comprehensive help center on the site or contact their customer service team for prompt answers to your queries.
Pros of Outdoorsy
Now that I have mapped out all the necessary information about the platform in this Outdoorsy review, you probably know whether this site is for you or not.
If you are ready to sign-up as an owner or renter, you should check out these benefits of Outdoorsy to see if you're making the right choice.
A Plethora of RV Rental Options
Unlike other RV websites that operate within the US, Outdoorsy works in more than 14 countries worldwide so you can embark on your dream RV rental or map out your next RV adventures with no limits on where you can go.
This means it offers millions of RVs for you to choose from at any destination you like.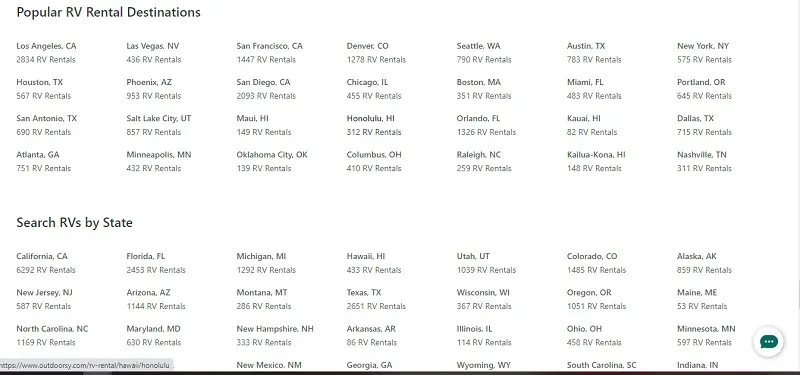 As an owner, you can list your RV wherever you live and find suitable renters for your rig.
Impeccable Customer Support
With Outdoorsy, you get impeccable customer support at any time you need it.
You can reach them through email if you have trouble operating the site or call them directly in case of technical emergencies.
Comprehensive Insurance Policy
Staunch, industry-leading insurance protection backs all of the rental options listed on Outdoorsy. Not only that this insurance coverage is backed by Liberty Mutual, a reputable, bankable insurance provider for recreational vehicles.
This way, you can enjoy your vacation concern-free with your insurance coverage or if you are renting your RV, you'll have peace of mind with everything is taken care of.
Amazing Outdoorsy Reviews
If you have searched for Outdoorsy reviews online, you probably know that the platform has excellent ratings on most platforms.
Better Business Bureau gives it an A+ rating, while 91% of the users on Trustpilot approve of the peer-to-peer marketplace.
Cons of Outdoorsy
Although the benefits of Outdoorsy are pretty attractive, I have included some drawbacks in my Outdoorsy review to give you a clear representation.
No Verification
Unlike platforms like RVShare, Outdoorsy does not verify the condition of the RVs listed on the website.
This means renters have to gauge the quality based on the pictures and interactions with the owners.
High Commission
The website keeps more than 20-25% of the rent as a booking fee, which significantly cuts down the owner's income to make extra money from renting an RV.
Extra Charges for Renters
For renters, extra rental fees can add up quickly and almost double the basic rental amount, such as things like the uncertainty of getting your security deposit back, cleaning fees, platform costs, etc.
Key Features
In this detailed section of my Outdoorsy review, I have described the key features to give you further insight.
Outdoorsy Fee Structure
Outdoorsy charges a commission from both owners and renters as a service fee. As a renter, you will have to pay around 5%-20% of your total reservation fee.
Besides that, extra costs will also add up for renters, including pet fees, late fees, and extra fuel and mileage fees.
As an owner, you will have to pay around 20%-25% of your total rental amount.
This means when the renter pays your due amount, you will only get 75%-80% while the website keeps the rest.
Outdoorsy Insurance and Free Roadside Assistance
The insurance and roadside assistance services are the most appealing features of Outdoorsy.
Its insurance policy includes three well-defined packages: the 'Risk Taker,' 'Essential,' and 'Peace of Mind' plans.
The lowest level gives you around $15,000 for damage protection, while the highest level provides up to $500,000 for property damage and a staggering 1 million for liability insurance.
For renters, the website provides 24/7 free roadside assistance. If you face emergencies like flat tires, dead batteries, or get locked out, you can simply reach out to the platform and get help.
Insurance protection is one of the most important considerations in renting an RV.
These RVs, truck campers, and travel trailers are expensive, so both the RV owner and the RV renter want to sleep well at night knowing that they are properly covered.
Resources and Customer Service
Whether you're an owner or renter, if you have trouble operating the website or while interacting with peers on the platform, you can consult their help center.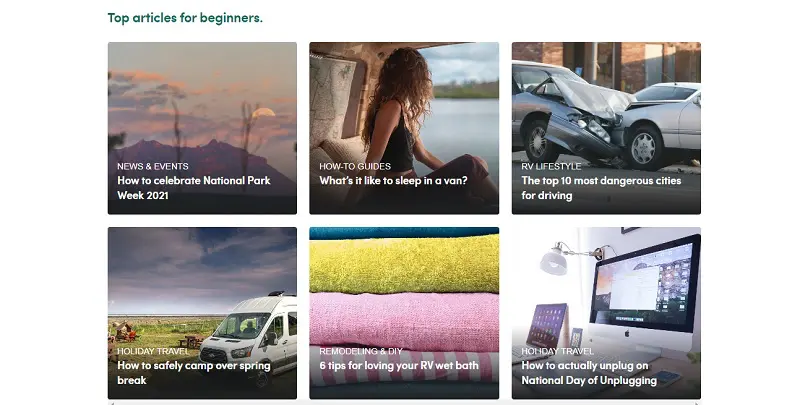 The page has neatly organized answers to all your queries so you can complete your work in no time.
Similarly, you can reach out to their team through live chat, email, or call them directly in case of an emergency.
Overall Rating
Ease of Use – 5 / 5
Features – 4 / 5
Value for Money – 3 / 5
Customer Service – 5 / 5
Is Outdoorsy Legit?
Outdoorsy is a legit option for RV owners looking for a steady income and renters looking for cheap and safe RVs.
This RV booking website is easy to use and provides insurance and security options, which makes up for the high service fee they charge.
However, you should conduct complete due diligence from your side regarding the vehicle or the renter to ensure peace of mind.
Can you get scammed on Outdoorsy?
Outdoorsy has a blog post from last year that explains their data policy in detail. In a nutshell, Outdoorsy does not collect personally identifiable information, such as name, email address, or phone number, from users or guests. Because they have no way of knowing who you are, fraudsters can't exploit this to any great extent.
With this method, owners are removed from the market by obstructing access to their listings through Outdoorsy's "dispute" process. You must agree not to enter into any outside arrangements as a result of this procedure.
So, at the end of the day ensure you use your payment details directly on the Outdoors platform. They act as a third-party company between the RV owner and the RV rental.
Outdoorsy RV rentals should always interact with each other on the platform. Never pay cash to an RV owner if this person demands it from you.
RTIC Cooler Review – A Comprehensive Look and Comparison vs YETI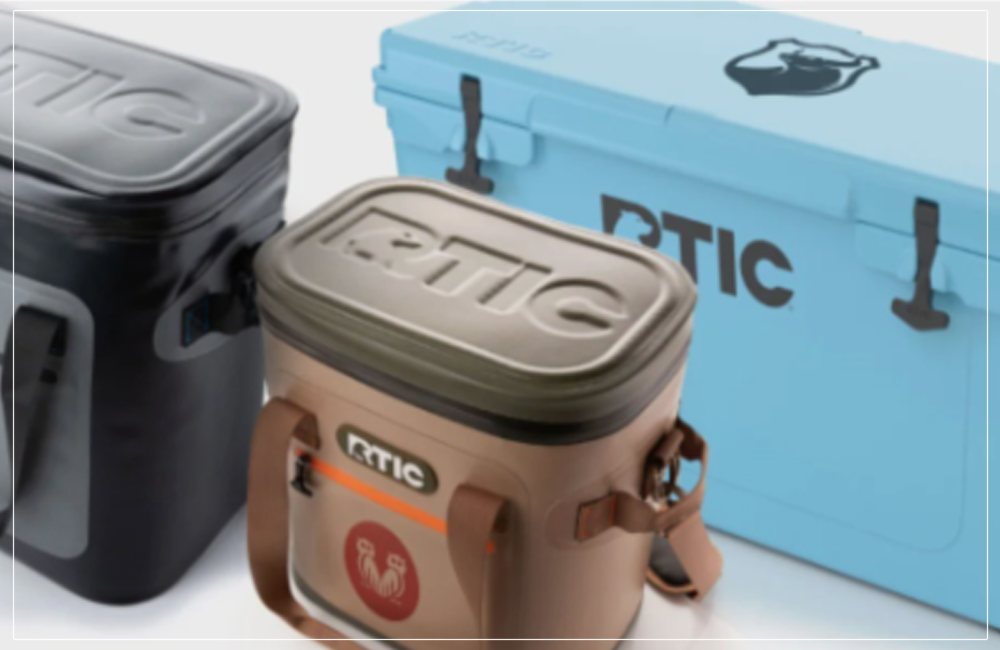 Welcome to our very own RTIC cooler review!
If you are a hiker, camper or outdoorsman who just needs a cooler that can handle your extended trips, the last thing you want to worry about when you are in the woods is your food supply going bad because of a faulty cooler.
While there are options out there, what you really need is something durable and well-constructed that can retain ice for long periods of time.
Sure, the names that you are used to are companies like Yeti, Orca, or Pelican coolers, BUT they do come with a price tag.
In this RTIC cooler review, we'll discuss in detail their claim of being "Half the price of Yeti and holds more ice."
With their strategic and aggressive advertising at rticcoolers.com (and in media), there's a good chance you have already heard of them. Now, before you make a decision there are some things you need to know.
RTIC Coolers Lineup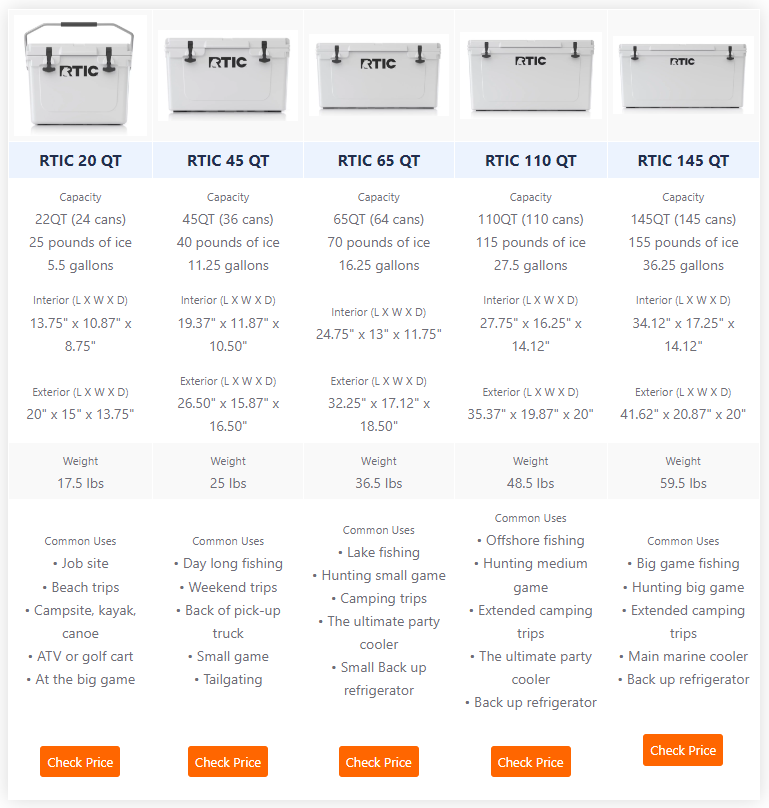 RTIC Cooler Review – A Comprehensive Look
There are many great qualities and features that come with the line of RTIC coolers. Here is anything and everything you will need to know before making your next buying decision.
RTIC Coolers Out Of The Box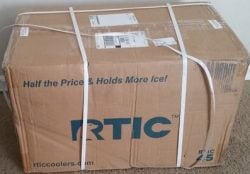 The RTIC cooler is literally ready right out of the box. Once you open the box it is shipped in, you will find it in a plastic bag that covers it completely.
This is probably done so to help prevent scratches, but you'll find it to be durable enough to withstand the shipping transport.
It is fully assembled with the T latches, rope handles and feet. This truly makes it ready to go once you open the box.
It can go directly from the box to your vehicle or anywhere else. No assembly required. Nice.
The RTIC Ice Chest Build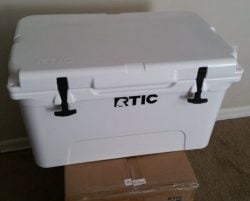 There's a term that you may have heard of when you read up on high-quality coolers – Roto Molding.
It's a method of molding that ensures the highest quality and one-piece cut. When it comes to high performing coolers, this is a must.
With an RTIC ice chest, you'll find this process in their cooler creation. It calls for an exact cut and thickness within the wall, as well as all around the cooler which produces no imperfections.
You may be wondering, what's the big deal?
Here it is. From the practical standpoint, this method of molding provides two levels of quality and protection which means: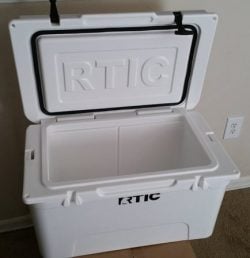 Maximizing the amount of ice retention time on the inside
Ability to withstand heavy abuse on the outside
With a variety of sizes to choose from, you'll be able to provide an option for the individual weekend warrior or even larger groups going on a camping trip.
But just how long will the ice last?
Glad you asked.
Insulation Quality
With the roto-molded walls, you'll find two-inch-thick polyurethane foam insulation, with lids up to three inches thick. This is on par with YETI and the other coolers like it.
The cool lift design will keep your cooler above hot surfaces giving you the best possible ice retention time.
Okay, so this is probably what you wanted to know, right?
How long will RTIC coolers hold ice?
According to their website, you can expect ice retention times of up to 10 days.
So, are we talking about a portable freezer, able to keep the food ice cold for 10 days or so? In the ideal world, yes, that would be possible. The cooler itself is capable of that.
However, in the real world, the ability to keep ice for X days really does depend on a multitude of factors. Was the cooler pre-chilled? Was it kept in the shadow? Was the lid opened only when really needed?
Finally, what kind of ice was used, just ice cubes? Or maybe it was block ice, combined with crushed ice? Or dry ice?
You see, it really does depend on these and other factors, and RTIC is no exception here.
Typically, however, a good rotomolded cooler – and the RTIC is obviously such – with over 2-inch insulation, good quality gaskets and tight latches, should keep the ice at least for 4-5 days. The bigger the size of the cooler, the more room for the ice, and the longer ice retention times.
Therefore, a 25-quart ice chest won't keep ice as long as the 100-quart one. Keep this in mind.
Week-long ice retention is very much possible if you apply some of the tips listed here.
The conclusion here is that you should keep the RTIC's 10-day ice retention promise with a grain of salt. Yes, it is possible. But you need to prepare yourself and your cooler for this. That also includes packing food appropriately, and using the optimal ice-to-contents ratio.
Realistically, it's best to assume the RTIC will perform well anywhere between 4 to 6 days, depending on the factors we've just mentioned.
RTIC Ice Chests – Available Sizes
When it comes to RTIC coolers you'll be able to find one for every occasion.
RTIC 20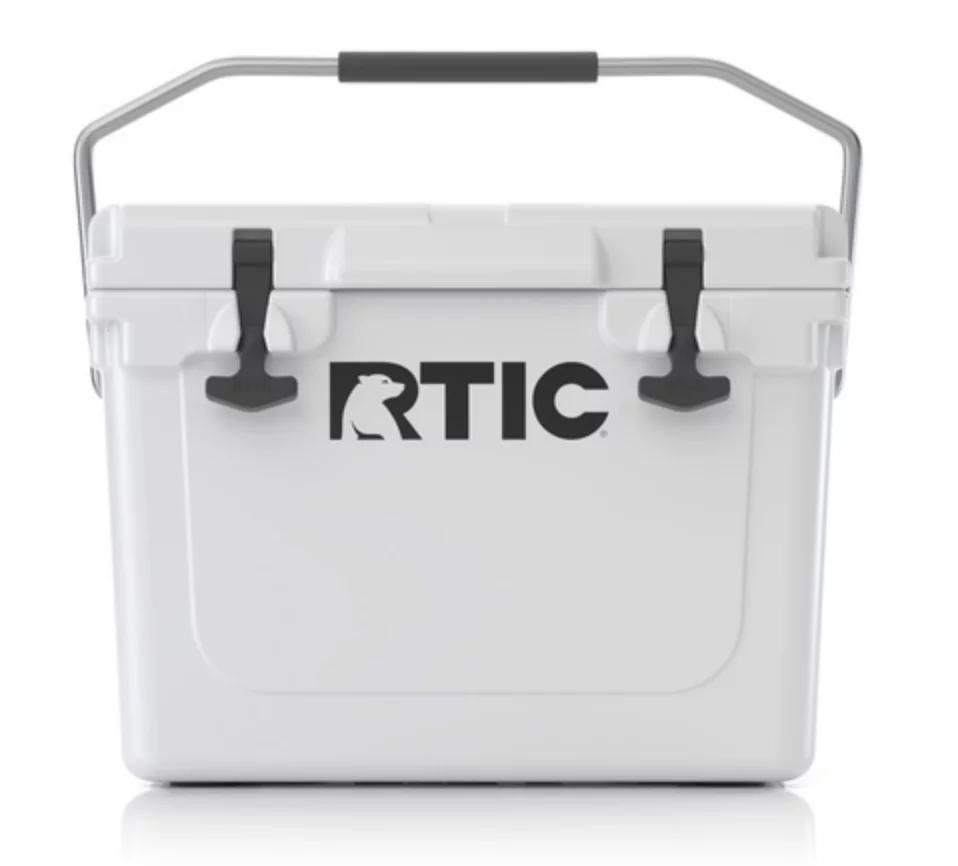 On the smaller side is the RTIC 20. This is perfect for the individual or just a few people who may need drinks and food kept cold for a short trip. It's a direct competitor to the more expensive YETI's Roadie cooler.
The RTIC 20 weighs in at 17.5 pounds and comes in at an outer measurement of 17 ¾" x 11 ¼" on the bottom side of the cooler and 20" x 13 ¾" on the top side of the cooler. It stands at 15" and will fit comfortably in your back seat.
It can hold 24 cans or 25 pounds of ice. In pure liquid form, you will have ample room for 22 quarts or 5 and a half gallons.
RTIC 45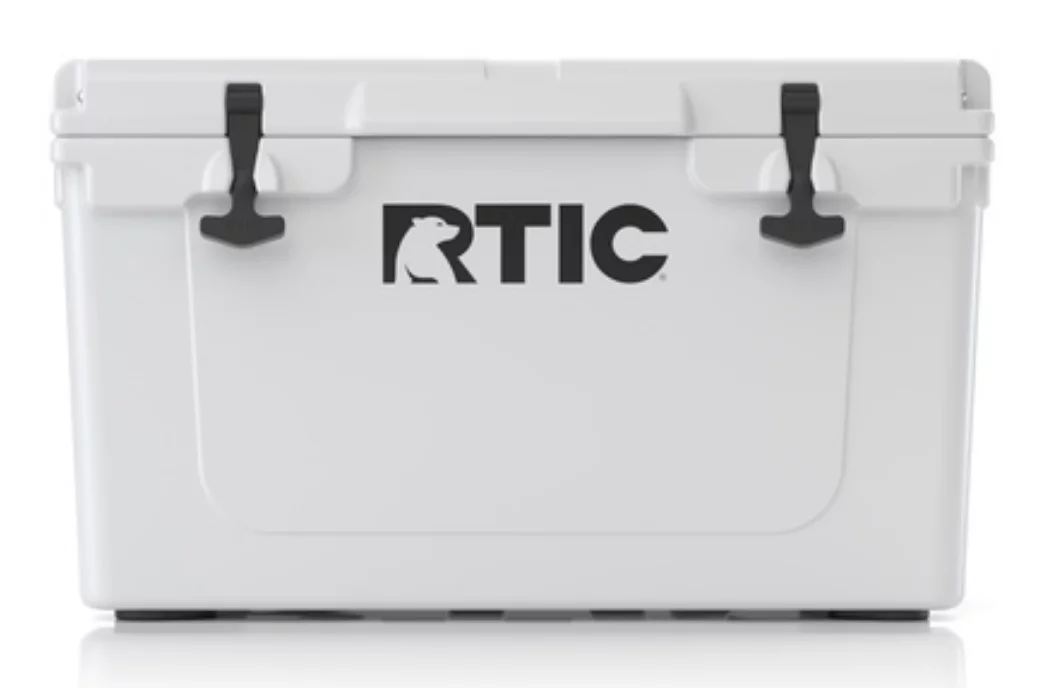 A step up from the RTIC 20 is the nicely built mid-size RTIC 45.
Not only will this cooler be able to store food and drinks, but it will be perfect for hunting and camping, especially for smaller game.
The RTIC 45 weighs in at 25 pounds and comes in at an outer measurement of 25 ¼" x 13 ¾" on the bottom side of the cooler and 26 ½" x 16 ½" on the top side of the cooler. It stands just a shade under 16" and will fit comfortably in the back of your pickup truck or tailgate.
This cooler can hold a case and half of cans (36) or 40 pounds of ice. You can also fill it with 45 quarts or 11.25 gallons of liquid.
RTIC 65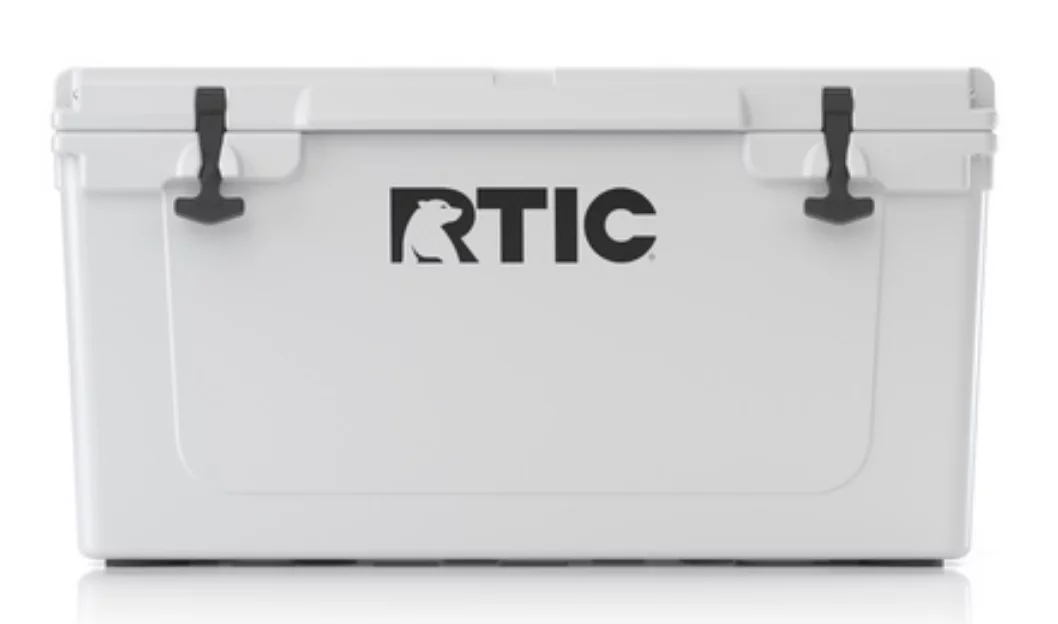 The beauty of the RTIC 65 is that it can accommodate a large group of people, yet it can be handled and picked up by one person. However, having two people carry it may be a safer bet.
The RTIC 65 weighs in at 36.5 pounds and comes in at an outer measurement of 30 5/8" x 15 ½" on the bottom side of the cooler and 32 ¼" x 18 ½" on the top side of the cooler. It stands at 17 1/8" and is perfect as a party cooler, on rafting trips and functions well if you are hunting bigger game.
It can hold several cases of cans (64) cans or a whopping 70 pounds of ice. If you are filling it with liquid, you'll find that you can easily fill it with 65 quarts or 16.25 gallons.
RTIC 110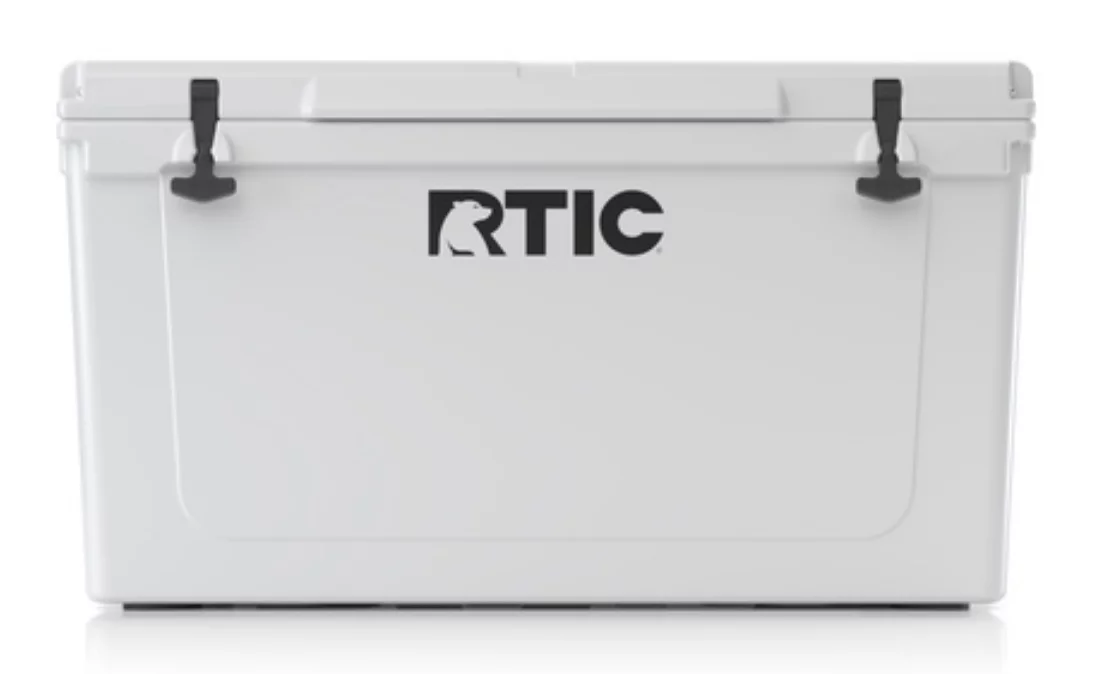 The RTIC's 110-quart cooler has been introduced a bit later than the first three sizes we talked about.
RTIC has listened to the customer feedback and finally made a decision to introduce two large sizes coolers, one of them being the 110-qt cooler.
The RTIC 110 weighs in at 48.5 pounds and on the outside, it measures 33 7/8" x 17 1/8″ on the bottom side, and 35 3/8″ x 20″ on the top side. With a height of nearly 20″, it's high enough to comfortably use it as a bench on the boat.
The best thing is that it's capable of holding way more contents inside. When measured with how many cans fit inside, the answer is 110 cans. If you fill it with the ice only, it's going to take 115 lb of it.
The 110-quart capacity translates to 12.5 gallons of the water.
RTIC 145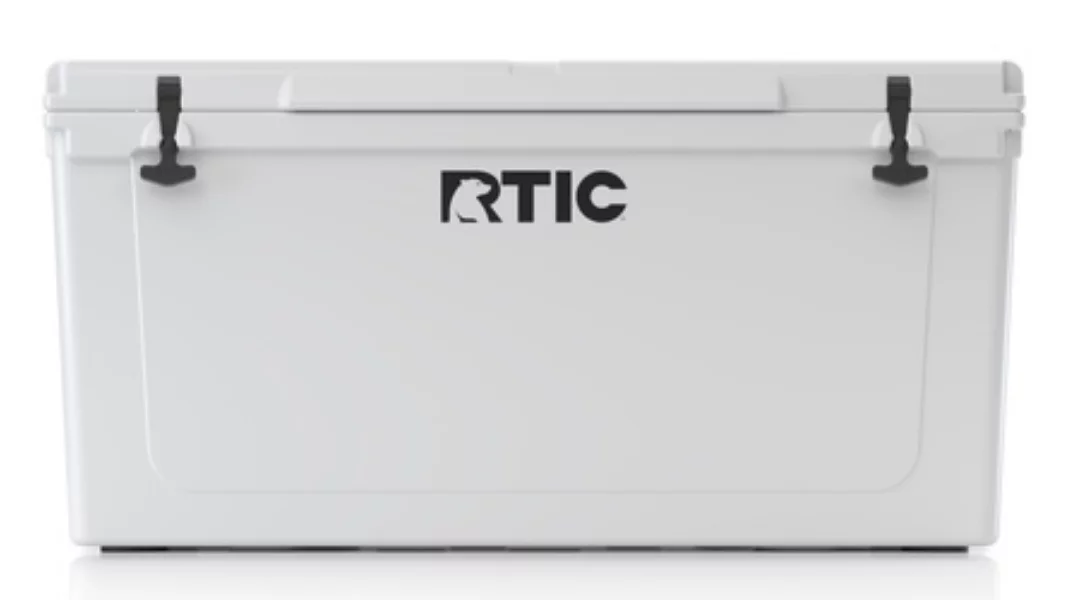 With the RTIC 145, one would say "now we're talking!". Indeed, the RTIC's decision to bring the 145 quart cooler on the market means something. Until some time ago, the only way to go was to either buy a large YETI or stick to then-largest 65-quart RTIC. Now, however, there's this one.
Measuring respectable 40 1/8″ x 17 1/8″ on the bottom, and 41 5/8″ x 20″ on the top side, this ice chest will be suitable for those who hunt for a big game. Still, it's not as large as the largest YETIs, but this size is a sweet spot for many.
Bigger size comes with a heavier body though. It weighs 59.5 pounds when empty. You can fill this baby with either 145 cans of beer, or 155 lb of ice. The 145 quarts means that you'd be able to put as much as 36.5 gallons of water inside (if you want to).
Available Colors
The RTIC coolers now come in three colors: white, tan, blue, seafoam green, grey and pink. The latter, however, is an option when you choose the smallest 20-quart cooler.
You can see all the available color options put next to each other at RTIC's official store here.
Key Features
There are many different features that make RTIC coolers attractive for the prospective cooler buyer.
An RTIC Cooler Review would be incomplete without speaking about some key features. We'll dive in a little deeper here starting from top to bottom.
T Latches

If latches break or aren't very user-friendly, then it renders the cooler ineffective. Instead of skimping on the latches, the RTIC cooler ensures that you are cared for. The

T Latches lock into place and stay in place to handle different conditions that it may be exposed to.

The "T" design stays put in the body of the cooler and makes it easier to grip and handle (no pun intended) when it comes time for you to grasp it when you want to open up the cooler.

The durable silicone it is made out of ensures that they won't corrode over time and heavy use.

Freezer Grade Gasket

It's useless how great your cooler is if it can't keep the cold air in and hot air out.

Around the lid of the cooler you will find a freezer grade gasket measuring ¼ inch wide and ¼ inch thick, that not only seals off the cooler to keep contents colder for longer periods of time but also prevents leakage.

A Handle You Can Handle

Small sections on the edge of a lid won't do if you have a vacuum-sealed cooler. In fact, it can get extremely difficult to open if there isn't much room for you to work with.

The edge of the lid of the RTIC cooler extends ½" past the edge of the cooler, ensuring that you have more than enough room to grasp and open.

While the T Latches keep the lid in place and make it easier to "unlock" the lid, the extended easy lift handle makes sure that you are using the lid to open it up and not the latches, which can be seen amongst some other coolers.

Molded Tie Down Slots

If you will be venturing off-road or anywhere that will cause your cooler to bounce around, then you will really enjoy the molded tie-down slots.

These sections on the side of the cooler make it a breeze to secure your trailer to your transportation – be it a truck bed or even a boat.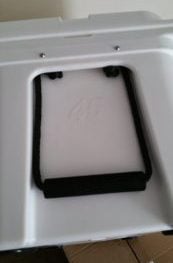 Carrying Handles

You get to choose how you want to carry your RTIC cooler as you will find two types of handles.

One set is a molded-in style, while the other is a rope handle. Depending on how heavy your cooler is, you can decide how you want to carry it by using one of these two handles.

Hinge System

A full-length hinge system ensures that the lids of the RTIC cooler don't overextend or separate from the rest of the body of the cooler.

The strength of this system cannot be overstated, as a lid that gets separated from the rest of the cooler is not really one that you want to be depending on. This is especially the case if you are gone on an extended trip.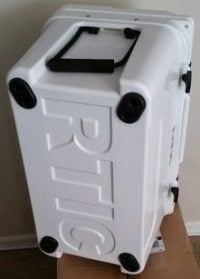 Non-Slip Lid & Locking System

For those outdoorsmen that may need to use a cooler as a platform to stand on, they will find the non-slip surface of the RTIC cooler to be ideal.

Add in a locking system and you have just added in another layer of security to not only keep everything in your cooler secure, but also to help keep the lid in place should you need it to do so.

Commercial Grade Insulation

As mentioned earlier, the 2" to 3" thickness you'll find around the cooler will keep frozen ice for up to 10 days (but as we said, take it with a grain of salt, and think of 4-6 days unless you prepare the cooler and its contents to perform better than that)

While the freezer-grade gasket will seal it off to allow your RTIC cooler to function as a portable freezer.

Dry Ice Compatibility

Another feature that you may find attractive is the compatibility of the RTIC ice chest with dry ice.

Should your needs call for dry ice, you'll be happy to know that RTIC coolers will allow you to use just that. In fact, in our recent post, we recently picked RTIC as one of the best dry ice cooler.

Draining System

At the end of the day, you'll need to clean and drain your cooler.

This can become a problem if it doesn't drain properly, but RTIC has already taken care of this for you. This two-step system calls in the easy flow drain to make quick-draining possible, as well as a rapid V drain which will allow for complete draining with a recessed V-Drain.

Cooling Feet

Specially designed feet keep the cooler off of the ground AND off of hot surfaces, to give the RTIC cooler the best possible chance to stay as cool as possible, even in the hottest conditions.

Bear Resistant

As is the case with many coolers, RTIC coolers have done their best to join the "bear-proof coolers club", making their coolers ready to protect bears from accidentally eating contents and the actual coolers themselves. The special roto molded design helps to make sure of that.
Who Is The RTIC Cooler For?
The RTIC 20 is ideal as a personal cooler. If you are working at a job site or just off golfing with a few friends, then this will be perfect for you.
It will also function well for a weekend trip or if you plan on camping by yourself or with another person.
The RTIC 45, as big as it is can still be carried by one person.
This mid-size cooler is ideal for a fishing trip, if you are camping or even tailgating at the next big game. Speaking of game, this cooler also functions well should you decide to hunt small game and need to store it.
The RTIC 65, as large as it is can also be carried and handled by one person, though you may want to get an extra hand.
This cooler will be an excellent mid-sized marine cooler, will work great on a hunting trip or even for longer camping trips. You can use it potentially as a backup refrigerator, for parties or even when hunting.
However, when you're hunting for a big game, or have a large boat, then 65-quart cooler may not be enough.
RTIC did realize that that, and so they introduced two bigger ice chests to their line-up: the RTIC 110, and the RTIC 145.
The latter two are pretty big for sure. That said, they come nowhere close the YETI which – aside of the similarly sized 125-qt and 160-qt ice chests, also offers three even bigger coolers: 210, 250 and 350 quarts.
To conclude this part, with 5 cooler sizes available as of early 2020, clearly, the RTIC's strategy is to target only the most popular cooler sizes, whereas the YETI is big enough to offer even more sizes, filling the gaps in between and also addressing some smaller niches.
RTIC Reviews – What Are Actual Users Saying?
This is where we get down to the nitty-gritty to see what actual users are saying.
One user shared that they liked the build and ice retention time of the RTIC cooler. The user mentioned still having ice after 14 days, which goes well beyond the manufacturer's claim.
The user also mentioned using the cooler as a step stool which spoke to the non-slip lid.
A user commented that they liked the build of the cooler and that they seemed to be well made, but the one thing that they didn't like was that the warranty(updated: it's 1 year now for ice chests and soft coolers, and 90 days for the day coolers and the RTIC drinkware)
While that may sound like a short amount of time (e.g. YETI gives 3 years), the one thing that needs to be factored in is the tremendous cost savings that come into play as opposed to some similar coolers on the market.
Another user mentioned still having ice in the RTIC 45 after four days and was pleased with the product.
However, the user did mention seeing some others comment on the drain plug not being insulated and provided a solution which was to place a wine cork in it as a perfect fit and fix.
RTIC vs. Yeti Coolers – Which One Is Better?
Choosing between RTIC vs Yeti isn't easy, as both brands have a lot to offer, so before you make a decision it's worth to compare both choices.
We'll announce our winner in a second, but before we say which one would be our choice, let's briefly compare both ice chest lines. Here we go.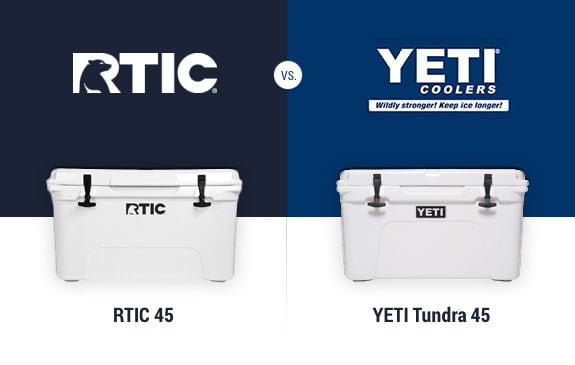 Real Space
Here's a look at what you can expect as far as actual "usable space." These are directly from the manufacturer's site.
Because the YETI has significantly more sizes to choose from, we only picked up the sizes that match RTIC's offering. And so:
RTIC 20 vs Yeti Roadie

The RTIC 20 can hold 24 cans or 25 pounds of ice, while the Roadie can hold 16 cans or 20 pounds of ice. It's 22 qt vs 20.8 qt.

RTIC 45 vs Yeti Tundra 45

The RTIC 45 can hold 36 cans or 40 pounds of ice, while the Tundra 45 can hold 28 cans or 34 pounds of ice. It's 45 qt vs 37.6 qt.

RTIC 65 vs Yeti Tundra 65

The RTIC 65 can hold 64 cans or 70 pounds of ice, while the Tundra 65 can hold 42 cans or 52 pounds of ice. It's 65 qt vs 57.2 quarts.

RTIC 110 vs Yeti Tundra 110

The RTIC 110 can hold 110 cans or 115 pounds of ice, compared to Tundra's 74 cans or 90 pounds of ice, respectively. As a note, RTIC is much heavier, at 48.5 lbs, while Tundra 110 weighs 39 lbs.
Yeti vs RTIC Coolers – Ice Retention
When it comes to Yeti vs RTIC ice retention, the numbers can be all over the place. For one thing, conditions matter as well as how the individual using it will matter.
For instance, taking a cooler on a camping trip in the hot sun will affect the ice retention time, as well as how the individual packed the contents, in addition to how often it is opened up. We covered this earlier in this post.
There is a big difference as far as ice retention times between a cooler staying shut and only being opened once a day, as opposed to being opened several times throughout the day. Again, there are many things that factor in to the actual Yeti vs RTIC ice retention times.
The numbers you will see online from past users will also vary, as some have reported several days of frozen ice, with others reporting up to two weeks with frozen ice.
According to the YETI website, they make no claims of how long ice retention times will last, also citing the conditions and user as variables on time. We did check it, however, at number of occasions. If you read our YETI Tundra review or a wheeled YETI Haul review, you'll get a better understanding on how these coolers perform.
On the other hand, RTIC claims on their website, ice retention times of up to 10 days. It's worth noting that the user above mentioned it exceeding that time!
While the numbers may vary from cooler to cooler, condition to condition and person to person, what you can expect is at least a few days of ice, as long as you are not careless in the use of the cooler.
When it comes to ice retention times, we think it's a tie. Both coolers perform as good.
RTIC Coolers vs Yeti – And The Winner Is…
When you look at the two coolers side by side, they are very similar when it comes to the build quality, and design. They are very near to each other.
When it comes to big purchases like this one, many often will choose the premium name brand over the rest.
If you tend to gravitate towards a premium name brand and can afford the costs, then you may lean more towards the Yeti line up.
However, if you are looking at this from a different standpoint, one where cost and pure value for your money comes into play, then we would recommend the RTIC.
Again, please keep in mind that the reason we are saying this is from a purely cost-based point of view, but in our opinion, this is precisely what makes RTIC a winner in our RTIC coolers vs Yeti coolers battle.
Where To Buy RTIC Coolers?
According to the RTIC website, they are a direct-to-consumer brand which means you won't see their products in any stores or at any dealers.
To get your hands on an RTIC cooler you can order it directly from their website.
RTIC Cooler Accessories
When you purchase a cooler, that's pretty much it, right?
Not with RTIC coolers. There are several accessories available that can transform your RTIC cooler into much more.
For example, say that you are going on a hunting trip and need to store some of your catch in the cooler, but still want to store some of your food and beverages.
It's probably not the best idea to have your sodas and sandwich meat mixed in with some freshly caught salmon, which is when you'll need a divider.
The RTIC 45 and RTIC 65 offer dividers to help turn your cooler essentially into two. You'll be able safely to separate your catch from your food supply.
If you'd rather suspend items when it comes to separation, you can also pick up baskets that come in the sizes mentioned above as well.
Need an extra drain plug or found that one of the feet went missing on your cooler? No problem, you can get extras here as well.
Oh, and did we mention we recently posted the RTIC koozie review, which can be a nice addition to the ice chest (although it's not an accessory per se, but a standalone product).
The beauty of this is that you aren't just bound to RTIC branded accessories. You can also check out some third-party sites that offer other add-ons and accessories for the RTIC cooler line.
RTIC Cooler Review – The Bottom Line
When it comes to quality, build, size and ice retention times, the RTIC brand of coolers matches up extremely well with other similar coolers on the market. Where it differentiates itself is in price.
We hope that this genuine, first-hand RTIC Cooler review has shown you everything you need to know before you make your purchase.
For the price and quality, you truly can't go wrong so if you're thinking of purchasing a cooler then RTIC is the right choice. But don't take our word, read through these first-hand reviews at rticoolers.com.