Overstock is a department store that advertises as "passionate about doing [their]part to make life better". If you were wondering how they do that; they add that it's by "providing high-quality merchandise, great value, and exceptional customer service".
Yes, Overstock is legit. It is not a scam because you are going to receive any item you buy from the store. And also, your money, as well as credit card details, will not be stolen.
Given that the bulk of the company's business is from close-out merchandise, one big question is whether the company really provides high-quality merchandise. If they have the quality, do their prices really represent value for money? Also, does the company offer services that we'll want from the ideal e-commerce platform (such as easy ordering, fast delivery, effective customer service, and more)? In the first place, is Overstock genuine?
This Overstock review will examine Overstock in order to provide the information that will help you answer these questions and more.
Top 5 Most Popular Fashion Stores Online:
Overstock review at a glance
Website is www.overstock.com

Founded in 1999 (but its roots can be traced back to 1997)

Offers a wide variety of products ranging from home items, outdoor items, apparel, jewellery, and more

Overstock is essentially a discount retailer, so prices in the store are significantly lower than those of the regular retailers

Ships merchandise worldwide

Free shipping is offered

Return window is 30 days from the delivery date

Customer support is available via email, telephone (text and call), live chat, and social media
Overstock Overview

What is Overstock? Background
Overstock was born in 1999 when Patrick M. Byrne acquired Deals and changed its name to Overstock. Before then Deals.com had been operating since 1997, and its name suggests was a place to find bargains.
The 1999 change in ownership might have caused a name change; it might have also caused a change in the operation of the Company; however, it did not cause the Company to deviate from its purpose. Overstock continued to provide good value, and barely a year after was already being named as "the best place to find bargains".
Business Model
The change in operation is that as Deals.com, the Company was connecting small businesses who deal on close-out inventory to retailers and manufacturers needing to clear their inventory; but as Overstock, the Company simply buys the close-out inventory from the manufacturers and retailers needing to clear their inventory and then directly provides the items to customers. Thus, the change was from one of liaison to retailing.
In a world of trends, items quickly become "yesterday items" that need to be pushed out; and that is one of the reasons for all the clearance sales offered by retailers. However, most often than not, these clearance sales do not completely do the required clearing out, and the retailers are left with surplus inventory. That is where companies like Overstock come in.
Overstock mop up this excess inventory (which also include returned inventory), and put these items up for sale on the platform. Because Overstock gets the close-out inventory at give-away prices, they are able to list the items at discounted amounts. Thus, Overstock is a discount retailer.
When Overstock re-launched in 1999, becoming a discount retailer, the Company exclusively listed and sold close-out merchandise. However, over the years, Overstock has started new listing items exclusively manufactured for the Company. Also, some of the products you'll find in Overstock are offered by third-party sellers. On getting to the product information page of any item listed in Overstock, finding "Sold and Shipped by an Overstock Marketplace Seller" tells you that the item is one of the items not directly sold by Overstock.
Social Responsibility
Overstock will make a fine destination for conscientious shoppers because of their strong social responsibility focus. Apart from actively supporting several local and national charities, this can be seen in their operations.
The company offers carbon-neutral shipping; and since 2010, all products made from exotic animal skins have been removed from the site, making Overstock a true fur-free and ivory-free retailer.
Products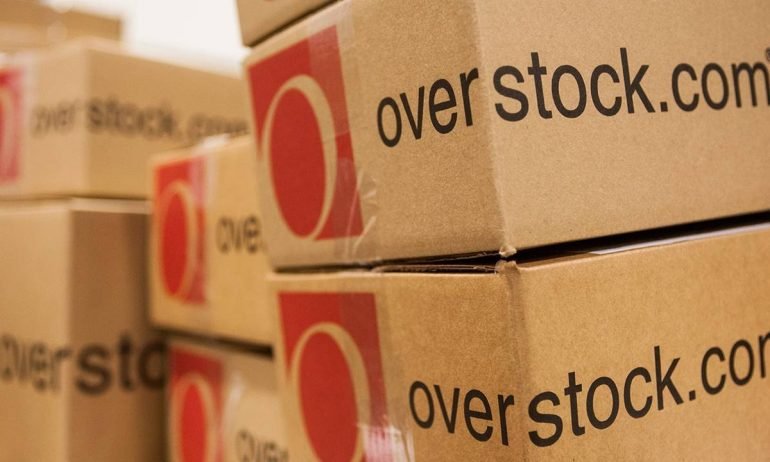 Product Range
You'll want a store that holds a variety of products so that you can get most of your needs in one place. Making all your purchases in one place is desired not only because it is convenient, but also because it results in cost savings. For example, you may qualify for a large order discount and you will have to pay to ship one order instead of paying to ship multiple orders from different online stores.
Overstock does excellently well in this regards. The platform, being a department store, holds a wide range of product. The product categories that'll open in their menu (and the various items you can get in each category) are as follows:
Home and Garden – Area Rug, Home Décor, Art Gallery, Garden and Patio, Housewares, Kitchen and Dining, Small and Large Appliances, Home Improvement, Bath

Furniture – Living Room Furniture, Bedroom Furniture, Dining and Bar Furniture, Bathroom Furniture, Kids' Furniture, Garden and Patio, Home Office Furniture

Rugs – Indoor Rugs, Outdoor Rugs, Rug Pads

Bed and Bath – Fashion Bedding, Sheets, Down Bedding, Baby Bedding, Kids' Bedding, Teens Bedding, Blankets and Throws, Bed sheets, Mattress Pads, Mattress Protectors, Mattresses, Pillows, Memory Foam, Bath and Towels

Clothing and Shoes – Women Clothing (Dresses, Tops, Plus Sizes, Pants, Intimates, Suits and Suit Separates), Men's Clothing (Shirts, Suits and Suit Separates, Shorts, Athletic Clothing, Sports Coats and Blazers), Shoes (Women – Boots, Flats, Slippers, Wedges, Bootie; Men – Boots, Sandals, Slippers, Loafers, Designer Shoes, Sneakers), Designer Tops, Children's Clothing, Sunglasses, Accessories (Belts, Scarves, Shawl, Hats, Wallets, Umbrellas), Handbags

Jewellery – Rings, Wedding Rings, Necklaces, Earrings, Bracelets, Fashion Jewelry, Men's Jewelry, Women Jewelry, Other Jewelry

Watches – Men's Watches, Women Watches, Children's Watches, Watch Accessories

Health and Beauty – Beauty Products (Haircare, Makeup, Make-Up Brushes and Cases, Bath and Body, Skin Care), Perfumes and Fragrances, Fitness and Nutrition, Health care and Supplies, Holistic Supplies, Mobility and Transportation (Rollator/ Walker)

Electronics – Cell Phones and Accessories, Computers and Tablets, Cameras and Camcorders, Home Theater and Audio, TV and Video, Home Office Equipments, Telephones, Monitors and Displays, Printers and Scanners, Computer Hardware and software, Home Automation and Security, Video Games

Sports and Outdoor – Exercise, Winter Sports, Outdoors, Gold Equipments, Women Sports Clothing, Men's Sports Clothing, Sports Collectibles, Recreation Room

Luggage – Luggage Sets, Wheeled and Checked Luggage, Carry On Luggage, Bags, Business Cases, Garment Bags, Travel Accessories, Kid's Luggage,

Baby – Clothing and Shoes, Baby Gear, Feeding, Baby Bedding, Nursery Décor, Diapering and Potty, Baby Furniture

Craft and Sewing – Scrapbooking, Die Cutting, Crafts, Stamping, Lamps and Magnifiers, Sewing and Quilting, Knit and Crochets, Cross Stitch and Needle Work

Office – Office Furniture, Office Electronic, Filing and Storage, Presentation and Audio-Visual Supplies, Office Wall Art

Food and Gifts – Gift Baskets, Gourmet Foods, Flowers and Plants, Jewelry and Watch Boxes, Musical Instruments, Humidors and Cigars

Toys and Hobbies – Games and Puzzles, Outdoor Play, Dolls and Doll Houses, Pretend Play and Dress-Up, Bikes and Ride-Ons, Kid's Electronics, Remote Control Toys, Action Figures, Arts and Crafts, Building Blocks, Die-Cast and Toy Vehicles, Learning and Educational Toys, Recreation Room, and Musical Instrument

Pets Supplies – Bird Supplies, Cat Supplies, Bee-keeping Supplies, Chicken Supplies, Dog Supplies, Equestrian Supplies, Fish Supplies, Reptile Supplies and Small Animal Supplies

Emergency Preparedness – Warmth and Shelter, Emergency Apparel, Water Storage, Sanitation and Hygiene, Emergency Power, Survival and First Aid Kit, Food Storage, Emergency and /Survival Gear
On the landing page of Overstock's website, you'll find the words: "Sign In and get Best Shopping Experience". As every online shopper will know, a good shopping experience starts with easy ordering. The Overstock website makes ordering a breeze. You can easily find particular items because the items are properly categorized.
For instance, in the apparel department of most stores, you can only see sections for men and women; and in each section, you'll find subsections for the different clothing products (dresses, shirts, etc); and that will be all. But in Overstock, you'll get further subsections. For example, the dresses section is further divided by dress length (into midi dresses, mini dresses, knee length dresses, etc), by occasion (into cocktail dresses, work dresses, etc), by material (into chiffon dresses, lace dresses, silk dresses, knit dresses, etc), and much more. Thus, you can get easily get at particular items.
Inventory Size
Will you want to find only two items to select from when shopping, or will you want a large inventory to select from? Many shoppers will go with the large inventory; and so will I. With a large inventory, you are more likely to find pieces that match your preferences/ tastes. Thus, the ideal store will not only provide a variety of products, but a large inventory of each product type.
Overstock does relatively well in this regards. One cane that was used against Overstock was that getting an item in the store is "hit and miss". This was because the store operated exclusively on close-out merchandise; thus, the items it could list depended on the items it could get as surplus inventory from the retailers that served it. However, with Overstock beginning to list new items manufactured for it, the store has been able to largely address that problem.
For example, at the time of writing this review, we were able to find products in all sections and subsections of the various departments in the store. More importantly, the inventory in any product section was impressive. For example, in the women section in the Apparel department, there were 2,125 items in the Dresses subsection, and 713 items in the Pants subsection. Also in the Jewelry department, the fine jewellery section had over 85,042 items, with fine necklaces over 20,000, and fine earrings over 30,000.
That said; you won't be short of options when shopping in Overstock, no matter the department of the store that you visit.
Product Quality
High-quality merchandise is one of the first things that Overstock promises to provide in order to make the lives of their customers better.
Overstock ticks the box in this regard because, on the whole, the quality of their items is very good. The Company goes to length to ensure that the close-out items it absorbs meet high-quality standards. Also, its new items are sourced from suppliers committed to high-quality standards.
Items listed in Overstock are also well reviewed. On the product description page of every item, you can find reviews dropped by customers who have bought and used the particular item. If you do not trust reviews on their site, you can also review in independent online platforms. Though you'll find some negative reviews thrown in, on the whole, the reviews are largely positive. Thus, it's safe to say that Overstock holds good quality items.
Price, Promotions and Related Policies
Price
One of the first thing customers looks at when shopping prices. With money not growing on trees, customers want to get the best value for money at all times; and thus will be attracted to stores that offer quality merchandise at affordable prices.
It should be said that Overstock's operating model means the store should provide items at prices lower than the regular retailers. One of the three promises of Overstock is "great value"; in other words, providing the best prices around. Thankfully, Overstock does excellently in terms of pricing.
Barely one year after the platform launched, Overstock.com was already being named "the best place to find bargains", and a few years later the store was also called the "place for price-conscious holiday shoppers" by Time Magazine. Fast forward to today and Overstock still remains one of the best places for the best deals. This is because all the items in the store are listed at discounted prices. In fact, Overstock prices easily beat that of many other stores.
We looked at the prices of some of the items in Overstock and compared it with what is obtainable in the industry. For example, we closely checked the apparel department, particularly the women section, and we saw that items listed were 20% – 56% off the prices you'll find in even fashion stores regarded as offering low and affordable prices. One Maxi Boho Harem Long Sleeve Dress got our attention for the numerous reviews it had.  Most importantly, the dress started selling at $25.19; but in many "cheap" fashion stores, similar dresses can easily hug $50.00.
Promotions
The search for the "best value for money" make customers seek out promotions. This is not hard to understand as promotions allow customers to get items for less than the regular prices or even for free.
Given that Overstock items are already discounted, we didn't expect to find many cost-saving opportunities. However, we were set for a good surprise. Overstock runs different promotions that knocked their already low prices even further down.
At the time of writing this review, Overstock was advertising a "memorial day blowout" sale that promised up to 70% off prices (+ free shipping) of selected items. Another prominent promo promised 25% off "summer Refresh Essentials by Safavieh". There was also a welcomes offer; which rewards you with $30 when you spend over $300 on your first purchase. There were other countless coupons which knocked off various percentages off listed prices.
Most of these promotions are time-limited, so you'll have t check the website from time to time to know what promo is running at any particular time. Alternatively, you can subscribe to Overstock's newsletter, for direct info on current deals. Signing up for the newsletter is even incentivized; as you'll get 10% off your next purchase. That said; with the right promotions, you can really clinch wonderful deals in Overstock.
Financing
If you must have an Overstock item but cannot currently cover its price, you don't have to let the item pass you by. This is because Overstock has different financing plans that allow you to buy now and pay later. With the Overstock credit card, you can access four different interest-free financing plans. However, there are minimum order requirements as follows:
6 months plan – requires a minimum order of $249

12 months plan – requires a minimum order of $499

18 months plan – requires a minimum order of $1,499

24 months plan – requires a minimum order of $1,999
Apart from these financing plans, when purchasing Mattresses, there are a 60 months special financing plan that is offered. However, the plans are only interest-free if the purchase balance is paid in full within the promotional period. Where payment is not completed, interest (29.24%) will be charged to the account.
Shipping
Since your order has to be shipped from the warehouse/fulfilment centre o the online store to your address, shipping is important when reviewing online stores. The most important shipping considerations are shipping destination. Shipping times, and shipping costs.
Shipping Destination
Perhaps one of the first things you should check in an online store you are considering to make your purchases at is whether the store ships to your destination. It's a no-brainer because if the store does not ship to your destination, even if you somehow succeed in placing an order, it will be difficult to receive delivery of your order. Thus, you'll want a store that ships to many worldwide locations so that your destination is more likely to be served by the store.
Overstock does very well in this regards because the department store ships merchandise to all corners of the world. Their coverage span 54 countries in the Americas, 40 countries in Europe, 43 countries in Asia – Pacific, 9 countries in the Middle East, and 34 countries in Africa.
This shows that Overstock has one of the widest shipping coverage amongst online stores. However, it should be noted that not all products in the store can be shipped to international destinations. For example, furniture and perishables cannot ship to most countries.
Shipping Times
No one will want to wait endless after placing an order to receive delivery of the package. Thus, the ideal online store should feature fast delivery.
Waiting time for an order is dependent on order processing time and package shipment time. Overstock ticks the box on both counts. For order processing; all the items are at an Overstock warehouse, so it takes the store only 1 – 2 business days only to process orders and dispatch them for shipping. With some stores taking up to 5 days to process orders, Overstock's processing time of 1 – 2 business days comes out as quick. Thus, orders are ready to ship relatively faster.
Shipping times for orders are varied depending on where the item will be shipping to. You'll find applicable shipping times displayed during checkout. However, the shipping times are always relatively fast times.
Shipping Costs
The acquisition cost of any online purchase will include its purchase price and its shipping charges. Thus, even when an item is acceptably priced, high shipping charges may make it too expensive to acquire. That said; the ideal online retailer will offer shipping costs that are as low as possible.
The lowest shipping cost one can get is free shipping. Thankfully, Overstock offers free shipping (albeit, with minimum order requirements). If your order is over $45, you can get it shipped to your door free of charge. However, the offer applies to only US customers, so you'll have to be in the US to receive free shipping. Where free shipping does not apply, Overstock charges fair shipping prices, which you'll find displayed during checkout.
Returns
Online purchase is different from traditional purchase where you walk into a brick and mortar store, pick and assess an item, then pay for it and walk out with it. Online purchases are characterized by blind purchase where you have not physically assessed an item. Even with the resources, the store provides to help in your buy decision, there's the possibility that the physical item, when received by you, does not wow you as it did when viewing the product images. Also, things could go wrong in transit, and an item that leaves the retailer's warehouse sound may get to you damaged. Lastly, it's possible that an entirely wrong item is delivered to your door.
Thus, the ideal store should allow customers to return items that are less than satisfactory. Overstock (like any serious retailer) allows returns of items, and their return policy is set out below.
Return Process
You want an easy return process, and that is what Overstock provides. To return an item from your Overstock order, the first thing to do is to cancel the transaction contract. However, to cancel, you'll have to contact the Company using the "My Account" link at the top of each page of the Overstock website.
After signing into your account, click on "My Orders" to view your orders, then click "return an item" next to the item you want to return, provide the necessary return information, and then submit.  You can then proceed to print your return label. After that, you'll have to return the item to the Company. You can proceed to package the item appropriately, attach the shipping label, and then ship the package to the return shipping address.
It should be said that while the process is not overly cumbersome, it's not the simplest there can be. Most online stores don't require you to contact them to make returns; they do this by enclosing a return label with the order (eliminating having to print a label).
Return Window
Retailers accept returns getting to them within a time period, and Overstock is no different. That said; so that your returns will not get to the retailer late and be rejected, you'll want an extended return window.
In this regards, Overstock has a very friendly policy. The Company offers a return window of 30 days from the delivery date. That is, every item to be returned to the store must get to the return shipping address within 30 days of the item being delivered to you. However, since you have only 14 days from the delivery date to cancel the contract (communicate the intention to return an item to Overstock).
This offer is good in itself because 30 days is the industry average return window. However, returns that get to the store after 30 days may still qualify for a refund; albeit a partial refund which will depend on how late the items are received.
Condition of Return Items
Almost all retailers have policies that read along the lines of "items to be returned must be in their original new condition". In these stores, returned items that show any sign of usage are, most often than not, rejected.
Though Overstock also states that items to be returned must be in the conditions they were in when delivered to you; that is for you to qualify for a full refund. If upon inspection, items are determined to show sign of usage, instead of outright rejection (as most other retailers will do) Overstock will apply a partial refund, the sum of which will depend on the condition of the item.
Cost of Return
When you have to return an item to its retailer, the last thing you'll want to meet is prohibitive return costs. Thus, the ideal online retailer will offer the cost of returns that are as low as possible.
The lowest possible return cost is zero (that is, free return shipping). Overstock does offer free return shipping, but only if the return is necessary because of an error by Overstock (where incorrect items are sent), or if the return was for a defective or damaged item.
Where returns are made because of buyers' remorse (such as where customers change their mind about the order, or where the wrong size has been ordered, etc); the customer will have to cover return shipping.
Returns Processing and Refunds Policy
Overstock issue refunds as cash via the original payment methods. This means you can proceed to another store and use the funds there for your future purchases. This is way better than stores that exclusively issue store credits for returned items, as store credits tie the customer to the store, meaning that the funds must be used in the particular store for future purchases.
Also, Overstock does not refund the original shipping cost, except where the returns are for defective, damaged, or incorrect items that were delivered.
To how long you'll have to wait to be refunded after sending in the unwanted item, Overstock is one of the better performers in the business. You can expect to receive your package within four weeks of shipping it to the facility of Overstock. However, this four weeks waiting period includes the return shipping time, which may be up to 14 days, and the fund processing by your financial institution which may take up to five days. The actual time it'll take Overstock to process returns and issue refunds is just about five working days.
This is one of the fastest returns processing time in the industry. There are online platforms that take weeks to process returns alone; if you add return shipping time to that, you'll end up waiting almost endlessly in such stores.
Customer Support Service
If you are considering using an online store, you'll have questions about the store, and its offerings. Therefore, you'll want a store that provides answers to questions that customers will have. Also, after placing an order, you may have issues with the order; and you'll want a store that gives customers needed assistance. Therefore a review of an online store is not complete without looking at its customer support service.
For direct contact with a customer care agent of Overstock, a number of channels are provided, which include an online contact form, email support, live chat, text messaging support, telephone support, and social media support. This covers almost every customer support channel in use in the modern world. Thus, you'll not be short of options if you need assistance from Overstock.
For the email service, you can contact an Overstock agent through a contact form available on the Overstock website, or you may send an email directly from your account to the email addresses: [email protected] (for US customers) and [email protected] (for international customers). For text support, you can send your messages in at any time of the day; and the number to use is 1-385-257-9241. However, with these channels, you'll need to wait a few hours for the support service to respond with the needed assistance.
If you'll rather get an instant response, you may use the live chat (accessible from the website) or the telephone service. The numbers to call are 1-800-843-2446 (for US customers), and 00-1-919-576-9926 (for international customers). For social media support, you can reach Overstock through its handles on Facebook, Twitter, and Instagram.
However, customer support of Overstock is not available round the clock. Even when you can send a support email or text message at any time and any day, you'll expect to receive a response only during the active period of the support service. The service is active for US customers between 8:00 am – 12:00 am EST (Mondays – Fridays) and between 9:00 am – 9:00 pm EST (Saturdays and Sundays); but for international customers, the service is available only between 8:00 am – 10:00 pm EST (Mondays – Fridays), while it is closed on weekends.
While it's already disappointing that a world-serving platform like Overstock does not offer 24/ 7 customer support, it is even more disheartening that international customers cannot get help on the weekends.
Not only does Overstock provide different channels to reach its support department, but the store also provides fast and very helpful feedback. Overstock has received different awards for effective customer support, and you'll also find positive reviews of the support service in online platforms with customers satisfied with the promptness and helpfulness of feedback received. Visit Overstore similar stores at Zappos and Fashionmia.
Summary
Overstock provides virtually everything; you'll find a wide variety of items that range from home items, electronics, apparel, and more. As its name suggests, Overstock merchandise consists mainly of close-out inventory of other retailers. However, you'll high-quality pieces.  As a discount retailer, Overstock is able to provide very low prices.
Thus, Overstock will be a fine destination to anyone looking to get good bargains. Relatively fast delivery, friendly return policy, and an effective customer support service complete the service offering, making Overstock an e-commerce platform with one of the best shopping experience around.
Pros:
Holds a wide range of items, which range from home items to outdoor items, and from apparel and beauty products, etc

Socially responsible retailer (e.g. does not offer any product from exotic animal skins)

A discount retailer that provides knock-off prices

Ships merchandise to all corners of the world

Offers a return window of 30 days from the delivery date

Give partial refunds for returned items received late or in used condition

It takes about 5 days from receipt of returns to process returns and issue refunds

Support a lot of options for contacting customer support service
Con:
Customer support is not available round the clock