Pelican Go G40 Case review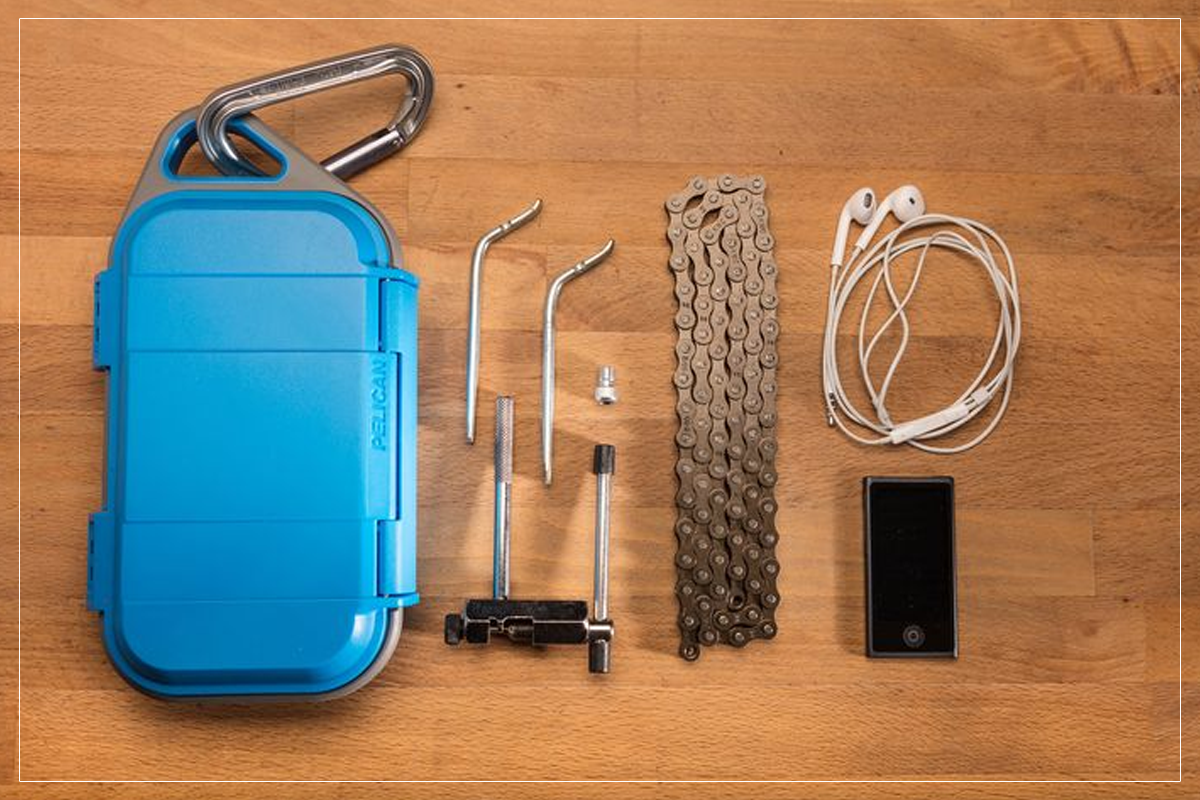 This post contains affiliate links. When you purchase through links on this post, we may earn an affiliate commission. Thanks.
REVIEW – We all have our EDC essentials and some of us lug them into environments that are potentially a bit more harsh than average.  If you are one of the aforementioned folks, then you probably already know that Pelican has been making hard cases that are water- and drop-resistant for a long time and are arguably the gold standard for such containers.  Pelican's most recent product in the personal hard case space is their Pelican Go G40 Case.   It not only has many of the features that have made Pelican's products successful for many years, but also has a few additional features for EDC fans.  How did it fare?  Let's check it out!  Gadget on!
What is it?
The Pelican Go G40 Case is a water- and drop-resistant personal hard case that is designed to hold and keep save several small items in potentially extreme conditions.
Hardware specs
Colors: Anthracite/Grey, Blush/Grey, Lime/Green, Surf Blue/Grey (reviewed here)
Dimensions: 7" x 3.5" x 1.6"
Material: ABS plastic
Waterproof rating: IP67 (Submersible for 30 minutes in a depth of up to 3 feet (1 meter))
Exterior: Equipped with a rubberized bumper, easy carry handle and secure closure latch to protect even the smallest valuables.
Interior: Cushioned EVA Lining in Lid and Base to keep cellphones and valuables safe plus Organization Tray with built-in credit card pockets and cord management strap
Warranty: Pelican lifetime warranty
What's in the package?
Design and features
Fends off dust, dirt, sand, and water up to 1.5m deep for up to half-an-hour.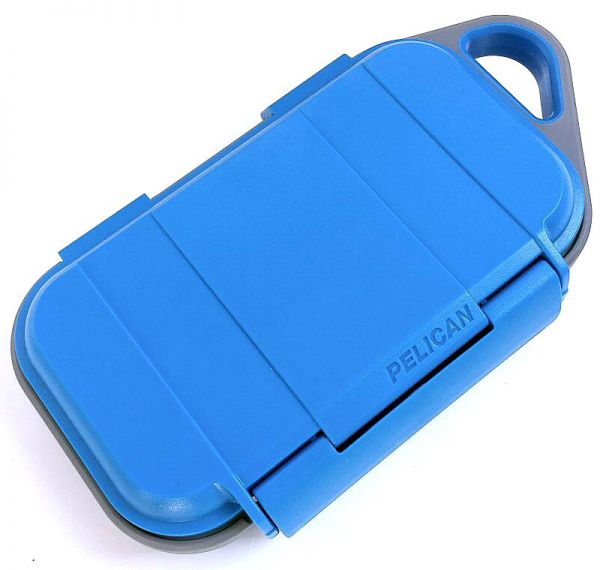 I actually already own two Pelican cases, both their 10xx and 1050 cases, which I purchased through GORUCK, and I have been very happy with them; they have protected my cell phone, wallet, car keys, and several other items through all sorts of adventures and harsh conditions.  When I first saw a photo online of the Go G40 Case, my initial thought was, "Hey, where's the transparent lid?"  I was a bit skeptical, but the Go G40 Case's other features intrigued me enough to want to review it.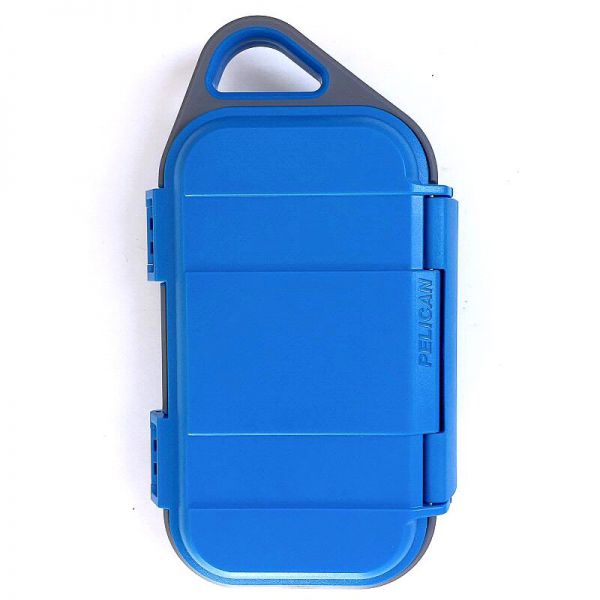 Other than the lack of a transparent lid as mentioned above, the Go G40 Case does share many similar features to existing Pelican cases, each of which will be covered in more detail below.  For starters, it looked and felt very rugged and durable.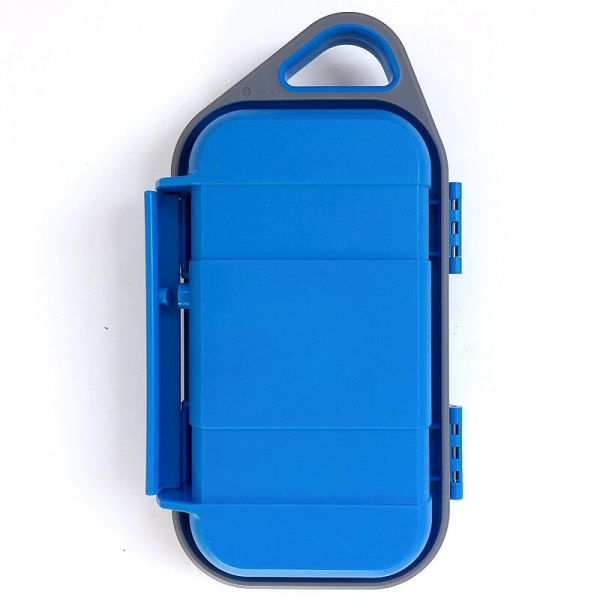 Another thing that I noticed about the Go G40 Case immediately was its matte finish.  Most personal Pelican cases that are sized similarly to the Go G40 Case have a high-gloss finish.  While this has an appealing appearance initially, I've found this to be a bit problematic over time, because if you are actually using your Pelican case at all, it is likely that the case is actually coming into contact with other objects, which tends to scratch and scuff that appealing gloss finish.  I think the matte finish of the Go G40 Case is a serious improvement.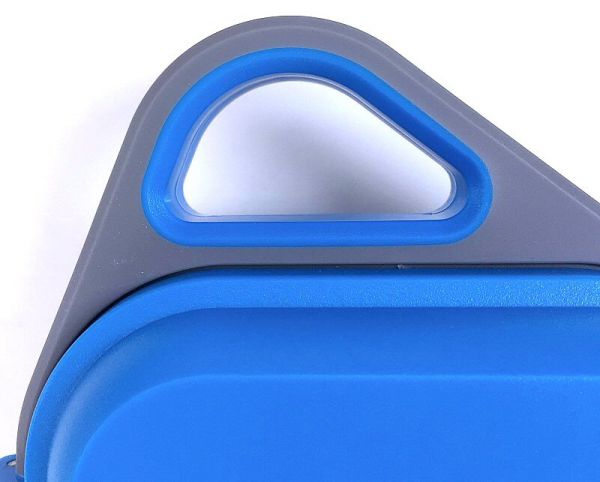 One of the more obvious external features that I appreciated immediately was the generously-sized loop that can be used to attach the Go G40 Case to things, such as a backpack.  Loop-type features are present on most hard cases of this type, but I've found most of them to be quite small and I've always been concerned that they might break off and I'd lose my hard case.  Not so here.  As mentioned, the loop on the Go G40 Case is very generously sized, thick, and integrally molded directly into the exterior of the case.  This thing is solid—good luck breaking this off without basically destroying the case.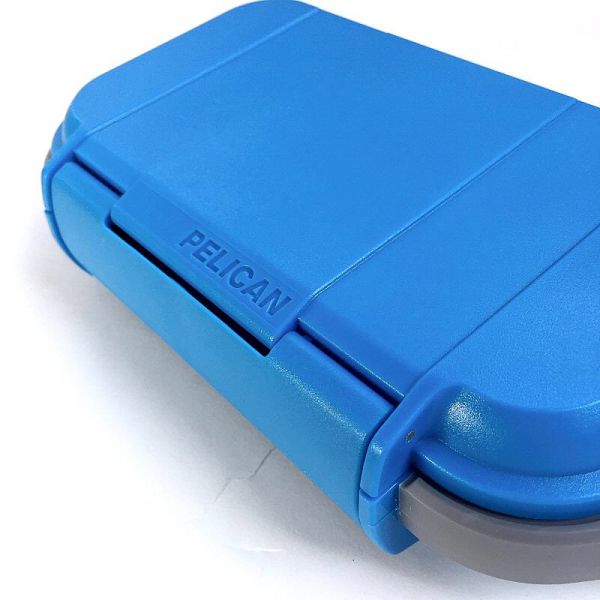 The Pelican Go G40 Case, like many of its predecessors, has a single latch mechanism that locks down the lid and seals the case tight.  Like the loop described above, this latch is big, beefy, and provides a very positive tactile and auditory feedback when locked down.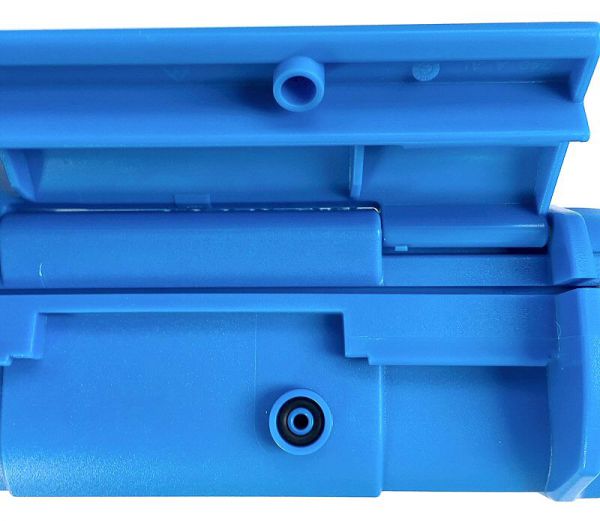 The latch includes a valve that is similar to other existing Pelican case models.  This valve is intended to help equalize the pressure inside the case with the ambient pressure outside the case, such as at higher altitudes.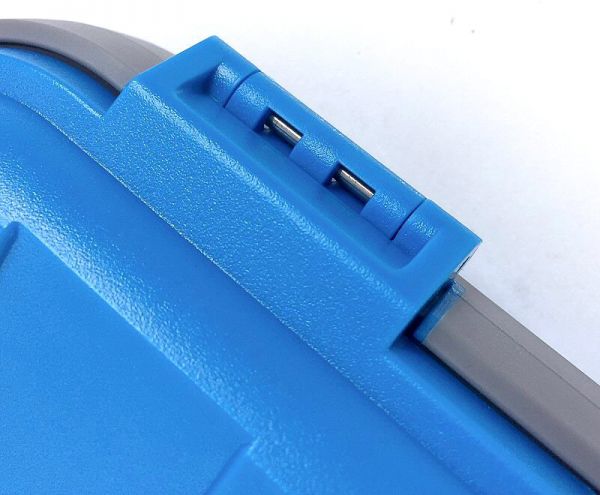 Moving to the other side of the Go G40 Case, the lid is attached to the main body of the case with two very solid hinges that have durable metal core pins as shown above.  This is yet another reason why Pelican is considered a gold standard for personal protection cases.  In addition, the gray strip running around the outside perimeter of the Go G40 is actually a rubber bumper that helps protect the case (and its contents) from shocks and drops.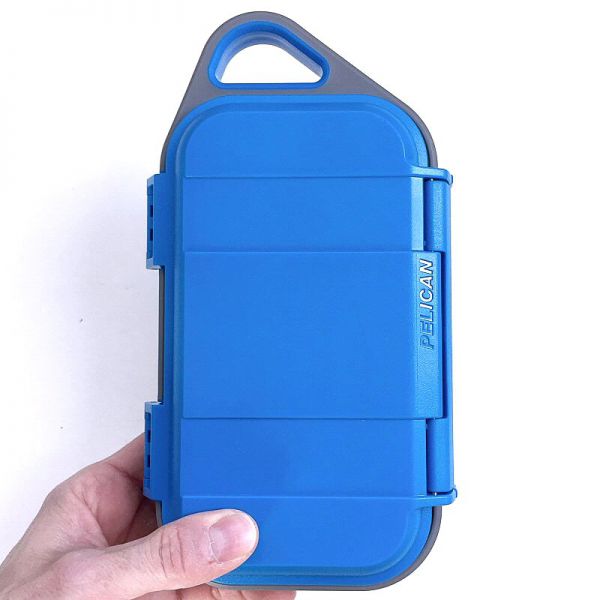 The Pelican Go G40 Case is a decently compact size, while still being able to hold a fair amount of EDC-type items, as you will see below.  Above, I'm holding the Go G40 Case just to give an idea of scale.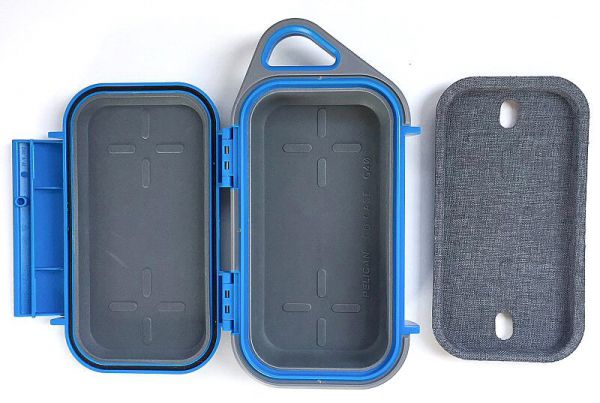 Next let's look inside the Go G40 Case, where there are some additional new features, such as the lining and tray.  More on these features below.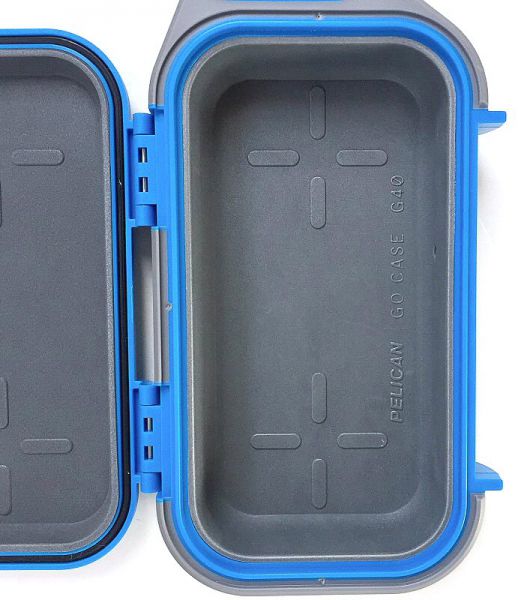 First, let's take a look at the interior of the case itself, and focus on the bottom of the main compartment.  The inside of the Go G40 Case is lined with a soft EVA material that helps both cushion items placed inside as well as reduce the risk of scratching them against the inside of the case.  There are also two cross-shaped features that are very slightly raised from the bottom.  These are to prevent items from getting "stuck" to the bottom of the case.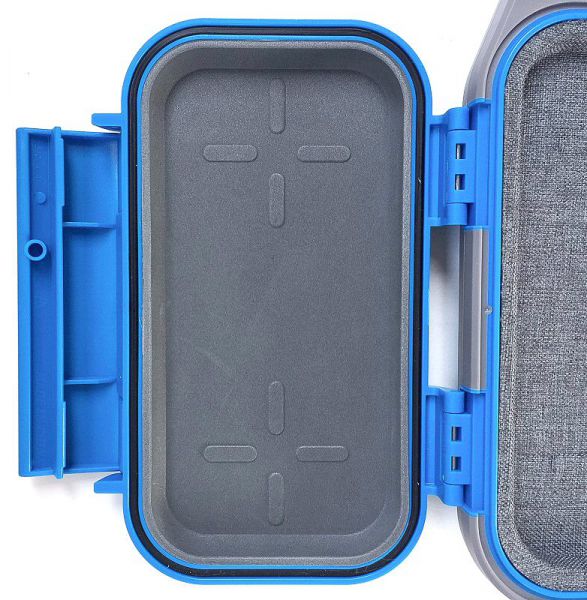 Similar to the bottom of the case, the inside of the lid also has the same soft EVA material to help protect items placed inside it.  In the photo above, you can also see the black rubber O-ring that sits down in its own groove and runs the circumference of the case's lid.  This rubber O-ring is key to the Pelican Go G40's IP67 waterproof rating, which allows it to remain submerged in water to a depth of 1 meter for up to 30 minutes.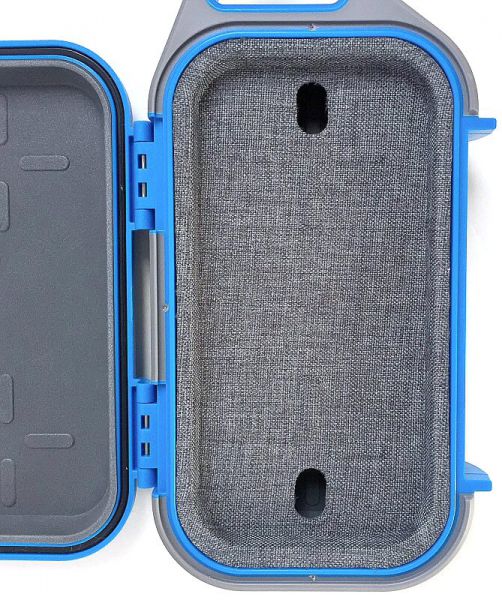 Next, let's check out the Go G40's Case's internal tray.  This tray is specially sized to lay into the lower portion of the case, but stay elevated above the bottom; it rests in a ledge that is built into the circumference of the lower portion of the case's interior.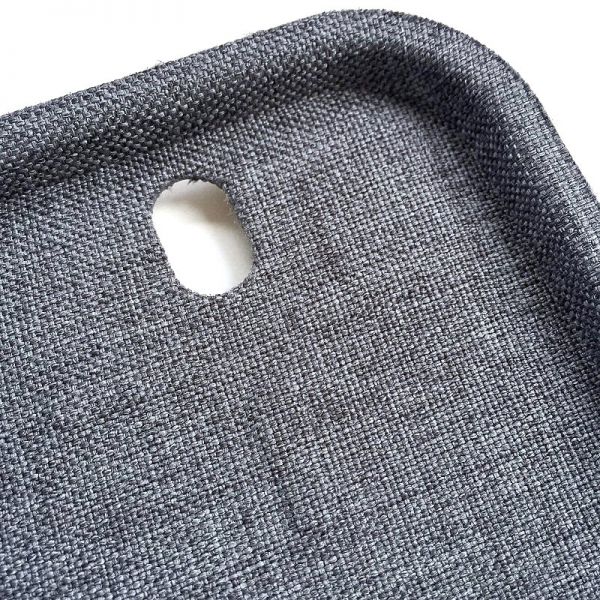 This tray is molded to specifically fit into the lower portion of the Go G40, but the tray's exterior is a fabric-type cloth, the texture of which is shown in the close-up photo above.  There is also an oval slot on either end of this tray, with I think is simply to help remove the tray from the Go G40 and to prevent the tray from getting "stuck" in the Go G40.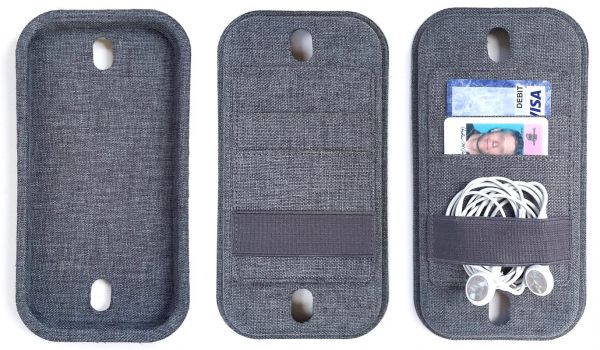 The tray serves two purposes.  First, it provides a space for your mobile phone to sit that is separated from any other contents in the lower portion of the Go G40 (see photo below).  Additionally, the underside of the tray has two card slots as well as a strip of elastic that can be used for cable management.  In the photo above, I've placed a debit card and my Driver's License, along with a pair of iPhone earbuds.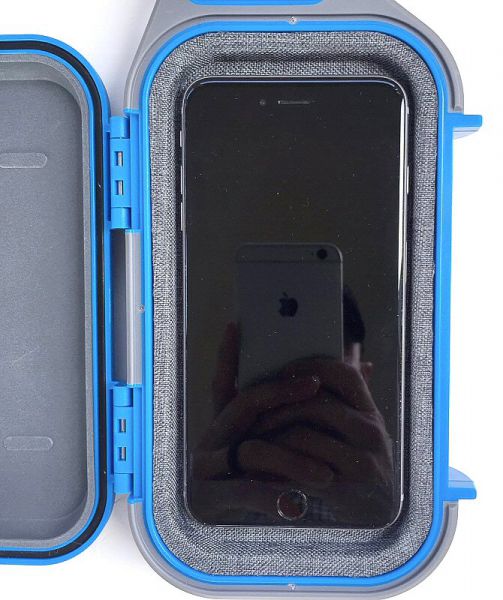 Above, you can see that my iPhone 6 Plus fits perfectly in the tray; however, I did have to remove the Magpul case I that I typically have on my iPhone.  Smaller phones will fit fine in the tray, but if you have a larger phone, you may have to remove it from its case, or use a very thin case, in order for it to fit in the tray.  (Please ignore the goofball reflected in the iPhone's screen.)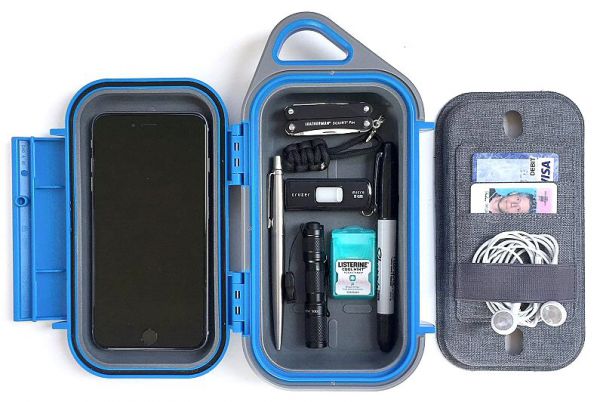 Above, I've placed a handful of my essential EDC items into the Go G40 Case, including my naked iPhone 6 Plus (which will actually sit down in the cavity in the tray as seen in the photo above and below), my Leatherman Squirt PS4 multitool with a 550 paracord fob, a Sandisk USB flash drive, a Sharpie pen, a Parker Jotter ballpoint pen, a Lumintop Tool AAA flashlight and a pack of Listerine Breath Strips.    Also included are the two cards and iPhone earbuds in the underside of the lid.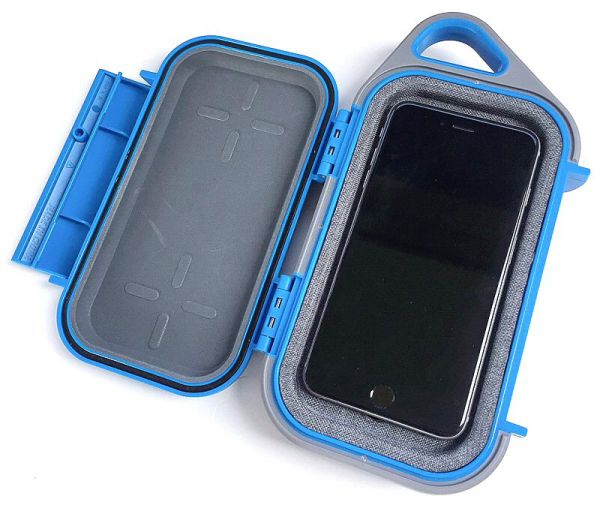 Above is the Go G40 Case with all of the items shown above placed inside it.  Everything fit well and the latch closed fine.  In fact, even with the items above placed in the lower portion of the Go G40 Case, there was still room for a few more small items if I arranged them all to fit.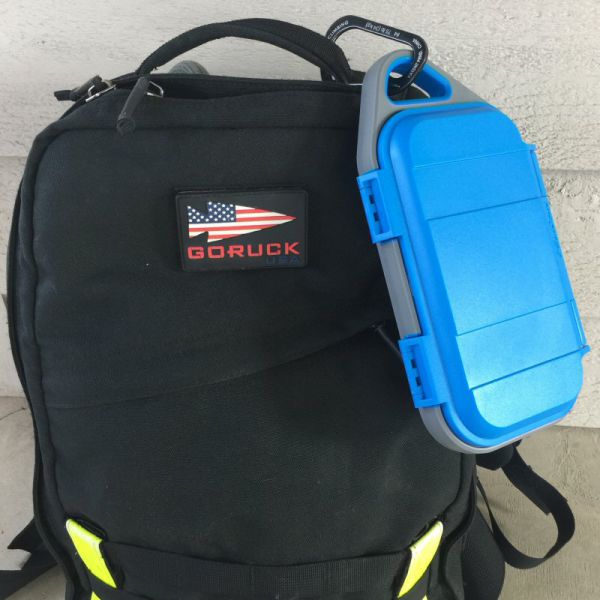 In the photo above, I've used a carabiner to attach the Go G40 Case to the grab handle of my GORUCK GR1 rucksack as an example of how you might carry this case securely on the outside of a bag.
What I like
IP67 water resistance rating
Matte finish doesn't show scratches, scrapes or smudges
Thick, tough carabiner loop
Exterior rubber bumper for added shock protection
Interior lined with soft EVA material
Interior tray separates phone from other items and also includes card slots and elastic strap
What needs to be improved
I had to remove my iPhone 6 Plus from the case I typically use in order for it to fit into the tray
Final thoughts
I really like the Pelican Go G40 Case.  It provides an excellent level of water- and shock-protection for small valuables and its interior tray that holds your cell phone is a great new feature.  If you work or frequently spend time in a harsh environment, or plan to visit such an area, I would encourage you to take a look at the Pelican Go G40 Case as a way to secure your important personal items.  In fact, I plan to use the Go G40 case to protect my wallet, phone, watch and a few other items on my next GORUCK Challenge, which is a really good testbed for protective hard case like this, because it is very likely that will be banged around around a lot, and also to be submerged in water.  Interestingly, the Pelican Go G40 Case is currently only available at REI, so if you are interested, check their site for more info or to order (see links below).
Save Up to 50% Off on Allbirds' Black Friday and Cyber Weekend Sale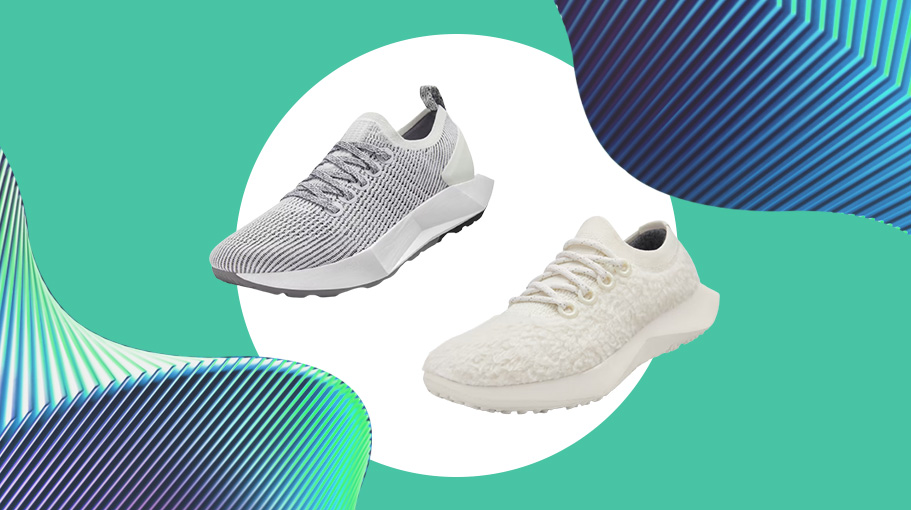 It's no secret that Allbirds is our favorite sneaker brand. Not only does the brand make stylish activewear shoes, but they're also eco-friendly and sustainable, which makes us feel even better about buying from the brand—especially when they're on sale. Right now, Allbirds' massive Black Friday sale is on, which means you can save up to 50% off sitewide.
This is Allbids' biggest sale of the entire year, so whether you're looking for the perfect gift for someone on your holiday shopping list or just need a new pair of sneakers or sweats, now's the time to treat yourself. Grab some of the brand's best-sellers like the Tree Dasher 1s, Wool Runners, and Natural Leggings. Allbirds' Black Friday sale runs through December 2, but we suggest shopping sooner than later—it's selling fast!
Allbirds' Black Friday Sale
Men's Wool Runners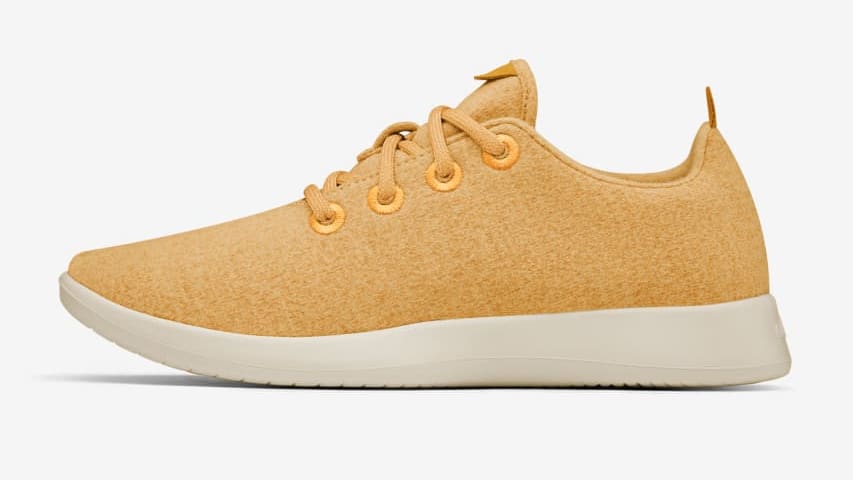 Women's Tree Dasher 1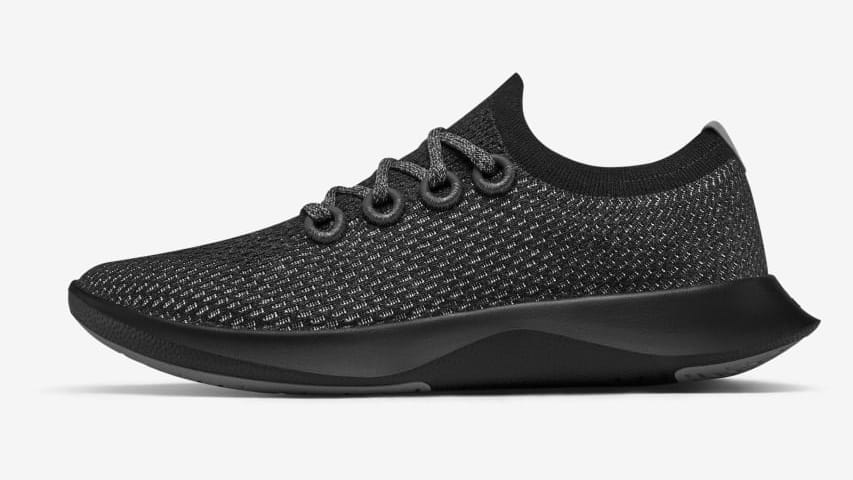 Men's Tree Toppers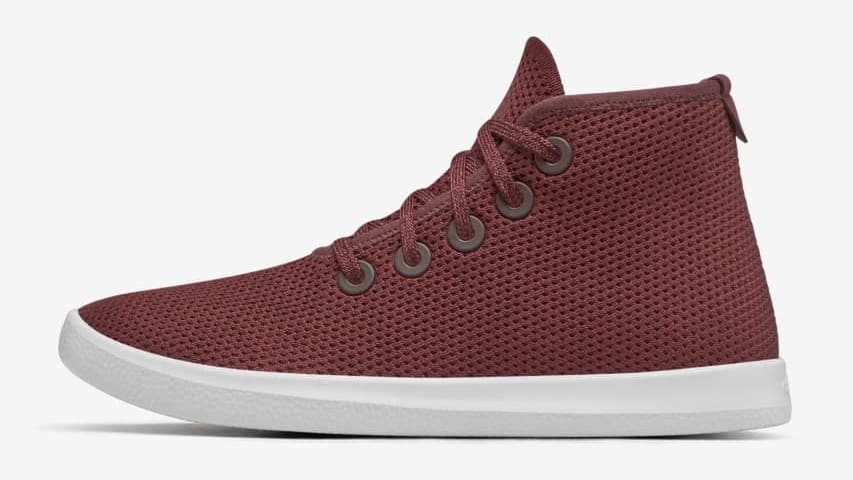 Women's Wool Runners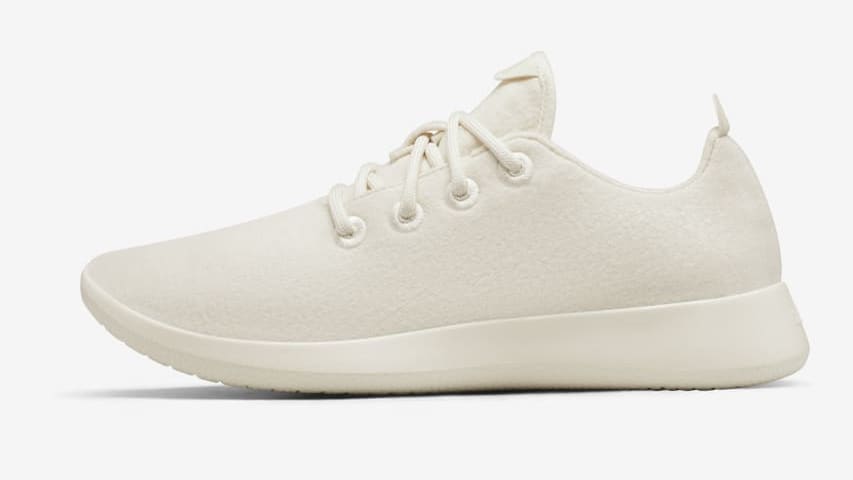 Women's Wool Runner Fluff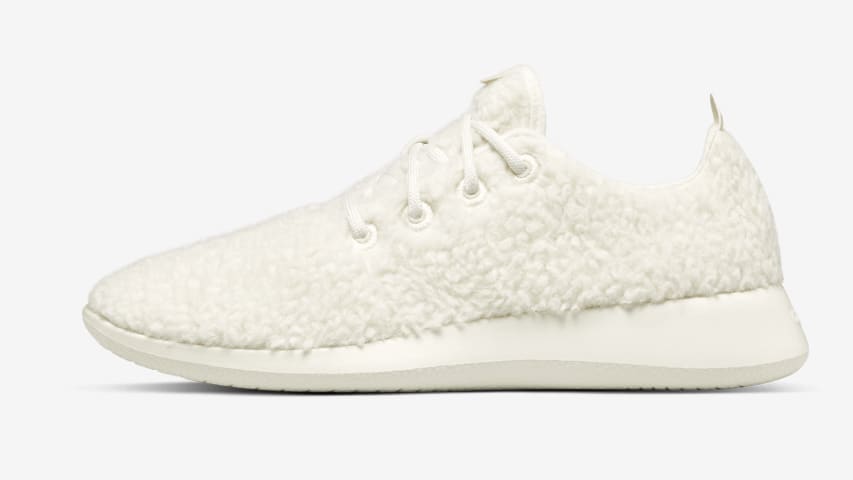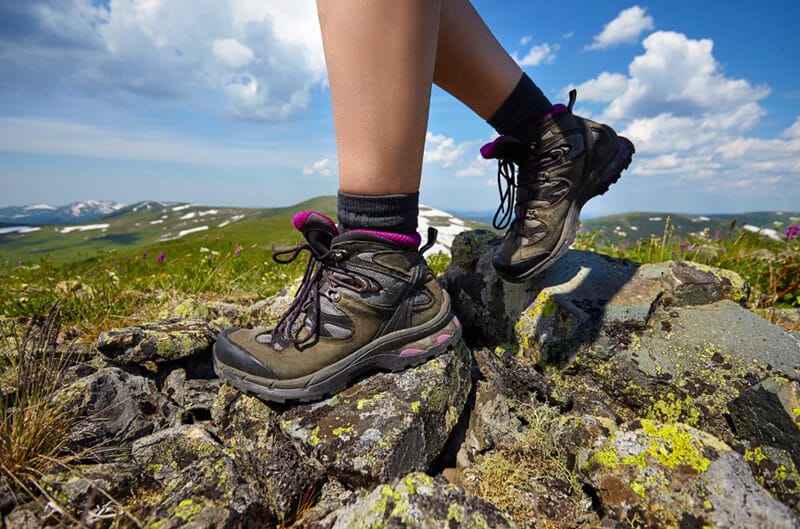 I am so happy to say that rei co-op has come up with a new line of hiking boots! The reason why this makes me so excited is that i love rei co-op products. One of my first hiking backpacks was the rei co-op flash. I still have it to this day because it is of excellent quality and it is pretty durable. Most of rei's products are pretty affordable, and that includes the rei co-op flash hiking boots. The hiking boots are great for beginner hikers or for people that would love some lightweight hiking boots. Another plus is that they are made from recycled material! I am all about companies that strive to make the planet a better place so check out below to get my full rei co-op flash hiking boots review. I talk about comfort, traction, water resistance, weight, support, value, and much more.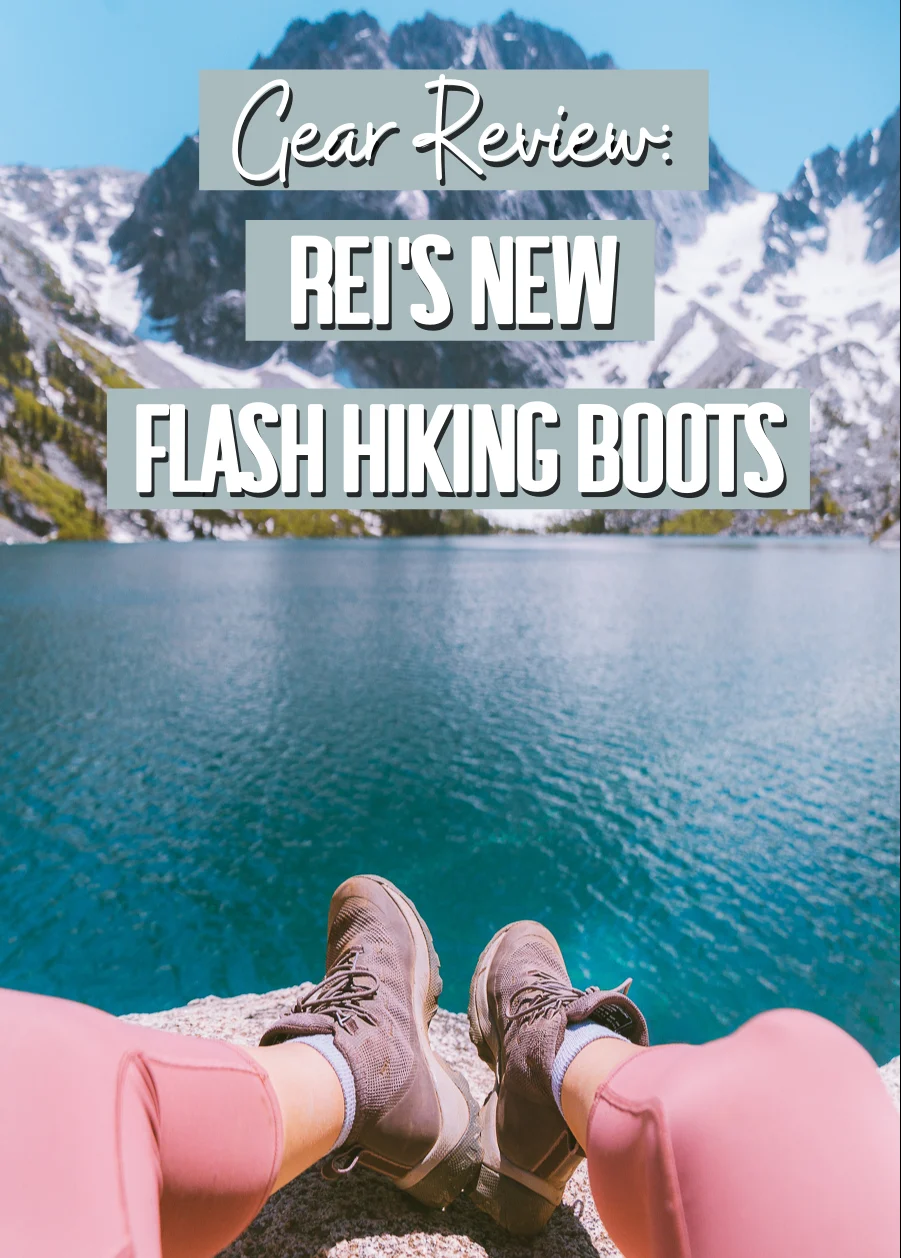 REI Co-op Flash Hiking Boots Review
How I Used The REI Co-Op Flash Hiking Boots
I hiked with the rei co-op flash hiking boots on 4 different trails around washington state. I experienced these shoes on different terrains like crossing streams, steep rocky areas, and muddy trails. Overall my experience was pretty great with the rei flash hiking boots, and i loved how lightweight they felt! Here are the trails i hiked to test them out:
Lake stuart: 9 miles round trip, 1665 ft. Elevation gain
Emmons moraine: 3 miles round trip, 900 ft. Elevation gain
Suntop lookout: 2.1 miles round trip,1100 ft. Elevation gain
Colchuck lake: 8 miles round trip,2280 ft. Elevation gain
Weight
The one thing that stops me from using hiking boots all the time is weight. Most hiking boots can be a little heavy or bulky when compared to hiking shoes. Luckily, the rei co-op flash hiking boots is on the lighter side compared to many other hiking boots in the market. Many hiking boots are usually over 2 lbs, while the rei co-op flash hiking boots is around 1 lb 13 ounces.
Usually, when hiking long trails, the boot's weight can start to weigh you down, but luckily, while hiking colchuck lake (9 miles round trip), the weight of the rei co-op flash hiking boots didn't bother me.
Traction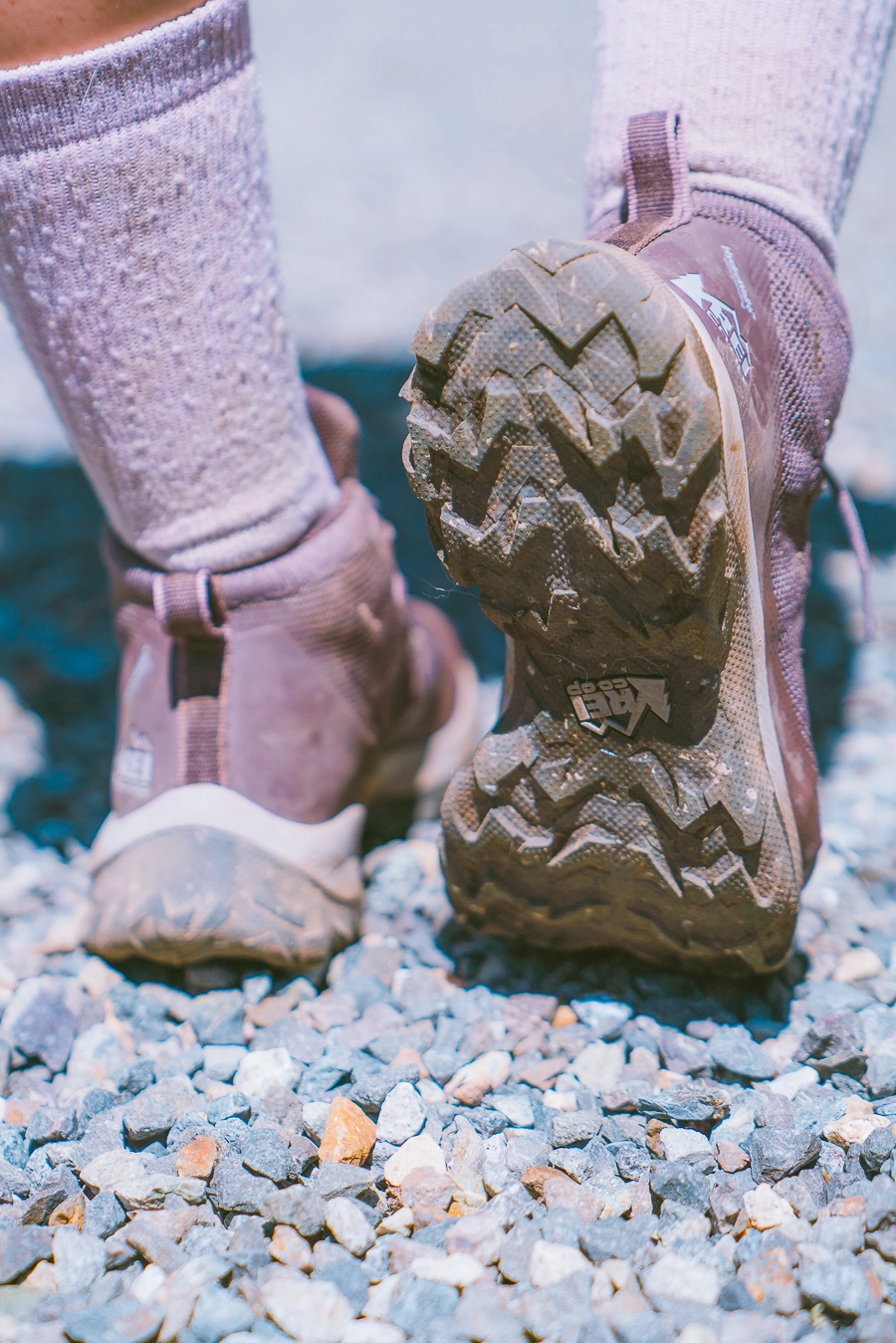 Colchuck Lake trail is known to be one of the rockiest trails in Washington. I was thankful that the REI Co-op Flash Hiking Boots worked well with the nonstop rocks and high elevation gain. This was especially true when going downhill, which is usually my least favorite part of the hike. Most of the time, I have trouble, and I slip or fall on trails, but the REI Co-op Flash Hiking Boots prevented this while hiking Colchuck Lake.
Water Resistance
There are streams and rivers all over Washington, and I was able to test out how waterproof the shoes were. Even though I walked through countless streams, my socks stayed nice and dry. So I submerged them in a shallow river to test them out, and yup, my socks were still dry!
When hiking shoes are waterproof, there can be some problems with breathability. This usually leads to blisters because your feet start to sweat when hiking. I luckily didn't get any blisters on my feet the whole time I was testing out the shoes, which means that the shoes are waterproof yet breathable. This is a huge plus!
Durability
After putting the boots through hell on those 4 hikes (I am not the most graceful hiker), the shoes still looked in pretty good condition. There were no major scratches, no major peeling, and the fabric looks fine.
Comfort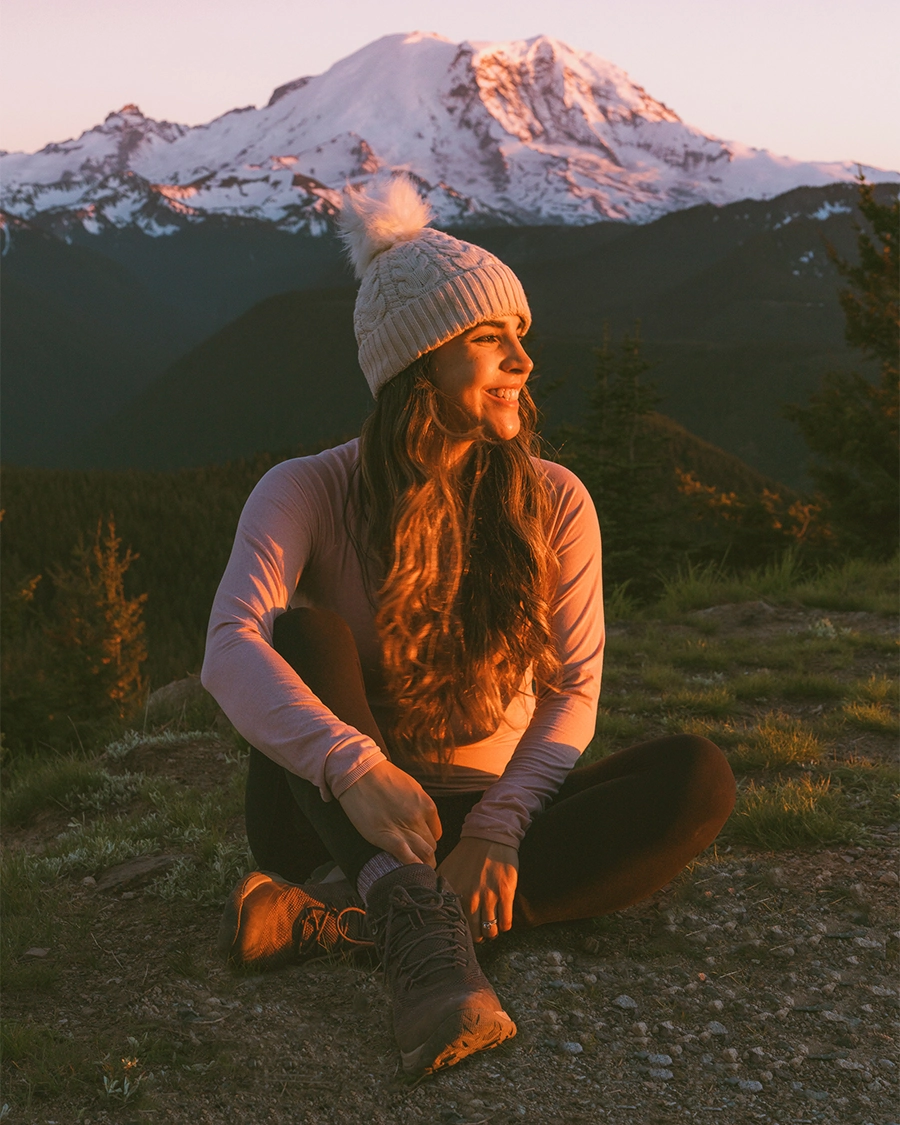 The rei co-op flash hiking boots will need to be broken into. Like most hiking boots, it is recommended to use them around town, at home, or on leisure walks before going on a difficult hike.
They are stiff at first, but they eventually mold to your feet. I do like that there is room in the toe box. I ordered half a size over my regular shoe size (i am usually a size 7 and got a size 7.5), and it fit just fine. I had no problems with my feet swelling or my toenails feeling uncomfortable.
Support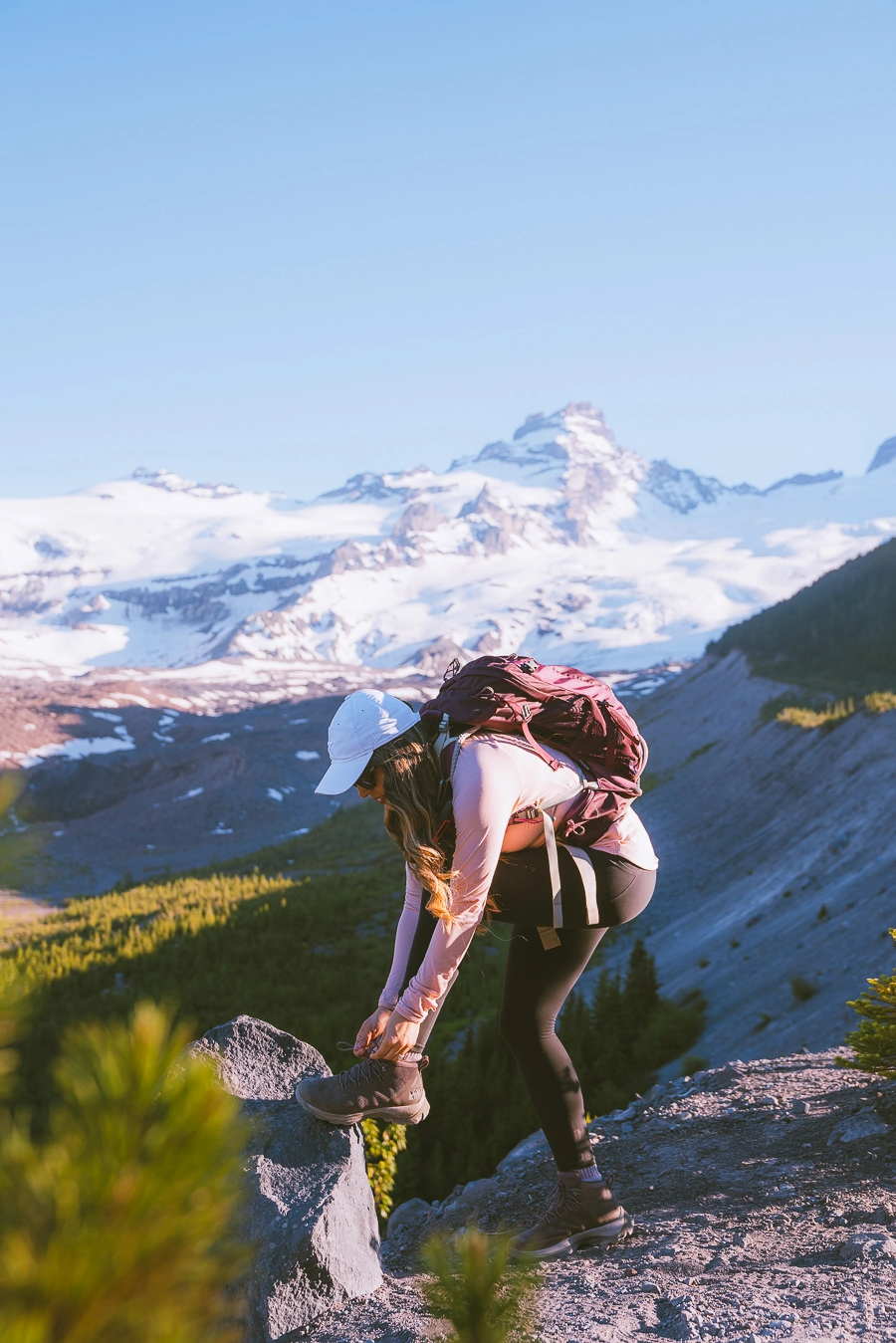 My ankles usually bend like crazy after hiking many miles, and it definitely happened to me while hiking Colchuck Lake. Luckily, the REI Co-op Flash Hiking Boots was able to help prevent any major damage to my ankle when it bent(I have injured my ankle this past year while hiking while wearing other boots). I was pretty happy with the ankle support the REI Co-op Flash Hiking Boots gave me.
The boots' insoles felt pretty supportive, but I know that this could be different for others. I have high arch feet, and the insoles felt perfect for me.
Value
I have reviewed and bought many hiking boots throughout the years, and the REI Co-op Flash Hiking Boots is the most inexpensive boots I have had on hand. I always love that REI Co-op makes its products available to everyone while still maintaining good quality. The cost for the boots ($130) is a great price, especially for budget buyers and new hikers.
REI Co-op Flash Hiking Boots Appearance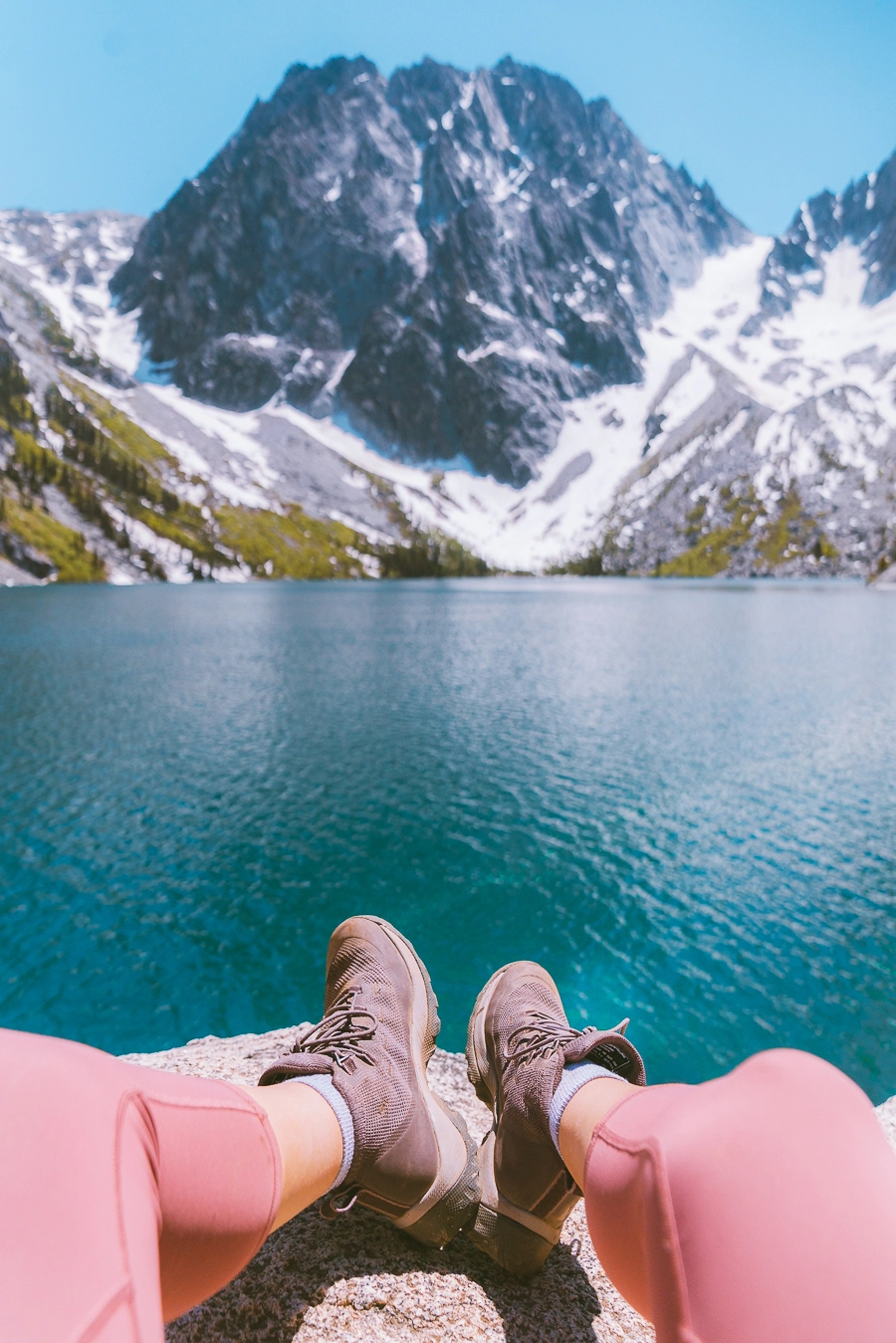 The REI Co-op Flash Hiking Boots comes in three colors;  Bark/Moss, Granite Black, and Smoke/Lilac. I picked the Smoke Lilac because I usually wear more pink colors on my hikes. I really loved the Lilac color and even got compliments of the color on the trails. I love when outdoor brands make hiking apparel more attractive and fun for women! I hope REI Co-op adds even more fun colors in the future!
Style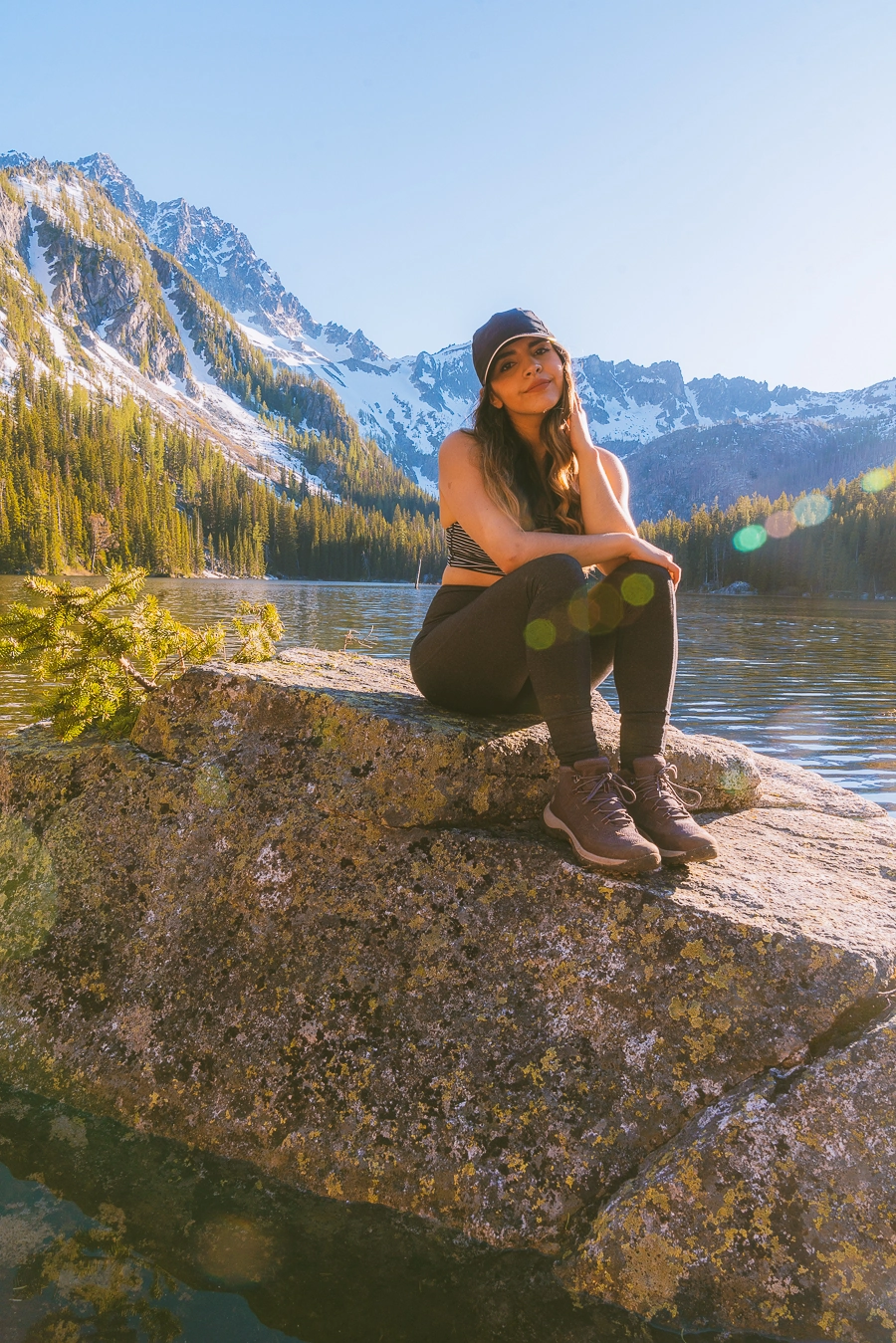 What I loved about the REI Co-op Flash Hiking Boots is how little they resemble hiking boots. Some hiking boots can look pretty manly, rugged, and bulky. Luckily, I can pretty much wear the boots in many places, not just the trails. Hey, I am all about versatility!
The style of the shoes and the weight makes it pretty easy for me to head to the grocery store or to the mall. When it comes to hiking, looks are probably one of the least important factors (which is why I put it at the bottom), but it is nice if your shoes are versatile. Plus, I like looking cute on the trails because that is my jam and my brand!
Eco-Friendly Materials
Usually, when you think about hiking boots, you do not think about Eco Friendly. Well, my friend, the new REI Flash hiking boots are made with recycled materials. Here are some of the specs:
Membrane uses 75% recycled polyester
Upper sole is 99% recycled PET
Upper sole is also 30% recycled TPU
TerraGrip rubber is 20% recycled
As someone who loves the outdoors, I am always so excited to hear when outdoor brands use eco-friendly materials, which is a huge plus. Read more on the recycled materials they use here
Conclusion
Thanks for reading all about the new REI Co-op Flash Hiking Boots! Let me know if you have any questions and make sure you check out some of my other hiking posts:
.
REI Co-Op Review: Must Read This Before Buying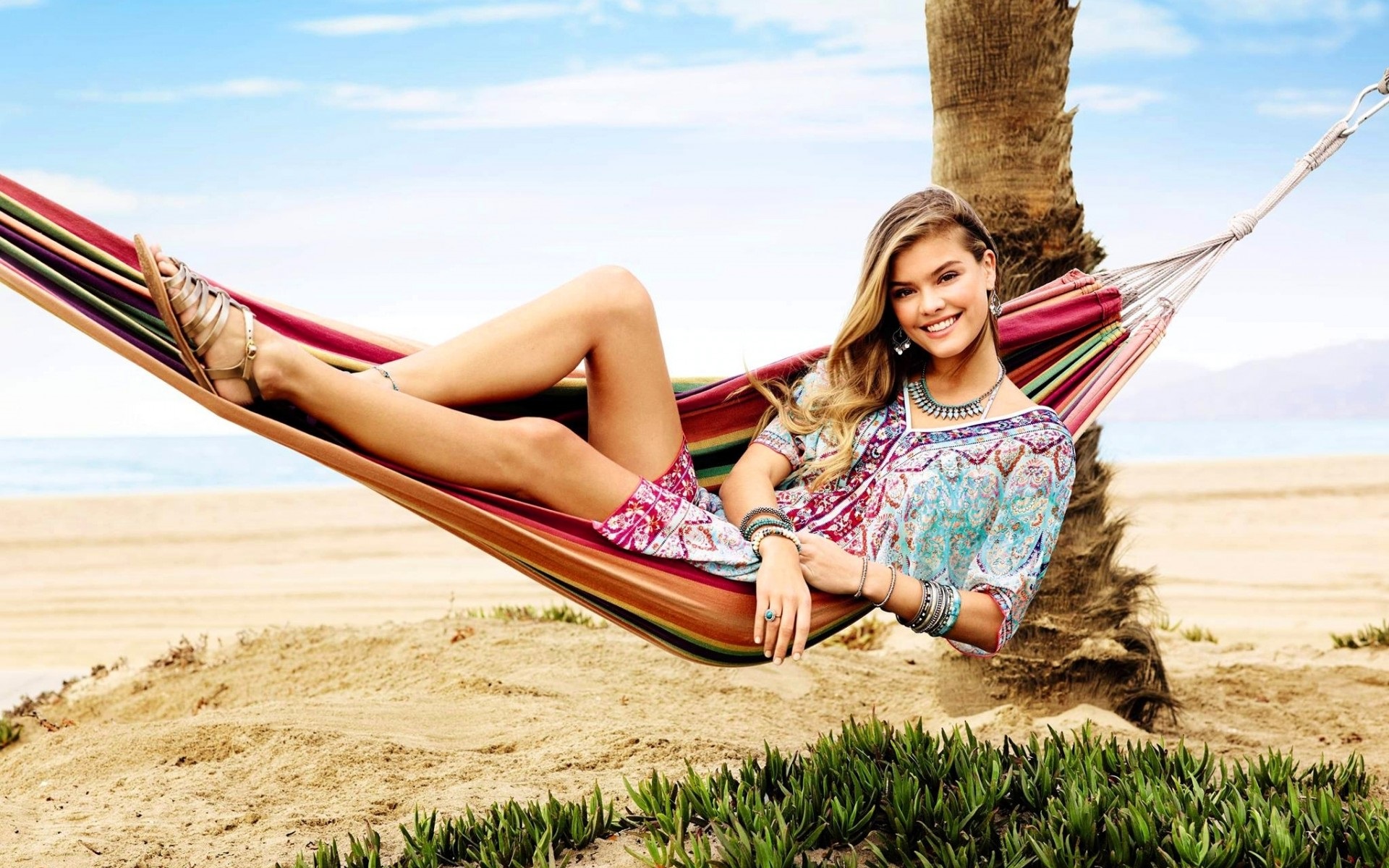 Recreational Equipment, Inc., generally known as REI, is an American retail and outside amusement administrations enterprise. It is coordinated as a shoppers' co-usable. REI sells setting up camp stuff, climbing, climbing, cycling, water, running, wellness, snow, travel hardware, and men, ladies and children clothing. It additionally offers administrations like open air arranged excursions and courses.
REI works 165 retail locations in 39 states. It additionally gets orders by means of mail-request lists and the web.
About REI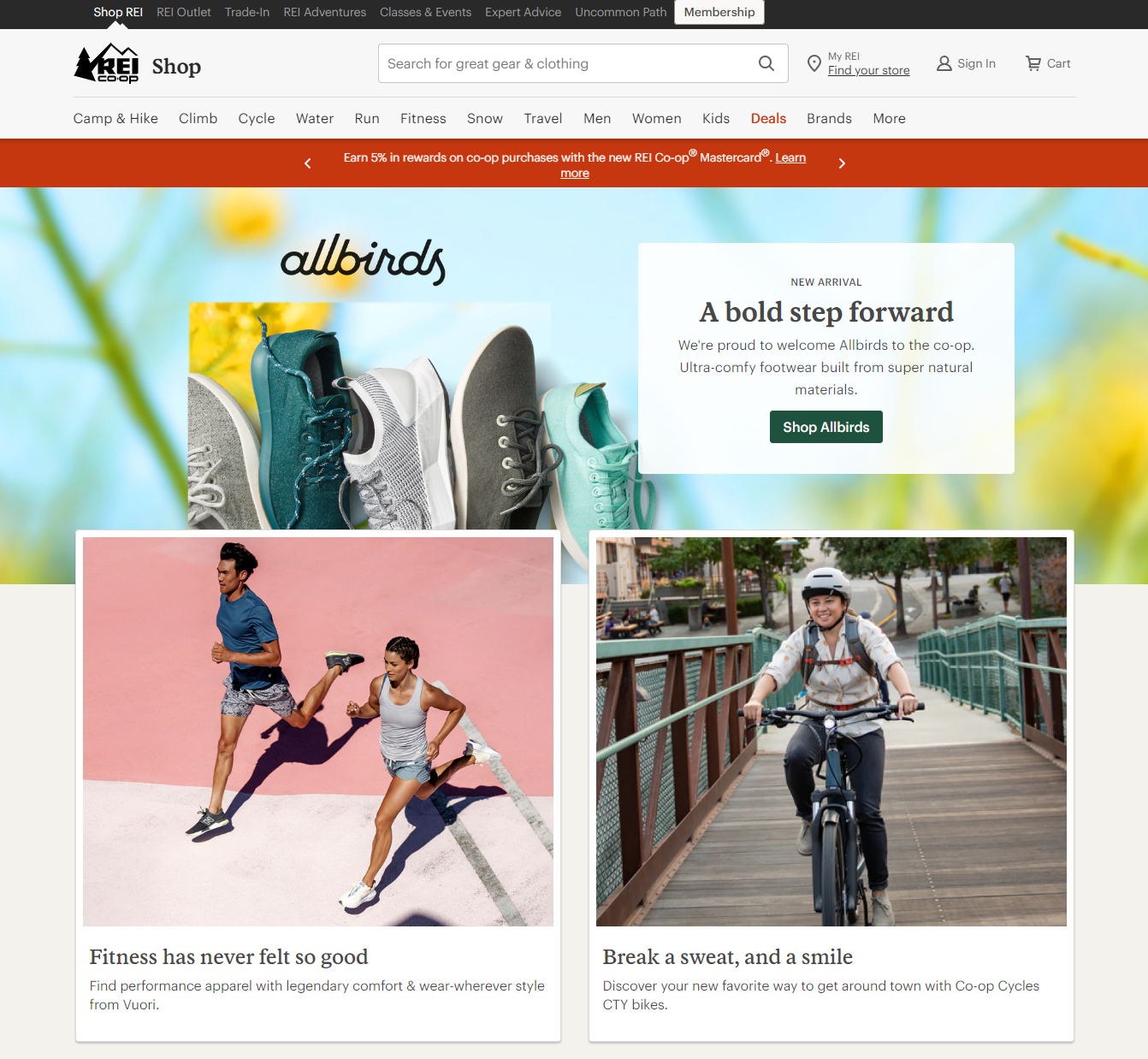 Lloyd and Mary Anderson established REI in Seattle, Washington in 1938. The Andersons imported an Akadem Pickel ice hatchet from Austria for themselves as a feature of The Mountain dwellers Fundamental Getting over Course, and chose to set up a co-usable to assist other outside fans in the club with obtaining great quality getting over gear at sensible costs. On June 23, 1938, with the assistance from Seattle lawyer Ed Rombauer, five Mountain dwellers met at Rombauer's office, and each paid one dollar to join Sporting Gear Agreeable.
During the principal year, Sporting Hardware was just a rack at the Puget Sound Helpful Store, a rancher's center close to Pike Spot Market in Seattle. In 1942, Lloyd moved to another space a few doors down from The Mountain dwellers club rooms on Pike Road. Jim Whittaker, the principal American to highest point Mount Everest (in 1963), was recruited as the primary full-time representative of REI on July 25, 1955. In 1956, Sporting Hardware Agreeable was consolidated. Whittaker filled in as Chief during the 1960s and was an early board part with American Elevated Club president Nicholas Secure. At the point when Whittaker climbed Mount Everest, it gave REI such an excess of free promoting that the next year, 1964, its gross pay beat $1mil interestingly.
Through the 1970s, it distinguished itself noticeably as REI Center, zeroing in fundamentally on hardware for serious climbers, explorers, and mountaineering endeavors.
No U.S. retailer has promoted the open air and experience travel spaces like REI. In the States, city occupants need to come to depend on it as a one-stop supplier for climbing, setting up camp, bicycling, rowing, strolling the canine, or taking the children to the recreation area. That is thanks to a great extent to REI's monstrous choice of the best outside dress brands from Patagonia and The North Face to MSR and Arc'teryx.
However, its in-house gear brand, REI Co-Op, tends to fly under the radar, compared to its brand-name counterparts. That's a shame because many of its own products offer the same great quality and features, plus a fantastic "satisfaction guaranteed" return policy for significantly less than elsewhere. Let's take a look at everything you should know about REI Co-Op outdoor gear and why you might want to consider the brand for your next gear-up.
What Is REI Co-Op?

REI Co-Op is REI's own brand of outdoor gear. Its history dates back to 1938, so the company has more than eight decades of field-testing under its belt. At its core, REI promises "gear born from and built for an outdoor life — part of experiences that transform lives." Most importantly, however, it's built to be affordable. In the company's own words, it's designing outdoor gear and apparel to "break down barriers like cost, activity level, and sizing to get everyone outside." The bottom line: It's billed as a more accessible alternative to high-end (and high-priced) outdoor gear, but with the same quality and innovation.
What's the Price Range of REI Co-Op Gear?

As we said, affordability is one of REI Co-Op's best selling points. To be sure, it's pricier than the sort of bargain-basement off-brand gear you might find at, say, Walmart, but often less than more recognizable brands. However, the quality is surprisingly on-par or better than many of those brands. In most cases, the technical innovation and feature set are comparable, too.
What Are the Most Popular REI Co-Op Outdoor Products?

The REI Co-Op catalog runs deep with nearly 1,000 products in total. You'll find essentials like socks, water bottles, and duffel bags. But, the selection of gear extends well beyond the basics to include everything from hiking boots and expedition tents to backpacks and luggage. The most popular REI Co-Op products include its tents, which deliver some of the best bang-for-your-buck value of any camping tents on the market. Its Half Done and Base Camp tent lines, for example, frequently receive four-star-plus reviews from customers and countless outdoor gear review websites. REI Co-Op sleeping bags like those in the Trailbreak line are similarly well-reviewed. The self-branded line also includes great outerwear options like rain shells and down jackets for men and women. Of course, the best part is that these often cost less than most premium brand-name alternatives.
What's the Return Policy for REI Co-Op Products?

REI's generous return policy applies to anything from any brand bought at its stores. For new products (not including outdoor electronics), the company guarantees, "If you're not satisfied with your REI purchase, you can return it for a replacement or refund within one year of purchase." That's already better than almost any retailer. But, in our experience, it tends to go the extra mile to back its own REI Co-Op products. Stories abound of the store accepting returns on years-old products that prematurely failed or that regular customers weren't happy with. (These stories are anecdotal, of course, so don't quote us.) Just know that REI really does stand behind its products and typically bends over backward to keep customers happy. This is especially true for REI Co-Op members.
Should I Get an REI Membership?

Whether you're a thrill-seeker going off the grid for a few days or an outdoors enthusiast prepping for the occasional winter hike, you can probably find whatever it is you're looking for at REI. If the cashiers consider you a regular, you're already in the know—and you've probably considered investing in an REI Co-op membership, which gives frequent shoppers a chance to earn back a percentage of what they spend at the end of the year.
Even though the REI Co-op recently increased the cost of its membership, it still remains a modest price of admission: A lifetime membership is just $30. (If you're already a co-op member, you'll be grandfathered in to the new program.) And as long as you spend at least $10 a year on qualifying purchases, you'll earn 10 percent back in annual dividends, plus you'll get access to member-only discounts during special in-store events, and in some cases, free shipping. You can choose to either apply your dividends (issued yearly in March) toward REI purchases or receive them as cash in your pocket. And as of March 2, 2022, members will now receive even more benefits, including free shipping on most purchases and exclusive access to new and limited-edition gear.
At face value, signing up seems like a no-brainer—but whether the Co-op membership makes sense for you depends on how you shop and what you shop for.
What are your shopping habits?

If you're an REI regular who normally pays full price, you'll squeeze the most out of the membership benefits. Bargain hunters won't get money back at the end of the year, though, since you can't earn dividends on sale or clearance items. REI Outlet purchases don't qualify for dividends either.
Will you use the exclusives?
An REI membership comes with a handful of exclusive perks that only Co-op members can take advantage of, many of which have been recently introduced. For instance, members now have the opportunity to save 20% on REI's bike and snow shop services, plus free flat tire repair and machine wax. These savings make a membership especially attractive to bikers, skiers, and snowboarders alike.
Members receive special pricing on Co-op Experiences, though dividends can't be applied to trips or to classes at the REI Outdoor School. If you plan to take advantage of the discounts on REI Adventures, signing up would be advantageous even if you only shop the sale section (thus forgoing dividends). Instead of collecting dividends, you'll save on the total price of your trip—and then some. For instance, members can get a discount of up to 57 percent off their lift tickets at select ski resorts (there are about 60 locations to choose from); at some resorts, that represents more than $100 in savings.

Previously, REI stores hosted an annual garage sale—available only to co-op members—featuring returned items at bargain prices, but the company has recently renamed the initiative Re/Supply. The program, available only to co-op members who want to trade in used gear, is similar to Garage Sale but instead of yearly sales, members will have the ability to buy used year-round. In-store trade-ins are available at a few brick and mortar locations—with more to come—but members around the country can send in their used gear in exchange for an REI gift card.
Members also get exclusive access to the Member Collection, which includes early access to new gear, limited edition gear, special offers, and access to one-of-a-kind brand collabs.
Are you planning to make just one big purchase?
There are some instances in which signing up for the Co-op membership can be beneficial even if you never again set foot in an REI (or surf the site) after your first purchase. If you're in the market for pricier gear—like a GPS running watch or a canopy tent that fits the whole family—becoming a member is definitely worth it. Take the Garmin Forerunner 645 running watch, for example: If you buy the watch at its full price of $400, you'll earn 10 percent ($40) back in dividends at the end of the year. Sure, you'll net only $20—but that's $20 more than you had before, and no one can argue against free money.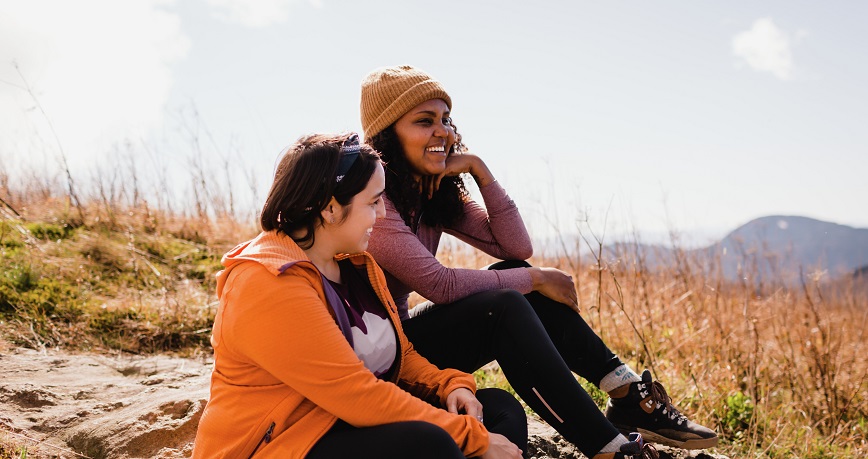 How often do you shop online?
Until recently, REI's spending threshold for free shipping was at least $50, which made shopping online less economical for folks who weren't able to shop at brick-and-mortar stores. But REI is now offering members free shipping for most items, which makes a membership even more enticing for those making small purchases online. You might still be charged separate handling fees for larger, bulkier items—so you may still want to opt for in-store pickup if possible to avoid paying more on those purchases.
Are you a brand loyalist?
You may second-guess an REI membership even if you're constantly shopping for outdoor gear. Just because you're an outdoors enthusiast doesn't mean you have to buy from REI—competitors like Amazon, Backcountry, and Moosejaw often match REI's sale pricing, even that of its member-only sales. With that in mind, having exclusive access to REI discounts thanks to your Co-op membership doesn't mean much, especially if your order is ineligible for dividends and free shipping.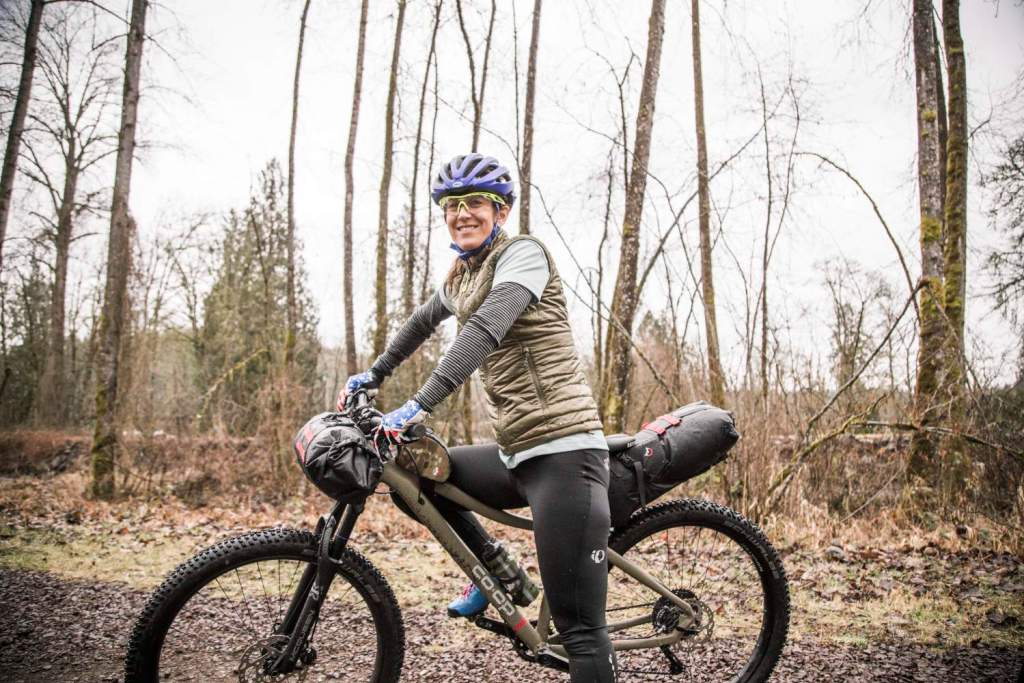 But brand loyalty is a very real thing, and for many shoppers, REI is an upstanding retailer that donates a percentage of its earnings to various nonprofits. The company has recently announced that it'll be donating $5 for every lifetime membership purchase to the REI Cooperative Action Fund, a public charity that donates to nonprofits that promote justice, equality, and belonging in the outdoors So if you find yourself choosing REI over and over again—even though other retailers might offer better sales—a Co-op membership probably makes sense for you. This is especially true if you have a particular penchant for REI-branded gear—Wirecutter certainly has a few favorites.