PETstock's Pawsome CRO: What Can You do to Increase Your Online Purr-chases?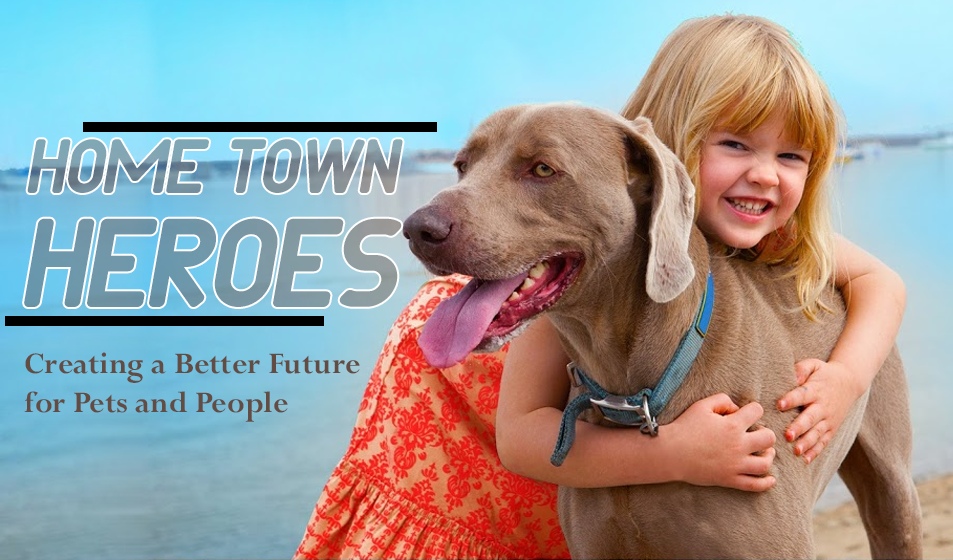 This post contains affiliate links. When you purchase through links on this post, we may earn an affiliate commission. Thanks.
The online pet store industry has been booming for the past few years and the competition is fierce. Australia alone has over 10 online pet stores. Pet retailers need to stay ahead and continuously increase sales if they want to see consistent and sustainable growth in their online business. 
With the competition so tight, even the smallest website improvements can help increase your online conversions. 
Can you teach an old dog new tricks? This week we'll be looking at one of the most successful online pet retailers in Australia – Petstock – to learn how they stay best in show – and uncover the hidden op-purr-tunities to improve their conversions.
Traffic is high, and Load Speed could be improved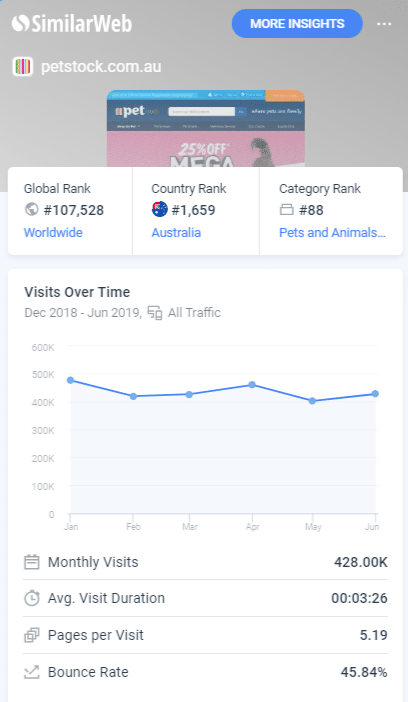 Currently, Petstock places third (behind PetBarn and PetCircle) for total traffic engagement per month in Australia for Pet and Animals websites, according to web traffic analytics site, Similar Web.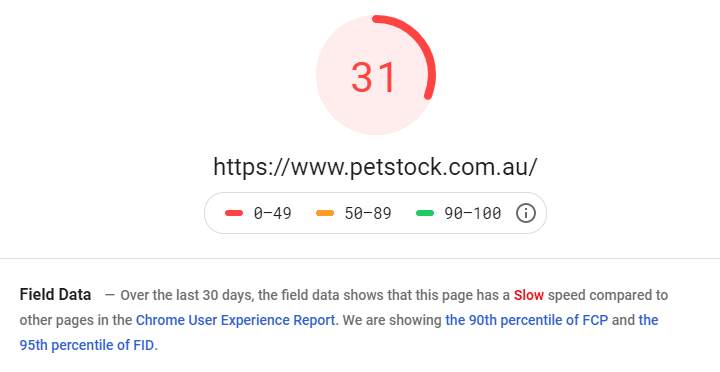 I tested the load time for each page as I moved along the buying journey, here are the results.  
Home – 4.46s
Product – 5.6s
Cart – 5.9s
Checkout – over 20 secs for the 3 steps combined 
According to industry-leading CRO experts, ConversionXL: 
47% of people expect a web page to load in two seconds or less

57% of visitors will abandon a page that takes three seconds or more to load.

At peak traffic times, more than 75% of online consumers left for a competitor's site rather than suffer delays.
Buyers are impatient and are always comparing their shopping experience with other sites. Turtle speeds and long waiting times are a bad user experience. For Petstock, optimizing page load times may be something to explore.
Home Page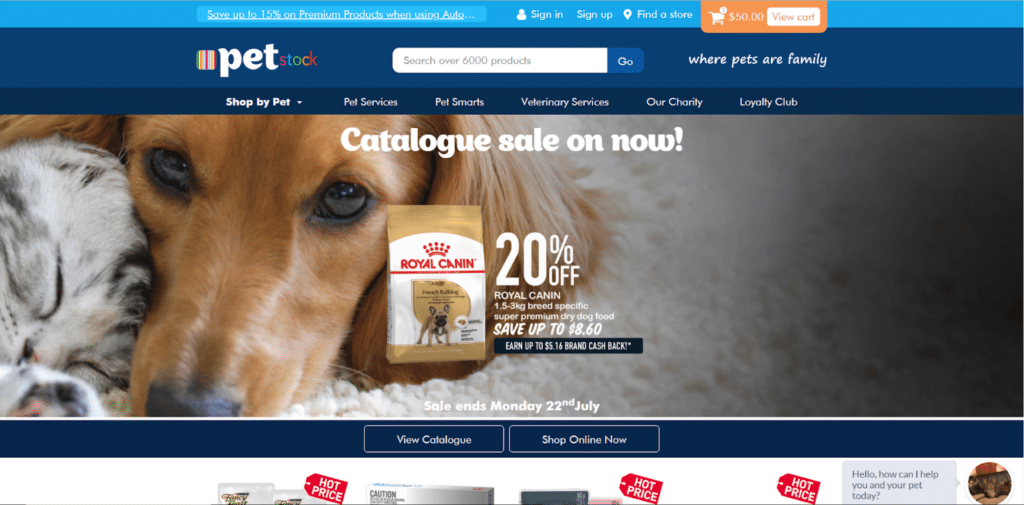 1. 
Use Headings and CTAs in banners that set & meet users' expectations
Petstock's home page changes based on current promotions and sales. We will be looking at just this edition in the screenshot. 
Our attention is immediately drawn to the big CUTE puppy eyes and big orange view cart button before we even notice the promotion.
There is very low contrast between the title of the promotion " Catalogue sale on now" and the background image. It doesn't stand out and is easily missed. Good contrast between text and background colour or images and increasing the size of the text will make the promo heading easier to read for the shopper.

Given the prominence of the "Catalogue sale on now!" heading, I assumed the CTA button would lead to a sales page or the store's catalogue. Instead, I was taken to a filtered category page with only Royal Canin dog food products.
The confusion could have been avoided if the heading had instead read "Royal Canin 20% off." If the heading refers to the catalogue, it is natural to assume the CTA button would lead to an online catalogue.
Many customers may react in the same way. The largest heading trumps everything else in the same vicinity – make sure your headings and CTA buttons align and set and meet the right expectations.
We find the "View Catalogue" button further down the homepage but it's not very obvious.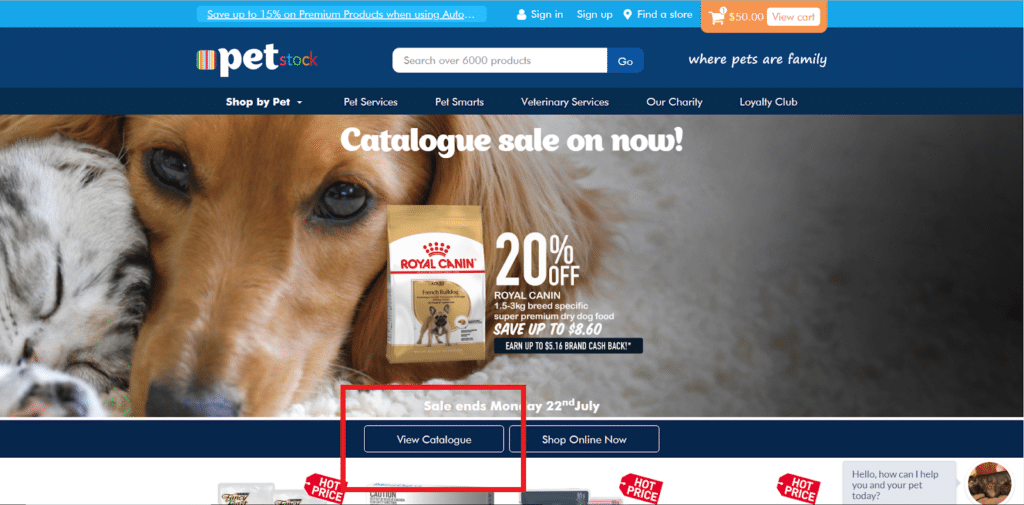 Recommended use of CTA buttons to drive catalogue conversions – If Petstock wants to push their catalogue sales, they could instead place their catalogue CTA as a large button in the centre of the page, coloured in orange just like their 'view to cart' button. 
2. Always place compelling value propositions higher up on the page
Further down we can see this row of icons:

The icons themselves are clear and communicate very simply Petstock's compelling value propositions or "reasons to buy from us" – this is so crucial to the buying decision and we think they have done an awesome job with the design.
But they are located midway down the page, meaning users have to scroll a while to see them. By moving the icons higher up the page, users will more likely see (and hopefully be swayed by) the value offerings. Always place compelling value propositions further up the page.
3. Show Categories with sale/promo tags above the fold to get people to scroll down

There are some products with "Hot Price" red tags just above the fold. This is great, as sale products attract attention and let the user know there could be some great deals below the fold, motivating people to scroll down.
4. Use a visually clear and compelling Newsletter Signup to grow your email list [your biggest asset]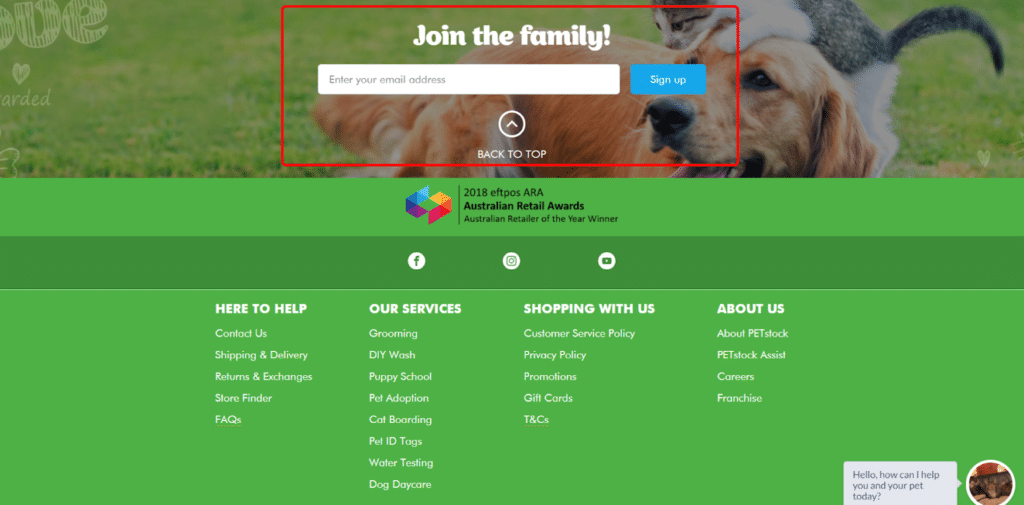 This is a well known best practice, but I had to mention it. A good, visually clear text field asks users to enter their email address. However, the signup heading is a bit ambiguous: "Join the Family!"
When you want users to signup to your newsletter, you're asking for personal information, so you need to sell it. Try to use an incentive like "Get $20 off your first order! Join the family!" or "Get exclusive online-only deals."
Category Page
1. Use less distracting and smaller photos to communicate value propositions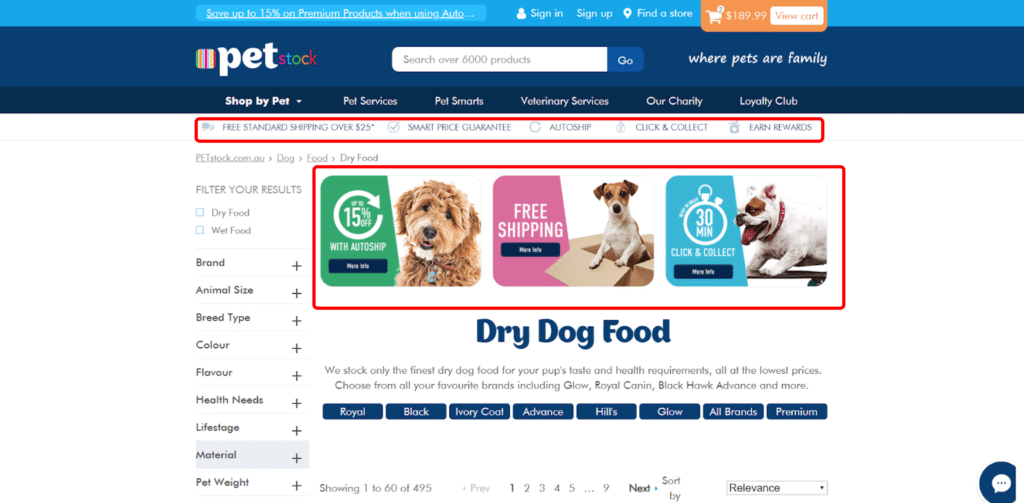 On their category pages, I noticed they have a thin banner below the main navigation bar providing information about Free Shipping, Auto Ship discounts and Click and Collect options – this works well as it's a great reminder for customers and doesn't take up much space.
However, there are also three additional, larger CTAs for the same information with associated pet images. 
To reduce cognitive load, always avoid repeating information. Additionally, these images push the product content below the fold, when the products should really be the stars of the product category page.
Although the puppers are cute, these images do distract from the product's content. When adding new elements to a page, it's important to keep in mind "What's the objective of this page?". The Category page's objective is to help customers find the product that meets their needs. Nothing else should override that objective.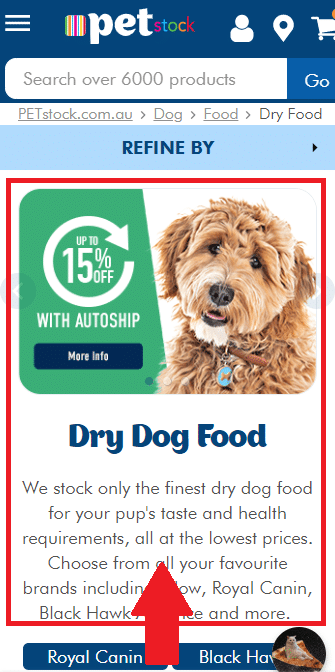 For their mobile version of the page, Petstock might want to look at bringing the products upwards above the fold. They can do this by reducing the size of the value proposition banners or shortening the category description.
2. Use promo stickers to get attention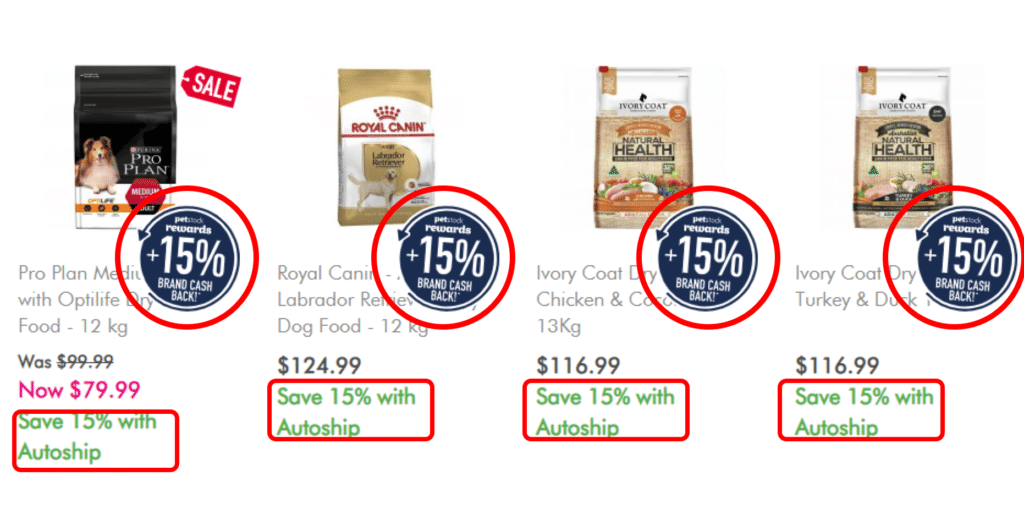 In this section, the red SALE sticker on some products gets your attention effectively and keeps you scrolling down. With the exception of luxury goods, using promo stickers on Category pages is a must. Customers don't want to be forced to find the SALE page to figure out what's on sale. Good job!
The 15% Brand Cashback sticker is enticing, however, it covers the product title – a clerical error I'm sure, but not a great user experience. "Brand cashback" isn't self explanatory, and seems vague. You don't want users to navigate away from their buying journey to find out!
The customer doesn't need to be reminded again that they can save 15% with Autoship since I've been told twice before above. 
Taking out the unnecessary content would simplify the page and show the user more products per screen. 
Product Page
1. Price should be super clear. Subscription prices should be smaller in size to avoid confusion.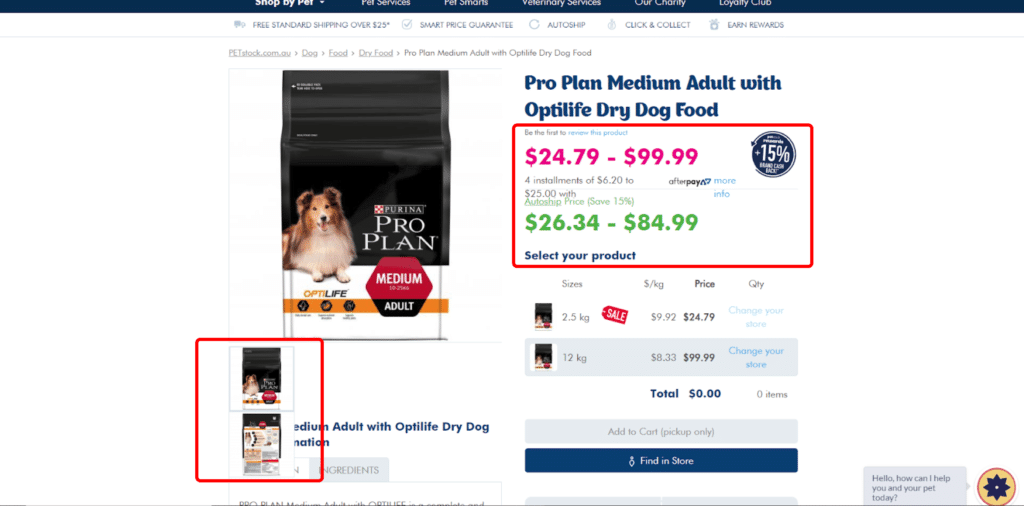 There's a bit of a cognitive overload here. 
First off, the different prices, price range and discounted auto-ship pricing is all very overwhelming and confusing for a customer. Simplifying the text, sticking to a simpler pricing and colouring system would create less friction for the customer. For example, instead of giving a 'price range', you could say 'From $24.79'.
I understand there is a push for Auto-ship because subscriptions means recurring revenue, so a less confusing way could be to reduce the size of the Auto-ship pricing in green, so you're not at risk of compromising the one-off sale. Ideally, this should be AB tested.
It's great that there is a star rating system for most (not all) products and reviews further down the page. Good social proof.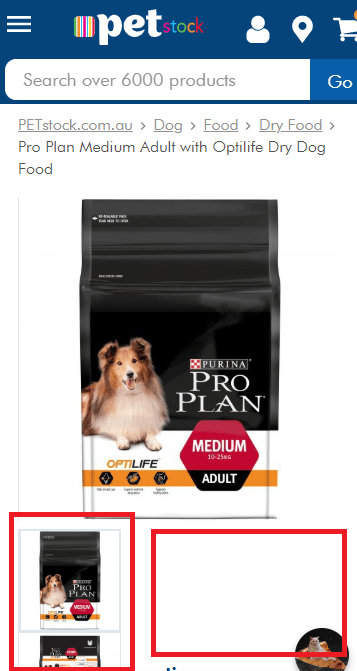 This is the mobile version of a product page. You can see right off the bat that the product images are laid out in a strange way so there is an inefficient use of space above the first fold.  It is also lacking crucial information above the fold: No prices, no product title, no add to cart button. Remember, always prioritise content that drives buying decisions further up the page so users don't need to scroll far down to find it.
Here are a few examples from other online pet stores that do this page well: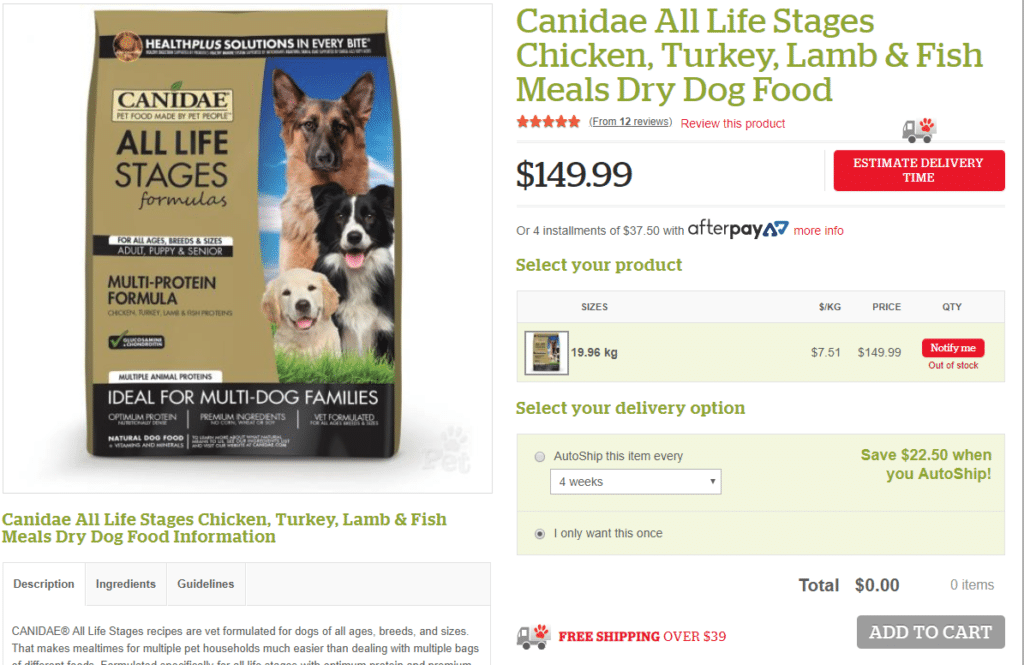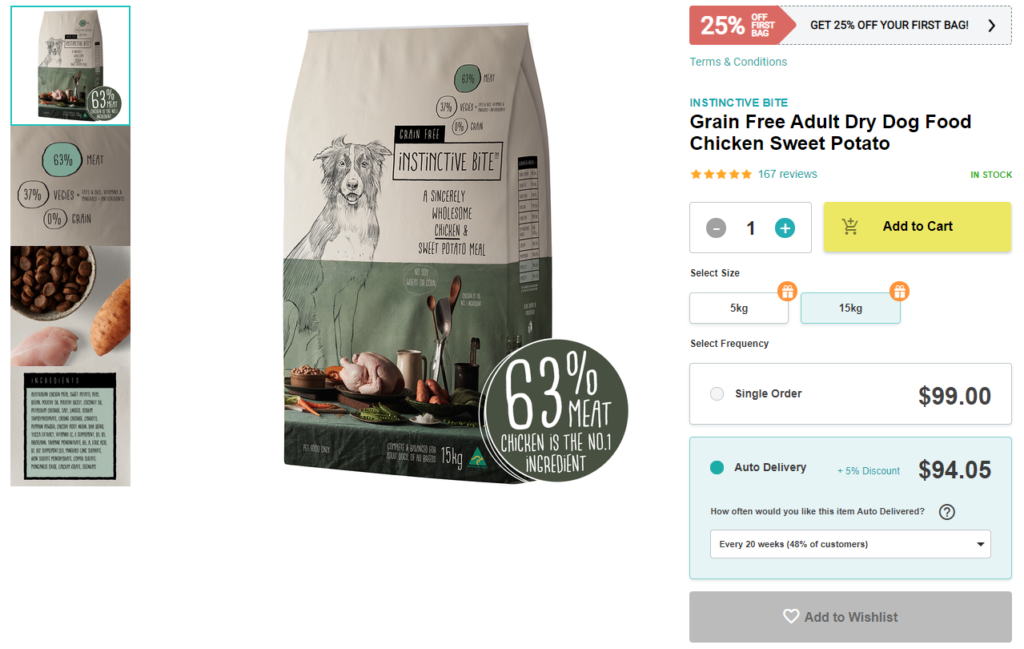 Notice these sites have very clean and tidy UI, with only the most crucial elements pushing for your attention. Product pages should not have too much unnecessary cognitive load so the shopper can focus on what matters most for their buying decision.
2. Prompt users to go to Cart. And Upsell.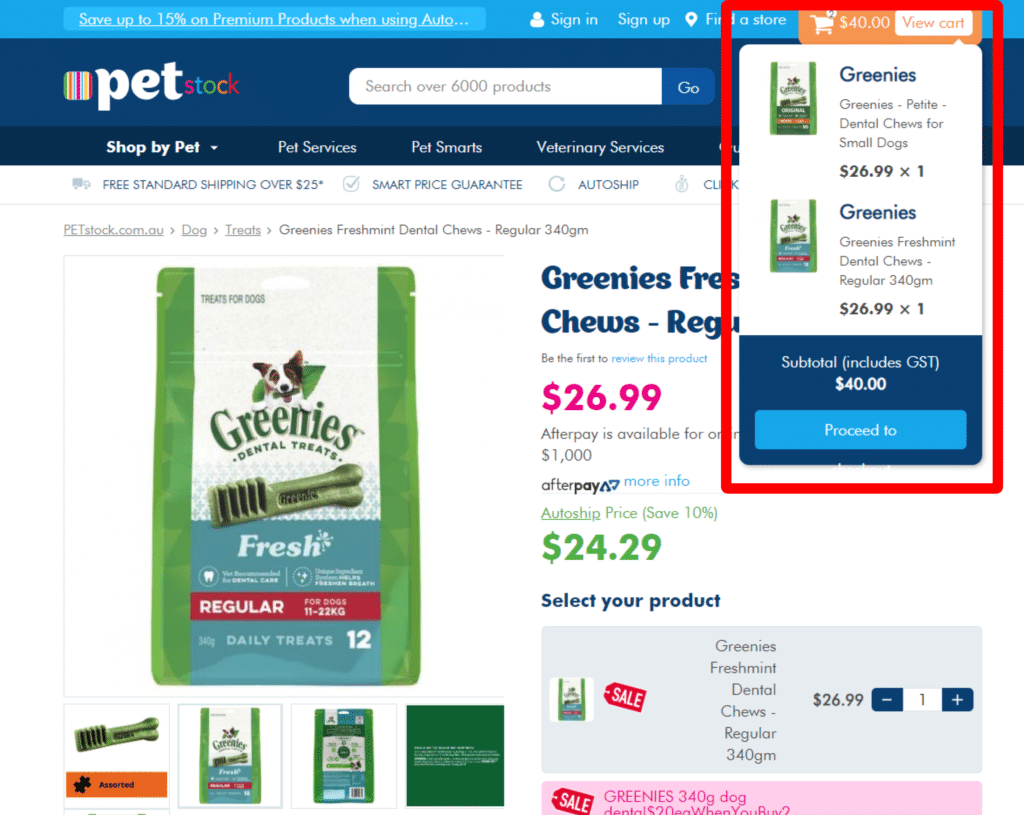 After adding a product to the cart there is no cart popup, just a tiny animation on the cart icon on the header (a pop up does not appear unless "View Cart" is hovered over). The animation is not a clear confirmation that the item has been added to the cart and could be missed.
A good A/B test that could improve Cart visits would be to test a popup appearing whenever a product is added to Cart, with 2 CTAs – CONTINUE SHOPPING and VIEW CART. Customers need to be prompted to go to the next step.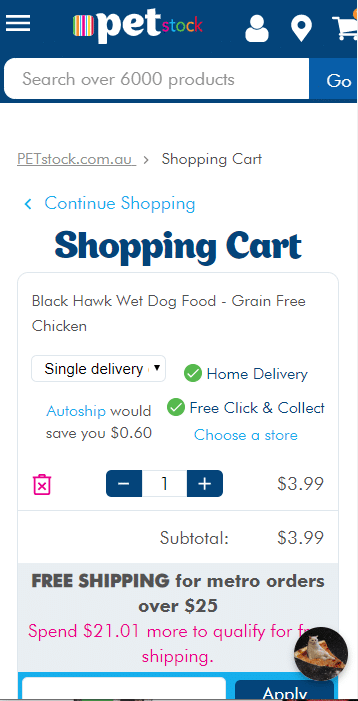 We get a different result when adding to cart on their mobile site. We are taken straight to the cart. (You can find more information in one of our next articles about whether it is best to remain on the product page or take them to a cart page after they click Add to cart.)

One thing clearly missing from this cart page is a product thumbnail image. It is a must.
Upsell opportunity: PETstock could consider showing an added to cart popup. A cart popup can also be an opportunity to upsell related products. If the customer is buying dental chews, they might be interested in a Fresh Mint Rope. 
Checkout  
1. Remove distracting links from the Checkout
This is the checkout account login/registration page. Down the page, there is a "Pet Smarts" section. This section has links to their blog posts. Links on checkout pages can potentially distract the checkout process and can lead users off the page. Petstock could consider A/B testing having this section versus not having this section on this page. 

Petstock has split its checkout process into multiple pages. This creates a couple of issues, one being the long load time mentioned previously. Additionally, every extra page is a potential drop off point.
Above are the three steps/pages required before we finally reach the payment page. 
This works for some website audiences where they prefer more consumable steps. But it can also be detrimental.
It's crucial to review what percentage of customers are dropping-off cross each step in Google Analytics or Heap Analytics. If high, you know you have too many steps.
The user interface of this payment page isn't optimised for a user-friendly experience.
The payment information fields should be prioritised further up above the fold. The payment methods can also be reduced to a smaller size.
Checkout Page tip: By removing the footer, we can reduce any distraction that may lead customers away from completing payment. 
To sum up…
Petstock has a fairly impressive website and there are some effective strategies other pet stores can learn from. However, there are some areas of opportunity Petstock can optimise or test to increase their conversion rate and profits. Simplifying their product and checkout pages should result in some quick wins and give them an edge in the competitive online pet store market. Meow. 
Whose website should we review next? Let us know in the comments for our next CRO Review!
The above points are best practices. But just using best practices won't solve all your drop off issues.
For sustainable long-term improvements, your data and real customer evidence can identify the changes and tests your site really needs. You need to be mining your data, observing customer behaviours, seeing which pages are hot (and which ones aren't), and asking your shoppers what kind of site would keep them coming back.
The Best Ecommerce Website Builders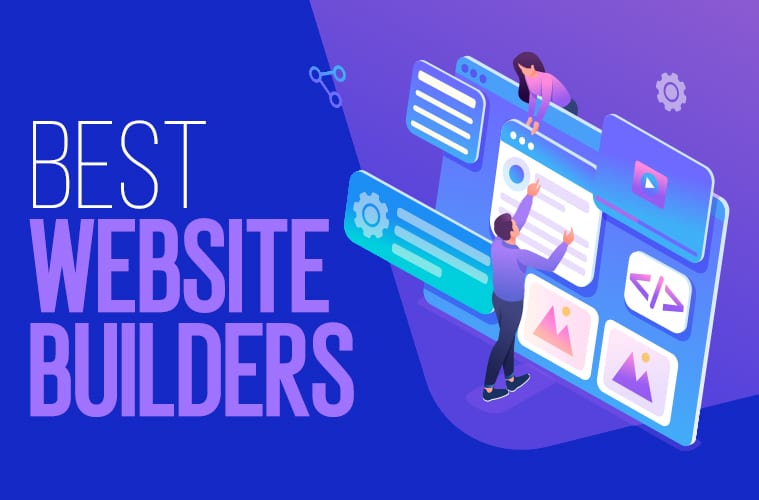 Shopify is definitely one of the most popular Ecommerce Website Builders today. It is easy to use and allows you to create a website that is tailored for your needs. Whether you are looking for a simple site that you can add products to, or you want a complex one that you can control from anywhere in the world, Shopify has what you are looking for.
Wix
Ecommerce solutions can be confusing, with all the choices available. When choosing, it's important to understand the differences between them. This way, you'll know whether the ecommerce solution you choose is the best choice for your online store.
Shopify is an ecommerce website builder, with a wide range of ecommerce features. It was designed for online retailers, and it also features advanced business management tools. In addition, it has a powerful analytics suite and an all-in-one inventory management system. It can be used to track products from suppliers to shipping.
It's also easy to set up and configure. You can customize the appearance of your store with custom code, or you can use one of the hundreds of readymade themes.
You can sell on multiple social media channels, including Facebook, Twitter, Instagram, and Pinterest. And you can even sell on Amazon and Etsy.
Volusion
Volusion is a popular ecommerce website builder that offers an array of powerful tools. It's also easy to use. It's an excellent choice for small and medium-sized businesses.
Volusion is an all-in-one E-commerce solution, which means that it covers all aspects of an online store. This includes marketing, sales, and SEO. It also provides a centralized storefront with customizable design options.
There are three different pricing plans. The Personal plan is aimed at smaller businesses, while the Prime plan is best for larger companies. The cost of each plan is based on the annual sales volume of your business.
The first version of Volusion was a very user-friendly platform, but it was lacking in some features. The newer version, Volusion V2, has improved the speed and ease of use.
BigCommerce
BigCommerce is a popular ecommerce platform that allows you to build an online store without needing to write a single line of code. It offers a variety of features to help you grow your business.
Choosing a website builder is a crucial step for bringing your product to market. You need a tool that can help you create an online store and provide a simple and intuitive shopping experience.
With a website builder, you have access to a variety of templates and tutorials to help you get started. You can also take advantage of forums and customer support to get the help you need.
Many websites builders use a drag and drop feature to help you create your site quickly and easily. This allows you to create a website that looks professional and is easy to maintain.
Squarespace Commerce
For businesses that are serious about building an online store, there are several ecommerce website builders to choose from. Each has its own advantages and disadvantages. Choosing the right platform depends on a variety of factors, including the size of your business, your budget, and your vision for your future. However, there are some fundamental principles that will help you determine which one is best for you.
You'll want to pick an ecommerce website builder that's easy to use, offers a wide selection of templates, and has easy integration functionality. You can also choose a website builder that's designed with content-based sites in mind.
The most popular ecommerce website builders are Shopify and Wix. Both offer powerful ecommerce features, high-quality web hosting, and excellent marketing tools.
Shopify vs GoDaddy
Shopify is a well-established website builder. It offers an easy way for anyone to set up their own online store. It also provides advanced tools for site creation, and includes great marketing and security features. Its features also include a built-in shopping cart.
GoDaddy, on the other hand, is a web hosting and domain name registrar. It is not as feature-rich as Shopify. Although it is inexpensive, it lacks some of the advanced features. It also doesn't offer the same level of customization.
Shopify has a big app store and has some features that aren't available on GoDaddy. This is due in part to the fact that Shopify is more geared towards ecommerce sites.
It also boasts a clutter-free interface, and has a variety of built-in tools. It has hundreds of themes, and offers a large library of professional templates. It's also easy to establish a website on it without a lot of tech help.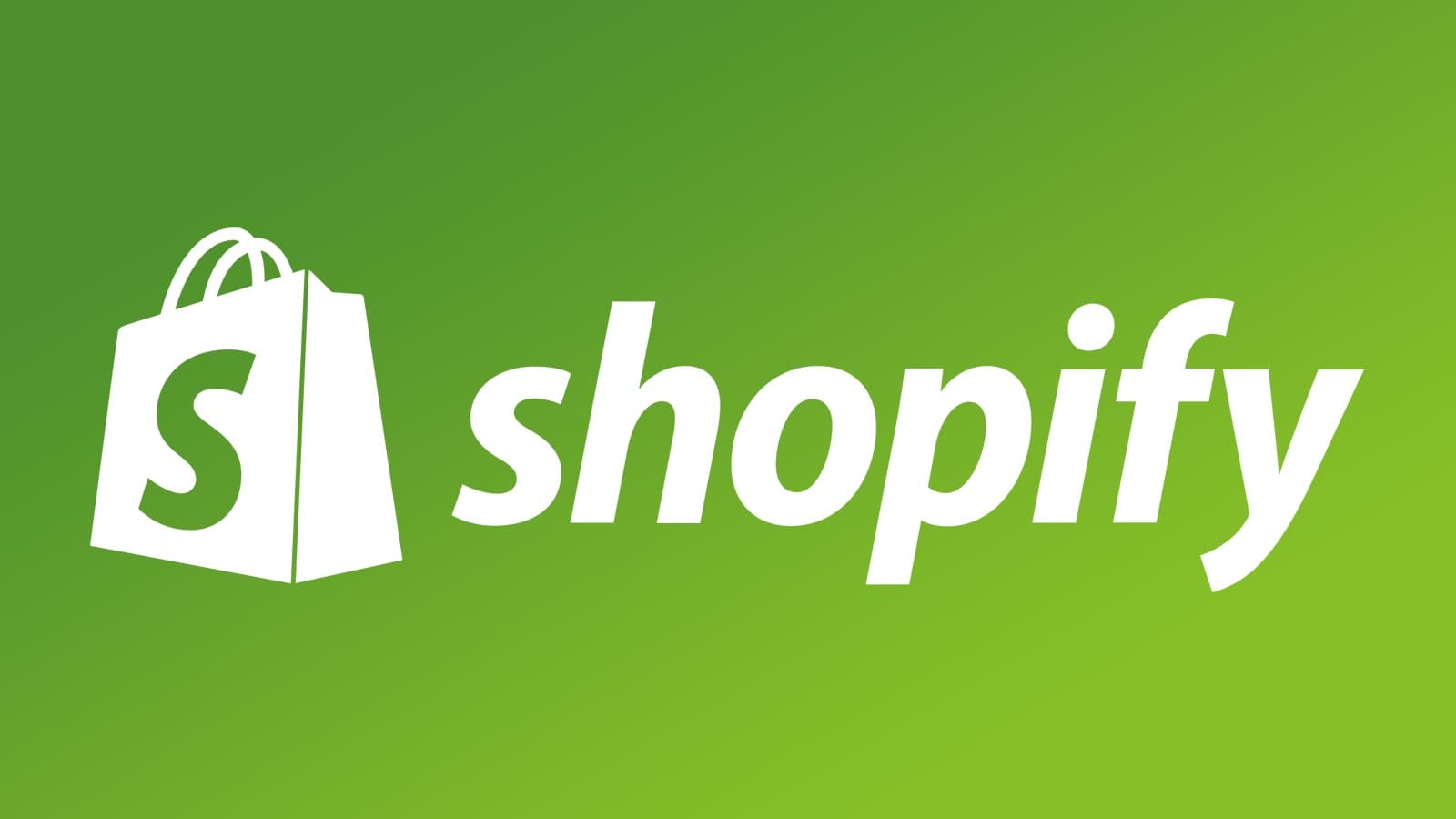 A Shopify Overview
If you are thinking of starting a website that will sell products, then you should definitely consider using Shopify. This is a great platform that has become increasingly popular with web developers and business owners. It has a wide range of features that allow you to create your website in a quick and easy way. The system also allows you to integrate with other systems and apps. Among its many features is the product inventory management system, a scaleable pricing system, and Google Smart Shopping.
Product inventory management system
A product inventory management system on Shopify is a central database of inventory that helps your business avoid out-of-stock situations. It also allows you to monitor your inventory and make better business decisions. You can use it to manage your inventory across different locations and variants.
You can sort your inventory by Available, SKU, Z-A, and product title. You can also view the history of your inventory. Moreover, you can set up the number of products per variant to help you better understand your inventory.
If you want to add a new product or transfer existing items, you can do it easily. You can also add tags and edit quantities. A positive quantity means that the item is in stock. Similarly, a negative amount shows that the item is not in stock.
It is important to understand how to import and export your Shopify inventory. You can do this through an inventory CSV file. However, you should verify the data first. Otherwise, you might get inaccurate product amounts.
You can also export your inventory using the Pipe17 app. Its super-fast sync rates will give you an accurate view of your inventory across different locations. It can also be integrated with other Shopify features.
Katana is an additional third-party tool that is also very useful for Shopify inventory management. It offers advanced features that allow you to communicate with suppliers and make better purchases.
It can provide you with detailed reports on your sales, trends, and seasonality. It can also help you predict your product lead times. The inventory management software you choose should be easy to use and should integrate with other tools.
Scalable pricing system
There's no secret that Shopify remains the gold standard when it comes to ecommerce. In the time it has been around, the company has grown from an ecommerce startup to a multimillion dollar behemoth with millions of users and brands on its books. The scalable pricing system is a prime example of this.
It is also the easiest of systems to implement, the scalable pricing system makes launching an ecommerce business a snap. For instance, you can launch an ecommerce site without having to worry about setting up an account, a problem for many small businesses. To get the ball rolling, sign up for a free 14-day trial and you're on your way. In fact, the Shopify team is so sure you'll be happy with the service that they offer a money-back guarantee. This is a major selling point for the service.
For example, the scalable pricing system allows you to add features and functionality as you go, rather than having to wait for someone else to make a decision for you. In the long run, your ecommerce business is likely to earn you more money in the process. You can also keep tabs on your most valuable customers to better engage them in the future. For example, Shopify has a feature called chat where you can schedule automated messages for your clients. You can also get a glimpse into your store's most popular products by using their product catalog.
Performance overviews
If you're a Shopify store owner, you can use performance overviews to better understand how your business is performing. This allows you to make smarter decisions about your store's operations.
One of the best things about having a Shopify store is the amount of data you can collect. This means that you can take a comprehensive look at your sales, customer behavior, and more.
The best part is, you can do this without complicated setup or complex calculations. It's all about leveraging the right data. Here are four ways to do that.
Shopify has several default reporting options. But if you're looking for something more granular, you can easily customize reports to suit your needs. For example, you can make a report that displays the number of purchases by a certain visitor category. Or, you can create a report that tracks conversion rates by category. You can also build a report that shows how a particular product is generating sales.
You can also get a detailed breakdown of your site's traffic, and how that traffic is divided into segments. This is useful for determining what type of content your customers are viewing, as well as identifying potential marketing strategies. You can also monitor your store's mobile traffic, and identify which products are most popular in different countries.
Another thing to consider is the time it takes your website to load. This can be a problem for many Shopify sites, and will affect your customers' experience. You should aim for a Time to First Byte (TTFB) of less than 0.3 seconds. If yours is longer than that, it could indicate a theme code issue.
Tailor Brands Review (2022) | Get Your Brand Logo Today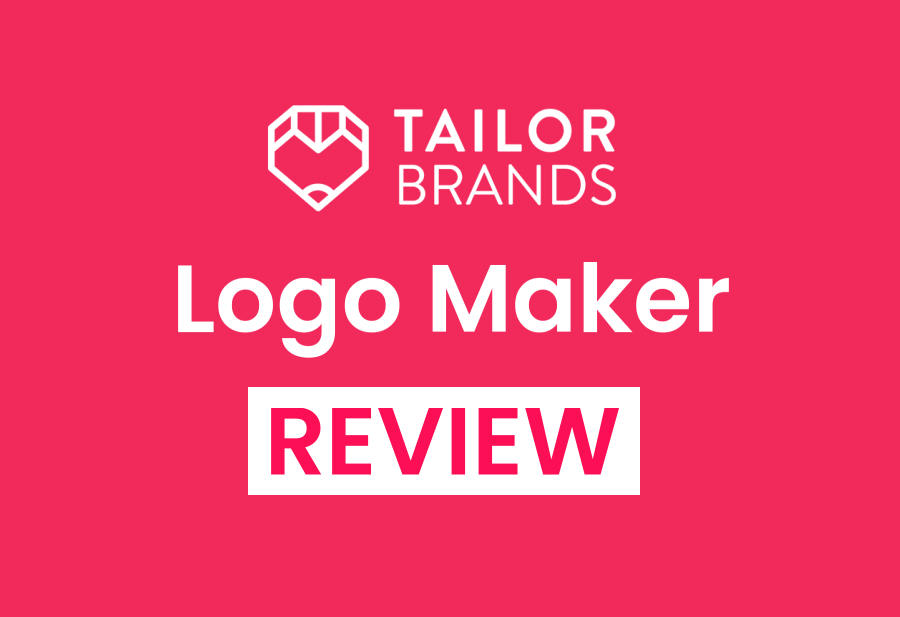 Tailor Brands is on a mission to help ordinary folk build extraordinary brands online.
The better you can make your brand look, the better it's going to perform.
People are more likely to use your services, buy your products or just visit your website if you have professional-looking branding. You don't have to be a multinational giant like McDonald's or Nike to have a great logo.
So how do you create a stylish logo for your site without investing loads of time and money?
Step forward Tailor Brands.
Tailor Brands is a machine-learning tool that helps entrepreneurs and website owners design powerful branding. You don't need a huge design budget and you don't need any technical skill to get a logo with Tailor Brands.
It's one of the best logo makers online and has helped over three million customers.
According to the company, a new logo gets designed every second. So it must be doing something right!
In this Tailor Brands review we'll look at:
Pricing
Customer support
Design quality
Additional Tailor Brands products…
And much more!
You can decide whether Tailor Brands is the right tool to create your logo. The best thing is: designing a logo on Tailor Brands is free. You can see what it looks like first before you decide to buy it.
Tailor Brands Review: Pros & Cons
Top Three Tailor Brands Pros
Ease of use
This is the first thing to highlight in a Tailor Brands review. The platform is very straightforward and getting a logo design is impressively painless. The presentation of your finished product is also top-quality.
Add-on products
From Tailor Brands business cards to email signatures and social media help, the full range of products goes beyond logos. Tailor Brands wants to be far more than your logo maker; it wants to be complete solution to your branding needs.
Good value for money
A wide array of supplementary products and services means Tailor Brands is good value for money. Pricing (more on this later) is clearly laid out on the website and each plan provides solid features as standard. What's more, you can get a range of logos designed for free – what's better value for money than that?
Top Two Tailor Brands Cons
No phone support
As any of you who have created a website will know, being able to speak to someone on the phone can be a huge help. So it's a bit of a downside that Tailor Brands doesn't offer phone support. That said, email support is quick and helpful, and the site is full of in-depth guides.
Limited customization
Tailor Brands does not provide one-on-one consulting with a designer to deliver a uniquely personalized logo. But it's important to remember Tailor Brands logos are not pre-made and you can make tweaks, such as to the font and color schemes. Logos are created on the spot, based on the information you have given to the company.
How You Use Tailor Brands & What You Get
For our Tailor Brands review, we decided to put this quote on the company's homepage to the test.
To get a logo on Tailor Brands, you have to answer a short questionnaire about your company and brand preferences. This includes the type of fonts you like and what your company's name is.
For our dummy run, we launched a vintage car company…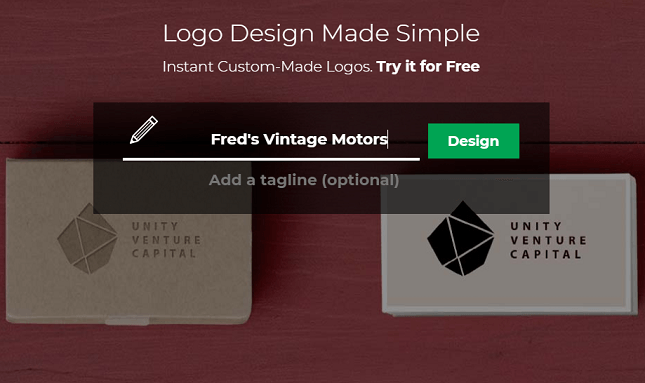 A bar tells you how much of the process you have left to complete.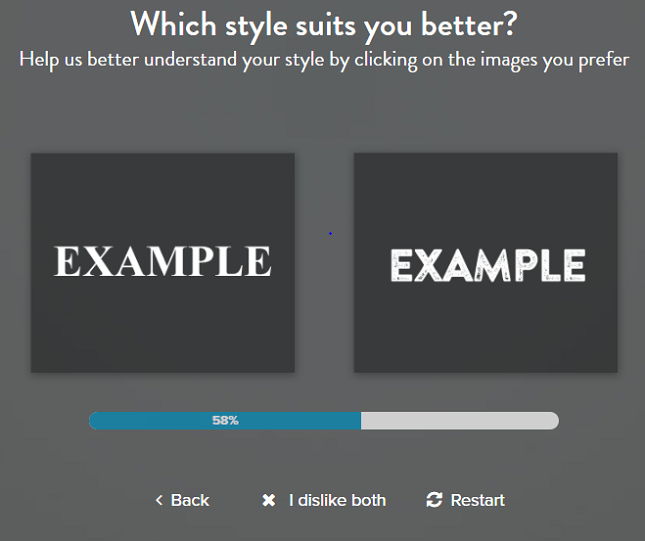 You can choose whether you want a logo based on an icon, a name or an initial, and can experiment with different font styles.
Top Tip: To get the most out of Tailor Brands, think about your business before you start. Is it formal or fun? A product or a service? Local or national? Working out your business's identity first will help Tailor Brands generate the right logo for you.
Once you've finished, Tailor Brands' algorithm will generate a number of logo options based on your answers. You can see how each one would look on things like business cards, bags and T-shirts.
Here's our chosen logo on a website homepage, for example: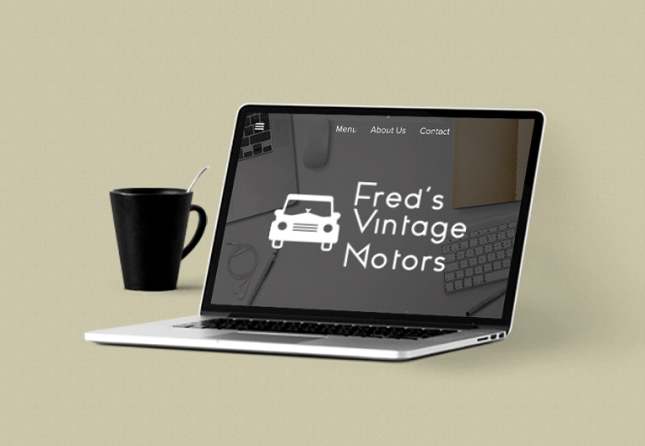 Overall, we found Tailor Brands' system smooth, dynamic and even fun! We liked the fact that you can go back to a previous page if you've made a mistake without starting again.
Worried that Tailor Brands sounds too robotic?
Don't be. Sure, Tailor Brands is automated but it doesn't just churn out logos at random. The results are highly personalized because they're based on the information you provide. It's pretty rare to see this level of individuality in an affordable logo generator.
It's like working with a designer, without the wince-inducing bill at the end! Of course, you won't get exactly the same creativity as working with a full-time designer. But if you're working to a budget, don't know where to start, or don't want to scan through thousands of graphics, Tailor Brands is a great option.
Is Tailor Brands easy to use?
Simplicity is Tailor Brands' unique selling point. It's the kind of tool we love because it democratizes web design – suddenly anyone can get a great logo for their brand!
Let's dig a bit deeper.
Traditionally, to get a stylish logo you'd have to work with a professional designer. This involves up-front costs and lots of back and forth discussions. At the end of the commission, you may not even end up with a logo you like!
But to generate a great logo on Tailor Brands, all you need to be able to do is:
It's really that straightforward.
Here's an example from the Tailor Brands process: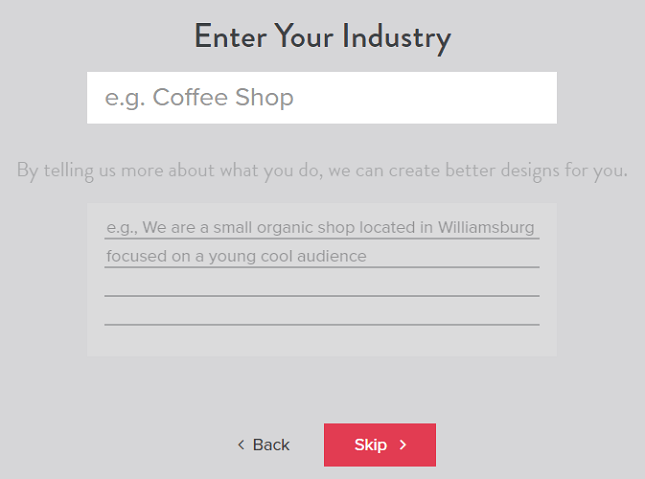 Because the tool is so simple to get to grips with, it's possible to try it multiple times until you find the best logo for you.
Once you've found your design, customizing it with new fonts or colors is very intuitive. This customization might feel a little limited if you have a very clear idea in your mind of the logo you want. But for most people, the designs will be more than enough. There's also nothing stopping you taking your logo and using a tool like Adobe to jazz it up even further.
Tailor Brands also makes it very easy to preview how your logo is going to look before you decide to buy it.
You can download your logo as a high-resolution PNG or JPEG for online use, or as a printable Vector EPS file (only on the premium plan – more on plans later).
To find out how easy Tailor Brands is to use, give it a go on the button below…
Design: How Good Are Tailor Brands Logos?
So Tailor Brands' logos are easy to make, but are they any good?
One important thing to say is that Tailor Brands is very transparent. Whether you think the logo is good, bad or ugly, there's no hidden surprises. What you see on the screen is what your logo is going to look like.
The quality of Tailor Brands logos is high because the logos and fonts it uses are very polished.
Tailor Brands creates the most unique designs when compared to its competitors. It gets its images from a third-party vendor called Noun Project, which takes care of all licences from the image's creator.
Noun Project's library of icons is vast and the spec is very high. This is why Tailor Brands stands out among the low-effort, low-cost logo generators on the market.
Strictly speaking, there's no guarantee your design will be unique to you. That's also true of working with any designer or agency, of course! But Tailor Brands creates over a million different logo options for every order, so it's highly unlikely your logo won't be personal to you.
Tailor Brands treads the line between simplicity and affordability, and quality of designs. It's why it's a very good option if you're a freelancer, a small business owner or entrepreneur, someone looking to create a brand online for the first time, or just if you're working to a budget but don't want to compromise completely on quality.
Just because you don't have pockets as deep as McDonald's doesn't mean you should settle for a shoddy logo design, right?
Can I trademark my Tailor Brands logo?
This is a common question from customers, so we put it to Tailor Brands.
The company told us that while you are free to use your logo for non-commercial or commercial means, if you want to trademark it you'll need to speak to an attorney.
This is because trademark laws vary from place to place. Tailor Brands is "not able to give legal advice" (and neither are we).
Tailor Brands Customer Support
Even with the easiest tools in the world, it's encouraging to know help is available if you get stuck. So now's the time in our Tailor Brands review to talk about customer support.
If there's one downside to Tailor Brands it's that it doesn't offer phone support.
We know from building websites that having phone support on tap is an invaluable resource. There's nothing quite like explaining your issue to a human being.
Having said that, Tailor Brands' website has a solid FAQ section full of in-depth guides to answer your most pressing questions.
Customer support is available through an online form or through email on [email protected]. In our first-hand experience, responses are quick, considerate and helpful. Tailor Brands says it aims to respond in 24-48 hours. We got an answer to our query comfortably within this window.
Part of the support offered, of course, is how easy Tailor Brands is to use. A lot of hard work has gone into making the logo-generating process as easy to use as possible.
We've designed tons of test logos using Tailor Brands and have never needed assistance.
Tailor Brands Pricing: How Much Does Tailor Brands Cost?
So how much does this all cost? No Tailor Brands review would be complete without a look at pricing.
There are three Tailor Brands subscription plans:
Basic: $9.99/month or $3.99/month if you pay for the year upfront
Standard: $19.99/month or $5.99/month if you pay for the year upfront
Premium: $49.99/month or $12.99/ month if you pay for the year upfront
There's also an extra discount if you stump up for a two-year subscription. For example, the Basic plan only costs $2.50 per month if you pay for two years upfront!
And remember, it's FREE to play around with the tool and create a logo.
All plans give you:
High-Resolution logo
Full ownership of your logo
Social media logo sizes
Logo resize tool
When you upgrade from the Basic plan to the Standard plan, you unlock more professional features, including:
Vector EPS files of your logo
A business card and stationery tool
A special seasonal logo generator
The Premium plan gives you even more, such as access to social media analytics and automations.
It's important to note that you can cancel at any time and you'll still get your logo and commercial rights. You'll just lose the ongoing perks of being a Tailor Brands customer.
So if you just want to get your logo and don't want an ongoing cost, we recommend you pay for one month on the Basic plan. But if you're after a more long-term investment in your brand, and have worked out a reasonable budget, then a yearly Standard plan is worth looking at.
The big difference between the Basic and the Standard plans is that the Standard option is a fully-fledged branding solution. The Premium plan has the tools to take your branding to the next level through social media marketing.
Tailor Brands is fairly priced because of the additional features included on the Standard and Premium plans, and the cost is roughly on a par with market rivals.
Tailor Brands is well on its way to become far more than a logo generator. It's a one-stop-shop for lots of your branding needs. To make changes to your logo, you'll need to be on a premium plan rather than the free version.
Tailor Brands: Additional Services & Products
Sign up to a premium plan with Tailor Brands and you'll get access to an impressive array of products and services.
This includes:
Logo resize tool
Brand strategy advice
Business cards design tool
Social media support (including Facebook posts and adverts, and social cover design tools)
Online brand guidelines
Branded presentations
Branded business deck
Branded watermark tool (perfect if you're an artist selling images online)
We won't run through all of them here (this is a Tailor Brands review, not a sales pitch), but we'll give a digestible analysis. For a full list, visit Tailor Brands.
Tailor Brands' additional services are particularly good if social media is a big part of your brand's presence online. It will help you craft posts for Twitter, Facebook and Instagram and create perfectly-sized logos and images for each of these platforms.
You can also get support adding your logo to an email signature. These are the kind of fiddly tasks that can eat up your time, especially if you're not experienced with design. But there also tasks that if you don't do properly can make your brand look amateurish.
There's no doubt the extra tools will help you build a powerful online brand. A well-developed brand will translate to more revenue, so your monthly expense will pay off in the long run.
However, if you're looking to keep things simple then they may just be an unnecessary complication (not to mention cost!)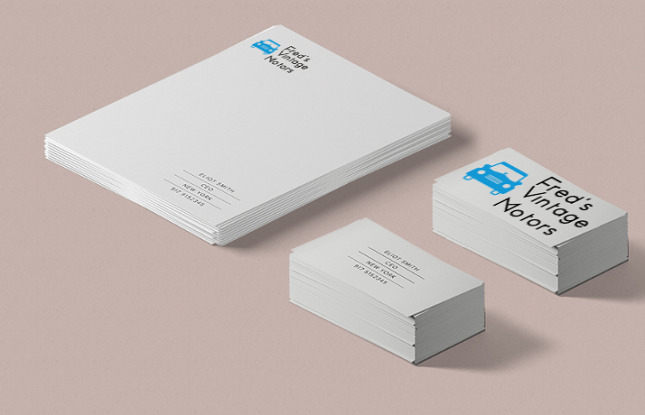 BUY NOW At Tailor Brands
Tailor Brands Review: Conclusion
Tailor Brands is a great option if you're looking for a quick and cost-effective way to create a logo.
If you don't have the time or money to invest in a professionally-designed logo, or you're worried your tech skills aren't up to scratch, Tailor Brands might just be the answer.
It gives small-business owners and one-man-band online merchants the chance to punch above their weight in the branding arena and compete with the big boys.
Some of you may just be starting out on your branding journey. You may be unsure what you want or what's available. Tailor Brands is a good first stop to discover logo designs that can help build your brand's image.
More experienced users may find the customization options a bit limited, or be put off by the pre-designed icons.
But thanks to the features available on its premium plans, Tailor Brands can also offer a more long-term service. It can be your automated branding consultancy.