REVIEW: MARRIOTT'S MOXY HOTEL IS THE PERFECT HOTEL FOR TRY-HARD HIPSTERS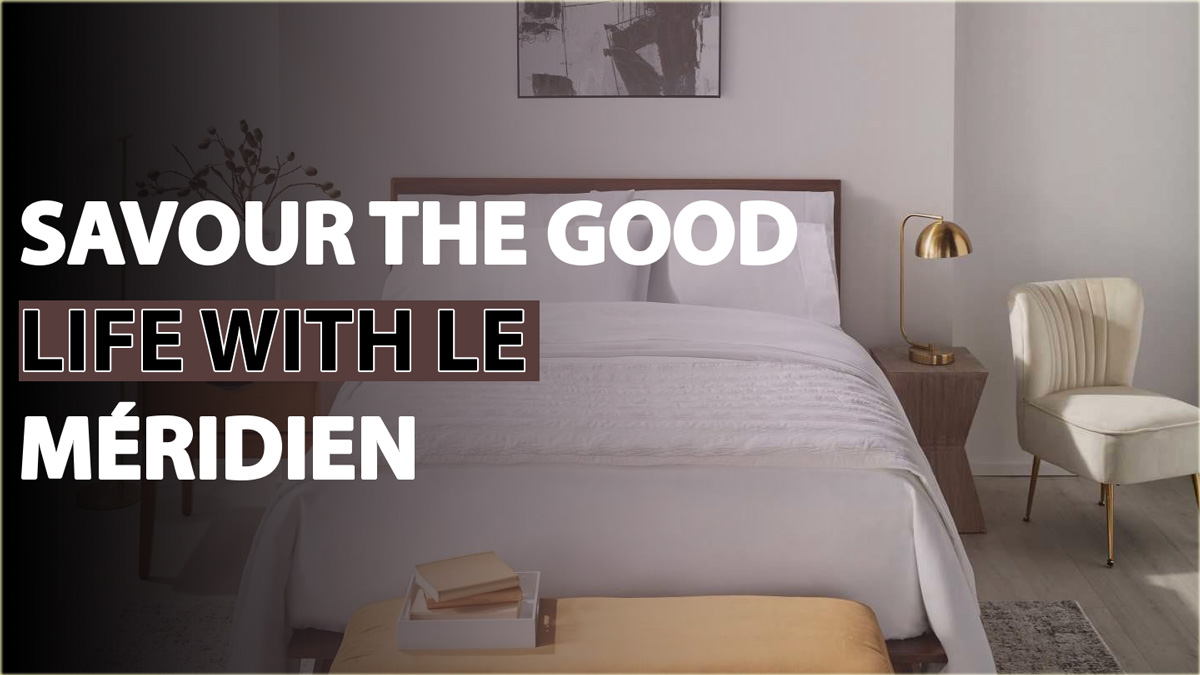 This post contains affiliate links. When you purchase through links on this post, we may earn an affiliate commission. Thanks.
In preparation for the first flights at Seattle's Paine Field, I had to arrive in the Seattle area the night before the first flights. With only a few older mid-range hotels located directly around Paine Field, I decided to stay in Downtown Seattle. As a traveler who considers himself fairly loyal to the Marriott Bonvoy program, I decided to first check Marriott's website to see if there were any properties that were of interest to me and were within my budget. Seattle has grown increasingly pricey with nightly rates for a standard three-star hotel routinely starting around $200 without taxes and fees. To my surprise, nightly rates were quite inexpensive with hotels averaging around $150 a night. That left me with plenty of options. However, one option, in particular, stood out to me, the Moxy Hotel in South Lake Union near Amazon's campus.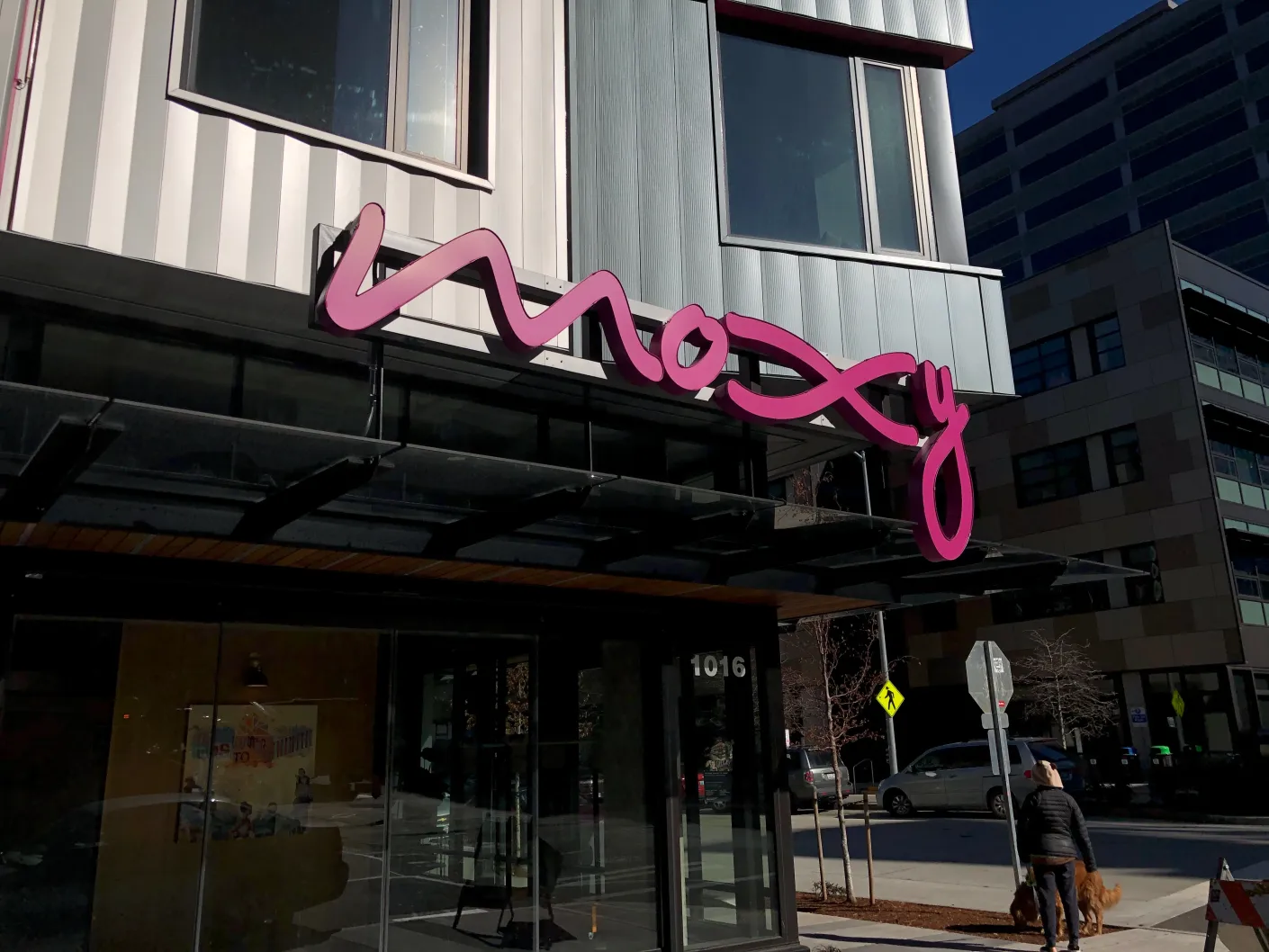 At just $147.66 a night with taxes and fees, it was a no brainer to book using cash allowing myself the opportunity to earn Bonvoy points. The Moxy Seattle stood out to me more than any other hotel as it's still a new and emerging brand. Seattle features nearly every Marriott brand in existence, however, none of the other properties really stood out. With most hotels priced around the same nightly rate, I decided to book the Moxy Hotel.
I used my American Express Platinum Card to book my stay. Since I booked directly through Marriott and not American Express Travel, I only earned 1x points this stay. If I would have used the Marriott Bonvoy Brilliant Card by American Express I would have earned a whopping 6x points with this stay.
I booked the Moxy Seattle roughly an hour before I arrived at the hotel. I arrived at the hotel around 10:30 in the morning and, having recently been dropped down to Gold Elite status, I figured I would have to wait for my room in the lobby for an hour or so. To my surprise, a room was assigned to me soon after booking.
After a rather long drive complete with bumper-to-bumper traffic, I arrived at the hotel. The exterior of the hotel is quite unique. It reminded me of something you'd see in Reykjavik, Iceland or in Scandinavia. The exterior also seemed rather premium and upscale, though, the booming neighborhood likely contributed to this feeling.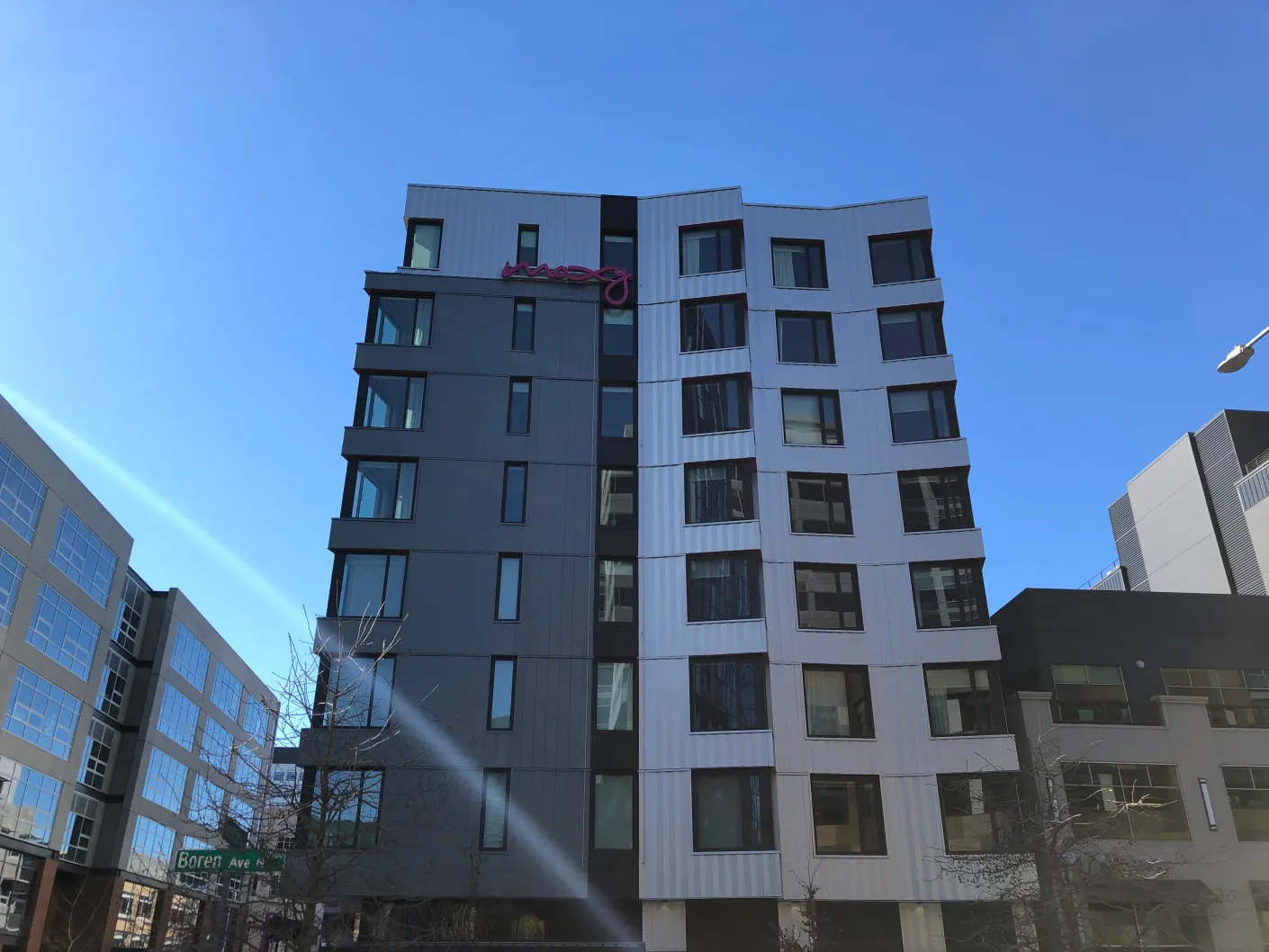 I made my way into the lobby and was immediately flooded with stereotypical hipster decor. The lobby is littered with wood accents, cement walls and ceilings, mismatched chairs, a bookshelf, colorful accents and wall art, flannel blankets, and pretty much anything else available in Urban Outfitters's Home Collection. The lobby felt like the hotel equivalent of that one meme featuring Steve Buscemi, the "how do you do fellow kids" meme. What I couldn't find was the check-in desk. After a few seconds of rapidly surveying the cluttered lobby, I located the check-in desk. To my surprise, the check-in desk was located at the bar.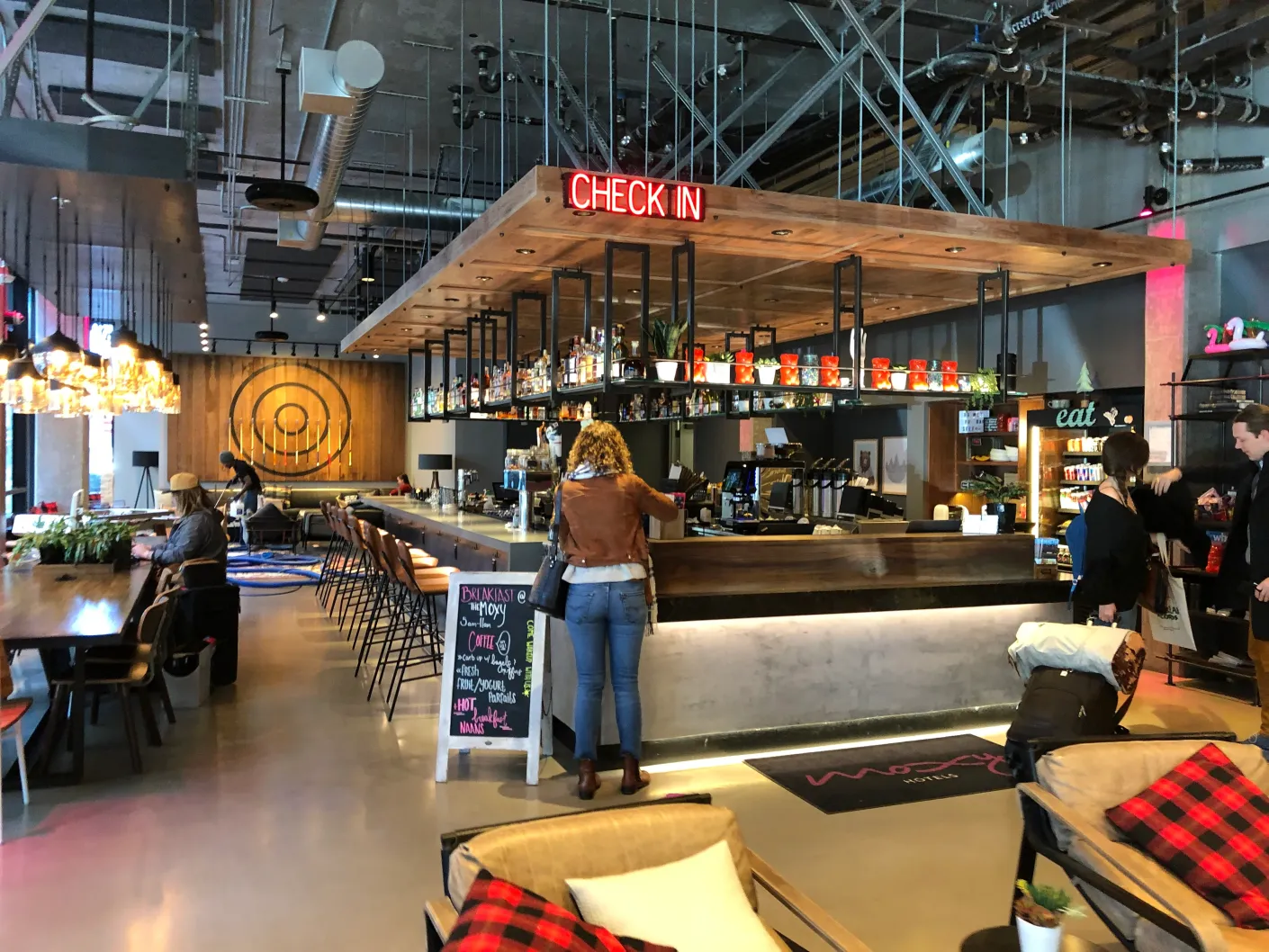 The bar served as the focal point of the lobby though the red check-in sign was oddly hidden from view positioned well above eye-level. The bar makes up 90% of the check-in counter area. The check-in counter was comically small with just two check-in positions spaced just inches from each other. To make the check-in experience even less enjoyable, the bar area gets surprisingly busy and quite loud in the evening. I can't imagine checking into the hotel on a busy Friday night.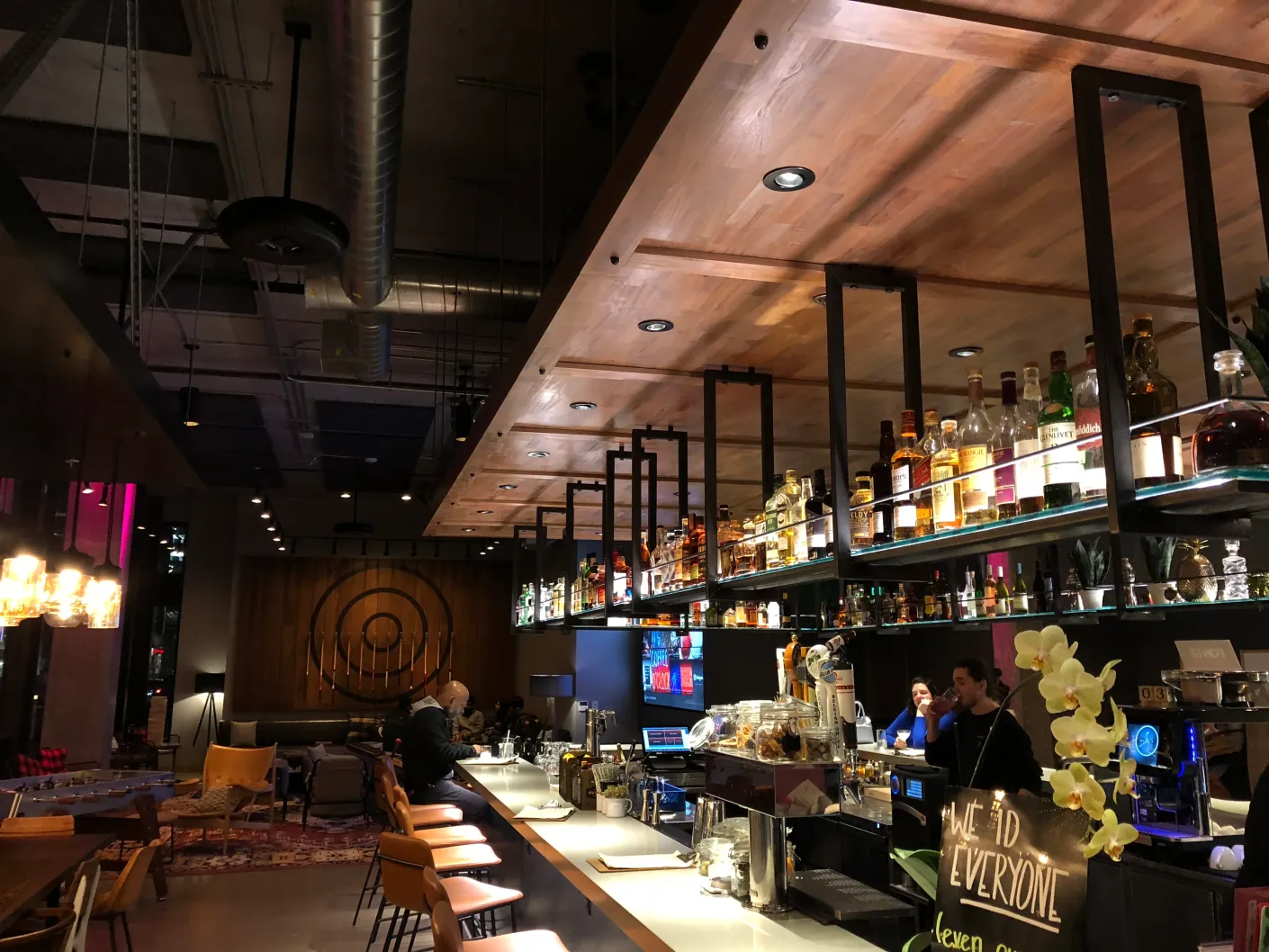 I approached the check-in counter and the stereotypical Seattlelite behind the counter greeted me with a smile. She couldn't have been more than two or three years older than me yet, throughout the entire check-in process, she talked to me as if I was a young child. While I wasn't offended or insulted, I was confused. The way in which she spoke to me throughout the check-in process threw me off to the point that I don't remember much of what she said. Though her tone and demeanor were off, she was welcoming and enthusiastic about the new hotel.
Check-in was completed in around three minutes. Before I left the check-in desk, I was handed a pink poker chip which entitled me to a few drink or espresso beverage at the bar during my stay.
A Standard King Room at a Moxy Hotel by Marriott
I was upgraded to an enhanced room, a concept I yet to fully grasp. I had booked a room with a king bed and was upgraded to a room with a king bed. Though the room was not the largest, it was an upgrade over my original room at least according to the representative at check-in.
I was assigned a room on the third floor. My room was at the end of the main hallway which I prefer as corner rooms typically cut down on noise. This particular hotel was equipped with a mobile key system, however, I never received the option for a mobile key.
As I previously mentioned, the room was pretty small. However, smaller rooms are somewhat part of the appeal or at least the concept of Moxy Hotels. I personally didn't have a problem with the size of the room, maybe because I'm a millennial, but many travelers will surely take issue with the smaller size of the room.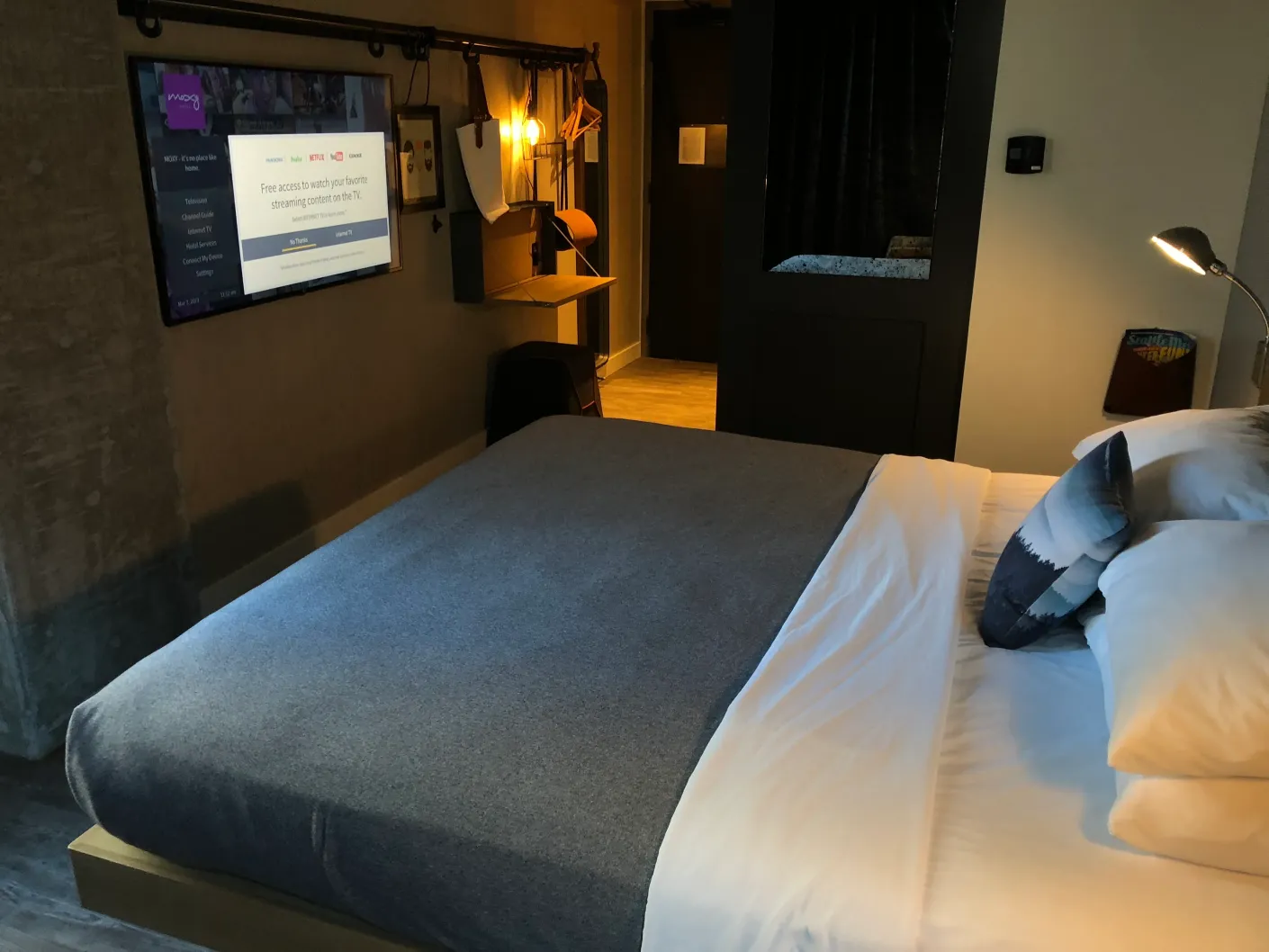 The hipster-esque decor was quite apparent from the moment I stepped foot inside the room. The room featured decor reminiscent of a barn and the 1960s with many aspects of the room feeling quite retro.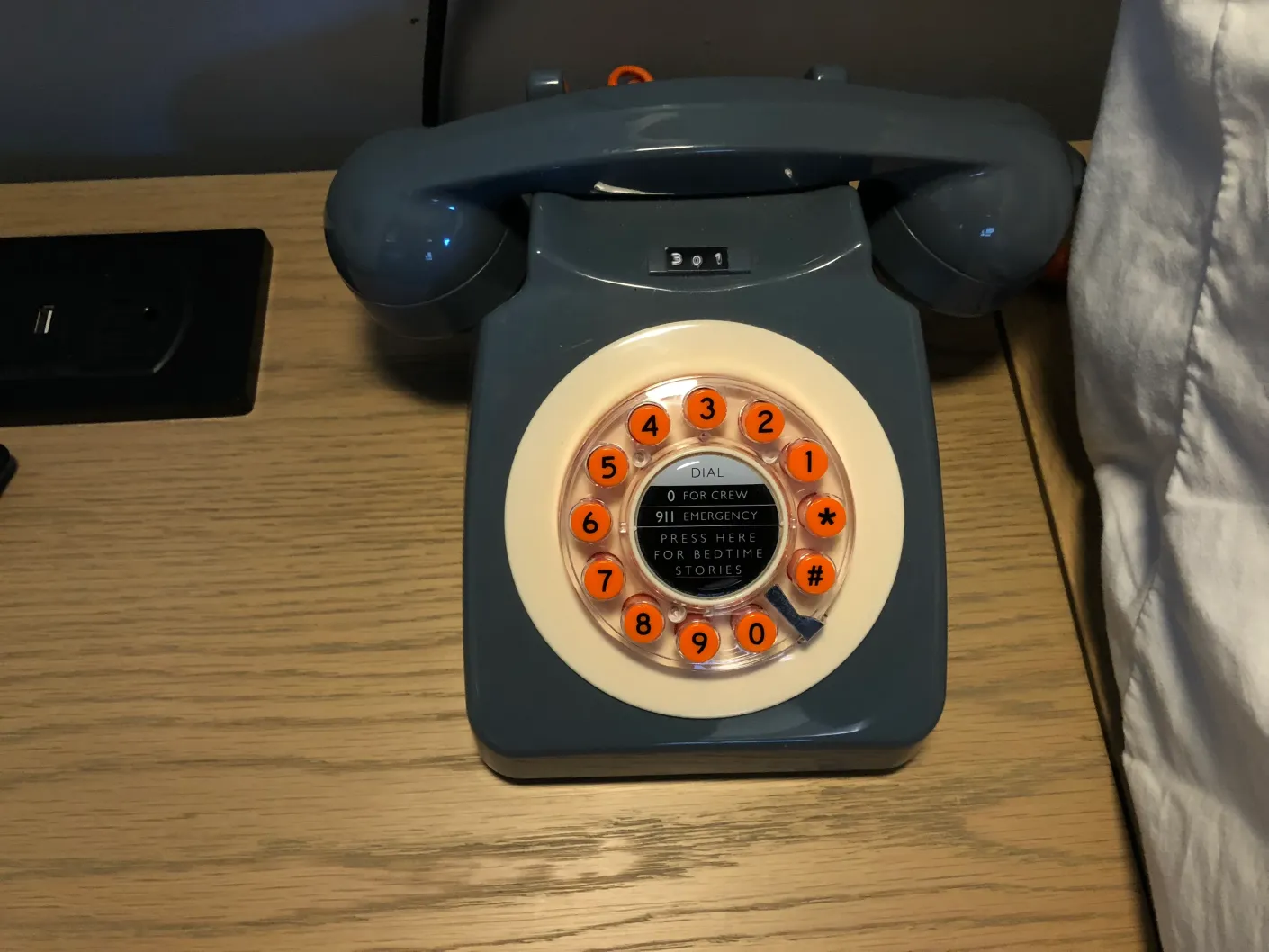 The most premium and functional part of the room was the bathroom. It was brightly lit, featured a door that actually locked, and the fixtures and furnishings felt quite upscale. The only two examples of the Moxy's trashy design evident in the bathroom was the drain in the shower which featured the phrase, "the deep end" and the hot pink blow-dryer. One thing I would change about the bathroom would be the hand soap, shampoo, and body wash which smelled a great deal like bubble gum or cotton candy.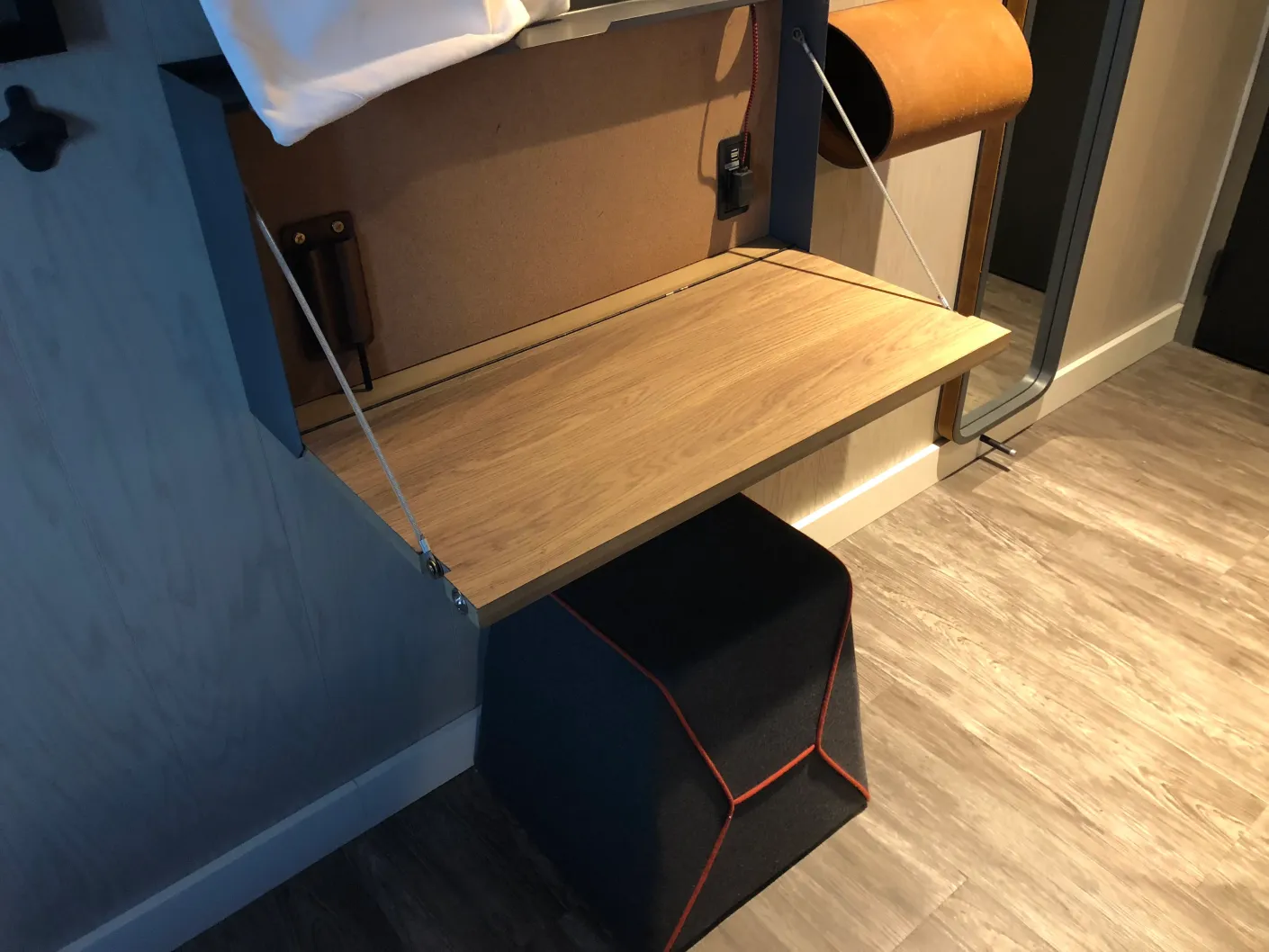 Aside from the bathroom, other parts of the room were quite awkward. For some unknown reason, hoteliers think that millennials and younger travelers don't use desks. This is simply not true. Millennials are far more likely to work remotely than older generations making a desk even more important than in traditional hotels. However, at the Moxy Seattle, the desk was a fold-out tray table not much larger than an airplane tray table. The desk featured a small spongey stool that was surprisingly comfortable. Nonetheless, the lack of a true desk was noticeable to someone, like me, who works remotely. The desk also featured a lack of AC outlets.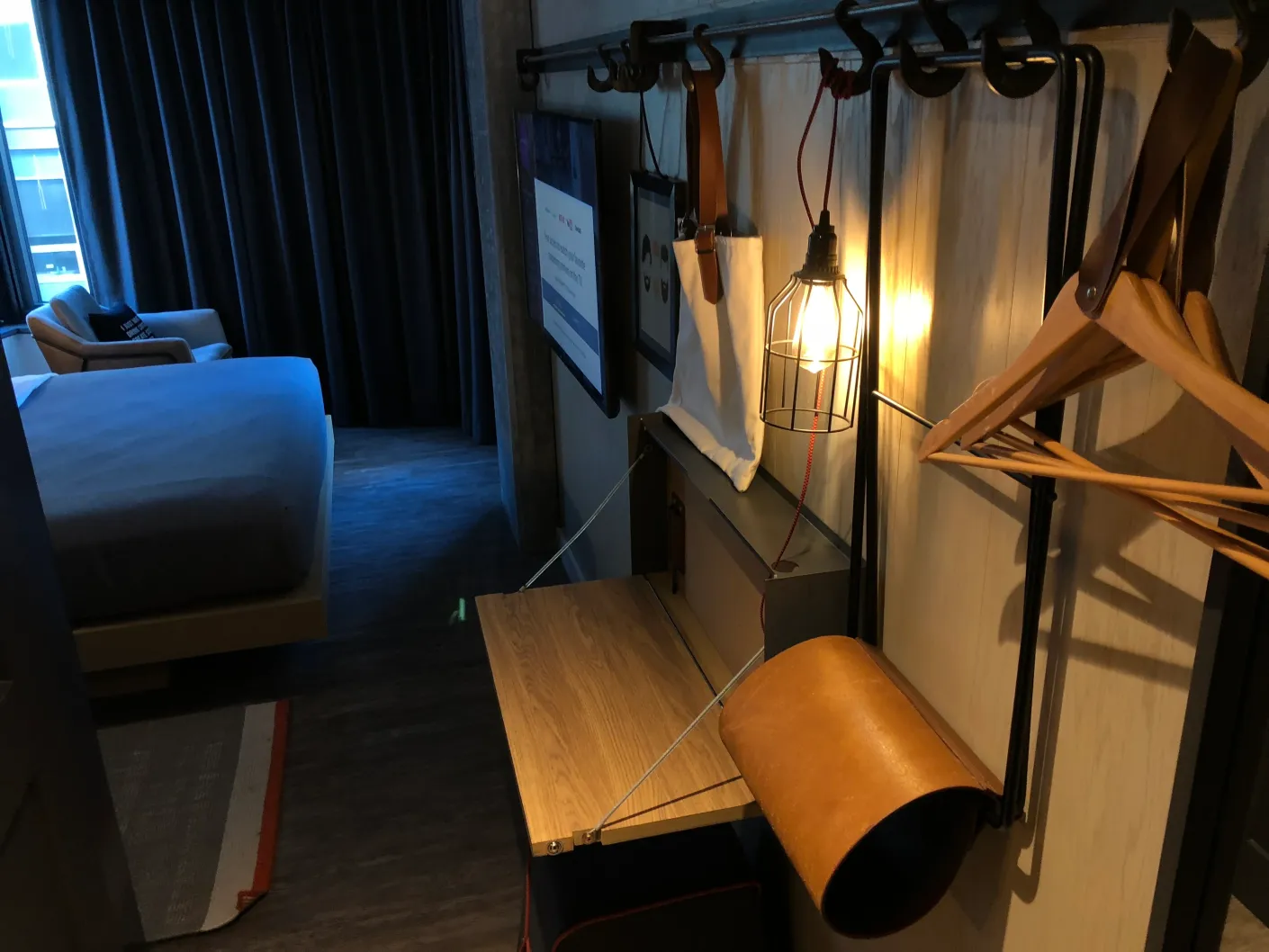 Directly above the desk was the wall of many functions. This wall served as the closet. Before I continue, no, the room did not feature a traditional closet, only a wall with some hooks. A large metal bar ran along the wall and featured some rather sharp industrial-looking hooks for storage. From those hooks, guests can hang their clothes except, there were just four hangars. Also hanging from the hooks was a full-mirror, the luggage tray, and an industrial-esque Edison bulb light fixture. Overall, though it might have saved space, the closet-wall was an absolutely awful substitute to a traditional closet.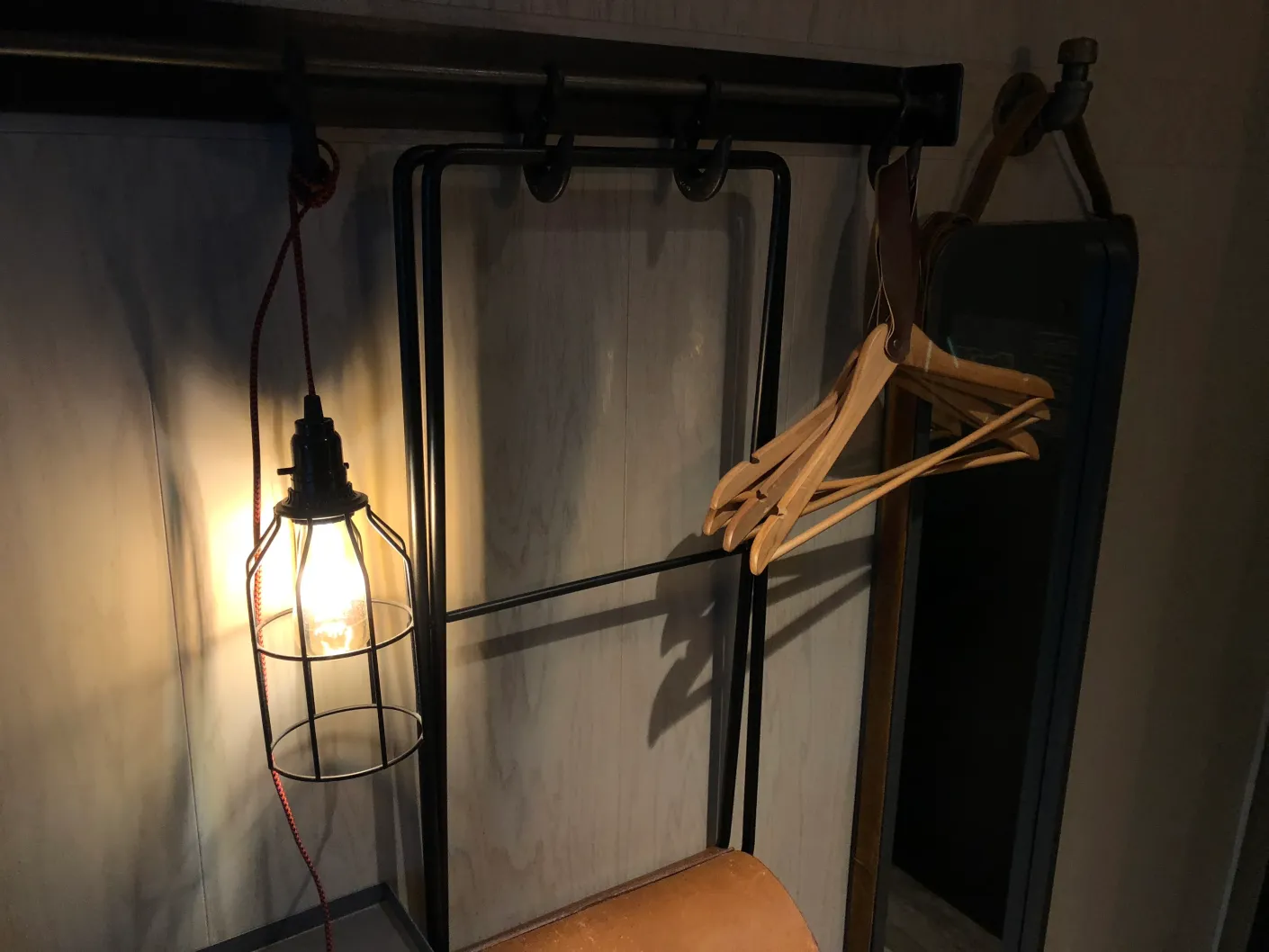 The wall-closet was one of many examples of the hotel giving off a try-hard hipster vibe. Sure, it saved some space and was an alternative take on a closet and in-room storage, but it overlooked the fact that millennials also need to hang up their recently dry-cleaned sport-jacket. Millennials also need proper storage.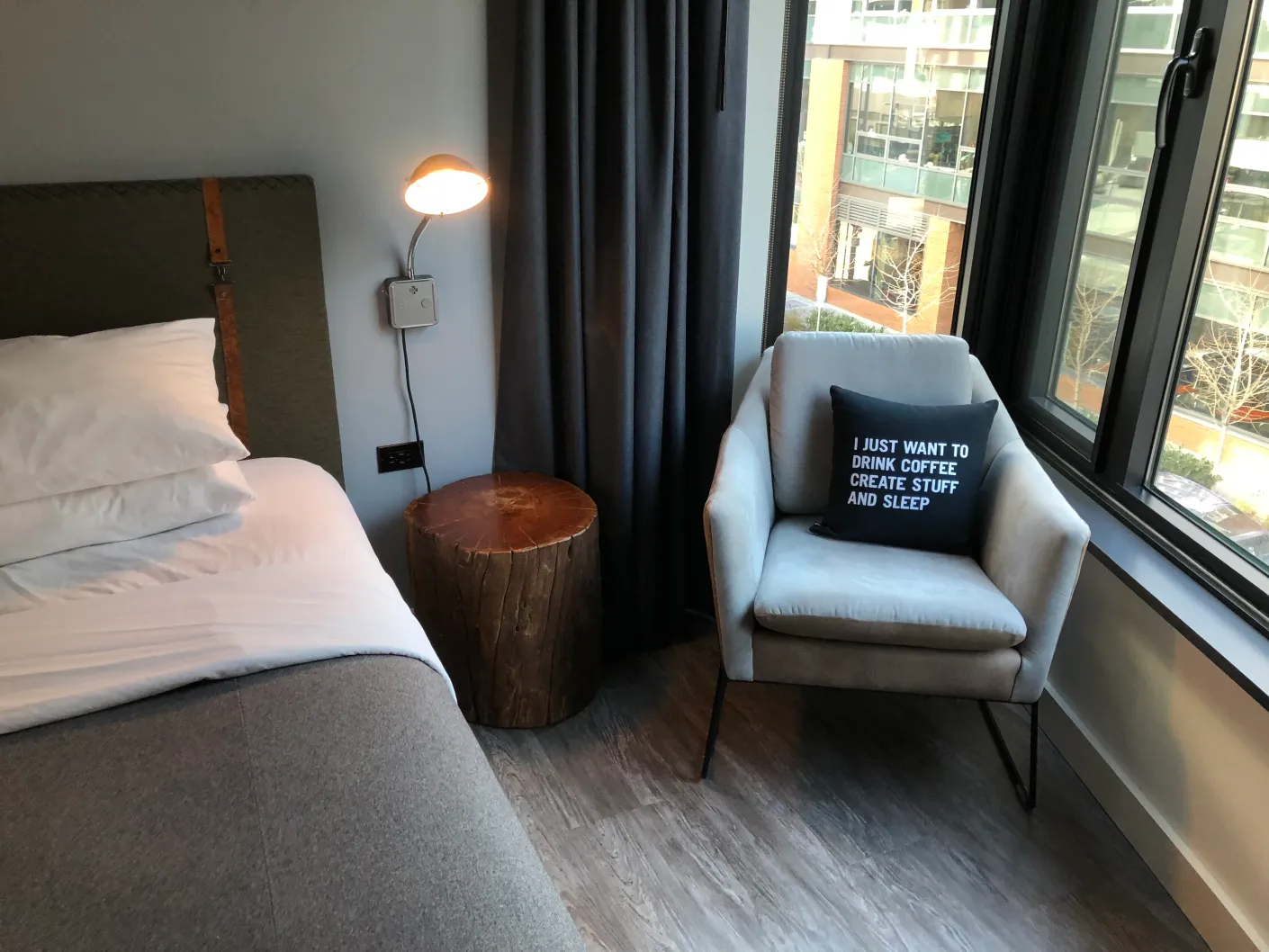 A second apparent element that exemplified the Moxy's try-hard attitude was the various forms of artwork and decor. I almost found the art and decor to be borderline insulting to young adult travelers. It was if the designers of this hotel have no clue what millennial travelers actually want in their hotel rooms. For example, one of the focal points of the closet-wall was a framed picture of three silhouettes with stereotypical hipster beards and mustaches. Additionally, the pillow on the bedside chair featured the text "I just want to drink coffee, create stuff, and sleep." That pillow belongs in the corny sorority girl's freshmen year dorm room, not a $150 a night hotel room.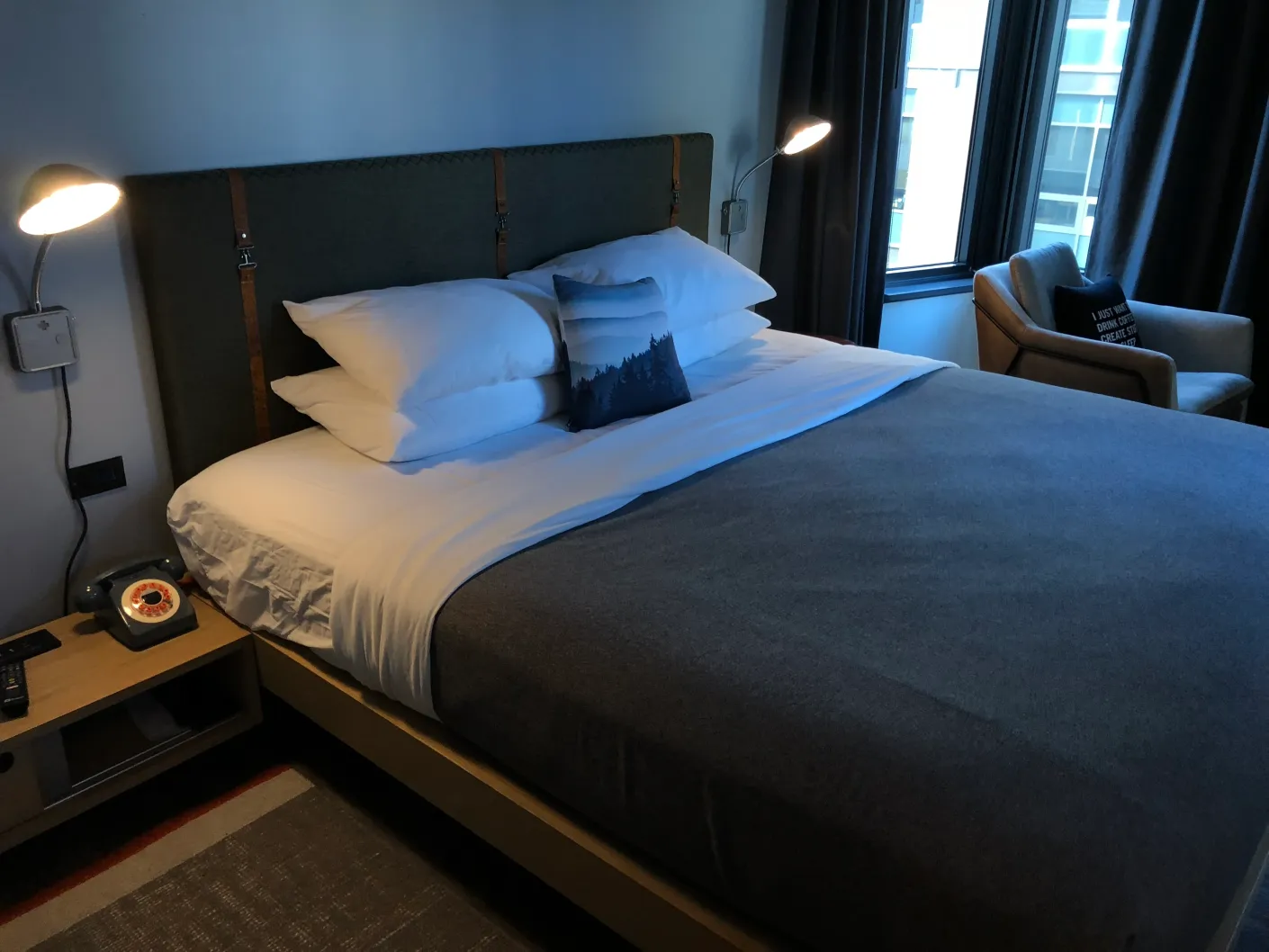 Other examples of trashy artwork included the wall-sized picture of three hipsters taking a selfie with bigfoot near the elevators and the hip-new take on the 'wet floor' sign which featured a silhouette slipping and proceeding to throw up jazz-hands. While, no, wall art and aesthetics do not impact the functionality of the hotel, I can't help but wonder how much time and effort was spent designing a Moxy Hotel only to come up with the most insulting and stereotypical tryhard design elements.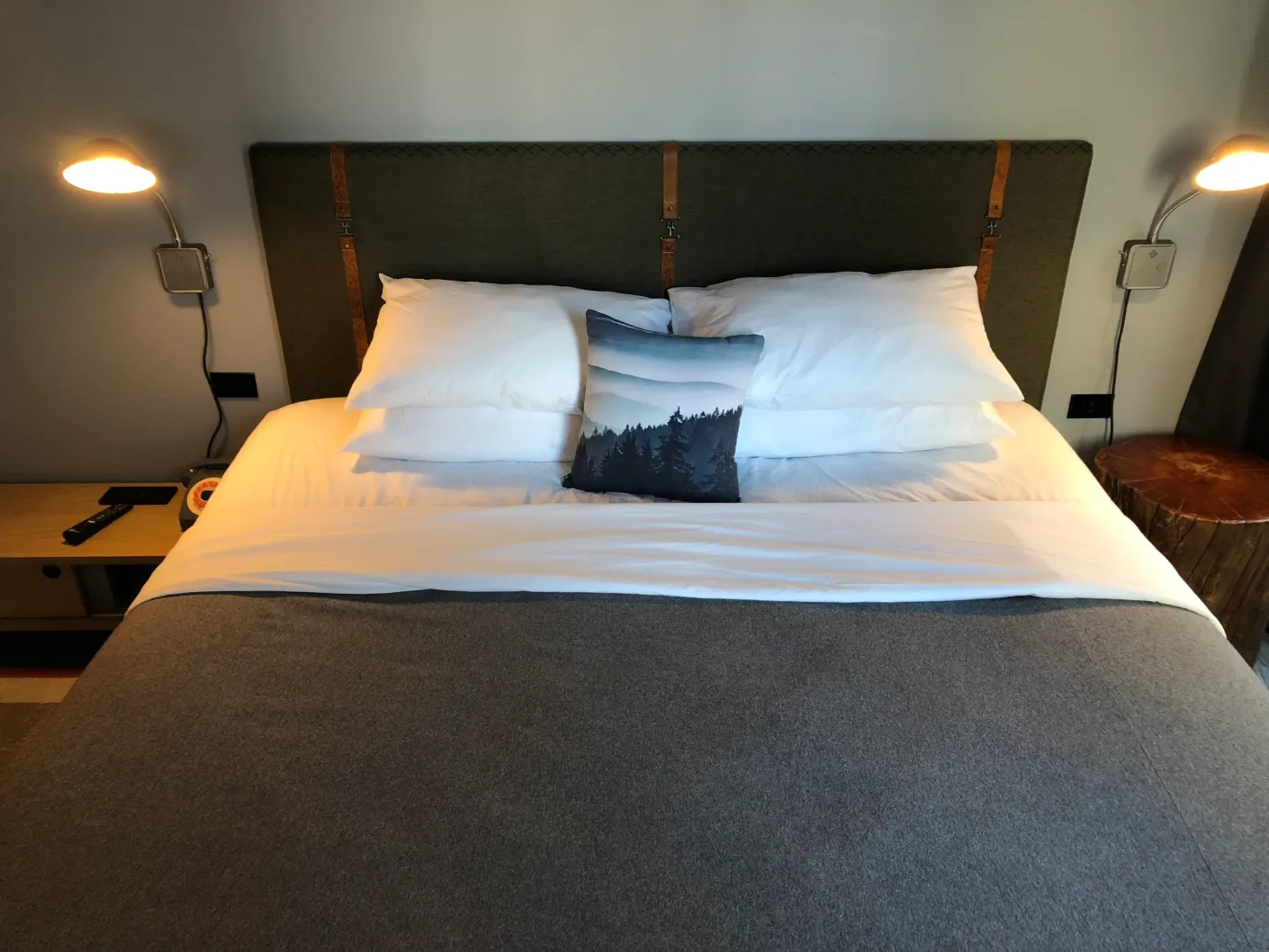 Returning to elements of the Moxy experience that directly impact a guest, I found the bed to be less than comfortable. The bed felt thin and the bed linens were some of the thinnest I've come across in my travels. The room did not feature a traditional duvet and both sheets were thin to begin with. Delta and American Airlines both offer superior linens in their international business class cabins. While the sheets were thin and the bed was stiff, I managed to get a solid 8 hours of sleep.
The room did feature an abundance of power outlets near the bed which is essential for any traveler, not just millennials. One aspect of the room that was especially puzzling was the height of one of the two bedside tables. The bedside table, which also featured a retro-looking phone and storage, was no more than 10 inches off the ground. I managed to get past the odd height of the bedside table but it was still quite odd and seemed out of place.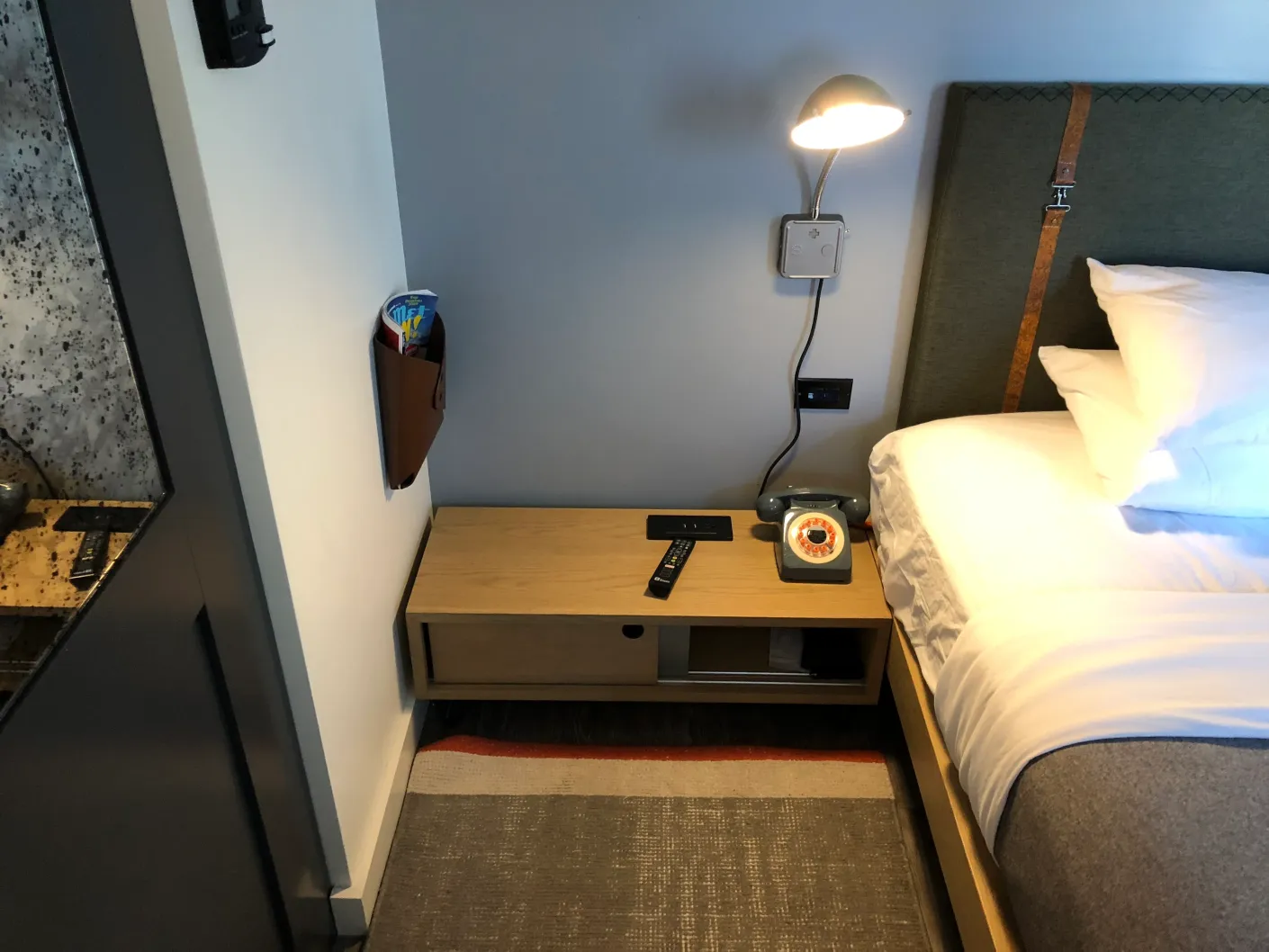 One aspect that I would eliminate from any millennial-centric hotel room is the TV which, at the Moxy was both large, offered super crisp viewing, and was internet enabled. That said since, like most younger travelers I stream content via my iPad, laptop, and even my phone, I did not use the TV once. I did, however, peer out the window for maybe an hour which provided great views of the up-and-coming neighborhood.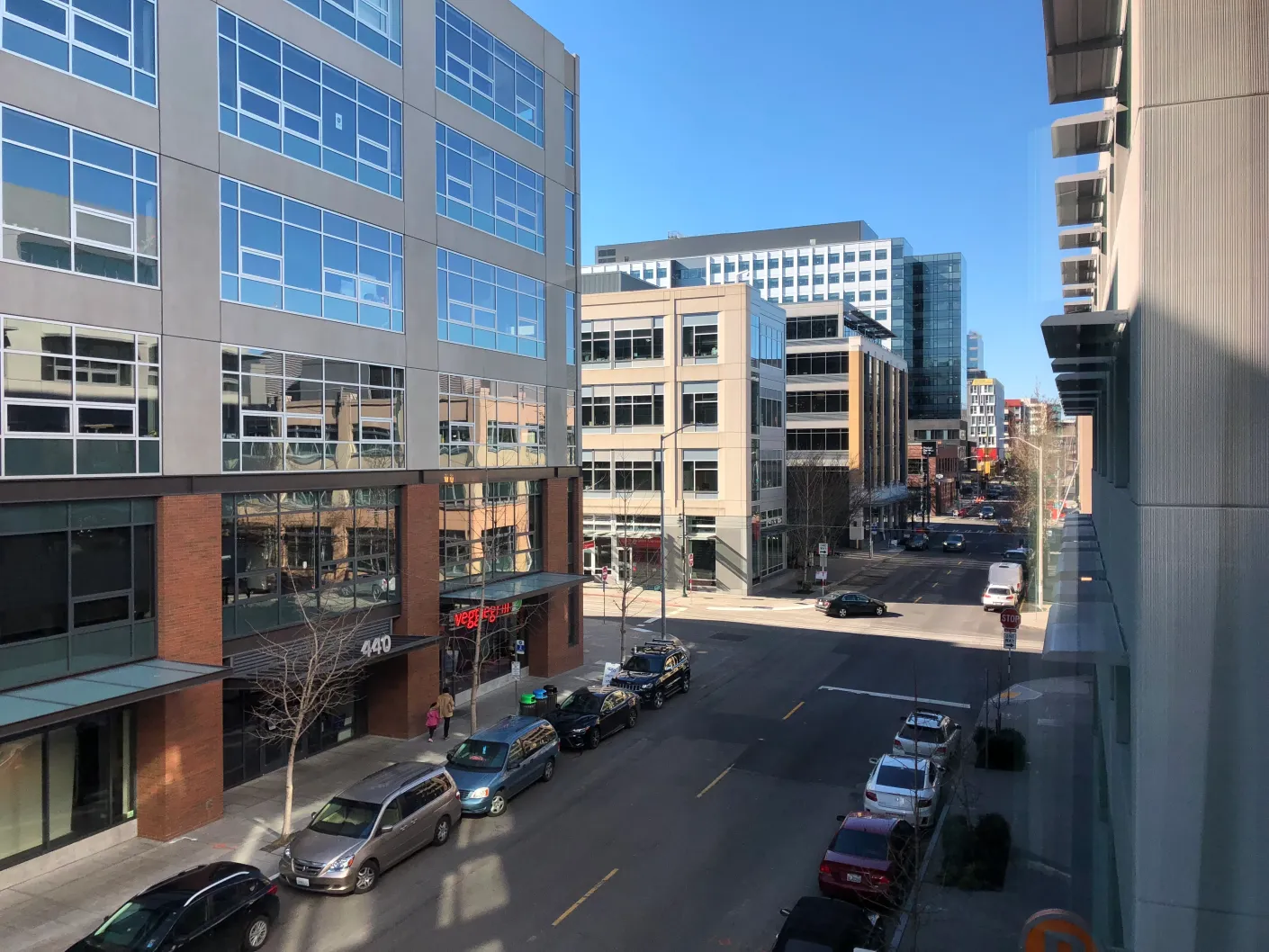 As a whole, the room was sufficient. The bed was underwhelming, the decor was tacky, and only the basic essentials were included in the room. It was a totally adequate room. It is noteworthy that the maximum price of the room was posted at $1,000 a night with an average rate over the summer months priced well over $200 a night. It is important to note when booking the Moxy Hotel Seattle that you are not booking the equivalent of the Ace Hotel or other boutique hotels but rather, a try-hard hipster version of the Aloft or similar.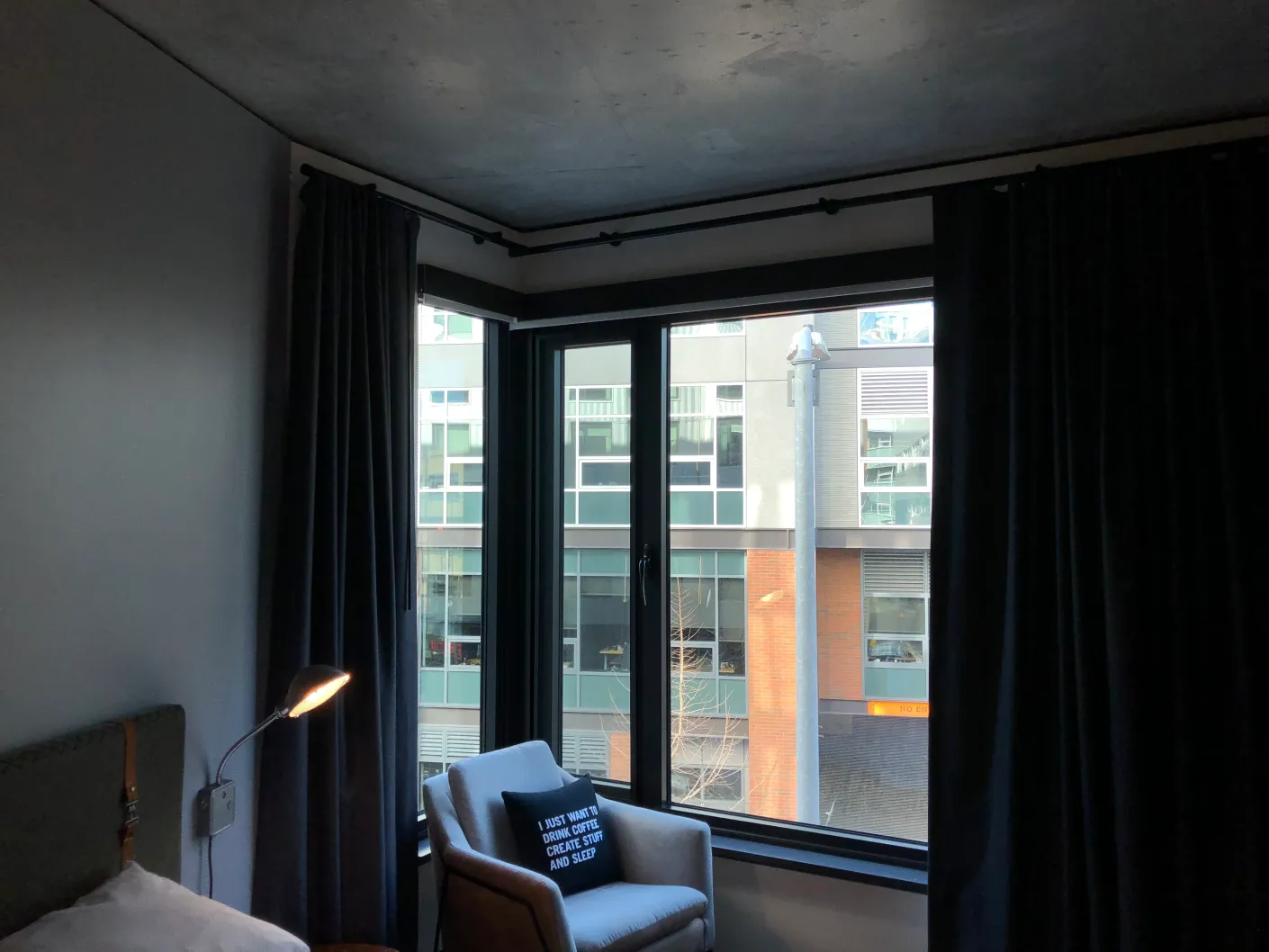 The Lobby and Other Unapologetically Hipster Amenities
The hotel is quite stripped of other amenities. The lobby is ultimately designed to serve as the heart of the hotel. As is the case with many hotel brands that cater to millennials, the lobby is supposed to be an attractive place to relax, get work done, eat, drink, and socialize. The lobby did accomplish all of these, however, it did so with an abundance of cheesy artwork and design elements. For example, the lobby featured a foosball table, mega-sized Jenga, an assortment of other board games, and a teeter-totter. Personally, if I were designing a hotel aimed at attracting young professionals, I would have spent a little bit more money on seating that was conducive to productivity and less on mismatched chairs for the communal seating areas.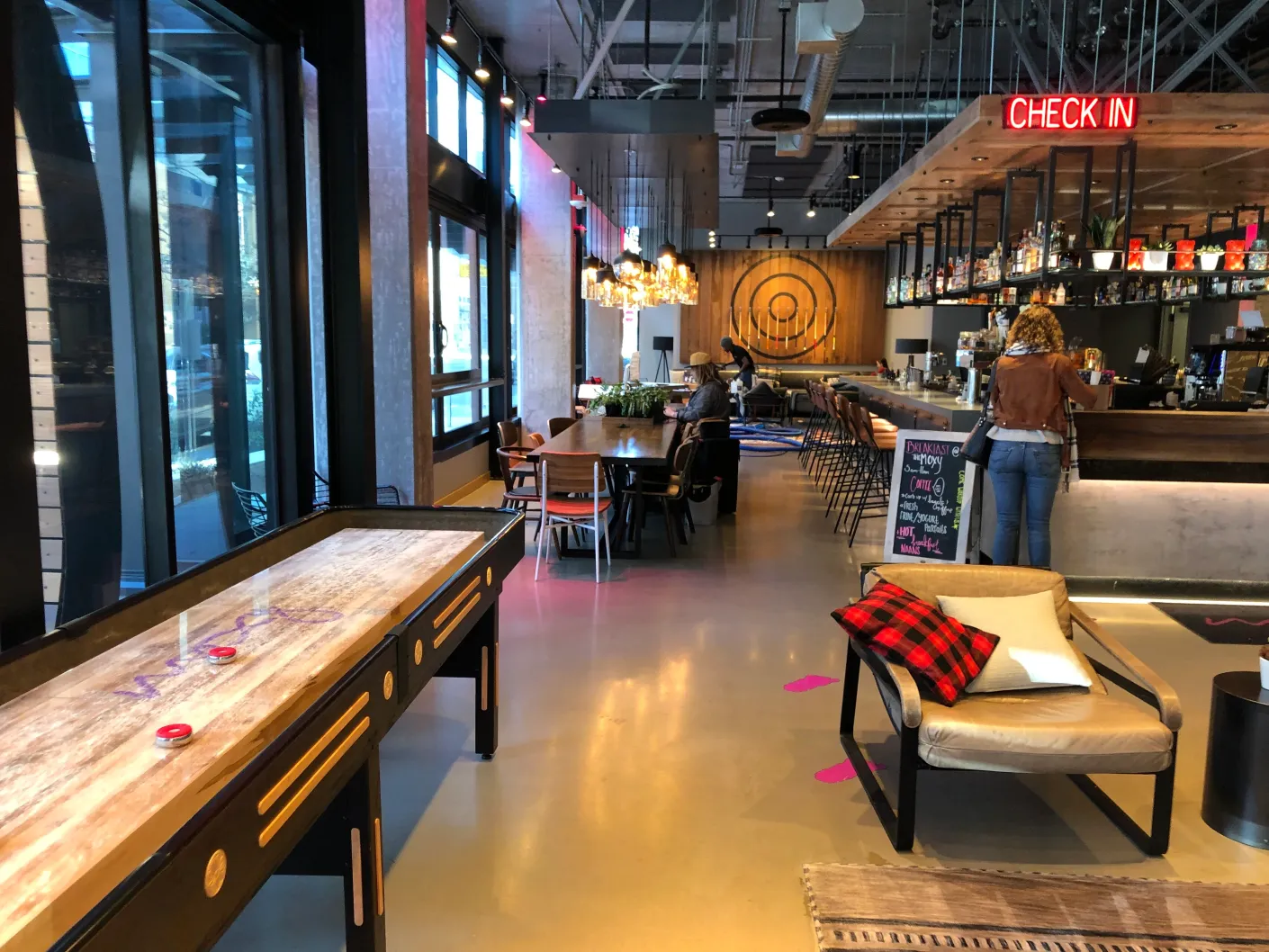 The lobby was unique, for a lack of a better word. It was also the location of virtually every amenity the Moxy Seattle does feature a fitness center, however, I spent the better part of 5 minutes visiting various floors looking for anything that would indicate a fitness center to no avail. As I wasn't actually planning to workout, I didn't follow up with hotel staff to confirm the existence of a fitness center. Based on the photos on the hotel's website, the fitness center looks quite functional though, appears to feature even more corny hipster(esque) artwork and design features.
The Best Ecommerce Website Builders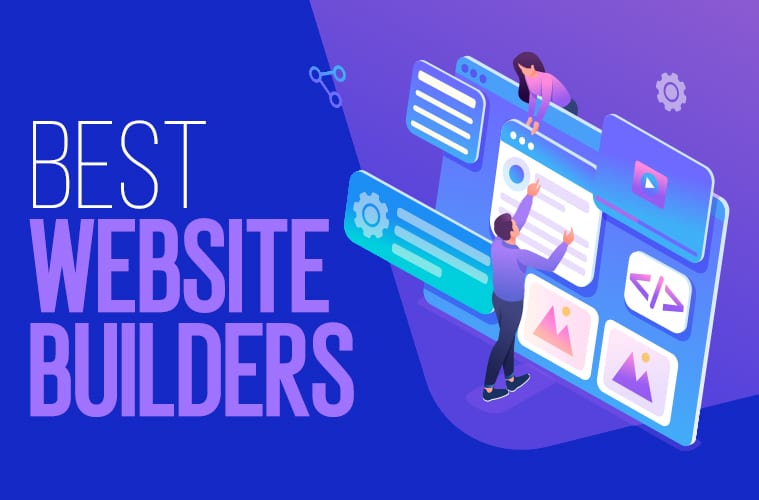 Shopify is definitely one of the most popular Ecommerce Website Builders today. It is easy to use and allows you to create a website that is tailored for your needs. Whether you are looking for a simple site that you can add products to, or you want a complex one that you can control from anywhere in the world, Shopify has what you are looking for.
Wix
Ecommerce solutions can be confusing, with all the choices available. When choosing, it's important to understand the differences between them. This way, you'll know whether the ecommerce solution you choose is the best choice for your online store.
Shopify is an ecommerce website builder, with a wide range of ecommerce features. It was designed for online retailers, and it also features advanced business management tools. In addition, it has a powerful analytics suite and an all-in-one inventory management system. It can be used to track products from suppliers to shipping.
It's also easy to set up and configure. You can customize the appearance of your store with custom code, or you can use one of the hundreds of readymade themes.
You can sell on multiple social media channels, including Facebook, Twitter, Instagram, and Pinterest. And you can even sell on Amazon and Etsy.
Volusion
Volusion is a popular ecommerce website builder that offers an array of powerful tools. It's also easy to use. It's an excellent choice for small and medium-sized businesses.
Volusion is an all-in-one E-commerce solution, which means that it covers all aspects of an online store. This includes marketing, sales, and SEO. It also provides a centralized storefront with customizable design options.
There are three different pricing plans. The Personal plan is aimed at smaller businesses, while the Prime plan is best for larger companies. The cost of each plan is based on the annual sales volume of your business.
The first version of Volusion was a very user-friendly platform, but it was lacking in some features. The newer version, Volusion V2, has improved the speed and ease of use.
BigCommerce
BigCommerce is a popular ecommerce platform that allows you to build an online store without needing to write a single line of code. It offers a variety of features to help you grow your business.
Choosing a website builder is a crucial step for bringing your product to market. You need a tool that can help you create an online store and provide a simple and intuitive shopping experience.
With a website builder, you have access to a variety of templates and tutorials to help you get started. You can also take advantage of forums and customer support to get the help you need.
Many websites builders use a drag and drop feature to help you create your site quickly and easily. This allows you to create a website that looks professional and is easy to maintain.
Squarespace Commerce
For businesses that are serious about building an online store, there are several ecommerce website builders to choose from. Each has its own advantages and disadvantages. Choosing the right platform depends on a variety of factors, including the size of your business, your budget, and your vision for your future. However, there are some fundamental principles that will help you determine which one is best for you.
You'll want to pick an ecommerce website builder that's easy to use, offers a wide selection of templates, and has easy integration functionality. You can also choose a website builder that's designed with content-based sites in mind.
The most popular ecommerce website builders are Shopify and Wix. Both offer powerful ecommerce features, high-quality web hosting, and excellent marketing tools.
Shopify vs GoDaddy
Shopify is a well-established website builder. It offers an easy way for anyone to set up their own online store. It also provides advanced tools for site creation, and includes great marketing and security features. Its features also include a built-in shopping cart.
GoDaddy, on the other hand, is a web hosting and domain name registrar. It is not as feature-rich as Shopify. Although it is inexpensive, it lacks some of the advanced features. It also doesn't offer the same level of customization.
Shopify has a big app store and has some features that aren't available on GoDaddy. This is due in part to the fact that Shopify is more geared towards ecommerce sites.
It also boasts a clutter-free interface, and has a variety of built-in tools. It has hundreds of themes, and offers a large library of professional templates. It's also easy to establish a website on it without a lot of tech help.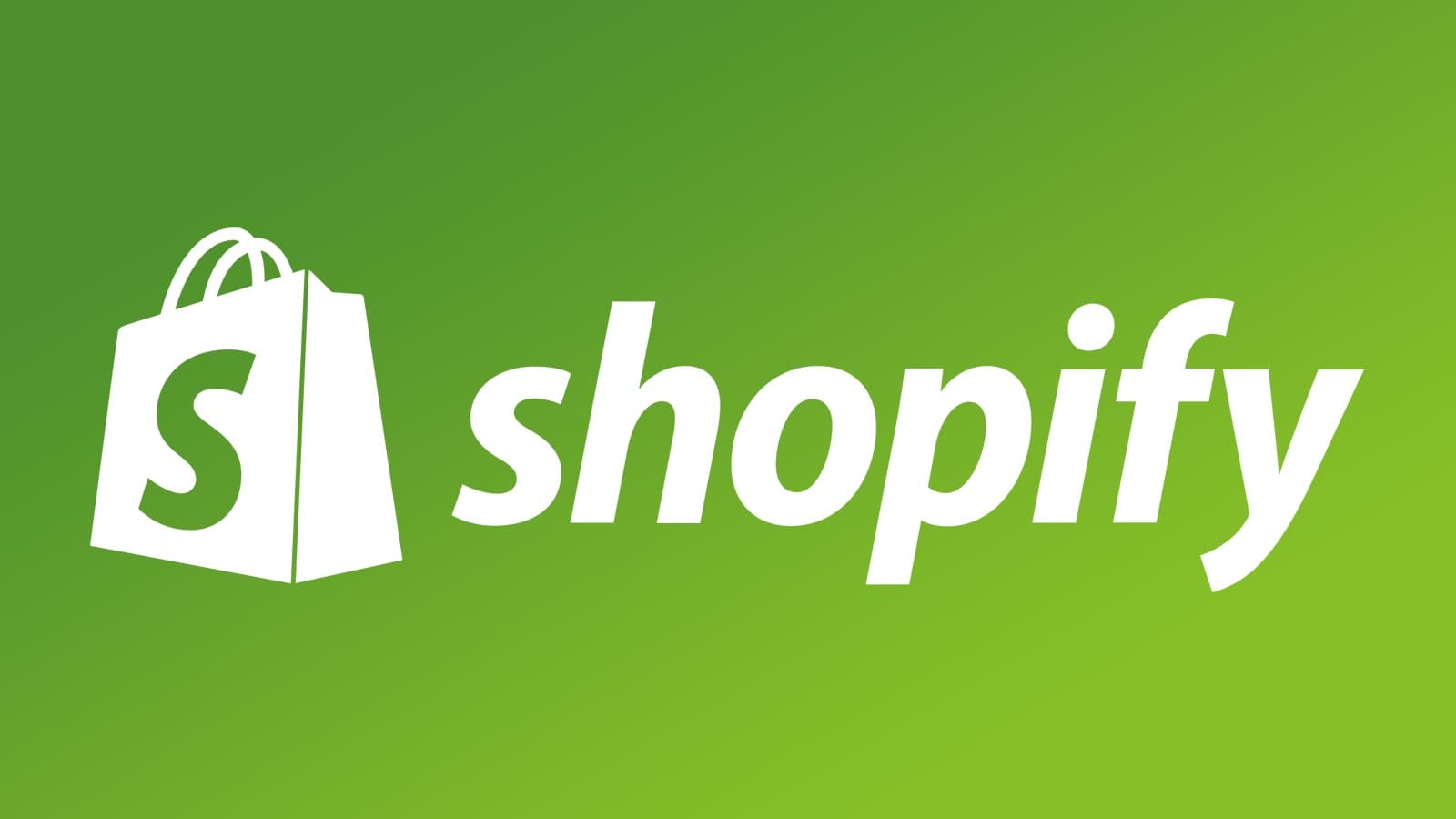 A Shopify Overview
If you are thinking of starting a website that will sell products, then you should definitely consider using Shopify. This is a great platform that has become increasingly popular with web developers and business owners. It has a wide range of features that allow you to create your website in a quick and easy way. The system also allows you to integrate with other systems and apps. Among its many features is the product inventory management system, a scaleable pricing system, and Google Smart Shopping.
Product inventory management system
A product inventory management system on Shopify is a central database of inventory that helps your business avoid out-of-stock situations. It also allows you to monitor your inventory and make better business decisions. You can use it to manage your inventory across different locations and variants.
You can sort your inventory by Available, SKU, Z-A, and product title. You can also view the history of your inventory. Moreover, you can set up the number of products per variant to help you better understand your inventory.
If you want to add a new product or transfer existing items, you can do it easily. You can also add tags and edit quantities. A positive quantity means that the item is in stock. Similarly, a negative amount shows that the item is not in stock.
It is important to understand how to import and export your Shopify inventory. You can do this through an inventory CSV file. However, you should verify the data first. Otherwise, you might get inaccurate product amounts.
You can also export your inventory using the Pipe17 app. Its super-fast sync rates will give you an accurate view of your inventory across different locations. It can also be integrated with other Shopify features.
Katana is an additional third-party tool that is also very useful for Shopify inventory management. It offers advanced features that allow you to communicate with suppliers and make better purchases.
It can provide you with detailed reports on your sales, trends, and seasonality. It can also help you predict your product lead times. The inventory management software you choose should be easy to use and should integrate with other tools.
Scalable pricing system
There's no secret that Shopify remains the gold standard when it comes to ecommerce. In the time it has been around, the company has grown from an ecommerce startup to a multimillion dollar behemoth with millions of users and brands on its books. The scalable pricing system is a prime example of this.
It is also the easiest of systems to implement, the scalable pricing system makes launching an ecommerce business a snap. For instance, you can launch an ecommerce site without having to worry about setting up an account, a problem for many small businesses. To get the ball rolling, sign up for a free 14-day trial and you're on your way. In fact, the Shopify team is so sure you'll be happy with the service that they offer a money-back guarantee. This is a major selling point for the service.
For example, the scalable pricing system allows you to add features and functionality as you go, rather than having to wait for someone else to make a decision for you. In the long run, your ecommerce business is likely to earn you more money in the process. You can also keep tabs on your most valuable customers to better engage them in the future. For example, Shopify has a feature called chat where you can schedule automated messages for your clients. You can also get a glimpse into your store's most popular products by using their product catalog.
Performance overviews
If you're a Shopify store owner, you can use performance overviews to better understand how your business is performing. This allows you to make smarter decisions about your store's operations.
One of the best things about having a Shopify store is the amount of data you can collect. This means that you can take a comprehensive look at your sales, customer behavior, and more.
The best part is, you can do this without complicated setup or complex calculations. It's all about leveraging the right data. Here are four ways to do that.
Shopify has several default reporting options. But if you're looking for something more granular, you can easily customize reports to suit your needs. For example, you can make a report that displays the number of purchases by a certain visitor category. Or, you can create a report that tracks conversion rates by category. You can also build a report that shows how a particular product is generating sales.
You can also get a detailed breakdown of your site's traffic, and how that traffic is divided into segments. This is useful for determining what type of content your customers are viewing, as well as identifying potential marketing strategies. You can also monitor your store's mobile traffic, and identify which products are most popular in different countries.
Another thing to consider is the time it takes your website to load. This can be a problem for many Shopify sites, and will affect your customers' experience. You should aim for a Time to First Byte (TTFB) of less than 0.3 seconds. If yours is longer than that, it could indicate a theme code issue.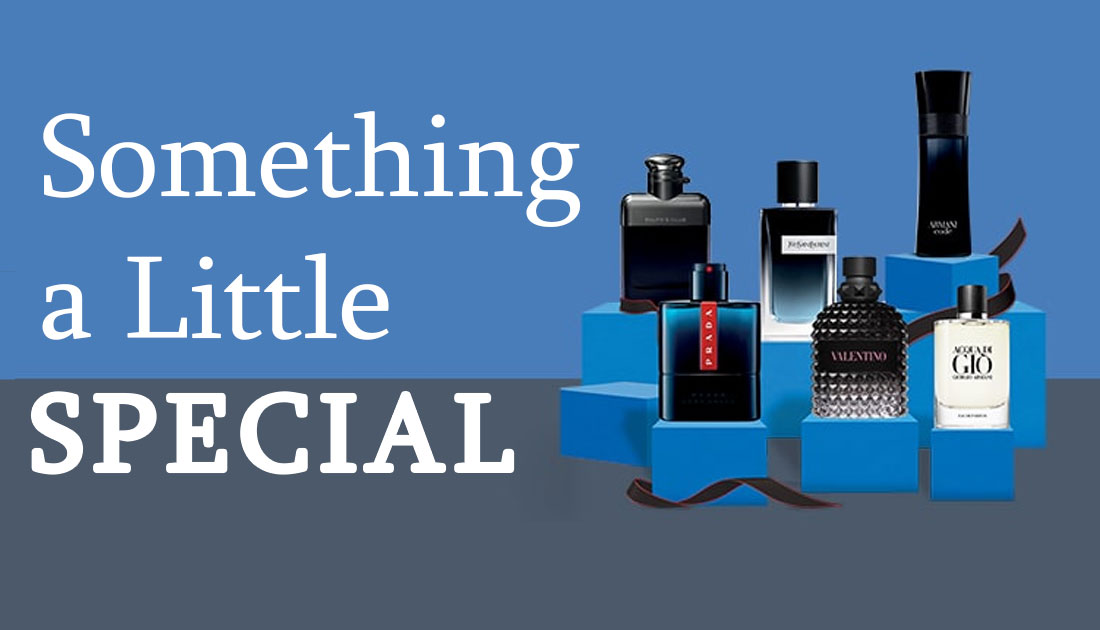 For a special occasion, it might be nice to smell good. Lots of people use perfume in those cases. But there are so many suppliers, brands, retailers and department stores that it might be quite hard to figure out where you can go to for a fragrance that suits you and your style. The Perfume Shop is one of the retailers that offer a multitude of brands and fragrances.
Their prices can be compared to those of other suppliers. But what can there be said about their real delivery period? And about their real customer stories? You won't find much about that on their website. One way to find out how things at The Perfume Shop really work is by reading the reviews that real customers left for you here, on BritainReviews. Their experiences, opinions, ratings and comments can help you to decide whether The Perfume Shop is the kind of company that you want to buy at.
About The Perfume Shop
The Perfume Shop is a shop that sells (what else?) perfume and other fragrances. The company was founded by the Merchant Retail Group in 1992. Back then, it was still called Eauzone. Now they have more than 260 shop all over the UK mainland. They call themselves UK's largest specialist fragrance retailer and focus on making luxurious perfume brands easily accessible for everyone. They sell all kinds of perfumes and body products.
They sell bestsellers for both men and women, but also luxury perfumes, celebrity perfumes, designer perfumes and classic perfumes that have never gone out of style. Many of their products are available in travel sizes containers. They also sell gift sets and hampers for him and for her. Their fragrances include floral, continental, woody, fruity and fresh.
Their brands include Nicki Minaj, Alexander Queen, Ghost, Azzaro, Armani, Aramis, Axis, Guy Laroche, One Direction, Britney Spears, Cacharel, Beyoncé, Beckam, Hawaiian Tropic, Vera Wang, Paris Hilton, Replay, Elizabeth Taylor, Chanel, Valentino, Celine Dion, Cartier and many more. Besides this multitude of perfumes, they also sell aftershave, deodorant, body sprays and body washes.
Services of The Perfume Shop
You can visit their physical shop, but you can also order your perfume and other fragrances via their website. Just create an account and add items to your online shopping bag. They will deliver your product right to your home. They offer Click & Collect and delivery. Their standard delivery is for free, but you can also opt for UK Next Day Delivery of Special Delivery.
Complaints, Compliments or Tips for The Perfume Shop
Have you ever shopped at The Perfume Shop before? Maybe they are even your standard place to go to for your favourite brand or fragrance, but even of you are just a casual customer we would like to know about your experience. What do you think of the quality of their products? Did your order arrive within the promised delivery period? And will customer service help you if you have a complaint? Let us know via a customer review with your experience, opinion, rating and more. Your review can help others to decide to shop or not to shop at The Perfume Shop.
What kind of customer service does The Perfume Shop offer? Read reviews about this fragrance retailer with celebrity perfumes, luxurious perfumes etc.
Born In Roma Yellow Dream Uomo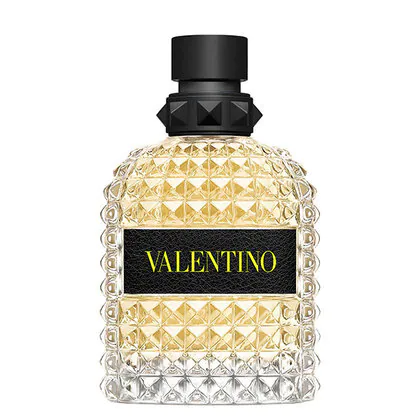 Roman at heart, Valentino Beauty is a colour cool couture brand.
BORN IN ROMA fragrances are tailored for people living their life freely, while embracing their heritage.
Born in Roma Yellow Dream is inspired by the iconic golden sunrise of Rome, known as the Golden hour.
In Roma, daylight hits the streets. The sun advances across the cityscape.
Memories of the night become another new beginning.
Imaginations of our past inspire dreams of tomorrow.
Bathed in yellow light, the eternal city stirs.
Born in Roma Yellow Dream celebrates a new beginning, full of life, hope and optimism.
For Born in Roma Yellow Dream Uomo, the perfumers were inspired by Rome in a
deep, reassuring light to reveal the character traits of a radiant, energetic and determined man.
Composed in three steps around Valentino's Colour, Cool, Couture notes, this spicy oriental eau de toilette surprises with an unexpected gingerbread accord.
THE COLOUR TOP NOTES: a fresh and exotic twist of juicy Italian mandarin and zesty, exotic pineapple accord awaken the senses. This explosion of colourful, energizing freshness
celebrates the optimism of today's Valentino man.
THE COOL BASE NOTES: This new, never used before accord captures the scent of freshly baked gingerbread creating an oriental, compulsive warmth.
THE COUTURE BASE NOTES: Madagascan vanilla complements the gingerbread accord,
with its soft, smooth facets. Its leathery and animal character blossoms in the warm sensuality of cedarwood create a powerful, lasting sensuality.
The bottle is designed with the iconic Valentino Rockstud: inspired by Roman architecture, it transforms a bottle from classic to edgy. The bottle is multi-facetted and energized by a yellow fluro signature.
The BORN IN ROMA creation started with a dialogue with Valentino's native city: Rome.
The streets of Rome are full of the memories of the past. A symbol of free thought, a city where cultures and aesthetics layer on the walls. Reverence and irreverence collide.
BORN IN ROMA pays a tribute to both haute couture and street culture that coexists in Maison Valentino designs. It is about an attitude towards life: I claim my heritage and I create my own rules.
'If you don't dream, you can't deliver dreams' Pierpaolo Piccioli, Maison Valentino Creative Director
Acqua di Gio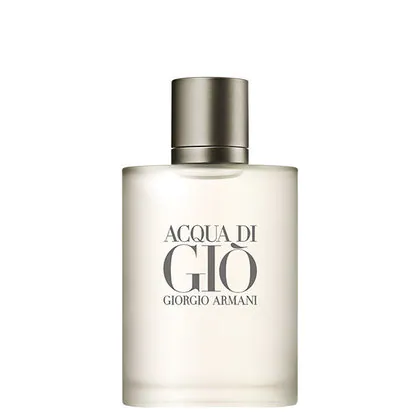 ACQUA DI GIO – The Aftershave For Him by Giorgio Armani. A light, distinguished eau de toilette inspired by the fresh sea, warm sun and the richness of the earth. This aquatic, aromatic men's aftershave opens with a splash of fresh calabrian bergamot, neroli and green tangerine. Light, aquatic nuances mix with jasmine petal, crisp rock rose, rosemary, fruity persimmon and warm Indonesian patchouli to create a masculine scent that is both fresh and sensual. Natural and authentic, it is the perfect cologne for gifting.
• Fragrance Family: Woody marine freshness
• Top Notes: Bergamot, Neroli & Tangerine
• Heart Notes: Ozonic Marine Notes, Sambac Jasmine Essence, Rock Rose & Persimmon Fruit
• Base Notes: Cedarwood, Patchouli & Musk
Looking for something more intense? Try ACQUA DI GIO PROFUMO parfum.
Looking for something warm and sensual? Try the ACQUA DI GIO ABSOLU eau de parfum.
How To Apply:
• Before use, ensure your skin is hydrated to make your cologne last longer
• Apply Acqua di Gio for men fragrance to the inside of your elbows, wrists and behind your ears for a long-lasting aftershave.
• Key Notes
Bergamot, Neroli, Sambac Jasmine Essence, Rock Rose, Cedarwood, Patchouli
Y Le Parfum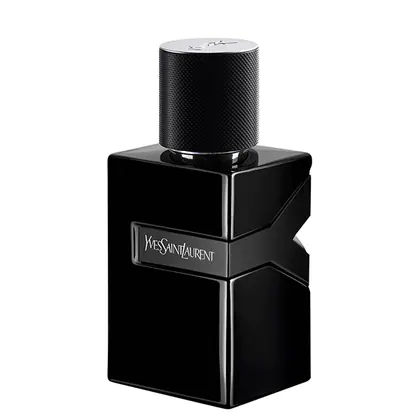 Y Le Parfum, a smooth and intense woody fragrance for men. Vibrant lavender, fresh geranium, bold black cedarwood.
Y Le Parfum, the NEW bold and woody take on the iconic signature of the Y male fragrance franchise.
The absolute strength of a dark fougère, more intense than ever.
Smooth freshness. Raw elegance.
A men's cologne that pairs the vibrancy of French lavender with the strength of American black cedarwood – two ingredients selected exclusively for YSL Beauty.
This powerful olfactive statement is underscored by the minty radiance of geranium & sensuality of incense.
Starring YSL Beauty global fragrance ambassador Lenny Kravitz.
INSPIRATION
Y is a testament to the YSL modern man.
A man who dares to follow his passions and carve his own path.
From inspiration, through hard work and collaboration, to self-accomplishment and success.
A man confident to take all of life's challenges.
For the authentic and bold, YSL Beauty creates Y: the fragrance for those who dare to ask themselves 'why not'.
The YSL modern man is embodied by YSL Beauty fragrance ambassador Lenny Kravitz.
SCENT
Exuding the absolute intensity of a dark fougère, NEW Y Le Parfum intensifies the sensuality and strength of the signature Y Eau de Parfum by heightening the contrast between a sparkling citrus opening, and deep and enveloping woody base notes.
At the heart of this men's cologne, the vibrancy of French lavender is paired with the strength of American black cedarwood – two ingredients selected exclusively for YSL Beauty.
This powerful olfactive statement is underscored by the minty radiance of geranium & sensuality of incense.
Created by master perfumer Dominique Ropion.
Polo Cologne Intense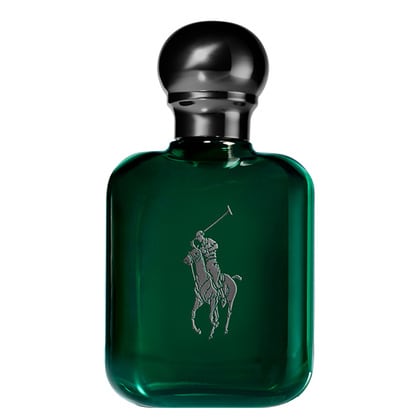 Polo Cologne Intense By Ralph Lauren
A new classic for a new generation.
Ralph Lauren Fragrances introduces its new Polo Cologne intense, the perfect combination of fresh elegance and sophistication.
The timeless and iconic Polo men's fragrance is reinvented and crafted with a touch of modernity. A multifaceted masculine blend of fresh grapefruit and cooling sage, balanced with the signature smooth tones of Patchouli.
Polo Cologne Intense is the embodiment of seduction, confidence and masculinity. An invitation to an unparallel journey.
Fragrance Category:
Chypre Citrus
Top Notes: Basil, Spearmint, Grapefruit
Heart Notes: Clary Sage, Violet Leaf Absolute, Thyme
Base Notes: Patchouli Palette, Ambroxan, Vetiver