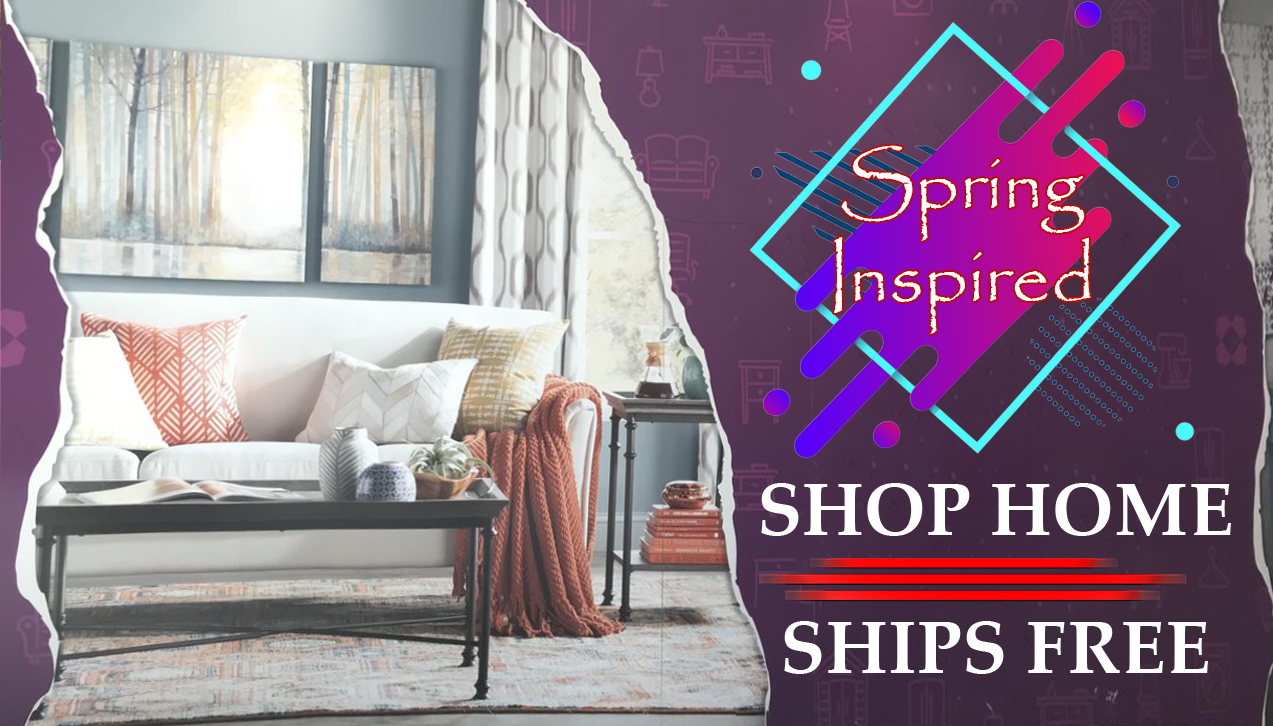 This post contains affiliate links. When you purchase through links on this post, we may earn an affiliate commission. Thanks.
About Wayfair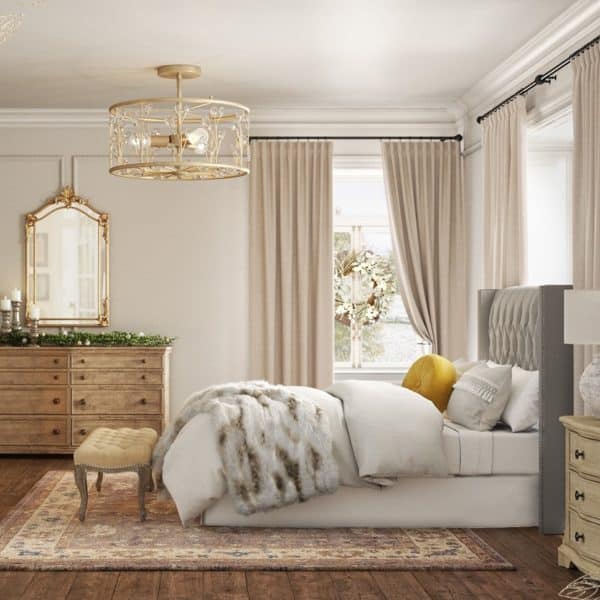 Wayfair carries furniture, rugs, lighting to decor items to find everything you need to turn your home into a stylish haven.
Wayfair has a substantial following and customer base with a multitude of retailers and 7 million happy customers under its belt.
Wayfair also has 1.6 million followers on Instagram and has been featured in Buzzfeed, Vox, BusinessWire, and The New York Times.
This Wayfair furniture review will introduce you to the company's story and some of its best-selling items. So if your home needs a makeover, Wayfair might be just the thing you've been looking for.
Overview of Wayfair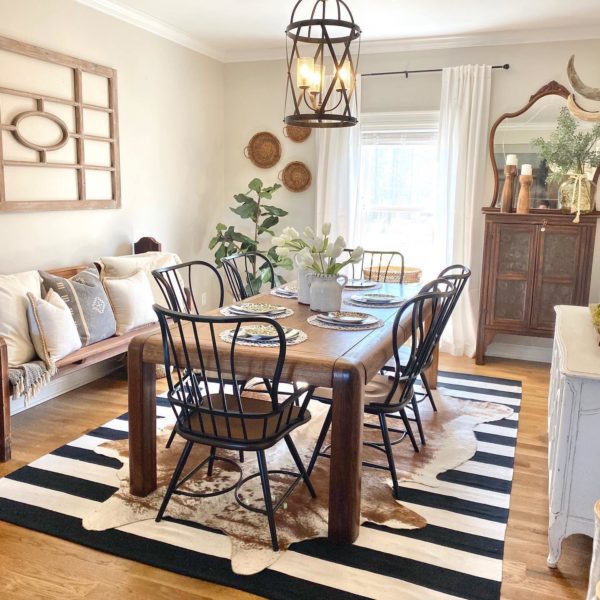 The company was founded in 2002 by Wayfair CEO duo, Steven Conine and Niraj Shah after analyzing internet shopping patterns and demand.
What started as a simple idea born in Steven's tiny spare bedroom, would blow up into a decor empire raking in billions of dollars in revenue, with a catalog of over 18 million products and 5 distinct brands under its umbrella: Wayfair.com, Birch Lane, Joss & Main, AllModern, and Perigold.
The company is headquartered in Boston, Massasuchettes and now employs over 16,700 people.
Pros
Millions of products ranging from bathroom, kitchen, bedroom, mudroom, and more
Products for every price point
A Rewards Program that offers deals and savings to members
Orders over $49 are eligible for free shipping
30-day return policy
Cons
Shipping and handling is not refunded when making a return
Next up, this Wayfair furniture review will cover some of their most popular products. So if you're looking for design inspiration, keep reading for a selection of top-selling Wayfair cabinets, area rugs, and more.
Wayfair Murphy Bed Review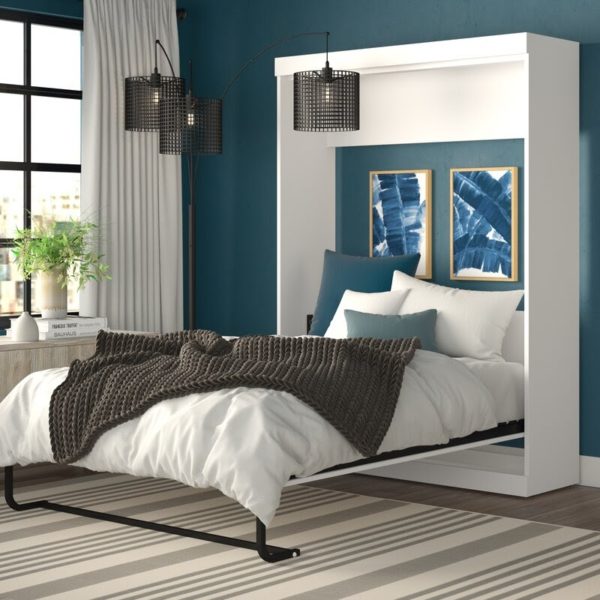 This Murphy Bed boasts favorable ratings and you can tuck it away during the day and simply unfold it at night.
This bed is made out of engineered wood and is available in: White, Antigua, Bark Grey, and Bark Gray/White and measures at 83.58" H x 58.66" W x 87.3" L.
One Wayfair furniture review reads: "The bed feels sturdy and looks nice! We are turning our second guest room into a nursery and did not want to lose our office to keep a second guest room. The Murphy bed was the perfect solution to add to our office."
The bed comes with a one-year warranty, and it is important to note that it does not come with a mattress, but does come with slats and a headboard.
The Murphy Bed is currently marked down to $1,626 (from $2,232).
Wayfair Imani Velvet Convertible Sofa Review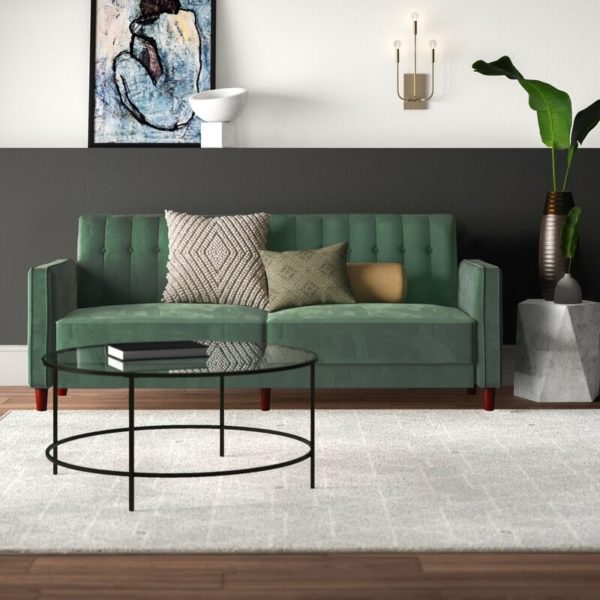 This Imani Velvet Convertible Sofa is made of engineered wood with faux velvet upholstery. The back of the sofa can be folded down to create a comfortable bed, as it is filled with foam for optimal support.
This sofa bed comes in a variety of 7 eye-catching colors including Tan, Blue, Green, and Gray and measures 34" H x 81.5" W. One Wayfair furniture review for this product reads:
"I LOVE this couch! It was super easy and quick to put together. The velvet material and style of the couch seem way more expensive than the actual price of the couch. Easy to put back into a sleeper position. Highly recommend this sleeper couch!!"
Pair this sleeper sofa with one of your favorite Wayfair TV stands and lighting, and you've got yourself a stylish-looking space. The Imani Velvet Convertible Sofa rings in at $700 (marked down from $844).
Wayfair Ronaldo 27.5″ W Polyester Armchair Review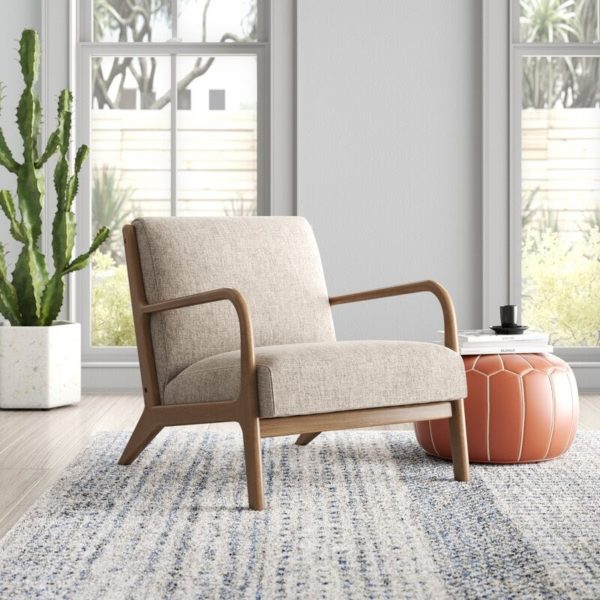 The Ronaldo 27.5" W Polyester Armchair, is a mid-century modern beauty is made with a neutral polyester blend and solid wood and comes in Light Blue, Grey, Teal, and Taupe.
Measuring at x 27.5″ L x 32.7″ W x 29″ H Wayfair recliner chair. The Ronaldo 27.5" W Polyester Armchair has a weight capacity of 300lbs and is priced at $460.
Wayfair Lucca 44″ Console Table Review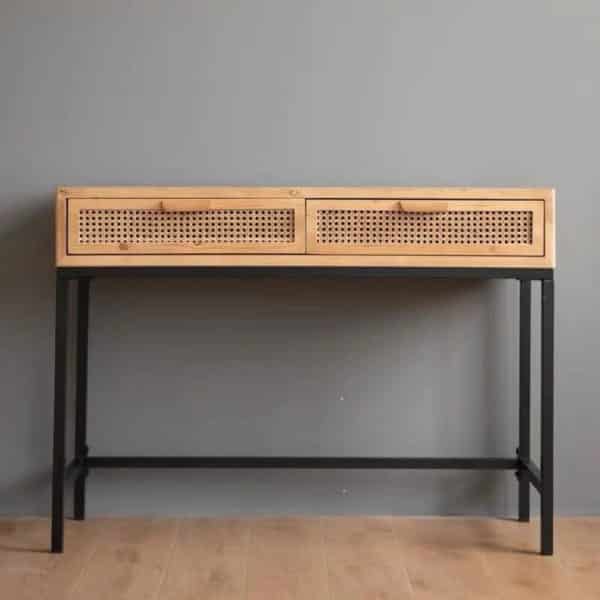 The Lucca 44" Console Table is the perfect multipurpose table for your front hallway with a wooden finish and 2 soft-close drawers.
The piece also features a wooden top with a distressed finish and a metal base. Measuring 44″ L x 15.7″ Wx 32″ H, use this piece for a front hall or mudroom piece or, ladies, keep this in your bedroom for a convenient makeup table!
If you're interested in purchasing this Wayfair console table (also doubles as a buffet table) keep your eye out for a restock. The Lucca 44" Console Table is on sale for $410.
Wayfair Galveston Frame Coffee Table Review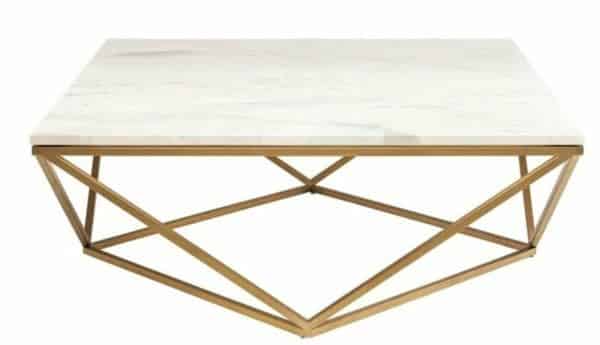 The Galveston Frame Coffee Table features a genuine marble top and a metal base. It is also built to personalize as the marble top comes in White or Marble and the base comes in Chrome or Gold.
Though it requires assembly, this table measures 14.5″ H x 36″ W x 36″ D, making it just small enough to fit in your living room. So if you're looking for an upgrade in the coffee table department, this one is a contender. It's priced at $760 (marked down from $840).
Wayfair Soleia Handmade Tufted Azure Rug Review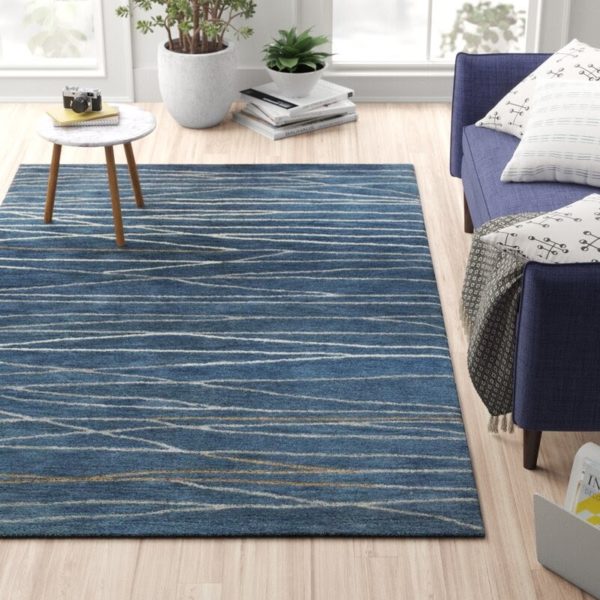 The Soleia Handmade Tufted Azure Rug is one of the most popular Wayfair area rugs. This rug comes in many sizes and colors, and the tufted wool/viscose blend rug is handmade in India.
The rug is designed for indoor use only and this Wayfair furniture review notes that this rug works best with a rug pad to prevent slipping and sliding.
One concerning thing that was found upon researching this product is that it seems to shed a little, so indoor Wayfair rugs are better for low traction areas.
This stylish Soleia Handmade Tufted Azure Rug comes in 5 rectangular sizes:
3'9″ x 5'9″: $230
5'6″ x 8'6″: $520
7'9″ x 9'9″: $850
8'6″ x 11'6″: $1080
9'6″ x 13'6″: $1970
Plus, 2 round sizes at:
Finally, 1 Runner size at 2'6″ x 8′ for $300.
Wayfair Forest Misty Jungle Natural Textile Wallpaper Review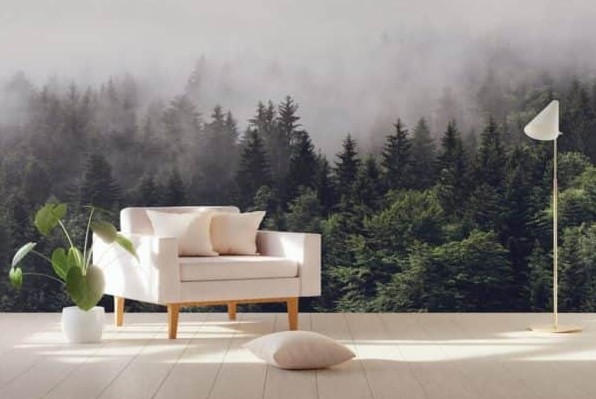 The Forest Misty Jungle Natural Textile Wallpapers is a clean product that is also:
Moisture and U.V. resistant
Sound and thermal insulated
Non-pasted
Easily repositionable
It comes with glue, which you will need to use to apply the wallpaper, and doesn't leave a residue if you change your mind and peel it off.
This Forest Misty Jungle Natural Textile Wallpaper is currently on sale for $580 marked down from $830 for a 75" L x 112" W roll. Jump on this Wayfair wall art trend!
Wayfair Joaquin Patio Folding Bar Table Review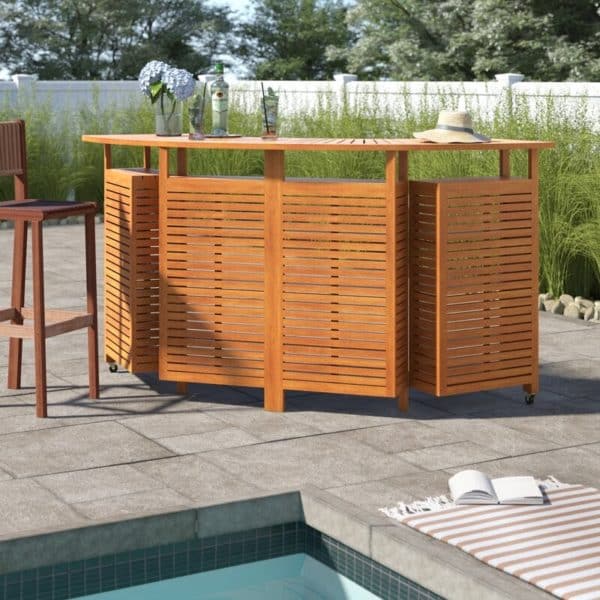 The Joaquin Patio Folding Bar Table from Beachcrest Home brings luxurious style and function to your backyard oasis. This table folds and wheels around for convenience, so it's easy to roll it straight to your house from the Wayfair store.
Made from acacia hardwood, this home bar will hold all of your bottles and necessary supplies for your time spent out in the sun.
Use as a portable Wayfair kitchen island when you're having poolside dinner with the family on a Saturday night. This product is close to selling out for $1,400. Don't forget to check out other Wayfair patio furniture to compliment your new bar!
Wayfair George Nelson Platform Bench Review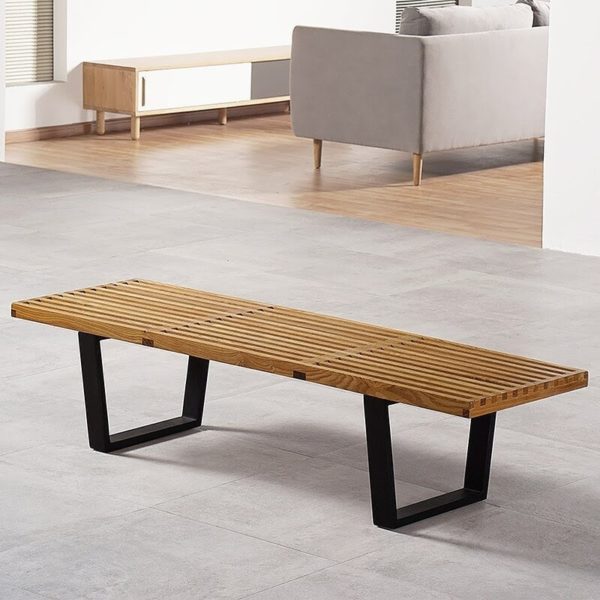 Wayfair customers think this one wins the most compliments. One furniture reviewer called the George Nelson Platform Bench an "Amazing bench!! I ordered two of them, and I was extremely happy with the product!"
The bench is made of solid wood with metal legs and has ample storage space underneath the bench as well. It's designed for bedrooms, entryways, dining rooms, and living rooms for versatility.
George Nelson Platform Bench comes in 2 colors of:
Walnut: 14″ H x 60″ W x 18.5″ D for $350 (down from $370)
Natural: 14″ H x 49″ W x 18.5″ D for $316 (down from $340)
Natural: 14″ H x 60″ W x 18.5″ D for $350 (down from $370 and out of stock)
Natural: 14″ H x 72″ W x 18.5″ D for $415 (out of stock)
Wayfair furniture reviews: What Do Customers Think?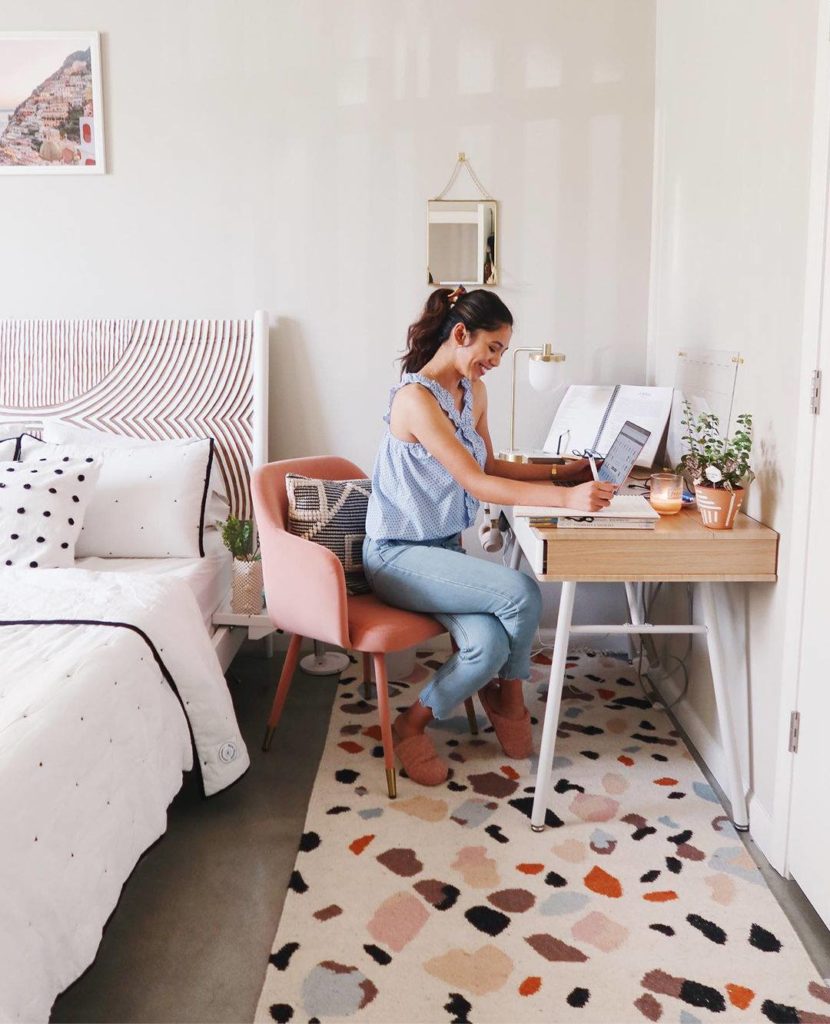 According to the research conducted by this Wayfair furniture review, the brand is trusted and loved by many for its immense selection of products and styles.
On ConsumerAffairs.com, the brand received an average of 3.5/5 stars, from an average of 2,673 reviews. One reviewer shared,
"[I] decorated my whole house through Wayfair. I have to say, I was skeptical about ordering online, but Wayfair made it not only very easy, but I was able to keep within my budget and the products purchased were great quality/buys!"
Wayfair received an average of 5-stars from 91 reviews and an overall score of 9.5/10 on Slumber Search. A repeat customer provided details:
"I have been buying from Wayfair for a couple of years and have had a great experience. Occasionally something might be damaged in shipping and customer service reshipped immediately." They also mentioned that international shipping was more likely to be delayed, but it was always taken care of.
Is Wayfair Worth It?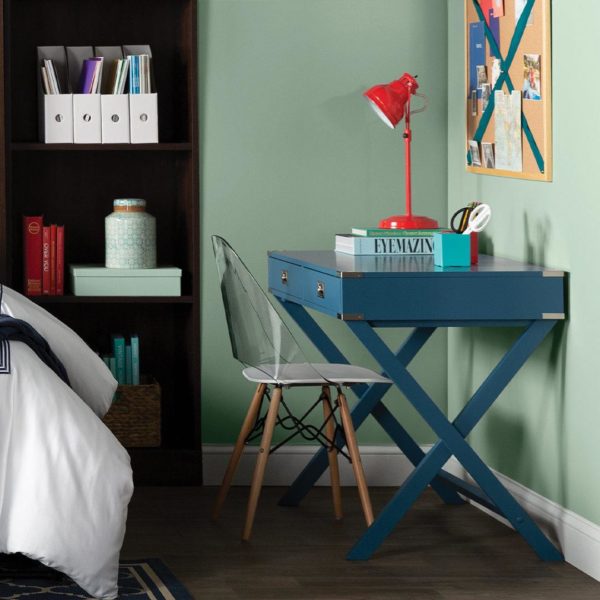 How legit is Wayfair? Based on the research presented, this Wayfair furniture review would urge you to purchase from the brand for delivering on their mission to provide great furniture.
Wayfair offers countless pieces that can't be found at your average home decor store, and with affordability. Whether you are looking for a new Wayfair desk, armchair, or other furniture and accessories …the options are endless.
According to positive commentary online, their furniture will add life to your space no matter what your budget or taste is. If you want to feel more confident before putting items into your cart, sift through some of the experiences repeating customers have shared.
If you do come across issues with the brand, you can always rely on their 30-day return policy.
Wayfair Promotions & Discounts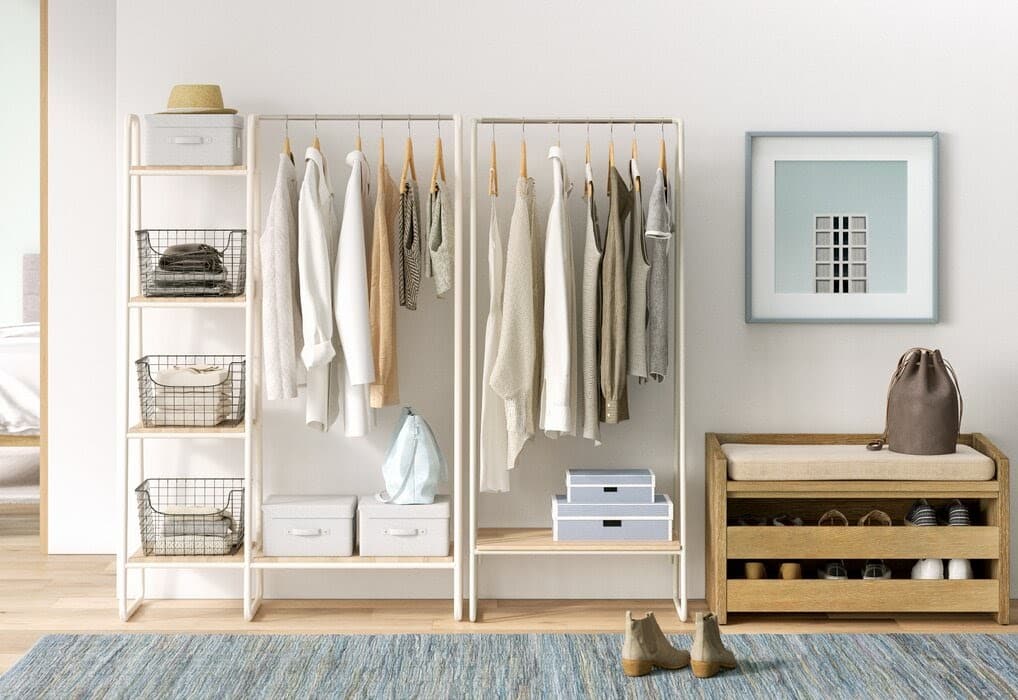 Are you looking for a Wayfair coupon code? The store offers codes and promotions directly to their customers, so the best way to receive coupons and promotions is to sign-up for their emails.
Shipping over $35 is free, and Wayfair often has Closeout Deals where selected overstock furniture is priced extremely low.
There is currently a 70% off storewide discount for every day of the week under their Daily Sale. So always keep your eyes peeled…and don't forget about the eventual Wayfair Black Friday sale.
Where to Buy Wayfair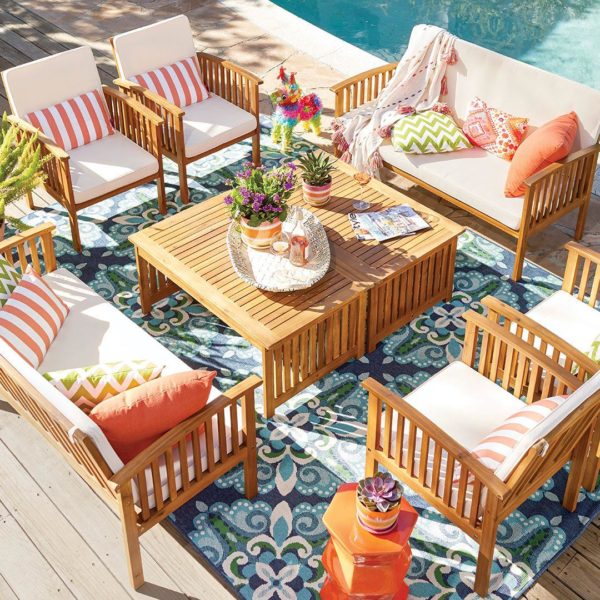 For the best selection, browse through the brand's retail website: Wayfair.com. Products may be found in other stores as well, as they are not exclusive to Wayfair.
FAQ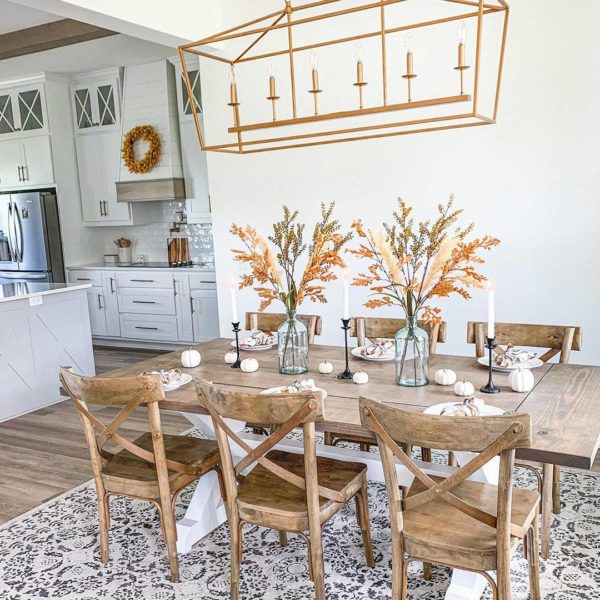 Is Wayfair in Canada?
Wayfair does have a Canadian website: Wayfair.ca
Is Wayfair Australian?
Wayfair did have an Australian site. It was afterward acquired by Temple and Webster and can now be found under that name.
Is Wayfair good quality?
Yes, Wayfair's products are high-quality. If you're looking for furniture that will last a long time, we recommend browsing through items under the higher-end price points.
Are Wayfair stores closing?
Wayfair's only store has plans to close. The brand will remain online-only for the foreseeable future.
What credit score is needed for Wayfair?
To be approved for a Wayfair credit card, you must meet the standard eligibility score of 580 and up.
Does Wayfair accept bad credit?
Wayfair will work with you if you have a poor credit score. But, your options will be limited and you will be susceptible to higher interest rates. To learn more, use your Wayfair credit card and log in to your account.
Does Wayfair have free shipping?
Wayfair offers free shipping on orders over $35.
What shipping service does Wayfair use?
Wayfair uses UPS and FedEx for smaller items. Specialty carriers handle the larger ones. You can follow your purchase journey on your Wayfair account or with the provided tracking code.
How long does it take for Wayfair to deliver?
Shipping times vary depending on your item(s) and delivery location.
Does Wayfair pay for return shipping?
Wayfair does not pay for return shipping, there is a cost in place. This amount will be subtracted from your refund.
How do I return items to Wayfair?
Many customer reviews shared stories of returning defective products with ease. Most items can be returned within 30 days of receiving them, aside from clearance items and select others.
Wayfair products must be in good condition and with the original packaging intact to be eligible. The return shipping fees will be deducted from your refund.
Will Wayfair offer a refund on assembled furniture? The answer is no. However, the return policy on damaged items may allow you to return your already assembled piece if it is defective or decently damaged.
Anova Precision Cooker Review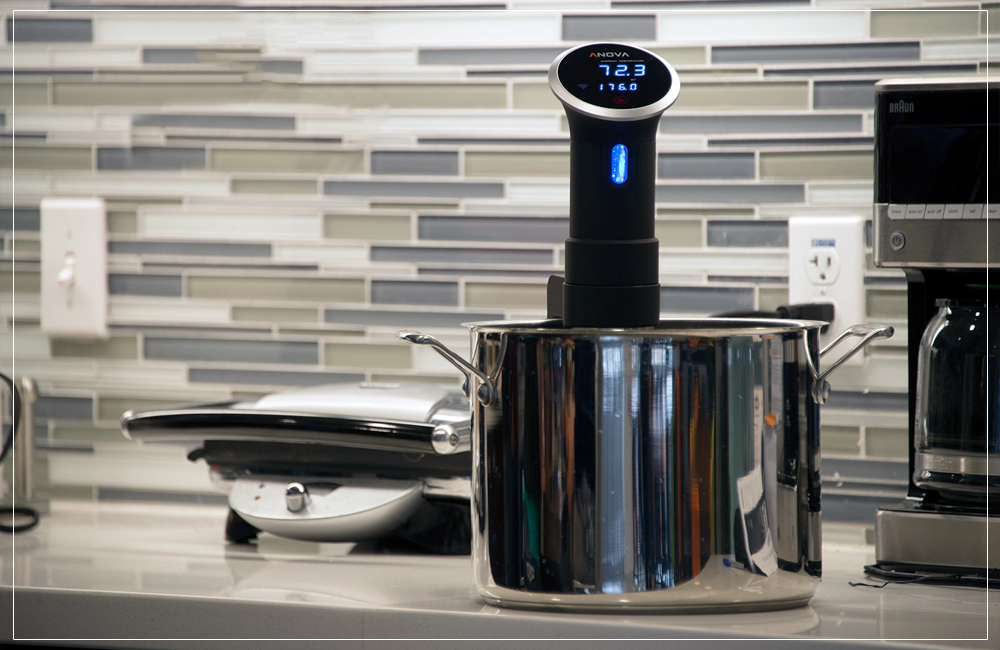 The Number One In The World
These days we've all heard about sous vide machines. Although this technique has been used for many years in restaurants, just recently arrived at our homes. Consequently, this became the new trend in home cooking. The Anova Precision Cooker is the world's top-selling sous vide machine, probably because it is super easy to set up and the results are always amazing. If you have a pot, a ziplock bag, and a pan, you'll cook the best food of your life.
Since sous vide is the new trend in home cooking, we gather all thecookingworld team, and we decided to test the largest possible number of sous vide machines. The main reason – Just for FUN!
For this adventure through the world of sous vide, we decide to star with the #1 selling sous vide machine in the world. The Anova Culinary Sous Vide Precision Cooker.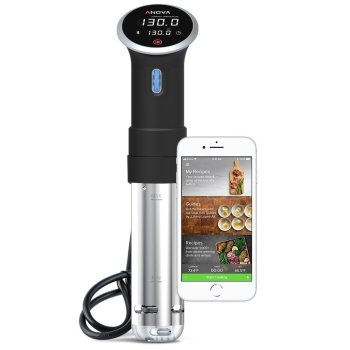 ‍
Cook Like a Pro
Every time we heard about sous vide the first thing we heard is "COOK LIKE A PRO". But will this really be true?
One of the advantages of sous vide is the elimination of human error, due to the use of technology. The Anova Precision Cooker does this perfectly, allows anyone to cook a restaurant quality meal at home.
Perfect Results, Every Time
An important feature in sous vide equipment is precision. After using Anova we are convinced that this machine has to have "precision" in its name. With so much accuracy we can produce amazing results that are impossible to achieve through any other cooking method. No dry edges and no rare centers. Juices and flavors don't escape. Food comes out perfectly moist and tender.
One of our favorites features in this equipment is the continuous temperature control. As a result, this provides us with a reliable and consistent result every time. Perfect for vegetables, meat, fruit, cheese and much more. You really need to try Anova to see what are we talking about!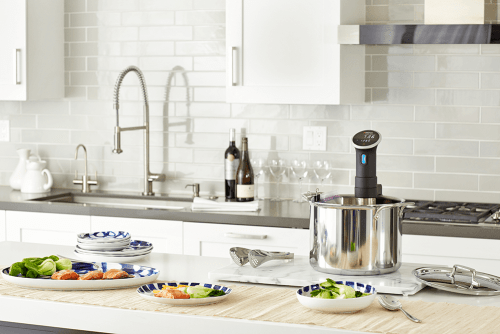 ‍Easy to Use
Using the Anova Precision Cooker is so easy to use that you certainly won't need any instruction manual.
After unboxing the Anova, we quickly realize how simple and well though this machine is. After you remove it from the box you simply need to attach the precision cooker to any pot with water and drop in the desired food in a sealed bag. Press the button an start cooking! The sous vide cooker's timer and precise temperature control allow you to step away and relax while your food cooks perfectly. Leaving time for you to look for more amazing recipes.
Smart Device Control & Cooking Notifications
In the world full of smart devices this sous vide machine is another device to add to that list. The Anova can be controlled using a smartphone, you can set up the temperature for this equipment, and controlled the cooking process remotely allowing you to escape from the kitchen while you cook. We test the range of this feature and the Bluetooth connection allows us to control the device up to 9 meters (30 feet) away. We personally loved this function because it allowed us to leave our test kitchen, which allows us to work on other projects at the same time that we test this equipment.
To control remotely Anova, you simply download the Anova App to easily monitor, adjust or control the device from your iPhone and Android devices. The precision cooker also provides you cooking notification while you're out of the kitchen so you'll know when your food is ready.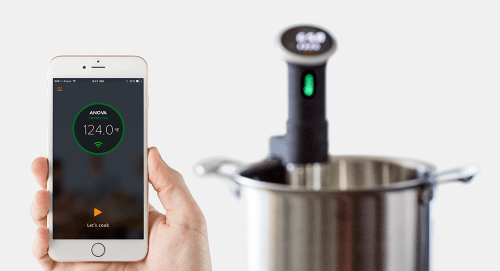 Get Creative
Don't know what to Cook? – Anova App has over 1000 recipes to choose from. Sous vide guides and recipes created for home cooks of every skill level by award-winning chefs, with simple directions to walk through each recipe.
Simple to Clean
We all know that when it is time to clean kitchen gadgets, this could be a total nightmare. We already stopped using some kitchen equipment just because the work that we have to clean them. In contrast, the Anova is super easy to clean. The precision cooker's detachable stainless steel skirt and disks are dishwasher safe making this kitchen appliance easy to clean and maintain. So it's perfect for everyday use!
Product Information
Technical Specification
Temp Range: 77°F to 210°F ± 0.01°F / 25°C to 99°C ± 0.01°C
Pump Speed: 1 – 1.2 GPM 7-8 LPM
Directional Pump: 360 Degree
Tank Capacity: 4-5 Gallons / 15-19 Liters
Timer: 99 Hours
Safety: Bi-Metal Fuse
Power Input: 110-120VAC
Heating Power: 900W
Final Thoughts
Finally, after hours and hours testing this equipment we only have one thing to say. If you want precision – Get ANOVA! This is an amazing sous vide machine which offers everything it promises, Control and Precision every time.
Summary
The Anova Precision Cooker is great sous vide machine that is easy to use, offering incredible control and precision in temperature, giving you consistent results every time.
RTIC Cooler Review – A Comprehensive Look and Comparison vs YETI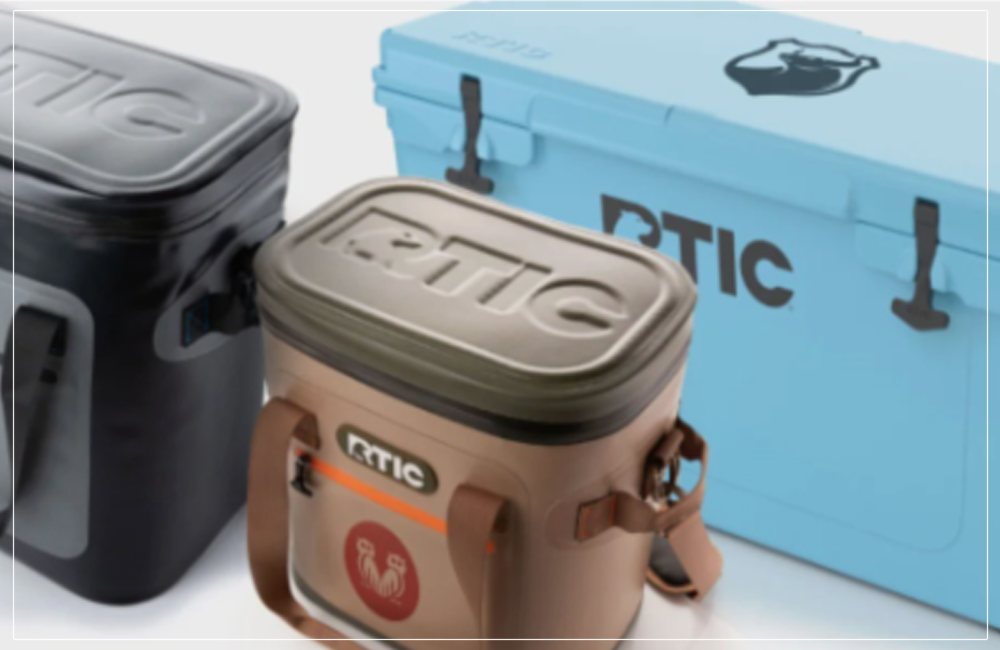 Welcome to our very own RTIC cooler review!
If you are a hiker, camper or outdoorsman who just needs a cooler that can handle your extended trips, the last thing you want to worry about when you are in the woods is your food supply going bad because of a faulty cooler.
While there are options out there, what you really need is something durable and well-constructed that can retain ice for long periods of time.
Sure, the names that you are used to are companies like Yeti, Orca, or Pelican coolers, BUT they do come with a price tag.
In this RTIC cooler review, we'll discuss in detail their claim of being "Half the price of Yeti and holds more ice."
With their strategic and aggressive advertising at rticcoolers.com (and in media), there's a good chance you have already heard of them. Now, before you make a decision there are some things you need to know.
RTIC Coolers Lineup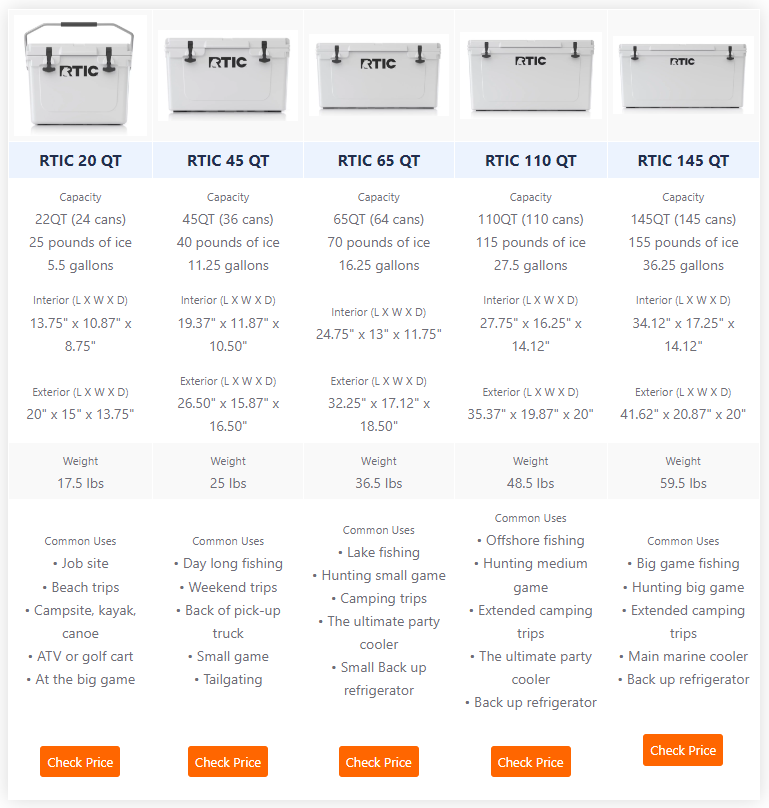 RTIC Cooler Review – A Comprehensive Look
There are many great qualities and features that come with the line of RTIC coolers. Here is anything and everything you will need to know before making your next buying decision.
RTIC Coolers Out Of The Box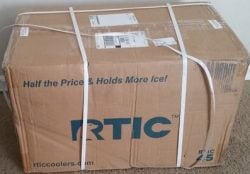 The RTIC cooler is literally ready right out of the box. Once you open the box it is shipped in, you will find it in a plastic bag that covers it completely.
This is probably done so to help prevent scratches, but you'll find it to be durable enough to withstand the shipping transport.
It is fully assembled with the T latches, rope handles and feet. This truly makes it ready to go once you open the box.
It can go directly from the box to your vehicle or anywhere else. No assembly required. Nice.
The RTIC Ice Chest Build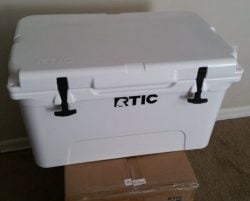 There's a term that you may have heard of when you read up on high-quality coolers – Roto Molding.
It's a method of molding that ensures the highest quality and one-piece cut. When it comes to high performing coolers, this is a must.
With an RTIC ice chest, you'll find this process in their cooler creation. It calls for an exact cut and thickness within the wall, as well as all around the cooler which produces no imperfections.
You may be wondering, what's the big deal?
Here it is. From the practical standpoint, this method of molding provides two levels of quality and protection which means: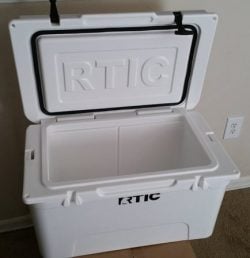 Maximizing the amount of ice retention time on the inside
Ability to withstand heavy abuse on the outside
With a variety of sizes to choose from, you'll be able to provide an option for the individual weekend warrior or even larger groups going on a camping trip.
But just how long will the ice last?
Glad you asked.
Insulation Quality
With the roto-molded walls, you'll find two-inch-thick polyurethane foam insulation, with lids up to three inches thick. This is on par with YETI and the other coolers like it.
The cool lift design will keep your cooler above hot surfaces giving you the best possible ice retention time.
Okay, so this is probably what you wanted to know, right?
How long will RTIC coolers hold ice?
According to their website, you can expect ice retention times of up to 10 days.
So, are we talking about a portable freezer, able to keep the food ice cold for 10 days or so? In the ideal world, yes, that would be possible. The cooler itself is capable of that.
However, in the real world, the ability to keep ice for X days really does depend on a multitude of factors. Was the cooler pre-chilled? Was it kept in the shadow? Was the lid opened only when really needed?
Finally, what kind of ice was used, just ice cubes? Or maybe it was block ice, combined with crushed ice? Or dry ice?
You see, it really does depend on these and other factors, and RTIC is no exception here.
Typically, however, a good rotomolded cooler – and the RTIC is obviously such – with over 2-inch insulation, good quality gaskets and tight latches, should keep the ice at least for 4-5 days. The bigger the size of the cooler, the more room for the ice, and the longer ice retention times.
Therefore, a 25-quart ice chest won't keep ice as long as the 100-quart one. Keep this in mind.
Week-long ice retention is very much possible if you apply some of the tips listed here.
The conclusion here is that you should keep the RTIC's 10-day ice retention promise with a grain of salt. Yes, it is possible. But you need to prepare yourself and your cooler for this. That also includes packing food appropriately, and using the optimal ice-to-contents ratio.
Realistically, it's best to assume the RTIC will perform well anywhere between 4 to 6 days, depending on the factors we've just mentioned.
RTIC Ice Chests – Available Sizes
When it comes to RTIC coolers you'll be able to find one for every occasion.
RTIC 20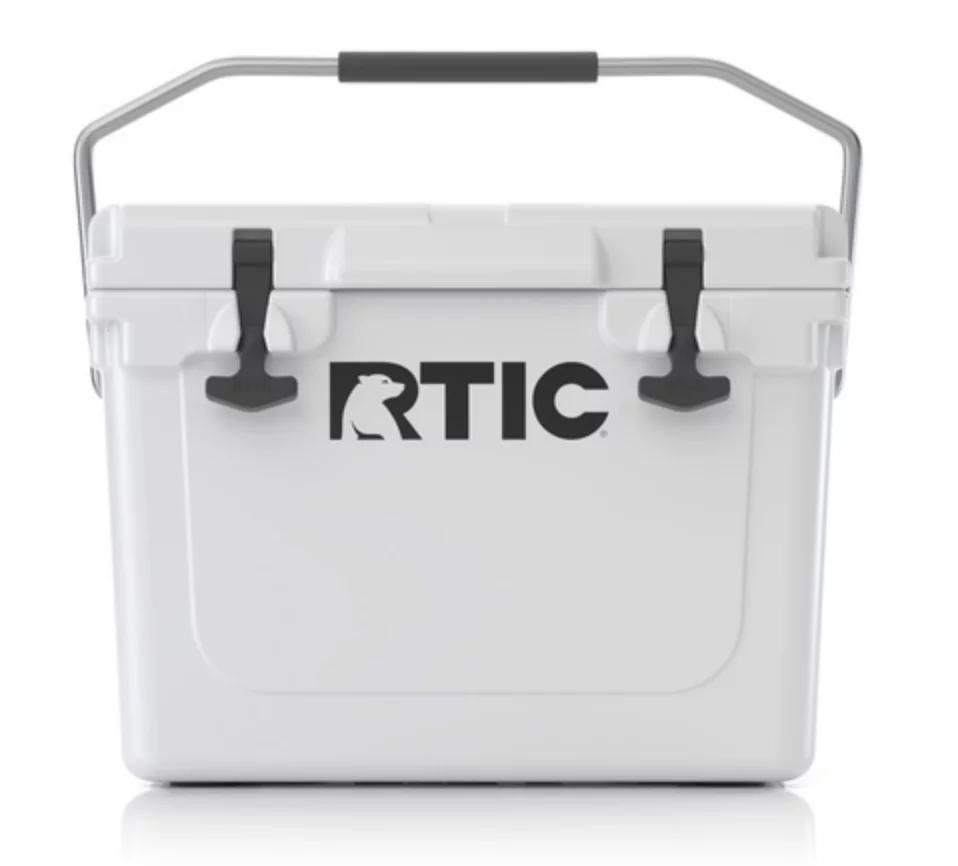 On the smaller side is the RTIC 20. This is perfect for the individual or just a few people who may need drinks and food kept cold for a short trip. It's a direct competitor to the more expensive YETI's Roadie cooler.
The RTIC 20 weighs in at 17.5 pounds and comes in at an outer measurement of 17 ¾" x 11 ¼" on the bottom side of the cooler and 20" x 13 ¾" on the top side of the cooler. It stands at 15" and will fit comfortably in your back seat.
It can hold 24 cans or 25 pounds of ice. In pure liquid form, you will have ample room for 22 quarts or 5 and a half gallons.
RTIC 45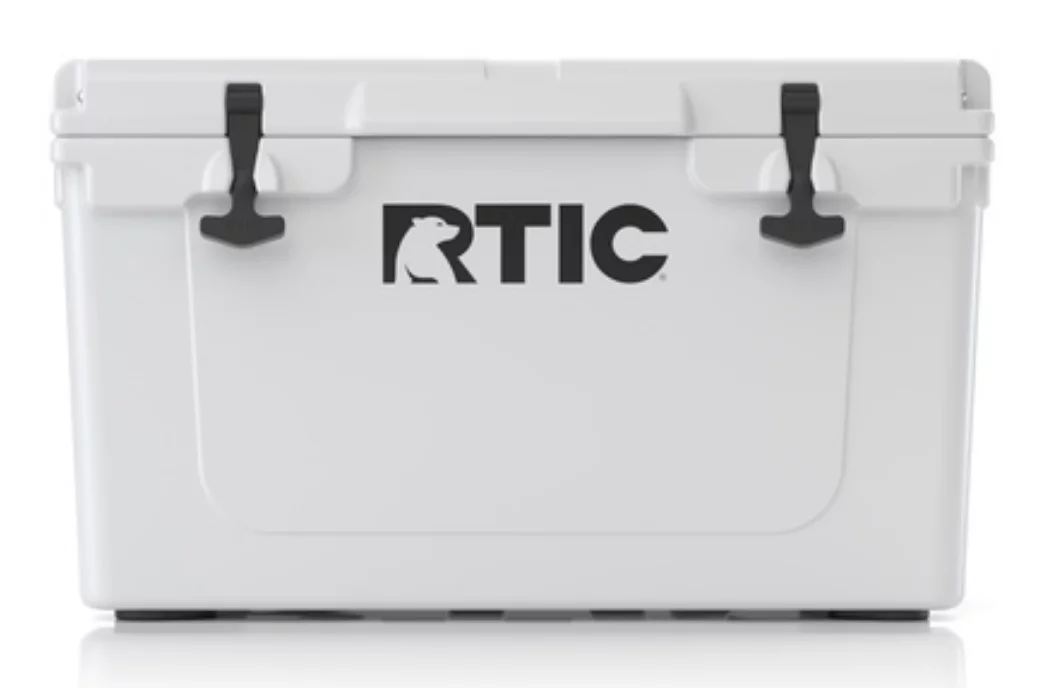 A step up from the RTIC 20 is the nicely built mid-size RTIC 45.
Not only will this cooler be able to store food and drinks, but it will be perfect for hunting and camping, especially for smaller game.
The RTIC 45 weighs in at 25 pounds and comes in at an outer measurement of 25 ¼" x 13 ¾" on the bottom side of the cooler and 26 ½" x 16 ½" on the top side of the cooler. It stands just a shade under 16" and will fit comfortably in the back of your pickup truck or tailgate.
This cooler can hold a case and half of cans (36) or 40 pounds of ice. You can also fill it with 45 quarts or 11.25 gallons of liquid.
RTIC 65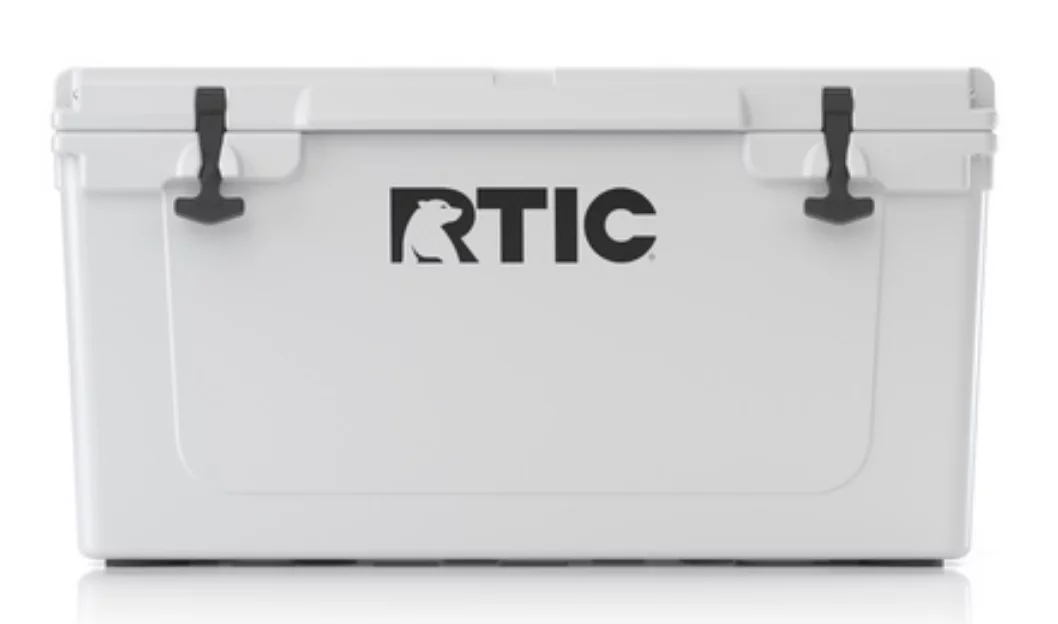 The beauty of the RTIC 65 is that it can accommodate a large group of people, yet it can be handled and picked up by one person. However, having two people carry it may be a safer bet.
The RTIC 65 weighs in at 36.5 pounds and comes in at an outer measurement of 30 5/8" x 15 ½" on the bottom side of the cooler and 32 ¼" x 18 ½" on the top side of the cooler. It stands at 17 1/8" and is perfect as a party cooler, on rafting trips and functions well if you are hunting bigger game.
It can hold several cases of cans (64) cans or a whopping 70 pounds of ice. If you are filling it with liquid, you'll find that you can easily fill it with 65 quarts or 16.25 gallons.
RTIC 110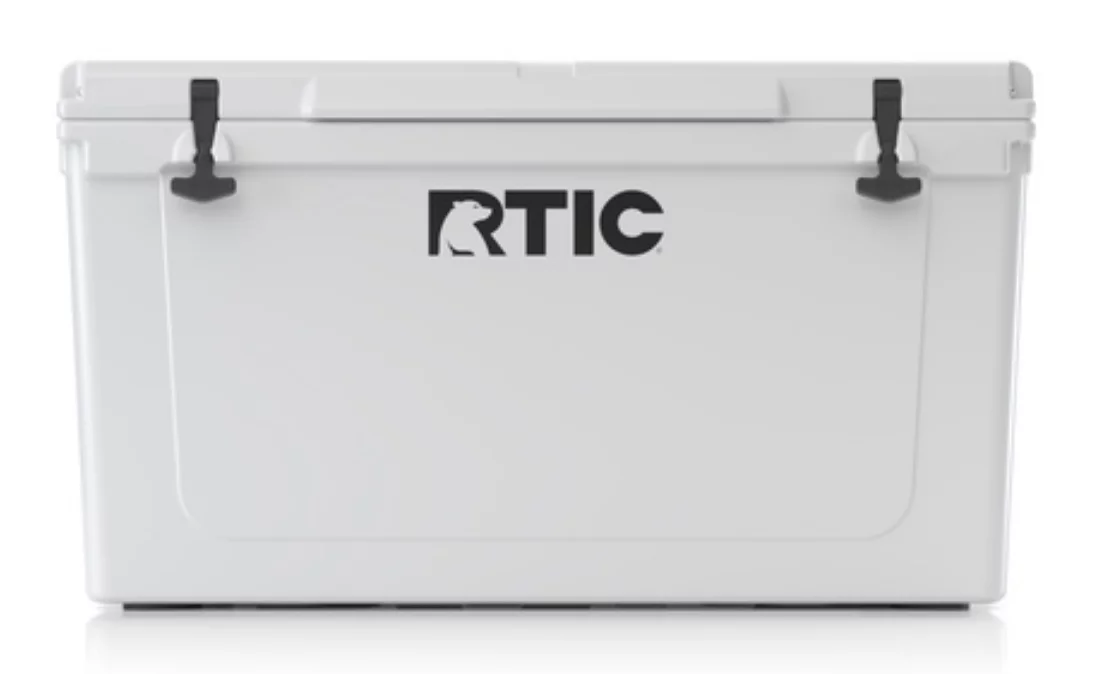 The RTIC's 110-quart cooler has been introduced a bit later than the first three sizes we talked about.
RTIC has listened to the customer feedback and finally made a decision to introduce two large sizes coolers, one of them being the 110-qt cooler.
The RTIC 110 weighs in at 48.5 pounds and on the outside, it measures 33 7/8" x 17 1/8″ on the bottom side, and 35 3/8″ x 20″ on the top side. With a height of nearly 20″, it's high enough to comfortably use it as a bench on the boat.
The best thing is that it's capable of holding way more contents inside. When measured with how many cans fit inside, the answer is 110 cans. If you fill it with the ice only, it's going to take 115 lb of it.
The 110-quart capacity translates to 12.5 gallons of the water.
RTIC 145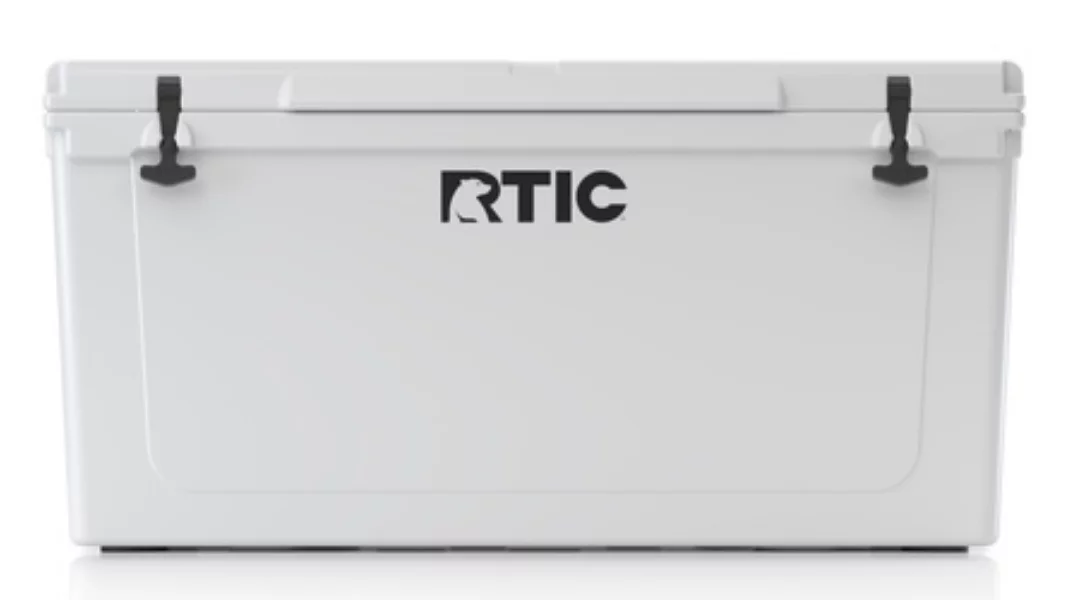 With the RTIC 145, one would say "now we're talking!". Indeed, the RTIC's decision to bring the 145 quart cooler on the market means something. Until some time ago, the only way to go was to either buy a large YETI or stick to then-largest 65-quart RTIC. Now, however, there's this one.
Measuring respectable 40 1/8″ x 17 1/8″ on the bottom, and 41 5/8″ x 20″ on the top side, this ice chest will be suitable for those who hunt for a big game. Still, it's not as large as the largest YETIs, but this size is a sweet spot for many.
Bigger size comes with a heavier body though. It weighs 59.5 pounds when empty. You can fill this baby with either 145 cans of beer, or 155 lb of ice. The 145 quarts means that you'd be able to put as much as 36.5 gallons of water inside (if you want to).
Available Colors
The RTIC coolers now come in three colors: white, tan, blue, seafoam green, grey and pink. The latter, however, is an option when you choose the smallest 20-quart cooler.
You can see all the available color options put next to each other at RTIC's official store here.
Key Features
There are many different features that make RTIC coolers attractive for the prospective cooler buyer.
An RTIC Cooler Review would be incomplete without speaking about some key features. We'll dive in a little deeper here starting from top to bottom.
T Latches

If latches break or aren't very user-friendly, then it renders the cooler ineffective. Instead of skimping on the latches, the RTIC cooler ensures that you are cared for. The

T Latches lock into place and stay in place to handle different conditions that it may be exposed to.

The "T" design stays put in the body of the cooler and makes it easier to grip and handle (no pun intended) when it comes time for you to grasp it when you want to open up the cooler.

The durable silicone it is made out of ensures that they won't corrode over time and heavy use.

Freezer Grade Gasket

It's useless how great your cooler is if it can't keep the cold air in and hot air out.

Around the lid of the cooler you will find a freezer grade gasket measuring ¼ inch wide and ¼ inch thick, that not only seals off the cooler to keep contents colder for longer periods of time but also prevents leakage.

A Handle You Can Handle

Small sections on the edge of a lid won't do if you have a vacuum-sealed cooler. In fact, it can get extremely difficult to open if there isn't much room for you to work with.

The edge of the lid of the RTIC cooler extends ½" past the edge of the cooler, ensuring that you have more than enough room to grasp and open.

While the T Latches keep the lid in place and make it easier to "unlock" the lid, the extended easy lift handle makes sure that you are using the lid to open it up and not the latches, which can be seen amongst some other coolers.

Molded Tie Down Slots

If you will be venturing off-road or anywhere that will cause your cooler to bounce around, then you will really enjoy the molded tie-down slots.

These sections on the side of the cooler make it a breeze to secure your trailer to your transportation – be it a truck bed or even a boat.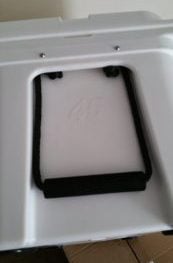 Carrying Handles

You get to choose how you want to carry your RTIC cooler as you will find two types of handles.

One set is a molded-in style, while the other is a rope handle. Depending on how heavy your cooler is, you can decide how you want to carry it by using one of these two handles.

Hinge System

A full-length hinge system ensures that the lids of the RTIC cooler don't overextend or separate from the rest of the body of the cooler.

The strength of this system cannot be overstated, as a lid that gets separated from the rest of the cooler is not really one that you want to be depending on. This is especially the case if you are gone on an extended trip.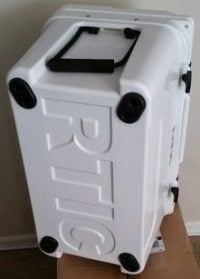 Non-Slip Lid & Locking System

For those outdoorsmen that may need to use a cooler as a platform to stand on, they will find the non-slip surface of the RTIC cooler to be ideal.

Add in a locking system and you have just added in another layer of security to not only keep everything in your cooler secure, but also to help keep the lid in place should you need it to do so.

Commercial Grade Insulation

As mentioned earlier, the 2" to 3" thickness you'll find around the cooler will keep frozen ice for up to 10 days (but as we said, take it with a grain of salt, and think of 4-6 days unless you prepare the cooler and its contents to perform better than that)

While the freezer-grade gasket will seal it off to allow your RTIC cooler to function as a portable freezer.

Dry Ice Compatibility

Another feature that you may find attractive is the compatibility of the RTIC ice chest with dry ice.

Should your needs call for dry ice, you'll be happy to know that RTIC coolers will allow you to use just that. In fact, in our recent post, we recently picked RTIC as one of the best dry ice cooler.

Draining System

At the end of the day, you'll need to clean and drain your cooler.

This can become a problem if it doesn't drain properly, but RTIC has already taken care of this for you. This two-step system calls in the easy flow drain to make quick-draining possible, as well as a rapid V drain which will allow for complete draining with a recessed V-Drain.

Cooling Feet

Specially designed feet keep the cooler off of the ground AND off of hot surfaces, to give the RTIC cooler the best possible chance to stay as cool as possible, even in the hottest conditions.

Bear Resistant

As is the case with many coolers, RTIC coolers have done their best to join the "bear-proof coolers club", making their coolers ready to protect bears from accidentally eating contents and the actual coolers themselves. The special roto molded design helps to make sure of that.
Who Is The RTIC Cooler For?
The RTIC 20 is ideal as a personal cooler. If you are working at a job site or just off golfing with a few friends, then this will be perfect for you.
It will also function well for a weekend trip or if you plan on camping by yourself or with another person.
The RTIC 45, as big as it is can still be carried by one person.
This mid-size cooler is ideal for a fishing trip, if you are camping or even tailgating at the next big game. Speaking of game, this cooler also functions well should you decide to hunt small game and need to store it.
The RTIC 65, as large as it is can also be carried and handled by one person, though you may want to get an extra hand.
This cooler will be an excellent mid-sized marine cooler, will work great on a hunting trip or even for longer camping trips. You can use it potentially as a backup refrigerator, for parties or even when hunting.
However, when you're hunting for a big game, or have a large boat, then 65-quart cooler may not be enough.
RTIC did realize that that, and so they introduced two bigger ice chests to their line-up: the RTIC 110, and the RTIC 145.
The latter two are pretty big for sure. That said, they come nowhere close the YETI which – aside of the similarly sized 125-qt and 160-qt ice chests, also offers three even bigger coolers: 210, 250 and 350 quarts.
To conclude this part, with 5 cooler sizes available as of early 2020, clearly, the RTIC's strategy is to target only the most popular cooler sizes, whereas the YETI is big enough to offer even more sizes, filling the gaps in between and also addressing some smaller niches.
RTIC Reviews – What Are Actual Users Saying?
This is where we get down to the nitty-gritty to see what actual users are saying.
One user shared that they liked the build and ice retention time of the RTIC cooler. The user mentioned still having ice after 14 days, which goes well beyond the manufacturer's claim.
The user also mentioned using the cooler as a step stool which spoke to the non-slip lid.
A user commented that they liked the build of the cooler and that they seemed to be well made, but the one thing that they didn't like was that the warranty(updated: it's 1 year now for ice chests and soft coolers, and 90 days for the day coolers and the RTIC drinkware)
While that may sound like a short amount of time (e.g. YETI gives 3 years), the one thing that needs to be factored in is the tremendous cost savings that come into play as opposed to some similar coolers on the market.
Another user mentioned still having ice in the RTIC 45 after four days and was pleased with the product.
However, the user did mention seeing some others comment on the drain plug not being insulated and provided a solution which was to place a wine cork in it as a perfect fit and fix.
RTIC vs. Yeti Coolers – Which One Is Better?
Choosing between RTIC vs Yeti isn't easy, as both brands have a lot to offer, so before you make a decision it's worth to compare both choices.
We'll announce our winner in a second, but before we say which one would be our choice, let's briefly compare both ice chest lines. Here we go.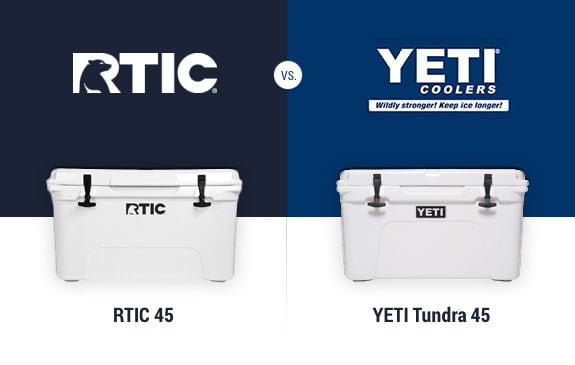 Real Space
Here's a look at what you can expect as far as actual "usable space." These are directly from the manufacturer's site.
Because the YETI has significantly more sizes to choose from, we only picked up the sizes that match RTIC's offering. And so:
RTIC 20 vs Yeti Roadie

The RTIC 20 can hold 24 cans or 25 pounds of ice, while the Roadie can hold 16 cans or 20 pounds of ice. It's 22 qt vs 20.8 qt.

RTIC 45 vs Yeti Tundra 45

The RTIC 45 can hold 36 cans or 40 pounds of ice, while the Tundra 45 can hold 28 cans or 34 pounds of ice. It's 45 qt vs 37.6 qt.

RTIC 65 vs Yeti Tundra 65

The RTIC 65 can hold 64 cans or 70 pounds of ice, while the Tundra 65 can hold 42 cans or 52 pounds of ice. It's 65 qt vs 57.2 quarts.

RTIC 110 vs Yeti Tundra 110

The RTIC 110 can hold 110 cans or 115 pounds of ice, compared to Tundra's 74 cans or 90 pounds of ice, respectively. As a note, RTIC is much heavier, at 48.5 lbs, while Tundra 110 weighs 39 lbs.
Yeti vs RTIC Coolers – Ice Retention
When it comes to Yeti vs RTIC ice retention, the numbers can be all over the place. For one thing, conditions matter as well as how the individual using it will matter.
For instance, taking a cooler on a camping trip in the hot sun will affect the ice retention time, as well as how the individual packed the contents, in addition to how often it is opened up. We covered this earlier in this post.
There is a big difference as far as ice retention times between a cooler staying shut and only being opened once a day, as opposed to being opened several times throughout the day. Again, there are many things that factor in to the actual Yeti vs RTIC ice retention times.
The numbers you will see online from past users will also vary, as some have reported several days of frozen ice, with others reporting up to two weeks with frozen ice.
According to the YETI website, they make no claims of how long ice retention times will last, also citing the conditions and user as variables on time. We did check it, however, at number of occasions. If you read our YETI Tundra review or a wheeled YETI Haul review, you'll get a better understanding on how these coolers perform.
On the other hand, RTIC claims on their website, ice retention times of up to 10 days. It's worth noting that the user above mentioned it exceeding that time!
While the numbers may vary from cooler to cooler, condition to condition and person to person, what you can expect is at least a few days of ice, as long as you are not careless in the use of the cooler.
When it comes to ice retention times, we think it's a tie. Both coolers perform as good.
RTIC Coolers vs Yeti – And The Winner Is…
When you look at the two coolers side by side, they are very similar when it comes to the build quality, and design. They are very near to each other.
When it comes to big purchases like this one, many often will choose the premium name brand over the rest.
If you tend to gravitate towards a premium name brand and can afford the costs, then you may lean more towards the Yeti line up.
However, if you are looking at this from a different standpoint, one where cost and pure value for your money comes into play, then we would recommend the RTIC.
Again, please keep in mind that the reason we are saying this is from a purely cost-based point of view, but in our opinion, this is precisely what makes RTIC a winner in our RTIC coolers vs Yeti coolers battle.
Where To Buy RTIC Coolers?
According to the RTIC website, they are a direct-to-consumer brand which means you won't see their products in any stores or at any dealers.
To get your hands on an RTIC cooler you can order it directly from their website.
RTIC Cooler Accessories
When you purchase a cooler, that's pretty much it, right?
Not with RTIC coolers. There are several accessories available that can transform your RTIC cooler into much more.
For example, say that you are going on a hunting trip and need to store some of your catch in the cooler, but still want to store some of your food and beverages.
It's probably not the best idea to have your sodas and sandwich meat mixed in with some freshly caught salmon, which is when you'll need a divider.
The RTIC 45 and RTIC 65 offer dividers to help turn your cooler essentially into two. You'll be able safely to separate your catch from your food supply.
If you'd rather suspend items when it comes to separation, you can also pick up baskets that come in the sizes mentioned above as well.
Need an extra drain plug or found that one of the feet went missing on your cooler? No problem, you can get extras here as well.
Oh, and did we mention we recently posted the RTIC koozie review, which can be a nice addition to the ice chest (although it's not an accessory per se, but a standalone product).
The beauty of this is that you aren't just bound to RTIC branded accessories. You can also check out some third-party sites that offer other add-ons and accessories for the RTIC cooler line.
RTIC Cooler Review – The Bottom Line
When it comes to quality, build, size and ice retention times, the RTIC brand of coolers matches up extremely well with other similar coolers on the market. Where it differentiates itself is in price.
We hope that this genuine, first-hand RTIC Cooler review has shown you everything you need to know before you make your purchase.
For the price and quality, you truly can't go wrong so if you're thinking of purchasing a cooler then RTIC is the right choice. But don't take our word, read through these first-hand reviews at rticoolers.com.
Bed Bath and Table Review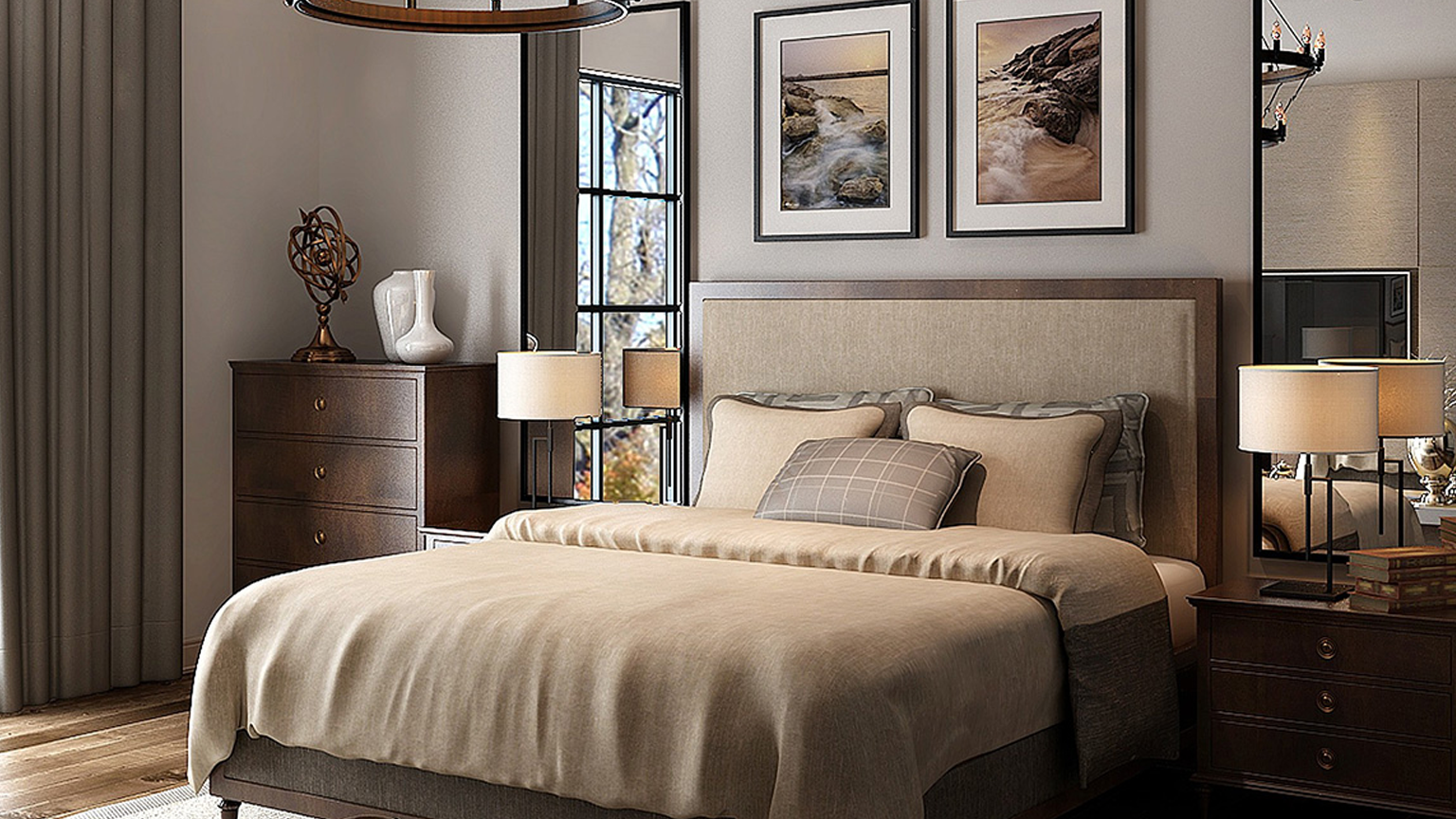 About Bed Bath and Table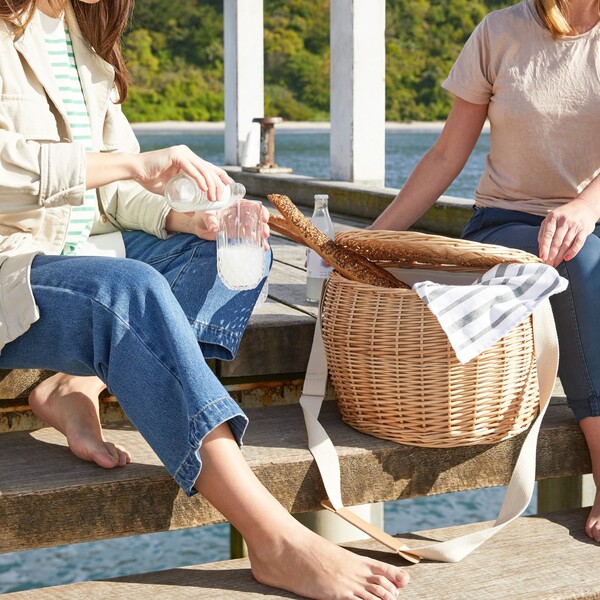 Not to be confused with its "Beyond" competitor, Bed Bath and Table is a home goods store that caters to in-season trends and aesthetics. They offer a wide selection of modernized updates ranging from shower curtains to laundry hampers to candles. You can also find a curated collection of apparel, such as robes and sleepwear.
Their focus on clean and sleek designs has won them a significant following on Instagram. Boasting over 296k followers on its official page, Bed Bath and Table is considered a favorite among many homeowners. They're also featured in a few online magazines, such as Yahoo Lifestyle and The Latch.
If you're in search of a semi-affordable piece de resistance to spruce up your living space, perhaps this brand can lend a helping hand. In my Bed Bath and Table review, I'll provide a closer look at the company, its products, customer ratings, promotions, and more to help you decide if they're worth checking out.
Why You Should Trust Us
Our mission is to help you make better, more informed purchase decisions. Our team spends hours researching, consulting with medical experts, gathering insight from expert professionals, reviewing customer feedback, and analyzing products to provide you with the information you need.
Overview of Bed Bath and Table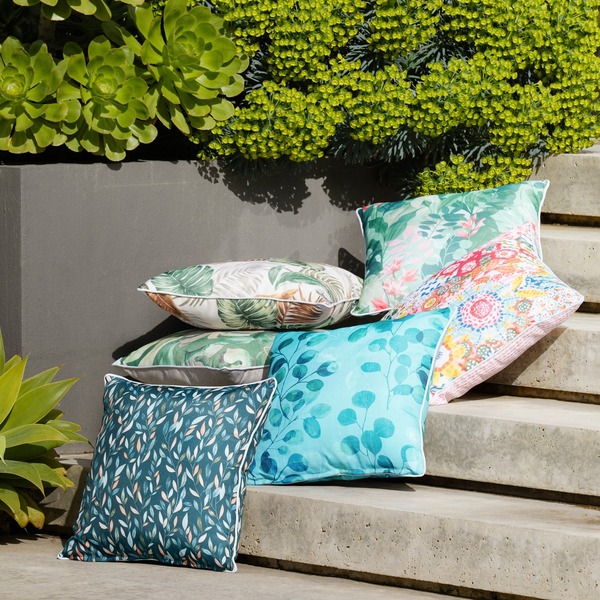 Given its aesthetically pleasing web page, it's natural to assume that Bed Bath and Table is run by a visionary that cares about trends and in-season styles.
Founder John Dempsey had an eye for fashionable textiles and interior design, as he ran a humble bed linen manufacturing and design brand in 1960. Located in Melbourne, Australia, his small business quickly gained traction after opening up shop in 1975.
Now available in 160 stores across Australia, Bed Bath and Table has expanded to include other countries such as Singapore and New Zealand. They continue to produce high-quality home goods using their 40 years of industry experience.
As the brand's website says: "We are excited to manufacture our products across the globe to achieve the finest results. Our manufacturers are constantly challenged to get the best results – whether it be a beautiful finish, a superb handle, or an incredible reproduction of design – we are always on the hunt for the best of the best."
Before I get my Bed Bath and Table review started, let's go over some initial highlights:
Highlights
A wide selection of trendy home goods
Available in over 160 stores
Over 40 years in business
Rewards program for discounted pricing
Afterpay and Zip as alternative payment options
Free shipping on orders over $150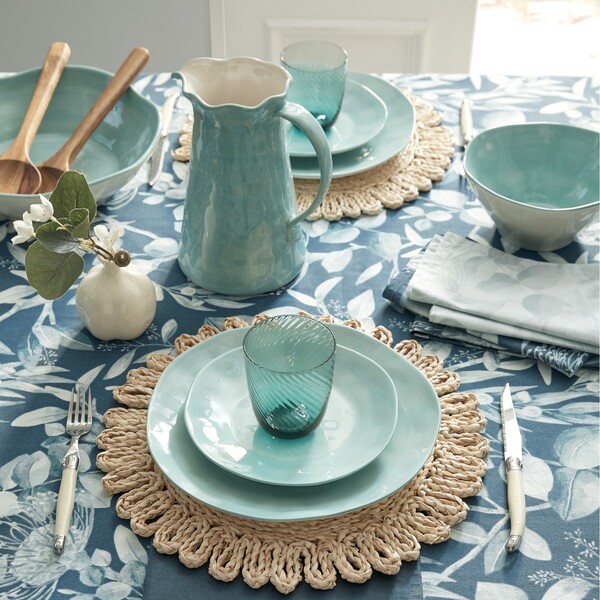 Online furniture shops typically feature an outdated webpage. Splashed with gaudy discounts, pixelated product images, and way too many promotions, it's fairly easy to get overwhelmed even if you haven't clicked on a single item. Thankfully, Bed Bath and Table offers a clean, organized online inventory free of excessive marketing. They actually care about aesthetics.
Given its brand name, Bed Bath and Table sells, well, beds, bath products, and tables, of course! They also offer home decor, apparel, and items for kids as well. To help streamline the shopping process, I'll highlight a few of their best-sellers in my Bed Bath and Table review.
Bed Bath and Table Home Review
Bed Bath and Table products are far from out of season. Customers can relax knowing that the brand only sells in-style home goods, ranging from cutlery to laundry hampers. Moving forward, I'll spotlight a few notable contenders in my Bed Bath and Table review.
Bed Bath and Table Evienne Quilt Cover Review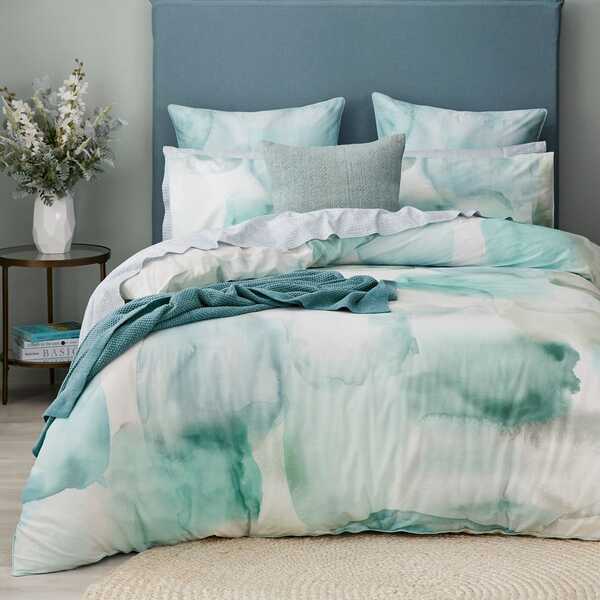 I'm fairly confident that the Evienne Quilt Cover belongs in a lakeside cottage photoshoot. Dyed in aquamarine watercolor, this dreamy bedspread features piped trim and a soft cotton exterior. It also regulates the internal temperature, which is great for those who constantly practice the "one foot in and one foot out" technique to cool down.
Designed to be hypoallergenic, those sensitive to certain materials may find value in swapping their old blanket for this duvet. In terms of price, the Evienne Quilt Cover is available in three different sizes:
Single: $78 (member pricing: $52)
Double: $84 (member pricing: $58)
Queen: $97 (member pricing: $71)
Bed Bath and Table Luxe 1200 TC Egyptian Cotton Sheet Set – White Review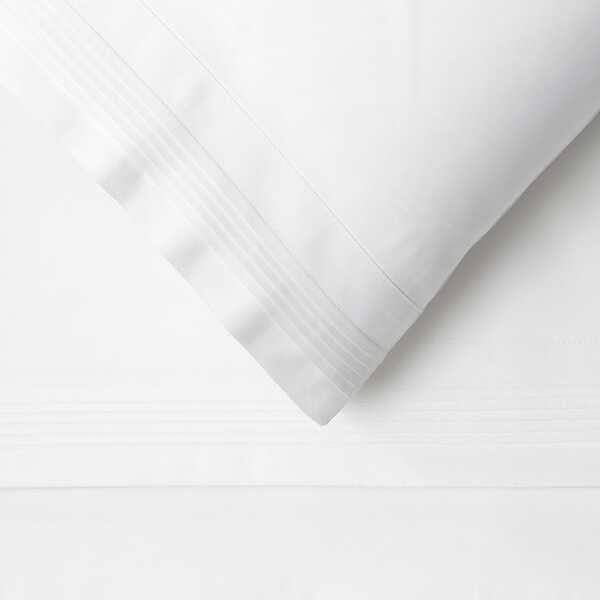 There's nothing like jumping onto a bed lined with fresh sheets. Case in point, the Luxe 1200 TC Egyptian Cotton Sheet Set – White can help provide that 5-star hotel experience.
Accentuated with a sateen weave, sleepers can look forward to an indulgent snooze. It also offers absorbent properties, which can help mop up sweat in case of nightmares. The material itself is sourced directly from the Nile Delta in Egypt, so you know it's definitely legit.
Ideally paired with a fresh duvet and a new bundle of pillowcases, the Luxe 1200 TC Egyptian Cotton Sheet Set – White comes in 7 different bed sizes, including:
Extra Deep Queen: $253 (originally priced at $297)
King: $291
Extra Deep King: $275 (originally priced at $323)
Bed Bath and Table Egyptian Indulgence Towel Granite Review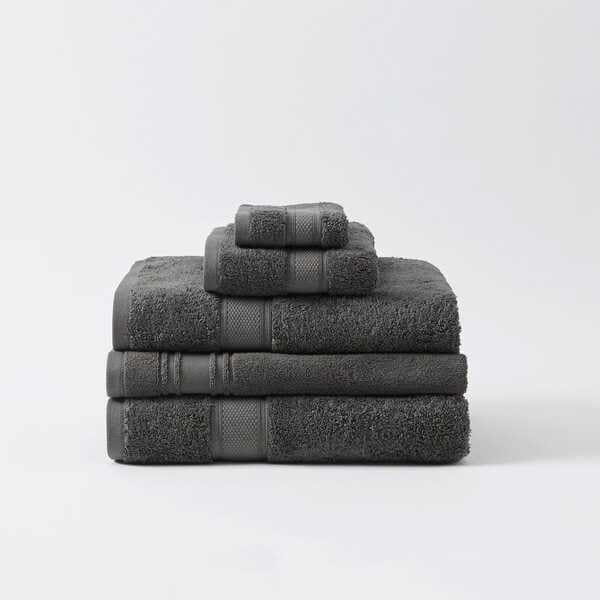 Fit for a king, the Egyptian Indulgence Towel Granite is something you'd find in a royal bathhouse. It's made with genuine Egyptian cotton, which is known for its softness and durability.
Absorbancy is one of its best-selling features, as users can easily wipe away excess water without much hassle. Plush and generous in size, I suggest copping a few for the entire family and for lucky guests.
Bed Bath and Table Leroy Llama Bath Mat Review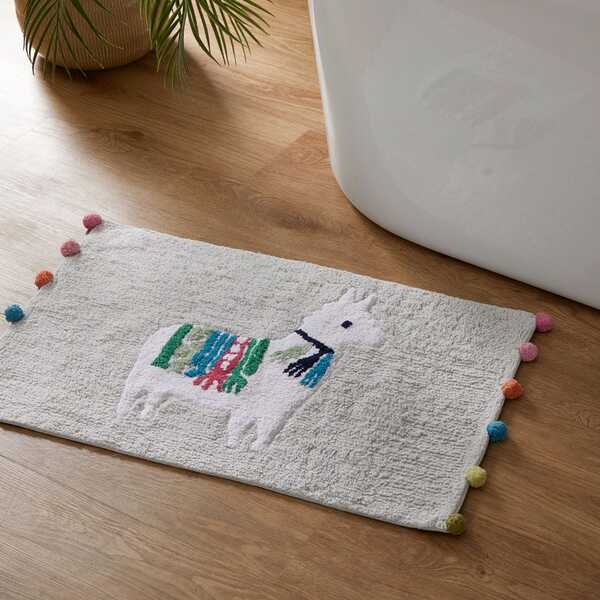 You've done your damndest to design the perfect bathroom. From porcelain tiling to marble countertops, you've made it something you'd find on a celebrity house tour.
Obviously, such a well-styled space requires trendy decor to match. Instead of opting for a typical throw towel for post-shower drainage, the Leroy Llama Bath Mat can help add a playful touch to your modernized reno-project.
Made out of cotton and lined with colorful pom poms, it features a cute, tufted animal in the center. The Leroy Llama Bath Mat is currently available for $23, but only $19 for members.
Bed Bath and Table Neva Side Plate Review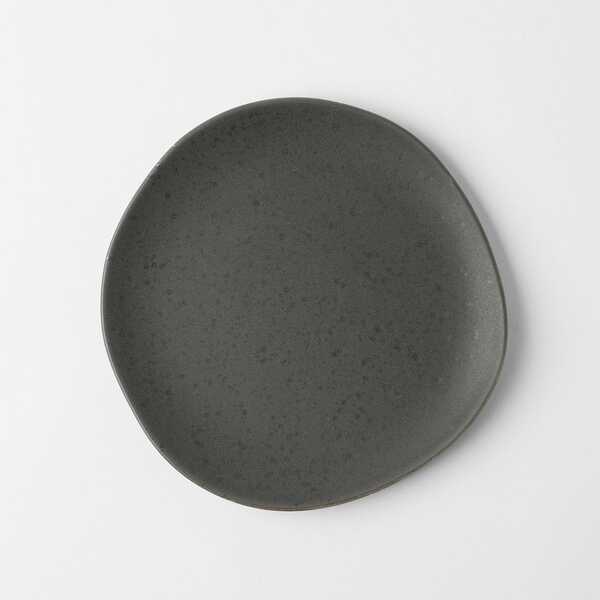 Perfectly-sculpted pottery has become somewhat outdated. Nowadays, people generally gravitate towards imperfections for a natural look.
The Neva Side Plate is considered a perfect example of this new trend, as it features an uneven circumference. Matte, black, and big enough to accompany a medium-sized plant, this petite decoration can help add an organic touch to your living space.
While it's microwave and dishwasher-safe, I recommend using the Neva Side Plate for decorative purposes only. It can be used to hold jewelry, candles, or loose keys for quick storage. Price-wise, this home accessory retails for $8.
Bed Bath and Table Imagine Dining Review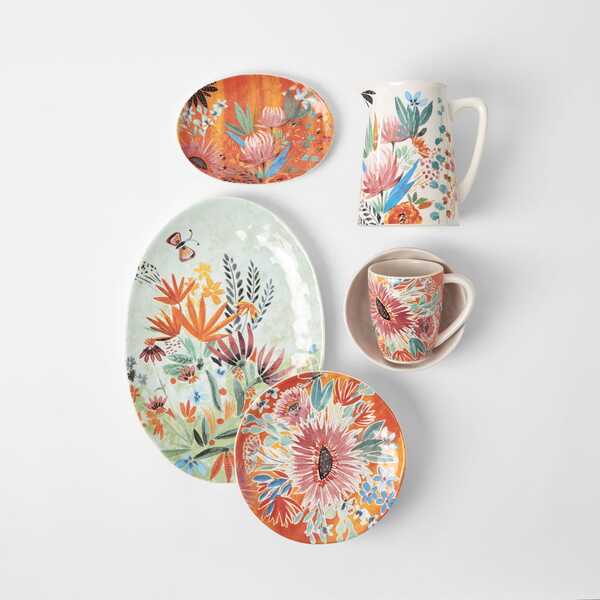 Not a fan of alabaster porcelain? If so, the Imagine Dining Set is a colorful alternative to stark-looking kitchenware. Illustrated with painted flowers, it can do wonders in brightening up your living space compared to stiff whites and blacks.
All plates, bowls, and cups are dishwasher and microwave safe, so you shouldn't have to worry about cracks and chips here.
Bed Bath and Table Mimmi Face Vase Review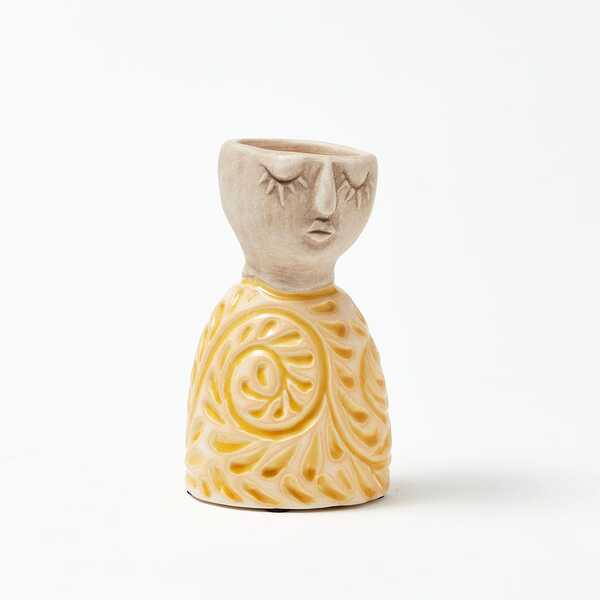 Long gone are the days of traditional terracotta pots. If you prefer a more playful alternative, the Mimmi Face Vase provides a quirky touch for eclectic living spaces. It features a stoneware sculpture with a yellow engraved bust and a kissy face for the head.
Built with a small divet on top, this accessory can hold dainty floral bouquets, succulents, or loose jewelry if you're not fond of plants.
In terms of styling tips, I recommend getting two to help achieve that symmetrical look. Price-wise, the Mimmi Face Vase retails for $19.
Bed Bath and Table Collapsible Grey Bamboo Hamper Review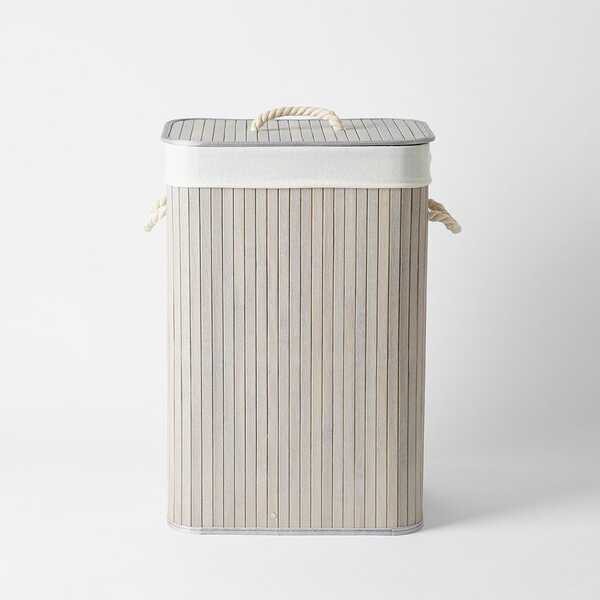 There's a good chance you own a mesh-lined laundry hamper. Typically dull, it can often be an eyesore for a majority of bedrooms.
Case in point, the Collapsible Grey Bamboo Hamper is considered a level-up from any cheaply-made clothing bin. Lined with linen and constructed with genuine wood, the beauty imbues a nautical vibe due to its boardwalk-like paneling.
Available in four different colors, the Collapsible Grey Bamboo Hamber costs $26 instead of its original markup of $39.
Who Is Bed Bath and Table For?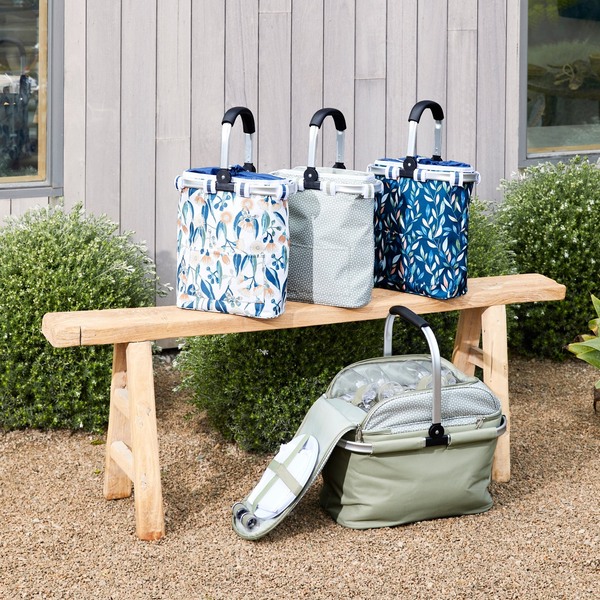 Given the brand's roundup of trendy housewares, I'd say that Bed Bath and Table is catered to customers who value aesthetics. They seem to specifically focus on cottage-core and minimalist trends, as most of their kitchen products and bedspreads imbue a charming kitschy feel.
Of course, that's not to say the company only prioritizes style over function, as they also emphasize practicality as well. For instance, the Luxe 1200 TC Egyptian Cotton Sheet Set – White offers absorbent properties, which cannot be found in other competing bed covers.
Price-wise, Bed Bath and Table is quite reasonable. If anything, most of their products are relatively affordable. This bodes especially true for members, as they can get discounts on select items.
Bed Bath and Table Reviews: What Do Customers Think?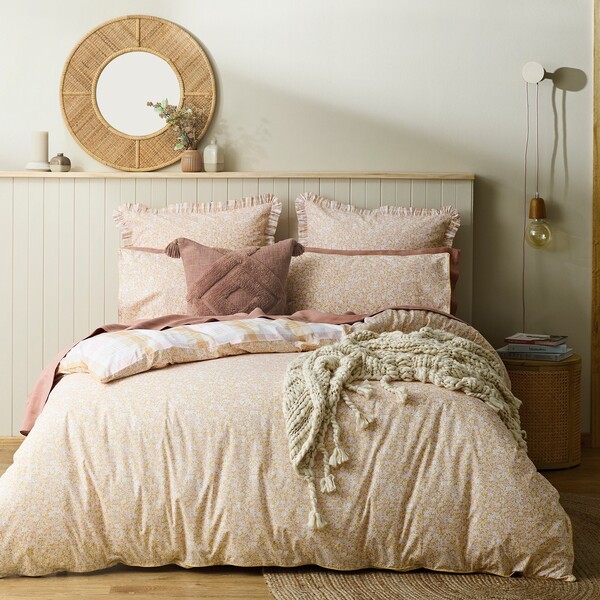 If you're anything like me, you let aesthetics rule your shopping spree. Bed Bath and Table's selection of trendy housewares makes it all the more tempting to click, grab n' go. Obviously, it's not a recommended practice unless you want to feel the wrath of return policies.
To help save you the headache, I've searched the internet to see what buyers are saying about the brand and the consensus is unfortunately mixed.
The company doesn't publish comments on its official page. So I had to look to outside sources for Bed Bath and Table reviews. Here's what I found:
ProductReview.au: 339 reviews with 1.7/5 stars
Trustpilot: 19 reviews with 1.9/5 stars
Yelp (for their South Victoria location): 2 reviews with 2.5/5 stars
As you've probably already observed, the amount of positive feedback is relatively small. Let's take a brief look at a few 5-star testimonials to kick things off. A few commenters reported speedy delivery, exceptional customer service, and high-quality products. Others commended the design of their items, as they proved to be trendy, timeless, and functional.
"She was very helpful when I panicked and realized my bed cover was too small. Her calm demeanor and professionalism were resolved with no issues. Very happy customer. 100 percent customer service," one Trustpilot user wrote.
One reviewer shared this on ProductReview.au: "Great online experience over the past 2 years. Orders always promptly despatched, well packaged and products in excellent quality. Good communication."
A few customers were surprised by the number of negative reviews, given their positive experience with Bed Bath and Table. One ProductReview.au commenter shared: "I've been using the sheets for years and highly recommend them. Also have purchased a couple of bath towels and are great, getting many years out of them for a decent price."
Is Bed Bath and Table Worth It?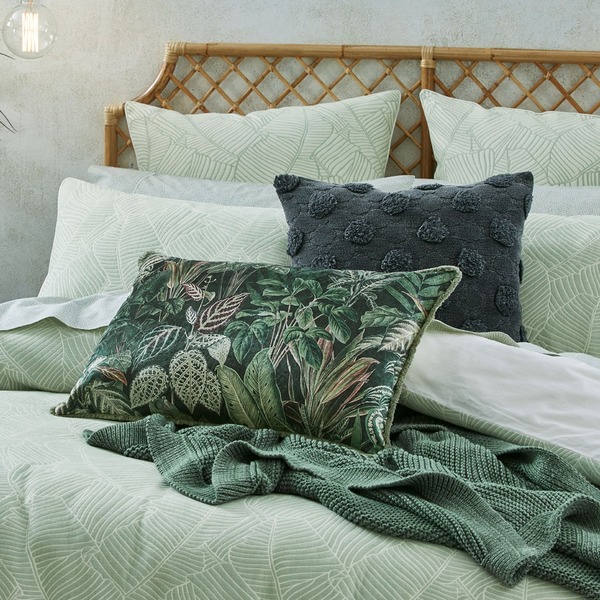 I can confidently say that the brand offers an impressive selection of trendy products. Timeless and charming in design, it's an eye-catching assortment of houseware for aesthetically-geared customers like me.
Their prices aren't that bad too, as buyers can find a vast selection of affordable houseware compared to expensive brands like West Elm and Anthropologie.
Bed Bath and Table Promotions & Discounts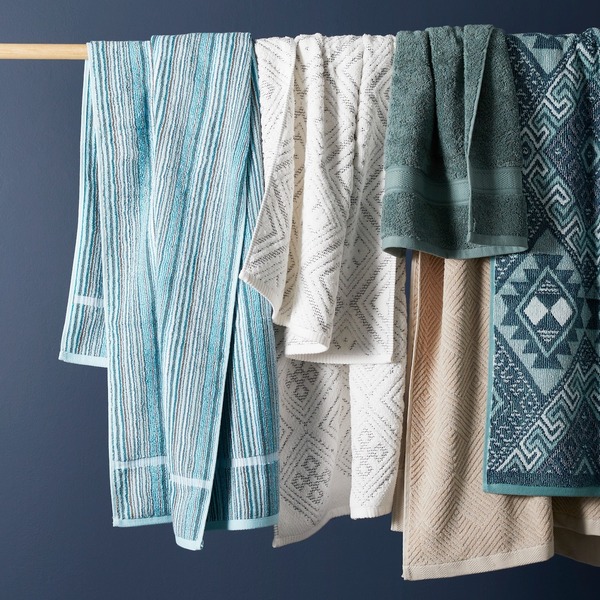 Let's end my Bed Bath and Table review with some pros, shall we? I found out that members can get 25% off on select items by signing up for the brand's rewards program.
They also have a sale outlet, where some products are offered at a discounted price.
Where to Buy Bed Bath and Table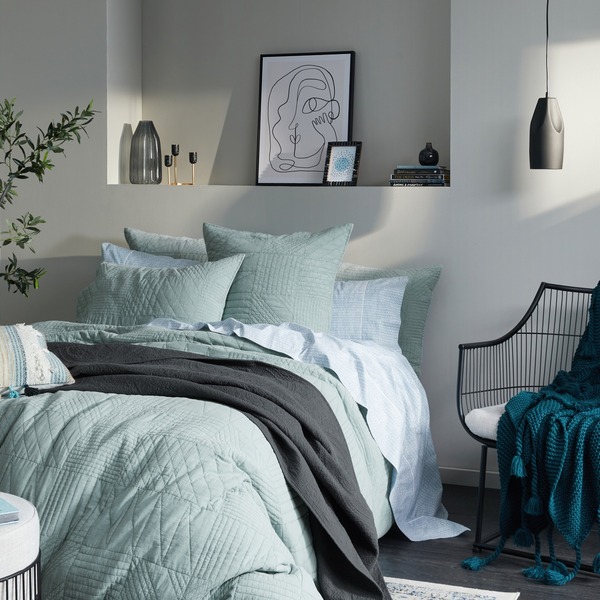 Looking to buy some Bed Bath and Table Home goods? If so, customers can head over to bedbathandtable.com.au to see what they have in store.
FAQ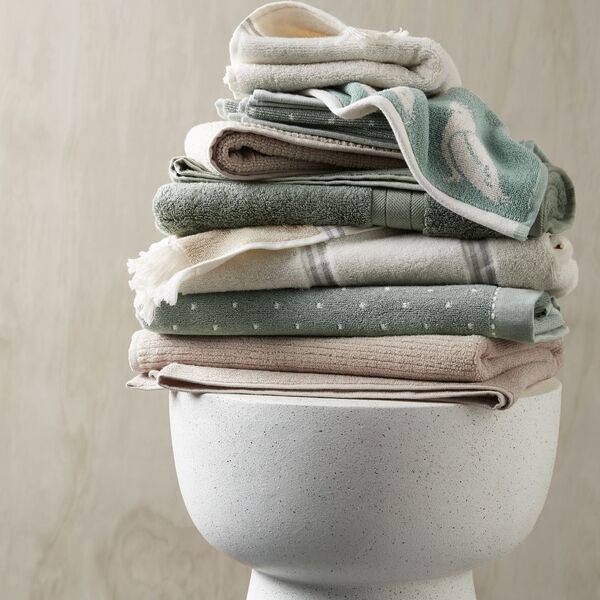 Who owns Bed Bath and Table?
Bed Bath and Table is currently owned by CEO Jonathan Dempsey.
Does Bed Bath and Table ship internationally?
Unfortunately, Bed Bath and Table does not offer international delivery at this time.
What is Bed Bath and Table's Shipping Policy?
This Bed Bath and Table review would not be complete without going over the brand's shipping policy. I can happily report that they offer free delivery on orders totaling $97 or more. Anything below this amount will result in a $6 fee.
In terms of wait times, it typically takes 6-10 business days for packages to arrive. To help keep tabs on your purchase, the company will issue a tracking number alongside a confirmation email.