What You Need to Know Before Buying Furniture on Wayfair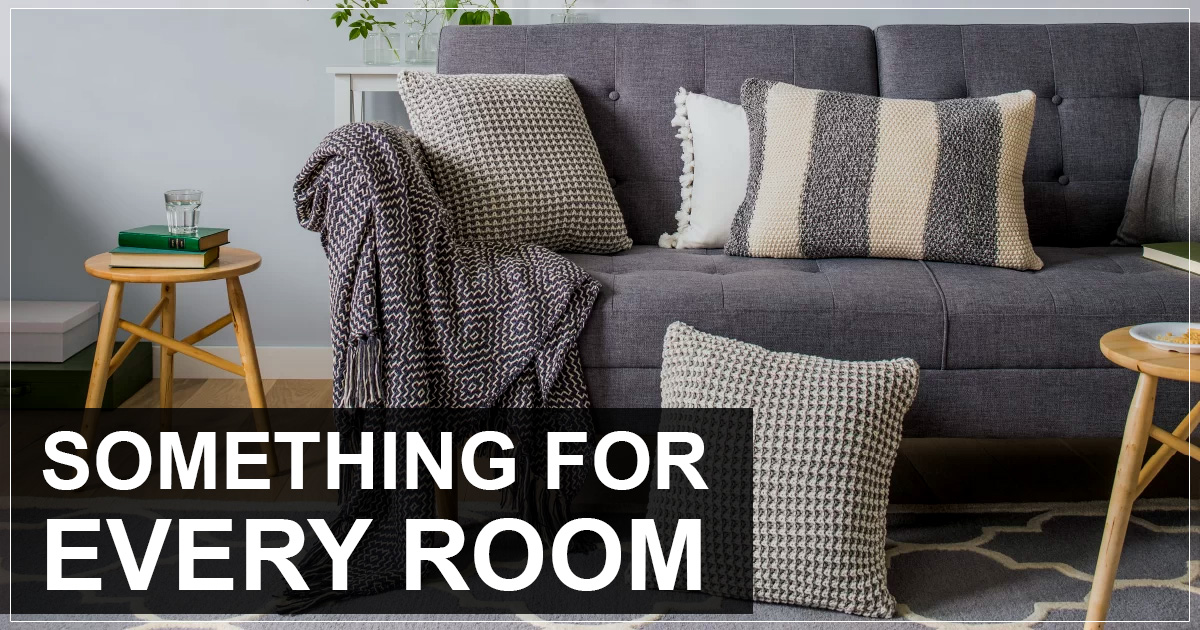 This post contains affiliate links. When you purchase through links on this post, we may earn an affiliate commission. Thanks.
The Truth About Wayfair
Two years ago, we moved to an area with better schools, which meant smaller bedrooms for the kids. For months, I was unsure about what to do with their cluttered rooms. Because the rooms were small, I decided that under-the-bed storage was a good solution. If the kids could store all of their clothing in drawers underneath their beds, there was no need for a dresser taking up space in their room. I visited multiple furniture stores and either didn't find what I wanted…or what I did find gave me sticker shock.
I had heard about Wayfair, the online furniture store, but had been reluctant to go that route. Finally, unable to find what I wanted at a price I could afford, I decided to give them a try. Here's what I discovered.
Is Wayfair Legit?
If you somehow haven't heard of Wayfair, you might wonder if it's a legitimate company or just some online scam, but don't worry: Wayfair is legit! By that I mean that it's a well-known and respected company where you can buy things with reasonable assurance… although there may be mistakes, damage, or delays, you will eventually get what you paid for.
Benefits of Using Wayfair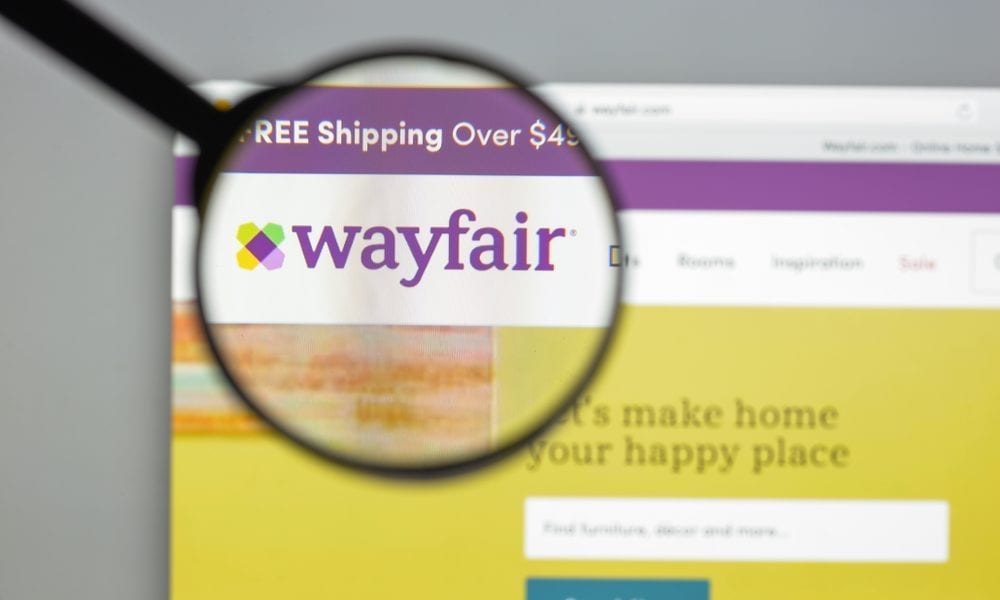 The great thing about Wayfair is that you'll find more furniture options and a wider range of prices than you'll find in most furniture stores. That's a big positive: You are more likely to find what you need at prices you can afford. Comparison shopping online can be much easier than driving from store to store. Shipping is usually free, and all items will be delivered to your door.
What I bought at Wayfair and how much I paid:
I searched "beds with storage" and found multiple options, many that came in more than one color. I settled on two "Allenville Storage Platform Beds" in espresso and walnut. I bought a queen and full size bed for $835, including taxes. Shipping was free. I also got one year financing.
Instead of a bedside table, I bought a tall 11.6″ by 11.6″ shelving units to put by the beds. Each shelf cost $26.
I also bought new desks and chairs. Those came out to $300.
For about $2500, we were able to provide both kids with new furniture, and now their rooms look tidy and spacious.
The Pros and Cons of Buying on Wayfair
Pro
Vast inventory of design options, colors, and materials.
The website makes ordering quick and easy.
Replacement parts or missing items will be shipped for free.
Online, it's easier to shop around for a better price.
Free shipping for most items.
Delivered to your door.
Con
You won't know if the item is comfortable or good quality until it arrives.
Shipping is often quick, but it still takes time.
You must report problems within 30 days of delivery.
Assembly is required for most items.
You'll have to pay to return anything you don't like.
Don't forget to factor in the negative environmental impact of the gas and packaging.
The Problems With Wayfair
If I had to summarize the problems of using Wayfair, I'd say this:
It's difficult to make an informed decision before you buy something online. Since you can't touch that sheet or sit on that sofa, you don't really know if you're going to like it once it arrives.
As a result, you'll need to be prepared for the added effort and cost of returning items, and in order to do this successfully, to follow the strict rules and deadlines.
You'll have to wait longer to enjoy your purchase, since delivery takes time.
Most items will require assembly. You'll need tools, time, patience, and a little knowhow to put it all together.
Sometimes, items go missing or get damaged in the mail, and fixing these problems requires extra time and effort.
It's great to have things delivered, but all that wasteful plastic and cardboard they use in the packaging is bad for the environment and difficult to get rid of.
In other words, all the possible problems of shopping on Wayfair apply to shopping anywhere online.
The Best and Worst Products on Wayfair
Wayfair Assembly
Obviously if you buy online, your furniture will come in multiple pieces which have to be put together by you. (Although Wayfair does offer assembly as well, powered by handy.com, and the cost varies by item.) But if you do decide to put everything together yourself, here is what to expect.
Each bed we bought came in five heavy boxes. Two beds meant a total of ten boxes.
UPS delivered the ten boxes over about five days, so we had giant boxes stored inside our doorway and in our downstairs office as we waited for all the pieces to show up.
Because the boxes were heavy, I opened them downstairs and made multiple trips upstairs with various parts of whatever I was building.
The instructions largely consist of pictures showing how each piece goes together.
When I built our full bed, I started first with the headboard. Before putting anything together, I verified that I had all the required hardware. I then studied the assembly instructions and connected each part on paper to each item I had laid out on the floor. Once I was confident I understood the instructions I put everything together. It was surprisingly easy. Each bed took about two hours to assemble.
Are instructions for assembly included?
The furniture for the most part doesn't come with written (text) instructions, but they do provide easy-to-decipher visual instructions for assembly.
Is assembly hardware included?
Yes, they should send everything you'll need to assemble your furniture. If they forgot, just file a report within 30 days of delivery and they'll send those parts or hardware for free. Each box actually came with spares, and lack of hardware was never an issue.
Open Your Wayfair Delivery ASAPBecause you only have 30 days to report a problem and get it fixed for free, make sure to open your packages and check the contents upon delivery to make sure everything was included and nothing is broken.
Is assembly difficult?
When I was putting together the beds, everything was problem-free until I got to the storage drawers for the queen bed. The front of the first drawer was defective with misaligned parts, so I couldn't use it. The second drawer would not align to screw the pieces together for reasons I could never figure out. After carefully studying the problem for about ten minutes, I decided to try a workaround, which fortunately did work. So I was able to get one drawer built.
I still had a defective drawer front to deal with. Because I was assembling the drawer in the evening, it was too late to call, so I tried to request a replacement online. I filled in the form and hit submit, which returned me to the login screen. I don't know why the request didn't go through, but I decided I would just call the following morning.
What if parts are damaged or defective?
Two out of the eight items I ordered were either damaged or defective. And for both, it took several days to get replacements. When considering Wayfair, take into account how much time you need for shipping of the original item and add a couple of weeks to that in the event you need a replacement part.
Is it easy to order replacement parts?
When I called, an automated message informed me that they were experiencing high call volume, so I expected a long wait. But I immediately got through to someone who was very helpful. I told her what part I needed and she told me they would send it out. However, I called on a Friday. She told me the piece would likely ship on Tuesday. which it did. But I didn't receive it until the following Monday. So I had to wait 11 days to receive the replacement piece. However, I didn't have to ship back the defective piece.
Thankfully, I wasn't in any hurry to put the drawer together. I had one drawer and I had put the kid's old dressers into their closets to use as storage for things they don't use often. So my older child was able to use her dresser, even though it was awkward to access, until I was able to get the second drawer assembled.
How long did shipping and assembly take?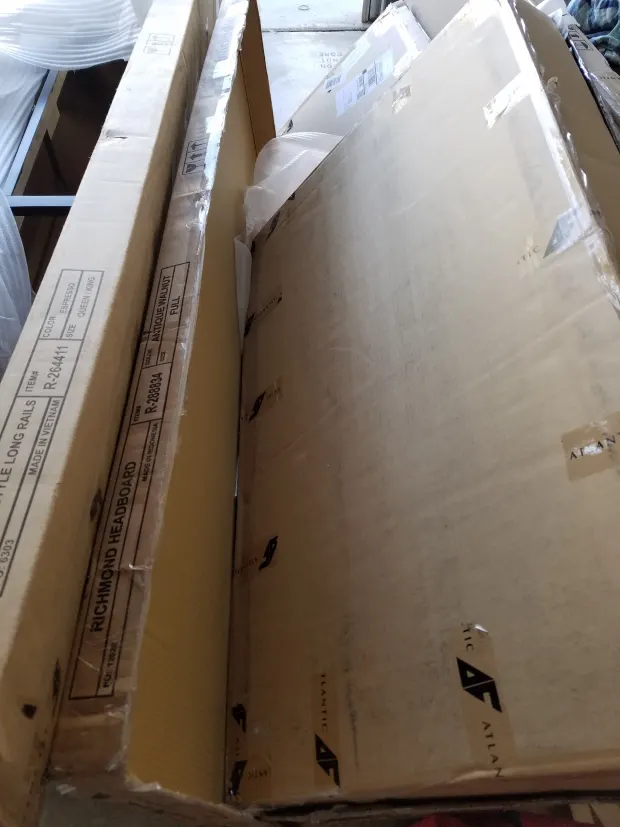 Since the items arrived in so many boxes, assembly took quite awhile, especially since I had to wait 11 days to receive the replacement piece. If you're buying furniture that you need to put together in a hurry, like if you're building a bed for a guest, you may not be able to get it assembled in time if something does go wrong.
Tip: There Will Be a Lot of Packaging to Get Rid of
Your furniture will come in lots of large boxes, so you'll have lots of cardboard to dispose of. It took me weeks to get rid of all the cardboard. I cut up enough each week to fill the recycling bin and leave enough space for other recyclables. Your trash disposal company may offer a bulk pickup of all the boxes if you call them and arrange it in advance.
How to Buy Furniture Online (and Avoid Mistakes and Returns)
The biggest trick to buying online is to get exactly what you want so you don't have to return it. Here are ways to avoid mistakes:
Carefully study all of the photos. Manufacturers usually include several photos taken from different angles. Make sure you look at every one so you can "see" what it will really look like before it arrives.
Read the descriptions very carefully. Manufacturers include important adjectives and details in those descriptions, so don't skim them over. Consider durability, construction, and cleaning instructions. Follow and study all tabs and links to specifications and/or diagrams.
Measure over and over again. It's hard to imagine how a piece of furniture is going to fill a space, and you will definitely need a tape measure for this. Consider using tape to recreate the exact dimensions of the item you're considering. And don't forget to consider how you'll get a bulkier piece into your home from the street, up stairs, around corners, and into that specific room!
Read the "Questions & Answers" and "Reviews." This is where you'll find additional information from real people like you.
Pre-order a swatch of fabric if you can. Before you commit to buying, see if you can get a free swatch of the fabric to make sure the color, pattern, texture, quality, and durability of the fabric is right for you.
Use Wayfair's 3D room planner. Their tools allow you to "create your own room" or choose from one of their templates for bedroom, living room, or dining room.
Consider using Wayfair's design services. If you really need help, there are three design packages to consider: a consultation (the cheapest), "lite" services, and "classic," which offers extra design assistance for those who need it.
Understand the return policy before you buy. You really don't want to pay to return an item, so be fully aware of the policy before you make any purchase.
What Is Wayfair's Return Policy?
It's a bit of a gamble buying a sofa you've never sat on or a bed you haven't tested. However, if you don't like your purchase for any reason, you can return most items for a refund or store credit within 30 days of delivery. Still, you have to pay the return shipping costs and the item must be in its original, unassembled condition and package. However, clearance, "non-returnable," and personalized items can't be returned, and you can't return items that you've already assembled.
However, if your reason for wanting to return the item is because it was damaged, defective, or completely different from the item you ordered, Wayfair will accept the return and may pay for return shipping. Here's a full description of Wayfair's return policy.
Does Wayfair Sell Quality Products?
Wayfair doesn't manufacture anything itself, they just host listings from various suppliers. Since the quality varies from manufacturer to manufacturer, and since Wayfair hosts so many different suppliers, the quality of their items will vary accordingly. You'll find a wide range of quality, from Ikea-like stuff to high end pieces.
The furniture I bought looks nice and is sturdy and has remained in excellent shape for over a year. I expect my kids will live at home until they graduate from college. That's twelve years from now for my youngest. Hopefully, the furniture will last that long.
Quality May Vary Since Wayfair doesn't make anything themselves and instead host different manufacturers and suppliers, the quality of their items will vary accordingly. You'll find a wide range of quality, from Ikea-like stuff to high end pieces.
Why Is Wayfair So Cheap?
Because they're selling online and therefore don't have to pay for salespeople or rent or real estate in the more expensive and well-trafficked areas, suppliers can save money on overhead. As a result, they can pass that savings on to you. That's why you'll often find the most competitive prices on Wayfair.
Does cheap mean cheap, though? You get what you pay for, right? That's usually true, but you can find some decent-quality furniture for a decent price on Wayfair. It won't be heirloom-quality furniture, but for the most part, the furniture will be sturdy enough to survive at least a few years of use.
What Is Wayfair, Exactly?
Wayfair is a site that hosts listings from many different suppliers. Wayfair doesn't design, manufacture, store, or ship anything itself: instead, like Amazon, it's a "middle man" between the seller and the buyer. When you make a purchase on their site, they purchase that item from the supplier, who then ships it to you (aka "drop shipping"). Wayfair charges those suppliers to sell on their site.
And it's a huge company—the largest online-only retailer in the US. They currently run five big-name retail websites: Wayfair, Joss & Main, AllModern, Perigold, and Birch Lane.
Audriana 78" Modular Sofa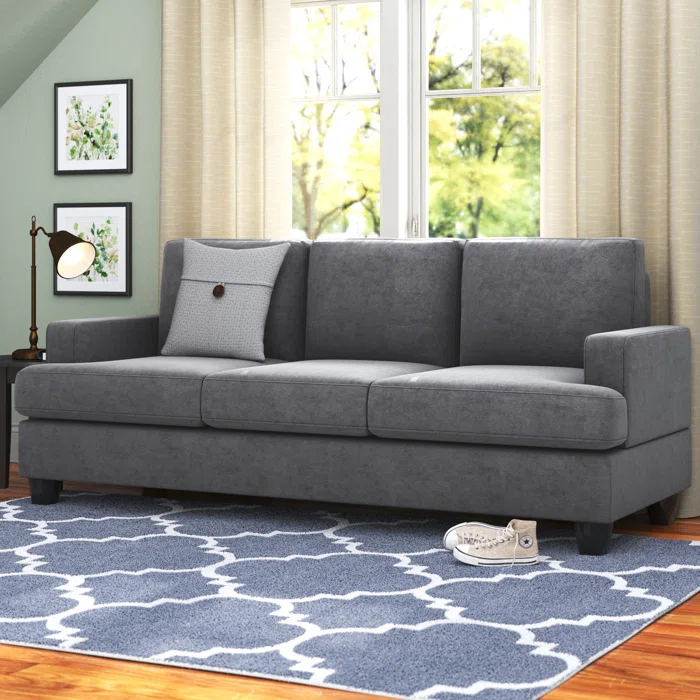 Design your home in style using this lifestyle sofa. Featuring a classic modern look, this sofa is great for creating an appearance that is relaxing and inviting.
Helsel 62.2" Velvet Flared Arm Loveseat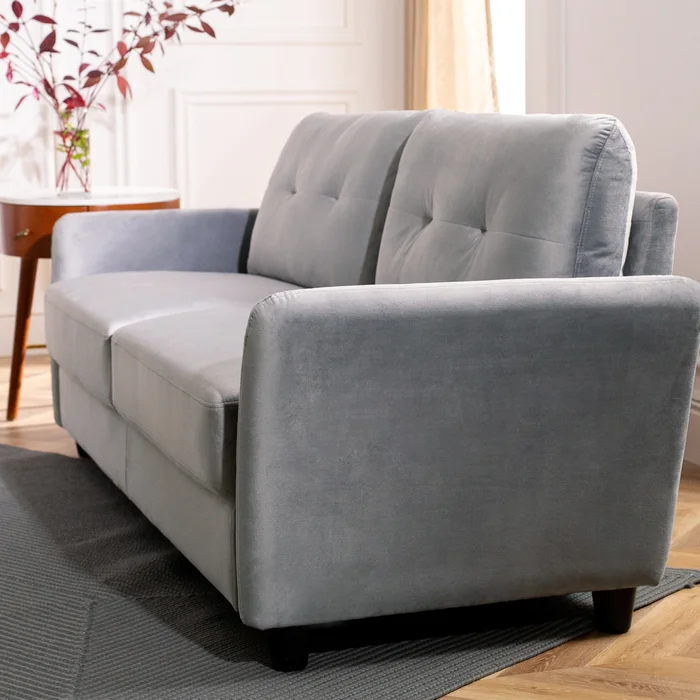 With its snug support and dapper demeanor, the loveseat checks all the boxes to become an integral part of your living area, office, or family room. It's crafted with subtle, stylish details like cushions and arms, making it a piece that blends beautifully with your existing furniture, and fits especially perfectly into smaller spaces. Deep foam and fiber cushions are designed for comfort, and a sturdy frame wrapped in durable velvet fabric adds longevity to this small yet substantial two-seater. And we're not in the business of stress, so this loveseat is backed by our one-year worry-free warranty, meaning you have one more reason to kick back and relax. Assembled and ready to enjoy in under 20 minutes, it knows how to complete a room you can be proud of.
Abbigale 65.8" Armless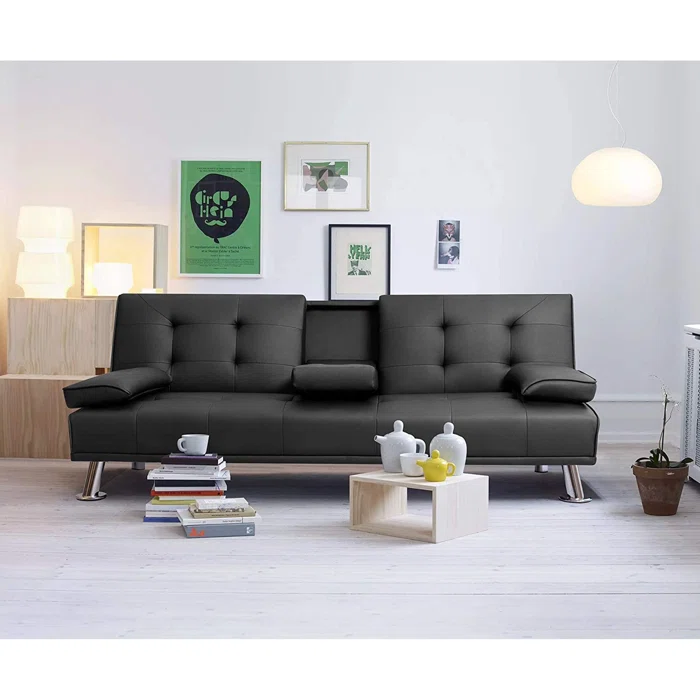 The sofa is easy enough to assemble with the least time
Twin 66.1" Wide Tufted Back Convertible Sofa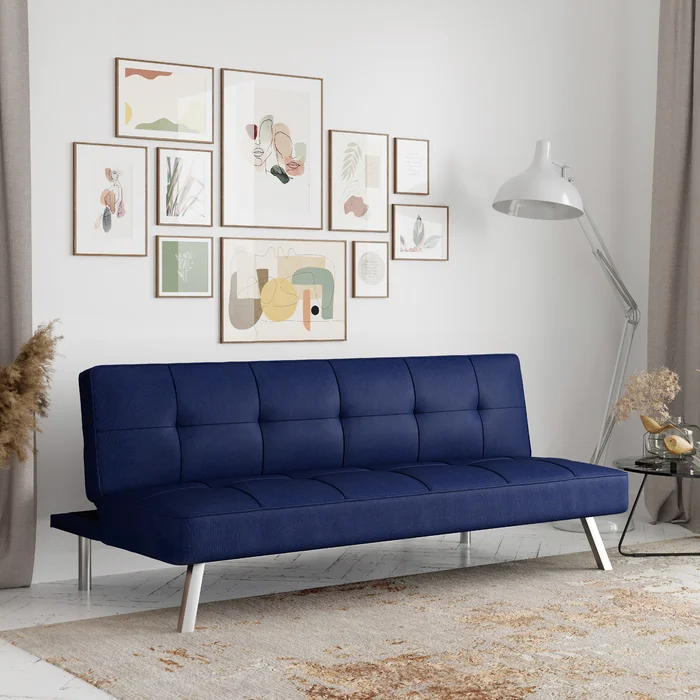 The product is your trusted convertible for any living space. The classic and modern lines with mid-century tufting are inviting and welcoming to all. The product offers you a multi-functional piece that transforms from a sofa to a lounger and finally to a bed. The sofa position allows you to get cozy with its high-density foam fully supported by its Kiln Dried solid hardwood frame construction and fully supported by its defining chrome metal legs.
In the sofa position, the product offers you easy care for quality fabric upholstery and self-piping tufting. In the lounger position, the backrest reclines 30 degrees and creates a lounger that is ideal for catching a break from the day and allows you to breathe and reset before tackling the next challenges. In the bed position, the backrest reclines completely and transforms into a bed. It's no surprise, that the product with its high-density foam throughout the seat and back will have you counting sheep or seeing a plethora of Z's in minutes.
Korn 56.3" Flared Arm Loveseat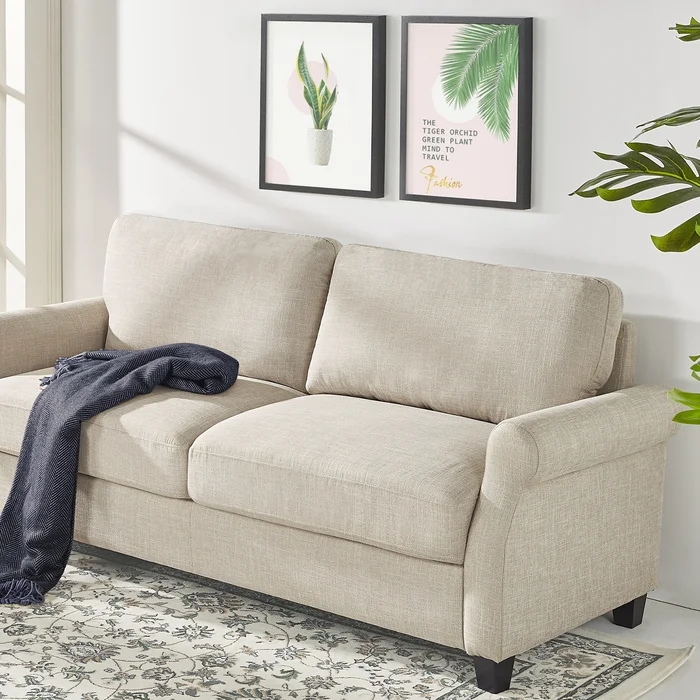 The Josh Loveseat is great for filling the void that is an awkwardly positioned blank wall in your modestly sized loft, or for filling that void in your soul that yearns for some good old fashioned comfy relaxation. Whatever your intentions may be, this substantial two-seater is here for you, with its layers of foam and fiber cushioning and approachable, versatile silhouette with rounded arms. With its easy-to-clean neutral toned fabric, it can set the stage for your coziest throws or accent pillows. And the best part is, it arrives at your door only six tool-free assembly steps away from being living room ready. And it includes a worry-free one year warranty to help really take a load off. Chances are, the Josh Loveseat is the exact kind of supportive piece you've been looking for to help you socialize or watch TV. Or simply do nothing at all. This multifunctional number doesn't judge.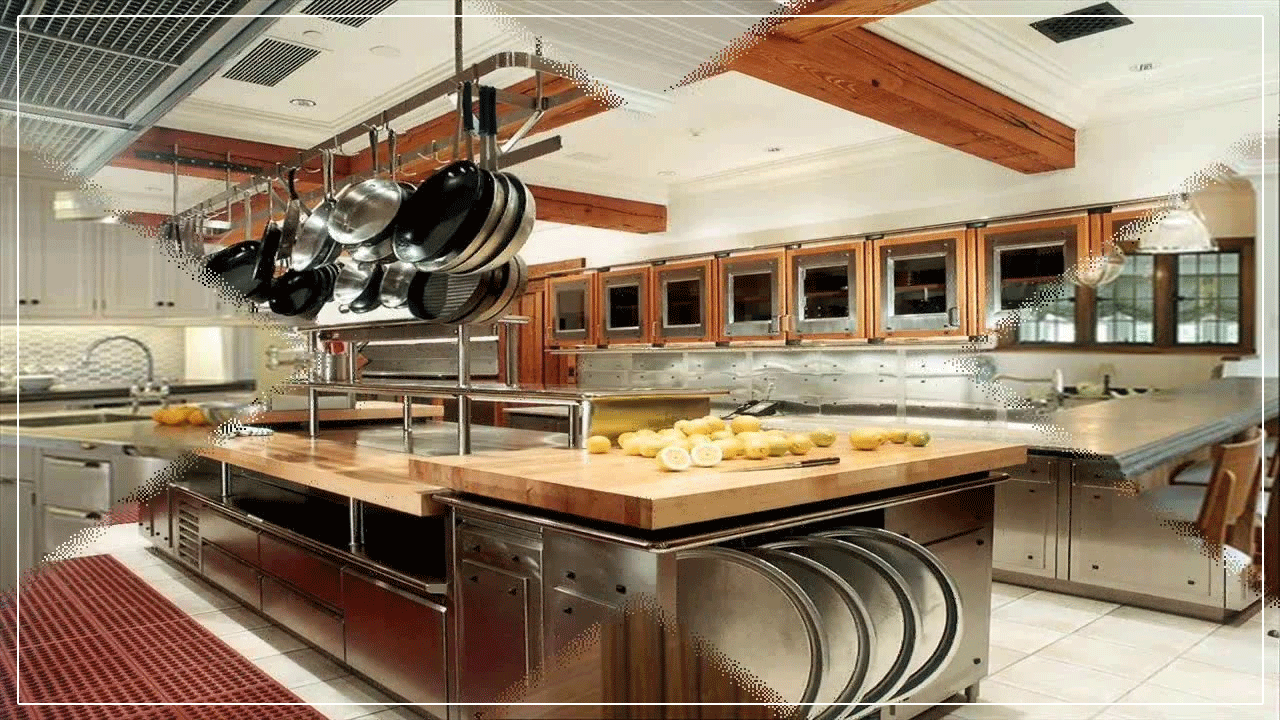 About Robins Kitchen
Robin's Kitchen is a kitchenware and homeware retailer based in Australia. The company offers a wide range of products including cookware, bakeware, kitchen appliances, tableware, glassware, cutlery, and more. Robin's Kitchen has over 100 stores across Australia and a comprehensive online store at www.robinskitchen.com.au.
On the website, customers can browse and purchase products online, with options for delivery or in-store pickup. The website also features a range of helpful guides and articles on cooking, baking, and entertaining, as well as a gift registry service for special occasions like weddings or housewarming parties.
Overall, Robin's Kitchen is a popular destination for Australians looking for high-quality kitchenware and homeware products.
Overview of Robins Kitchen
Robin's Kitchen is a leading retailer of kitchenware and homeware products in Australia. The company has over 100 stores located across the country, as well as a comprehensive online store at www.robinskitchen.com.au.
Robin's Kitchen offers a wide range of products to cater to the needs of home cooks, bakers, and entertainers. The product range includes cookware, bakeware, kitchen appliances, tableware, glassware, cutlery, and more. The products are sourced from top brands and manufacturers, ensuring high quality and durability.
The website offers an easy-to-use online shopping platform where customers can browse and purchase products from the comfort of their homes. The website also provides helpful guides and articles on cooking, baking, and entertaining, as well as a gift registry service for special occasions.
In addition, Robin's Kitchen has a reputation for providing excellent customer service, with knowledgeable staff and a commitment to ensuring customer satisfaction. Overall, Robin's Kitchen is a go-to destination for Australians looking for high-quality kitchenware and homeware products, backed by great service and expertise.
How Does Robins Kitchen Work?
Robin's Kitchen operates both physical retail stores across Australia and an online store at www.robinskitchen.com.au.
In-store, customers can visit any of the over 100 Robin's Kitchen stores located across the country to browse and purchase products. The stores are staffed by knowledgeable and friendly sales associates who can help customers select the right products for their needs.
Online, customers can browse and purchase products through the Robin's Kitchen website. The website features a user-friendly interface, making it easy to search for products by category or brand. Customers can add items to their cart and then proceed to checkout, where they can choose to have the items shipped to their home or choose in-store pickup at their nearest Robin's Kitchen location.
The website also provides helpful guides and articles on cooking, baking, and entertaining, as well as a gift registry service for special occasions.
Overall, Robin's Kitchen offers customers the flexibility of shopping either in-store or online, backed by expert advice and excellent customer service.
Robins Kitchen Menu Review
As a language model, I don't have access to taste or sample products. However, I can give you an overview of the types of products you can expect to find on the Robin's Kitchen menu.
Robin's Kitchen offers a wide range of kitchenware and homeware products, including cookware, bakeware, kitchen appliances, tableware, glassware, cutlery, and more. The products are sourced from top brands and manufacturers, ensuring high quality and durability.
In terms of cookware, Robin's Kitchen offers a variety of options, including pots and pans, Dutch ovens, woks, and roasting pans. The bakeware selection includes cake pans, muffin tins, cookie sheets, and more.
For kitchen appliances, Robin's Kitchen offers blenders, food processors, stand mixers, and coffee makers, among others. The tableware selection includes plates, bowls, glasses, and serving dishes, while the cutlery selection includes knives, sharpeners, and cutting boards.
Overall, the Robin's Kitchen menu is extensive and offers a variety of options to suit the needs of home cooks, bakers, and entertainers. With a focus on quality and durability, customers can expect to find products that will last for years to come.
Who Is Robins Kitchen For?
Robin's Kitchen is for anyone who loves cooking, baking, and entertaining. The company offers a wide range of kitchenware and homeware products to cater to the needs of home cooks, bakers, and entertainers.
Whether you are an experienced chef or just starting out in the kitchen, Robin's Kitchen has something for everyone. The product range includes cookware, bakeware, kitchen appliances, tableware, glassware, cutlery, and more.
Robin's Kitchen is also a great destination for anyone looking for high-quality and durable products. The company sources its products from top brands and manufacturers, ensuring that customers receive only the best quality products.
Additionally, Robin's Kitchen is a popular destination for gift shoppers. The website offers a gift registry service for special occasions like weddings or housewarming parties, making it easy for friends and family to purchase the perfect gift for their loved ones.
Overall, Robin's Kitchen is for anyone who enjoys cooking, baking, and entertaining, and wants access to a wide range of high-quality kitchenware and homeware products.
How Much Is Robins Kitchen?
The price of products at Robin's Kitchen varies depending on the type of product, brand, and other factors. Robin's Kitchen offers a wide range of products, with prices ranging from affordable to high-end.
For example, a basic set of cookware or bakeware could cost around $50 to $100, while a more high-end set could cost several hundred dollars or more. Kitchen appliances like blenders and food processors can range from around $50 to several hundred dollars. Tableware, glassware, and cutlery also vary in price depending on the brand, material, and design.
Overall, Robin's Kitchen offers products at a range of price points, making it accessible to a wide range of customers. Customers can find affordable options as well as more high-end options depending on their needs and budget. The website often runs sales and promotions, which can offer additional savings to customers.
Robins Kitchen Reviews: What Do Customers Think?
Robin's Kitchen has generally positive reviews from customers. On the company's website, many products have received high ratings and positive reviews from customers who have purchased and used them. Customers often praise the quality of the products and the range of options available.
On external review websites such as Trustpilot, Robin's Kitchen also has positive reviews, with a rating of 4.2 out of 5 stars based on over 900 reviews. Many customers commend the company's customer service, with staff described as knowledgeable, helpful, and responsive to customer needs. Some customers also mention the fast delivery times and the quality of the packaging for online orders.
However, some negative reviews do exist, with a few customers expressing disappointment with certain products or with the shipping process. Some customers have also reported difficulty with returns or exchanges, though these instances seem to be relatively rare.
Overall, the majority of customers have had positive experiences with Robin's Kitchen, praising the quality of the products, customer service, and the range of options available.
Is Robins Kitchen Worth It?
Whether or not Robin's Kitchen is worth it depends on your individual needs and preferences.
If you are looking for high-quality kitchenware and homeware products from top brands, then Robin's Kitchen may be worth it for you. The company offers a wide range of products, from cookware and bakeware to kitchen appliances and tableware, all sourced from reputable manufacturers.
Additionally, Robin's Kitchen provides excellent customer service, with knowledgeable and friendly sales associates in-store and responsive customer support online. The company also offers a gift registry service, making it easy to find and purchase gifts for special occasions.
However, if you are on a tight budget, some of the products at Robin's Kitchen may be more expensive compared to other stores. In that case, you may want to shop around and compare prices before making a purchase.
Overall, Robin's Kitchen is worth it for those who value quality and durability in their kitchenware and homeware products and want access to a wide range of options. If that sounds like you, then Robin's Kitchen is definitely worth considering.
Robins Kitchen Promotions & Discounts
Robin's Kitchen offers promotions and discounts on their products from time to time. Here are some ways to save money while shopping at Robin's Kitchen:
Newsletter: Sign up for the Robin's Kitchen newsletter and receive a 10% discount code for your next purchase.
Sale Section: Check out the sale section on the Robin's Kitchen website to find discounted items. You can save up to 50% on select products.
Clearance Sale: Robin's Kitchen occasionally has a clearance sale where you can find items at steep discounts.
Free Shipping: Robin's Kitchen offers free shipping on orders over a certain amount. Check their website for the current offer.
Social Media: Follow Robin's Kitchen on social media platforms like Facebook and Instagram to stay updated on the latest promotions and discounts.
Seasonal Offers: Robin's Kitchen often runs promotions during seasonal events like Christmas or Easter.
Discount Codes: Keep an eye out for discount codes on third-party websites that offer discounts on Robin's Kitchen products.
Make sure to read the terms and conditions of each offer, as some may have exclusions or limitations. Additionally, some promotions may be for a limited time only, so act fast if you see something you like.
Sign Up For Robins Kitchen
To sign up for Robin's Kitchen, follow these steps:
Go to the Robin's Kitchen website at www.robinskitchen.com.au.
Click on the "Sign In / Register" button located on the top right corner of the homepage.
Select the "Create an account" option.
Fill out the registration form with your personal information, including your name, email address, and a password.
Review and accept the terms and conditions.
Click the "Create" button to complete the registration process.
Once you have created your account, you will be able to save your shipping and billing information, view your order history, and receive exclusive offers and promotions via email. You will also be able to add items to your wishlist and easily place orders in the future.
FAQs
Does Robin's Kitchen ship internationally?
At this time, Robin's Kitchen only ships within Australia.
What is the return policy at Robin's Kitchen?
If you are not satisfied with your purchase from Robin's Kitchen, you can return the item within 30 days of purchase for a refund or exchange. Items must be in their original packaging and in new, unused condition. Some exclusions may apply, so it is best to check the full return policy on their website.
Can I purchase a gift card at Robin's Kitchen?
Yes, Robin's Kitchen offers gift cards that can be purchased online or in-store. Gift cards are available in denominations of $25, $50, $100, and $200.
Does Robin's Kitchen offer a wedding registry?
Yes, Robin's Kitchen offers a wedding registry service. Couples can create a registry online or in-store, and guests can easily purchase gifts from the registry.
How can I contact Robin's Kitchen customer service?
You can contact Robin's Kitchen customer service by phone at 1800 787 343, or by email at [email protected] They also have a live chat feature on their website and a contact form for inquiries.
Anova Precision Cooker Review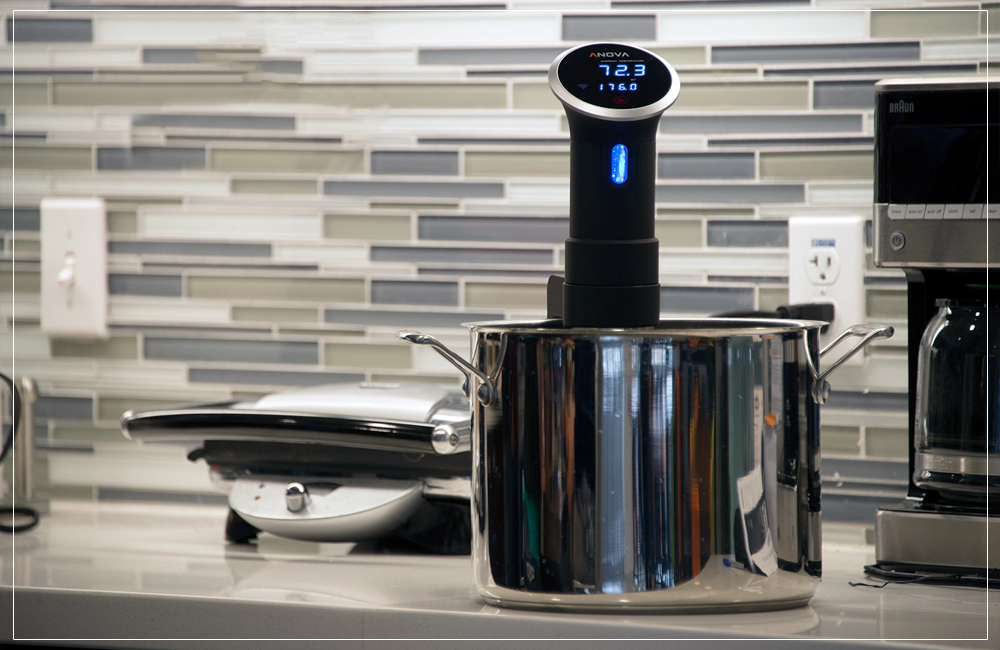 The Number One In The World
These days we've all heard about sous vide machines. Although this technique has been used for many years in restaurants, just recently arrived at our homes. Consequently, this became the new trend in home cooking. The Anova Precision Cooker is the world's top-selling sous vide machine, probably because it is super easy to set up and the results are always amazing. If you have a pot, a ziplock bag, and a pan, you'll cook the best food of your life.
Since sous vide is the new trend in home cooking, we gather all thecookingworld team, and we decided to test the largest possible number of sous vide machines. The main reason – Just for FUN!
For this adventure through the world of sous vide, we decide to star with the #1 selling sous vide machine in the world. The Anova Culinary Sous Vide Precision Cooker.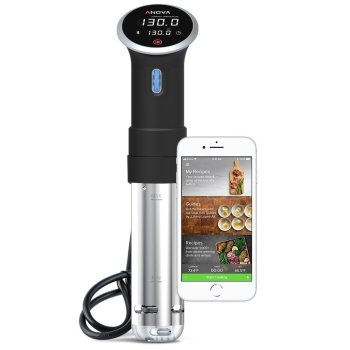 ‍
Cook Like a Pro
Every time we heard about sous vide the first thing we heard is "COOK LIKE A PRO". But will this really be true?
One of the advantages of sous vide is the elimination of human error, due to the use of technology. The Anova Precision Cooker does this perfectly, allows anyone to cook a restaurant quality meal at home.
Perfect Results, Every Time
An important feature in sous vide equipment is precision. After using Anova we are convinced that this machine has to have "precision" in its name. With so much accuracy we can produce amazing results that are impossible to achieve through any other cooking method. No dry edges and no rare centers. Juices and flavors don't escape. Food comes out perfectly moist and tender.
One of our favorites features in this equipment is the continuous temperature control. As a result, this provides us with a reliable and consistent result every time. Perfect for vegetables, meat, fruit, cheese and much more. You really need to try Anova to see what are we talking about!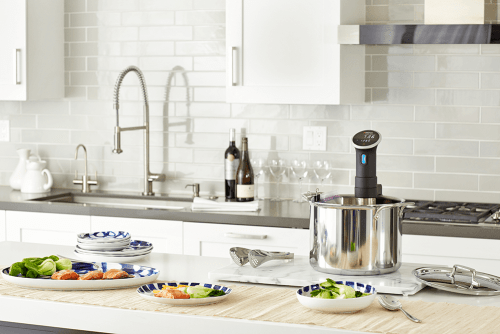 ‍Easy to Use
Using the Anova Precision Cooker is so easy to use that you certainly won't need any instruction manual.
After unboxing the Anova, we quickly realize how simple and well though this machine is. After you remove it from the box you simply need to attach the precision cooker to any pot with water and drop in the desired food in a sealed bag. Press the button an start cooking! The sous vide cooker's timer and precise temperature control allow you to step away and relax while your food cooks perfectly. Leaving time for you to look for more amazing recipes.
Smart Device Control & Cooking Notifications
In the world full of smart devices this sous vide machine is another device to add to that list. The Anova can be controlled using a smartphone, you can set up the temperature for this equipment, and controlled the cooking process remotely allowing you to escape from the kitchen while you cook. We test the range of this feature and the Bluetooth connection allows us to control the device up to 9 meters (30 feet) away. We personally loved this function because it allowed us to leave our test kitchen, which allows us to work on other projects at the same time that we test this equipment.
To control remotely Anova, you simply download the Anova App to easily monitor, adjust or control the device from your iPhone and Android devices. The precision cooker also provides you cooking notification while you're out of the kitchen so you'll know when your food is ready.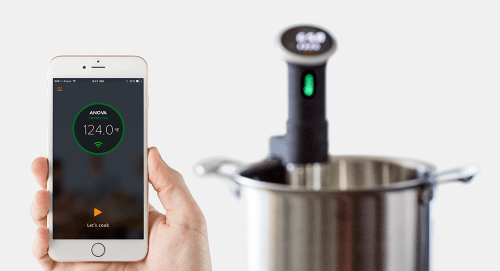 Get Creative
Don't know what to Cook? – Anova App has over 1000 recipes to choose from. Sous vide guides and recipes created for home cooks of every skill level by award-winning chefs, with simple directions to walk through each recipe.
Simple to Clean
We all know that when it is time to clean kitchen gadgets, this could be a total nightmare. We already stopped using some kitchen equipment just because the work that we have to clean them. In contrast, the Anova is super easy to clean. The precision cooker's detachable stainless steel skirt and disks are dishwasher safe making this kitchen appliance easy to clean and maintain. So it's perfect for everyday use!
Product Information
Technical Specification
Temp Range: 77°F to 210°F ± 0.01°F / 25°C to 99°C ± 0.01°C
Pump Speed: 1 – 1.2 GPM 7-8 LPM
Directional Pump: 360 Degree
Tank Capacity: 4-5 Gallons / 15-19 Liters
Timer: 99 Hours
Safety: Bi-Metal Fuse
Power Input: 110-120VAC
Heating Power: 900W
Final Thoughts
Finally, after hours and hours testing this equipment we only have one thing to say. If you want precision – Get ANOVA! This is an amazing sous vide machine which offers everything it promises, Control and Precision every time.
Summary
The Anova Precision Cooker is great sous vide machine that is easy to use, offering incredible control and precision in temperature, giving you consistent results every time.
RTIC Cooler Review – A Comprehensive Look and Comparison vs YETI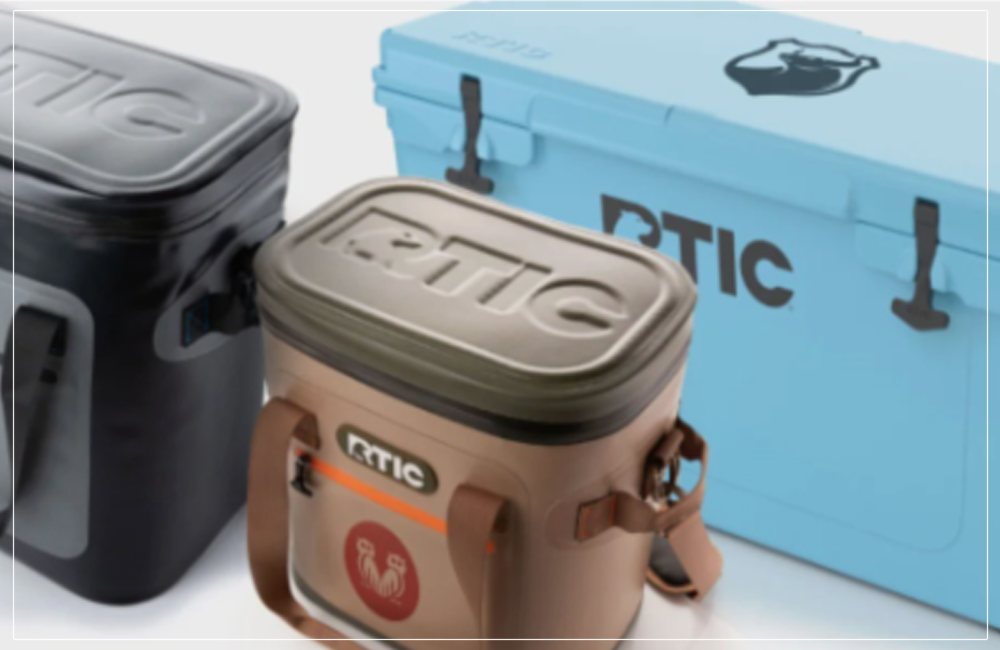 Welcome to our very own RTIC cooler review!
If you are a hiker, camper or outdoorsman who just needs a cooler that can handle your extended trips, the last thing you want to worry about when you are in the woods is your food supply going bad because of a faulty cooler.
While there are options out there, what you really need is something durable and well-constructed that can retain ice for long periods of time.
Sure, the names that you are used to are companies like Yeti, Orca, or Pelican coolers, BUT they do come with a price tag.
In this RTIC cooler review, we'll discuss in detail their claim of being "Half the price of Yeti and holds more ice."
With their strategic and aggressive advertising at rticcoolers.com (and in media), there's a good chance you have already heard of them. Now, before you make a decision there are some things you need to know.
RTIC Coolers Lineup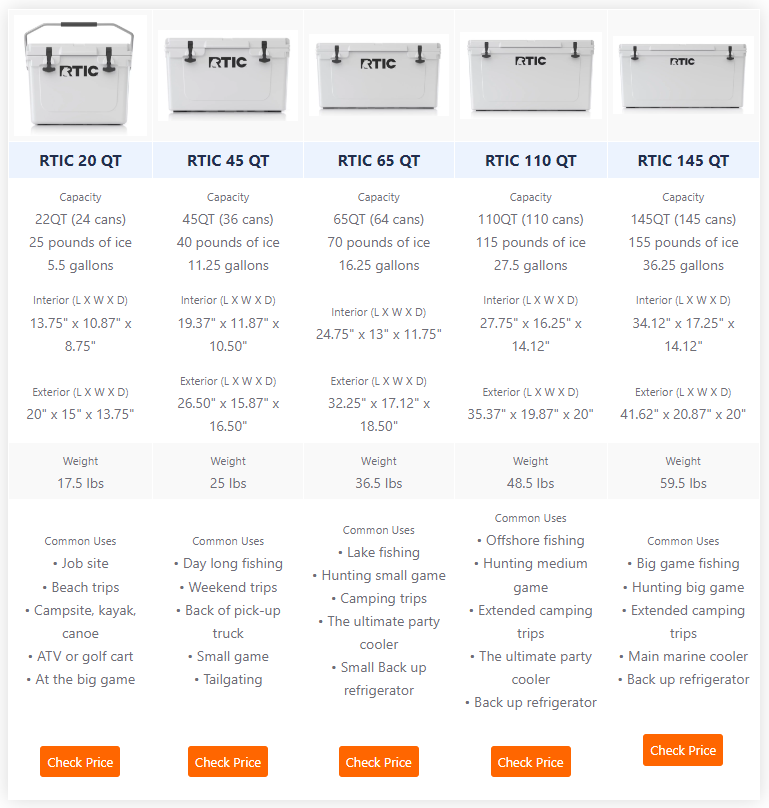 RTIC Cooler Review – A Comprehensive Look
There are many great qualities and features that come with the line of RTIC coolers. Here is anything and everything you will need to know before making your next buying decision.
RTIC Coolers Out Of The Box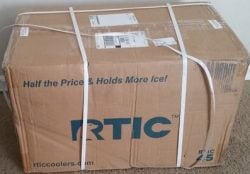 The RTIC cooler is literally ready right out of the box. Once you open the box it is shipped in, you will find it in a plastic bag that covers it completely.
This is probably done so to help prevent scratches, but you'll find it to be durable enough to withstand the shipping transport.
It is fully assembled with the T latches, rope handles and feet. This truly makes it ready to go once you open the box.
It can go directly from the box to your vehicle or anywhere else. No assembly required. Nice.
The RTIC Ice Chest Build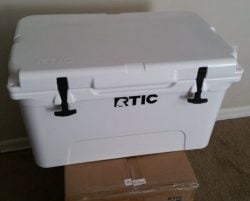 There's a term that you may have heard of when you read up on high-quality coolers – Roto Molding.
It's a method of molding that ensures the highest quality and one-piece cut. When it comes to high performing coolers, this is a must.
With an RTIC ice chest, you'll find this process in their cooler creation. It calls for an exact cut and thickness within the wall, as well as all around the cooler which produces no imperfections.
You may be wondering, what's the big deal?
Here it is. From the practical standpoint, this method of molding provides two levels of quality and protection which means: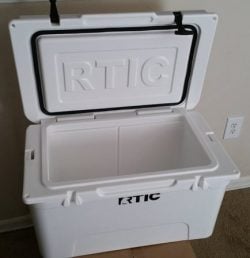 Maximizing the amount of ice retention time on the inside
Ability to withstand heavy abuse on the outside
With a variety of sizes to choose from, you'll be able to provide an option for the individual weekend warrior or even larger groups going on a camping trip.
But just how long will the ice last?
Glad you asked.
Insulation Quality
With the roto-molded walls, you'll find two-inch-thick polyurethane foam insulation, with lids up to three inches thick. This is on par with YETI and the other coolers like it.
The cool lift design will keep your cooler above hot surfaces giving you the best possible ice retention time.
Okay, so this is probably what you wanted to know, right?
How long will RTIC coolers hold ice?
According to their website, you can expect ice retention times of up to 10 days.
So, are we talking about a portable freezer, able to keep the food ice cold for 10 days or so? In the ideal world, yes, that would be possible. The cooler itself is capable of that.
However, in the real world, the ability to keep ice for X days really does depend on a multitude of factors. Was the cooler pre-chilled? Was it kept in the shadow? Was the lid opened only when really needed?
Finally, what kind of ice was used, just ice cubes? Or maybe it was block ice, combined with crushed ice? Or dry ice?
You see, it really does depend on these and other factors, and RTIC is no exception here.
Typically, however, a good rotomolded cooler – and the RTIC is obviously such – with over 2-inch insulation, good quality gaskets and tight latches, should keep the ice at least for 4-5 days. The bigger the size of the cooler, the more room for the ice, and the longer ice retention times.
Therefore, a 25-quart ice chest won't keep ice as long as the 100-quart one. Keep this in mind.
Week-long ice retention is very much possible if you apply some of the tips listed here.
The conclusion here is that you should keep the RTIC's 10-day ice retention promise with a grain of salt. Yes, it is possible. But you need to prepare yourself and your cooler for this. That also includes packing food appropriately, and using the optimal ice-to-contents ratio.
Realistically, it's best to assume the RTIC will perform well anywhere between 4 to 6 days, depending on the factors we've just mentioned.
RTIC Ice Chests – Available Sizes
When it comes to RTIC coolers you'll be able to find one for every occasion.
RTIC 20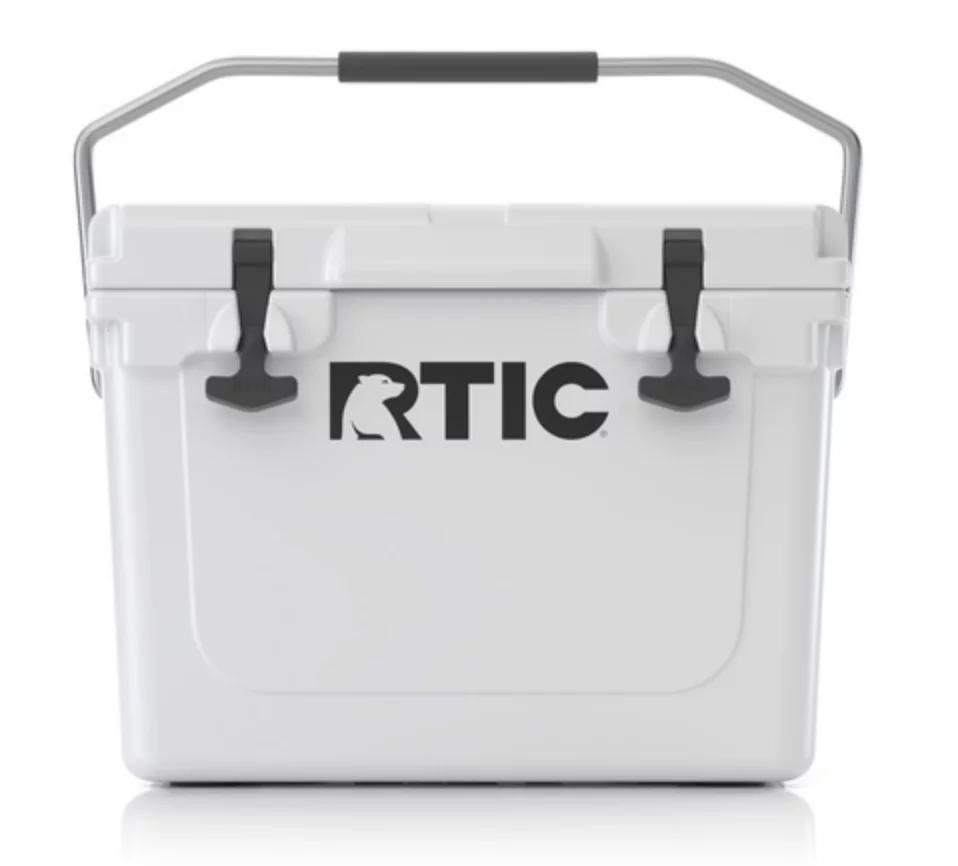 On the smaller side is the RTIC 20. This is perfect for the individual or just a few people who may need drinks and food kept cold for a short trip. It's a direct competitor to the more expensive YETI's Roadie cooler.
The RTIC 20 weighs in at 17.5 pounds and comes in at an outer measurement of 17 ¾" x 11 ¼" on the bottom side of the cooler and 20" x 13 ¾" on the top side of the cooler. It stands at 15" and will fit comfortably in your back seat.
It can hold 24 cans or 25 pounds of ice. In pure liquid form, you will have ample room for 22 quarts or 5 and a half gallons.
RTIC 45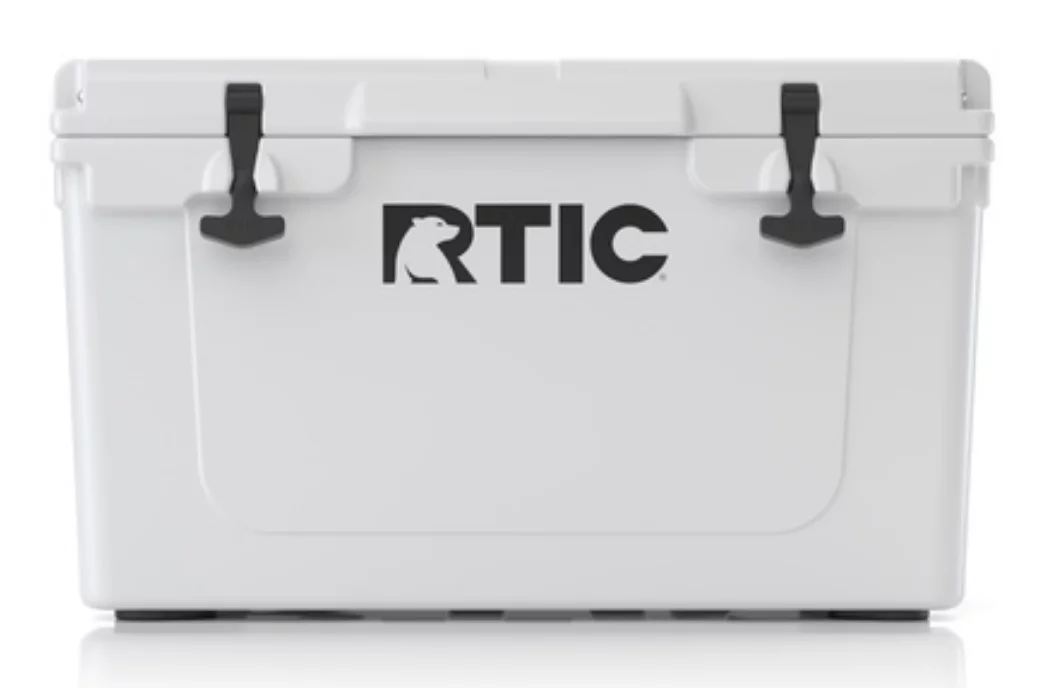 A step up from the RTIC 20 is the nicely built mid-size RTIC 45.
Not only will this cooler be able to store food and drinks, but it will be perfect for hunting and camping, especially for smaller game.
The RTIC 45 weighs in at 25 pounds and comes in at an outer measurement of 25 ¼" x 13 ¾" on the bottom side of the cooler and 26 ½" x 16 ½" on the top side of the cooler. It stands just a shade under 16" and will fit comfortably in the back of your pickup truck or tailgate.
This cooler can hold a case and half of cans (36) or 40 pounds of ice. You can also fill it with 45 quarts or 11.25 gallons of liquid.
RTIC 65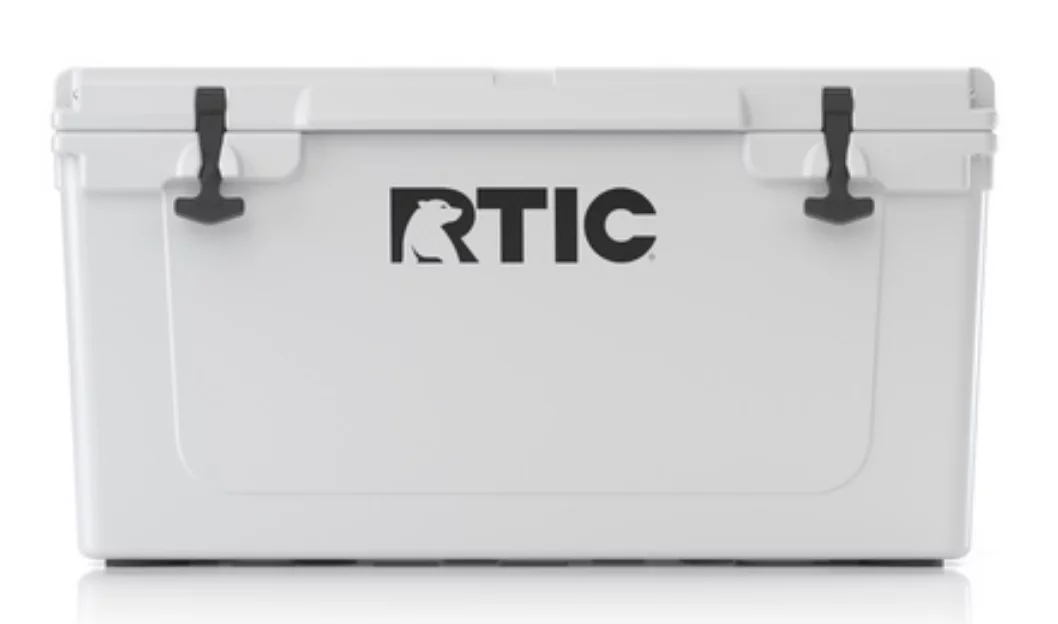 The beauty of the RTIC 65 is that it can accommodate a large group of people, yet it can be handled and picked up by one person. However, having two people carry it may be a safer bet.
The RTIC 65 weighs in at 36.5 pounds and comes in at an outer measurement of 30 5/8" x 15 ½" on the bottom side of the cooler and 32 ¼" x 18 ½" on the top side of the cooler. It stands at 17 1/8" and is perfect as a party cooler, on rafting trips and functions well if you are hunting bigger game.
It can hold several cases of cans (64) cans or a whopping 70 pounds of ice. If you are filling it with liquid, you'll find that you can easily fill it with 65 quarts or 16.25 gallons.
RTIC 110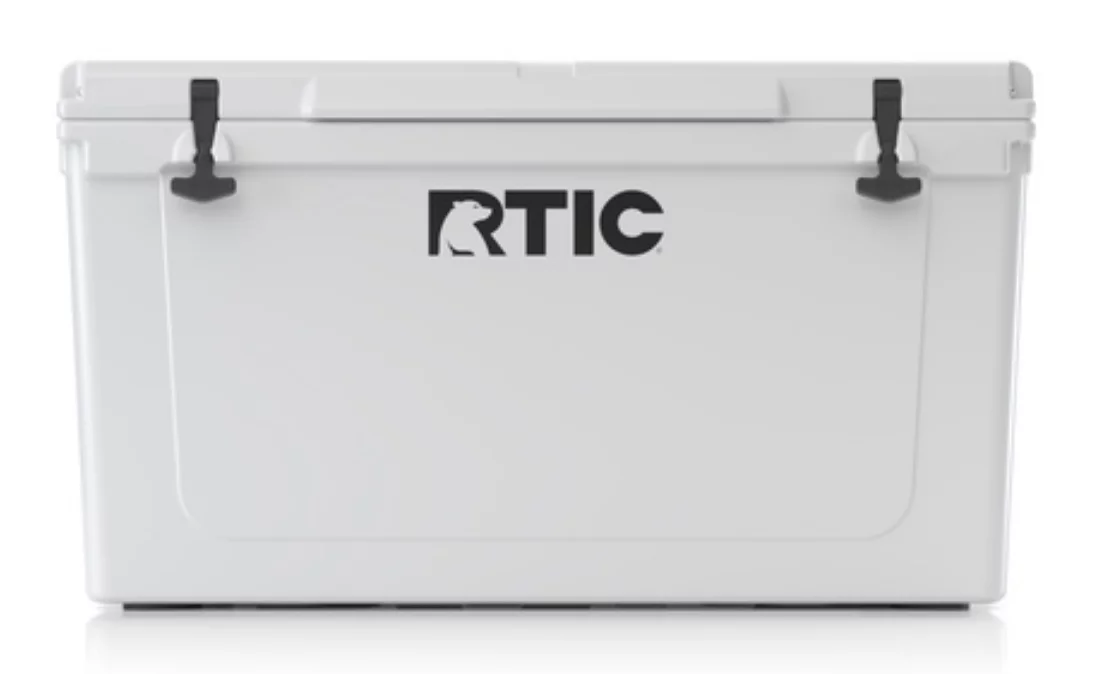 The RTIC's 110-quart cooler has been introduced a bit later than the first three sizes we talked about.
RTIC has listened to the customer feedback and finally made a decision to introduce two large sizes coolers, one of them being the 110-qt cooler.
The RTIC 110 weighs in at 48.5 pounds and on the outside, it measures 33 7/8" x 17 1/8″ on the bottom side, and 35 3/8″ x 20″ on the top side. With a height of nearly 20″, it's high enough to comfortably use it as a bench on the boat.
The best thing is that it's capable of holding way more contents inside. When measured with how many cans fit inside, the answer is 110 cans. If you fill it with the ice only, it's going to take 115 lb of it.
The 110-quart capacity translates to 12.5 gallons of the water.
RTIC 145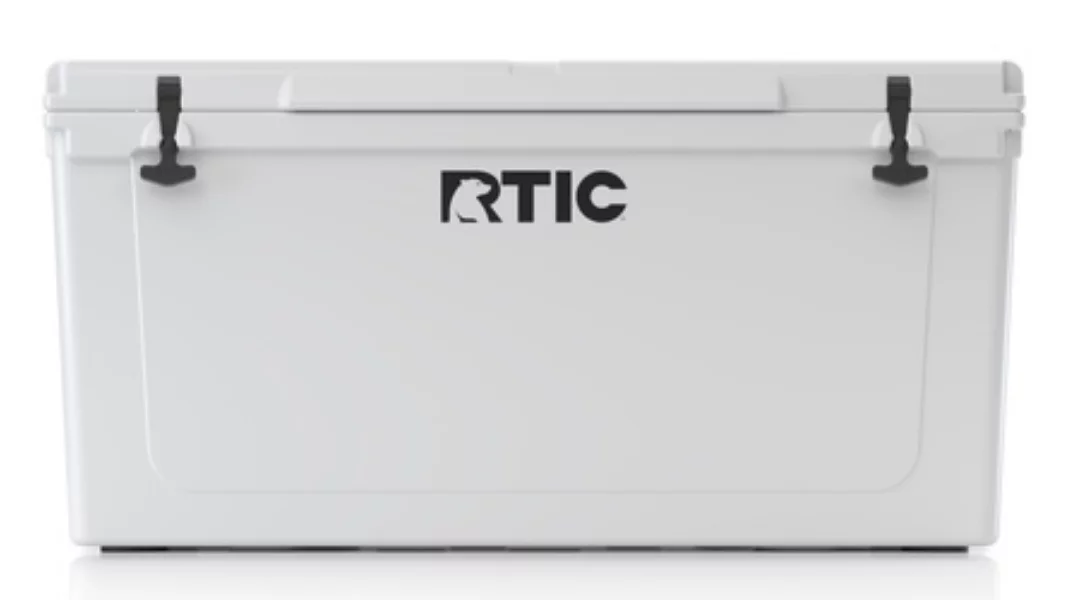 With the RTIC 145, one would say "now we're talking!". Indeed, the RTIC's decision to bring the 145 quart cooler on the market means something. Until some time ago, the only way to go was to either buy a large YETI or stick to then-largest 65-quart RTIC. Now, however, there's this one.
Measuring respectable 40 1/8″ x 17 1/8″ on the bottom, and 41 5/8″ x 20″ on the top side, this ice chest will be suitable for those who hunt for a big game. Still, it's not as large as the largest YETIs, but this size is a sweet spot for many.
Bigger size comes with a heavier body though. It weighs 59.5 pounds when empty. You can fill this baby with either 145 cans of beer, or 155 lb of ice. The 145 quarts means that you'd be able to put as much as 36.5 gallons of water inside (if you want to).
Available Colors
The RTIC coolers now come in three colors: white, tan, blue, seafoam green, grey and pink. The latter, however, is an option when you choose the smallest 20-quart cooler.
You can see all the available color options put next to each other at RTIC's official store here.
Key Features
There are many different features that make RTIC coolers attractive for the prospective cooler buyer.
An RTIC Cooler Review would be incomplete without speaking about some key features. We'll dive in a little deeper here starting from top to bottom.
T Latches

If latches break or aren't very user-friendly, then it renders the cooler ineffective. Instead of skimping on the latches, the RTIC cooler ensures that you are cared for. The

T Latches lock into place and stay in place to handle different conditions that it may be exposed to.

The "T" design stays put in the body of the cooler and makes it easier to grip and handle (no pun intended) when it comes time for you to grasp it when you want to open up the cooler.

The durable silicone it is made out of ensures that they won't corrode over time and heavy use.

Freezer Grade Gasket

It's useless how great your cooler is if it can't keep the cold air in and hot air out.

Around the lid of the cooler you will find a freezer grade gasket measuring ¼ inch wide and ¼ inch thick, that not only seals off the cooler to keep contents colder for longer periods of time but also prevents leakage.

A Handle You Can Handle

Small sections on the edge of a lid won't do if you have a vacuum-sealed cooler. In fact, it can get extremely difficult to open if there isn't much room for you to work with.

The edge of the lid of the RTIC cooler extends ½" past the edge of the cooler, ensuring that you have more than enough room to grasp and open.

While the T Latches keep the lid in place and make it easier to "unlock" the lid, the extended easy lift handle makes sure that you are using the lid to open it up and not the latches, which can be seen amongst some other coolers.

Molded Tie Down Slots

If you will be venturing off-road or anywhere that will cause your cooler to bounce around, then you will really enjoy the molded tie-down slots.

These sections on the side of the cooler make it a breeze to secure your trailer to your transportation – be it a truck bed or even a boat.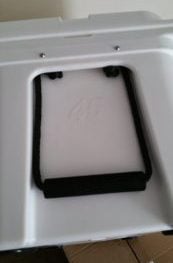 Carrying Handles

You get to choose how you want to carry your RTIC cooler as you will find two types of handles.

One set is a molded-in style, while the other is a rope handle. Depending on how heavy your cooler is, you can decide how you want to carry it by using one of these two handles.

Hinge System

A full-length hinge system ensures that the lids of the RTIC cooler don't overextend or separate from the rest of the body of the cooler.

The strength of this system cannot be overstated, as a lid that gets separated from the rest of the cooler is not really one that you want to be depending on. This is especially the case if you are gone on an extended trip.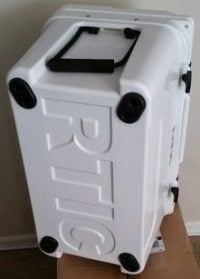 Non-Slip Lid & Locking System

For those outdoorsmen that may need to use a cooler as a platform to stand on, they will find the non-slip surface of the RTIC cooler to be ideal.

Add in a locking system and you have just added in another layer of security to not only keep everything in your cooler secure, but also to help keep the lid in place should you need it to do so.

Commercial Grade Insulation

As mentioned earlier, the 2" to 3" thickness you'll find around the cooler will keep frozen ice for up to 10 days (but as we said, take it with a grain of salt, and think of 4-6 days unless you prepare the cooler and its contents to perform better than that)

While the freezer-grade gasket will seal it off to allow your RTIC cooler to function as a portable freezer.

Dry Ice Compatibility

Another feature that you may find attractive is the compatibility of the RTIC ice chest with dry ice.

Should your needs call for dry ice, you'll be happy to know that RTIC coolers will allow you to use just that. In fact, in our recent post, we recently picked RTIC as one of the best dry ice cooler.

Draining System

At the end of the day, you'll need to clean and drain your cooler.

This can become a problem if it doesn't drain properly, but RTIC has already taken care of this for you. This two-step system calls in the easy flow drain to make quick-draining possible, as well as a rapid V drain which will allow for complete draining with a recessed V-Drain.

Cooling Feet

Specially designed feet keep the cooler off of the ground AND off of hot surfaces, to give the RTIC cooler the best possible chance to stay as cool as possible, even in the hottest conditions.

Bear Resistant

As is the case with many coolers, RTIC coolers have done their best to join the "bear-proof coolers club", making their coolers ready to protect bears from accidentally eating contents and the actual coolers themselves. The special roto molded design helps to make sure of that.
Who Is The RTIC Cooler For?
The RTIC 20 is ideal as a personal cooler. If you are working at a job site or just off golfing with a few friends, then this will be perfect for you.
It will also function well for a weekend trip or if you plan on camping by yourself or with another person.
The RTIC 45, as big as it is can still be carried by one person.
This mid-size cooler is ideal for a fishing trip, if you are camping or even tailgating at the next big game. Speaking of game, this cooler also functions well should you decide to hunt small game and need to store it.
The RTIC 65, as large as it is can also be carried and handled by one person, though you may want to get an extra hand.
This cooler will be an excellent mid-sized marine cooler, will work great on a hunting trip or even for longer camping trips. You can use it potentially as a backup refrigerator, for parties or even when hunting.
However, when you're hunting for a big game, or have a large boat, then 65-quart cooler may not be enough.
RTIC did realize that that, and so they introduced two bigger ice chests to their line-up: the RTIC 110, and the RTIC 145.
The latter two are pretty big for sure. That said, they come nowhere close the YETI which – aside of the similarly sized 125-qt and 160-qt ice chests, also offers three even bigger coolers: 210, 250 and 350 quarts.
To conclude this part, with 5 cooler sizes available as of early 2020, clearly, the RTIC's strategy is to target only the most popular cooler sizes, whereas the YETI is big enough to offer even more sizes, filling the gaps in between and also addressing some smaller niches.
RTIC Reviews – What Are Actual Users Saying?
This is where we get down to the nitty-gritty to see what actual users are saying.
One user shared that they liked the build and ice retention time of the RTIC cooler. The user mentioned still having ice after 14 days, which goes well beyond the manufacturer's claim.
The user also mentioned using the cooler as a step stool which spoke to the non-slip lid.
A user commented that they liked the build of the cooler and that they seemed to be well made, but the one thing that they didn't like was that the warranty(updated: it's 1 year now for ice chests and soft coolers, and 90 days for the day coolers and the RTIC drinkware)
While that may sound like a short amount of time (e.g. YETI gives 3 years), the one thing that needs to be factored in is the tremendous cost savings that come into play as opposed to some similar coolers on the market.
Another user mentioned still having ice in the RTIC 45 after four days and was pleased with the product.
However, the user did mention seeing some others comment on the drain plug not being insulated and provided a solution which was to place a wine cork in it as a perfect fit and fix.
RTIC vs. Yeti Coolers – Which One Is Better?
Choosing between RTIC vs Yeti isn't easy, as both brands have a lot to offer, so before you make a decision it's worth to compare both choices.
We'll announce our winner in a second, but before we say which one would be our choice, let's briefly compare both ice chest lines. Here we go.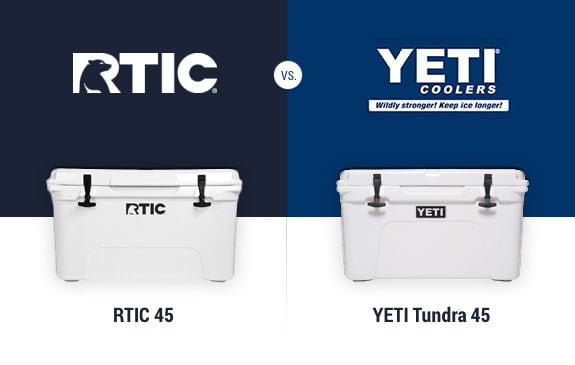 Real Space
Here's a look at what you can expect as far as actual "usable space." These are directly from the manufacturer's site.
Because the YETI has significantly more sizes to choose from, we only picked up the sizes that match RTIC's offering. And so:
RTIC 20 vs Yeti Roadie

The RTIC 20 can hold 24 cans or 25 pounds of ice, while the Roadie can hold 16 cans or 20 pounds of ice. It's 22 qt vs 20.8 qt.

RTIC 45 vs Yeti Tundra 45

The RTIC 45 can hold 36 cans or 40 pounds of ice, while the Tundra 45 can hold 28 cans or 34 pounds of ice. It's 45 qt vs 37.6 qt.

RTIC 65 vs Yeti Tundra 65

The RTIC 65 can hold 64 cans or 70 pounds of ice, while the Tundra 65 can hold 42 cans or 52 pounds of ice. It's 65 qt vs 57.2 quarts.

RTIC 110 vs Yeti Tundra 110

The RTIC 110 can hold 110 cans or 115 pounds of ice, compared to Tundra's 74 cans or 90 pounds of ice, respectively. As a note, RTIC is much heavier, at 48.5 lbs, while Tundra 110 weighs 39 lbs.
Yeti vs RTIC Coolers – Ice Retention
When it comes to Yeti vs RTIC ice retention, the numbers can be all over the place. For one thing, conditions matter as well as how the individual using it will matter.
For instance, taking a cooler on a camping trip in the hot sun will affect the ice retention time, as well as how the individual packed the contents, in addition to how often it is opened up. We covered this earlier in this post.
There is a big difference as far as ice retention times between a cooler staying shut and only being opened once a day, as opposed to being opened several times throughout the day. Again, there are many things that factor in to the actual Yeti vs RTIC ice retention times.
The numbers you will see online from past users will also vary, as some have reported several days of frozen ice, with others reporting up to two weeks with frozen ice.
According to the YETI website, they make no claims of how long ice retention times will last, also citing the conditions and user as variables on time. We did check it, however, at number of occasions. If you read our YETI Tundra review or a wheeled YETI Haul review, you'll get a better understanding on how these coolers perform.
On the other hand, RTIC claims on their website, ice retention times of up to 10 days. It's worth noting that the user above mentioned it exceeding that time!
While the numbers may vary from cooler to cooler, condition to condition and person to person, what you can expect is at least a few days of ice, as long as you are not careless in the use of the cooler.
When it comes to ice retention times, we think it's a tie. Both coolers perform as good.
RTIC Coolers vs Yeti – And The Winner Is…
When you look at the two coolers side by side, they are very similar when it comes to the build quality, and design. They are very near to each other.
When it comes to big purchases like this one, many often will choose the premium name brand over the rest.
If you tend to gravitate towards a premium name brand and can afford the costs, then you may lean more towards the Yeti line up.
However, if you are looking at this from a different standpoint, one where cost and pure value for your money comes into play, then we would recommend the RTIC.
Again, please keep in mind that the reason we are saying this is from a purely cost-based point of view, but in our opinion, this is precisely what makes RTIC a winner in our RTIC coolers vs Yeti coolers battle.
Where To Buy RTIC Coolers?
According to the RTIC website, they are a direct-to-consumer brand which means you won't see their products in any stores or at any dealers.
To get your hands on an RTIC cooler you can order it directly from their website.
RTIC Cooler Accessories
When you purchase a cooler, that's pretty much it, right?
Not with RTIC coolers. There are several accessories available that can transform your RTIC cooler into much more.
For example, say that you are going on a hunting trip and need to store some of your catch in the cooler, but still want to store some of your food and beverages.
It's probably not the best idea to have your sodas and sandwich meat mixed in with some freshly caught salmon, which is when you'll need a divider.
The RTIC 45 and RTIC 65 offer dividers to help turn your cooler essentially into two. You'll be able safely to separate your catch from your food supply.
If you'd rather suspend items when it comes to separation, you can also pick up baskets that come in the sizes mentioned above as well.
Need an extra drain plug or found that one of the feet went missing on your cooler? No problem, you can get extras here as well.
Oh, and did we mention we recently posted the RTIC koozie review, which can be a nice addition to the ice chest (although it's not an accessory per se, but a standalone product).
The beauty of this is that you aren't just bound to RTIC branded accessories. You can also check out some third-party sites that offer other add-ons and accessories for the RTIC cooler line.
RTIC Cooler Review – The Bottom Line
When it comes to quality, build, size and ice retention times, the RTIC brand of coolers matches up extremely well with other similar coolers on the market. Where it differentiates itself is in price.
We hope that this genuine, first-hand RTIC Cooler review has shown you everything you need to know before you make your purchase.
For the price and quality, you truly can't go wrong so if you're thinking of purchasing a cooler then RTIC is the right choice. But don't take our word, read through these first-hand reviews at rticoolers.com.