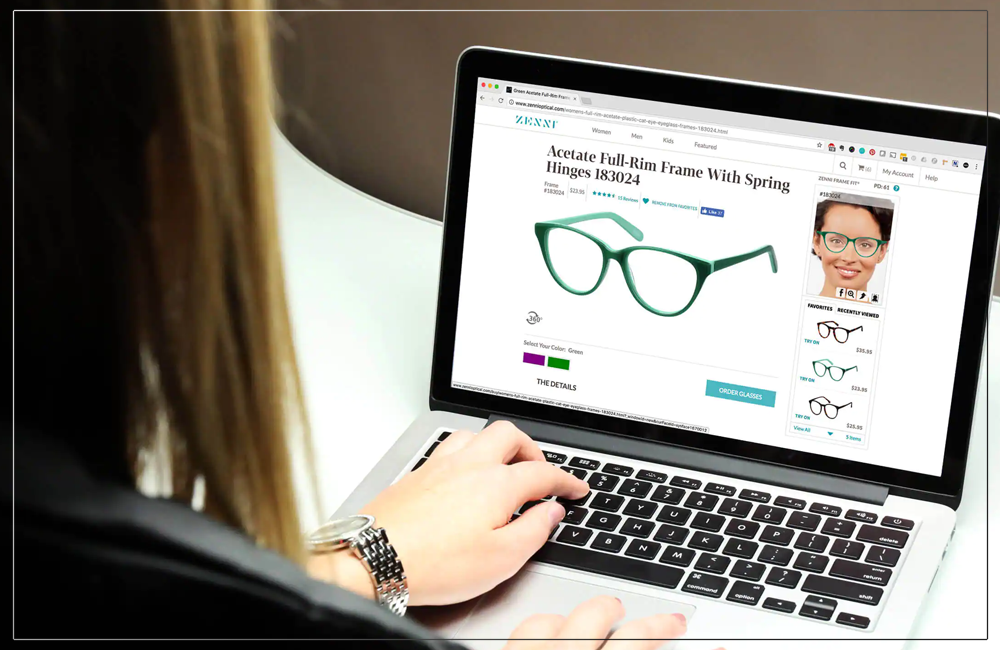 This post contains affiliate links. When you purchase through links on this post, we may earn an affiliate commission. Thanks.
About Zenni Optical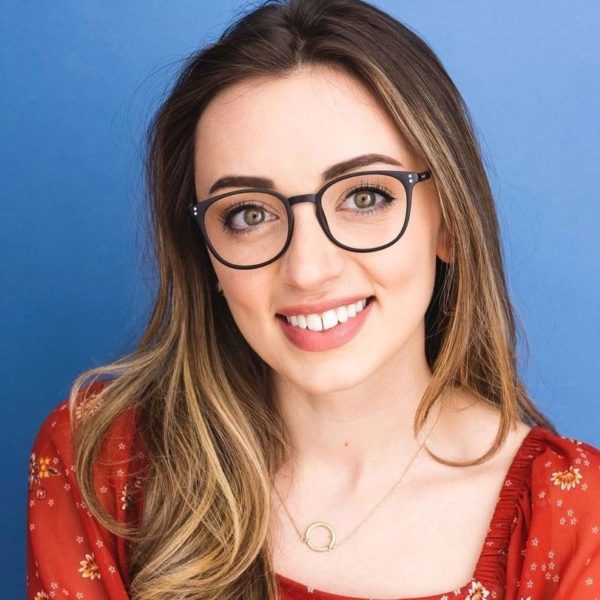 Zenni Optical is an online optical retailer that believes that you can "give people glasses they can afford but still make them look like a million bucks." Fashion and function go hand in hand in the company's wide-ranging line of products, which includes prescription and non-prescription eyeglasses and sunglasses, goggles, sports glasses, and more.
Our Zenni Optical review has found features on the brand in such notable publications as Vogue, Bustle, and Newsweek. It has a 291K following on Instagram and has also formed partnerships with sports organizations, including pride-of-placement as the official eyewear sponsor for the MLB's Boston Red Sox.
Ready for a closer look? This Zenni Optical review will provide an overview of the brand and its products, as well as customer ratings, promotions, and more to help you gauge whether this is the right four-eyed fashion for you.
Overview of Zenni Optical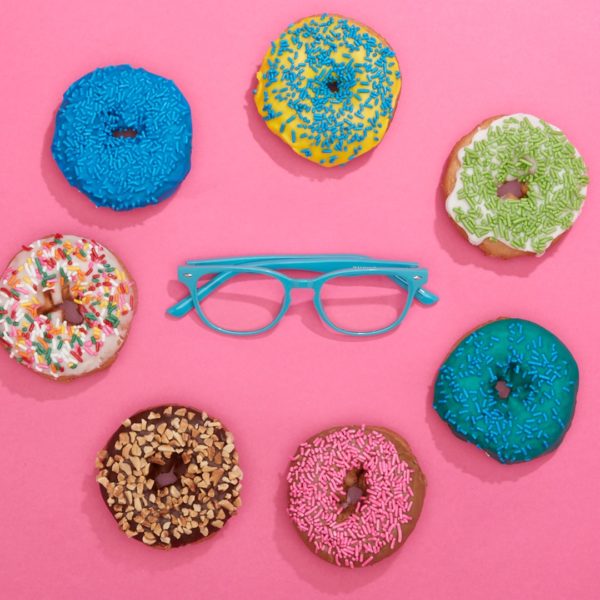 Zenni Optical was founded in 2003 by scientists Tibor Laczay and Julia Zhen. Working out of their San Francisco garage and seeding the business with only their own personal savings, the pair set about realizing their vision of making fashionable eyewear that would still be affordable for the average consumer.
The key to this business model is the nearly one million square-foot Zenni Optical manufacturing facility in Danyang, China, which houses state-of-the-art labs. By fashioning every element of its products in house and selling entirely online, thus eliminating retail-space overhead, the brand can sell its high-quality glasses for as low as $7 a pop.
The brand's blog also features a number of informative articles. You can browse through and find posts on how to pick the right Zenni tint for your sunglasses, or get the lowdown on Zenni Optical VSP options for payment via vision insurance. There is also a Zenni pupillary distance measuring guide to help you determine that value yourself, as well as a Zenni lens index.
The brand is also committed to giving back. In 2014, a Zenni Optical scholarship contest for poetry awarded prizes $5,000, $3,000, and $1,000.
Zenni Optical is also involved in numerous charitable organizations and programs, such as the anti-bullying "Hater Blockers" campaign. The brand also embraces diversity and inclusion efforts, and has partnered with Dignitas to support women professionals and female gamer initiatives.
This Zenni Optical review will now take a look at some of the top-line highlights of the brand.
Highlights
Broad catalog of affordable, fashion-forward Zenni Optical frames to choose from
Attention to detail and capable of handling any level of prescription
Dedication to quality control and customer satisfaction
User-friendly interface that is hassle-free and easy to use
International shipping
Fast and efficient delivery
Many customer reviews attesting to helpful customer service
Zenni Optical Men's Glasses Review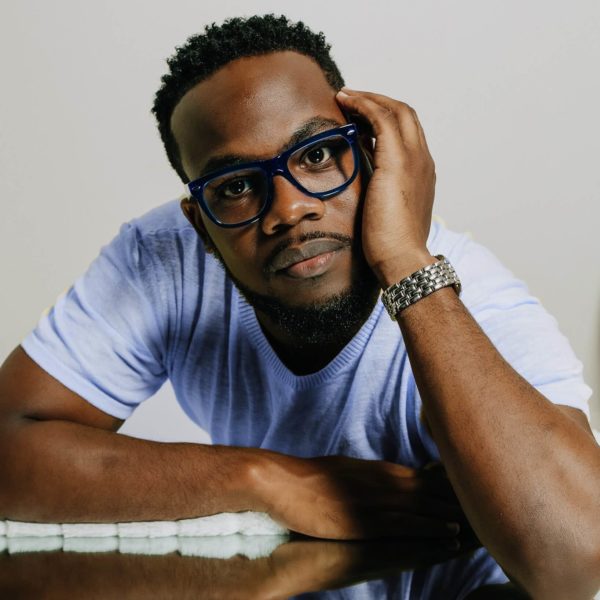 Zenni Optical believes wearing glasses shouldn't be a chore or a bore. Whether you're a loyal buyer or a first-timer, the brand has a wide selection of frames available to suit any aesthetic.
With so many Zenni Optical glasses available and new arrivals coming in all the time, it may feel a bit overwhelming to pick a pair. But don't worry—this Zenni Optical review will give you a hand by taking a look at the brand's bestselling men's glasses so you can narrow things down. You're welcome.
Black Browline Glasses 195421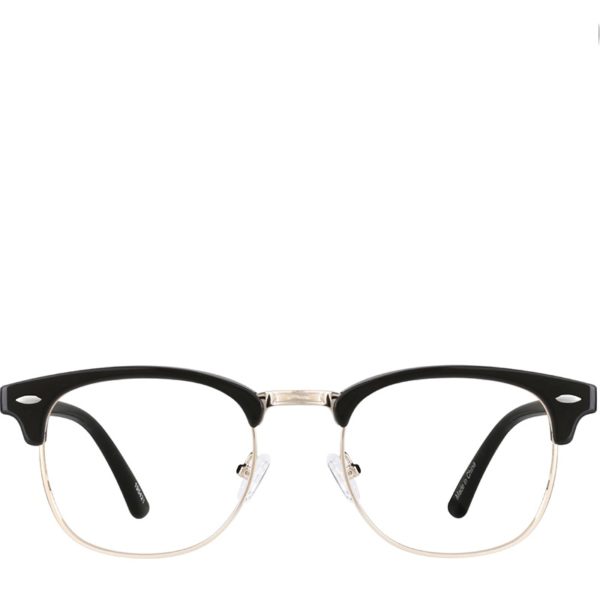 The classic frames of the Black Browline Glasses 195421 never go out of fashion. The hard, defined top frame and barely-there bottoms give the lenses a cool suspended look, and the classic silver accents at the top corners add that final touch of class.
These glasses feature Zenni Optical scratch resistant coating and UV protection. The frames can accommodate Zenni Optical bifocals as well as single-vision, progressive, or non-prescription lenses, or you can get them as frame-only. The Black Browline Glasses 195421 are only $16, so get them while they last!
Red Rectangle Glasses 2018918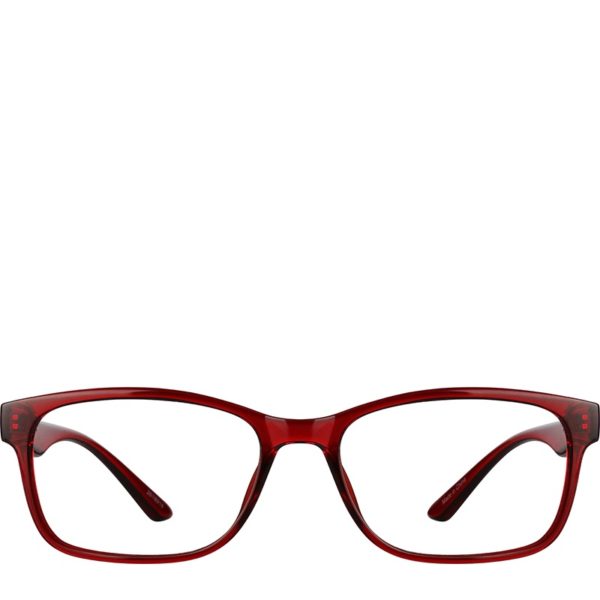 The Red Rectangle Glasses 2018918 will flatter any facial shape and have you looking intellectual and stylish all at once. With its lightweight plastic frames, you'll barely even remember that you're wearing glasses.
These medium-wide frames come in three other glossy color options and two matte options, but the original red is the one that's captured our hearts. If you're making these into sunglasses, can we suggest the Zenni Optical tint in dark green? Either way, the Red Rectangle Glasses 2018918 are only $7.
Square Glasses 123415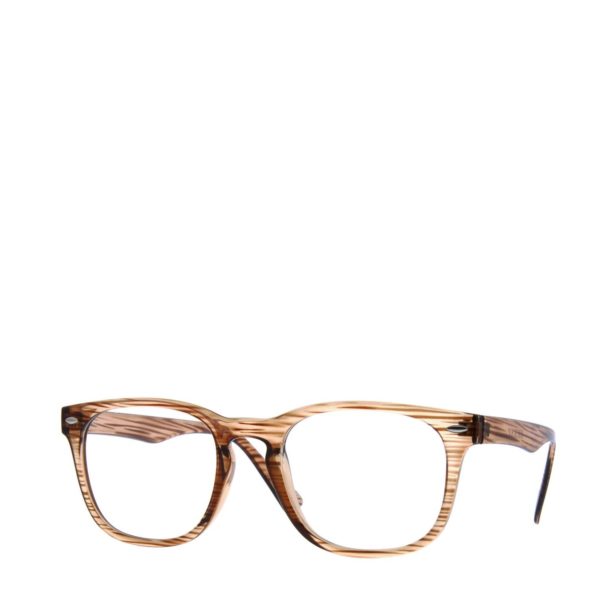 Invite admiring closer looks with the Square Glasses 123415. The semi-transparent frames with wood grain-style streaks looks solid from a distance, but will create a quietly dazzling kaleidoscopic effect when it catches the light.
Whether you go with the brown option or midnight blue, you're sure to garner compliments and questions asking where you got them from. The Square Glasses 123415 can be paired with single-vision, bifocal, progressive, or non-prescription lenses, or you can buy them frame-only. Get them for $15.
Zenni Optical Women's Glasses Review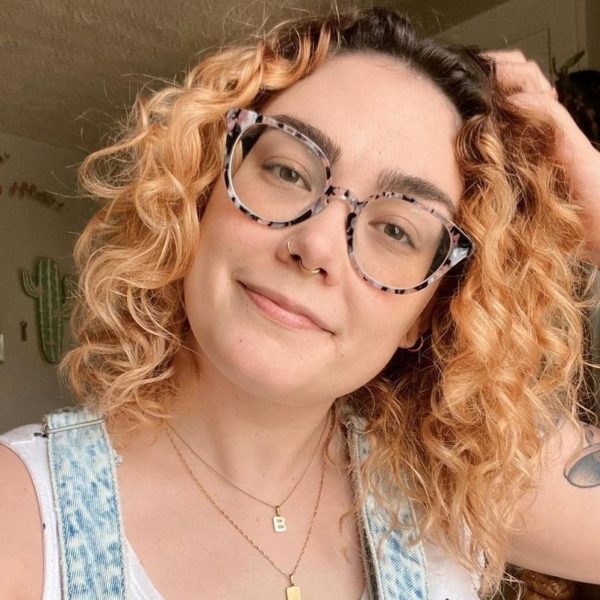 Zenni Optical eyeglasses come in many fashionable, stylish, and statement-making frames that are sure to unleash your inner fashionista. Our Zenni Optical review will now take a look at the brand's bestselling women's glasses.
Purple Cat-Eye Glasses 2027817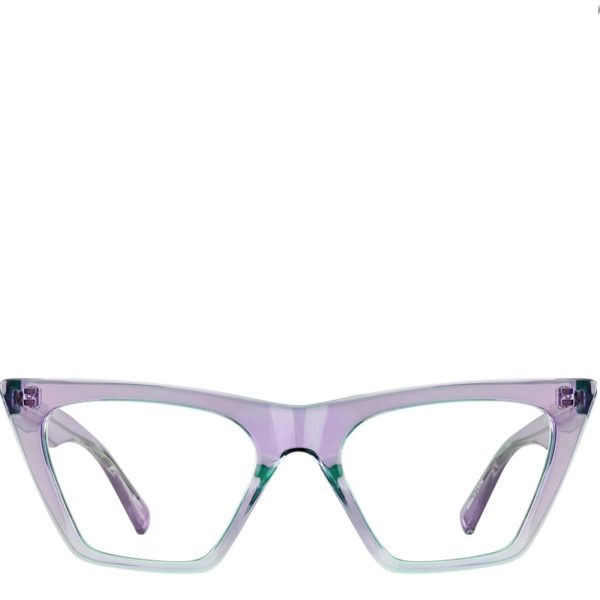 Mee-ow!!! The Purple Cat-Eye Glasses 2027817 are made for the fashionistas, the ones who aren't afraid to make a statement. (Personally, they remind us of Penelope Garcia on Criminal Minds.) The lightweight, semi-transparent plastic frames give off a shimmery glint that is sure to grab attention.
The vivid and playful Purple Cat-Eye Glasses 2027817 are also available in black, tortoiseshell, red, and green, but we love the Selina Kyle-style lavender best. You can purrrr-chase a pair for $16.
Tortoiseshell Premium Aviator Sunglasses 1130425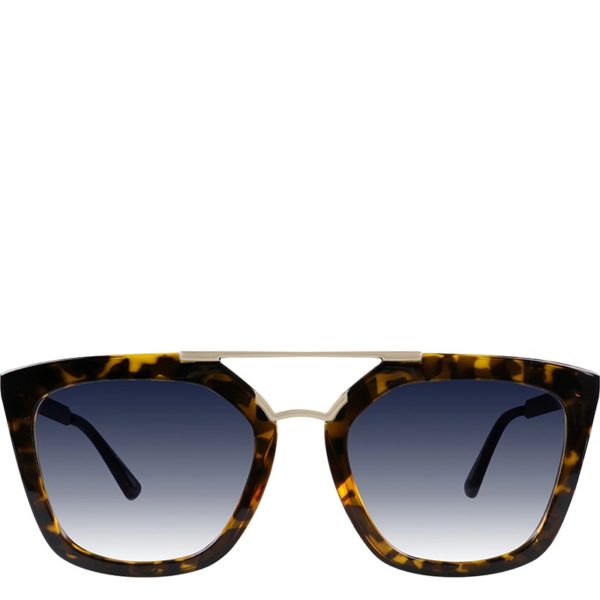 Become an international woman of intrigue with the Tortoiseshell Premium Aviator Sunglasses 1130425. These assertive aviator shades are the type of sunglasses you'd see on a woman whose wealthy husband died under mysterious circumstances, along with luxurious furs, a pair of expensive heels, a designer purse and an intoxicating aura of mystery.
The titillating tortoiseshell pattern is accented by a gold brow bar and temple arms, for a subtle but unmistakable splash of glamor. Finish these off with your choice of Zenni lens tints and unleash your inner femme fatale with the Tortoiseshell Premium Aviator Sunglasses 1130425 for $36.
Gold Sepulveda Round Eyeglasses 1125214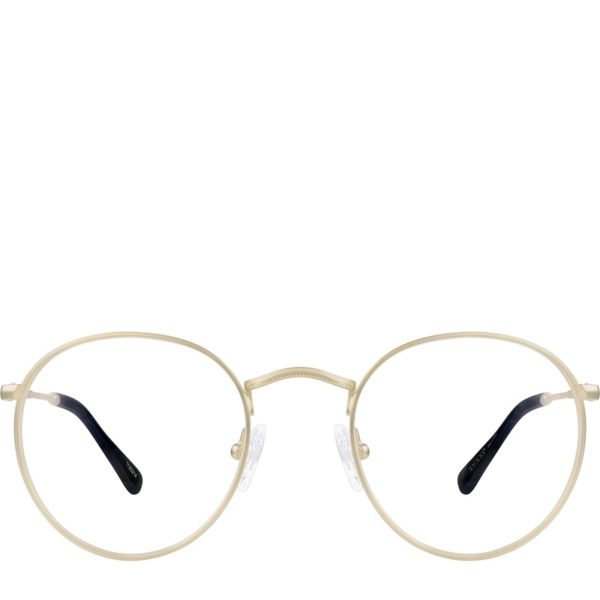 Harriet Potter, we presume? The subtly ovoid shape of the Gold Sepulveda Round Eyeglasses 1125214 gives a dash of L.A. cool to the owlish and scholarly round-frame model, and the wire-thin, gold-toned stainless steel rims complete the slyly luxe look.
Whether you're wearing them as eyeglasses or using the frames for Zenni polarized sunglasses, the Gold Sepulveda Round Eyeglasses 1125214 will attract eyes while supporting yours. You can get them today for $28.
Zenni Optical Kids' Glasses Review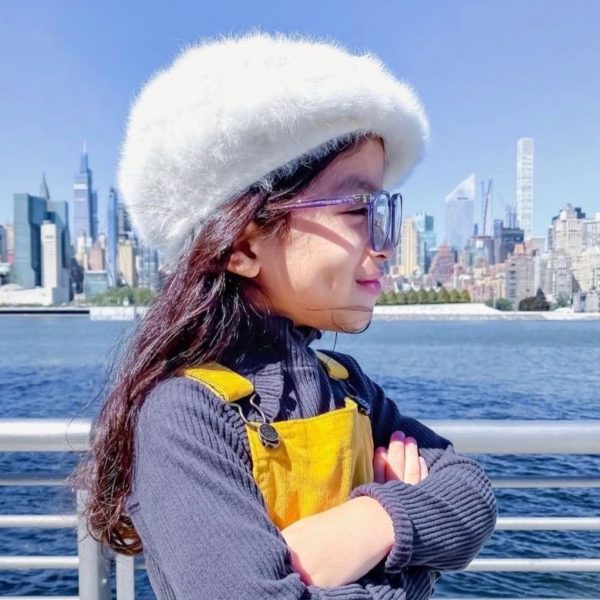 As part of its commitment to social change, Zenni Optical has partnered with designers Coco and Breezy to create a fantastic kids' collection that aims to help youth everywhere "celebrate their diversity, self-expression, and empowerment." Read on as this Zenni Optical review shows you how your child can express their style on and off the playground.
Kids' Round Glasses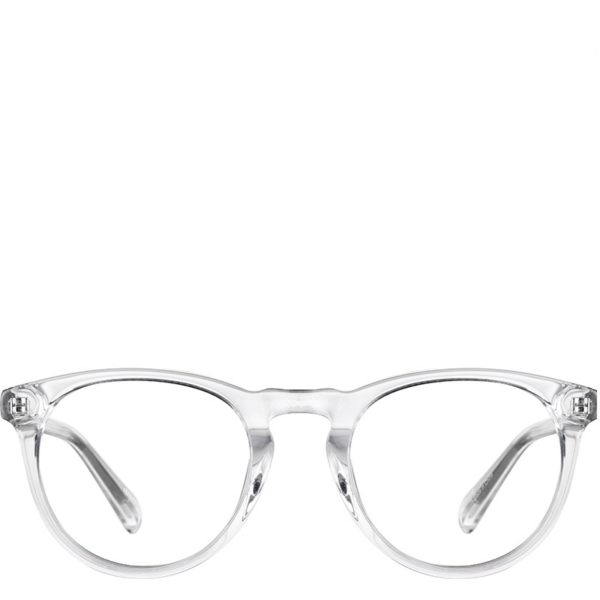 The Kids' Round Glasses are the last word in nerd chic. The sleek, hand-finished modern design is all the more striking when paired with the crystal-clear acetate. These glasses are sure to have your child expressing their inner fashionista as they create plenty of whimsical and stylish looks.
The unisex Kids' Round Glasses can be purchased as frame-only or paired with single-vision, bifocal, progressive, or non-prescription lenses. Get them for $29.
Kids' Rectangle Glasses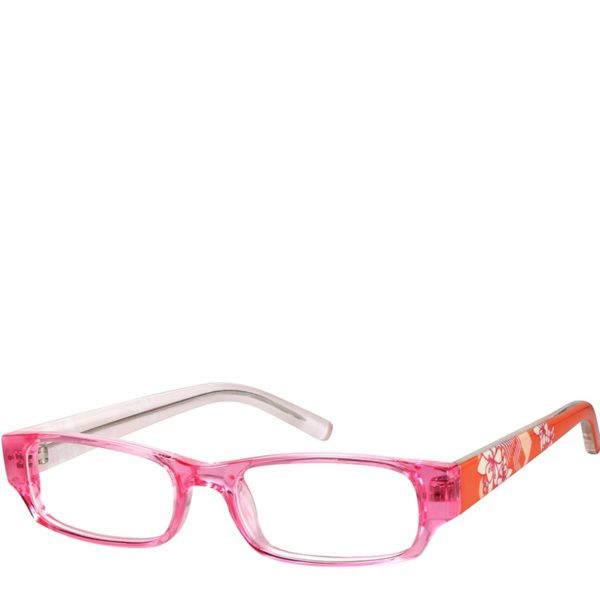 Whether your child is tackling math homework or slaying a dragon during imagination time, the lightweight but sturdy Kids' Rectangle Glasses can handle adventures big or small. Designed for all-day comfort and style, they're available in five colors, allowing your child to show off their self-expression and creativity.
The frames are sized for ages 1-8, and can be worn frame-only or paired with single-vision, bifocal, progressive, or non-prescription lenses. The Kids' Rectangle Glasses are a steal at $15.
Kids' Square Glasses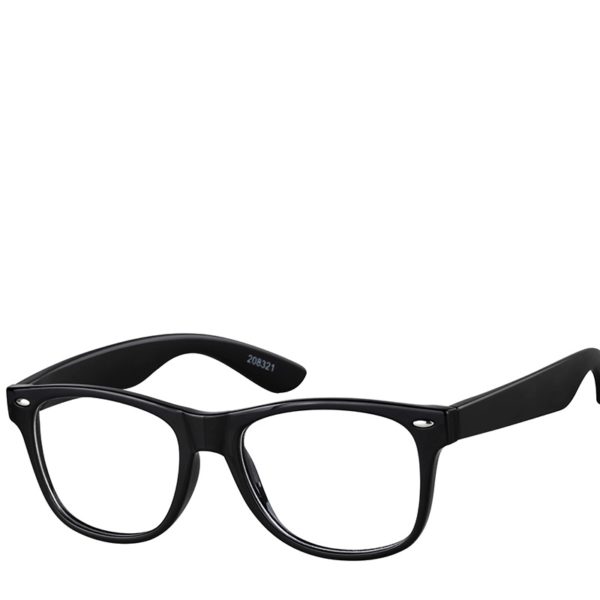 The simple but stylish Kids' Square Glasses are durable yet pleasantly lightweight. Your child will barely even feel them on their face, even during the most intense play sessions. You can let your kid choose from one of four colors, so that they can feel like they have some direction over their own destiny.
The frames are sized for children aged 9-12, and, no surprise, are available with single-vision, bifocal, progressive, and non-prescription lenses, or—can you guess?—as a frame-only option. The Kids' Square Glasses are $19.
Zenni Optical Reviews: What Do Customers Think?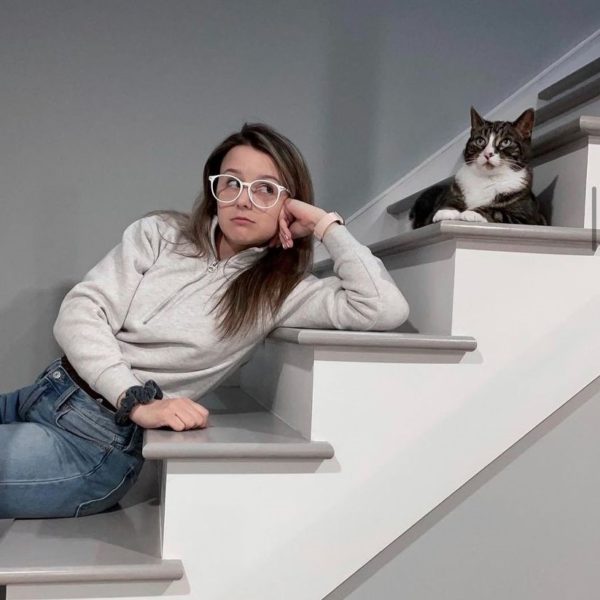 It's time for this Zenni Optical review to get into the nitty-gritty of what customers honestly think about the brand.
Let's begin with the good news. The Better Business Bureau awarded Zenni Optical an A+ rating, with 3.17/5 stars from 281 customer reviews. The outlook is even brighter over at Trustpilot, where the brand receives an "Excellent" rating of 4.6/5 stars from nearly 125,000 reviews.
Customers applaud Zenni Optical for its accessibility, affordability, wide selection of high-quality frames, timely shipping, and outstanding customer service. A representative review practically shouted the brand's praises from the rooftops:
"Best prices! For YEARS I have paid thousands of dollars for prescription glasses I would have to save for an entire year to purchase prescription sunglasses & glasses. I finally found a wonderful company who not only have affordable prices but high quality & countless choices," this Zenni Optical rave concluded.
Given that the brand has thousands of styles to choose from, this Zenni Optical review decided to take a random sampling of items from the company website and see what customers had to say. Let's kick it off with the Premium Cat-Eye Sunglasses 168722 with Zenni amber mirrored tint, which score 4.6/5 stars from 74 reviews.
"Finally I have glasses that have my Rx in them and are actually great at blocking the sun. They are so stylish no one knows they are prescription sun glasses. LOVE them," enthused one pleased Zenni Optical customer.
With so many positives, could there possibly be any negatives? Inevitably, yes, but given the extraordinary volume of Zenni Optical products that are shipped out every day, there are incredibly few.
Is Zenni Optical Worth It?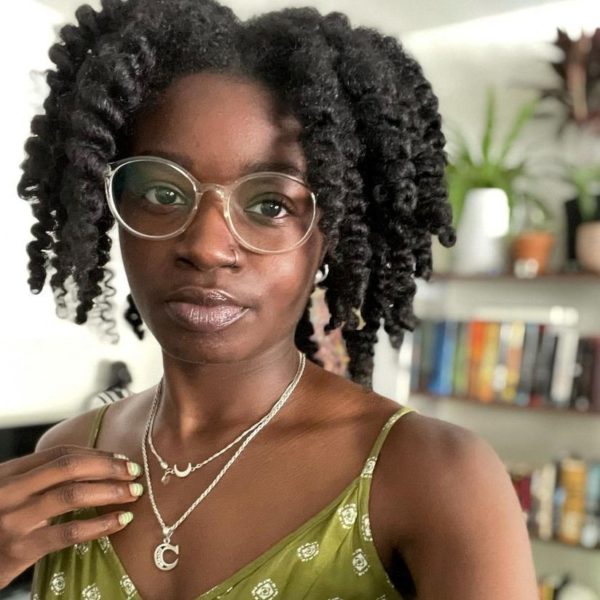 So when all is said and done, what does this Zenni Optical review think about the brand? Drum roll, please—this Zenni Optical review officially deems the brand worth buying. The company's mission is to provide affordable but fashionable frames to everyone, and based on what we've seen, Zenni has knocked it out of the park.
If you have ever had to buy a pair of glasses, you know all too well that it can be a daunting and expensive purchase. Zenni Optical has made frames so affordable and accessible that it makes the idea of buying them in-store feel like a reckless decision.
The brand also offers a virtual try-on option, and its customer service team is always ready and willing to provide a helping hand. So while there are a few complaints here and there, buying from Zenni Optical is ultimately a no-brainer.
Zenni Optical Promotions & Discounts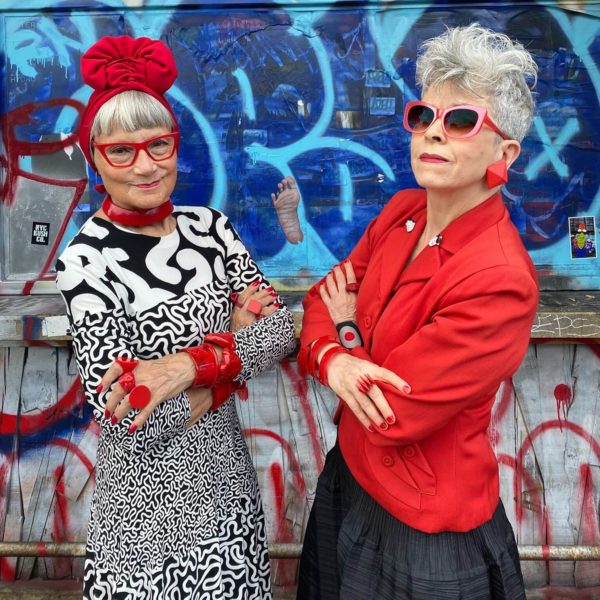 Sadly, there is no Zenni Optical sale going on at the moment. But if you're a first responder or medical or military personnel, you can save 10% off all purchases all year round.
Where to Buy Zenni Optical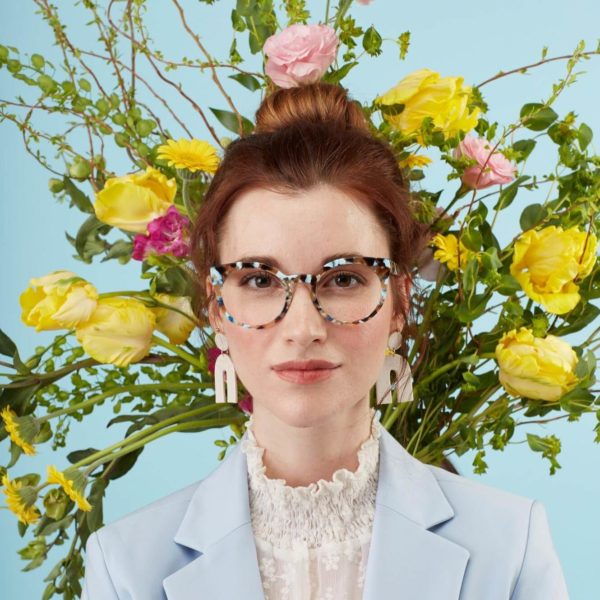 You can find Zenni Optical frames on Amazon. But unsurprisingly, zennioptical.com is your best bet for the widest selection and lowest prices.
FAQ

Are Zenni glasses made in China?
Yes, Zenni Optical glasses are manufactured in the company's facility in China. But that's hardly out of the ordinary for the optical industry: roughly 89% of glasses sold in the US are made in China.
Is Zenni Optical good quality?
Consumer Reports ranked Zenni Optical as the third best place to purchase glasses in its 2020 buying guide for eyeglasses. Based on that, as well as the hundreds of thousands of positive customer reviews, we can safely say that the brand offers good quality for affordable prices.
Does Zenni Optical take insurance?
Zenni Optical doesn't accept insurance, but some insurance companies will accept an invoice copy for reimbursement. You can check out the Zenni VSP guide on the brand website for further information.
How much does Zenni Optical charge for lenses?
The answer to this question depends on what type of lenses you wish to purchase. A traditional clear lens with Zenni Optical anti reflective coating can be as low as $4.
How do I get 10 off Zenni Optical?
Zenni Optical offers 10% off your first order with a new customer registration. To receive the discount, you must enter the unique one-time-use coupon at checkout.
Does Zenni have a student discount?
Unfortunately, Zenni Optical doesn't offer a student discount. You can see the answers above for other discounts that are currently available.
How much is shipping from Zenni Optical?
While Zenni Optical shipping cost is dependent on location, standard shipping to the US is only $5. You can see the full list of shipping options and rates below.
Where does Zenni Optical ship from?
Zenni Optical glasses are manufactured in China and shipped directly from there. You can track your order through the brand website.
Can you cancel a Zenni Optical order?
If you want to cancel a Zenni Optical order, you must do so within 24 hours of placing it. As long as the order has not yet shipped, you can cancel the order.
Save Up to 50% Off on Allbirds' Black Friday and Cyber Weekend Sale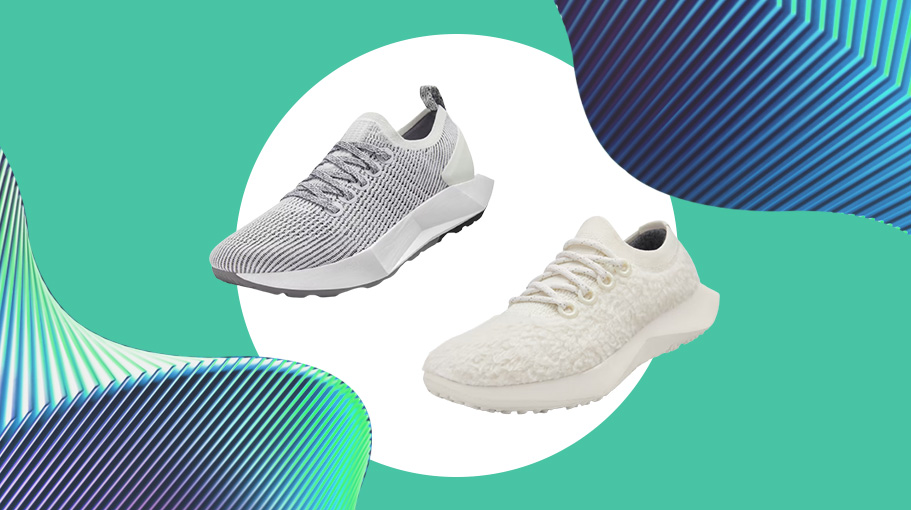 It's no secret that Allbirds is our favorite sneaker brand. Not only does the brand make stylish activewear shoes, but they're also eco-friendly and sustainable, which makes us feel even better about buying from the brand—especially when they're on sale. Right now, Allbirds' massive Black Friday sale is on, which means you can save up to 50% off sitewide.
This is Allbids' biggest sale of the entire year, so whether you're looking for the perfect gift for someone on your holiday shopping list or just need a new pair of sneakers or sweats, now's the time to treat yourself. Grab some of the brand's best-sellers like the Tree Dasher 1s, Wool Runners, and Natural Leggings. Allbirds' Black Friday sale runs through December 2, but we suggest shopping sooner than later—it's selling fast!
Allbirds' Black Friday Sale
Men's Wool Runners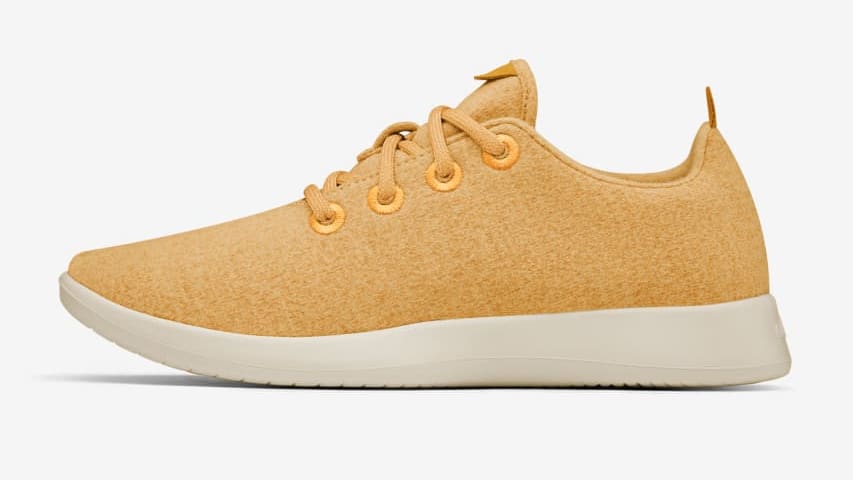 Women's Tree Dasher 1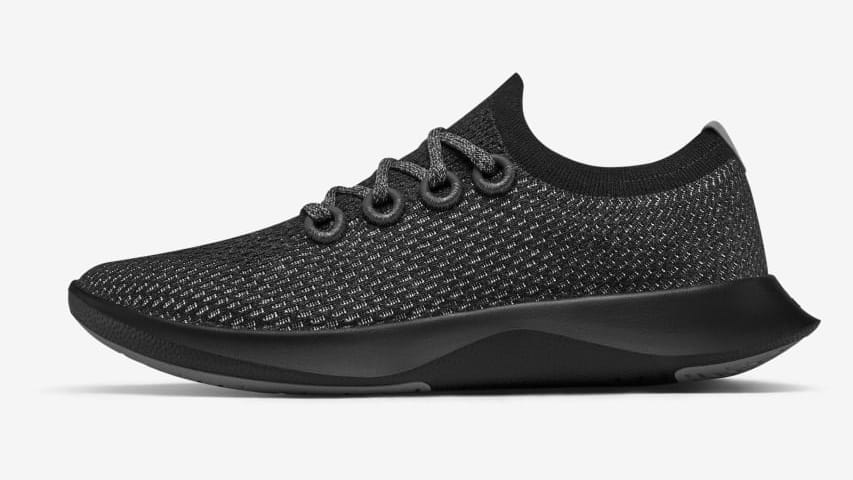 Men's Tree Toppers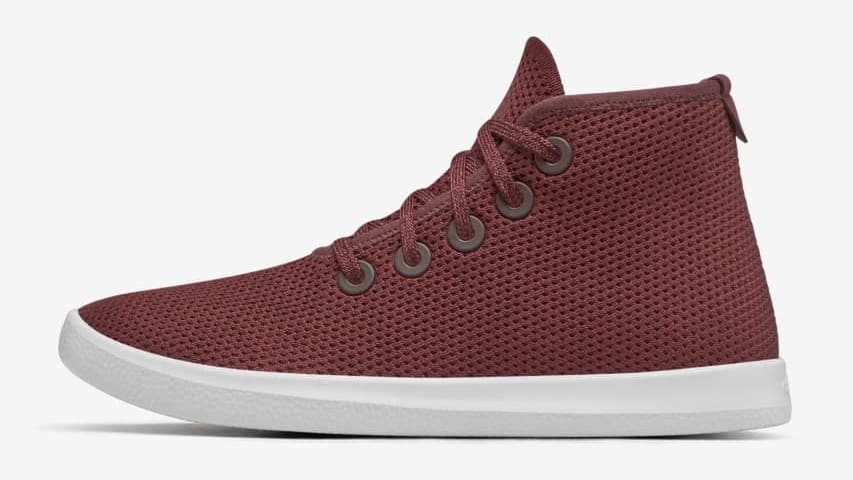 Women's Wool Runners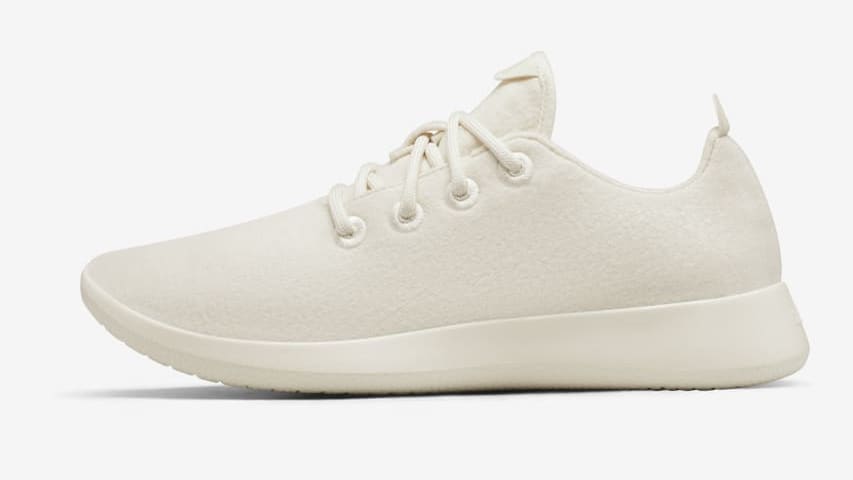 Women's Wool Runner Fluff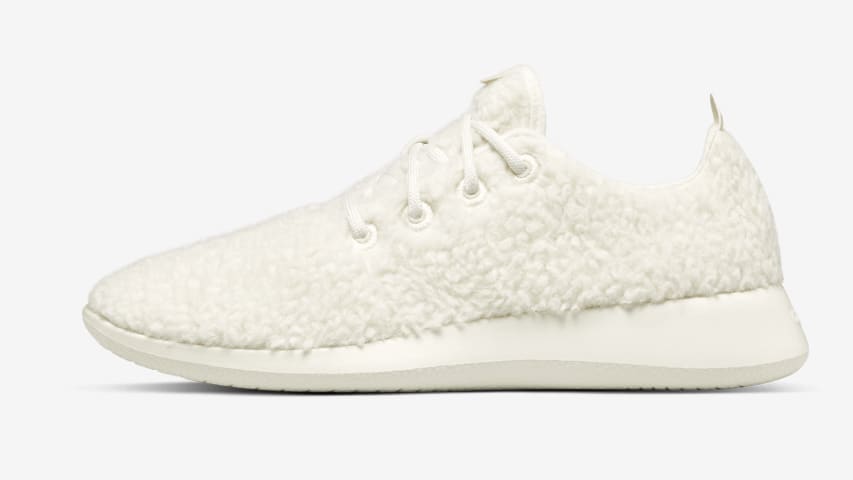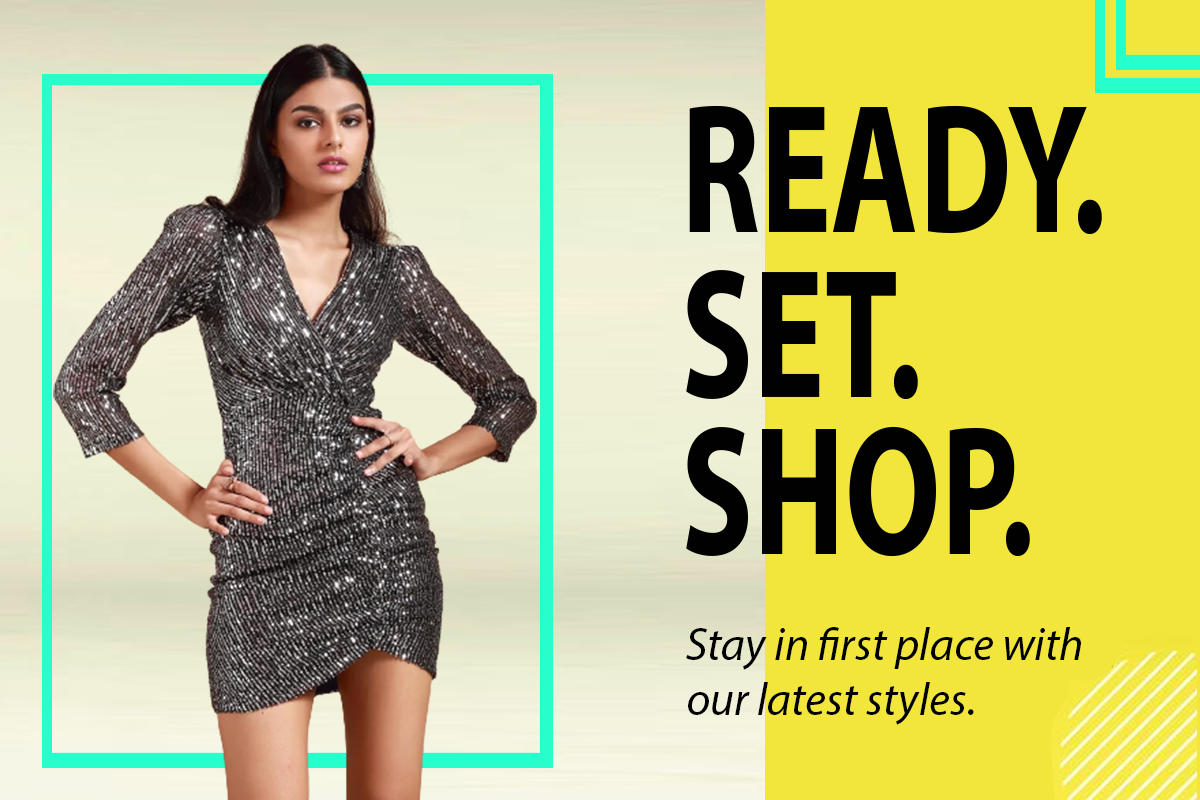 About QUIZ Clothing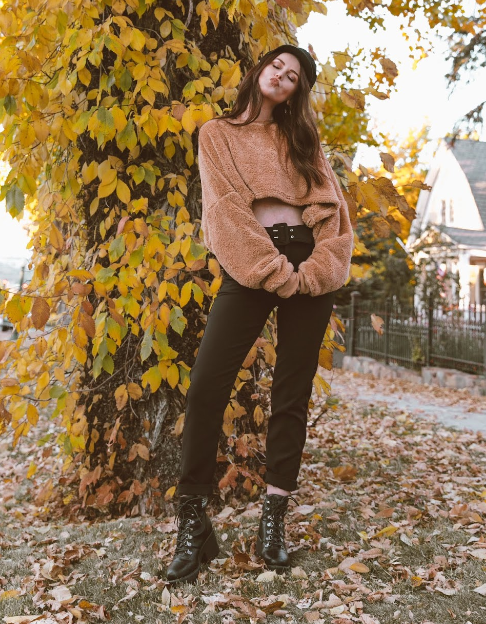 Just like any other British fashion brand, QUIZ Clothing is also known for its aesthetics, timeless designs, and sophistication. The brand offers a premium range of clothing pieces for all age groups and both sexes at quite competitive prices. One can easily rely on the brand to get the best of both worlds.
Precisely, QUIZ pays a lot of emphasis on offering the latest trends and cakewalk-style-driven looks without causing a dent in buyers' pockets. It caters to the fashion-forward women and men who are quite particular about clothes, fashion, and styles.
The brand leaves no stone unturned to offer a versatile range of fashionable and trendy clothes, accessories, and shoes for almost every occasion and outing. That's why the brand has been growing with each passing day.
Currently, it has over 250 stores across 13 countries, including the UK, Armenia, Egypt, UAE, Saudi Arabia, Jordan, Ireland, Pakistan, etc.
Quiz Clothing Review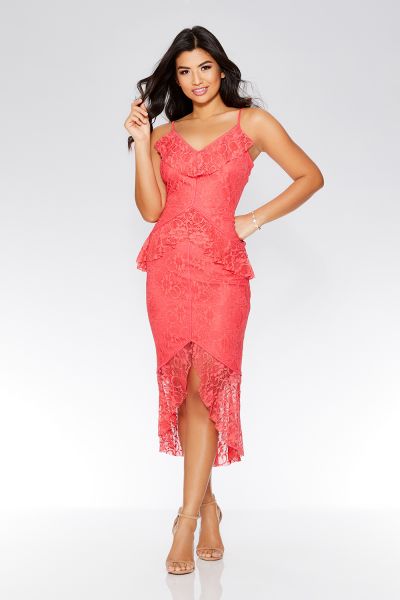 Shopping for trendy and fashionable clothes is one of the most satisfying and rejuvenating activities. Most of us love to shop and wear trendy and stylish clothes. In fact, it's a constant process to upgrade our wardrobe. But, if it happens without breaking the bank then it's nothing short of icing on the cake. Today, one can easily find out a plethora of online and offline fashion retailers offering a wide range of clothing pieces in various designs and styles.
When it comes to UK fashion brands then one must expect great craftsmanship, quality, creativity, and innovation. QUIZ Clothing is one such UK brand that offers an essential cocktail of British fashion and contemporary designs without causing a dent in one's pocket.
Quiz Clothing Dresses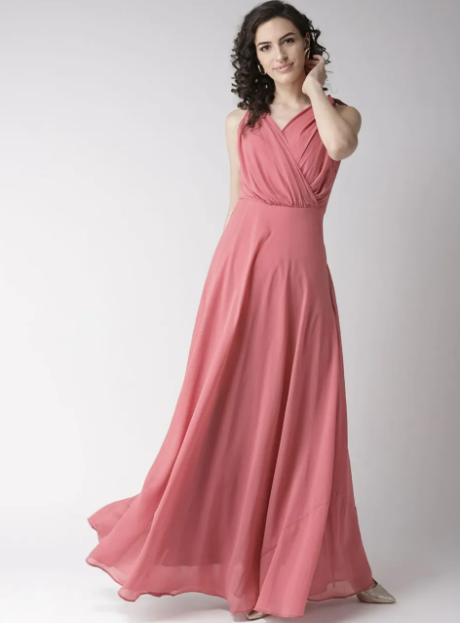 If you're looking for the perfect dress for a special occasion or just a dress that you can style casually every day, Quiz has many options. All dresses are designed in-house so they are unique to Quiz. Dress categories include Bardot dresses, sequin dresses, day dresses, evening dresses, prom dresses, bridesmaid dresses, bodycon dresses and maxi dresses. Quiz dresses are available in sizes 4-20 so there is something to suit all sizes. Each dress incorporates the latest trends, for instance, the AW/16 dresses focus on lace and Bardot styles in neutral colours for a glamorous, simple vibe.
Quiz Clothing Stores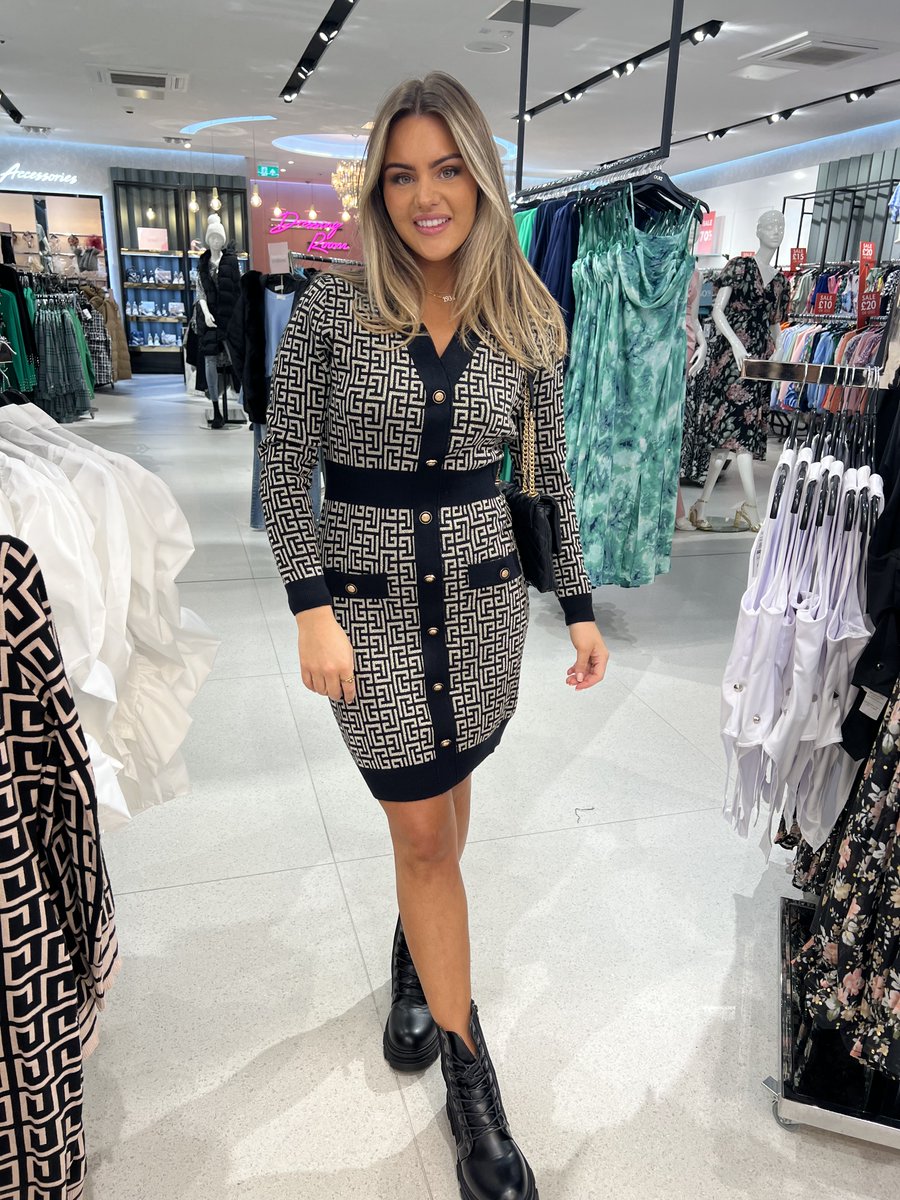 You can use the online store finder to find your nearest Quiz store. There are stores all around the UK. Stores are located as standalone stores in the likes of Chester, Grimsby, Peterborough, Swansea, Falkirk and Stirling. There are also Quiz clothing concessions in Debenhams, House of Fraser and M&Co. With 250 locations around the country, there is sure to be either a store or a concession near to you.
Quiz Clothing Sale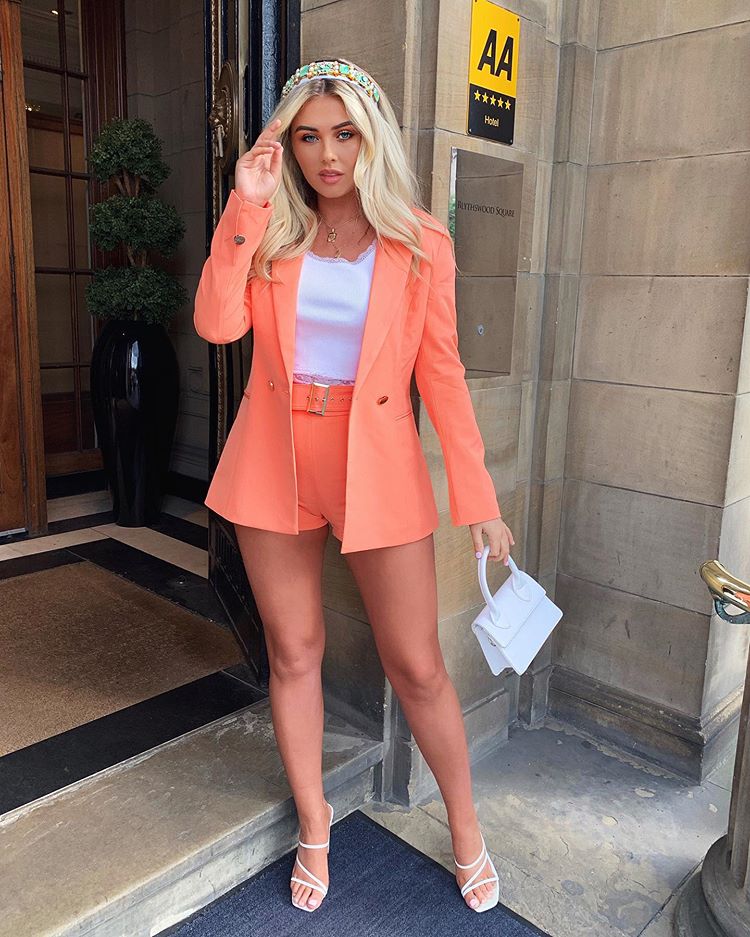 You can get great discounts on Quiz clothing using the online sale and in-store sales. Sales run seasonally, usually during the summer and at Christmas time. You may be able to get a great dress for the party season or some cosy knitwear to see you into the winter months, or perhaps a new coat to put away ready for the next set of cold weather.
Quiz Clothing Returns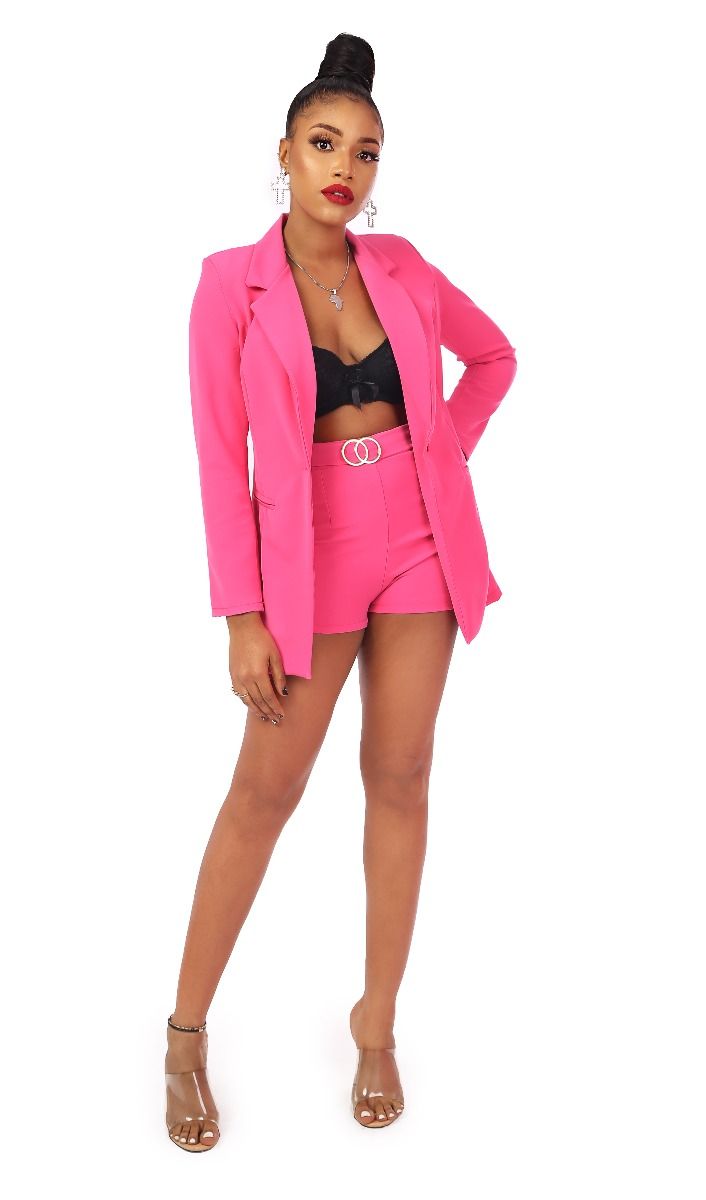 You can return a product to your nearest Quiz store if you have the receipt/web receipt, but only if the product is faulty. For standard returns, this must be processed via post. Log into your account on the Quiz website to generate a returns number, print the slip you are given and pop it in with the items to be sent to the free post address. Take the items to your nearest Post Office and remember to get a proof of postage. You can also return parcels conveniently by using Collect+, with over 5000 corner shops to choose from, which keep late hours. Your refund will be processed as soon as possible but you should aim to allow 7-10 working days for the refund to arrive back in your account.
Quiz Clothing Jobs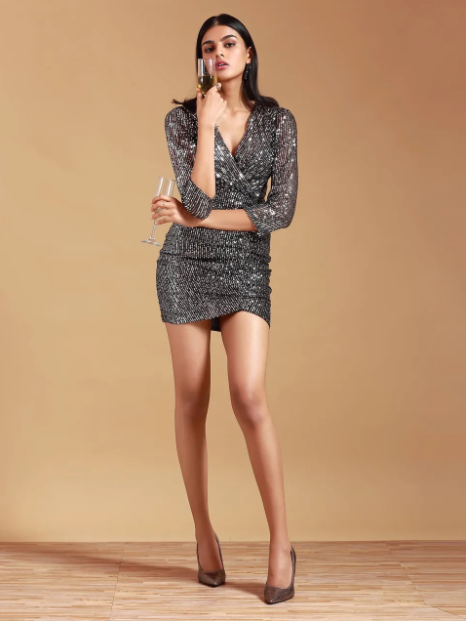 Thanks to a team of committed employees, Quiz has gone from strength to strength since its inception. The company seeks only the most dedicated and passionate employees to work in the fast fashion industry which is constantly changing. In return for enthusiasm and commitment, employees are offered the chance to enjoy a rewarding career with progression opportunities.
Vacancies available include management, assistant management, supervisors and sales assistants. Benefits include industry competitive rates of pay, staff discount scheme with up to 50% off items, bonuses and incentives, structured induction and training, stakeholder pension scheme and childcare vouchers. There are lots of opportunities for progression if you work hard.
Popular Questions About Quiz Clothing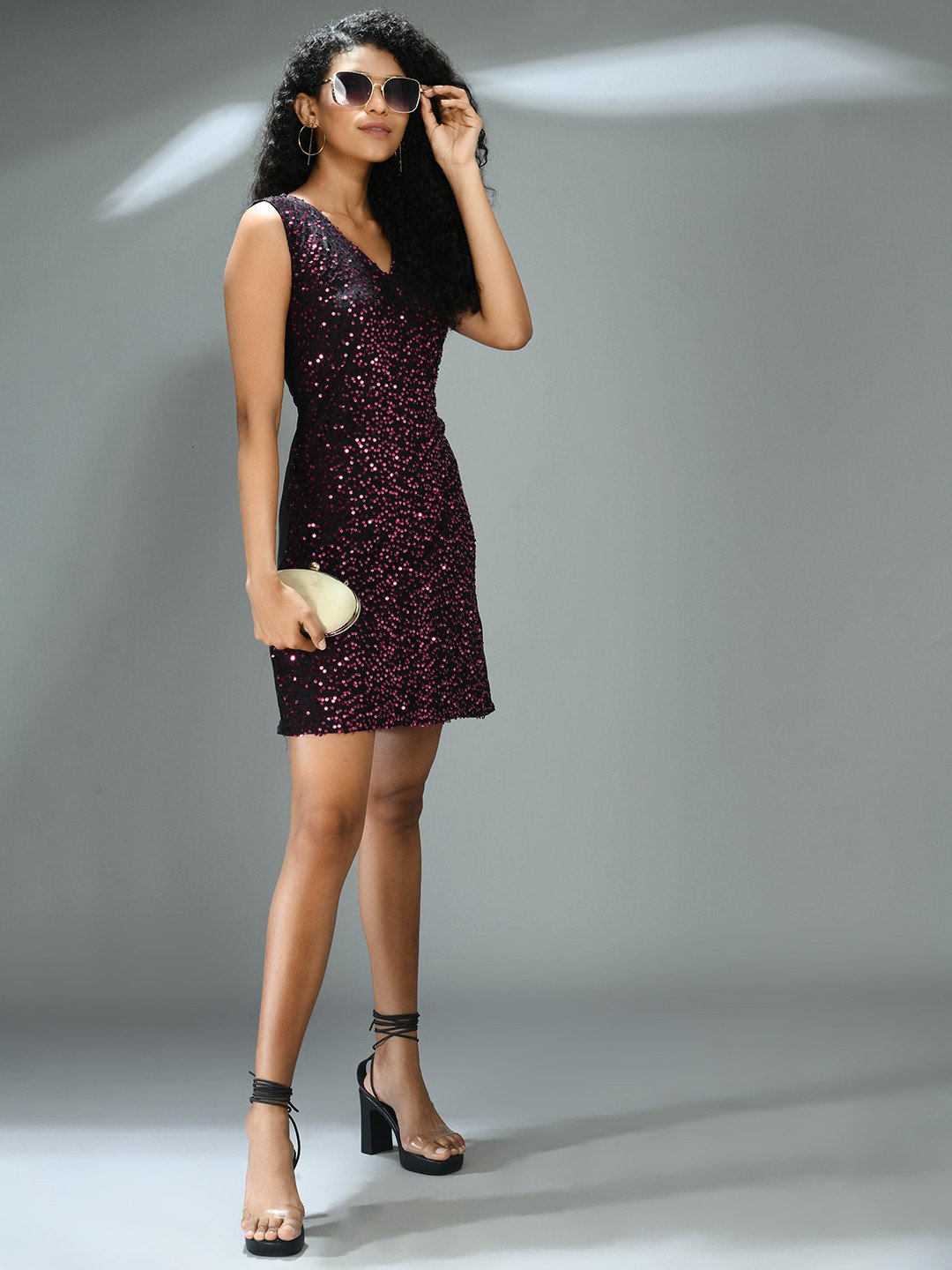 Where is Quiz Clothing in Liverpool?
There is a Quiz concession in the Outfit store on Speke Retail Park, Liverpool. There is also a concession in the Debenhams store in the city centre. For full store addresses, see the Quiz website.
How much do Quiz clothing pay?
The rate of pay for a sales assistant working in a Quiz clothing store is £6.25 an hour according to online sources.
Are Quiz clothing sizes small?
According to online forums, items from Quiz clothing can come up small, so it is always advised to try before you buy or take advantage of the free returns policy.
Who delivers Quiz clothing?
Quiz uses a range of couriers to deliver their clothing, depending on which method of delivery you choose you may have a different courier.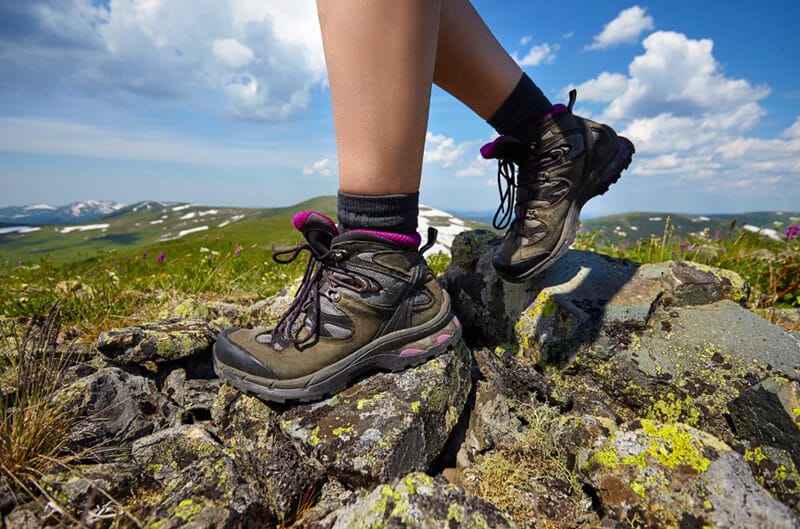 I am so happy to say that rei co-op has come up with a new line of hiking boots! The reason why this makes me so excited is that i love rei co-op products. One of my first hiking backpacks was the rei co-op flash. I still have it to this day because it is of excellent quality and it is pretty durable. Most of rei's products are pretty affordable, and that includes the rei co-op flash hiking boots. The hiking boots are great for beginner hikers or for people that would love some lightweight hiking boots. Another plus is that they are made from recycled material! I am all about companies that strive to make the planet a better place so check out below to get my full rei co-op flash hiking boots review. I talk about comfort, traction, water resistance, weight, support, value, and much more.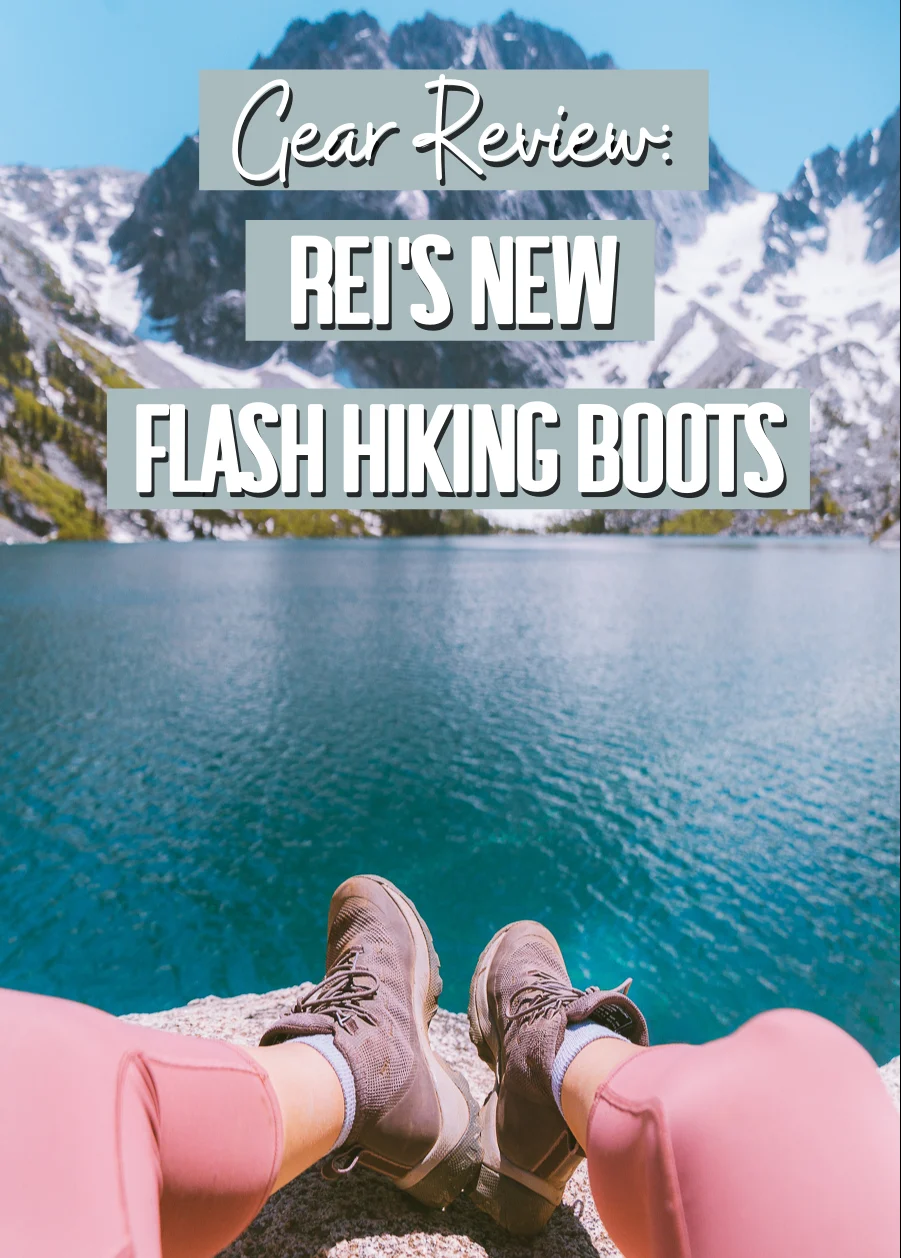 REI Co-op Flash Hiking Boots Review
How I Used The REI Co-Op Flash Hiking Boots
I hiked with the rei co-op flash hiking boots on 4 different trails around washington state. I experienced these shoes on different terrains like crossing streams, steep rocky areas, and muddy trails. Overall my experience was pretty great with the rei flash hiking boots, and i loved how lightweight they felt! Here are the trails i hiked to test them out:
Lake stuart: 9 miles round trip, 1665 ft. Elevation gain
Emmons moraine: 3 miles round trip, 900 ft. Elevation gain
Suntop lookout: 2.1 miles round trip,1100 ft. Elevation gain
Colchuck lake: 8 miles round trip,2280 ft. Elevation gain
Weight
The one thing that stops me from using hiking boots all the time is weight. Most hiking boots can be a little heavy or bulky when compared to hiking shoes. Luckily, the rei co-op flash hiking boots is on the lighter side compared to many other hiking boots in the market. Many hiking boots are usually over 2 lbs, while the rei co-op flash hiking boots is around 1 lb 13 ounces.
Usually, when hiking long trails, the boot's weight can start to weigh you down, but luckily, while hiking colchuck lake (9 miles round trip), the weight of the rei co-op flash hiking boots didn't bother me.
Traction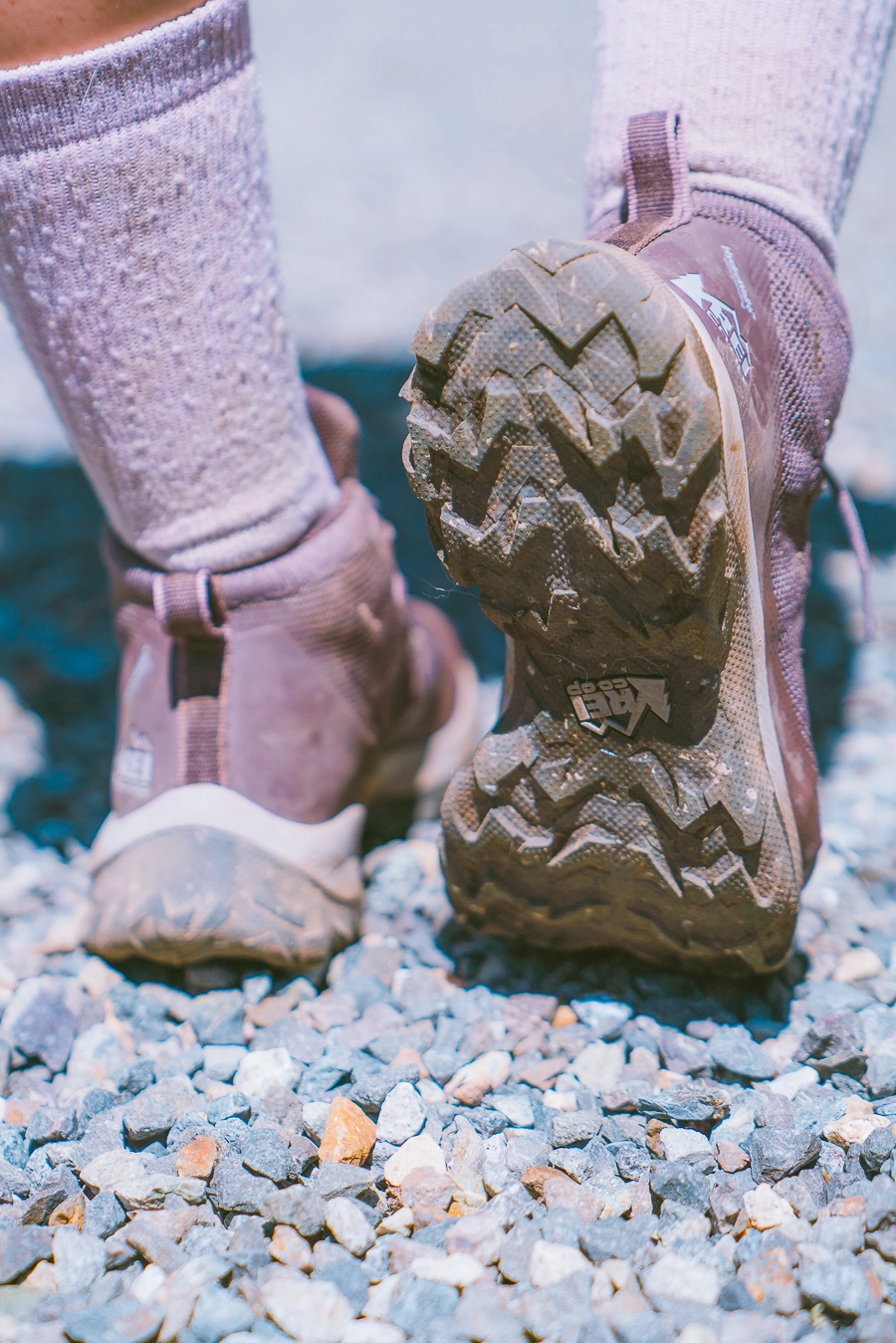 Colchuck Lake trail is known to be one of the rockiest trails in Washington. I was thankful that the REI Co-op Flash Hiking Boots worked well with the nonstop rocks and high elevation gain. This was especially true when going downhill, which is usually my least favorite part of the hike. Most of the time, I have trouble, and I slip or fall on trails, but the REI Co-op Flash Hiking Boots prevented this while hiking Colchuck Lake.
Water Resistance
There are streams and rivers all over Washington, and I was able to test out how waterproof the shoes were. Even though I walked through countless streams, my socks stayed nice and dry. So I submerged them in a shallow river to test them out, and yup, my socks were still dry!
When hiking shoes are waterproof, there can be some problems with breathability. This usually leads to blisters because your feet start to sweat when hiking. I luckily didn't get any blisters on my feet the whole time I was testing out the shoes, which means that the shoes are waterproof yet breathable. This is a huge plus!
Durability
After putting the boots through hell on those 4 hikes (I am not the most graceful hiker), the shoes still looked in pretty good condition. There were no major scratches, no major peeling, and the fabric looks fine.
Comfort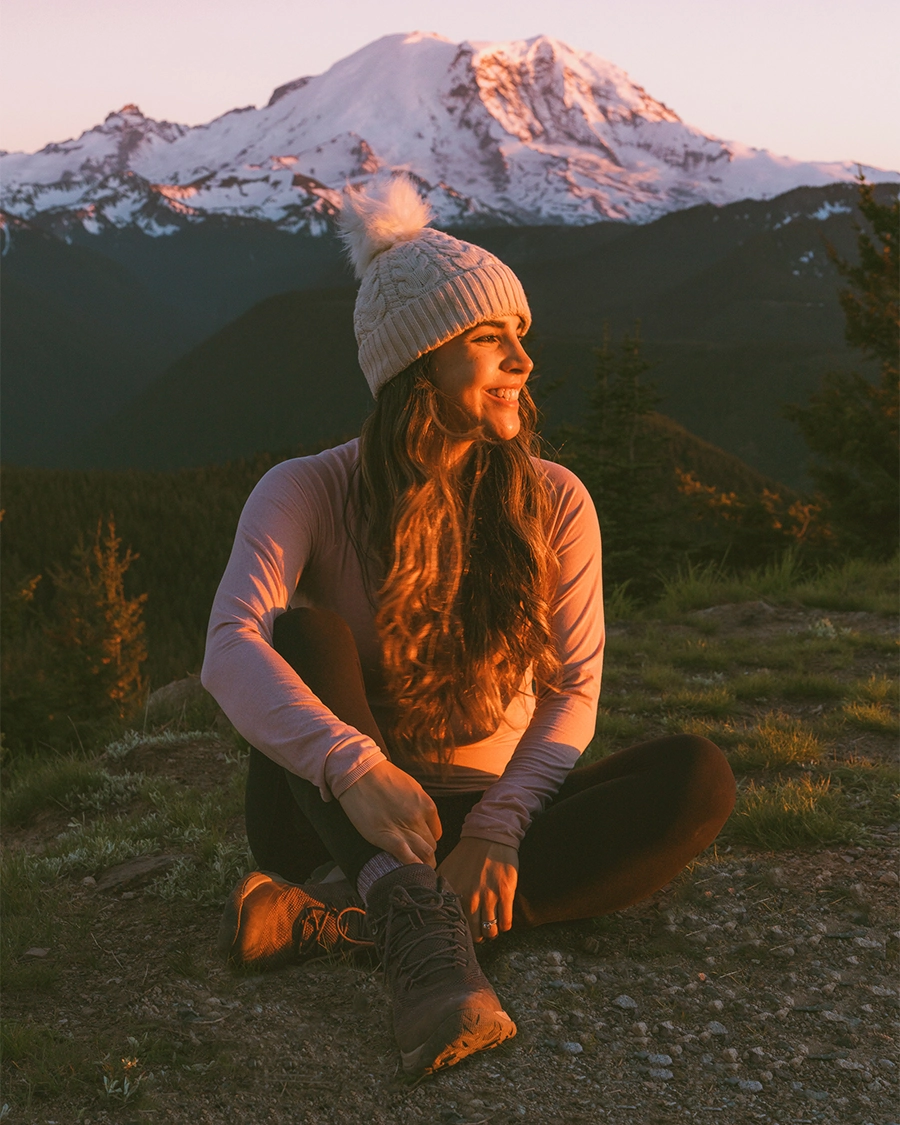 The rei co-op flash hiking boots will need to be broken into. Like most hiking boots, it is recommended to use them around town, at home, or on leisure walks before going on a difficult hike.
They are stiff at first, but they eventually mold to your feet. I do like that there is room in the toe box. I ordered half a size over my regular shoe size (i am usually a size 7 and got a size 7.5), and it fit just fine. I had no problems with my feet swelling or my toenails feeling uncomfortable.
Support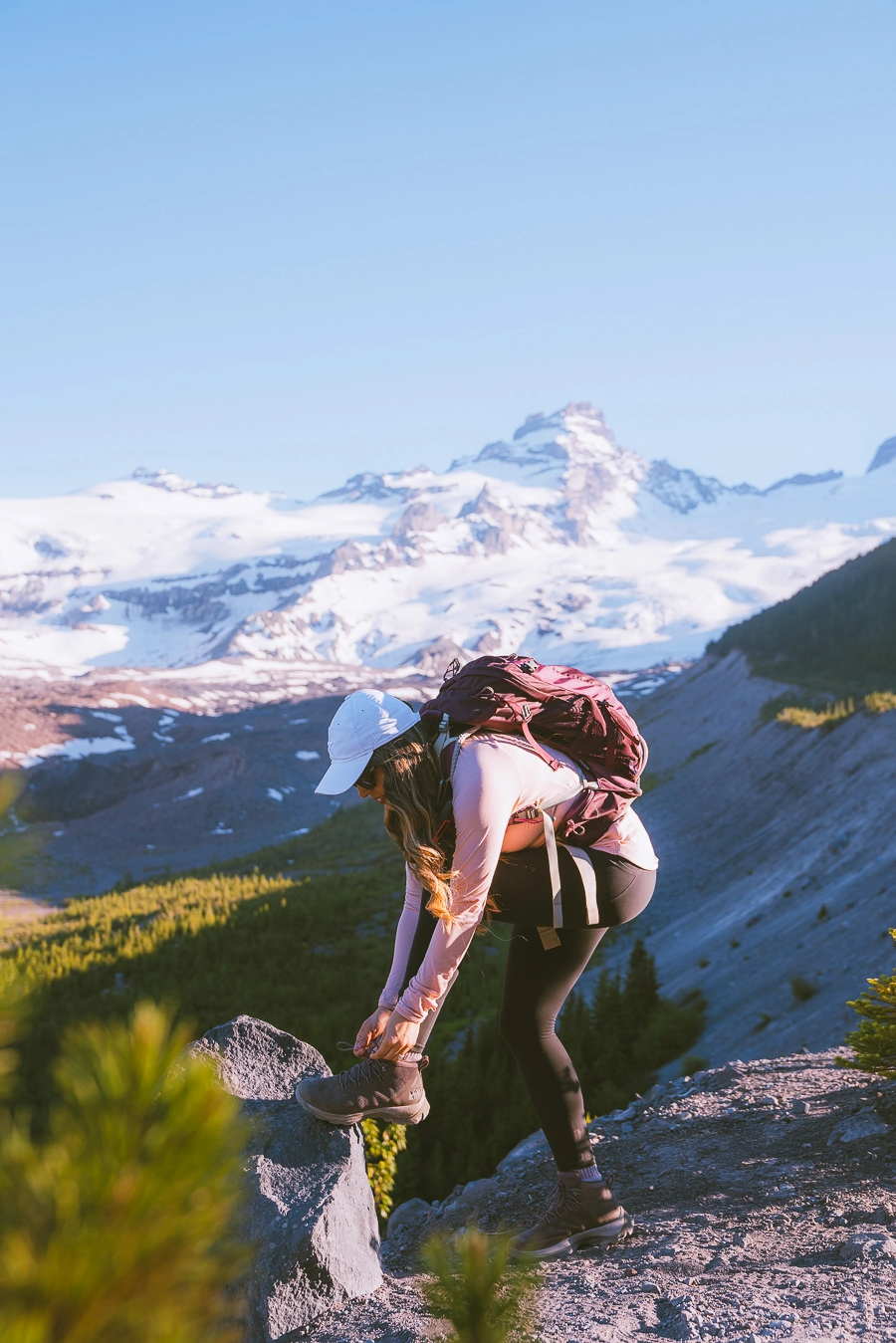 My ankles usually bend like crazy after hiking many miles, and it definitely happened to me while hiking Colchuck Lake. Luckily, the REI Co-op Flash Hiking Boots was able to help prevent any major damage to my ankle when it bent(I have injured my ankle this past year while hiking while wearing other boots). I was pretty happy with the ankle support the REI Co-op Flash Hiking Boots gave me.
The boots' insoles felt pretty supportive, but I know that this could be different for others. I have high arch feet, and the insoles felt perfect for me.
Value
I have reviewed and bought many hiking boots throughout the years, and the REI Co-op Flash Hiking Boots is the most inexpensive boots I have had on hand. I always love that REI Co-op makes its products available to everyone while still maintaining good quality. The cost for the boots ($130) is a great price, especially for budget buyers and new hikers.
REI Co-op Flash Hiking Boots Appearance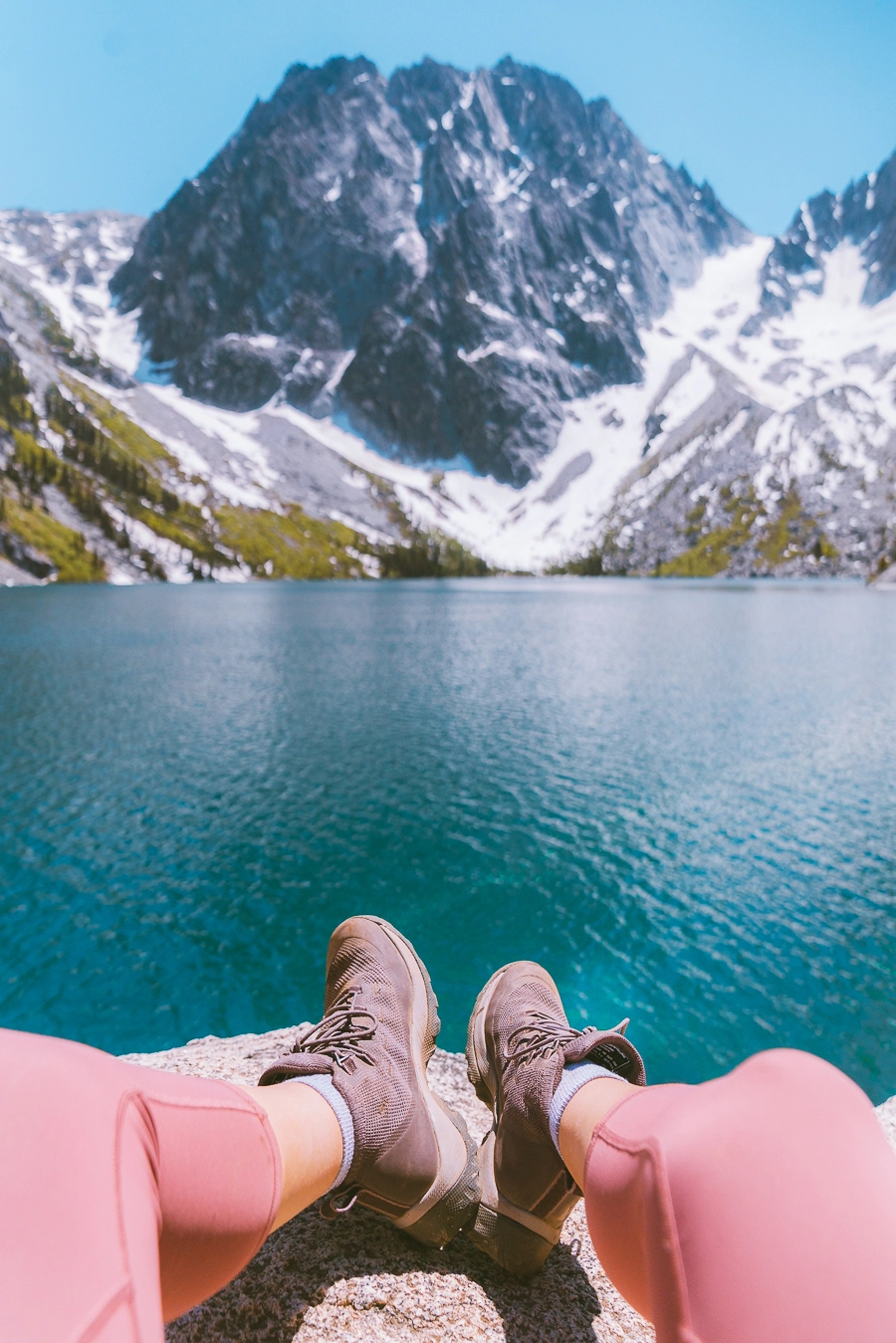 The REI Co-op Flash Hiking Boots comes in three colors;  Bark/Moss, Granite Black, and Smoke/Lilac. I picked the Smoke Lilac because I usually wear more pink colors on my hikes. I really loved the Lilac color and even got compliments of the color on the trails. I love when outdoor brands make hiking apparel more attractive and fun for women! I hope REI Co-op adds even more fun colors in the future!
Style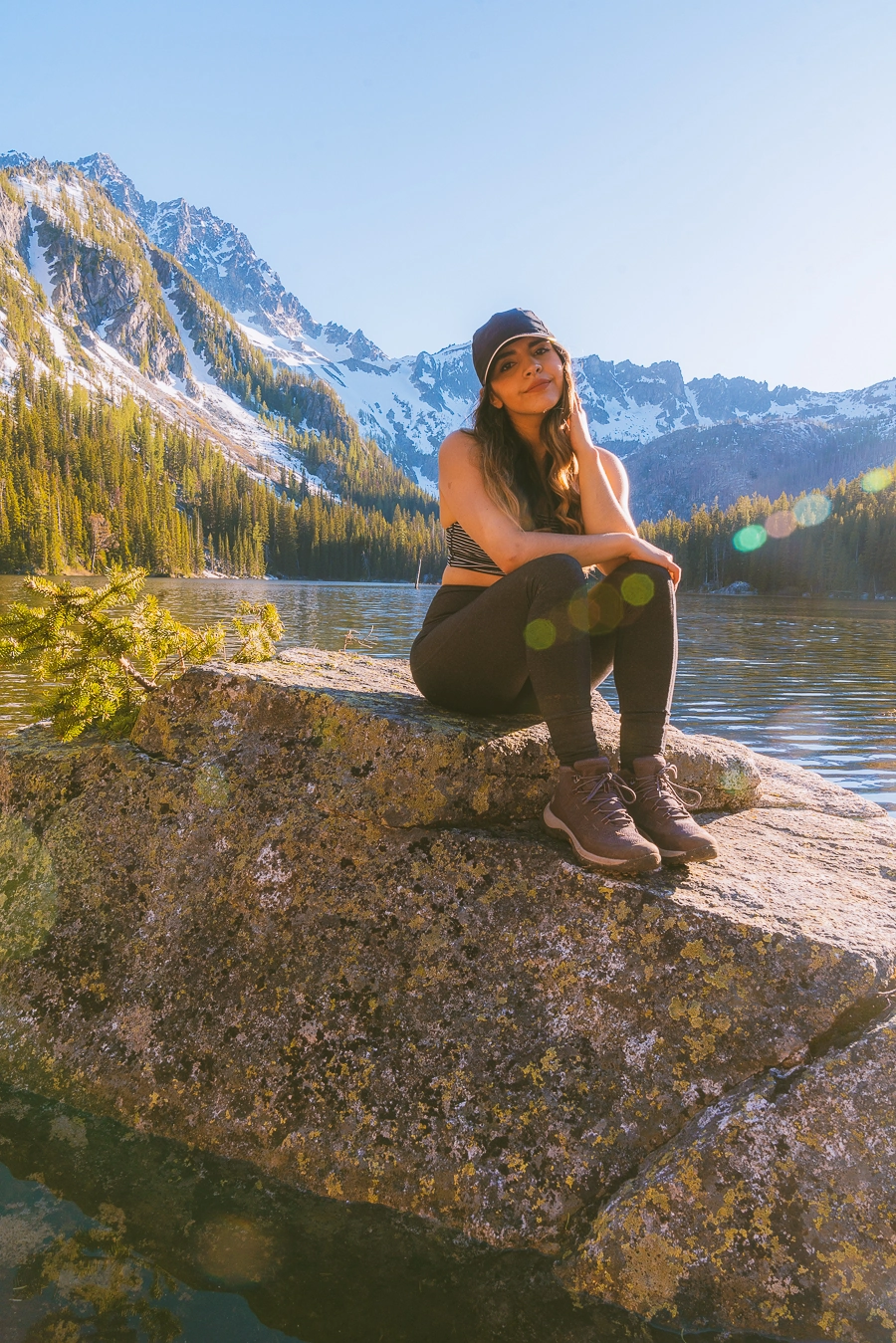 What I loved about the REI Co-op Flash Hiking Boots is how little they resemble hiking boots. Some hiking boots can look pretty manly, rugged, and bulky. Luckily, I can pretty much wear the boots in many places, not just the trails. Hey, I am all about versatility!
The style of the shoes and the weight makes it pretty easy for me to head to the grocery store or to the mall. When it comes to hiking, looks are probably one of the least important factors (which is why I put it at the bottom), but it is nice if your shoes are versatile. Plus, I like looking cute on the trails because that is my jam and my brand!
Eco-Friendly Materials
Usually, when you think about hiking boots, you do not think about Eco Friendly. Well, my friend, the new REI Flash hiking boots are made with recycled materials. Here are some of the specs:
Membrane uses 75% recycled polyester
Upper sole is 99% recycled PET
Upper sole is also 30% recycled TPU
TerraGrip rubber is 20% recycled
As someone who loves the outdoors, I am always so excited to hear when outdoor brands use eco-friendly materials, which is a huge plus. Read more on the recycled materials they use here
Conclusion
Thanks for reading all about the new REI Co-op Flash Hiking Boots! Let me know if you have any questions and make sure you check out some of my other hiking posts:
.