And, of course, QVC UK knows this. So there's no wonder why they can be found with a solid presence in the app store markets.
If you find yourself asking who or what QVC UK is, then hang on. Feel free to take a look at our full QVC UK review guide if you want to understand the QVC shopping platform a little better.
Going forward, we'll assume you know the main gist of this mind-boggling shopping-made-easy platform.
From applications on the TV to your smartwatch, you can have QVC UK with you wherever you go without ever missing a deal.
Let's take a quick look at the QVC apps available to you and what they can do to make your life easier.
Smartphones
You don't need me to tell you why apps and smartphones go together. Smartphones are pretty much the most popular device for apps. And QVC UK has mobile apps for both iPhone and Android.
Featuring only slightly different UI designs, the iOS and Android applications both offer the same functionality to QVC customers.
Here's what functions QVC customers can do:
Watch QVC UK live
View deals like the TSV
Shopping insane deals
Have access to the QVC TV Guide
Those are the main highlights of both applications, and both appear to be doing well with other customers.
The iOS version of the app comes in with an excellent 4.8-star rating on the Apple app store, so you can expect to have a smooth time with the app.
Here's the iOS version: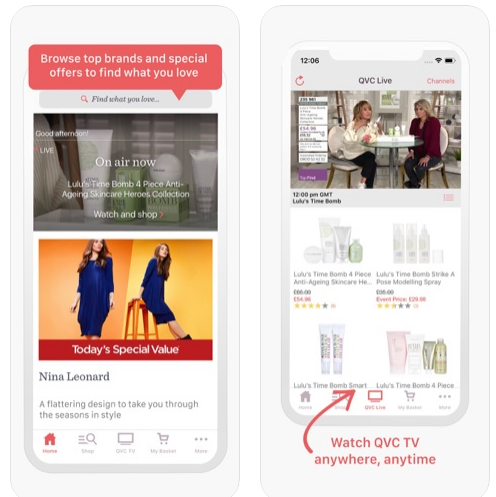 Pretty sleek, right?
But we can't leave out the Android fans. The QVC UK Android app comes in at a 3.5-star rating on the Google play store. Another solid score (although it's not the best).
Take a look, Android fans: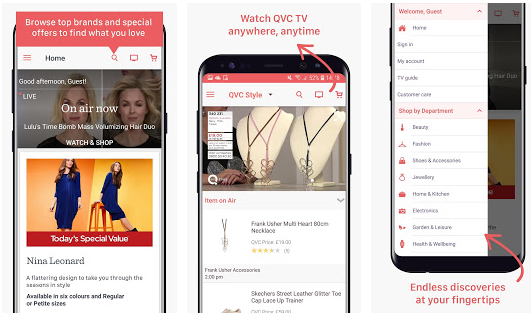 Can you spot the differences? Either way, another excellent UI design that you should have no trouble using.
It's worth noting that there's also a QVC UK app for iPad. It's basically the same as the iPhone version of the app, with more of a focus on watching QVC UK live.
The main difference is that you can post directly to social media from the app when watching.
QVC TV on your TV in more ways than channels
If you're the proud owner of an Apple TV, then QVC UK has a present for you.
It's very own Apple TV app:

That's right. You can make QVC become the sole focus on your Apple TV.
See a deal you like? Use the Speed Buy button to make a quick purchase straight from your TV!
You don't even need to call — just another excuse to dodge human interaction, yay!
As the picture above tells it, you can even browse recently on-air items. You can't do that with regular TV.
If you own an Apple TV and want to become a more serious TV shopper, then grab this app and get watching.
Bring QVC UK everywhere. No, seriously.
At the beginning of this article, we said you could have QVC UK everywhere you go. We meant that.
If you own an Apple Watch, you can sync it right up to your iOS app and get QVC right on your wrist!
Talk about convenience, right?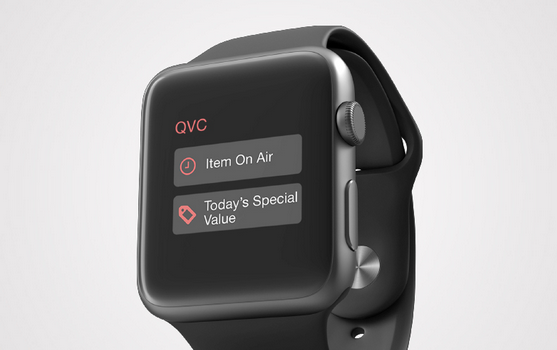 When you sync your app up to your Apple Watch, you can do a surprising amount of things.
Here's what you can do:
See the current Item On-Air
Check the price of the Item On-Air
Check the review rating of the Item On-Air
See Today's Special Value
That's pretty useful functionality for a little square on your wrist.
Final thoughts
If you're a big QVC UK fan, then you should absolutely look into getting some of their apps for your favorite devices.
You could have deals at your fingertips and always see what's currently on air. Plus, you can even remove the phone call portion of buying from your TV.
That's good news for you introverts out there.
Overall, QVC offers a good assortment of apps that really let you flex those shopping muscles.