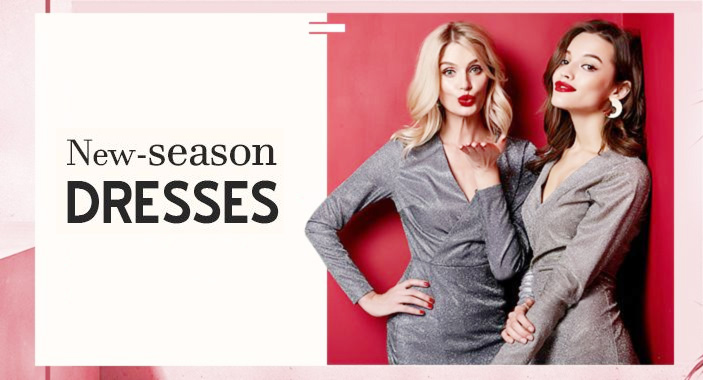 This post contains affiliate links. When you purchase through links on this post, we may earn an affiliate commission. Thanks.
About Anthropologie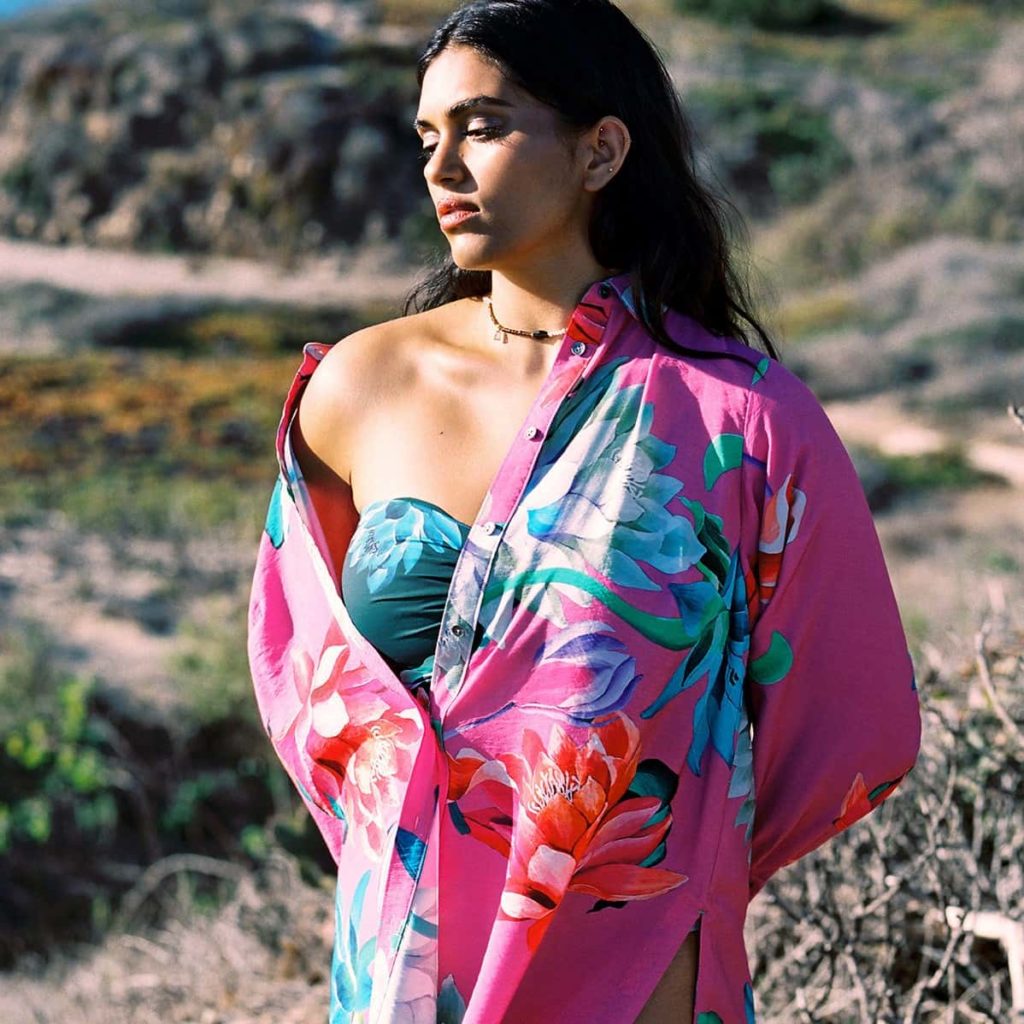 Do you want to live an Instagrammable life? Anthropologie is designed to meet your aesthetic needs, whether that be cottage core, minimalism, or urban contemporary.
This lifestyle goods store offers a broad selection of apparel, accessories, wellness products, and home decor. Basically, if you're a fan of Urban Outfitters, CB2, and Free People, this boutique is right up your alley.
There's a good chance that you're already well familiar with Anthropologie. I mean, they have over 4.3 million followers on Instagram, so they're obviously Insta-famous. On top of that, dozens of media outlets have published articles about this mega-popular retailer, including HuffPost, New York Magazine, and PopSugar.
If you're not an avid reader, you may have spotted celebrities such as Meghan Markle, Mindy Kaling, and Olivia Rodrigo wearing their clothing.
For those wondering what the hype is all about, we suggest you stay put for this Anthropologie review. We'll take a closer look at the brand, its bestsellers, customer ratings, promotions, and more to help you decide if they're worth checking out.
Overview of Anthropologie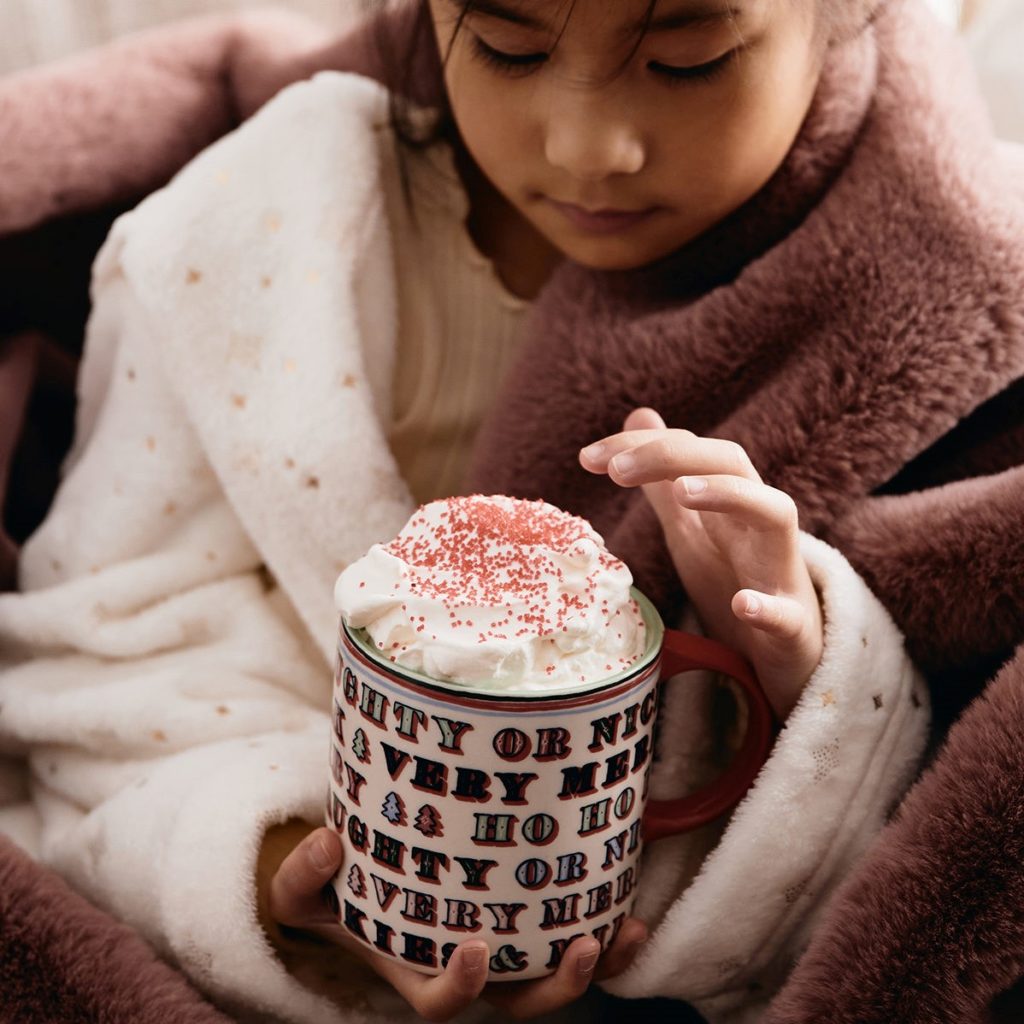 If you're finding similarities between Anthropologie and Urban Outfitters, there's actually a good reason why. Both companies were founded by Dick Haynes, who created UO in 1970 in Pennsylvania state.
Anthropologie didn't come into fruition until 1992 when the owner realized the veritable lack of options posed for women's clothing. That's not to say that there was a shortage of skirts, shirts, or dresses—but instead, a scarcity of creativity and individuality in the retail industry. And so, Anthropologie was created to meet those needs.
Over the years, Anthropologie went on to become one of the most successful brands on the market. They have over 200 stores worldwide, including those in Canada, the United States, and France. The company is also involved in several philanthropic efforts, as seen through their donations made to the Black Artists + Designers Guild and The Innocence Project.
According to Anthropologie, they look to serve one customer: "She has a sense of adventure about what she wears, and although fashion is important to her, she is too busy enjoying life to be governed by the latest trends. To her, Anthropologie is a portal of discovery—a brush with what could be. A place for her to lose—and find—herself."
Before we get into this Anthropologie review, let's go over some initial brand highlights:
Highlights
A wide selection of apparel, accessories, home goods, and wellness products to choose from
Offers a mobile app that customers can download
Has a sale outlet to help buyers save money
Positive customer reviews
Provides free shipping on orders $50 or more for a limited time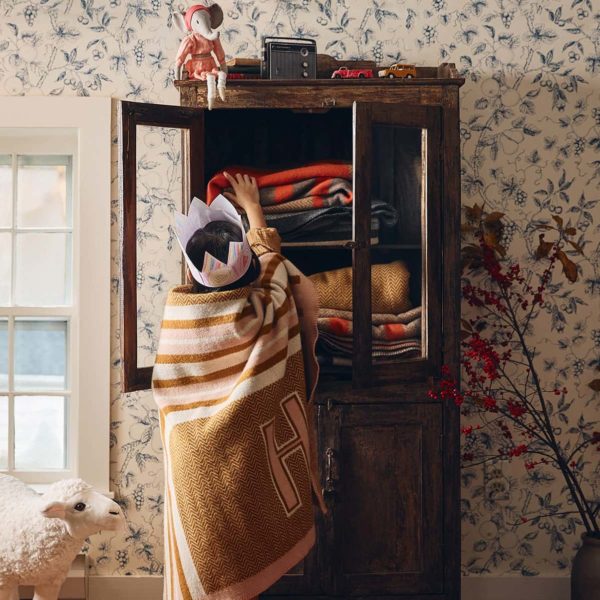 In Anthropologie's eyes, you're a woman of good taste. You covet the city life, have an inkling for arts & culture, and love the taste of adventure. Oh, and you also look good while doing it. Based on its expansive collection, this online retailer knows how to sell a fantasy.
They only cater to colorful personalities, which can range from aesthetics like bohemian, New York contemporary, casual streetwear, and old-school academia.
Anthropologie also sells accessories, home decor, furniture, and beauty products that offer the same aesthetic. If you happen to own at least one of each category, you're practically living on a Pinterest inspo board.
Care to see what they've got? To keep things short, this Anthropologie review will only feature a few of the brand's best-selling products. Trust me, it'll be hard to abstain from any online purchases after we've given you the rundown.
Anthropologie Dresses Review
Dresses are the pinnacle of femininity—and just so we're clear, this concept is not exclusive to any kind of gender. Everyone can rock the classic midi gown or that sparkling sequin number. Fortunately, the Anthropologie dresses collection sure knows how to make a grandiose statement.
From satin slips to sweater dresses, let's take a quick look at one of Anthropologie's top-selling designs, shall we?
Anthropologie Let Me Be Beaded Mini Dress Review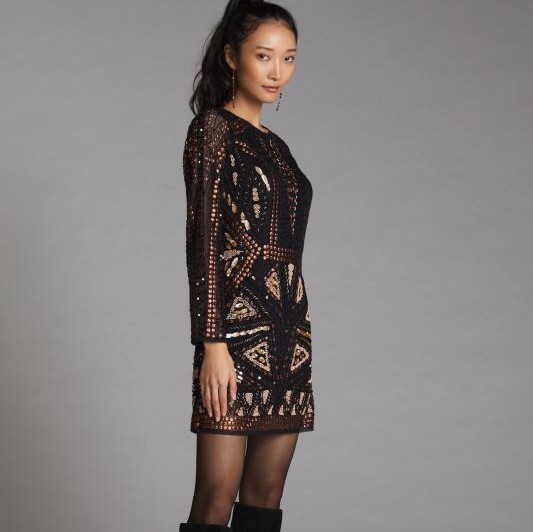 She's stunning, she's sexy, and she's a star. Oh, we aren't talking about anyone specifically—we're just hyping up the Let Me Be Beaded Mini Dress.
That's not to say that you can't be this ideal person, as this number will definitely catch someone's attention at the next cocktail party. Decorated with an assemblage of bead work, embroidery, and sequins, there's honestly no need to bring out the disco ball. You're practically one.
Lined with black polyester fabric, this eye-catching beauty comes with long sleeves, a body-con silhouette, and a cropped cut to help you show off your legs.
The Let Me Beaded Mini Dress speaks for itself, but for those unafraid of more glam—we suggest some big statement earrings, black tights, and sharp stiletto heels to match. Currently, it retails for $270 in total.
Anthropologie Wedding Dresses Review
Did you know that Anthropologie sells wedding dresses? I know, I'm as equally as surprised as you are. Like Reformation, this brand is one of several retailers looking to make it big in the 'marriage' industry.
For those preparing to exchange vows, we'll highlight one of the hottest Anthropologie Wedding Dresses the brand offers on its website.
Anthropologie Wtoo by Watters Miles Gown Review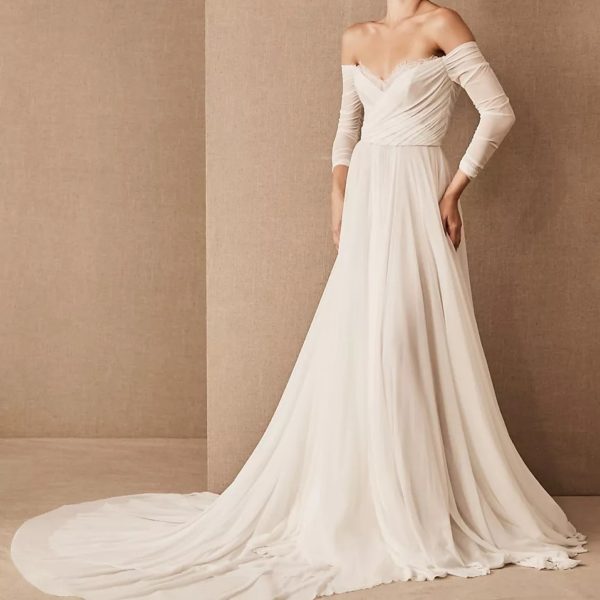 The Wtoo by Watters Miles Gown captures the romance of fairy tales, towering castles, and spring-time foliage in its Belle-inspired silhouette. Made with stretch mesh, this stunning dress features shirred sleeves, peekaboo eyelet lace, and a dramatic full skirt to match. To keep things elegant, it comes with an off-shoulder bodice to help accentuate the collarbones.
If you're a stickler of simplicity, the Wtoo by Watters Miles Gown requires no over-accessorizing. It just needs some simple earrings, a bright lip, and matching heels to help tie the look together. Before you say ' I do,' You should know that this $1,278 wedding dress is available to try on at your local BHLDN store.
Anthropologie Furniture Review
If we were to describe the Anthropologie Furniture collection, we'd say that it's a mix of urban contemporary, art-deco, minimalism, and shabby-chic. Every piece offers a touch of creativity due to its unique design and color palette, which can range from sofas, sectionals, coffee tables, and bookcases.
Perhaps it's time to put Ikea to sleep. This Anthropologie review will spotlight one of our favs within its furniture collection.
Anthropologie Mina Two-Cushion Sofa Review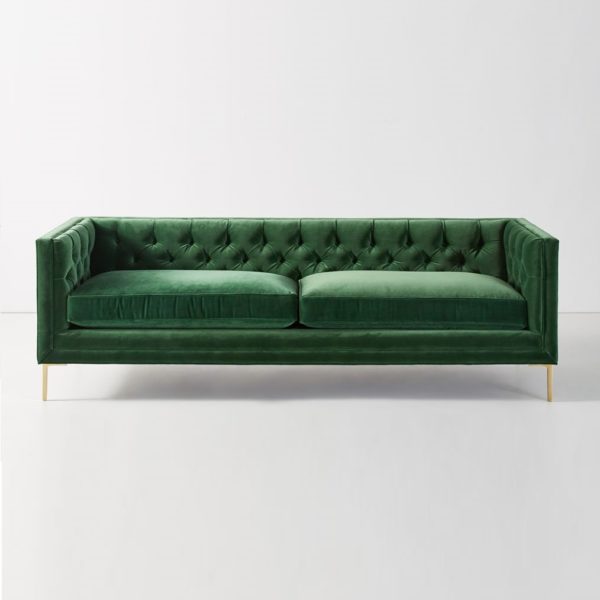 The Mina Two-Cushion Sofa is what you need to turn any normal living room into an elevated family space. Its emerald hue speaks volumes of elegance, sophistication, and opulence. It honestly begs the question, does the Queen own this sectional at Buckingham Palace?
Built with a kiln-dried hardwood frame, this cushioned couch comes with removable pillows and cast brass legs for a touch of glam. If you're looking to add the Mina Two-Cushion Sofa to your living room, we suggest adding some matching throw pillows and a gold-rimmed coffee table for some added oomph.
You should know that the Mina Two-Cushion Sofa is also available in other colors, such as yellow and red. Depending on what hue, fabric type, and size you prefer, the cost for this sectional varies. This includes:
79" in green velvet: $2,398 
79" in tremiere porto velvet: $2,498 
94" in lilac Belgian linen: $2,798

Anthropologie Home Review
Of course, no home is complete without some complementary decor. To match your new furniture, this brand provides a large assortment of decorative furnishings. From mugs to warmly scented candles, this Anthropologie review will briefly look at one of the company's hottest picks down below.
Anthropologie Capri Blue Fir & Firewood Glass Candle Review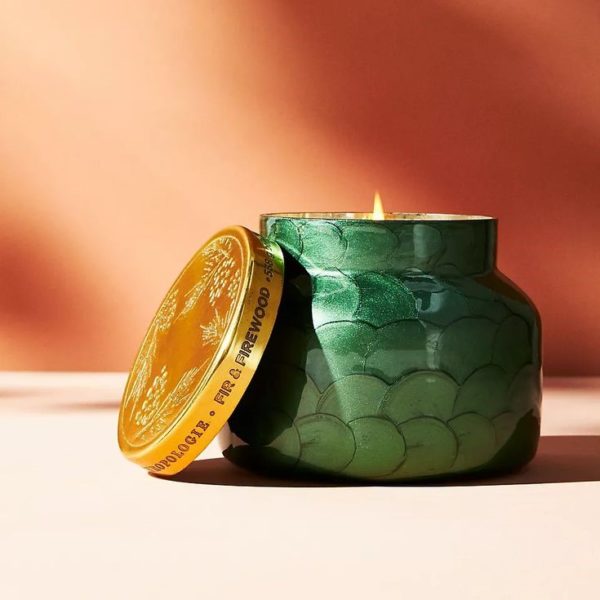 I don't want a lot for Christmas. There is just one thing I need, and that's the Capri Blue Fir & Firewood Glass Candle. This holiday-themed treat is the best way to get all riled up for the December season, as it invites heady notes of apple, clove, white birch, and pine needle. If anything, it should remind you of oven-baked pies and setting up the Christmas tree.
Set in a stunning green scalloped jar, this decorative piece will look stunning placed on your desktop or coffee table. If you're looking to induce some holiday-themed aromatherapy, we suggest a warm bath, soothing music, and some gingerbread cookies on the side.
Considered part of the Anthropologie Home goods collection, the Capri Blue Fir & Firewood Glass Candle retails for $27 instead of its $34 markup.
Anthropologie Mirror Review
All vanity spaces require a jewelry box, a collection of makeup and skincare, and of course—a stunning mirror as its centerpiece. Don't take it as a sign to opt for any ordinary frame, as it poses a great opportunity to splurge for something a bit fancier. Luckily, Anthropologie can definitely cater to your aesthetically-inclined needs.
For now, this Anthropologie review will feature one of the brand's coveted designs for your reading pleasure.
Anthropologie Gleaming Primrose Mirror Review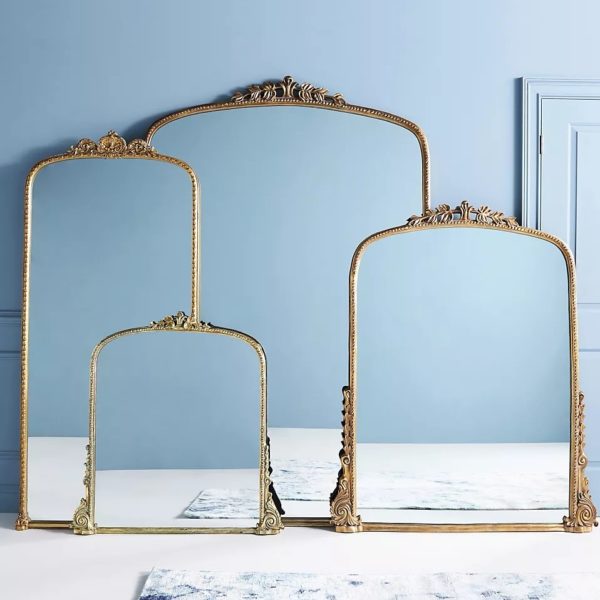 The Gleaming Primrose Mirror is something that the Evil Queen would definitely use to keep tabs on Snow White. Best of all, it comes in a variety of sizes in case she wants a frame in every room in her castle. Framed with gold-painted decals, this vintage-inspired reflector can help add a touch of romance and royalty to your living space.
If you're not a fan of gold, this Anthropologie Mirror also comes in a silver, black, or verdegris frame. In terms of placement, we suggest using it as a floor piece, a way to decorate your vanity or an accessory to add to the foyer. The price for Gleaming Primrose Mirror varies in terms of size, including:
3' in gold: $548 
5' in black: $898 
7' large in silver: $1,598 
Anthropologie Bedding Review
It's time to build the bed of your dreams. Once you've picked out the frame, you'll need to get the appropriate bedding to help match its aesthetic. The best thing about Anthropologie is that customers don't need to look far when it comes to unique designs. They've got colorful patterned pillows, duvets, and bedspreads for days.
To help narrow down your choice, this Anthropologie review will suggest one of our favs—which is the Chenille Jeannine Duvet Cover.
Anthropologie Chenille Jeannine Duvet Cover Review
The Chenille Jeannine Duvet Cover keeps things light and plush thanks to its pink, macaron-esque hue. This cozy bedspread is super soft in construction, which can definitely help you keep nice and toasty during the cold season.
For added detail, it comes with "concentric motifs rendered in an embroidered couching technique." In short, it provides dimension, movement, and visual interest that other blankets don't offer.
The Chenille Jeannine Duvet Cover is available in 5 different sizes, which all vary in price. Unfortunately, the twin, full, and California king options are currently sold out, which only leaves the Queen and King sizes for customers to purchase.
Who is Anthropologie For?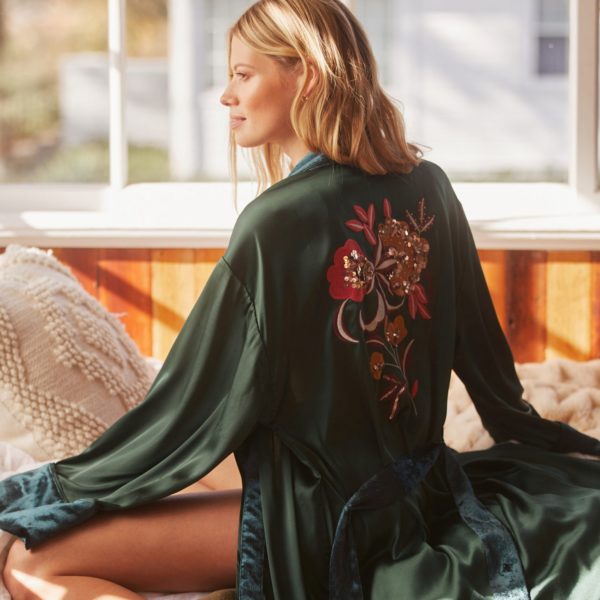 If aesthetics matter in your purchasing decisions, Anthropologie is definitely the brand for you. They're nothing of style and fashion, as most of their collection harbors a touch of boho glam, minimalism, and vintage-inspired deco. It's definitely a company to opt for if you're looking for a trendy upgrade for your wardrobe or home space.
Anthropologie Reviews: What Do Customers Think?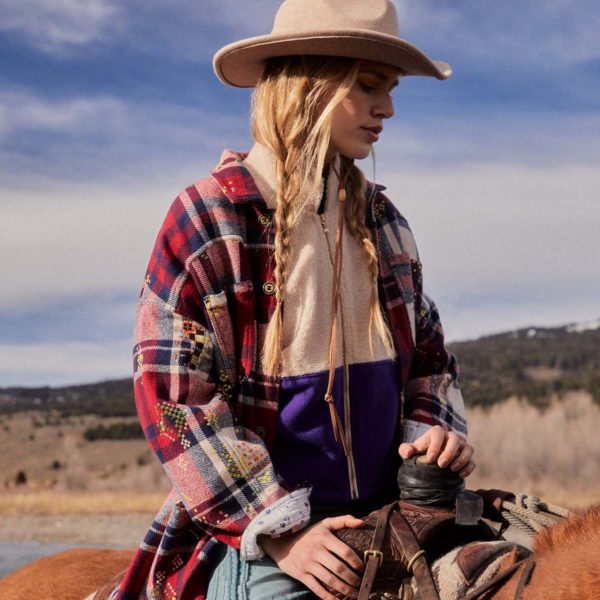 With a company as established as Anthropologie, it would be disappointing if they lacked genuine customer reviews. Fortunately, we uncovered hundreds of feedback attributed to the brand's products, shipping methods, and customer service. To start things off, let's take a peep at the ratings for some of Anthropologie's bestsellers.
The Wtoo by Watters Miles Gown: 38 reviews with 4.7/5 stars
The Gleaming Primrose Mirror: 443 reviews with 4.7/5 stars
The Maeve Colette Cropped Wide-Leg Corduroy Pants: 25 reviews with 4.8/5 stars
The Funnel Neck Sweater: 25 reviews with 4.7/5 stars
In encouraging news, it seems that Anthropologie is far from false advertising. Hundreds of happy customers report that it offered the same style, fit, and silhouette modeled in the product photos. Others were quite satisfied with their furniture and home goods section, as their mirrors and couches proved to be well-made.
"The mirror arrived in perfect condition and I was blown away seeing it in person for the first time! The details are STUNNING!! I've been waiting to get my hands on one for several years and I was not disappointed in the least," one customer wrote for the Gleaming Primrose Mirror.
"Upon exiting the dressing room, my family erupted with screams of 'Yes!' and 'oh my goodness'" one bride-to-be detailed for the Wtoo by Watters Miles Gown. "The boning makes the dress feel secure for a night of dancing. The fabric and lace detail is artful." 
This Anthropologie review also uncovered more feedback on other websites such as ConsumerAffairs, Trustpilot, and Influenster. We'll let the ratings speak for themselves:
ConsumerAffairs: 496 reviews with 3.8/5 stars 
Trustpilot: 646 reviews with 1.3/5 stars
Influenster: 2,454 reviews with 4.3/5 stars 
In most cases, customers seem to be happy with the brand's large collection of clothing and home goods.
"I love Anthropologie's aesthetic. I also super love going to all their stores and seeing the different decor in all of them. My favorite section would definitely be the home and garden. I'm also obsessed with all the coffee table books they sell," one Influenster reviewer shared.
While Anthropologie isn't the most affordable brand to shop at, you can at least relax knowing that each product is made out of high-quality materials. Plus, the shopping experience itself seems to be quite unforgettable.
Is Anthropologie Worth It?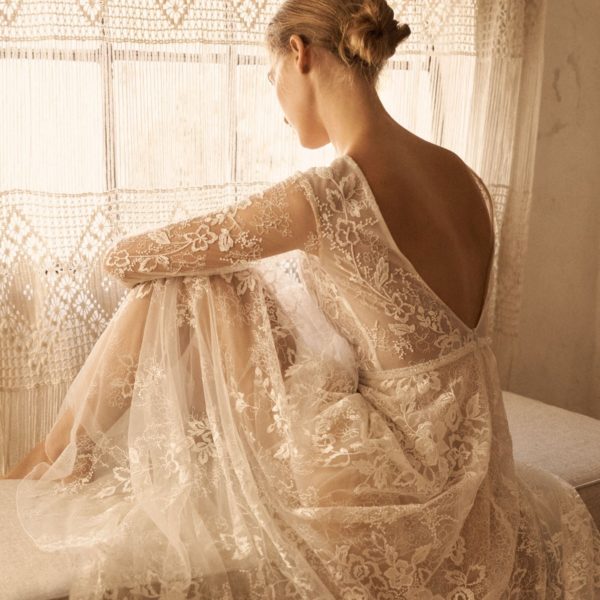 If you happen to chance upon Anthropologie at your local mall, I'd say go for it. They definitely excel when it comes to aesthetics, as there's a good chance that you may find something unique buried in their thousand-bound collection.
For a company that's certainly Insta-friendly, this Anthropologie review definitely recommends that you check its website and stores out.
Anthropologie Promotions & Discounts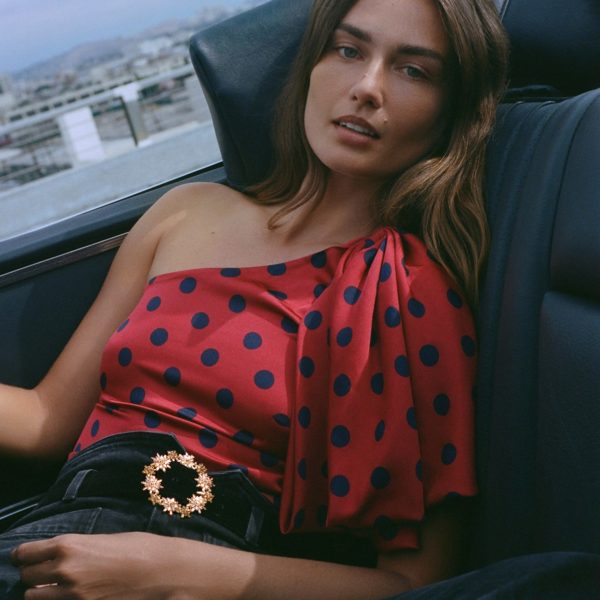 This Anthropologie review uncovered multiple ways to help save customers money. To keep things easy to read, we'll provide the deets in point-form down below:
Offers a sale outlet on its website
20% off 'Entertaining Essentials' for a limited time
30% off Brynne Monogram Journals and stuffed animals
Buy two and get more promotion for select bras and panties
Customers can get 15% off on wedding registry items
To be notified of any Anthropologie promo code or discount in the future, we suggest keeping tabs on the brand's social media for any incoming updates.
Where to Buy Anthropologie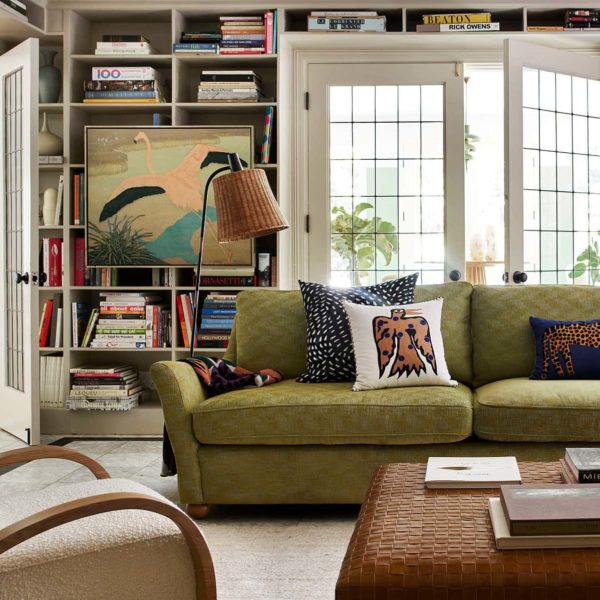 Did something from the Anthropologie Bedding collection catch your eye? Customers can head over to anthropologie to see what they have in store. You can also visit their brick-and-mortar locations as well.
Allbirds Launches Pink Running Shoes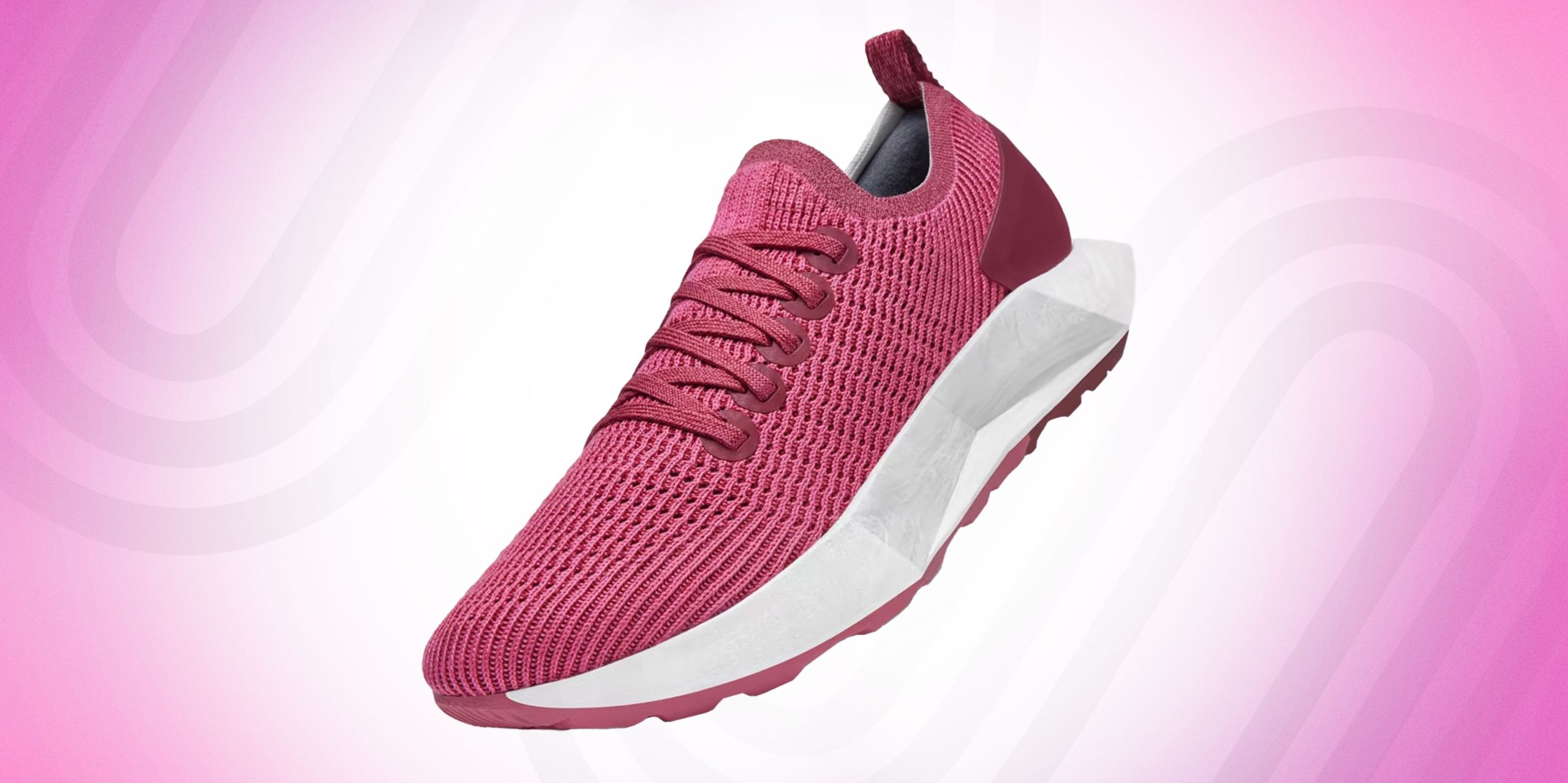 This post contains affiliate links. When you purchase through links on this post, we may earn an affiliate commission. Thanks.
Allbirds Pink Running Shoes
We've all heard the canonical phrase, "on Wednesdays, we wear pink" from the 2004 cult classic Mean Girls, but the phrase has been reincarnated in today's launch of the Allbirds x Lindsay Lohan collab which declares, "on Wednesdays, we launch pink." The pink to which the beloved brand is referring is a limited edition Lux pink color of the Allbirds Tree Flyer running shoe, available in both men's and women's sizes. The shoe also comes in six other color options and has gained attention for being both sustainable and a comfortable and reliable training shoe.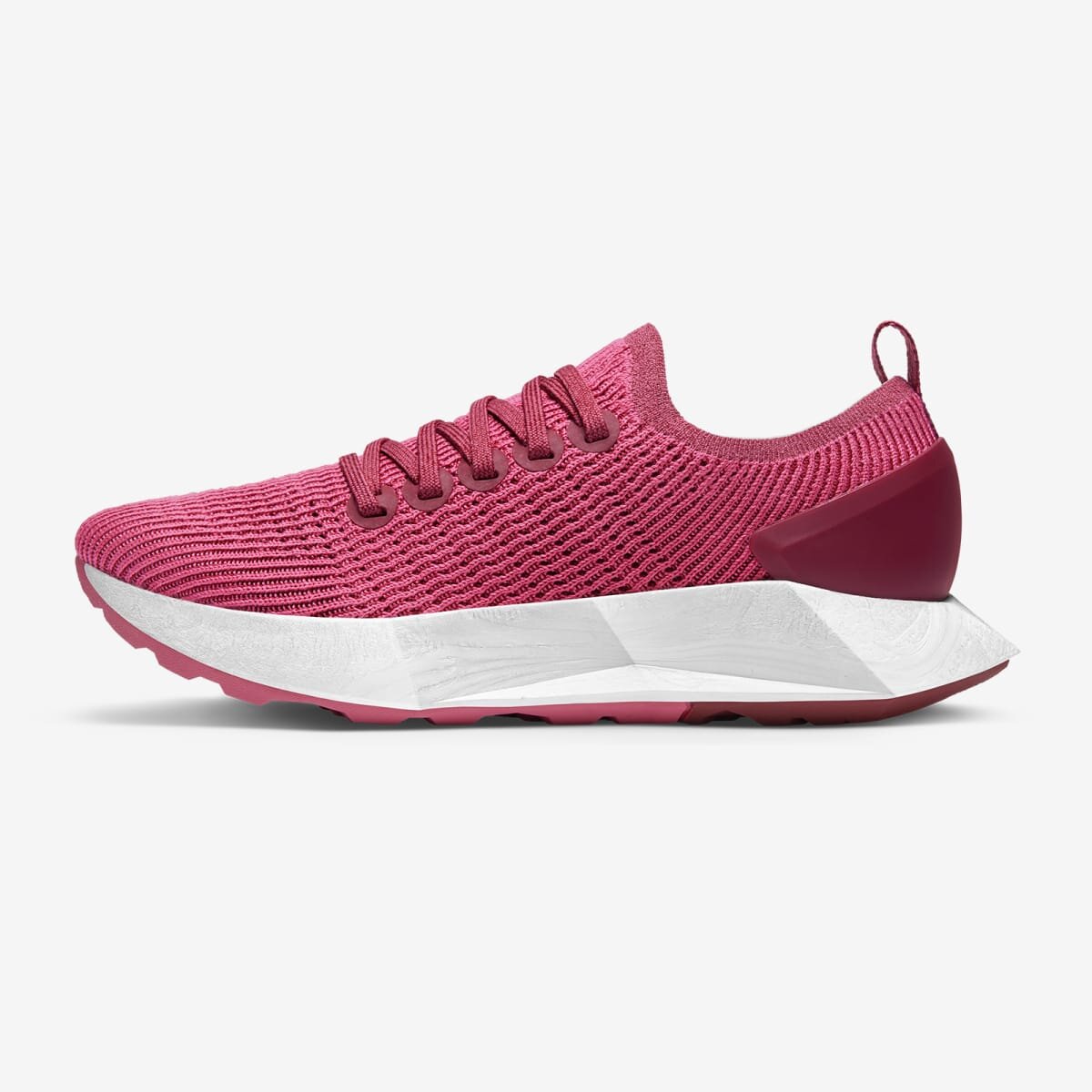 The shoe was most recently included in Runner's World's "What We're Testing" roundup for May. Runner-in-Chief Jeff Dengate found the shoe to be lighter and bouncier than Allbirds' original running shoe, the Tree Dasher. "It's a little lighter than the Dasher, the upper feels a bit more refined for running fast, and the innovative midsole is soft but can handle my daily runs," stated Dengate. "It's still a little heavier than comparable shoes—and there are a lot of great daily trainers you can find for $160—but it shows promise that Allbirds is committed to making a great running shoe without using petroleum-based products."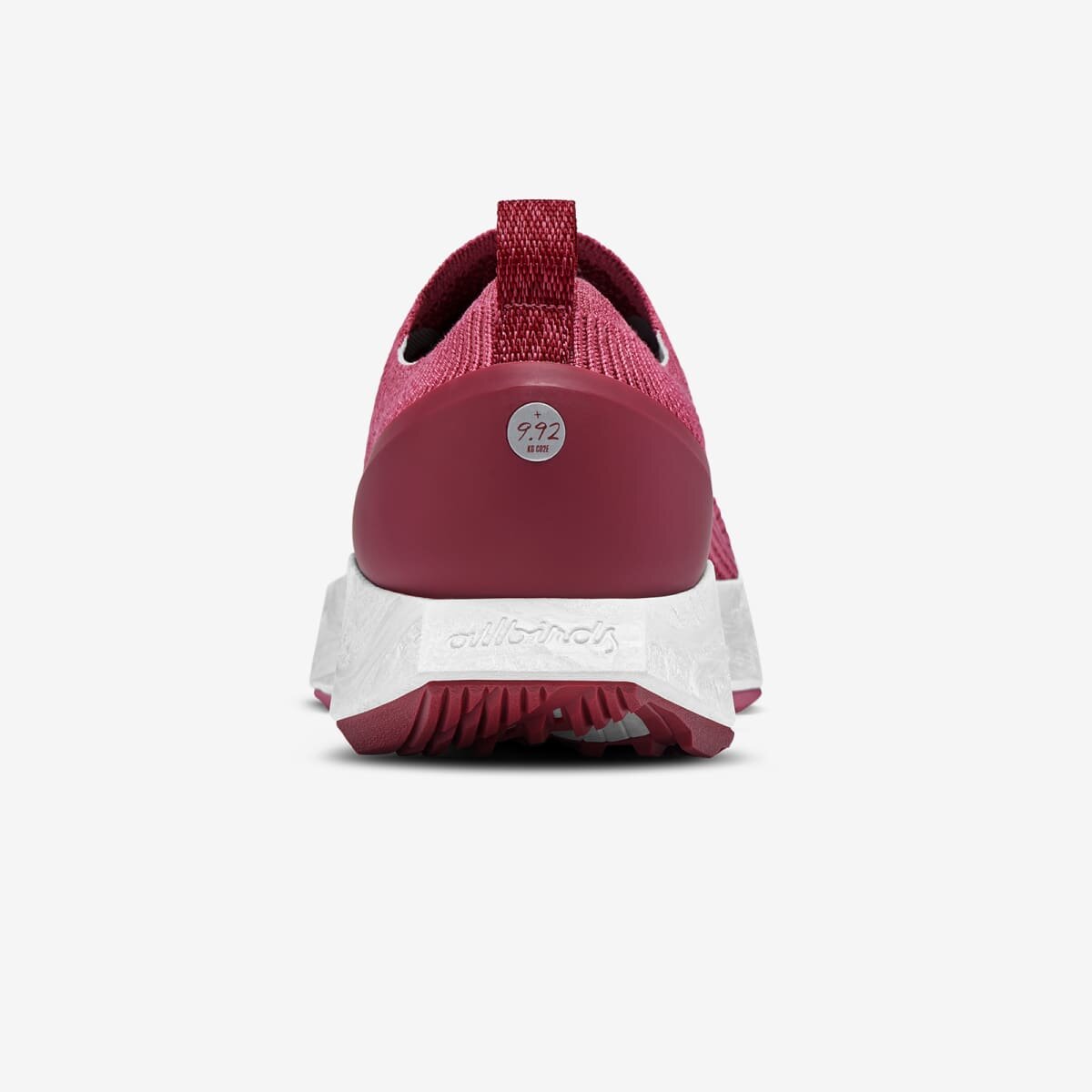 While sustainability has become a top priority for countless consumers, many companies have fallen short of the mark with their supposedly eco-friendly offerings, which have either become subject to greenwashing or are simply sub-par products. But Allbirds is actually doing the work, creating a quality product that's also actually eco-friendly. This shoe in particular is carbon-neutral and contains materials like castor beans, eucalyptus fiber, merino wool, and recycled water bottles. The brand has also pledged to continue lowering its carbon footprint as it expands its product offerings.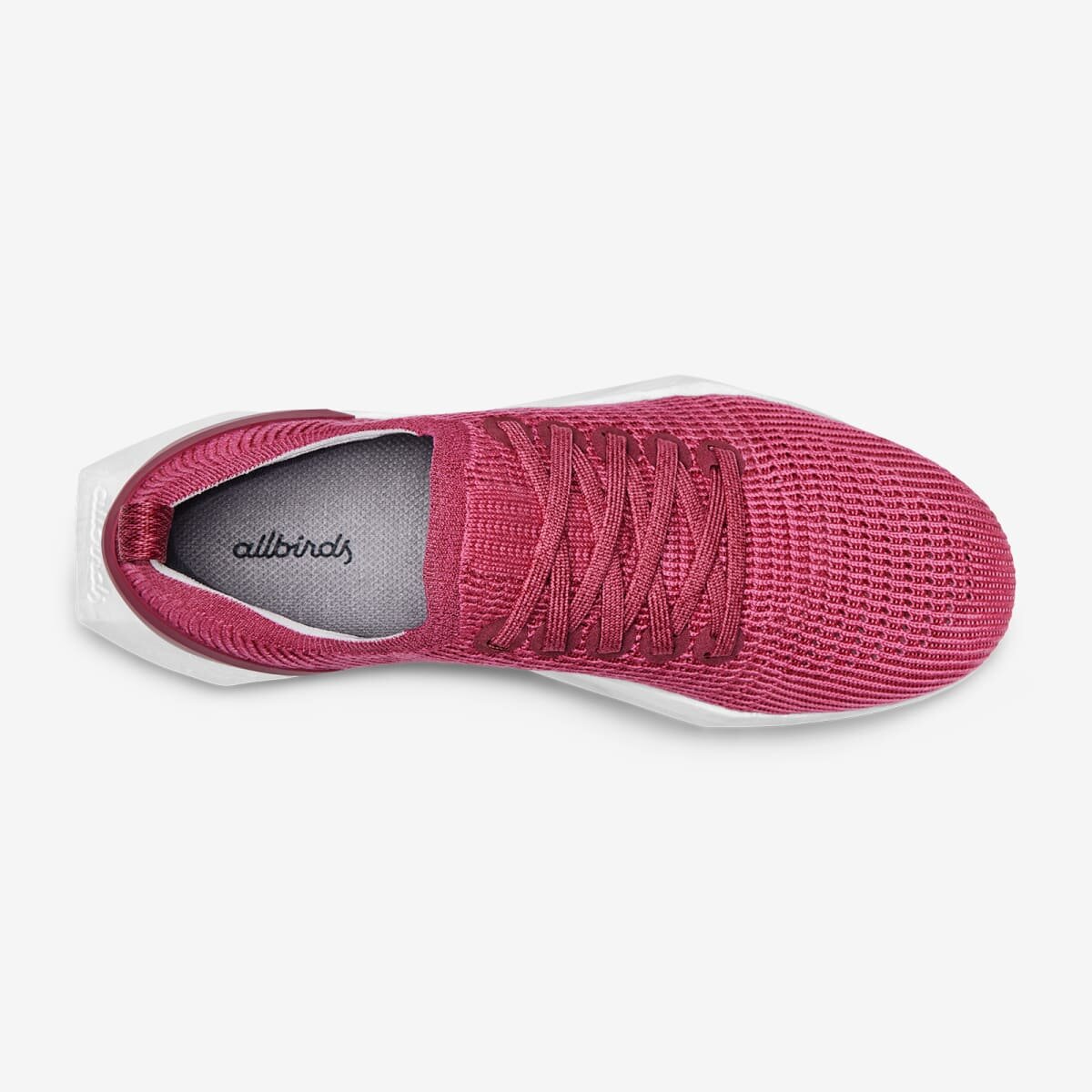 Besides her fame—and ties to their slogan—Lindsay Lohan may seem like a bit of an odd choice for a running shoe collaboration, but Allbirds says that was intentional. They state on their website, "with Lindsay's help, we're reminding the world that anyone and everyone can lace up and move their body."
The New Allbirds Running Shoes Are the Lightest Ever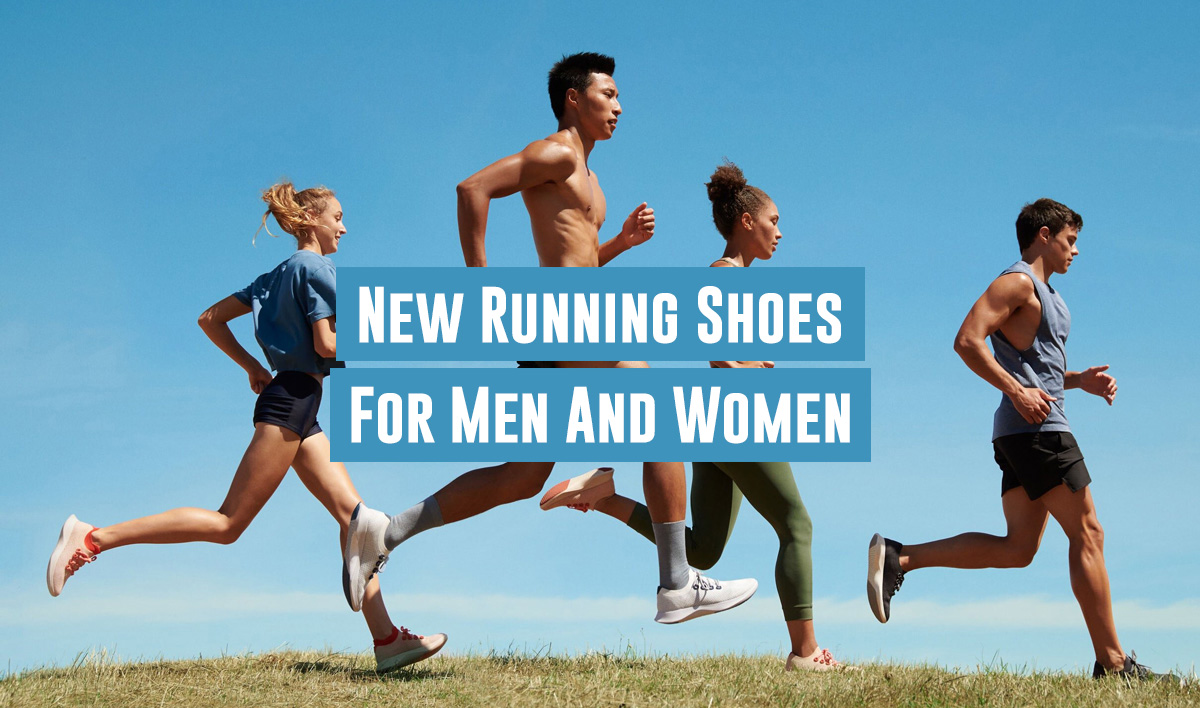 This post contains affiliate links. When you purchase through links on this post, we may earn an affiliate commission. Thanks.
New Allbirds Running Shoes
It's a well-known fact that Allbirds shoes are some of the most-loved around Hollywood. They're especially popular among famous moms, like Hilary Duff, Mila Kunis, and Blake Lively. Its sustainable sneakers also happen to be widely loved by customers, too. That's why when Allbirds comes out with any sort of new footwear, it almost always sells out.
If you're a long-distance runner, its newest performance sneaker may be right up your alley. Introducing: The Tree Flyer, the brand's lightest running shoe ever that's already flying out of stock.
Like all of Allbirds' shoes, the Tree Flyer replaces the plastics used to make other sneakers with natural plant-based materials. It features an upper knit from breathable eucalyptus fibers that provide good airflow for miles, along with an FSC-certified natural rubber outsole and shoelaces made from recycled plastic water bottles.
Allbirds Tree Flyer in Blizzard, $160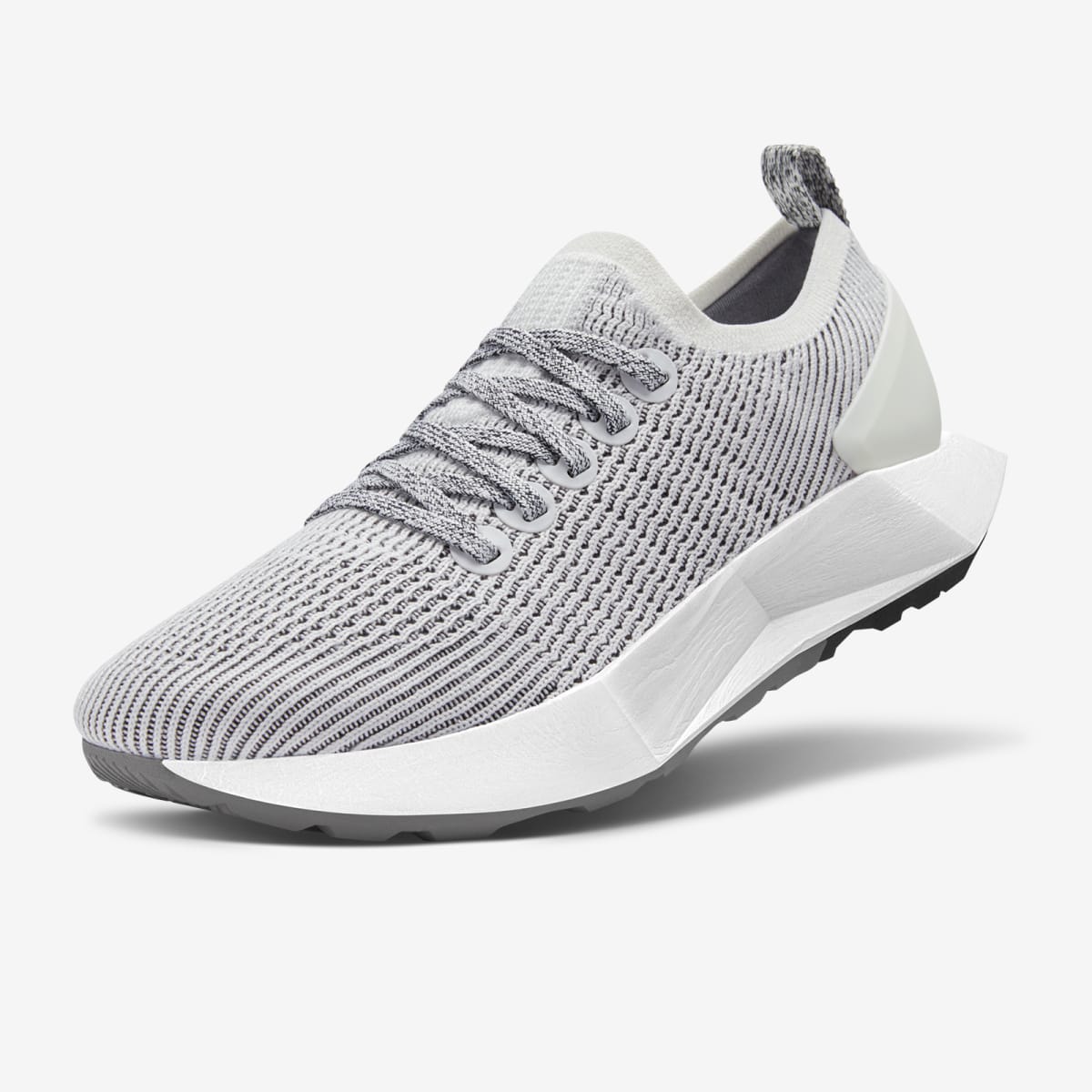 The standout detail of the Tree Flyer is its revolutionary midsoles that are made from a new SwiftFoam material. They're created through a unique foaming process with Allbirds' castor bean oil-based resin, which is better for the environment because it uses less energy and material. According to the brand, its SwiftFoam midsole is about 30 percent lighter than the SweetFoam used in its Tree Dasher running shoes.
The midsoles have a geometric shape that's specifically designed to give maximum cushioning while remaining lightweight. The heels have an external counter and flared shape for stability so that your strides are more smooth and steady. Plus, they offer better energy return to make your movements feel more effortless.
To ensure the Tree Flyers are up to par for long-distance running, they've been put through rigorous testing over the past year by more than 130 runners who have collectively run nearly 4,000 miles in them. So it's safe to say, they're worth the investment.
The Allbirds Tree Flyers are available in men's and women's sizes in five colors for $160. As with previous launches, sizes are already starting to sell out quickly. So head on over to Allbirds' website to get yourself a pair of the newest sneakers before they're gone.
Allbirds Tree Flyer in Natural Black, $160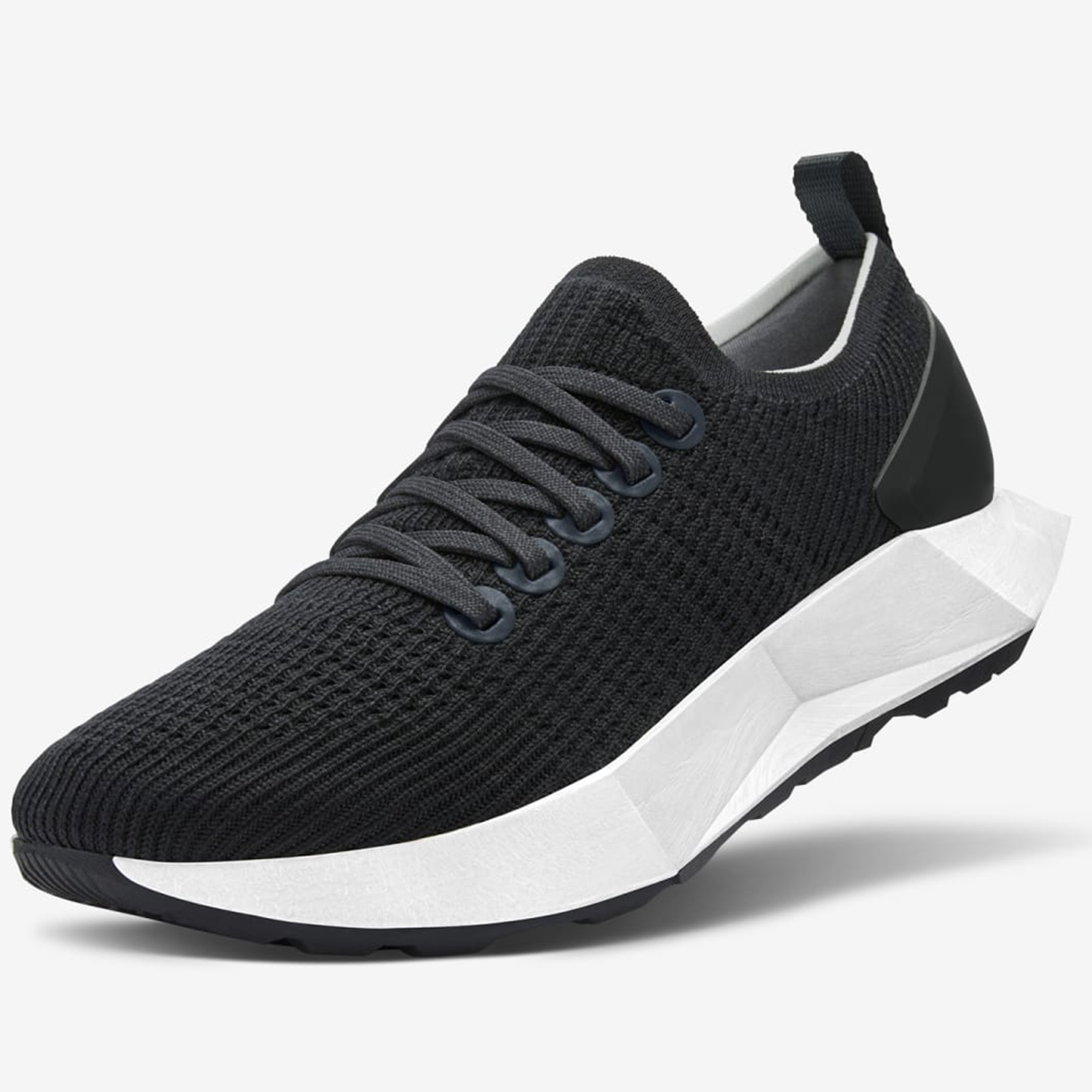 Allbirds Tree Flyer in Lux Beige, $160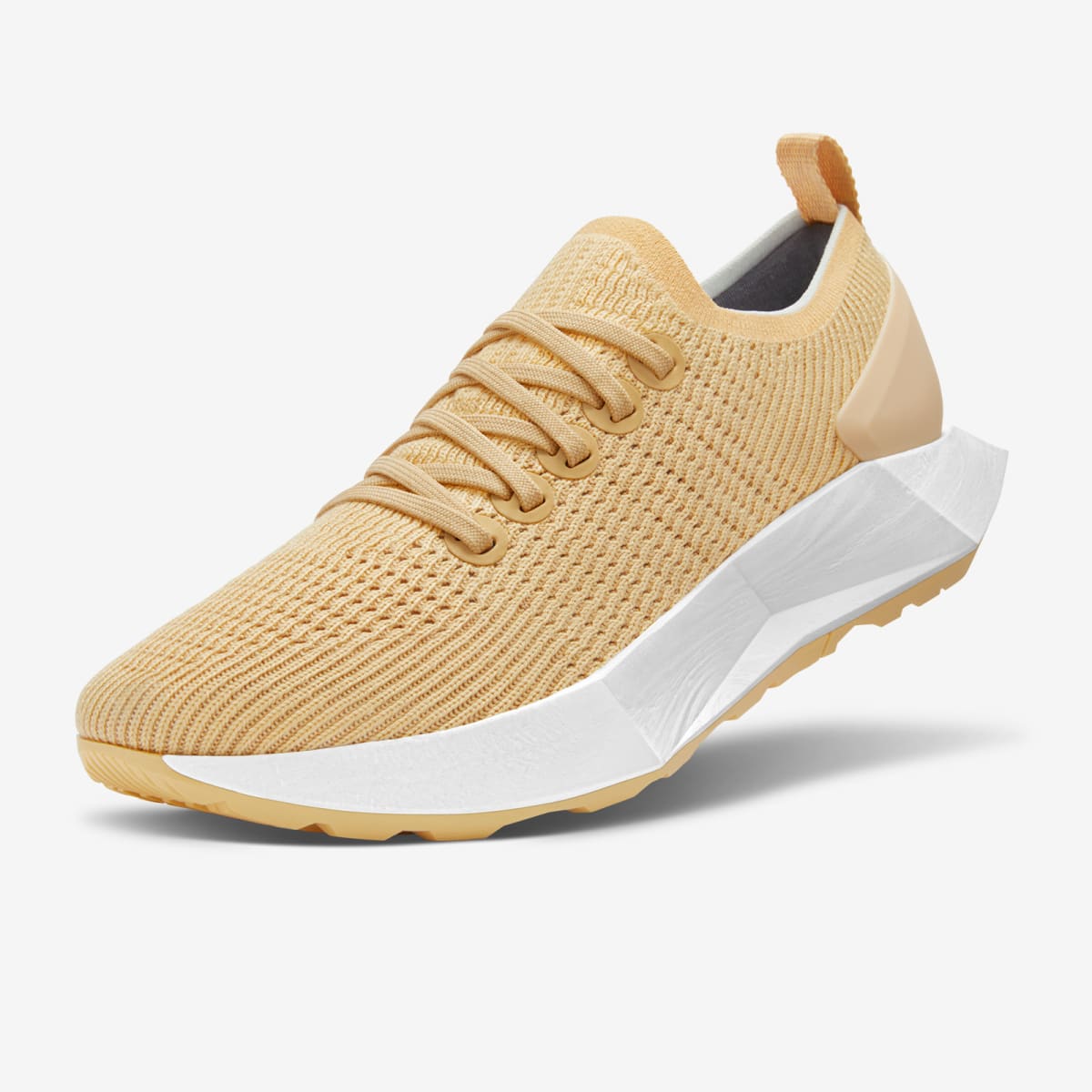 Allbirds Tree Flyer in Buoyant Yellow, $160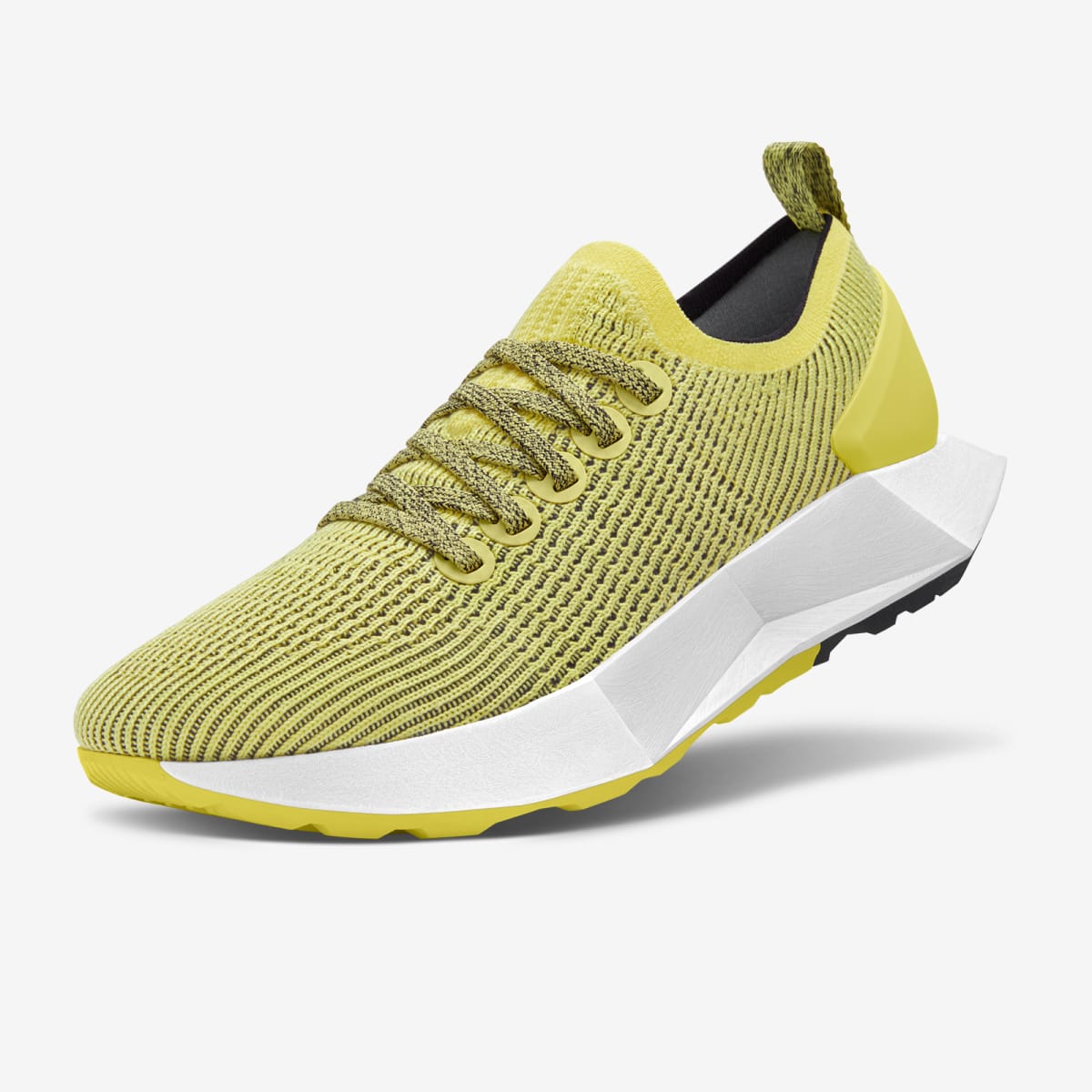 Allbirds Tree Flyer in Buoyant Orange, $160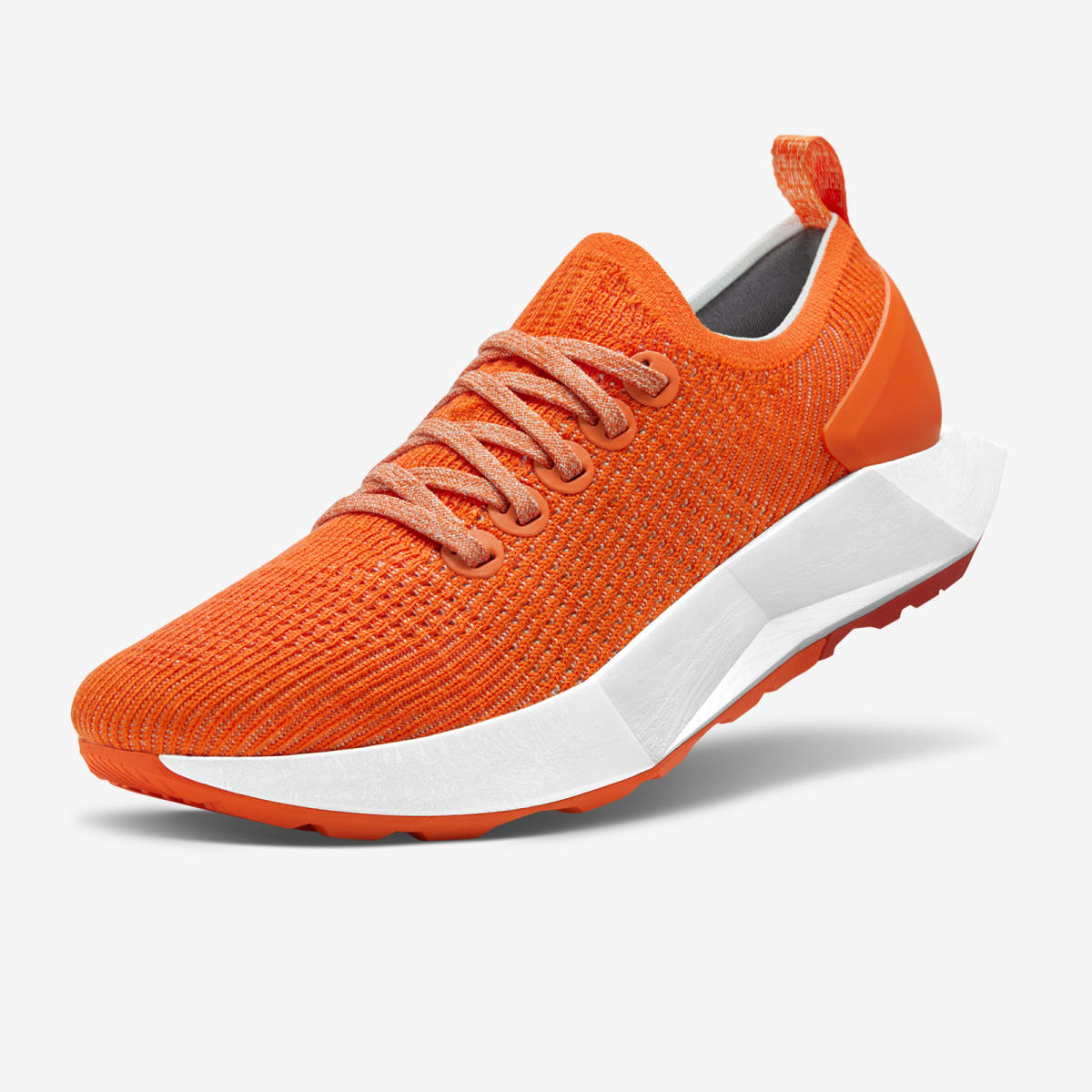 10 Best Converse Sneakers in 2022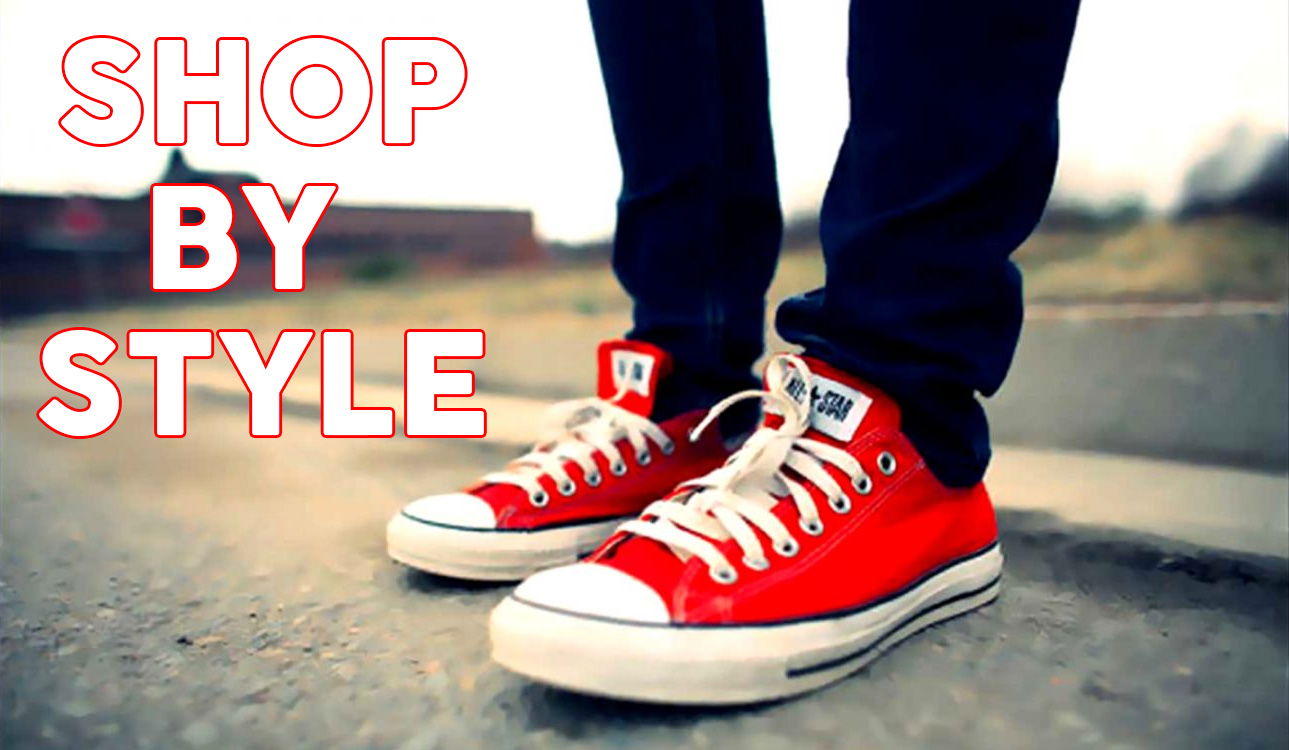 This post contains affiliate links. When you purchase through links on this post, we may earn an affiliate commission. Thanks.
About Converse
Converse is one of the many brands that leaped from hardwood to the streets and became a famous household label for all-rounder, beater-worthy sneakers. As thousands of variations continue to spring up from this brand, it's easy to get drowned in the pool of options.
Don't worry. This is where we come in. Take us as your SNEAKER LIFESAVERS.
We plucked the best from hundreds of Chuck and One Star look-alikes plus many other spinoffs in between to make the scout easier for you. We don't just highlight the popular ones, but the best-rated selections too. We wear-test more than 100 pairs to highlight the comfiest, highly durable, and most flexible ones.
If you're a budget-conscious and practical hunter, we've collected all the best deals as we do the math for you.
How we test sneakers
We do all the legwork while you enjoy a hassle-free sneaker purchase.
We buy all the pairs of Converse kicks we test here with our own money to give our honest opinion and a lineup of our top choices.
We spend practically the entire day subjecting each sneaker through rigorous pounding on different surfaces.
Our main parameters include quality, comfort, fit, endurance, and function.
Best Converse sneakers overall
Converse Chuck Taylor All Star Low Top

Pros
Durable
Easy to clean
Easy to slip on and off
Breathable
Perfect for summer months
Doesn't require much maintenance
Timeless classic
Verdict
Converse Chucks high top has a more famous sibling, the All Star Low. We find the Converse Chuck Taylor All Star Low Top more universal and all-rounder than its ankle-high brother. So, what's its star quality? It matches practically with just about anything!
If you have a vague kind of fashion style and you want a do-it-all sort of sneaker, you'd never go wrong with a pair that remains relevant for a century now. Its canvas style survived the Flower Power, Grunge, Retro, Gen Z trends. And it shows no signs of retiring.
Even the most distressed pair, which we literally subjected to drill and stain tests, look kicky, striking, and funky!
We tested over 100 Converse kicks only to end up with the All Star Low Top as the runaway winner in both style and comfort. It's close to having a barefoot experience as it won't weigh your feet down with excessive padding.
Barely are there any arch supports, but the relatively roomy build provides enough room for custom orthotics.
Breathability isn't an issue, as the fabric allows air to circulate in and out. Moving around with this kick is such a breeze.
Whether you prefer a clean, straightforward, and minimalist sneaker to squeeze into your rotation or looking for a practical canvas sneaker to express your creativity, this low-top Chucks is a big cheese!
Converse Chuck 70 Low Top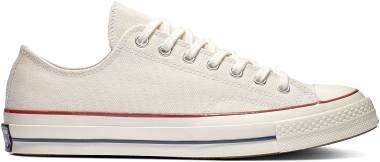 Verdict
What do we love most about the Converse Chuck 70 Low Top, an almost identical twin brother of the Chuck Taylor All Star Low Top? It got an edgier vibe. For us, those nitty-gritty modifications tied into this vintage-dressed sneaker are the deal clinchers!
After giving the Chuck 70 good pounding on wooden and concrete surfaces, we could solidly say it's smashing! The intricate fabric weaving on this shoe can take up severe beating!
Did we say that this shoe offers a dynamic fit, something that's missing in the Old Joe? That's one of the things we immediately noticed about this updated kick. Gone was the plastic heel cap that's traditionally a must in most older Chucks. We can still feel the support and stability with the ergonomic heel structure.
Even the rubber foxing that's 5mm higher than the usual height gives us that exceptional added stability.
The best makeover to the Chuck 70 is the most wanted arch support coming from its cushy foam insole. Walking miles with this is a happy adventure!
A denser rubber compound laid at the base helps us cover more miles without wear and tear marks.
Its $80 price tag may be a bit pricier than the traditional low-top Chucks, but the Chuck 70 got that primo element without being a burden to your budget.
Best high-top Converse sneakers
Converse Chuck Taylor All Star High Top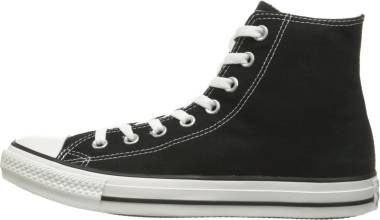 Pros
According to a very good number of reviewers, the Converse Chuck Taylor All Star High Tops' design can tie your whole outfit together and make any streetwear look stylish.
Some have added that the shoes provide a good look for any age or gender.
The high-top sneakers are comfortable and versatile, many people have reported.
Several have mentioned that these are great for kicking around in, working out, and skateboarding.
Several purchasers have noted that the colorways of the Chuck Taylor All Star High Tops looked rich and exactly as they did on website pictures.
The high-top Converse sneakers provide a good fit width-wise for people with narrow to wide feet, some testers have remarked.
The classic Converse Chuck Taylor All Star High Tops have an affordable price, according to a handful of buyers' comments.
A few users have written that the retro silhouette is durable and, one user recounted, his first pair lasted him years.
A couple of consumers have stated that the Chuck Taylor All Star High Tops are easy to clean off and, with proper care, will look new every time you wash them.
Two customers have mentioned in their reviews that the Converse silhouette is light and breathable.
Verdict
Everybody's well-loved Chuck Taylor All Star High Top is unbeatable. When it comes to Converse and sneakers with high collars, the time-honored Chuck Taylor is The KING!
From sporty, athleisure, casual to formal wear, the classic Chucks just goes with everything! Even as our feet look like Ronald Mc Doland's at times, we love how it can accommodate different width types, from narrow to wide footed ones among us.
It's ready for some grinding and gnashing while still looking great! It suits any style preference as it remains stylish when kept clean and slick or gets distressed with a ripped upper and tattered sole.
Whether we get it dirtied under mud or rain, it stays charming still. In fact, the more raggedy and broken it looks, the more we can't let it go. It's the kind of beaters that you'd want to go tossing around over and over until the sole gets all busted. And that doesn't happen quickly.
Our feet stayed snug and dry the whole day we were strapped to this shoe. Its upper let our feet breathe while the perforated suede liner has tiny holes that allow air to flow in and out.
Chucks has been proving its worth over and over. And if there's one high-top from Converse that will always find a space in our essential wardrobe arsenal, it's this affordable, ageless gunner.
Converse Chuck 70 High Top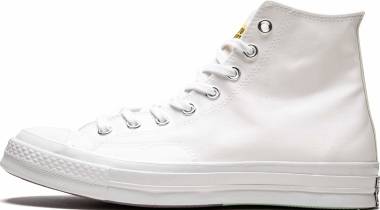 Verdict
The Converse Chucks takes the front line when it comes to street legends that show no signs of retiring. When it comes to heightened comfort, the Converse Chuck 70 High-Top is the hero. It's simply a game-changer!
Chuck 70 ups the ante compared to the most common-looking Chucks that everybody loves. It's graced with more cushioning and a more resistant canvas cover while retaining the versatility indelibly attached to the Chuck Taylor Hi.
We enjoyed swinging around the city day in and out for an entire month wearing this. The extra cushy sockliner makes the day-to-day experience more pleasurable. Did we say its insole is damn moisture-wicking? That indeed puts a 100% added comfort every time we wear this shoe for long hours.
We love how it clasps our feet as it has the essential support and stability we're looking for in a high-top canvas shoe.
There's no reason to switch sneakers at the end of a full day's shift or long-day errand as everything feels strangely lighter than it seems.
Durability is unquestionable! It remains loyal in keeping our feet secured and protected for a lengthy time.
If you're a vintage-loving soul and won't trade comfort for anything else, this shoe is something you should consider adding to your rotation.
Best platform Converse sneakers
Converse Run Star Hike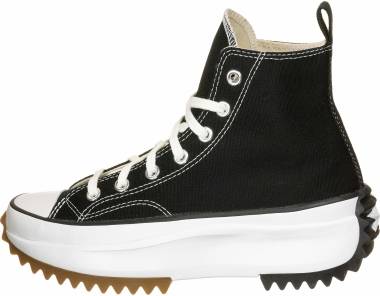 Verdict
With a jagged, chunky rubber sole, the Converse Run Star Hike takes us to greater heights!
There's more to love about this fashion-forward twist to the Converse Chuck Taylor than its not-to-be-missed aesthetic. Aside from style and statement, it has soul in its sole! And that's the single thing missed out in most platform kicks from Converse.
We challenged ourselves to see if this is worthy to be called a podiatry shoe. We slipped into it for a minimum of 8 hours a day and the result blew our minds!
It's beefy and sturdy sole with jagged tread is d-y-n-a-m-i-t-e! It gave us the needed stability to keep us covered during multiple activities. It thwarts unnecessary rolling of the foot. With its supportive build, it didn't leave us with sleepless nights griping about foot pain, inflammation, and joint stress.
It's heaven for the feet especially among us who are hypermobile, overpronated, have mild osteoarthritis, and minimal ankle instability. That attention-grabbing platform sole kept us surefooted and balanced.
Our toes didn't get cramped as we moved around. There's enough wiggle room at the front. Our feet are snugly tucked enjoying each ride without any pressure. We weren't bothered by bunion and toenail pain as we stayed elevated throughout the wear test.
It made us strut in style with our favorite casual, sporty, and hiker garbs without being bugged by any form of discomfort.
This stylish hiker is a real winner!
Converse Chuck Taylor All Star Move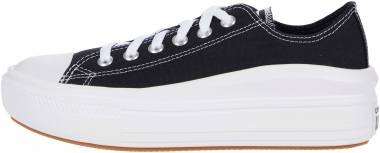 Verdict
Converse Chuck Taylor All Star Move kept us in the groove, feeling lifted and light! It makes us stand loud and proud!
This modest-looking shoe is really a rockstar! Given its angular platform base, it makes up one of the most fashion-forward overhauls to the old-school baller that every sneaker lover adores.
Despite looking weighty, this charmer feels ultra-light making those walks and glides enjoyable.
This shoe lets us cover miles and be on our feet for more than 8 hours a day. That height-boosting sole offers tons of cushioning without getting our feet stressed or blistered.
Did we say it's graced with a moisture-wicking OrthoLite insole too? That little add-on is a BOMB! It helps dampen any pressure or tension even as we went pounding along the streets for one straight month.
It gave us the freedom to express our creativity and fashion sense as it's so stylish! Its recast look never failed to punctuate strings of outfits we wore for our daily activities. We love playing around with our OOTDs and getting endless Intagramable shots with this.
It made us move and groove; that's why we adore it so.
Best leather Converse sneakers
Converse Chuck Taylor All Star Leather Ox

Verdict
When it comes to Converse sneakers with premium leather quality, you'll sing happy notes, too, as we did after trying the Converse Chuck Taylor All Leather Ox on.
Its quintessential style is its ticket to land among the best leather Converse creations, at least to our probing eyes.
Converse gave us good reasons to look refined even with an unadorned pair of coats, plain tees, jeans, knitted jackets, or capri. Thanks to the chichi vibe that goes with every pair of CTAS Leather Ox.
Its soft leather cover didn't give us a hard time. It has draped our feet with comfort since day one.
It made our feet adjust to the mold instantaneously. There was an instant connection, and we just loved it!
The upper is solidly attached to the vulcanized rubber sole. Even as we were sporting this for practically most of the day for several weeks, there was no single time it got detached from the sole. It isn't the most hard-wearing, but we can't deny its durability.
Go for this oxford cut if you want a different take to the canvas Chucks and don't want the enhanced ankle coverage. We won't blame you if you decide to cop not one but two or more pairs.
Converse Chuck Taylor All Star Core Leather Hi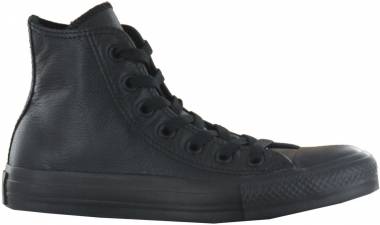 Verdict
We love the canvas Chucks for its unruffled, easy-going style but we also adore the luxe and swanky form that goes with every pair of Converse Chuck Taylor All Star Core Leather Hi.
Even with a price that's a fraction higher than the traditional Chucks (influenced by the use of smooth leather), it's worth adding to anyone's sneaker selections. Every time we need a more classy and formal pair of shoes on days we want to look more dignified and refined, this shoe is a lifesaver!
The leather cover may be sturdier versus the customary canvas, but it softens over time and adheres to the shape of the foot when strapped up. This is where we felt we got excellent value for our money.
Another factor that got us drawn to this silhouette is its vulcanized sole construction. We didn't feel any generous padding around the shoe but it kept us cozied inside. It's phenomenally light and remarkably flexible!
If you're planning to get an all-leather sneaker from Converse for everyday use, take our word and try to step into the world of the CTAS Core Leather Hi.
Converse sneakers with best comfort
Converse Star Player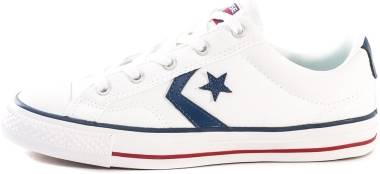 Pros
Comfortable: Scores of users are chirpy that the Converse Star Player is comfy to wear all day.
Exact: Loads of reviews about this shoe tell that it offers a perfect fit.
Durable: As per several skaters, the outsole stays intact for over a month of frequent use.
Grippy: Quite many wearers are ecstatic that they don't easily slip with its rubber outsole.
Protected: Legions of Converse followers assert that this shoe grants better support than the All Stars.
Verdict
When it comes to comfort, the Converse Star Player bags the MVP!
Out of the insanely vast number of Converse sneakers, how did this stellar pair win our hearts? Here's its score sheet.
It provides a homey environment for our feet. Even as we got our feet planted in this shoe for more than 8 hours a day, it didn't cause us to develop ankle, Achilles, and arch pain.
It's simply amusing, admirable, A-1 with the right amount of padded detailing and comfort it granted our feet.
The adequately foamed interior compared to the nearly barefooted original makes every trip satisfying. Plus, it helps in providing an enhanced lockdown feel with its fully customizable lace-up system.
We didn't feel any heel slippage making it more enjoyable to bring this Star Player everywhere. Even the waffle patterned rubber tread delivers traction. We didn't have those unwanted slips.
It's the kind of Chuck that's friendly and forgiving, traits that sum up a real Star Player.
Converse El Distrito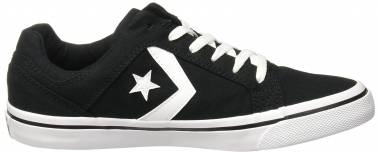 Verdict
To our discriminating taste buds, the Converse El Distrito is a real tough cookie!
Everyone's most loved Chuck gets even more hard-wearing as it's swaddled with a durable canvas. We took it on a month-long urban expedition, and it wowed us. This cookie doesn't crumble!
Its padded tongue and lining make each foot adventure comfier than we expected. It even has a cushioned insole that filters in all the load and stress. These elements help reduce any pressure that may come into contact with our feet.
Given the added technologies infused into this former hardwood star sneaker, it incredibly feels light. It makes us fly whichever direction our feet take us.
Not only does it aces in comfort, durability, style, and versatility, but in value too. It's just one of the budget-friendly Converse low-tops you won't regret adding to your go-to sneaker lineup.
You'd hardly allow it just to accrue dust in your sneakerpile as its universal style works satisfyingly well with heaps of casual, sporty, and street-ready outfits.
The colorways for this silhouette are vast, so you can play around with your Instagram shots while wearing different shades of the El Distrito.