Free People Review: Legit or Scam?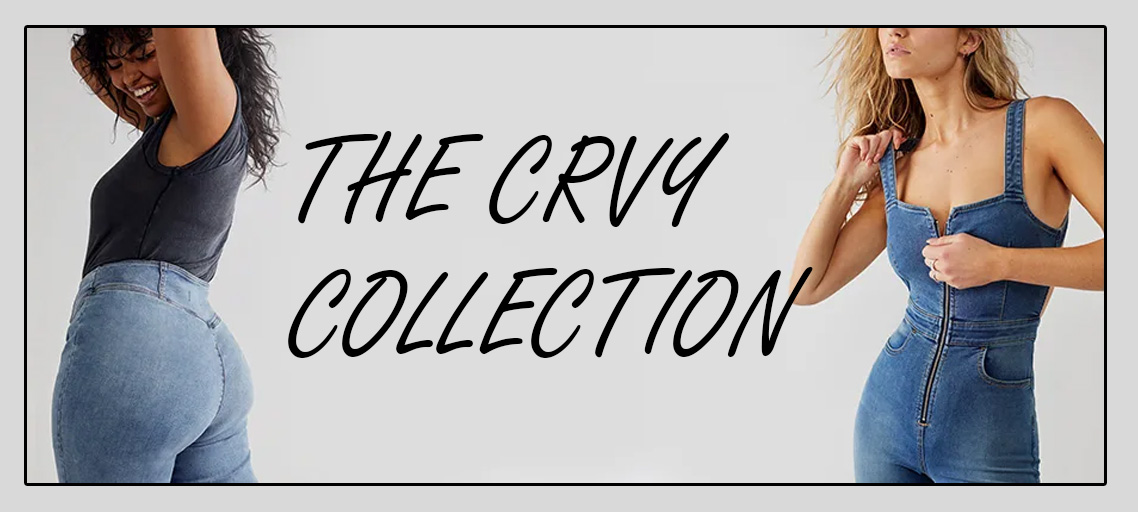 This post contains affiliate links. When you purchase through links on this post, we may earn an affiliate commission. Thanks.
Free People is a legit fashion store. It is not a scam because they will never steal your money and credit card details. And if you make an order, it will be shipped to your destination without a problem.
Free People was founded in the 1970s by Richard Hayne. The brand left the scene was it was renamed Urban Outfitters, but had a rebirth in 1984 and has been operating ever since. The online fashion retailer currently operates as part of Urban Outfitters, Inc.
FreePeople has only grown bigger ever since. They opened their first brick and mortar store in 2002, in New Jersey. They milestone was followed up by the establishment of many more stores (all over the US, Canada and the UK), and they now have over 136 freestanding stores.
FreePeople specializes in women's clothing. The goal of free people is to be not just a clothing brand but to create a lifestyle. The store is the destination for bohemian fashion that features the latest trends and vintage collections. For all the old classic and dazzling latest; they have the styles that you need to break the shackles and be free. These range from the perfect special occasion dresses, to chic outerwear, to irresistible intimates.
Top 5 Most Popular Fashion Stores Online:
That suggests exquisite fashion styles. The question is whether FreePeople really provides such styles that will have you freely expressing yourself no matter the occasion or season. How about their quality, their prices, and other services; do they offer top quality clothing, affordable products, and excellent service? In the first place is Free People genuine?
This Free People review will examine FreePeople in order to provide information that will help you answer those questions.
Free People at a glance
Fashion store established in 1984, and is part of URBN
Specializes in women's fashion
Hold a wide product range that includes clothing, fashion accessories, intimates, shoes, beauty products and more
Worldwide free shipping
Allows returns within 30 days of delivery to get a refund issued through the original payment method
Accepts payment from credit and debit cards, PayPal, and gift cards
Offers a financing plan
Has iOS app
Is FreePeople Legit?
Free People is legit, not a scam. It is now a must to first determine that an online store is legit before placing an order with them. There are just too many online scam stores on the internet for one not to worry about whether a store is legit or a scam. And what is more, you cannot tell a fake online store by simply looking at the website. However, there are simple tests that can be used to tell a legit store from a fake one; and we will put FreePeople through these test.
First is the capacity to fulfil orders. To many customers, a scam store is one that will not deliver to you when you make payment for items listed on their site. They do not fulfil orders because they cannot. Usually, fake online stores exist only virtually; the website is not backed by physical production centres, warehouses, stores/ showrooms or products. On the other hand, FreePeople has a physical existence.
As mentioned, they have physical stores all over the US, Canada, and one in the UK. From these locations, they ship merchandise to worldwide locations. The capacity to fulfil orders is one thing that marks FreePeople as a legit online store.
Another is the sheer length of time that the company has been operating (the test of time). FreePeople is older than many of its customers. Since their rebirth in 1984, FreePeople has continuously operated, which gives them 34 years of operation.
In a fast fashion industry where the latest style today is old-school tomorrow, a store that keeps up with the trend for decades must be legit. In fact, there's simply no scam store, in any industry, that can continue in its scamming operations for years, not to talk of decades.
Also, FreePeople is a duly registered company, and its parent company (Urban Outfitters) is also a duly registered company. This means that the company has legal recognition. No scam store will seek legal recognition by way of company registration. Also, the operators of FreePeople are known and visible (Margaret Hayne currently serves as the chief creative officer); this is in sharp contrast to scam stores where the operators are behind the scenes and unknown. You can also see sites like Free People such as Dresslily, Pretty Little Thing etc
Is Free People Safe?
Free People is safe. It is not likely that FreePeople will rip you off because the store is legit. However, it's also important to make sure that the store is safe. This is because a store that is not safe will leak your sensitive data to third parties. I don't know any person who would want sensitive information like credit card details to be intercepted by cyber fraudsters.
In this regard, FreePeople uses industry-standard data protection measures. Among them is SSL (Secure Socket Layer) technology with 128-bit encryption. SSL is the standard method for creating a secure link between a device and a web server. Thus, this technology ensures that when you communicate with FreePeople to complete transactions, your transaction details are transmitted over a secure link. The data packets are even encrypted before being relayed to ensure that even if captured cannot be read.
FreePeople also pledges not to disclose personal and sensitive data of their customers to third parties, except when such disclosure is necessary for the service. With these measures, it is safe to say that FreePeople is safe.
Features
Website Accessibility
First experience matters. A brick and mortar store that is untidy will probably see your back. It's the same in the online spheres. A website that is untidy, cluttered, and not easy to navigate will see many people leaving. Fortunately, the website of FreePeople created a good first impression; and moving around in the site sealed it. The site is simple, not cluttered; it's set on a white background, and it is not packed with texts. It's also easy to navigate, as you have links appropriately placed to take you to the background where everything happens.
Mobile Compatibility
The website is also compatible with mobile devices to allow accessing the store at any time from anywhere. It supports all mobile operating systems such as iOS, Android, Blackberry, and Windows phones. The site doesn't just support mobile devices; it is fully mobile optimized. Thus, it resizes to fit the small screens of mobile phones.
This is all for a better customer experience because you'll not have to drag the page left and right to view the full page.
iOS App
FreePeople is one of the online fashion retailers that have invested in a fashion app. The decision whether to buy straight from a store's website or their app is usually tilted to the app for many reasons. Fashion Apps make purchases easy.
You can have the installed app on your device, and accessing the online store is a click away. Also, it allows you to save certain personal information so that you don't have to type them in every time at checkout. Most importantly, fashion apps use notifications to alert customers of new arrivals, special offers and promotions. Thus, you'll be positioned to take advantage of these offers and have cost savings.
If shopping with an app is a concern, FreePeople will be worth looking at. However, they have only an iOS app, which can only be used by those with Apple phones and tablets. The app is a heavy 157.9 MB file; but it has a 4.9 out of 5 rating on the app store, which tells you that it is highly effective.
That said, many of the other online stores that invest in their own apps offer at least apps for iOS and Android platforms. Thus, FreePeople would want to launch an Android app to keep up with the competition; and most importantly to also cater to customers with Android devices.
Product Range
Free People Dresses: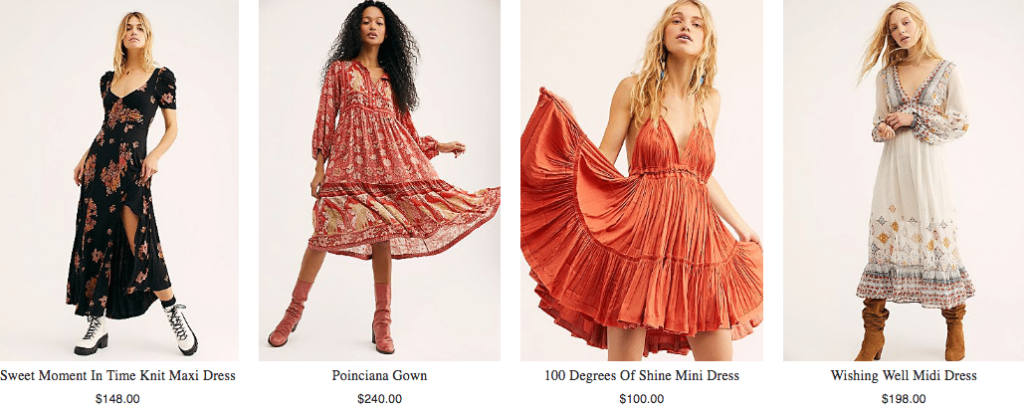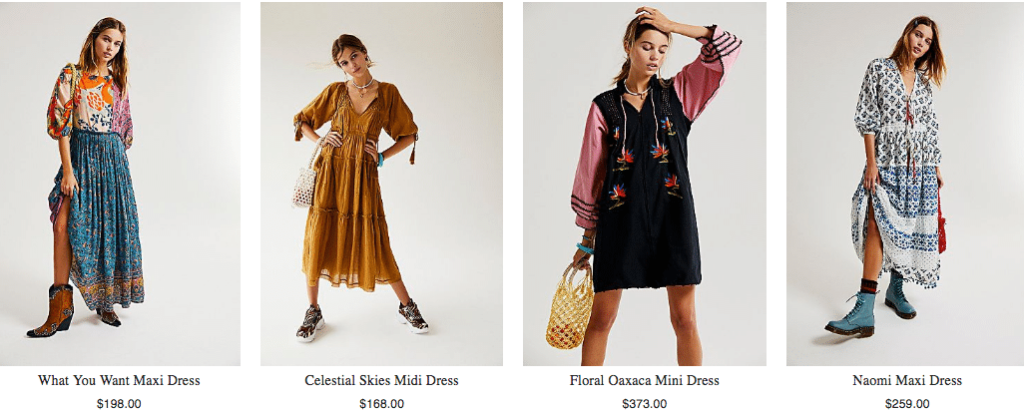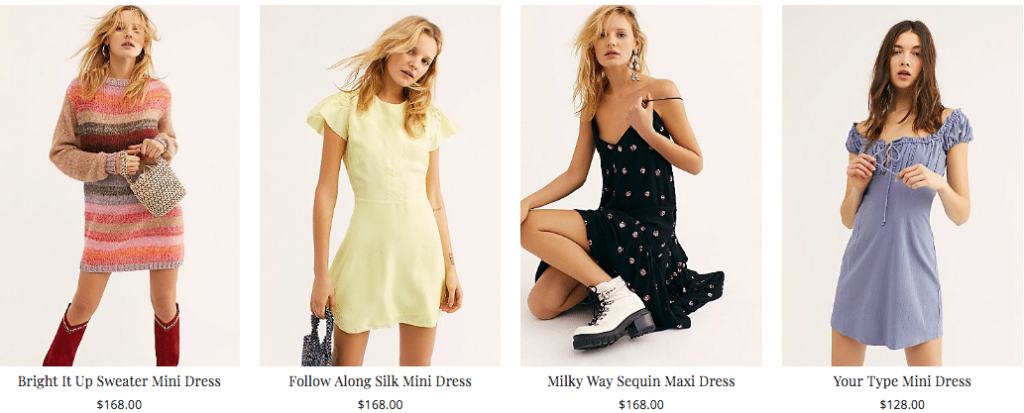 Free People Shoes: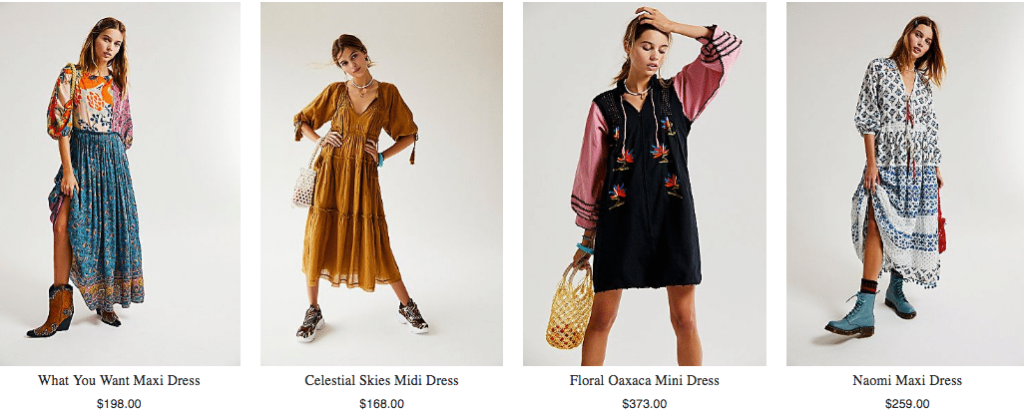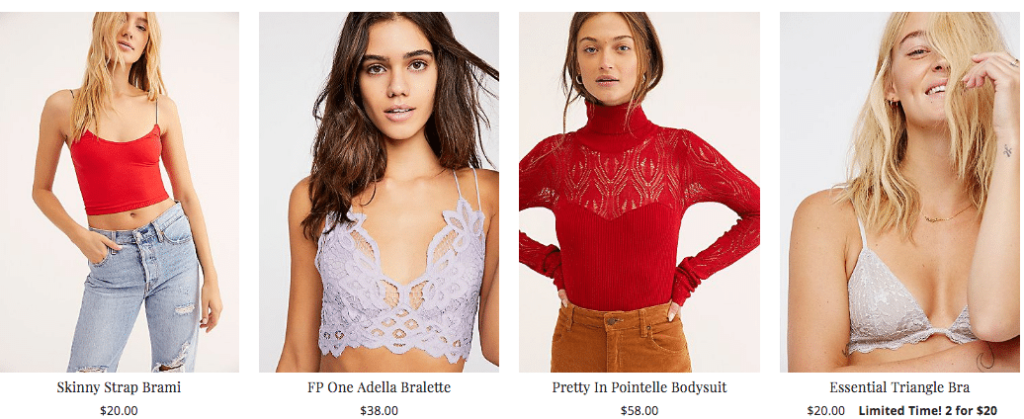 You want the ideal online store to have a wide product range with a lot of different items in their inventory. That way, you're more likely to find an item that you like because of being able to make a choice from a big selection. Also, a wide product range makes it possible for you to get all your related products from one place. That way, you can have significant cost savings from bulk purchase discounts and one order shipment.
In this regard, FreePeople ticks the box. FreePeople is a speciality women's clothing brand, and they provide the full gamut in women's fashion from apparel to accessories, and to beauty products.  The product categories (and different items) in each category in the store are as follows:
FP Movement – This is a fitness-inspired category that features activewear and athletic clothing such as One-Pieces, Workout Gear, Wellness Essentials, Practice, Perform, Too + From, Yoga, Dance, Fit, Run, Bras, Tops, Leggings + Bottoms, Hoodies + Sweatshirts
Price, Promotions and Payment Methods
Price
Price is the most important consideration in any purchase because you will not want to pay what is unreasonable for your fashion styles. Therefore, it's important whether the prices offered by an online store are affordable.
In this regard, it is safe to say that FreePeople is not known for its affordability. For example, you'll find that many of their dresses are $60 – $200; you'll be hard-pressed to find a denim piece that is less than $60, and you'll have to hold at least $40 to get a legging. Their sales page did its best to slash down prices, with some items cut by as much as 50%. But because their main price was high, the discounted prices still stand high. For example, you'll find tops: slashed from about $80 to $50; mini dresses brought to about $80 from three figures and so on.
That said, if shopping-cheap is a primary concern, FreePeople may not be the best place to be looking.
Promotions
Online fashion stores run promos from time to time, and a review of these promos is important because when a customer takes advantage of them, they can lead to significant cost savings.
We are used to seeing online fashion retailers advertising their promo codes on their homepage, but that was not the case with FreePeople. In fact, going through their website, it would seem that they do not offer any promo, as there was not even a link to promotional offers or bonuses. The only reference we saw of a promo is on the shipping page where free shipping was offered for all order amounts on certain items.
However, we saw that FreePeople does run promos from time to time. We'll want to see more information on their site about these.
Payment Methods
You don't want to come up with a headache just to make payment for merchandise in an online store. Thus, you want the store to support a range of options so that some will be available to you no matter where you are shopping from. You'll also want the supported methods to be convenient.
In this regard, FreePeople does not blow the roof off with a long list of payment options, but they support global options that you can easily grab for use no matter where you'll be playing from. These options they accept for payment are Master card, Visa, American Express, Maestro, PayPal, Visa Electron, Solo, and Free People Gift Cards (issued in Pounds).
This is pretty much what the online fashion retails stores offer. However, given the popularity of e-wallets and cryptocurrencies for online payments, I'll want to see some of these options supported.
Also, FreePeople technically supports only one currency because all transactions are made in US Dollars. Though prices and the order total at checkout are listed in a variety of currencies, these are simply estimates based on currency conversion rates. Refunds are also credited back in UD Dollars using the current exchange rate. That said, I will like to see FreePeople support different currencies so that many international customers will not have to worry about currency conversions when making purchases.
Shipping Policy
A review of the shipping policy of an online fashion store is important for many reasons. You'll want to know if the store ships to your country; you'll want to know how much shipping cost because high shipping cost can make the total expenditure on an item unacceptable, even if the item itself was acceptably priced; and you'll want to know how long shipping will take because you don't want to wait forever for the item to arrive.
For the first, the good news is that FreePeople ships to over 100 countries worldwide. These countries are:
North America
United States, Canada, and Mexico
Africa, Middle East, & India
Azerbaijan, Bahrain, Botswana, Egypt, Equatorial Guinea, India, Israel, Jordan, Kuwait, Lebanon, Oman, Qatar, Reunion, Saudi Arabia, Seychelles, South Africa, St. Helena, and the United Arab Emirates
Australia, Brunei Darussalam, Cambodia, China, French Polynesia, Hong Kong, Indonesia, Japan, Kazakhstan, Laos, Macau, Malaysia, Maldives, New Zealand, Philippines, Republic of China – Taiwan, Republic of Korea (South),  Singapore, Thailand, Uzbekistan, and Viet Nam
Albania, Andorra, Austria, Belarus, Belgium, Bosnia-Herzegovina, Bulgaria, Croatia, Cyprus, Czech Republic, Denmark, Estonia, Faroe Islands, Finland, France, Germany, Gibraltar, Greece, Greenland, Hungary, Iceland, Ireland, Italy, Latvia, Liechtenstein, Lithuania, Luxembourg, Macedonia, Malta, Moldova, Monaco, Montenegro, Norway, Poland, Portugal, Romania, Russian Federation, San Marino, Slovakia, Slovenia, Spain, St. Pierre and Miquelon, Sweden, Switzerland, Turkey, and Ukraine
Latin America & the Caribbean
Anguilla, Antigua and Barbuda, Argentina, Aruba, Bahamas, Barbados, Belize, Bermuda, Bolivia, Brazil, Cayman Islands, Chile, Colombia, Costa Rica, Dominica, Dominican Republic, Ecuador, El Salvador, Falkland Islands, French Guyana, Grenada, Guadalupe, Guatemala, Guyana, Honduras, Jamaica, Martinique, Mexico, Montserrat, Netherlands Antilles, Nicaragua, Panama, Paraguay, Peru, Saint Kitts and Nevis, Saint Lucia, Saint Vincent and the Grenadines, Suriname, Trinidad and Tobago, Turks and Caicos Islands, Uruguay, Venezuela, and Virgin Islands (British)
However, FreePeople ships oversized home items to only the 48 continental US states. The company does not support the shipping of these items to international locations, U.S. territories, Alaska, Hawaii, P.O. boxes, and APO/ FPO addresses.
In terms of shipping cost; customers want rates that are as low as possible, therefore free shipping is the ultimate deal clincher.
Fortunately, FreePeople offers free shipping. However, like always your order has to be up to a particular amount to qualify for free shipping. For the US, Australia, and Canada, free shipping is valid for orders over $100 (US Dollars), while for every other that FreePeople ships to, free shipping are valid for orders over $150 (US Dollars).
For the international shipment, it should be noted that the free shipping only applies to the merchandise; all duties and taxes assessed by custom will be the responsibility of the customer. Free shipping is not available for oversized home items.
Most customers don't like having to spend too much in order to qualify for free shipping, and will closely look at the free shipping order qualifying amount. Customers from the US might not like what they see because there are some online fast-fashion shops that require spending only $50+ to qualify for free shipping (to US addresses).
That said, one thing that makes the free shipping offer of FreePeople is that it applies to both domestic orders and international orders. If you've checked other online fashion stores, you'll find that many of them offer only free domestic shipping; and since the bulk of these stores is US-based, only US customers (and at most Canadians) get to enjoy free shipping.
At the time of writing this review, FreePeople was offering free shipping on their "November Catalog" styles. The juice of this offer is that your orders don't need to be over $100; any style from the catalogue that you pick gets shipped to you free of charge, no matter its cost. However, the domestic audience gets preferential treatment – the offer is only available for shipping within the US.
Where free shipping is not applicable, FreePeople charges flat shipping rates which means that your shipping cost does not increase with an increase in the size or weight of your order.
For domestic US shipping, there are different shipping options that you may choose from. There is Standard shipping which takes 5 – 7 business days and cost $7.95 USD; there is Express shipping which takes 2 – 3 business days and cost $10 USD, and there is Overnight Shipping which takes 1 – 2 business days and cost $20 USD. Orders for Express shipping and Overnight Shipping will be dispatched the same day if the orders are placed before 1 PM (EST).
Only standard and express shipping are available for Canada orders. Standard shipping takes 3 – 10 business days and costs $7.95 USD; while Express shipping takes 3 – 5 business days and costs $10.00 USD. Australia also has Standard and Express shipping; the former takes 6 – 12 business days and cost $7.95 and the latter takes 3 – 6 business days and cost $17.95. Shipping to all other international addresses is via Standard shipping that takes 3 – 10 business days and cost $35.
Returns and Exchange Policy
Returns
The sad reality of online purchase is that: what you see is not always what you get. There are so many factors that can make you want to return the item to the store after receiving delivery of it. Therefore, it's important to check that the online store you want to buy from allows returns.
Like almost every other online store, FreePeople allows returns. When you receive your order, and you are not totally satisfied with any of the items, you can return the item to them, and they will issue you a refund. The return policy of FreePeople makes for good reading. First, any merchandise purchased in-store must be returned to the store, while those bought online may be returned by mail or in-store.
Also, they allow a 30 days returns window; which means that you have 30 days from the time of receiving the item to get it back to FreePeople. If the returned items are received within 30 days, FreePeople will issue a refund by crediting your original payment method. This is a very generous returns window, as it means that you won't have to race against time to get in your returns.
You'll find some online stores offering return windows of only 18 days. Also in many of the online stores, if your returns do not get to the store within the allowed time, the items will be rejected and you will not qualify for a refund. However in FreePeople, if your returns do not get to them within the allowed 30 days window, it doesn't disqualify you for a refund.  You'll still be refunded, but the refund will be issued as store credits.
However, there are some things that can cause returned items to be rejected and disqualify the customer from being refunded. Returns are only accepted if they are unworn, unwashed and not defective. Also, all original tags must be intact; and the items must be in their original packaging.
Beauty and Wellness products must be unopened, and swimwear and intimates not only be in their new and unused condition but must have their sanitary strips in place. Swimwears with broken sanitary strips cannot be returned; also items from the vintage collection (Vintage Loves and Vintage Revival) cannot be returned.
FreePeople includes a prepaid returns label which makes it easy to return an item to them. If you opt for the return, all you need do is pack the item appropriately, attach the returns label, and drop off the package at a USPS facility, with your postal carrier, or schedule a pickup at www.usps.com. The one small dent on the returns policy of FreePeople is that customers bear the return shipping cost. Where you use the returns label, a fee of $5.95 will be deducted from your refund per return shipping. However, the "November Catalog styles" offer also carries free returns. If you must return any of the qualifying items, the $5.95 return fee will be waived.
After the returned item is received by FreePeople, you should allow for about one and a half weeks for the returns to be processed; and after the processing, you should allow 1 – 3 business days for the refunds to be received to your original payment method. This means that it can take over two weeks for you to receive the funds. In my opinion, this is one area where FreePeople could use some improvement. They should try to bring down the return processing time so that refunds can be issued quicker than it is currently done.
Exchanges
If you return an item, wait for the returns to be processed and wait again to be refunded, before placing another order, a lot of time can pass before getting your item. But the process can be optimized if you can simply return the first item for an exchange (get another item in its place). Thus, it's also important to check if stores allow product exchanges. Thankfully, FreePeople does. However, product exchanges are available for only US customers. All international customers that may have received a wrong or defective item will have to contact the company and start the returns process for a refund.
Other Services
Price Adjustment Program
In their commitment to making prices as low as possible, FreePeople provides a price adjustment program that allows you to get items for a price lower than it was marked. This happens when you pay the listed price for an item that is out of stock, and the item when on sale happens to be listed at a lower price.
If you contact FreePeople within 14 days of the original delivery date (or of making the payment if it is an in-store purchase); they'll credit your original form of payment with the cash difference.
AfterPay
It's sad if you've fallen in love with an elegant fashion piece but cannot completely pay for it at the moment. If you must have it at that time, you needn't worry too much because FreePeople has a financing plan (AfterPay) that allows you to buy now and pay later.
Another interesting thing is that the AfterPay plan is interest-free; the total you pay is the order amount. AfterPay financing is available only for orders of $35 – $100. It requires you to submit your credit or debit card (Master Card or Visa) details.
The total order will be split into four instalments; you'll have to pay the first instalment at the time of purchase, and the remaining three will be deducted automatically every 2 weeks. Thus, AfterPay is a 6 weeks financing plan. If you miss a payment (that is, funds are not in your account when payment was due), you'll be charged a late fee of $8, and if that's unpaid after 7 days, an additional $8 fee is added.
However, AfterPay financing is only available to customers with a US billing address; customers with international billing addresses cannot create an AfterPay account. That said, the financing plan is a good perk that is not often seen amongst online fashion retailers.
Customer Support
Customer support service is an important element of any store's service, whether online or brick and mortar. You may have questions about the merchandise or about the seller, or you may have issues with your purchase, and you'll want a store that will adequately provide the needed assistance. Therefore, it's important to review the channels that FreePeople provides for addressing customers' inquiries/ complaints.
They provide a FAQ that holds self-help articles that answers some of the questions you may have about shipping, returns and payments. It must be said that FreePeople extensively treats these topics in clear and simple language. However, if you must contact a support agent, they provide for that via email, telephone and live chat.
The email service can be accessed using a contact form on the website. The company pledge to answer all email submissions within 24 – 48 hours. While this is fine, we'll like to see an improvement in the response; at least within 24 hours.
However, for those who wouldn't want feedback, the live chat and telephone service provides instantaneous feedback. Also, these options are available round the clock (24 hours a day). You can access the live chat feature from their website; for the phone service, the number to call is 800.309.1500.
It should be said that many customer reviews of FreePeople have scored their customer service very poorly. With some of the issues identified (like paying extra charges upon receipt of international orders, long refund periods etc), you'll expect customer support service to be busy. And it would appear that many customers weren't satisfied with how their issues were handled.
Summary
Who does not want freedom? FreePeople promises to make you live free through fashion. First, the online fashion retailer is legit and safe. FreePeople is one of the oldest fashion retailers in the business, and they are still fulfilling orders, and also using industry-standard measures to ensure a secure buying environment.
That said, the company does have the styles to help you break the shackles and live free. As a women specialist brand; they have a wide product range that covers every women's clothing, accessories, shoes and beauty products. They cherish creativity in design, and you'll see that reflected in their right-for-the-occasion clothing which invokes attributes of femininity as well as fire. The quality is also top-notch. However, you'll find that their prices are not always "just-right". This is where promotional offers will be appreciated, but FreePeople is not as vocal as we'll like about discounts and promos.
However, there are more reasons to head to FreePeople for your online shopping than there are for not heading there.
Cons
Free shipping to every location, both domestic addresses and international addresses
Allows exchanges
Offers an interest-free 6 weeks financing plan
Has a price adjustment program that allows you to get merchandise for lower than its listed price at the time of payment
24/ 7 customer support via email, telephone and live chat
Pros
Limited payment options
Prices are on the high side
Payment of additional charges upon receipt of the package
No information on promotional offers
Relatively long returns and refund processing time (can take up to 2 weeks)
Support only one currency (US Dollars)
Do you have any experience with Free People? If yes, kindly use the review section below to give us your brief Free People review.
Save Up to 50% Off on Allbirds' Black Friday and Cyber Weekend Sale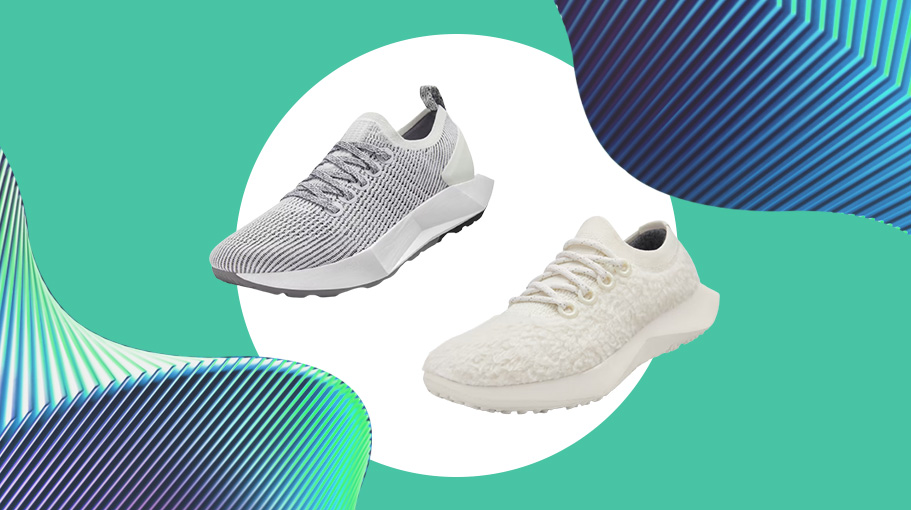 It's no secret that Allbirds is our favorite sneaker brand. Not only does the brand make stylish activewear shoes, but they're also eco-friendly and sustainable, which makes us feel even better about buying from the brand—especially when they're on sale. Right now, Allbirds' massive Black Friday sale is on, which means you can save up to 50% off sitewide.
This is Allbids' biggest sale of the entire year, so whether you're looking for the perfect gift for someone on your holiday shopping list or just need a new pair of sneakers or sweats, now's the time to treat yourself. Grab some of the brand's best-sellers like the Tree Dasher 1s, Wool Runners, and Natural Leggings. Allbirds' Black Friday sale runs through December 2, but we suggest shopping sooner than later—it's selling fast!
Allbirds' Black Friday Sale
Men's Wool Runners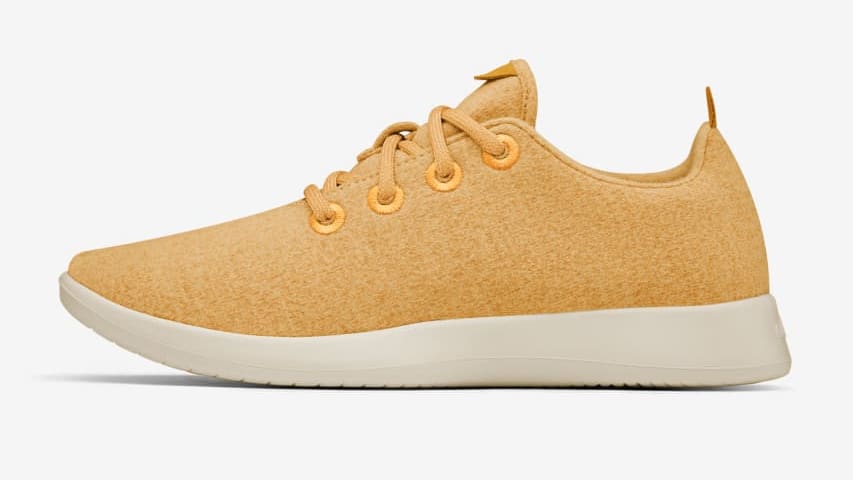 Women's Tree Dasher 1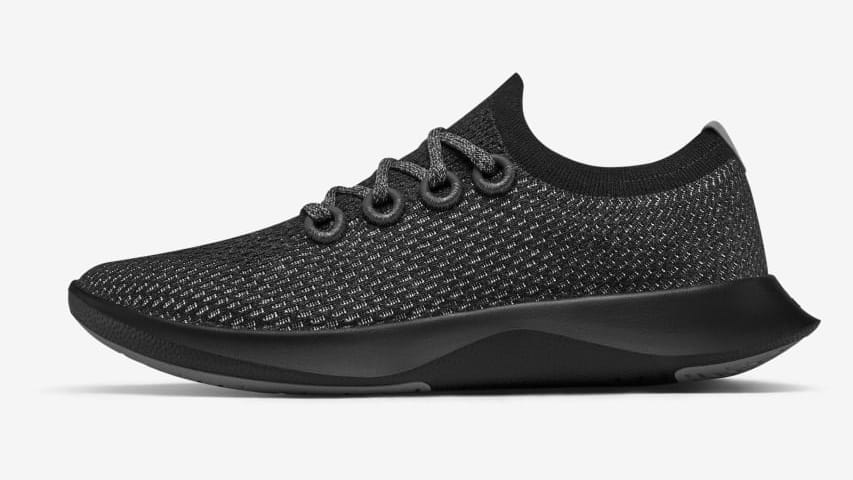 Men's Tree Toppers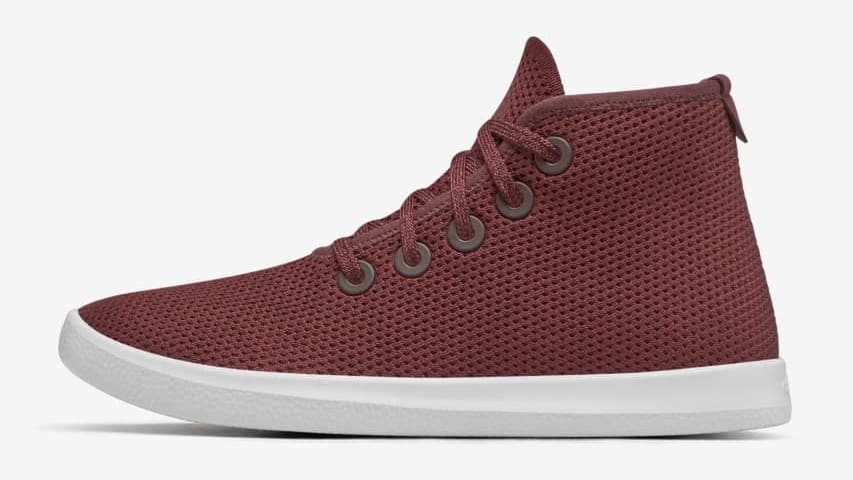 Women's Wool Runners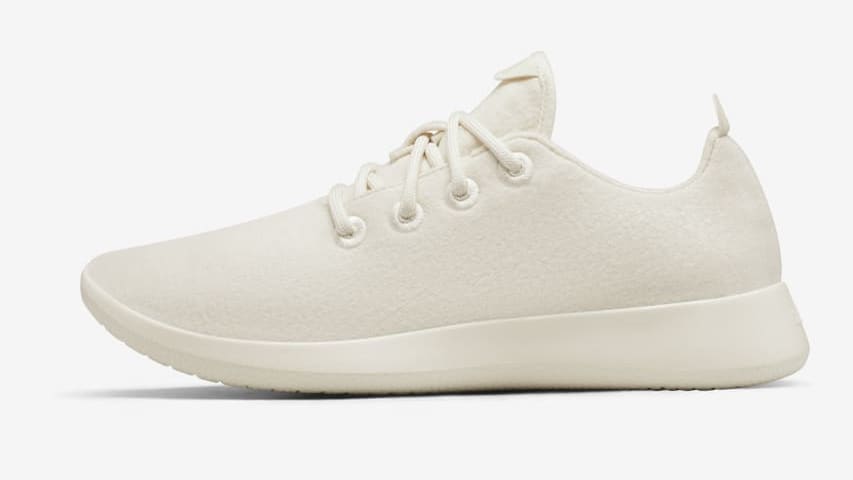 Women's Wool Runner Fluff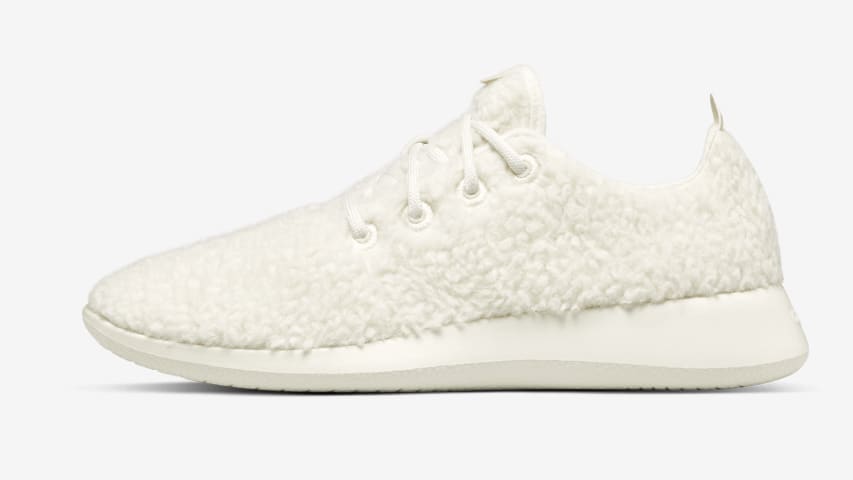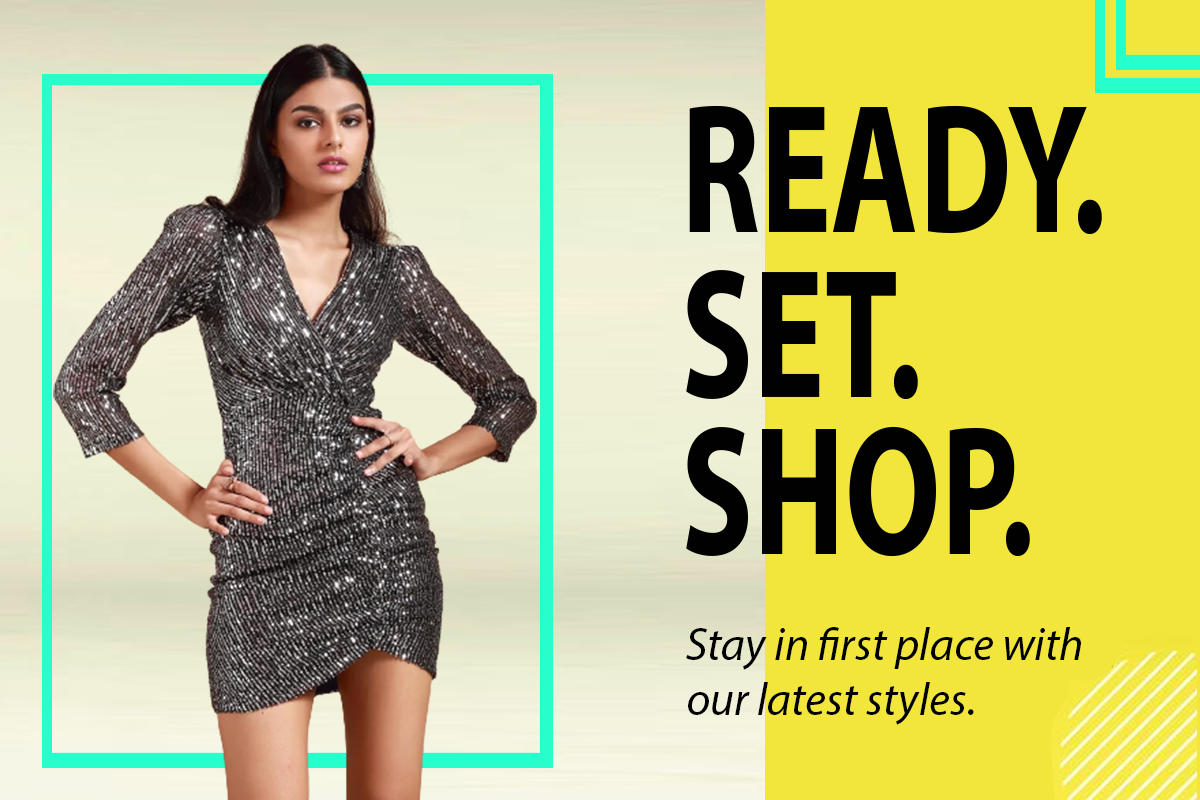 About QUIZ Clothing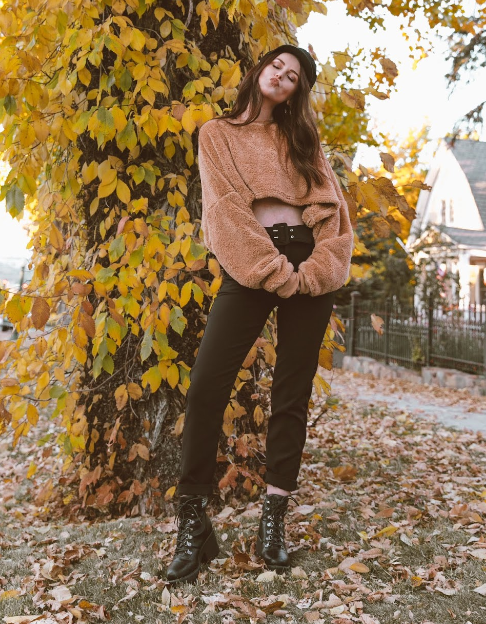 Just like any other British fashion brand, QUIZ Clothing is also known for its aesthetics, timeless designs, and sophistication. The brand offers a premium range of clothing pieces for all age groups and both sexes at quite competitive prices. One can easily rely on the brand to get the best of both worlds.
Precisely, QUIZ pays a lot of emphasis on offering the latest trends and cakewalk-style-driven looks without causing a dent in buyers' pockets. It caters to the fashion-forward women and men who are quite particular about clothes, fashion, and styles.
The brand leaves no stone unturned to offer a versatile range of fashionable and trendy clothes, accessories, and shoes for almost every occasion and outing. That's why the brand has been growing with each passing day.
Currently, it has over 250 stores across 13 countries, including the UK, Armenia, Egypt, UAE, Saudi Arabia, Jordan, Ireland, Pakistan, etc.
Quiz Clothing Review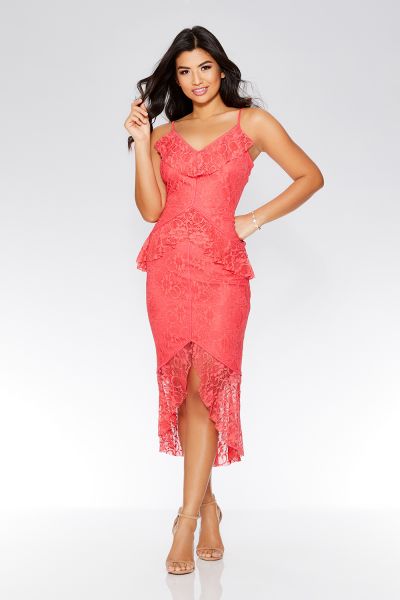 Shopping for trendy and fashionable clothes is one of the most satisfying and rejuvenating activities. Most of us love to shop and wear trendy and stylish clothes. In fact, it's a constant process to upgrade our wardrobe. But, if it happens without breaking the bank then it's nothing short of icing on the cake. Today, one can easily find out a plethora of online and offline fashion retailers offering a wide range of clothing pieces in various designs and styles.
When it comes to UK fashion brands then one must expect great craftsmanship, quality, creativity, and innovation. QUIZ Clothing is one such UK brand that offers an essential cocktail of British fashion and contemporary designs without causing a dent in one's pocket.
Quiz Clothing Dresses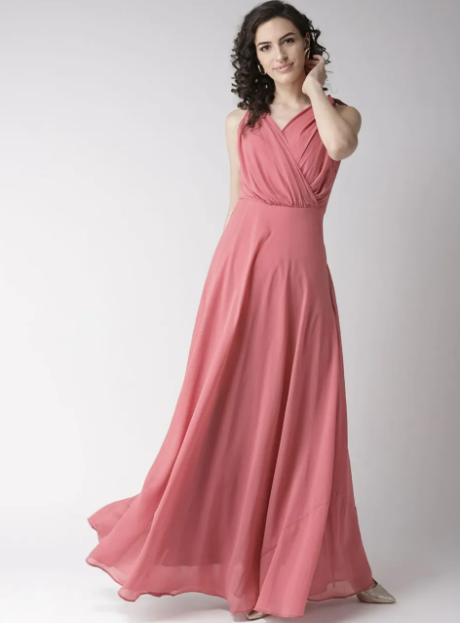 If you're looking for the perfect dress for a special occasion or just a dress that you can style casually every day, Quiz has many options. All dresses are designed in-house so they are unique to Quiz. Dress categories include Bardot dresses, sequin dresses, day dresses, evening dresses, prom dresses, bridesmaid dresses, bodycon dresses and maxi dresses. Quiz dresses are available in sizes 4-20 so there is something to suit all sizes. Each dress incorporates the latest trends, for instance, the AW/16 dresses focus on lace and Bardot styles in neutral colours for a glamorous, simple vibe.
Quiz Clothing Stores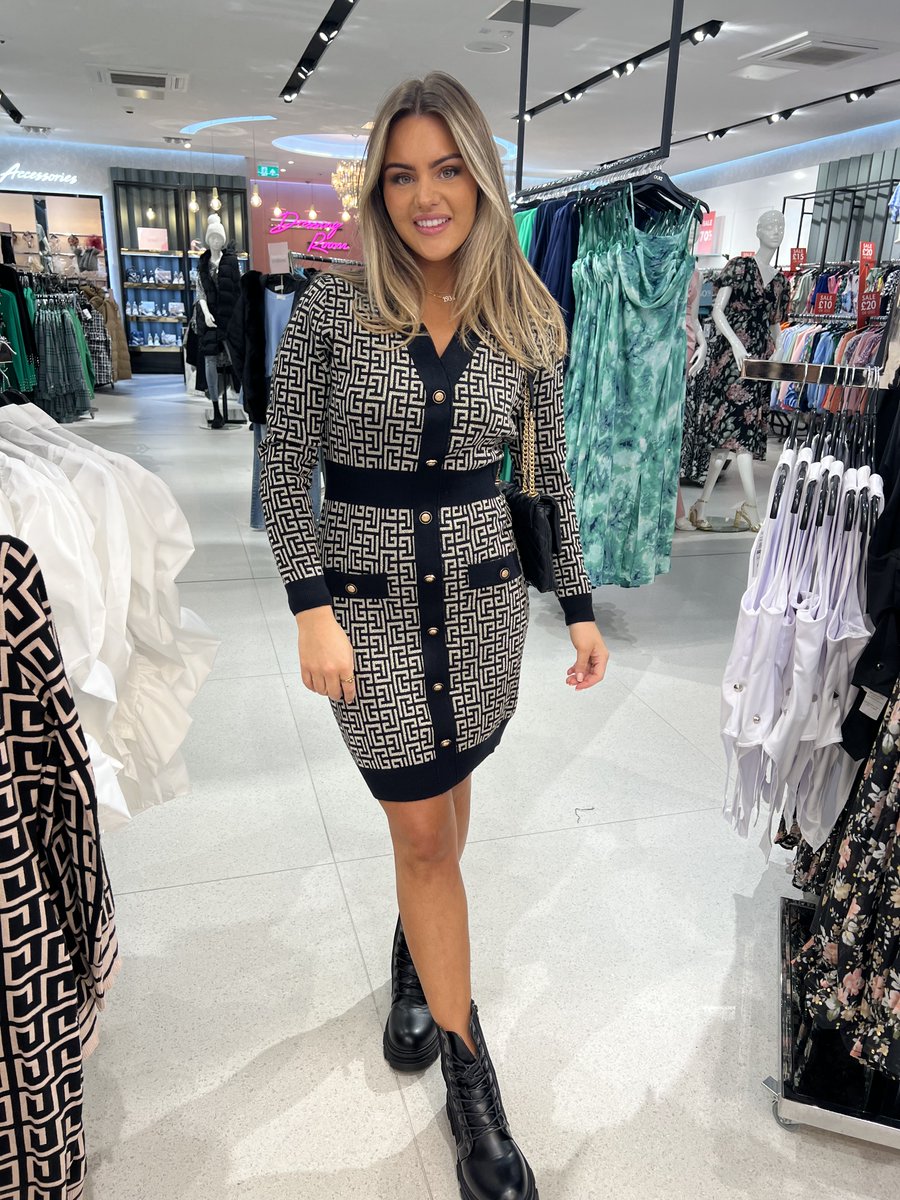 You can use the online store finder to find your nearest Quiz store. There are stores all around the UK. Stores are located as standalone stores in the likes of Chester, Grimsby, Peterborough, Swansea, Falkirk and Stirling. There are also Quiz clothing concessions in Debenhams, House of Fraser and M&Co. With 250 locations around the country, there is sure to be either a store or a concession near to you.
Quiz Clothing Sale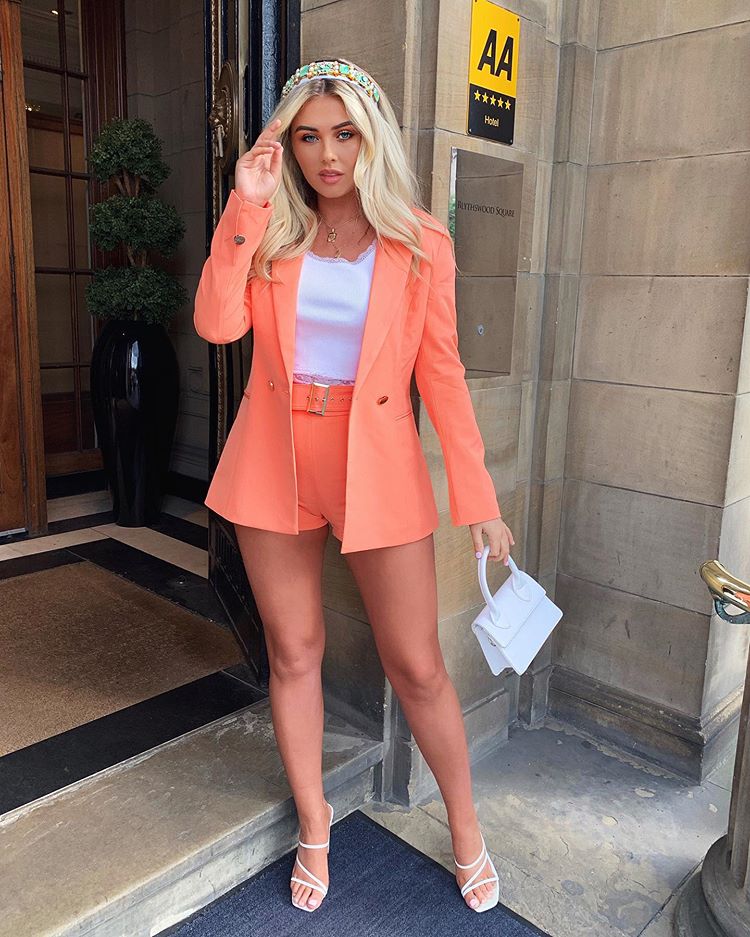 You can get great discounts on Quiz clothing using the online sale and in-store sales. Sales run seasonally, usually during the summer and at Christmas time. You may be able to get a great dress for the party season or some cosy knitwear to see you into the winter months, or perhaps a new coat to put away ready for the next set of cold weather.
Quiz Clothing Returns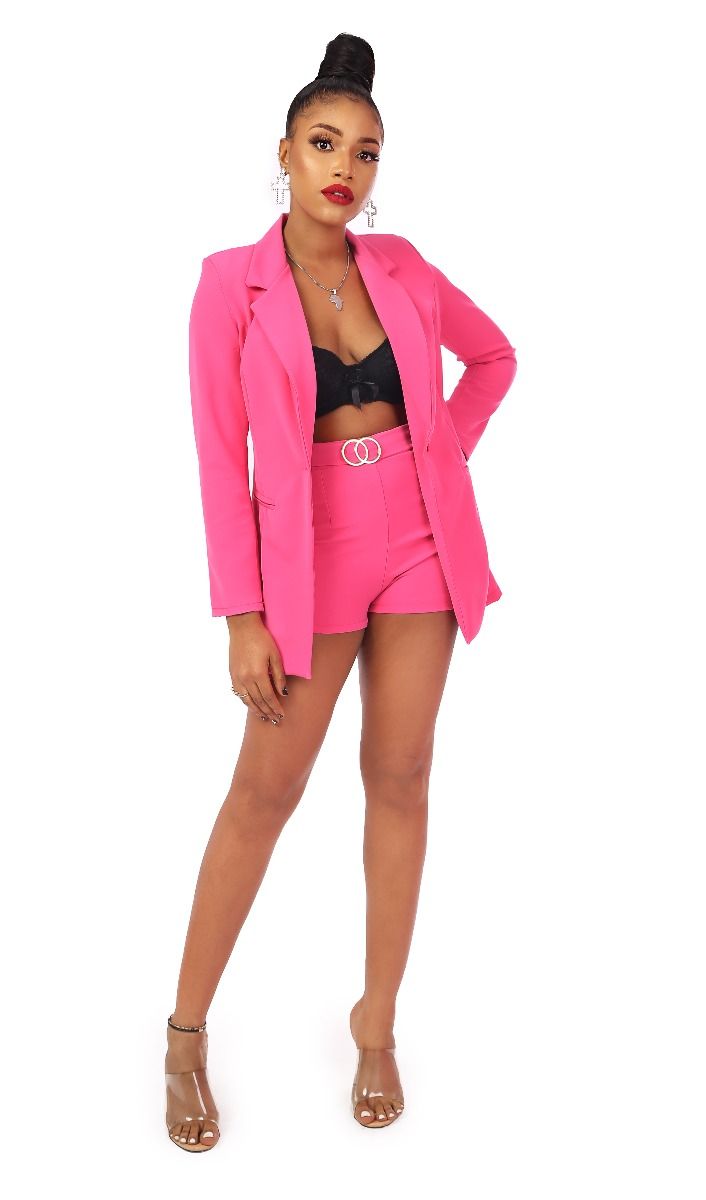 You can return a product to your nearest Quiz store if you have the receipt/web receipt, but only if the product is faulty. For standard returns, this must be processed via post. Log into your account on the Quiz website to generate a returns number, print the slip you are given and pop it in with the items to be sent to the free post address. Take the items to your nearest Post Office and remember to get a proof of postage. You can also return parcels conveniently by using Collect+, with over 5000 corner shops to choose from, which keep late hours. Your refund will be processed as soon as possible but you should aim to allow 7-10 working days for the refund to arrive back in your account.
Quiz Clothing Jobs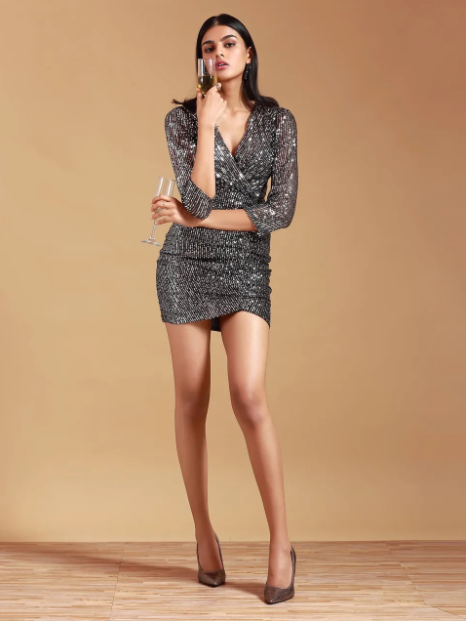 Thanks to a team of committed employees, Quiz has gone from strength to strength since its inception. The company seeks only the most dedicated and passionate employees to work in the fast fashion industry which is constantly changing. In return for enthusiasm and commitment, employees are offered the chance to enjoy a rewarding career with progression opportunities.
Vacancies available include management, assistant management, supervisors and sales assistants. Benefits include industry competitive rates of pay, staff discount scheme with up to 50% off items, bonuses and incentives, structured induction and training, stakeholder pension scheme and childcare vouchers. There are lots of opportunities for progression if you work hard.
Popular Questions About Quiz Clothing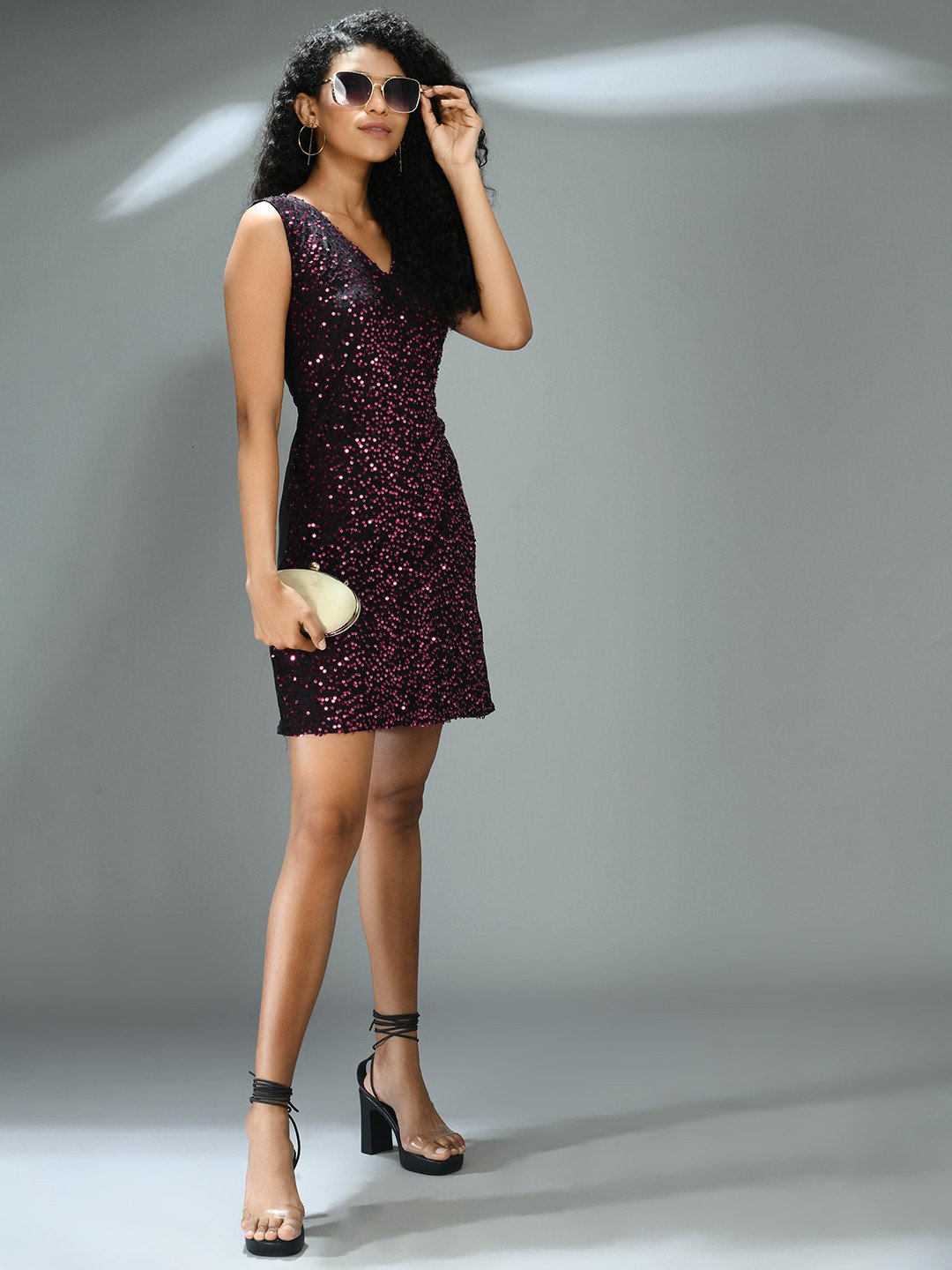 Where is Quiz Clothing in Liverpool?
There is a Quiz concession in the Outfit store on Speke Retail Park, Liverpool. There is also a concession in the Debenhams store in the city centre. For full store addresses, see the Quiz website.
How much do Quiz clothing pay?
The rate of pay for a sales assistant working in a Quiz clothing store is £6.25 an hour according to online sources.
Are Quiz clothing sizes small?
According to online forums, items from Quiz clothing can come up small, so it is always advised to try before you buy or take advantage of the free returns policy.
Who delivers Quiz clothing?
Quiz uses a range of couriers to deliver their clothing, depending on which method of delivery you choose you may have a different courier.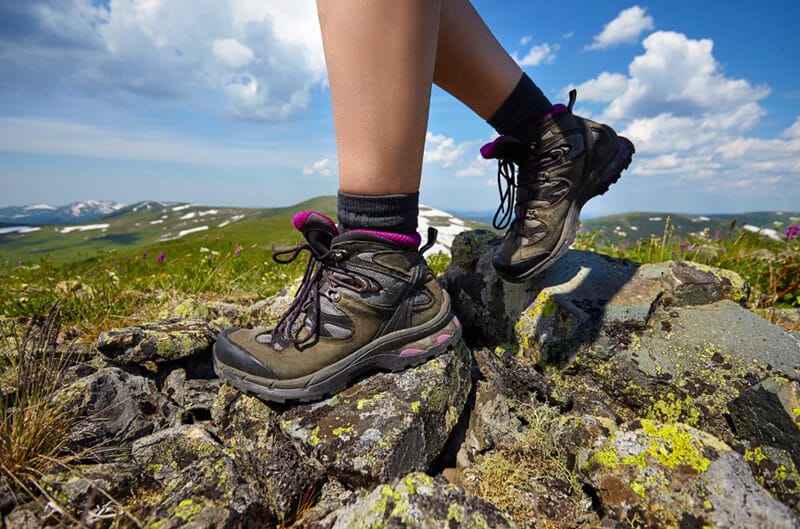 I am so happy to say that rei co-op has come up with a new line of hiking boots! The reason why this makes me so excited is that i love rei co-op products. One of my first hiking backpacks was the rei co-op flash. I still have it to this day because it is of excellent quality and it is pretty durable. Most of rei's products are pretty affordable, and that includes the rei co-op flash hiking boots. The hiking boots are great for beginner hikers or for people that would love some lightweight hiking boots. Another plus is that they are made from recycled material! I am all about companies that strive to make the planet a better place so check out below to get my full rei co-op flash hiking boots review. I talk about comfort, traction, water resistance, weight, support, value, and much more.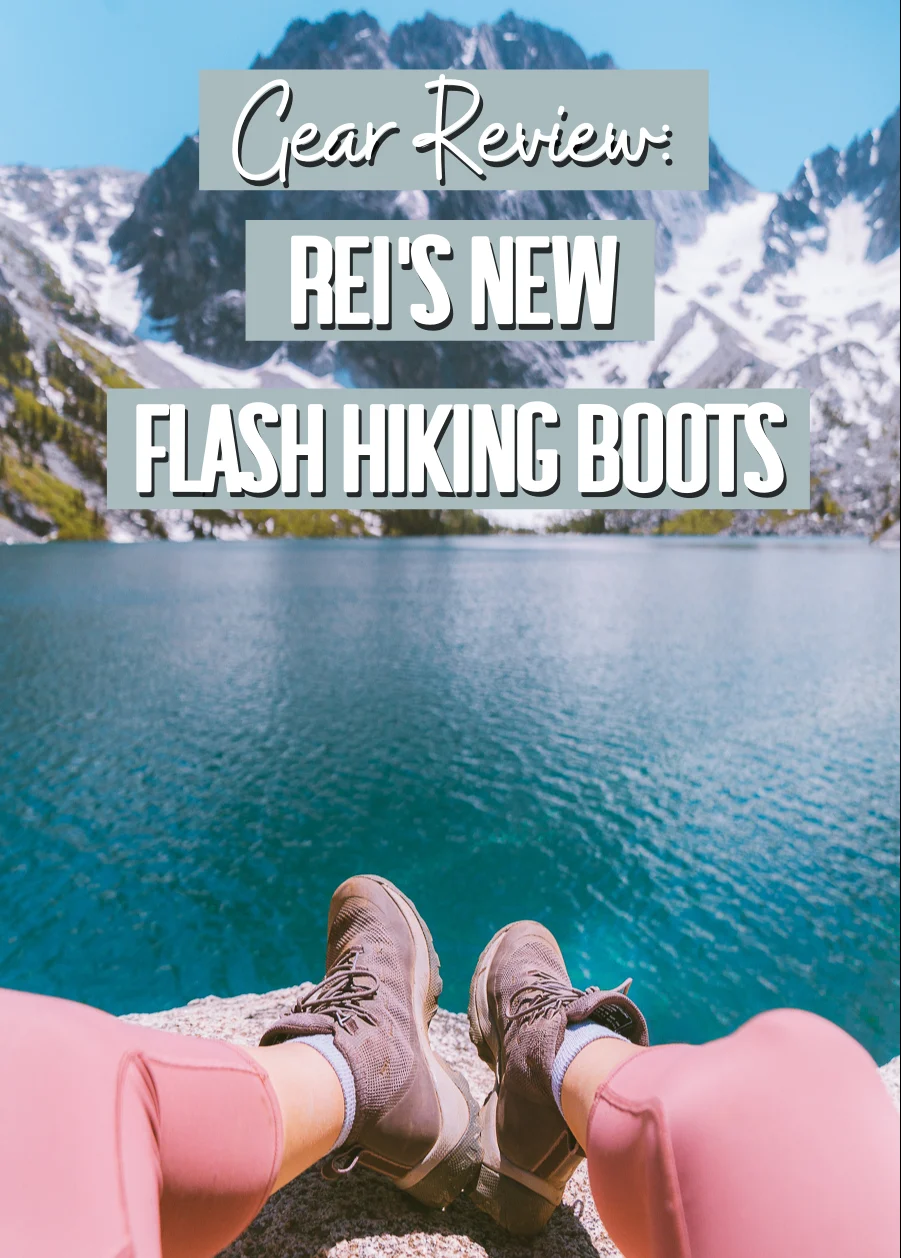 REI Co-op Flash Hiking Boots Review
How I Used The REI Co-Op Flash Hiking Boots
I hiked with the rei co-op flash hiking boots on 4 different trails around washington state. I experienced these shoes on different terrains like crossing streams, steep rocky areas, and muddy trails. Overall my experience was pretty great with the rei flash hiking boots, and i loved how lightweight they felt! Here are the trails i hiked to test them out:
Lake stuart: 9 miles round trip, 1665 ft. Elevation gain
Emmons moraine: 3 miles round trip, 900 ft. Elevation gain
Suntop lookout: 2.1 miles round trip,1100 ft. Elevation gain
Colchuck lake: 8 miles round trip,2280 ft. Elevation gain
Weight
The one thing that stops me from using hiking boots all the time is weight. Most hiking boots can be a little heavy or bulky when compared to hiking shoes. Luckily, the rei co-op flash hiking boots is on the lighter side compared to many other hiking boots in the market. Many hiking boots are usually over 2 lbs, while the rei co-op flash hiking boots is around 1 lb 13 ounces.
Usually, when hiking long trails, the boot's weight can start to weigh you down, but luckily, while hiking colchuck lake (9 miles round trip), the weight of the rei co-op flash hiking boots didn't bother me.
Traction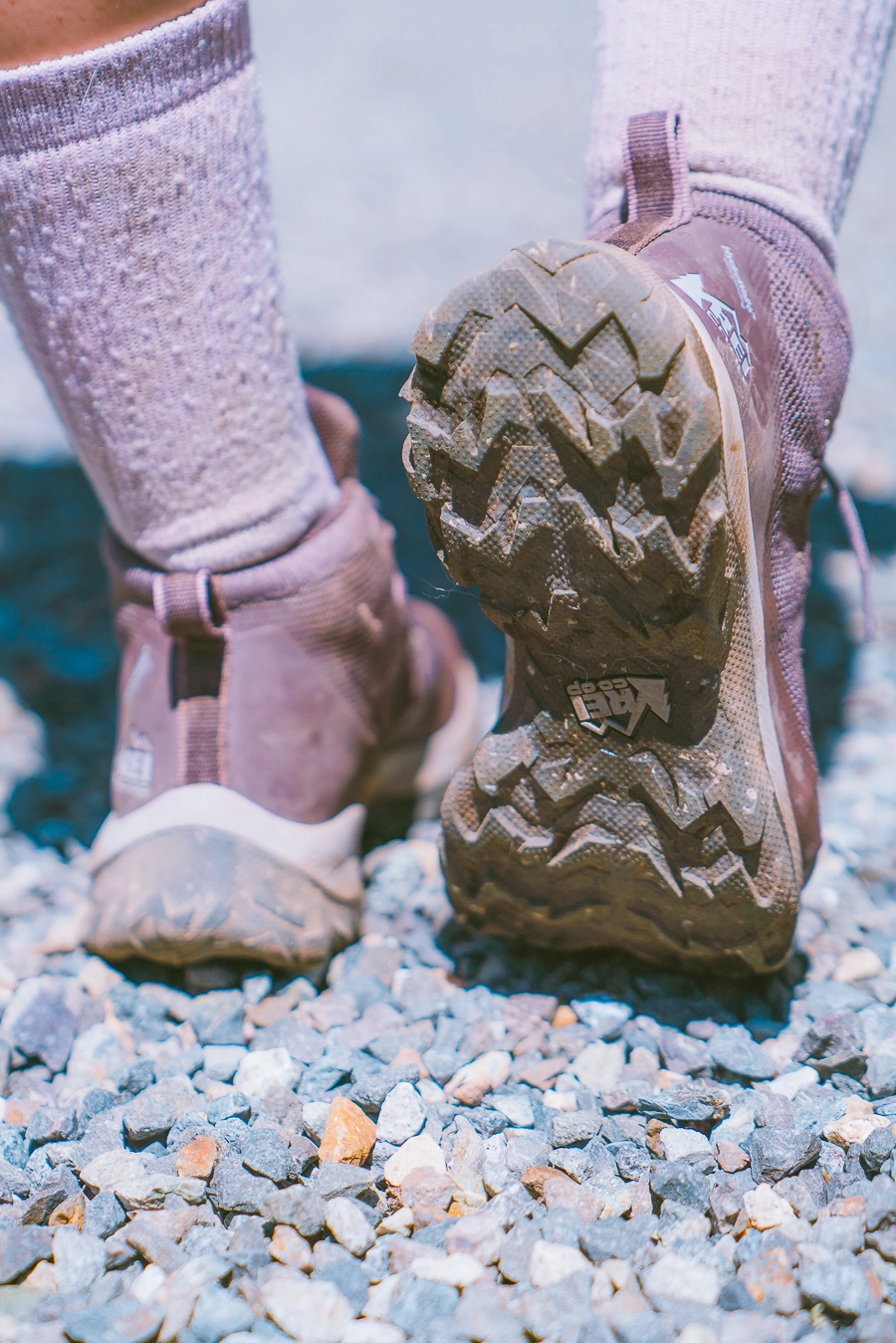 Colchuck Lake trail is known to be one of the rockiest trails in Washington. I was thankful that the REI Co-op Flash Hiking Boots worked well with the nonstop rocks and high elevation gain. This was especially true when going downhill, which is usually my least favorite part of the hike. Most of the time, I have trouble, and I slip or fall on trails, but the REI Co-op Flash Hiking Boots prevented this while hiking Colchuck Lake.
Water Resistance
There are streams and rivers all over Washington, and I was able to test out how waterproof the shoes were. Even though I walked through countless streams, my socks stayed nice and dry. So I submerged them in a shallow river to test them out, and yup, my socks were still dry!
When hiking shoes are waterproof, there can be some problems with breathability. This usually leads to blisters because your feet start to sweat when hiking. I luckily didn't get any blisters on my feet the whole time I was testing out the shoes, which means that the shoes are waterproof yet breathable. This is a huge plus!
Durability
After putting the boots through hell on those 4 hikes (I am not the most graceful hiker), the shoes still looked in pretty good condition. There were no major scratches, no major peeling, and the fabric looks fine.
Comfort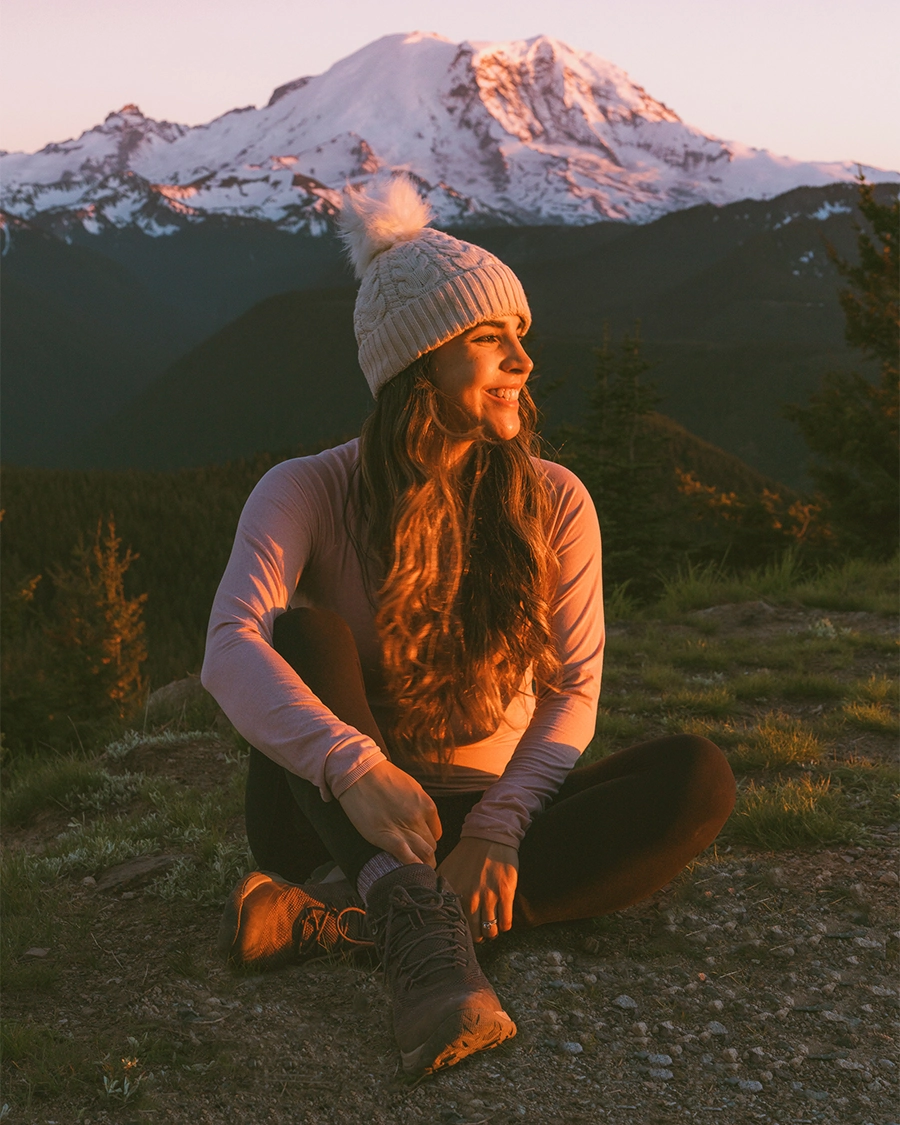 The rei co-op flash hiking boots will need to be broken into. Like most hiking boots, it is recommended to use them around town, at home, or on leisure walks before going on a difficult hike.
They are stiff at first, but they eventually mold to your feet. I do like that there is room in the toe box. I ordered half a size over my regular shoe size (i am usually a size 7 and got a size 7.5), and it fit just fine. I had no problems with my feet swelling or my toenails feeling uncomfortable.
Support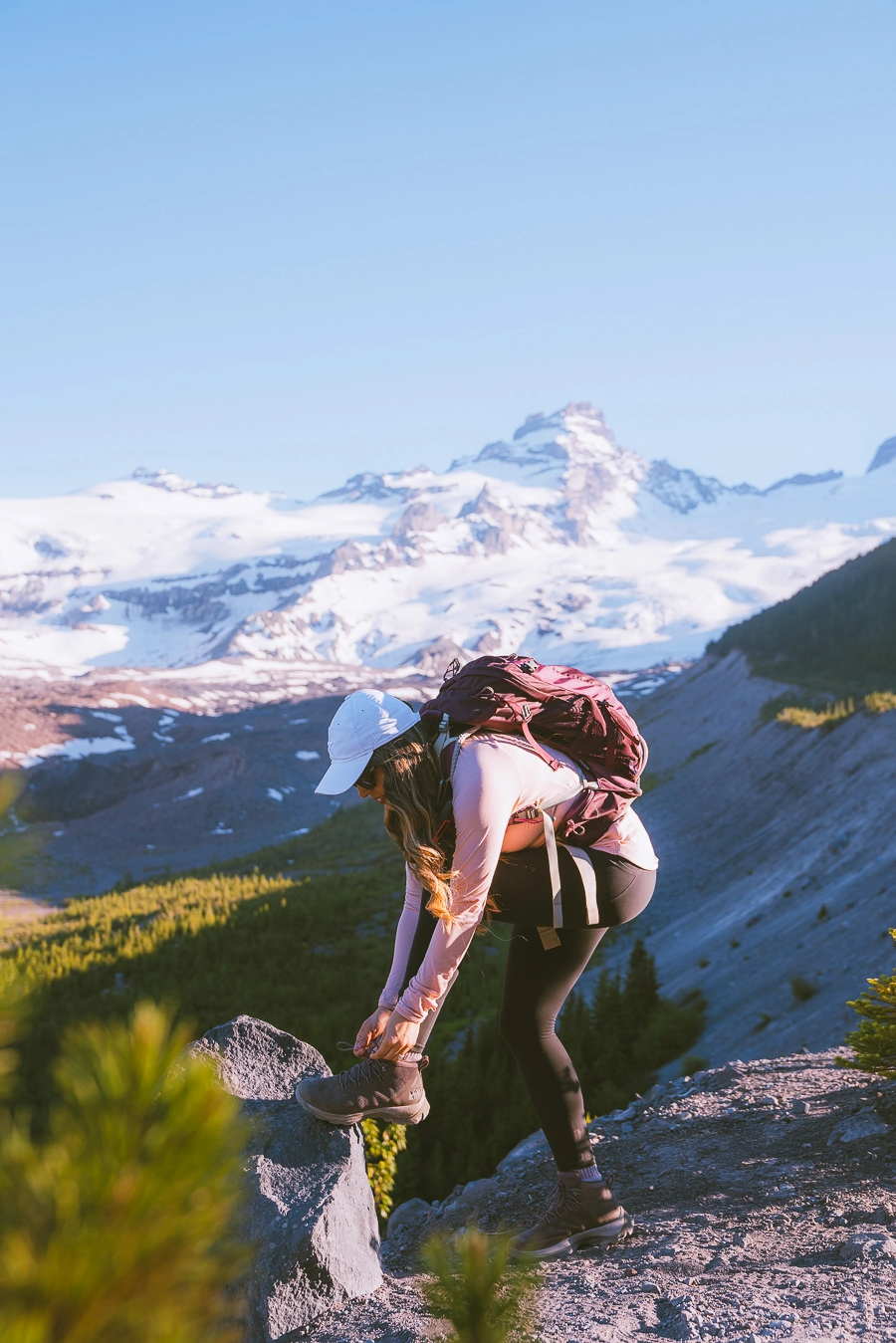 My ankles usually bend like crazy after hiking many miles, and it definitely happened to me while hiking Colchuck Lake. Luckily, the REI Co-op Flash Hiking Boots was able to help prevent any major damage to my ankle when it bent(I have injured my ankle this past year while hiking while wearing other boots). I was pretty happy with the ankle support the REI Co-op Flash Hiking Boots gave me.
The boots' insoles felt pretty supportive, but I know that this could be different for others. I have high arch feet, and the insoles felt perfect for me.
Value
I have reviewed and bought many hiking boots throughout the years, and the REI Co-op Flash Hiking Boots is the most inexpensive boots I have had on hand. I always love that REI Co-op makes its products available to everyone while still maintaining good quality. The cost for the boots ($130) is a great price, especially for budget buyers and new hikers.
REI Co-op Flash Hiking Boots Appearance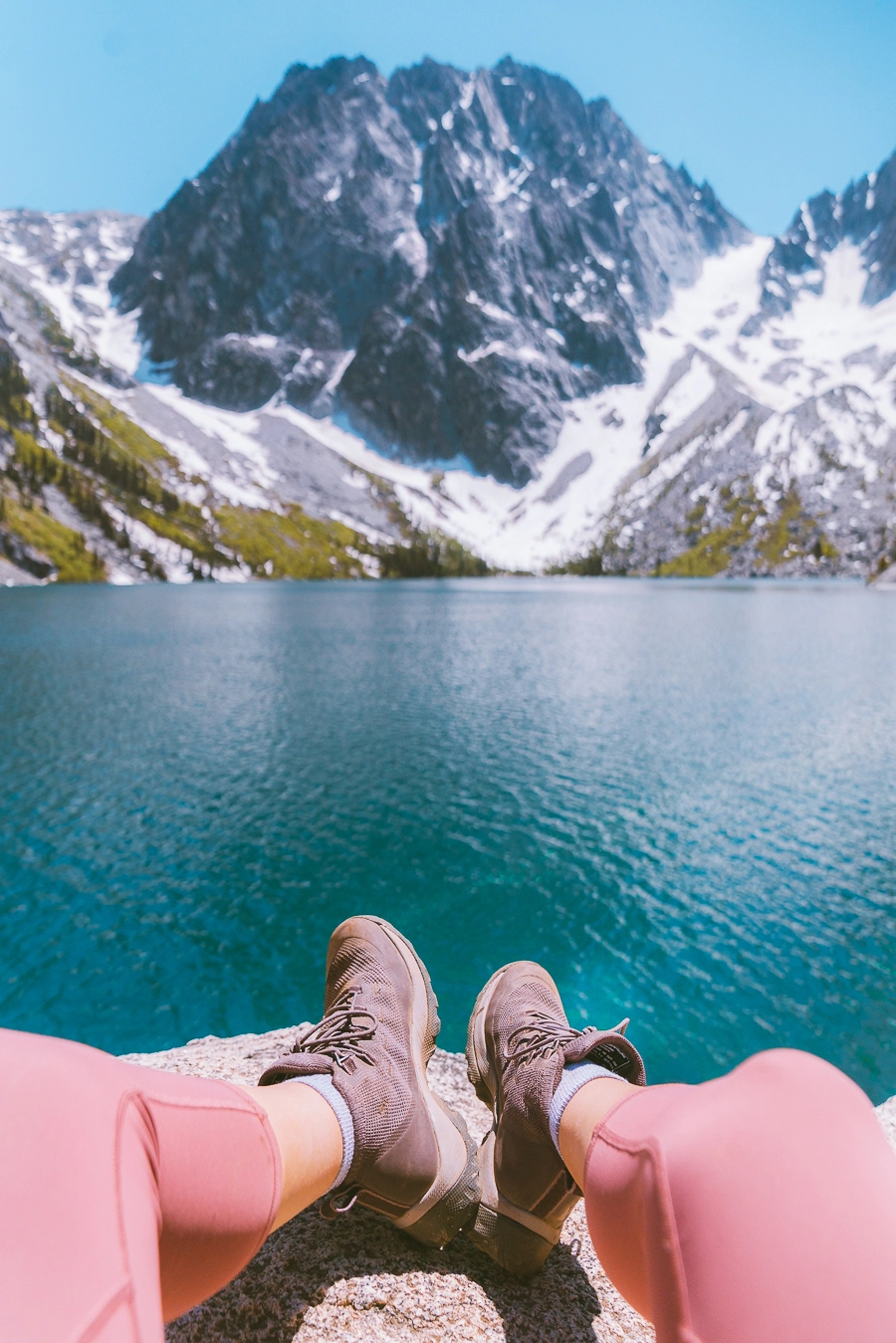 The REI Co-op Flash Hiking Boots comes in three colors;  Bark/Moss, Granite Black, and Smoke/Lilac. I picked the Smoke Lilac because I usually wear more pink colors on my hikes. I really loved the Lilac color and even got compliments of the color on the trails. I love when outdoor brands make hiking apparel more attractive and fun for women! I hope REI Co-op adds even more fun colors in the future!
Style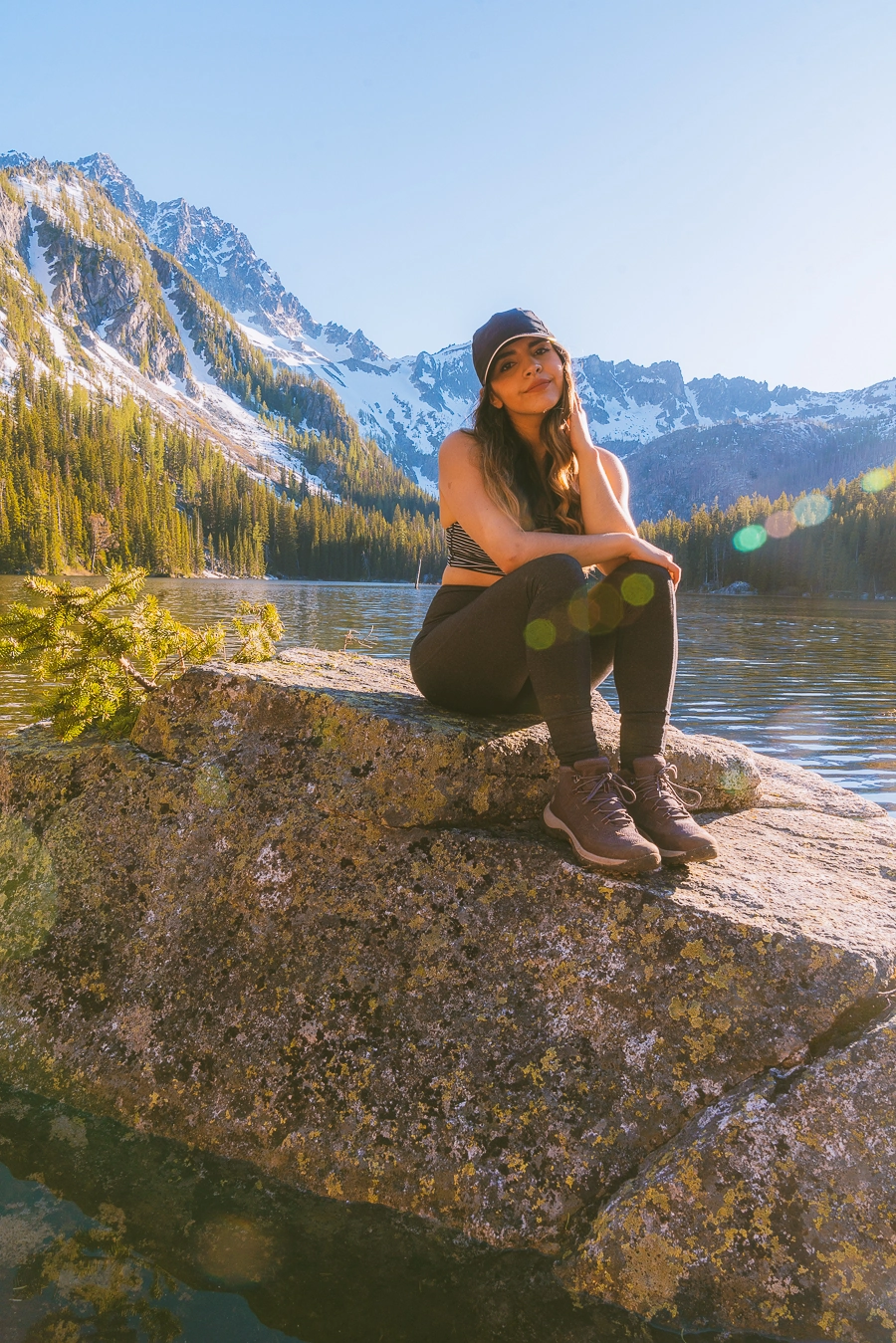 What I loved about the REI Co-op Flash Hiking Boots is how little they resemble hiking boots. Some hiking boots can look pretty manly, rugged, and bulky. Luckily, I can pretty much wear the boots in many places, not just the trails. Hey, I am all about versatility!
The style of the shoes and the weight makes it pretty easy for me to head to the grocery store or to the mall. When it comes to hiking, looks are probably one of the least important factors (which is why I put it at the bottom), but it is nice if your shoes are versatile. Plus, I like looking cute on the trails because that is my jam and my brand!
Eco-Friendly Materials
Usually, when you think about hiking boots, you do not think about Eco Friendly. Well, my friend, the new REI Flash hiking boots are made with recycled materials. Here are some of the specs:
Membrane uses 75% recycled polyester
Upper sole is 99% recycled PET
Upper sole is also 30% recycled TPU
TerraGrip rubber is 20% recycled
As someone who loves the outdoors, I am always so excited to hear when outdoor brands use eco-friendly materials, which is a huge plus. Read more on the recycled materials they use here
Conclusion
Thanks for reading all about the new REI Co-op Flash Hiking Boots! Let me know if you have any questions and make sure you check out some of my other hiking posts:
.