Warby Parker Glasses Review: The Ultimate Guide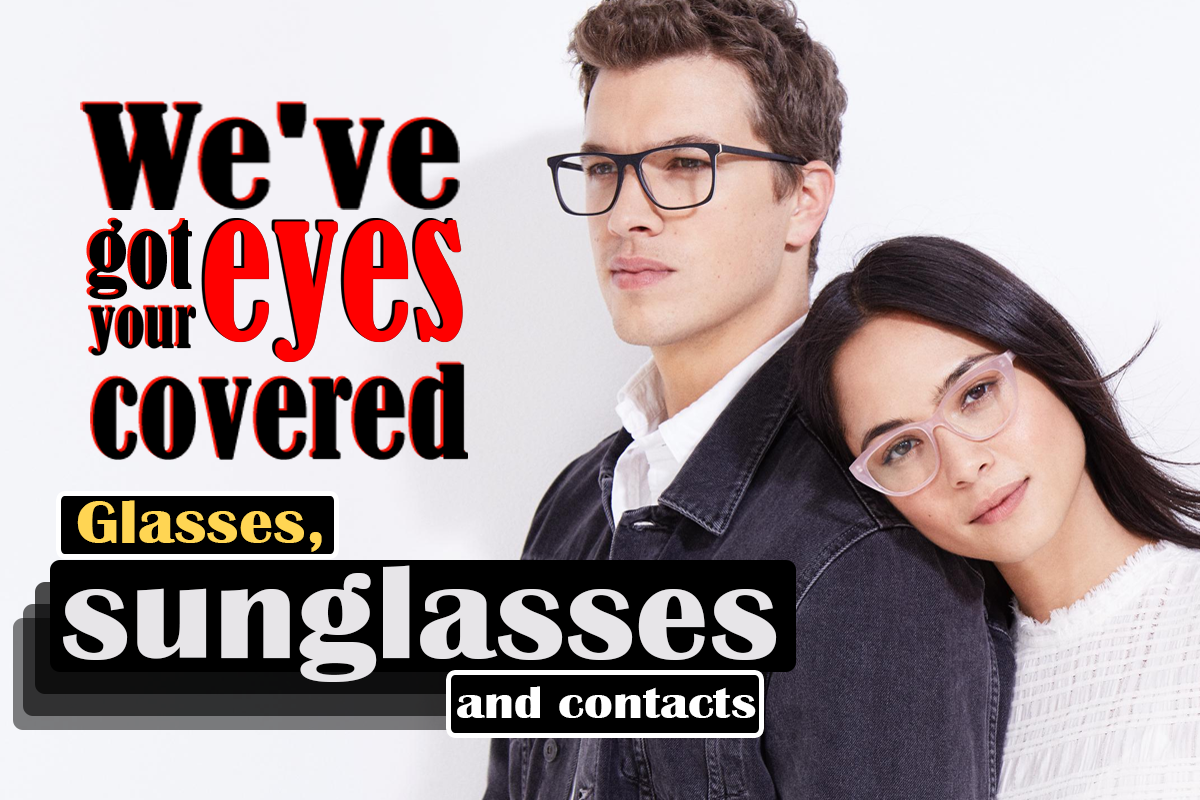 About Warby Parker
Neil Blumenthal, Dave Gilboa, Andy Hunt, and Jeff Raider founded Warby Parker with a rebellious spirit and a lofty goal.
They began with the mission of offering revolutionary prices on designer eyewear while paving the way for socially conscious businesses.
When one of the four founders lost their glasses on a backpacking trip, and the cost of replacing them was so high that he spent the first semester of grad school without them squinting and complaining, they decided to do something about it.
Warby Parker was founded by the four to provide an alternative to the single eyewear company that dominated the industry and maintained artificially high prices.
Warby Parker is a high-end prescription eyewear brand specializing in creating contemporary, stylish, and affordable eyewear for men and women.
The company offers high-quality, better-looking prescription eyewear at a fraction of the going rate by bypassing traditional channels, designing glasses in-house, and engaging directly with customers.
This Warby Parker guide discusses the Warby Parker collection and weighs the brand's advantages and disadvantages.
Warby Parker Reviews
While Warby Parker does have many locations throughout the United States, this review will focus primarily on their online store.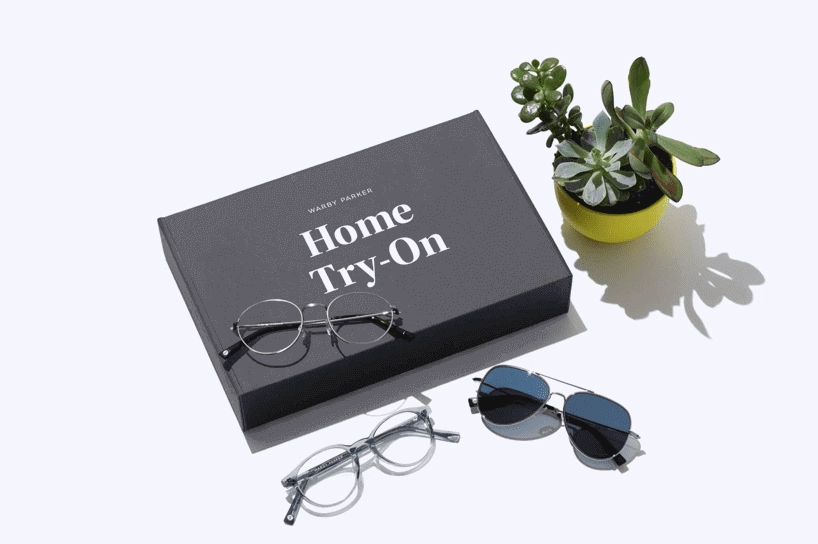 Where Are Warby Parker Glasses Made?
Warby Parker frames are assembled in China and crafted on the same production lines as many of its competitors; the company's prices are lower due to the elimination of middlemen.
What Is The Warby Parker App?
The Warby Parker app makes purchasing eyeglasses, sunglasses, and contacts a breeze.
Warby Parker's app is available for iOS devices in the App Store; however, it is not currently available for Android users.
Why Should You Get This App?
You can choose from a variety of frames, including those with prescription lenses.
Scout, Warby Parker's brand of daily contact lenses, is available for purchase.
With the Home Try-on Program, you can order five frames to try on for free.
You can easily manage all of your eyewear prescriptions.
You can also virtually try on frames with lifelike accuracy if you have an iPhone X or higher. The app allows you to see the realistic color, texture, and size of each style. Not all styles are available, but the brand is constantly adding new ones.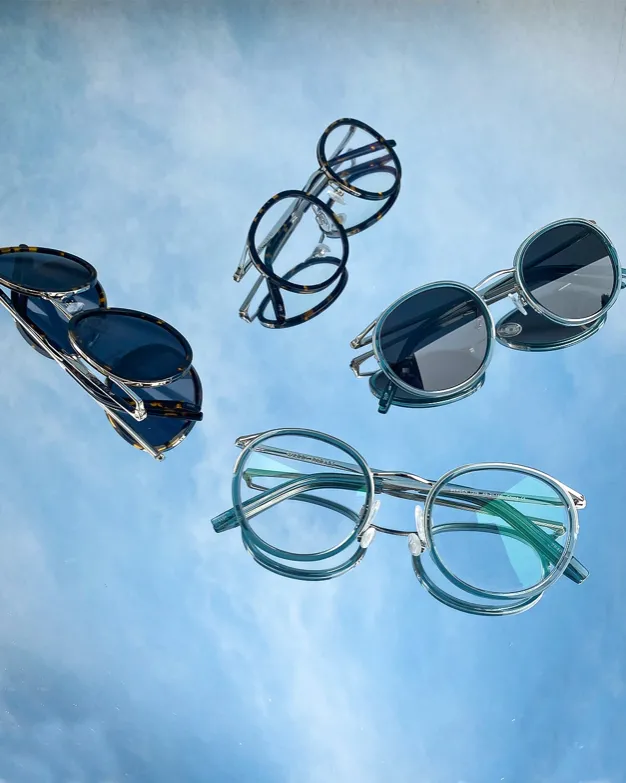 How Much Do Warby Parker EyeGlasses Cost?
Warby Parker can maintain lower prices than traditional opticians because they sell online and manage the entire process in-house.
They are not the cheapest online eyeglasses retailer; for a more affordable option, check out Prive Revaux or Zeelool.
Eyeglasses begin at $95 and go up in price if you require a strong prescription or wish to add features such as blue light or light-responsive lenses.
What Kind Of Insurance Does Warby Parker Take?
Warby Parker has been added to UnitedHealthcare, Spectera, and Davis Vision plans as an in-network provider.
For all other plans, you can submit your receipt for both prescription eyeglasses, sunglasses, and your eye exam along with an out-of-network claim form directly to your insurance company if you have out-of-network benefits.
Pros And Cons Of Warby Parker
What We Like!
All eyeglasses are designed and crafted in-house
Free shipping across the US
You can pick five pairs of glasses to try on at home
Accepts select vision plans
What We Don't Like!
The online virtual try-on tool is only available on the Warby Parker app.
Only ships to the US and Canada
How Do You Order From Warby Parker?
Warby Parker offers a variety of features to assist you in finding the perfect frame online. To order your WP glasses online, follow these steps:
Choose Your Warby Eyeglasses:
Warby Parker's home try-on program allows you to choose five frames and decide if you like them within five days of returning all five pairs and placing your order and their app includes a virtual try-on feature so you don't need to worry about purchasing a pair of glasses that you won't like.
Browse their extensive selection of frames or take their online quiz to determine your face shape and style preferences and then select five frames to try at home for free.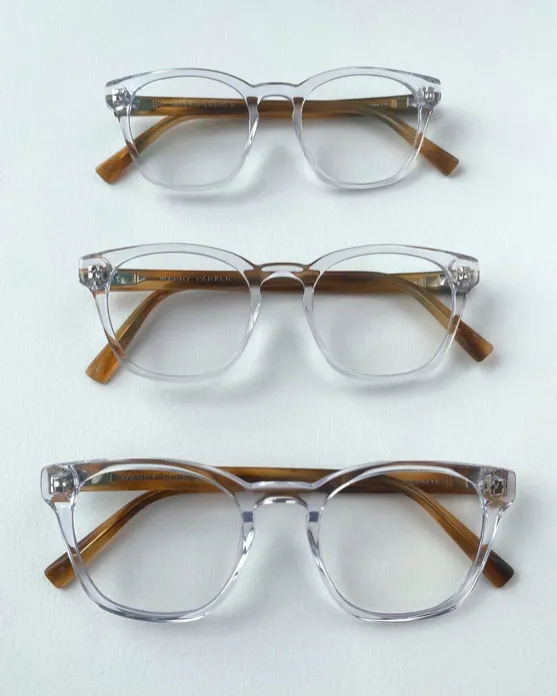 Ensure You Have Your Prescription Ready:
To order glasses, you'll need to have a prescription and know your pupillary distance (PD).
You can use the excellent online Warby Parker PD tool to measure your pupillary distance (PD), which is incredibly easy to use and provides an accurate measurement.
Purchase Your Glasses
Once you've decided on a frame, you can customize it by selecting the prescription and lens type.
To proceed, you must register with Warby Parker or log in. Then, you'll be prompted to enter your prescription information, either by uploading a photo of it, request that Warby Parker email it to you, or provide your doctor's contact information.
Warby Parker Eyeglasses Review
Warby Parker frames are classified as acetate (plastic), metal, or mixed material.
At $95, including prescription single-vision lenses, the acetate frames are the most affordable. The acetate frames are beautifully polished and feature solid and pliable hinges.
Their metal and mixed material glasses, which start at $145, are generally more expensive. Stainless steel or a combination of both materials is used for most of their metal frames. Additionally, a few premium pairs are constructed of titanium, which is even lighter and more durable.
Here are some examples of the current range.
Women's Esme Eyeglasses
Esme draws attention to itself with its squarish cat-eyed lenses and an overall air of understated confidence.
The glasses are hand-polished cellulose acetate with Akulon-coated screws for durability. Esme frames are available in two widths: narrow and medium.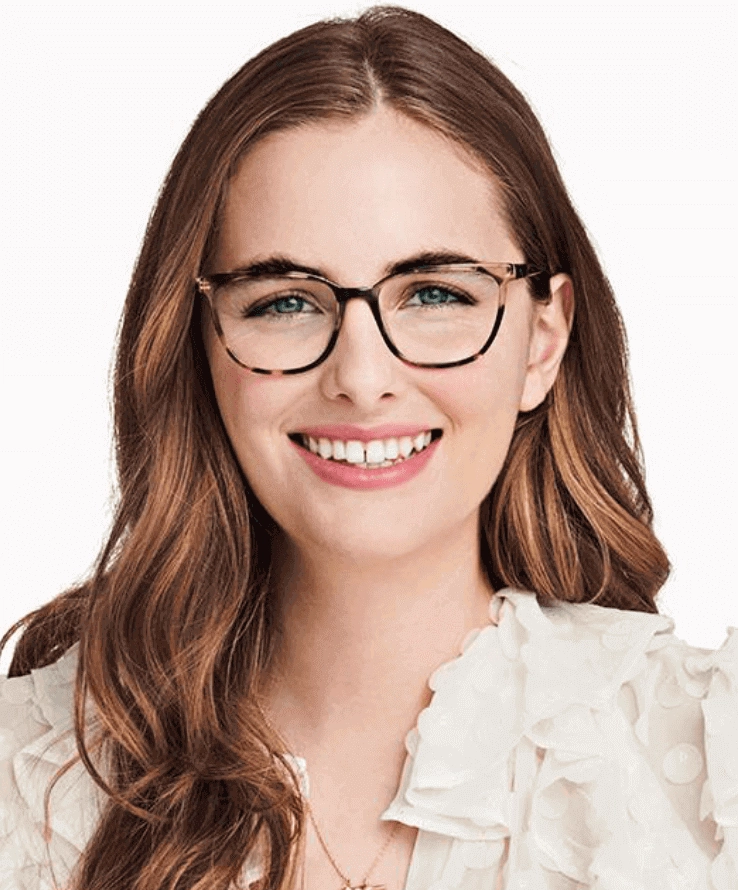 Warby Parker Esme Eyeglasses are $95 for single-vision, no-prescription, and reader lenses. If you need progressive lenses, the glasses cost $295.
Blue-light filtering can be added for $50, and light-responsive lenses can be added for an additional $100.
Men's Halton Eyeglasses
The quiet confidence of these Halton Eyeglasses stems from its distinguishing features, which include a mid-century acetate silhouette, Art Deco-inspired metal temples, sleek temple tips, and a Graduated Rivet design.
The glasses are hand-polished cellulose acetate and stainless steel, with Akulon-coated screws for added durability. The Halton comes in medium width.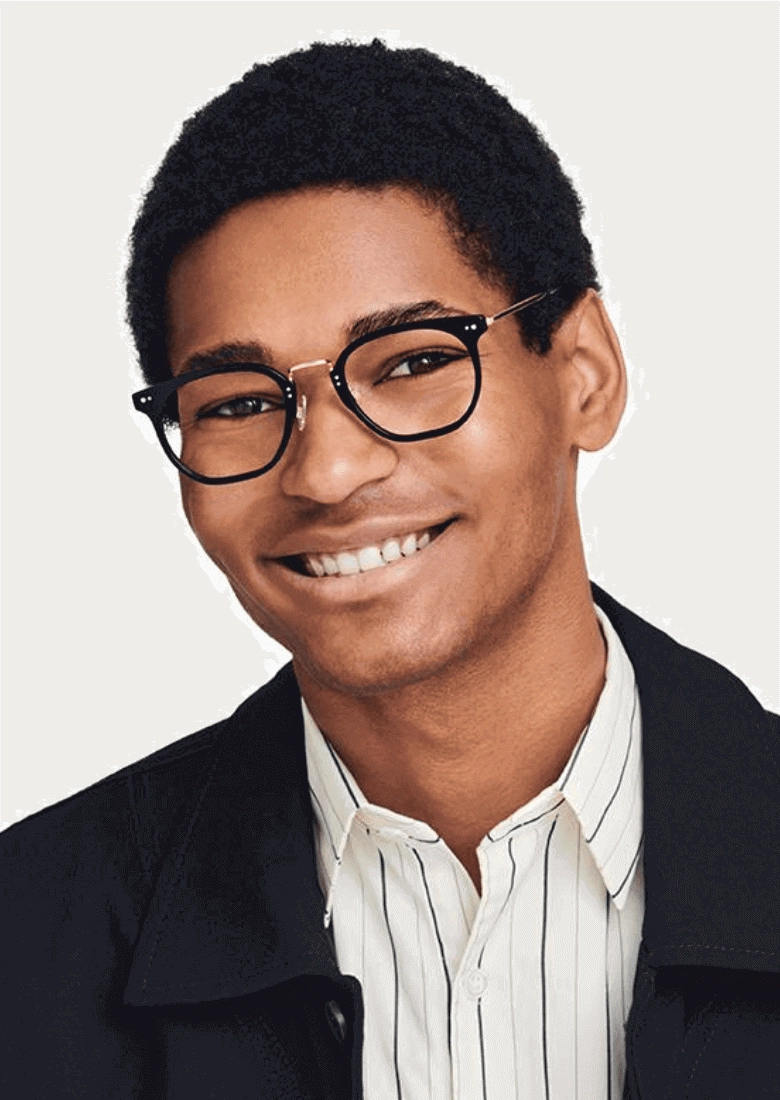 Men's Halton Eyeglasses from Warby Parker start at $145 for single-vision and non-prescription lenses. The price rises to $345 with progressive lenses.
Warby Parker Sunglasses Review
There is a pair of sunglasses for everyone with a wide range of styles designed in-house and crafted from high-quality materials
Women's Percey Sunglasses
Percey sunglasses are one of Warby Parker's tried-and-true classics, made from hand-polished cellulose acetate and featuring Akulon-coated screws for durability.Prescription lenses are made of polycarbonate, which is the most impact-resistant material available for sunglasses; non-prescription lenses are made of CR-39 for maximum clarity and color.
Percey Frames have scratch-resistant lenses that block 100% of UV rays and come in medium width.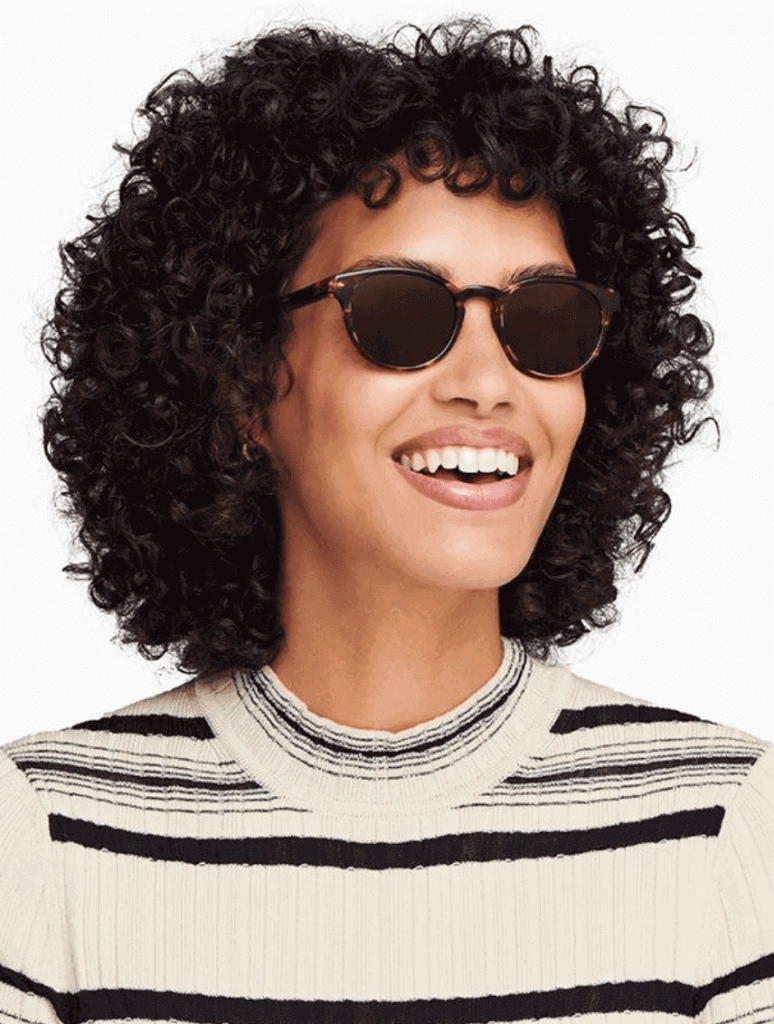 Low Bridge Fit frames are designed for people who have low nose bridges (the bridge of your nose is level with or below your pupils), wide faces, or high cheekbones. This frame style prevents glasses from sliding down your nose, resting on your cheeks, or pinching.
The Percey Sunglasses by Warby Parker cost $95 for non-prescription sunglasses, $175 for single-vision sunglasses and readers, and $375 for progressive sunglasses.
Men's Merrick Sunglasses
The Men's Merrick sunglasses will turn heads thanks to their perfectly oval lenses and sleek temple arms.Made of stainless steel and custom cellulose acetate, the Temple tips are cut from a single acetate sheet to maintain color consistency.
The screws are coated with Akulon for added durability.Premium polarized lenses with anti-scratch coating are made of CR-39 for maximum clarity and color, and the lenses block 100% of UVA and UVB rays.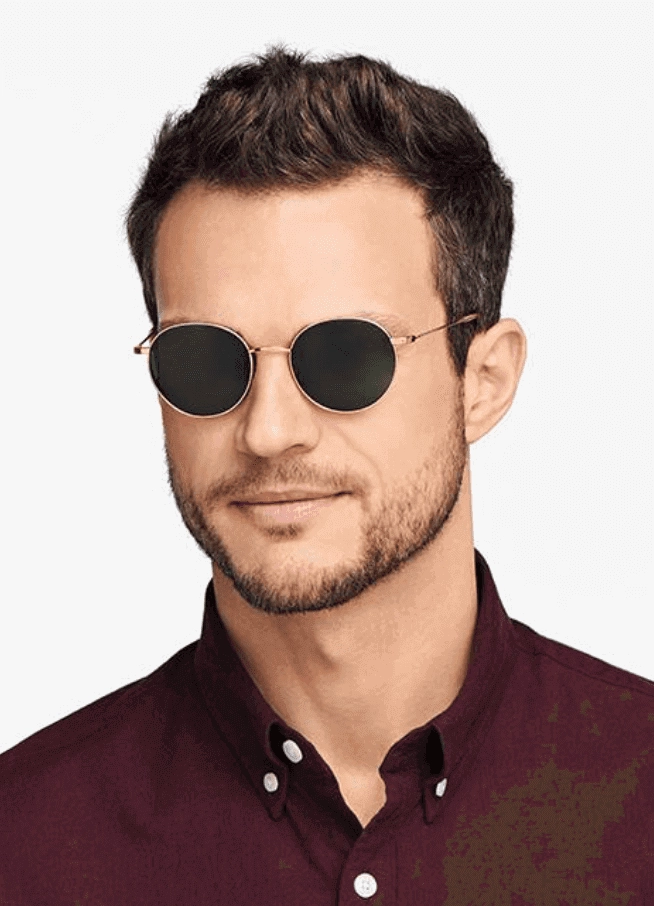 The Men's Merrick Sunglasses by Warby Parker start at $225 for single-vision lenses and go up to $425 for progressive lenses.
Warby Parker Kids Glasses Review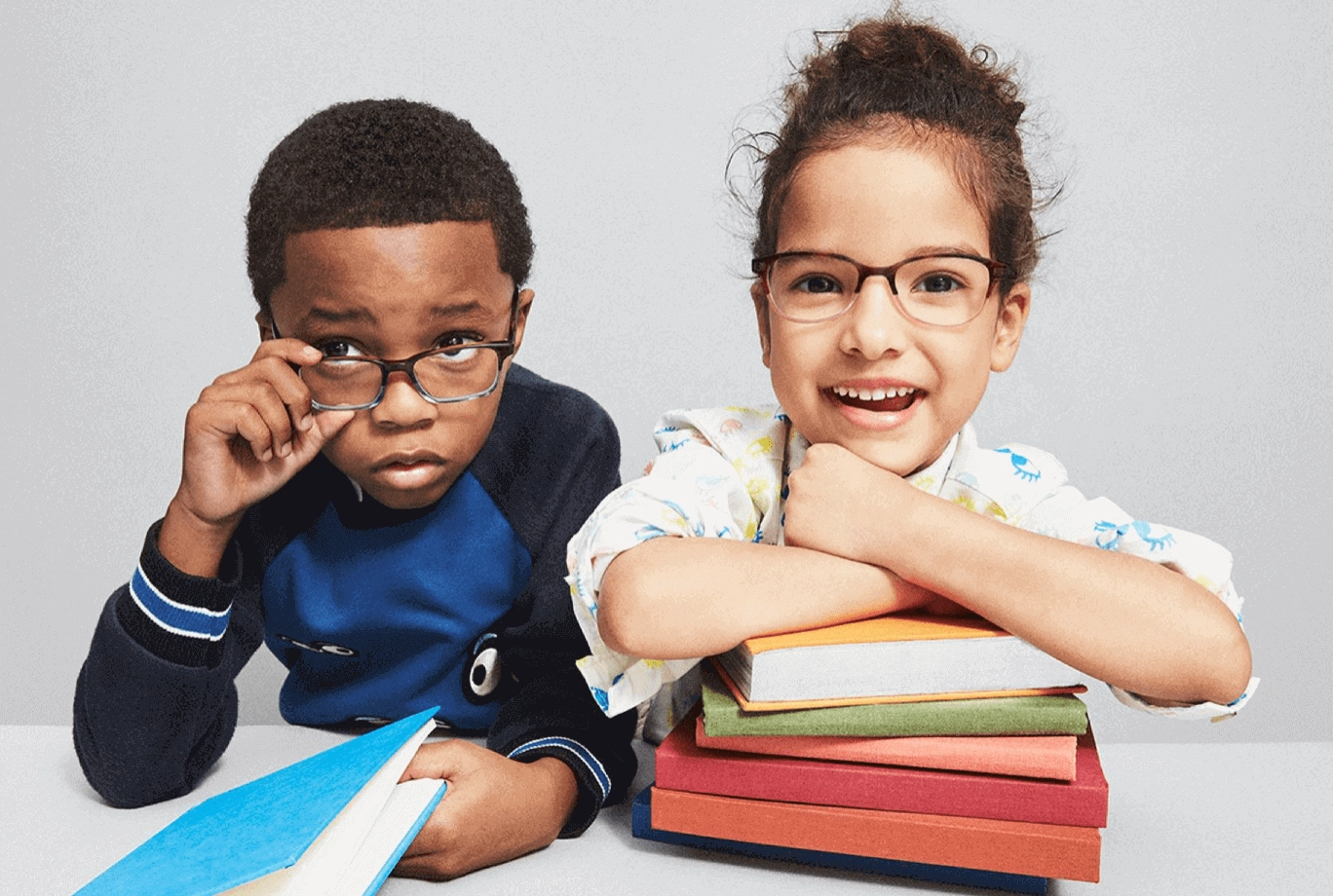 Warby Parker downsized some of their favorite adult frames and amplified the cuteness to fit their younger customers. The junior frames are designed for children ages 4 to 8, while older children may prefer the extra-narrow adult frames.
The children's range is not available online, but you can browse their selection and place an order by calling 1 (888) 492 7297 or purchase them in-store.
Additionally, for every pair of kid's glasses purchased, the company will donate a pair to a kid in need.
Warby Parker Lens Review
WarbyParker offers a wide range of lens types, including polycarbonate lenses, 1.67 high index lenses, 1.74 high index lenses, blue-light-blocking lenses, and light-responsive lenses.
The company does not offer bifocal lenses.
Wherever you purchase your glasses, they should be durable, easy to care for and provide the best sight correction and comfort. Warby Parker delivered on all of these fronts.
Their lenses have excellent clarity and visual sharpness. Prescription lenses are made of polycarbonate, which is lighter and stronger than the standard CR-39 (1.50-index) lens.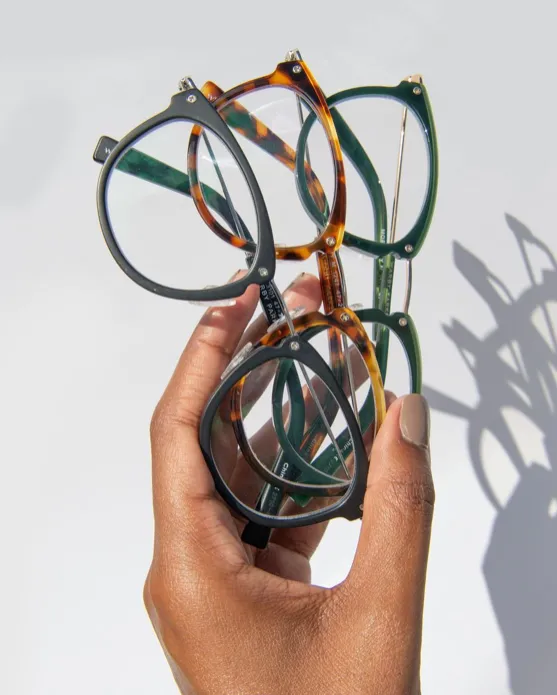 What Lenses Are Included With The Frame?
Each pair of Warby Parker glasses lenses comes with a slew of fantastic extras:
Scratch-resistant treatment – A treatment that accomplishes exactly what the name implies. If scratches occur within a year of purchase, the company will replace your lenses for free.
Anti-reflective coating: A coating has been applied to your lenses to reduce reflections and eliminate glare.
Superhydrophobic coating: The term "hydrophobic" refers to something that is opposed to water. The lenses are superhydrophobic, which means they repel moisture, aiding in smudging prevention.
UV protection – lenses completely block UVA and UVB rays. All-optical orders include these lightweight, impact-resistant lenses as standard.
The following prescription types are included in the frame's base price:
Single Vision Lenses: These lenses focus on a single field of vision, close, intermediate, or distance. This is the most popular option, and it is included in the price.
Non-Prescription Lenses: Enjoy all of the style and protection of our optical lenses without the need for vision correction.
Readers – These lenses provide simple magnification for reading (up to +2.75).
Can You Upgrade Your Lenses?
Warby Parker offers a range of upgrades to your lenses.
Progressive Lenses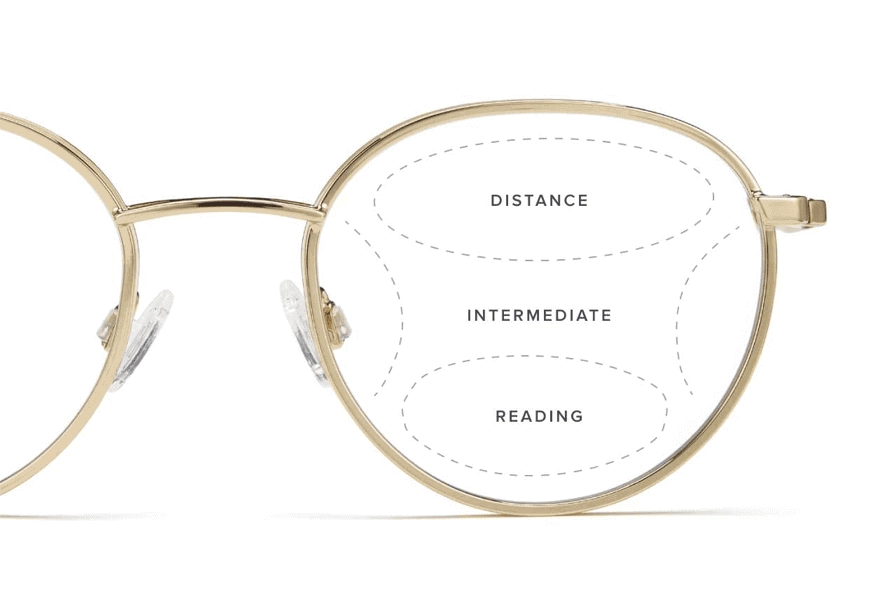 The digital free-form progressive lenses provide seamless near- and far-sighted correction, as well as everything in between, eliminating the need for multiple pairs.
In comparison to bifocal and trifocal lenses, Progressive lenses provide sharper overall vision and a seamless transition from distance correction to reading correction at the bottom. This means you can see your entire field of vision without switching between multiple pairs of glasses or traveling between the lines when wearing bifocals or trifocals.
Progressive lenses start at $295.
Blue Light Filtering Lenses
Blue light is a subset of the light emitted by the sun and the light emitted by computers, phones, and other electronic devices. These lenses filter out a more significant percentage of blue light than the standard option and cost $50 more.
Light Responsive Lenses
When exposed to UV rays, the light-responsive lenses transition from completely clear to a darker tint, preventing eye strain and glare.
Additionally, they shield your eyes from 100% of UVA and UVB rays and filter more blue light from the sun and electronic devices than standard lenses.
Light-responsive lenses are available in various prescription types, including single-vision and progressive lenses, as well as non-prescription and reader lenses. Included are scratch-resistant and superhydrophobic anti-reflective coatings.
The lens contains light-responsive technology, which means the treatment will not rub or peel off.
Light-responsive lenses cost an additional $100.
High Index Lens Choices
Anyone with a strong prescription of +/-4.0 or higher total power should consider 1.67 high-index lenses, which are up to 20% thinner than polycarbonate lenses. These add $30 to the price.
The 1.67 high-index lenses are up to 10% thinner than the standard lenses and are recommended for those with extremely strong prescriptions (+/-8.0 or greater total power).
These will set you back an additional $130.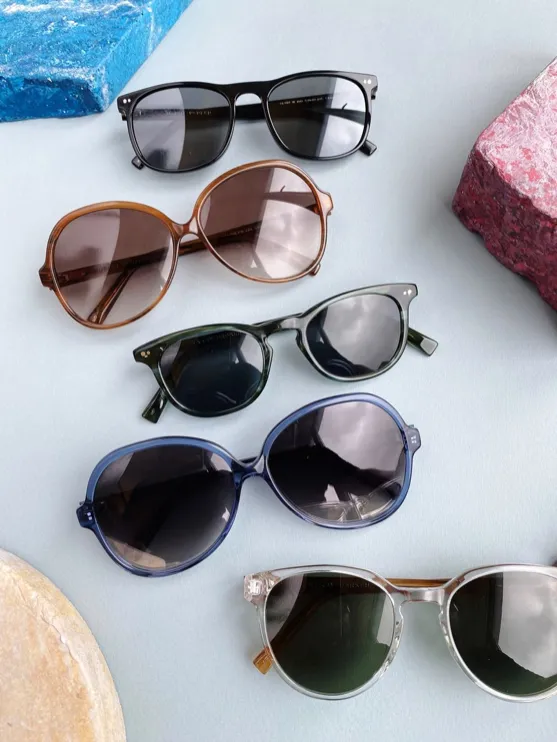 Warby Parker Reviews From Other Sources
As part of this Warby Parker Glasses review, GNGuide visits various websites across the web to learn what customers think about the products.
On Trustpilot.com, we began our analysis. Warby Parker has received 39 comments on this website and an average score of 3.4 stars.
Reviewers gave the company mixed reviews on this site.
Warby Parker was praised for their excellent customer service, and many customers thought their "try five frames at home" approach was fantastic.
Some customers complained about the customer service, lengthy delivery times, and not honoring their replacement policy.
Additionally, the company received 123 reviews and a 3.7 rating on the consumer affairs website.
Customers praised the company for their home try-ons, and the customer service team received numerous compliments, similar to other reviews.
Warby Parker is active on social media, with 765k individuals following the @warbyparker Facebook page and 558k customers following the warbyparker Instagram page.
Where Can You Buy Warby Parker?
The complete Warby Parker Glasses collection is available at warbyparker.com
Alternatively, you'll find the brand in stores across the country.
Warby Parker Promo Codes, Discounts, And Promotions
We searched for relevant discount codes and promo codes as part of the GNGuide Warby Parker Glasses review. Unfortunately, we were unable to locate any.
Check out the Warby Parker website to stay up to date on current promotions.
Check out our coupon codes page to find the latest discounts.
Warby Parker Newsletter
Get the inside scoop on new frames and events by signing up to the Warby Parker newsletter.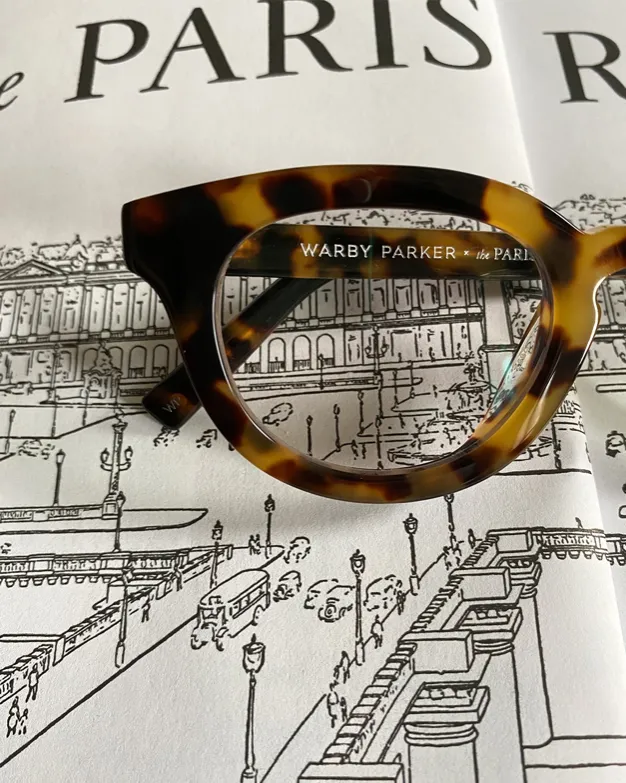 Warby Parker Frequently Asked Questions
What Is Warby Parker Shipping Policy?
Currently, Warby Parker ships eyeglasses and sunglasses to the United States, Puerto Rico, Guam, the United States Virgin Islands, and military APO/DPO/FPO addresses for free.
Additionally, the company offers international shipping to Canadian customers.
They only ship contact lenses within the United States.
If you require expedited delivery, Warby charges an additional $20 plus tax.
Warby Parker Shipping Estimates:
7–10 business days after prescription and billing information is approved for prescription glasses (eyeglasses and sunglasses).
Spectacles without a prescription: 5 business days (sunglasses); 7–10 business days (sunglasses) (eyeglasses)
Contact lenses: 5–7 business days (for most lenses); Biofinity, Biotrue, and specific specialty or XR lenses frequently take longer.
Home try-on takes five business days.
Orders shipping outside the continental United States may take a few days longer to arrive.
Warby Parker Return Policy
Warby Parker offers a 30-day, no-hassle return or exchange policy on all eyewear and accessories.
If you are dissatisfied with your purchase, they will refund or exchange it within 30 days of receipt. This policy also applies to contact lenses that are still sealed in their original, unopened packaging.
Furthermore, Warby Parker offers a one-year scratch-free guarantee on eyeglass and sunglass lenses. Within that time frame, they will replace your scratched lenses for free.
Warby Parker Contact Information
Before contacting Warby Parker directly, you might want to check their help center, which has a range of questions answered for your convenience.
If you can't find what you're looking for on the FAQ page, you can reach Warby Parker through a variety of channels:
Does GNGuide Recommend Warby Parker?
If you're looking for reasonably priced prescription glasses and aren't looking for designer frames, we believe Warby Parker is an excellent option.
With the convenience of their Home Try-On Program, they make it simple to try on several pairs of glasses without committing to a purchase.
In addition, they are a socially aware business that ensures those who are less fortunate also get the opportunity to see. Therefore you know that your purchase benefits not only you but also others.
Allbirds Just Launched the Perfect Travel Sneakers for Fall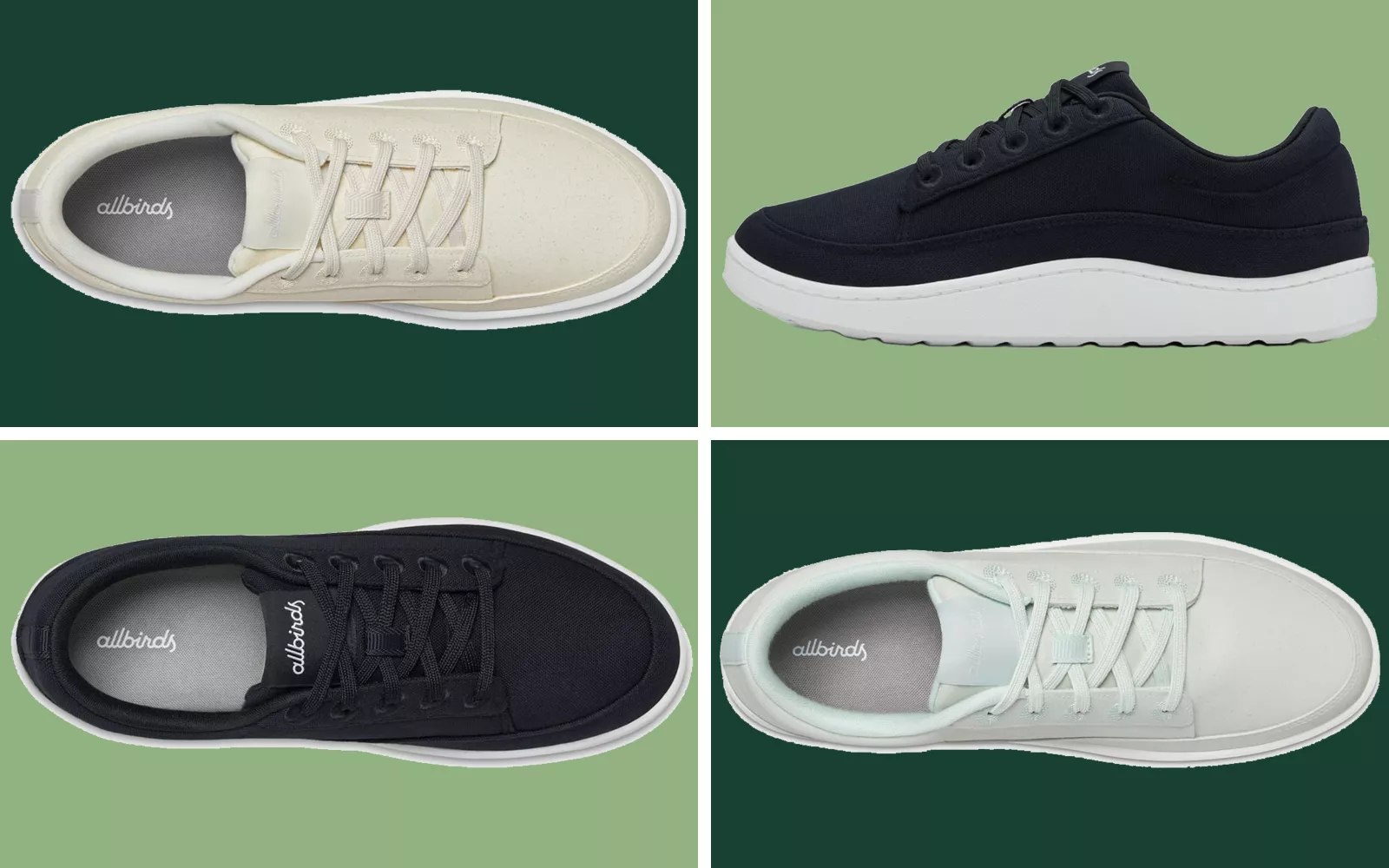 This post contains affiliate links. When you purchase through links on this post, we may earn an affiliate commission. Thanks.
A change in season calls for a wardrobe refresh, and there's no better way to start fall than with a crisp pair of Allbirds sneakers. The popular sustainable footwear brand just launched the Pacer Sneakers, a timeless, everyday shoe that's perfect for travel with its comfortable, supportive, and versatile construction. And, despite just arriving on the scene, styles of the shoe have already earned five-star ratings from shoppers.
The Allbirds Pacer Sneakers are available in canvas and leather options, each boasting the brand's celebrity- and editor-loved comfort, sleek look, and sustainably sourced materials. Shoppers of the $110 Pacer Canvas Sneakers, will enjoy the shoes' lightweight, durable, and breathable organic cotton uppers in Allbirds' signature Natural Black and Natural White colors, as well as in two limited-edition hues: Hazy Beige and Thrive Teal.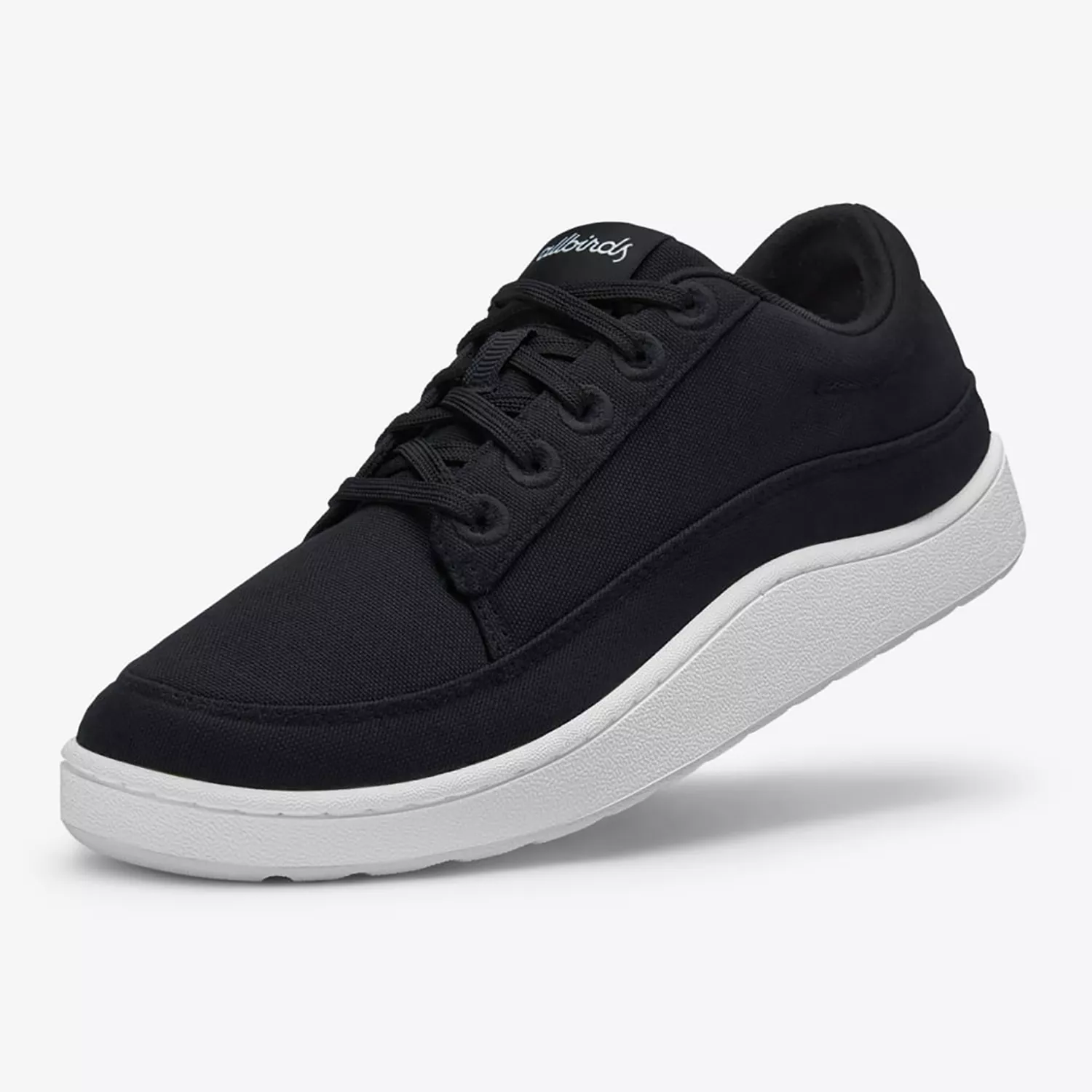 As for the Pacer Plant Sneakers, their stylish exterior is made of 100 percent plastic- and petroleum-free leather that uses natural rubber, plant oils, and recycled materials. This version, which costs $135, comes in Natural White and a limited-edition Dreamy Green color. Both the canvas and leather Pacer Sneakers are available in sizes 5 to 11.
Whether you go with the Pacer Canvas Sneakers or their plant leather counterparts, your feet will be treated to Allbirds' Sweetfoam midsoles, which are made with a sustainable sugarcane EVA material to cushion your toes, arches, and heels for maximum support. If you've got a long day of walking ahead, the midsole is also great for absorbing shock and minimizing fatigue and pain.
Both shoes also have a eucalyptus-based Tencel-lyocell blend lining that's soft and lightweight for additional comfort plus a durable rubber outsole that supports your natural stride. It's also worth mentioning that the bottom of the shoe features a grippy traction pattern, which will help you walk confidently across slick airport terminal floors, unpredictable cobblestone streets, loose dirt paths, and any other surfaces and terrains you may encounter while traveling.
Thanks to their supportive fit, classic silhouette, and fun array of color options, the Pacer Sneakers will seamlessly fit into your travel wardrobe. While you may think that they can only be reserved for laidback travel day outfits, we see them as the perfect footwear option for sightseeing tours, brunches, walks along the boardwalk, shows, and more. And, if your itinerary calls for something a bit dressier, you can easily pair the sneakers with your favorite dresses, skirts, and flowy pants to match the dress code.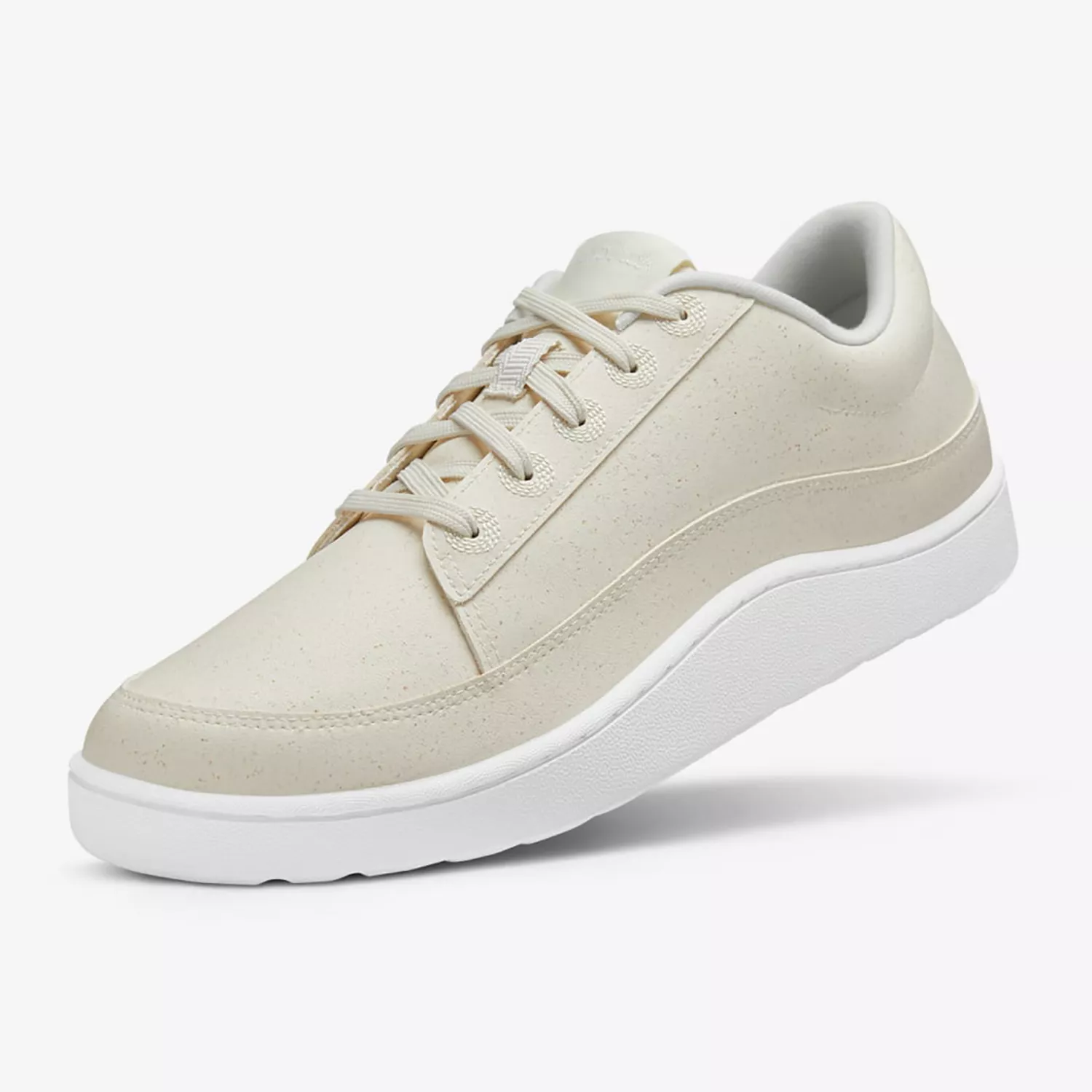 As we mentioned earlier, the Pacer Sneakers are already being met with glowing praise from shoppers. After wearing the Pacer Plant Sneakers "on hikes, to work, and working out," one shopper raved that they were "so comfortable". They added:"[They're] also the easiest to clean white shoes. Even wearing them on muddy trails wasn't any issue; they cleaned up quickly and were supportive."
A second customer chimed in to highlight the Pacer Plant Sneakers' durability, noting that they "went above and beyond my expectations." The customer wrote, "after months of testing these bad boys out, I'm very impressed with how the white leather has held up (with very few scuffs!)."
Give your fall travel wardrobe the ultimate upgrade with the Pacer Sneakers. Get a pair at Allbirds today so you can embark on your next adventure stylishly and comfortably.
Benefit Cosmetics Reviews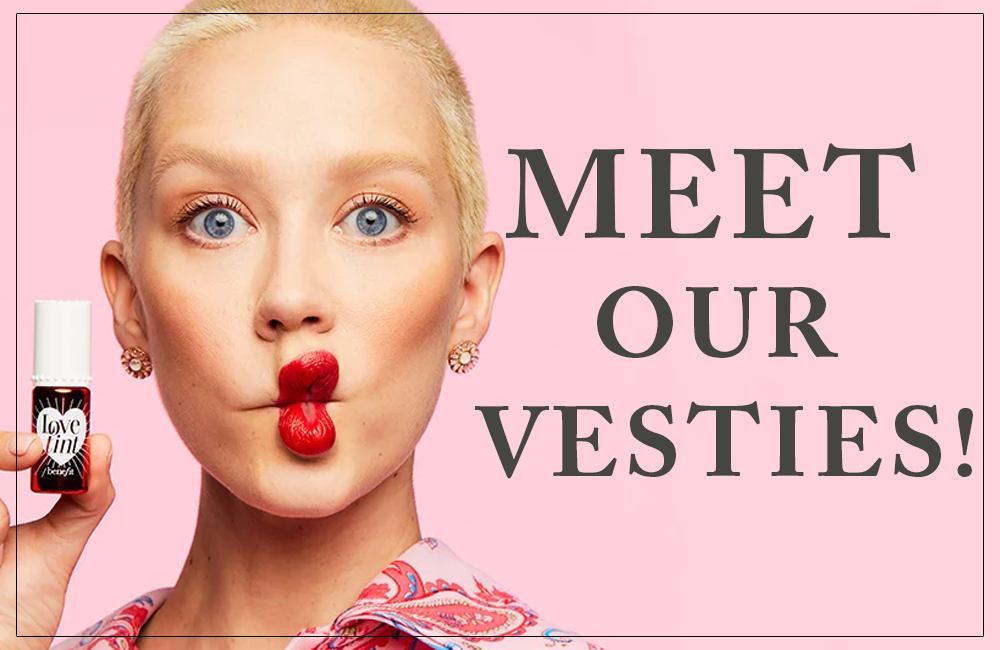 Benefit Cosmetics are not new in the market. The brand has an exhaustive line of cosmetics from foundation to primers, concealers to contours, highlighters to lip and cheek balms, mascara to brow gels and pencils. In short, whatever makeup product you need, they have; hence this Benefit Cosmetics review.
In this review, we'll take a deep dive into this brand to understand its mission and vision. We'll review their best-selling products and answer questions you'll likely need answers to. If that's what you're looking for, then keep reading.
About Benefit Cosmetics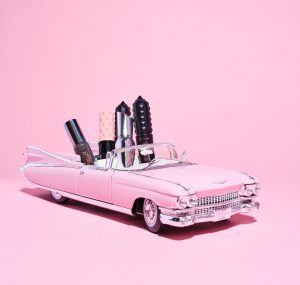 In 1976, the Ford twins, namely Jane and Jean Ford were just two Indiana farm girls turned successful models and makeup artists. They wanted more to life than just that, so they went to San Francisco to open up either a casserole cafe or a makeup shop.
Heads or tails?
Luckily, they landed on tails and they started a small beauty and makeup store called "Face Place" which then changed to Benefit Cosmetics in 1990. They wanted Benefit Cosmetics to be aboutadding laughter and confidence in every woman> as they were in the feel-good business rather than simply selling cosmetics.
While still at the mission district, at the Face Place, they manufactured their first product called the "Rose Tint" (now famously known as "benetint"). As the product picked up, they developed "lip plump" in the 80s then in the 90s they moved to New York City to open their first Benefit counter at Henri Bendel.
After years of hard work, the brand has now become a global brand with their daughters and nieces, Maggie & Annie Ford Danielson widely marketing the brand. As of today, the brand is sold in over 50 countries across five continents and has over 3,000 Brow Bars and 85 Boutiques worldwide.
Pros
Variety: The brand sells a range of cosmetics for the eyes, brows, lips, and face in general.
Experience and Expertise: The company has been in the market for over four decades, hence they must know a lot about the industry.
Widely Available: Benefit Cosmetic products are present in over 50 countries and many more locations.
The brand offers both products in the cosmetic line and services such as waxing, makeup application, and virtual consultations.
They offer 60-day returns.
Loads of promotions and discounts.
Cons
Many customers complain about shipment delays.
Benefit Cosmetics Products Review
The Benefit Cosmetics line covers just about every facial element, from the eyes, lips, cheeks, brows, lashes, and general facial skin. Let's review some common makeup products.
Benefit Cosmetics Mascara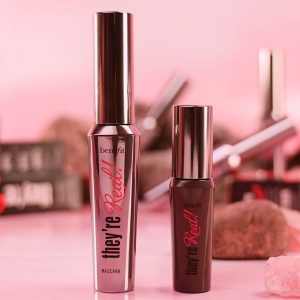 The Benefit Cosmetics mascara is a lash enhancer that lengthens, lifts, volumizes, and curls your lashes in one go. The product has a custom domed-tip brush to allow for a better definition of your lashes, and also add flair and volume to the lashes without it feeling lumpy or too heavy on the lashes.
The mascara is formulated to add color and visibility, as well as offer long-lasting results. The product is available in full and mini sizes and also comes in two shades: jet black and beyond brown.
To use the mascara, hold the wand and wiggle it against your lashes from side to side, base to tip. Continue with this motion for additional volume, lift, and length. For curls and separation, use the wand vertically and stroke your lashes upwards.
Lastly, if you'd like more definition on your lashes use the mascara and the Benefit eyelash primer together. And, if you only want to curl your lashes, opt for the Benefits Cosmetics roller lash curling mascara instead.
Benefit Cosmetics Porefessional Primer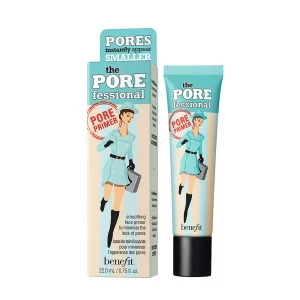 This brand doesn't just offer makeup products, they have a Benefit skincare line that includes moisturizers, makeup removers, cleansers, exfoliators, the Benefit Cosmetics serum for anti-defying, and the Benefit Cosmetics primer called Porefessional Primer Pro Balm.
The Benefit Cosmetics Porefessional Primer works as a makeup and skincare product where you can apply it before makeup to smoothen your skin and matte the appearance making it less shiny. And as a skincare product where the primer helps minimize the appearance of pores for better setting of your foundation.
The face primer is formulated silky thin as a lightweight non-comedogenic and translucent balm that helps to complement your skin tone while helping the makeup stay on for long. It is formulated with vitamin E derivatives that act as antioxidants that protect the skin against free radicals and pollution that may hasten the aging of your skin.
That said, besides minimizing the appearance of pores, the product can also be used to smoothen out fine lines and wrinkles. For best results, apply a thin layer of the primer on clean and moisturized skin. Pat gently from the center and spread outwards with your fingers. Apply the primer before and after your makeup.
Lastly, the primer is available in mini, full, and value sizes.
Benefit Cosmetics Eyebrow Gel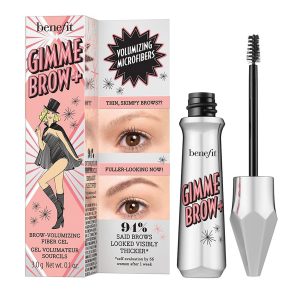 The Benefit Cosmetics eyebrow gel works similarly to the mascara, in that, it's used to volumize the eyebrows using a fiber gel. The tinted eyebrow gel has tiny microfibers that easily adhere to the hair on the brows and the skin around to help create a fuller brow that appears natural and stays on for long.
Available in a mini, value, and full size, the brow gel kit contains a tiny custom tapered brush that's precise to allow for an easy, messy-free application. What's more, the gel comes in a variety of shades ranging from light brown to dark brown, black to black-brown, and cool grey shade.
Finally, the brow gel is water-resistant so as soon as you fill in and lay down the eyebrows, you can expect to stay with the product even when it's raining or as you sweat.
Do note, that the product has potential allergens. Seeing as you'll be applying the product to your face which is quite sensitive, be aware of mica and the Titanium dioxide in the gel.
Benefit Cosmetics Precisely My Brow Pencil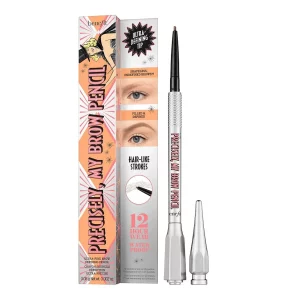 If you don't like to apply gel to your eyebrows, you can opt for the Benefits Cosmetics Precisely My Brow Pencil which is just like any other pencil you would use to draw or write, but this brow pencil is ultra-fine to help with defining your eyebrows.
The brow pencil is available in many shades such as light blonde, brown, black, and cool grey and you can purchase the full or mini variant.
To use the pencil, start at the base of your brows and draw upwards to create tiny hair-like flicks on the brows. The strokes should be short and light to imitate the direction of your natural hair growth. This way, the result will be as natural-looking as possible.
What's great about the product is that the brow pencil is designed to last 12 hours without any budge.
Benefit Cosmetics Blush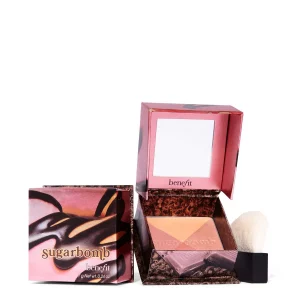 The last product review we'll take a look at is the Benefits Cosmetics blush which is a Sugarbomb Rosy Pink blush that helps highlight and add instant radiance to your cheeks.
Available in a full and travel mini size, the blush also features additional three bold colors to add lush to your cheeks for a perfect complexion.
To use the product, swirl the blush on your cheeks with a makeup brush to achieve the flush you'd like.
Benefit Cosmetics Reviews from Customers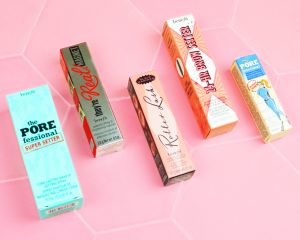 Benefit Cosmetics has a rather low customer rating from sites like Trustpilot and Sitejabber. Nonetheless, the brand still excels in many elements such as quality of products, customer service, returns, and value for money.
Shoppers are primarily impressed with the variety and quality of makeup they offer, plus its effectiveness. Many are happy with the color options available that suit a large customer base and how easy it is to apply these makeup products.
One positive review reads, " I love how natural their makeup looks on my skin. I use this every day and I feel safe with its ingredients because I never had any irritation. Big fan here."
Unfortunately, as with any other business, there are highs and lows. Some customers expressed their concerns over how long delivery took plus how pricey the products were. Here are two negative customer reviews.
"The biggest annoyance was the shipping time. It took forever to ship and by the time they used the slowest mailing service (smart post) it took almost 3 weeks to arrive. The customer service lady constantly talked over me when I tried to inquire about my package. When it arrived, it didn't even come in a box. It came in a bubble mailer with light padding despite there being blushes and other sensitive items.
I wouldn't recommend it. I purchased some items for a birthday present and paid for a 2-3 delivery. It's 8 working days later and they still haven't arrived. By this point I've already had to buy another present – waste of time, wouldn't recommend.
All in all, the brand received a lot of positive reviews over negative reviews which means the brand is still worth a try and with a few tweaks, they could be at five stars.
Sign Up for Benefit Cosmetics
Create a new account with Benefit Cosmetics by simply adding your details like first and last name, email address, and password. As a subscriber, you get all the updates on offers, events, and news about the brand. Plus, you get first dibs on new products and online purchases.
Where to Buy Benefit Cosmetics
You can purchase their products directly on their website. From their website, you can also find a store closest to you seeing as they have tons of stores in many countries. What's more, you can get their products from other stores such as Sephora, Walmart, Macy's, and Ulta Beauty.
Benefit Cosmetics Shipping and Return Policy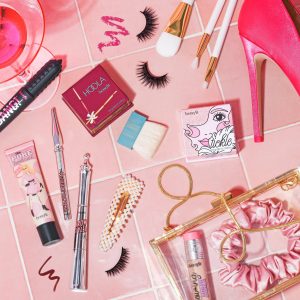 Benefit Cosmetics offers free shipping on orders over $50 with estimated shipping days ranging from 3 to 10 business days including processing and carrier transit time. For orders less than the threshold ($50) you'll pay a shipping fee of $5.95 and if you'd like 2nd day or overnight deliveries, you'll have to pay $9.95 and $16.95 respectively and wait for 2 to 4 business days for delivery.
Note that if you want your order to be processed the same day for either the 2nd day or overnight deliveries, you must place your order before 1 pm US Pacific Time. Also, there are no expedited shipping methods to Hawaii, Alaska, P.O. Boxes, or APO/FPO/DPO addresses. Instead, you'll have to wait for 5 to 7 business days or more for delivery.
The brand also ships to military and diplomatic addresses via USPS and the estimated delivery time is 4 to 7 days for local shipments and 7 to 10 days for international shipments.
Lastly, for deliveries to Hawaii, Alaska, or across international waters, the brand can't ship some cosmetics like mascara since the U.S. The Department of Transportation requires some exports to only ship via ground transportation.
Returns
As for returns, first note that if your order is shipped via forwarding companies, there can be no returns if the product is lost, damaged, or defected in transit. The brand will therefore not replace nor refund any product.
If you'd like a refund, you can only return a product 30 days from the shipping date. The refunds will be credited to your original mode of payment less other fees like shipment, handling, and wrapping charges. Non-returnable goods include used products, products not bought directly from their online store, and sale items or gift certificates.
For all your returns, you'll first have to fill in the return form present in your original order. Then place the form inside the returns package alongside your return merchandise, the original receipt,  and contact information like phone number and email. Send the return to:
For easy tracking and insurance purposes, ship your return with a service that offers to track.
When your returns arrive at their warehouse, you should receive a confirmation email after which you'd have to wait for 2 to 3 weeks for the refund to be credited to your account.
Benefit Cosmetics Promotions & Discounts
Just like many other brands, Benefit Cosmetics has seasonal offers such as weekend sales,Valentine's sales, Christmas and Easter offers, plus many more.
They also offer student discounts of 10%. The student discount, also known as student Beans allows you to use a discount code at checkout to get 10% off your order. To qualify for this discount, you'd have to register and verify your student status with Student Beans for free.
Contact Benefit Cosmetics
You can contact Benefit Cosmetics Customer Service via email at  [email protected] or via call at 1-800-781-2336. Call times are actively Monday to Friday from 10 am to 6 pm EST.
In case of other questions or inquiries, you can reach to PR and social media via the contact form on their website, and you can also contact the North American wholesale store at [email protected]
Benefit Cosmetics Review: Editors Verdict
From the in-depth benefit cosmetics review above, we can say that the brand is worthwhile spending on. They offer great beauty solutions by developing authentic products that are both innovative and customer-oriented.
Being in the industry for over 40 years, they have become leaders in the industry which makes them well accepted by customers. Even with its downsides, the brand continues to offer high-quality products, great customer service, and excellent returns and shipping policy, plus they're readily available in over 30 countries.
If you want to buy a product from them, we should highly advise you to do so as it will be value for your money.
Benefit FAQ
Does Benefit Cosmetics Offer Discounts/Samples for Makeup Artists?
Yes, the brand has an exclusive program called Benefit PRO where beauty professionals like makeup artists, aestheticians, and cosmetologists can get samples and discounts on their products. More information about the program such as the available discounts, membership applications, and much more is available on their website.
Are Benefit Cosmetics Products Hypo-allergenic?
The brand doesn't test nor claims that their products are hypo-allergenic or non. If you may have allergies or an allergic reaction, be sure to first review the ingredients list on the product page and consult with your physician to determine if the product is suitable for your skin.
Are Benefit Cosmetics Products Gluten-free?
Gluten on cosmetic products is unlikely to cause adverse reactions to the skin nor have such reactions been verified to be true as gluten can't be absorbed through the skin. Nonetheless, the brand does have policies in place to reassure customers on the gluten issue.
First, they don't formulate their products with gluten as one of their ingredients and second, they only use high-quality ingredients derived from grain sources.
On the other hand, despite these policies, gluten may be present in the product as it's a constituent of some raw materials used to make cosmetics. Therefore if you're gluten intolerant, available products are derived from grain sources such as wheat (Triticum Vulgare, Secale cereale, Avena sativa, and Hordeum distichon).
Does Benefit Cosmetics Test on Animals?
No, Benefit Cosmetics doesn't test on animals.
Allbirds Launches Pink Running Shoes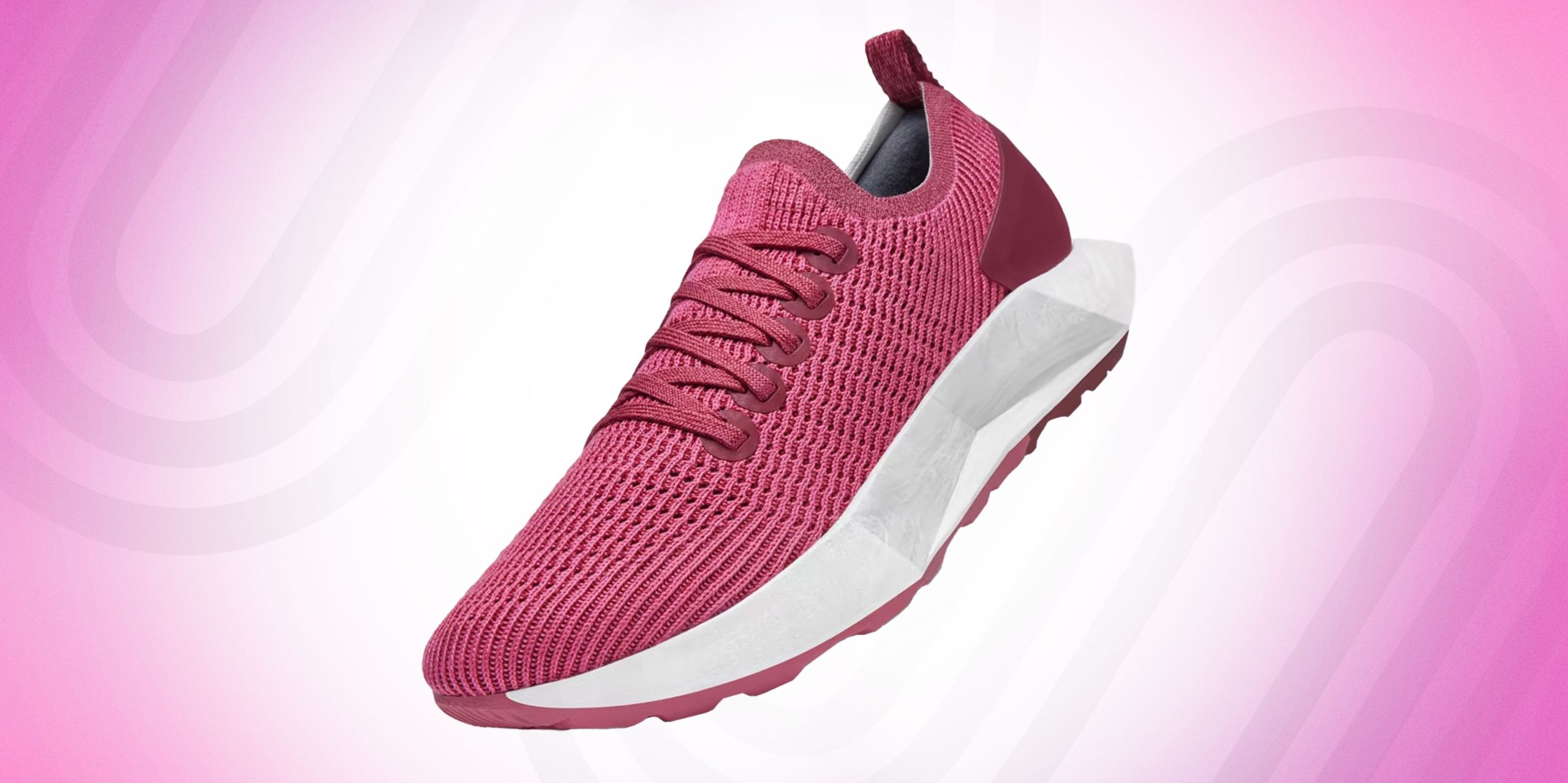 This post contains affiliate links. When you purchase through links on this post, we may earn an affiliate commission. Thanks.
Allbirds Pink Running Shoes
We've all heard the canonical phrase, "on Wednesdays, we wear pink" from the 2004 cult classic Mean Girls, but the phrase has been reincarnated in today's launch of the Allbirds x Lindsay Lohan collab which declares, "on Wednesdays, we launch pink." The pink to which the beloved brand is referring is a limited edition Lux pink color of the Allbirds Tree Flyer running shoe, available in both men's and women's sizes. The shoe also comes in six other color options and has gained attention for being both sustainable and a comfortable and reliable training shoe.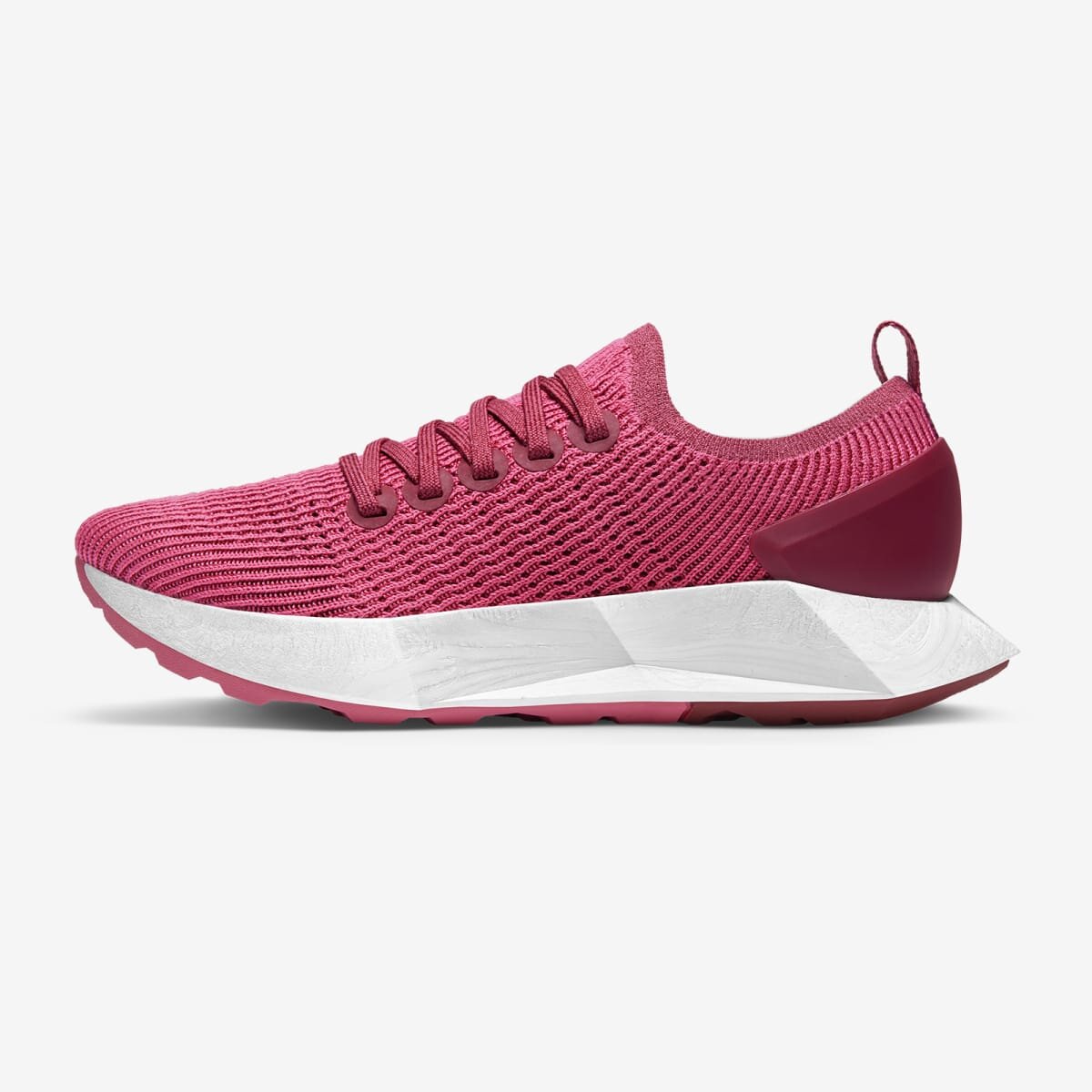 The shoe was most recently included in Runner's World's "What We're Testing" roundup for May. Runner-in-Chief Jeff Dengate found the shoe to be lighter and bouncier than Allbirds' original running shoe, the Tree Dasher. "It's a little lighter than the Dasher, the upper feels a bit more refined for running fast, and the innovative midsole is soft but can handle my daily runs," stated Dengate. "It's still a little heavier than comparable shoes—and there are a lot of great daily trainers you can find for $160—but it shows promise that Allbirds is committed to making a great running shoe without using petroleum-based products."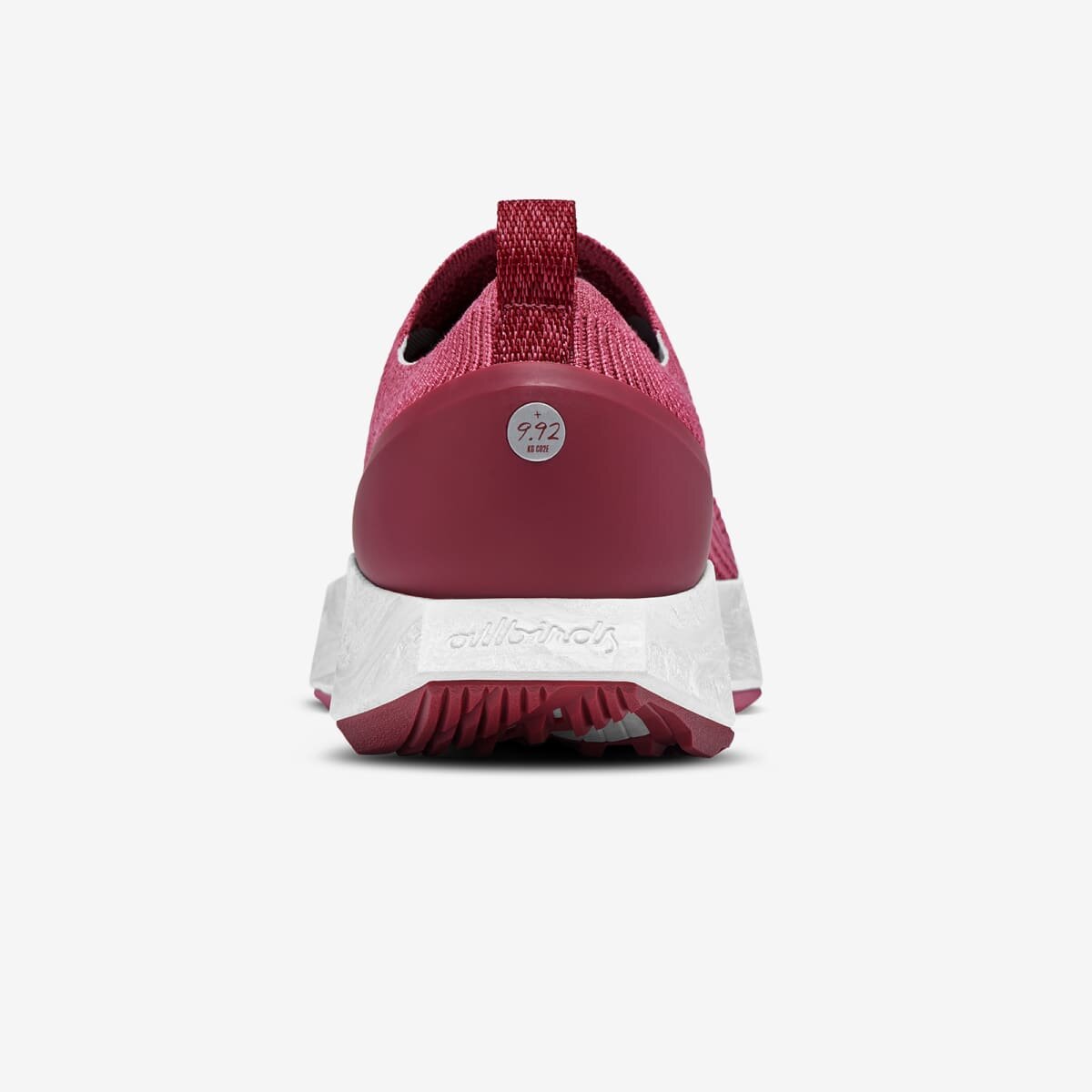 While sustainability has become a top priority for countless consumers, many companies have fallen short of the mark with their supposedly eco-friendly offerings, which have either become subject to greenwashing or are simply sub-par products. But Allbirds is actually doing the work, creating a quality product that's also actually eco-friendly. This shoe in particular is carbon-neutral and contains materials like castor beans, eucalyptus fiber, merino wool, and recycled water bottles. The brand has also pledged to continue lowering its carbon footprint as it expands its product offerings.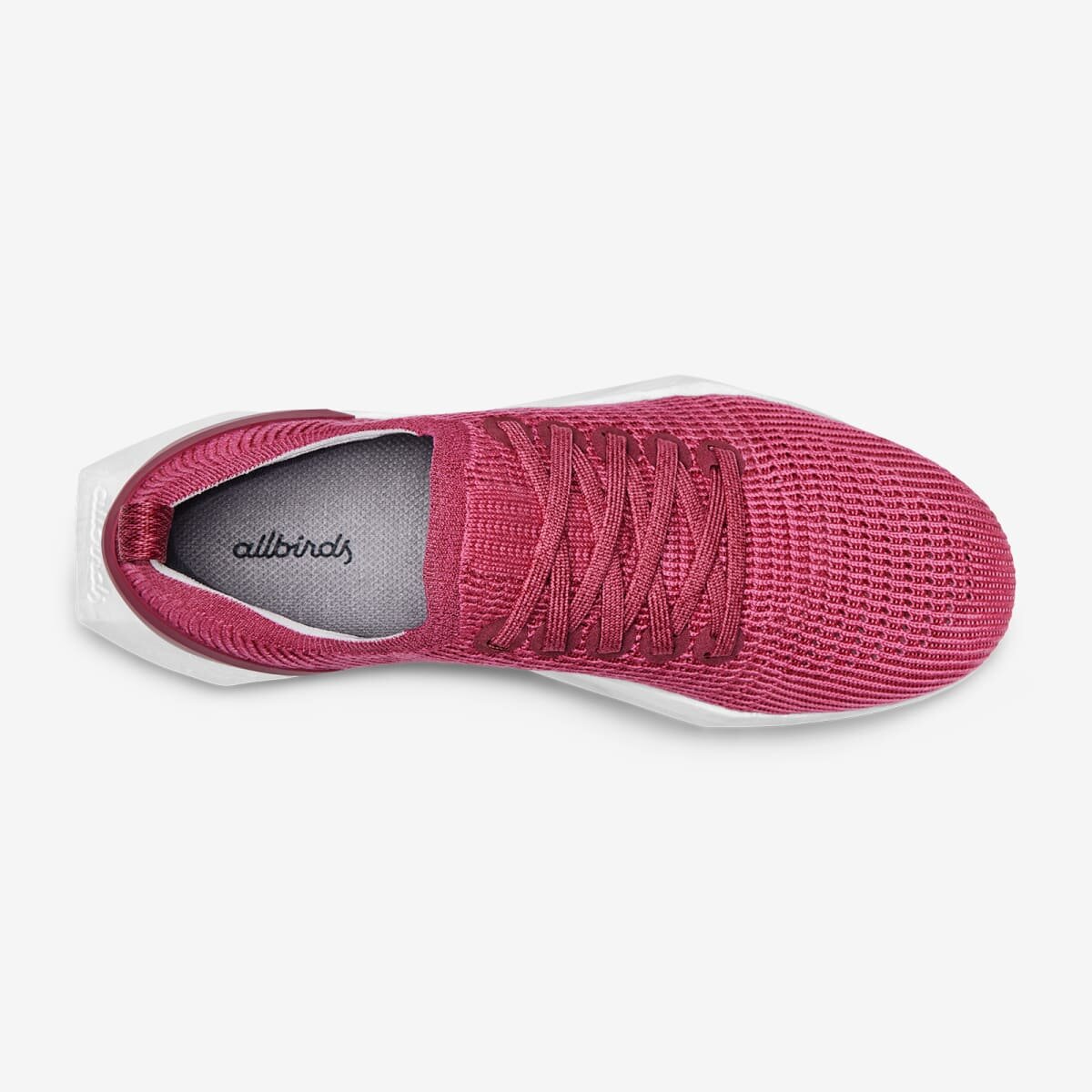 Besides her fame—and ties to their slogan—Lindsay Lohan may seem like a bit of an odd choice for a running shoe collaboration, but Allbirds says that was intentional. They state on their website, "with Lindsay's help, we're reminding the world that anyone and everyone can lace up and move their body."